We use affiliate links. If you buy something through the links on this page, we may earn a commission at no cost to you. Learn more.
Product Requirements:
Device:
All Palm III series, V series,
& m100 models, All Handspring Visor Models, Sony Clie, and the HP Jornada
548
The Targus
Leather Wallet is done in a traditional book style, with an added bonus of
coming with a removable business card case.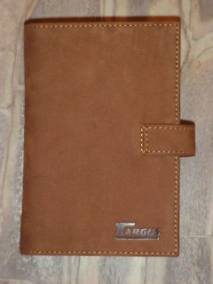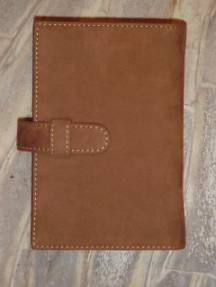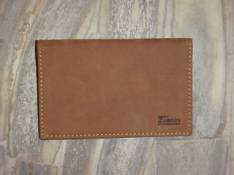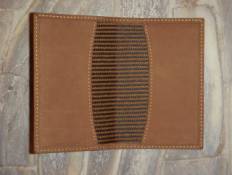 The main body of this wallet is done in a camel nubuck. Targus calls it
"suede", but since that might make some of you think of the nubby leather on
casual shoes, I'm going to call it nubuck, since that brings to mind the more
soft and refined nap that this case employs. You might be tempted to rub on this
case when you receive it. The nubuck feels nice, and it looks good, too. Golden
stitching is used for contrast, and it makes the case look very finished and
stylish.
The measurements of this case are 5 ¼" x 4 ¾" x 1", and it will
accept a PDA up to 5" x 3 ¼" x ¾" in size.
The interior of the Targus Leather Wallet has three credit card or ID slots,
and a deep pocket behind that area for folded bills or receipts.
An elastic loop will hold an extra stylus for you – I would recommend a
smaller replacement-style stylus, and not a larger pen type.
You can fit all of the Palm, Handspring, and Clie models that are made into
this case, and there are two separate areas for Velcro attachment, so that you
can line up whichever PDA you have, without covering something important like
your serial number, springboard slot, or reset button. This case can also hold
an HP Jornada 548 perfectly. I am willing to bet that it would also accept an
iPAQ, without an expansion sleeve. Here are some shots of various PDAs in this
case.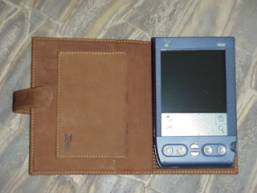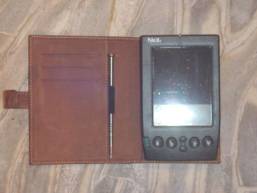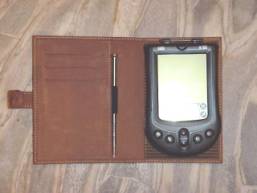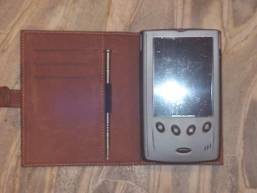 Like all book-style cases, there are three exposed sides when your PDA is in
place. I would say that this case offers little to no protection in the event of
a fall. The cover is padded somewhat, so when it is closed, it should protect
your PDA's screen from dings. However, it is certainly not crush-proof by any
stretch of the imagination.
You will have to remove your PDA from this case to synchronize & backup.
However, that is simple enough to do.
If you are using a PDA that allows you to turn off your hot-keys, such as the
Jornada, it would be wise to do so. I can see where any pressure on the front of
the case in the general button area would cause you press them into action.
I have to tell you, the craftsmanship of this case is flawless, but there are
a couple of reasons why this case doesn't really appeal to me.
First, on the front bottom right corner of the case, the brand name Targus is
embossed so vividly, it just looks gaudy. I think that if Targus could have done
their branding on the inside, under the credit card slots, it would have looked
just fine.
Second, the tab closure actually fastens on the backside of the case. I was
tempted to turn the case upside down, and use it that way. Not only would the
tab have then closed "correctly", in my opinion, the big Targus wouldn't
have been there. Unfortunately, that made the case awkward to handle, and of
course, the credit card slots were then upside down. I realize that there might
be an argument for putting the closure on the back – but I personally don't
like it. It is awkward, and confusing. The only good point to it, that I can
see, is that when the case is open you don't have a tab of leather curling
over your PDA.
If the issues that didn't appeal to me don't bother you at all, then I
can say that you will probably really like this case. It looks like it is very
well crafted, and should last for quite a while.
Price: $34.99
Pros:
Excellent materials & craftsmanship
Extra stylus holder
Lifetime Warranty offered by Targus
Cons:
Large "Targus" brand on front of case
Velcro must be attached to your PDA
Strangely placed tab-closure
Product Information
Price:
$34.99
Manufacturer:
Targus
Pros:

Excellent materials & craftsmanship
Extra stylus holder
Lifetime Warranty offered by Targus

Cons:

Large "Targus" brand on front of case
Velcro must be attached to your PDA
Strangely placed tab-closure