We use affiliate links. If you buy something through the links on this page, we may earn a commission at no cost to you. Learn more.
Product Requirements:
Device:
Palm III series, Palm IIIc, Palm VII series, Palm
V/Vx with optional adapter
PocketMail.prc 165k
PMCommLib.prc 37k
PMHelpDB.pdb 1k
Hello, my name is Julie Strietelmeier and I am an E-mailaholic… There, I said it. I admit
that I check my e-mail probably 25-50 times a day. When I'm at home, this is not a
problem; but when I'm away from a desktop computer, checking e-mail is pretty much impossible. For
those times, I've found a pretty nifty solution: The PocketMail BackFlip.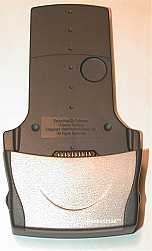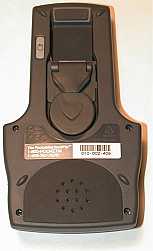 The BackFlip is an easy to use snap on module for your Palm PDA that turns it into a
convenient e-mail device reminiscent of the old acoustic coupler modems. You write an
e-mail on the PDA, dial a 1-800 number (for international use, you can call a direct phone number) on a standard telephone or cell phone, hold the phone up to the back of the BackFlip, press the button on the back and
voila, the e-mail you just wrote is transferred and any new e-mail is received.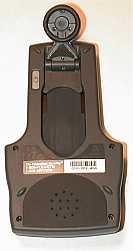 Unlike wireless services that require you to be in a certain coverage area, you can use this device anywhere there is a telephone. The BackFlip is compatible with almost any phone including corded, cordless, digital PBX, analog mobile phones, digital mobile phones (GSM, CDMA, TDMA and PCS) and pay phones.
The device itself is similar in shape and design to the original Palm Modem. But it also has
a backrest of sorts. The PDA snaps into the BackFlip and is held in place by the two slots
at the bottom of the PDA. The "backrest" portion of the BackFlip has a rubberized speaker at
the bottom and an adjustable flip up microphone at the top. The microphone portion can slide
up and down to accommodate almost any sized telephone or cell phone.
There is also a rubber button on the backrest that when pressed will turn the PDA on and
launch the PocketMail application.
The dimensions of the unit are: 3.25″ x 6″ x 1″ (8.255cm x 15.24cm x 2.54cm).
Weight with batteries is approximate 4.08 oz. (116g) without the PDA and 9.76 oz. (277g) with
a Palm III.
The device is powered by 2 AAA Alkaline batteries that should operate for approximately 4-6
weeks under moderate use. The BackFlip will alert you when the battery is at less than 10%.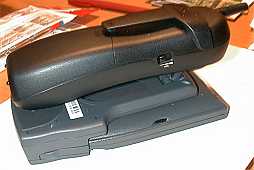 Hardware-wise, the BackFlip is well constructed and has a sturdy feel to it.
At first it felt a little awkward to hold the phone up to the back of the unit,
but after a couple times, it becomes second nature. I also found that a really
easy way to do it is to just turn the PDA face down and just rest the phone on
the BackFlip (see picture above).
Using the BackFlip can cause some unexpected looks from nearby people.
Recently I was in the parking lot of a McDonald's and used the BackFlip to check
my mail using my cell phone. A couple kids nearby happened to see me and I was
amused by their curious looks. I bet they thought I was Jane Bond or something.
🙂
There are only two things I
can complain about with the PocketMail as far as the hardware. One is the sound that
it makes while transferring mail. I wish that the speaker had more of a cup to
it like the microphone so that it could cut the noise out when it was pressed
against the phone. It's not super loud, but it is noticeable to people around
you. I could hear the transfer sounds from up to 30 feet away in a quiet area.
The other complaint is that you have to manually dial the 1-800. I think it
would have been so much better if the device could use DTMF tones to dial the
number automatically when you press the PocketMail button. DTMF tones are
the sounds that a touch tone phone makes in order to dial a phone number.
The PocketMail software allows you to send and receive e-mails, send faxes (faxes sent to locations within the United States cost 25 cents per fax message, while faxes sent to locations outside the United States cost
$1.00); and receive information services such as usage reports.
The PocketMail application is pretty basic. Via a pull down menu, you can change the view to whichever folder you prefer. Several folders have already been configured for your use. They include: Business, Misc, Personal, Inbox, Outbox, Deleted, Draft, and Sent. You have the ability to create other folders as well.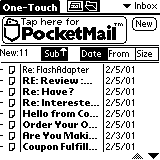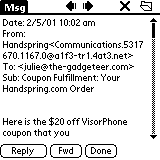 From these folder views, you can create a new message or read messages. You can also move and delete messages. Tapping on a message takes you
into the Read view. There you can read the message, reply, forward, delete and move messages.
Tapping the NEW button brings you into the message editor. PocketMail works with the Palm Address book, so it is easy to just tap on the address book button and find an
e-mail address to put in the "To:" field. You can do the same with the
"CC:" field. You can also easily create a distribution list by creating an address entry in the
address book that includes e-mail addresses separated by a semicolon or comma.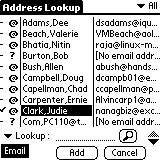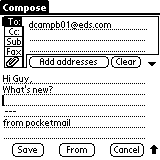 The Subject: field can be entered and attachments can be set. PocketMail can send and receive vCard and vCalendar attachments. They are sent as MIME types. Unfortunately, you can only attach an address book entry, datebook entry, to-dos or memopad entry. I wish you could send and receive actual .PRC and .PDB files.
Receiving attachments: for text and HTML attachments, the text is extracted and added to the e-mail message. All other attachments are not downloaded, except an indication of name and file type. The original message remains at the PocketMail Network and can be downloaded to a computer for viewing.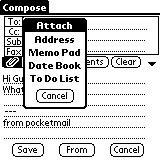 You're probably wondering how fast the BackFlip is at sending and receiving
mail. According to the PocketMail website,
Three 500 character messages takes about 25 seconds, from start to finish and
the transfer
rate is the same speed on any phone. I did a few tests of my own and found that
a large message of 5k took close to 2min to send or receive.
This
device is best used for shorter messages that can be sent quickly. For heavy
e-mailers, there is a  Message Title Preview feature. When
active, only the sender and subject field is downloaded to the PocketMail device. The user
can then select which messages to download in their entirety during the next
call.
One nice feature is the ability to create 'canned' responses. With this
feature, you can define sentences of up to 500 characters that you can choose
from a pick list. Clicking on an entry will paste that chunk of text into your
message.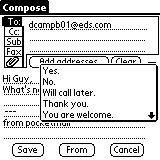 When you sign up for the PocketMail service, you get an e-mail address such as: [email protected]. You can also use the PocketMail device to check your other POP
e-mail accts. With this feature, copies of e-mail from other existing accounts are retrieved by the PocketMail Network and consolidated under your PocketMail account. The Mailbox Consolidation feature works with most Internet e-mail providers using POP3 or IMAP4, as well as America On Line and CompuServe.
The nice thing is that it just retrieves copies and doesn't actually remove the
mail from the server. So, when you get to your desktop, you can still download
all your messages. You also have the ability to choose your "reply-to" address.
Over all, this device is very easy to use and quite a bit cheaper than some
other wireless alternatives. It works where ever you have access to a telephone.
The only real downside is that for large e-mails or large quantities of e-mails,
it is somewhat slow.
Price:
$79.99, $99.99 with Palm V adapter
The Standard Service for $14.95 per month, and the
Economy Service Plan is
$12.95 per month. Major difference between them is the size of the
mailbox.
Pros:
Easy to use
Works with almost any phone
Toll free number in US
Unlimited E-mail
Cons:
Slow transfers for large messages
Can't attach or receive .PRC or .PDB files
Noisy
Product Information
Price:
$79.99
Manufacturer:
Pocket Mail
Pros:

Easy to use
Works with almost any phone
Toll free number in US
Unlimited E-mail

Cons:

Slow transfers for large messages
Can't attach or receive .PRC or .PDB files
Noisy