We use affiliate links. If you buy something through the links on this page, we may earn a commission at no cost to you. Learn more.
Product Requirements:
Device:
m100, Palm III, and Palm VII series PDAs
45k MemorySafe.prc
5/29/01: Updated in Red below
If you've heard it once, you've heard it a thousand times, "backup your
data or you will be sorry!" When you sync your Palm PDA to your desktop PC
using hotsync version 3.04 or later, it will back up all of your address book
entries, calendar items, tasks, memos, settings, applications and databases. So,
if your PDA happens to bite the dust, restoring the data to another PDA should
be easy… Well that isn't always the case. Hotsync is a bit finicky and doesn't
always back things up like it should. And if you're away from a computer (or
don't even have one) with no way to sync, and restore, you're pretty much out of
luck.
Awhile back I reviewed the FlashPlug by JKS Technologie of Germany. Since then, a similar product has come on the
market called the MemorySafe by NorthStar Mobile. The MemorySafe is a plug in module that is available in 2 and 8mb
sizes for the m100 but is also compatible with Palm III and VII series handhelds
(a version for the Palm V series will be available soon).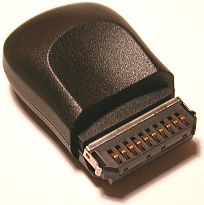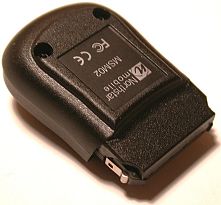 The MemorySafe is a small, light weight, black plastic module that plugs
directly into the hotsync port on the m100. It requires no batteries and uses
very little power. It is styled specifically for the m100, but it fits the Palm
III and VII series PDAs just fine. Inserting and removing the plug is easy and
the fit is snug but not too tight. It definitely won't fall out of the port if
you shake the PDA.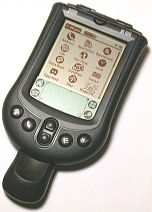 The main purpose of the MemorySafe is to backup or restore the contents of
the handheld (applications and data can not be launched or accessed from the
module). In order to do this you must first install a 45k application (included
on CD) to the PDA that you want to use the MemorySafe with. If you don't install
the app, your PDA won't be able to backup or restore files to and from the module.
This application is a basic, no frills backup/restore app. When you first run
the program you are greeted with the Backup screen. This screen allows you to
choose a total back up of all files or to backup the individual files of your
choosing. This screen also displays the date and time of your last backup
operation.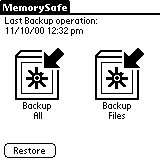 Choosing Backup All will prompt you to erase all the contents that are
currently on the MemorySafe. After you agree, the backup will proceed. I backed
up 1.6mb on my 2mb m100 in 5mins and 30secs. The
MemorySafe uses the same serial interface that hotsync uses and is limited to
115k transfer speeds. So backups and restores aren't done at blinding speeds.
However doing a total backup or restore in 5-6mins isn't a horrible time to
wait. During the procedure, a status screen is displayed with the percentage
finished and bar graph that shows the progress. Unfortunately, my screen capture
software wouldn't allow me to take snaps of the status screen.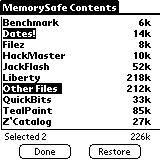 Choosing Backup Files will give you a scrollable list of files and their
sizes currently on the handheld. You can select the individual files that you
want to backup by tapping on them.
Restoring files is basically the opposite of backing up files. You can either
restore all the files or select individual files to copy from the MemorySafe to
your PDA.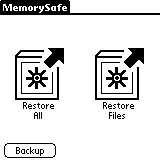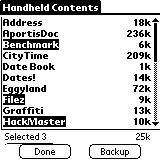 During both Restore procedures, if an application already exists on the PDA,
you will be asked if you would like to overwrite it.
One bad thing that I noticed is that MemorySafe doesn't check the file sizes
before restoring. So, if you only have 50K free on your PDA, and try to restore
a file that is larger than that, it will proceed with the restore and will fail
when the memory on the PDA is full. I think it would be much better if the sizes
were checked before going ahead with the restore. Especially for large files,
waiting for the restore only to have it fail due to lack of space is annoying.
There are a couple other options available in the MemorySafe application. One
option gives you the ability to initialize the memory in the module. This is the
same as reformatting and erases all files that were saved on it. You can also
view the memory status which tells you how much memory is still available on the
module. Another option is the ability to view a listing of the files and their
sizes that are saved on the MemorySafe. Unfortunately, you can't selectively
delete files from this screen. I think this is a feature that definitely needs
to be added.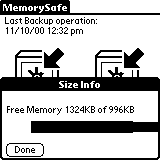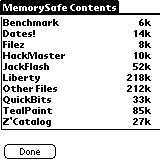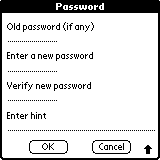 One other important feature is the ability to set a password for the module.
This feature allows you to set a password and a hint. Every time you launch the
MemorySafe app, you will be required to enter the password. If you forgot the
password, you can ask for a hint. If you still can't remember, your only
recourse is to erase all files on the MemorySafe. My advice: choose your
password wisely and think up a good hint.
The only problems that I had with MemorySafe were with the software
application. If you notice in some of the pictures above, there are a few
graphics glitches. This doesn't effect the performance of the product, it just
makes it look bad.
Besides the intended backup/restore use, MemorySafe is also great to use as
an extended memory device. The module could be used to hold infrequently used
applications, databases or other files. The files could be restored to the PDA
when needed and then deleted from the PDA when the space was required. For
devices with only 2mb like the m100, this could really come in handy.
Overall, I think that the MemorySafe is an easy to use backup solution that
is convenient for people that either don't have a desktop computer to sync to,
or are always on the go and away from a PC.
Update:
Software Upgrade Lets MemorySafe Users Immediately Recover Lost Data After a Hard Reset
Users no longer need to re-install MemorySafe software to restore from leading back-up module
Santa Clara, CA¾May 25, 2001¾Northstar Mobile(TM) today announced MemorySafe(TM) Flash, a new software upgrade that enables users of several Palm(TM) handheld models to restore files from MemorySafe immediately—without re-installing the MemorySafe software—after the handheld experiences a hard reset or extended power outage. MemorySafe Flash can be stored directly in the Flash memory of Palm III, Palm IIIc, Palm IIIx, Palm V and Palm Vx handhelds, enabling users of these handhelds to take advantage of this free software upgrade.
MemorySafe Flash stores the MemorySafe application in Flash memory, so this new software is compatible with all Palm handhelds equipped with Flash ROM. Users of these handhelds can download this free software upgrade at www.northstarmobile.com/new_software.
"With the MemorySafe Flash software upgrade, Northstar Mobile has improved the user's experience of MemorySafe, the leading back-up solution for Palm handhelds," says Declan O'Mahoney, president of Northstar Mobile. "Due to the obvious benefits, we expect this to be a popular feature among MemorySafe users."
Now available throughout the U.S., Canada, Europe and Asia, MemorySafe can be purchased from many on-line and retail stores, including CompUSA, Staples, J&R Computer World, RCS Computers, CDW, and Amazon.com. Northstar Mobile products also can be purchased on-line at the company's web site, www.northstarmobile.com.
Worldwide, users of Palm m100, Palm III, Palm V and Palm VII series handhelds are taking advantage of MemorySafe to protect their handheld data while away from their offices or homes. Similar to an external disk, MemorySafe simply plugs into the HotSync(R) port of the Palm handheld to enable users to quickly and easily copy files between the handheld and MemorySafe. In the event of a hard reset, or losing the handheld, the data is safely stored on MemorySafe and can be restored to the existing
or new handheld.
Price: $49.99 (2mb), $69.99 (8mb)
Pros:
Small
Easy to use
Convenient mobile backup solution
Cons:
Can't delete specific files from the module
45k .prc file must be installed on the PDA BEFORE using the module.
Can't launch applications from the module
Can't read DOC files from the module
Product Information
Price:
$49.99
Manufacturer:
Northstar Mobile
Pros:

Small
Easy to use
Convenient mobile backup solution

Cons:

Can't delete specific files from the module
45k .prc file must be installed on the PDA BEFORE using the module.
Can't launch applications from the module
Can't read DOC files from the module