We use affiliate links. If you buy something through the links on this page, we may earn a commission at no cost to you. Learn more.
Rhodiana has created two
play through cases for either the Palm V or Palm III/x Connected Organizers. These cases
are made of 1/8″ black laminated ballistic nylon. They are padded with dense foam and
lined with smooth nylon taffeta.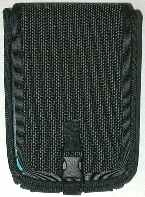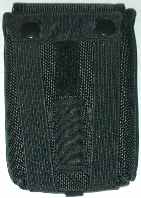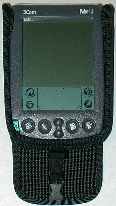 The case doesn't require any Velcro to hold the PDA in place (Yay!). Two heavy duty
snaps are used to hold the access flap secure. When you open this access area, you can
easily slide the PDA in and out of the case. It's a unique design. When the snaps are
fastened, a thick clear plastic holder keeps the PDA in place.

On the Palm V version of the case, this holder has cutouts for the Power button and IR
port. You also have access to the two stylus silos… but, removing the original Palm V
styli from their silos while in this case is pretty much impossible. I use a PDA Panache
Palm V stylus and removing it is simple.
The Palm III/x version of the case also has a cutout for the IR port. Like the Palm V
version of the case, it isn't really possible to use the original stylus. The Point! or
PDA Panache styli are much easier to use.
The cover of the case has a clear plastic card slot on the inside. This cover is held
closed with a plastic pinch type closure device. This is the same type of closure that you
find on backpacks and other sports type packs. At first I wasn't sure if I was going to
like this closure mechanism. It seemed a bit awkward. But, with just a bit of practice, I
was able to latch and unlatch the case with two fingers. I've come to really like it.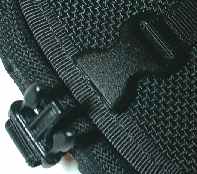 On the back of the case, are two elastic straps that are supposed to aid you in holding
on to the PDA while using it. You're supposed to side your fingers under these straps. I
tried this a couple times and didn't like it at all. I personally wouldn't mind if these
straps were totally removed as I don't see much benefit in them. The back of the case also
has a slender pocket that is supposed to be a slot to hold your stylus. This is supposed
to make the case easier for people that don't have the PDA Panache or Point! styli. I
don't like using this slot as a stylus holder. It is just too awkward. I would rather have
a holder on the side of the case instead of the back.
This slot can also be used for an optional beltclip. The beltclip is the metal spring type
clip that slides over your belt or waist band. A band of Velcro holds this clip in place
very well. Usually, I don't like these type of spring clips because they have a tendency
to slide up and off your belt when you stoop or squat down. But, I have to admit that this
specific clip doesn't seem to have that problem. I gave this case with beltclip a thorough
work out during two weekends of moving boxes from my current house to my new house. I did
more than my share of lifting, stooping, squatting and bending and never did my Palm V in
the Rhodiana case leave the waist band of my jeans (I wasn't even wearing a belt). That's
enough a test for me to say that this clip is safe to use.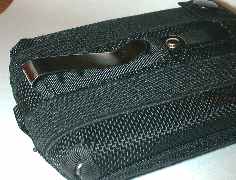 The case is made very well, looks sporty and does a great job of protecting your PDA. The
case also doesn't add much to the overall size of the PDA and is comfortable to hold and
use.
Price: $29.50 (for either case), $2.50 for optional beltclip
Pros:
Completely encloses the PDA.
Doesn't require Velcro.
Optional beltclip.
Cons:
Must remove from case to Hotsync.
Works best with 3rd party styli.
Product Information
Price:
$29.50
Manufacturer:
Rhodiana
Pros:

Completely encloses the PDA.
Doesn't require Velcro.
Optional beltclip.

Cons:

Must remove from case to Hotsync.
Works best with 3rd party styli.