We use affiliate links. If you buy something through the links on this page, we may earn a commission at no cost to you. Learn more.
Program Requirements:
Device:
WindowsCE device with 130k free (ROM files use additional
RAM).
PalmGB by Revolutionary Software Front is a
Gameboy emulator for Windows CE. With it, you have access to 100's of quality games (…if
you know where to find them). An emulator is a program that allows you to run programs
made for a different processor. In this instance, PalmGB is a program that allows you to
run Nintendo Gameboy and Gameboy Color games right on your Windows CE PDA. During the
review, I tested PalmGB on my Casio E-100.
Installation of the program is straightforward. Once the program is installed, you have to
install a ROM file from an actual Gameboy game. You can do this in one of two ways. One
way is to use your existing Gameboy cartridges and using a GBXchanger,
extract the code into a .GB ROM file. The easier and illegal way is to go to various
websites and newsgroups and download the game files that you want. To find sites that have
files, just enter the keyword 'Gameboy' in your favorite search engine.
Ok, you've found a Gameboy game… next step is to copy it to the MY DOCUMENTS folder on
the PDA or in a MY DOCUMENTS folder on a CF card. I personally prefer to put all the files
on a CF card as some of them can be quite large ( > 1meg ).
Next you fire up PalmGB and open the .gb file. And wonders upon wonders, up pops a Gameboy
game! Check out the screenshots below.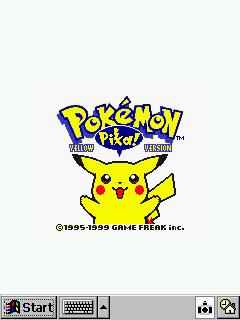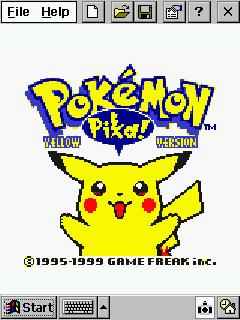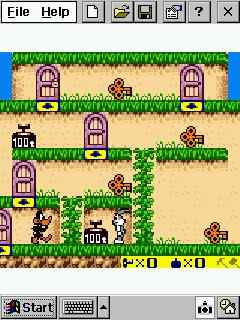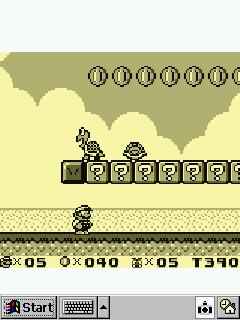 As you see above, there are two screen size settings that you can choose. The normal
setting makes the game screen a bit smaller than the real Gameboy screen, and the larger
size is quite a bit bigger. The only trouble with the bigger size is that the graphics
look blockier.
There are quite a few options that you can set. For example, you can choose a background
image that lays behind the game screen. You can turn on GameX acceleration, adjust the
performance to be faster or smoother, toggle sound, and setup your gamepad.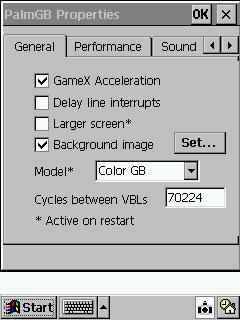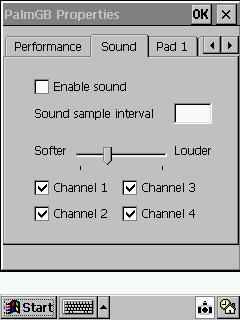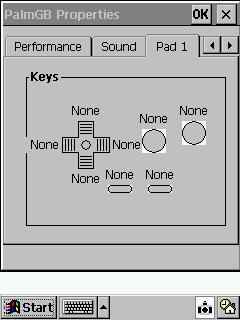 As far as the speed of the game play, I took 2 games that I had for my Gameboy Color
and installed them on the Casio E-100. I then played the real Gameboy Color games for
awhile and then switched to PalmGB. PalmGB on a Casio E-100 with the GameX acceleration
and the performance set in the middle is only slightly slower than a real Gameboy Color.
It actually plays games quite well and they look terrific on the Casio's color screen. I
like playing the color games better through PalmGB than on my real Gameboy Color because
the screen is so much brighter and you can enlarge it. You can even play in the dark
unlike the real Gameboy Color. PalmGB even looks good playing mono games.
One thing that needs a little work (at least on the Casio E-100) is the sound support. I
tried several games and wasn't real happy with the sound quality of any of them. For one
thing, the sounds would sometimes be horrible annoying hums and, the volume adjustment
inside PalmGB doesn't work. No matter what you set it to, it's full blast loud. This is
true even if you set the system volume level.
As I said, I tested PalmGB on a Casio E-100 and I believe that the Casio is probably the
best platform for PalmGB because of the joypad on the front and the placement of the other
buttons. It is VERY similar to an actual Gameboy. At first I didn't think that the round
joypad was all that good. But after a bit of game play, I got used to it. I would still
prefer a cross type gamepad though. I'm not sure how well other platforms would be as far
as playability. You can set up the joypad to map to any keys that you wish, I just don't
know how comfortable other PDAs would be.
According to the PalmGB author, almost all WindowsCE machines are compatible with
PalmGB.  If there are compatibility or display problems he recommends turning off the
GameX acceleration.  The Everex PsPCs don't work at all at this point and Nino and
Jornada 420 users should evaluate the demo before they purchase.  The Nino allows
only one hardware button to be pressed at a time (terrible for games) and the Jornada has
only one useable hardware button.  The Everex problem will be fixed in a future
release.
One more cool thing about PalmGB that I love is that you can save your game in progress!
This is great for those Gameboy games that never gave you that option. Or games that
require weird level passwords that you have to write down or try to remember. I really
love this feature!
I think PalmGB is a must have application for any Windows CE owner that also loves games.
You'll never be bored with the huge selection of Gameboy games out there. Get this app,
you'll love it.
Price: $30.00
Pros:
A vast library of game become available to you.
Runs great on a Casio E-100.
Tons of fun.
Cons:
Sound support isn't that good yet.

Product Information
Price:
$30.00
Manufacturer:
Revolutionary Software Front
Pros:

A vast library of game become available to you.
Runs great on a Casio E-100.
Tons of fun.

Cons:

Sound support isn't that good yet.