We use affiliate links. If you buy something through the links on this page, we may earn a commission at no cost to you. Learn more.
Do you have lots of electronic toys and gadgets that need AA or AAA batteries to power
them? And do you get tired of spending money buying new batteries all the time?  Then
you might have a real interest in the MAHA Rapid i-Charger from Ringing.com. This is a very compact charger that can
charge two or four AA / AAA NiMH or NiCD batteries in one to two hours. It will also allow
you to condition the batteries (discharge).
The charger is made of plastic and has a clear flip up lid. An AC adapter
(included) plugs into one side of the unit. There are also two LEDs and two buttons on the
front of the charger. The LEDs indicate if the batteries are in the charging or
conditioning mode. If the LEDs are red, that means the batteries are being charged. If
they are green, the charge cycle is complete. And if the LEDs are flashing yellow, that
means that the batteries are being conditioned.The buttons on the front of the unit
toggle between charging or conditioning mode. When set to condition mode, the unit will
discharge the batteries and then immediately afterward, automatically switch to charge
mode to charge them.
The i-Charger will charge 2 – 4 NiMH or NiCD batteries at a time. Charging must be done
either with a pair or four batteries.  You can't just charge one battery. You also
should charge a like set of batteries.  You can charge 2 NiMH and 2 NiCD batteries at
the same time which is convenient. The charger has two separate circuits so you can charge
one set of batteries while you're conditioning the other set.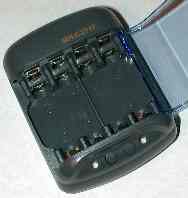 I found that the i-Charger worked quite well. I liked it better than the Radio Shack
charger that I had been using. There were no switches to tell the charger which type of
batteries (NiMH or NiCD) you needed to charge which made the operation easier.  You
also don't have to mess with switches telling the charger how many batteries you want to
charge. Inserting and removing the batteries was simple as well.  The unit also
charged AAA batteries in less than 1 hr and AA batteries in about 2 hrs. I also liked the
small size of the unit.
The only thing I don't like about this unit is that it requires an AC Adapter
(included). My Radio Shack charger has a cord built in and a typical 2 prong plug. I don't
care that much for the larger AC adapter cubes because they take up too much space. Other
than that, this is a great little unit.
Price: $35.99 (comes with your choice of 4 AA or AAA NiMH
batteries)
Pros:
Small package
Simple to use
Charges and conditions
Cons:
Has an AC adapter
Product Information
Price:
$35.99
Pros:

Small package
Simple to use
Charges and conditions

Cons: