We use affiliate links. If you buy something through the links on this page, we may earn a commission at no cost to you. Learn more.
Suppose you finally found the case that's perfect for you and your Palm PDA, but
there is one thing missing? You want to hang it from your belt, and the case doesn't have
a clip. Well I have one thing to say…(click here)!!
Ok, so I'm a little shy about wearing my PalmPilot on my belt. (At least that's why I thought
they called me a nerd.) But the reality is that the belt is a good place to put it.
Hanging your PDA from your belt removes the fear of having it fall out of a shirt pocket
if you bend over. Anyway, now you can have your cake and eat it too! Check out the PDA
Pocket from Pixeline Arts. It's an adjustable
nylon and Velcro PDA holder with a large belt loop.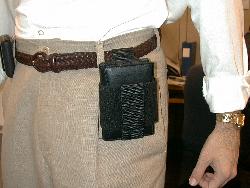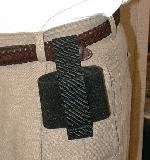 It comes pre-sized to hold a PalmPilot, but as you can see in the picture above, I
adjusted it to fit my PalmPilot in a Devian DVP7 case. What I like best about it is that
it gives you the flexibility to use any case, or no case at all, and still carry your PDA
from the belt.
The Velcro straps are about 3 inches wide, so they hold the PDA quite well. I never
felt as though my PalmPilot was going to fall out. And the belt loop is about 1.5 inches
wide, so it doesn't swing too much if at all. But I'll have to admit that it was difficult
to adjust the straps at first. While 3 inch wide straps with Velcro on both sides is very
strong; it's also a bear to pull apart. It took me about 10 minutes to make the
adjustment. But once I got it right, it stayed that way. Wide Velcro like this isn't going
to slide around.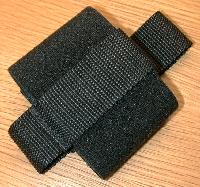 Of course it's also very light in weight. If I remove my PDA, I almost forgot I still
have PDA Pocket hanging from my belt. And transferring all the weight of most PDAs to your
hip is not uncomfortable. And since the entire PDA Pocket is made of nylon and Velcro,
it's machine washable.
There are only two slightly negative things to mention about the PDA Pocket. First,
since the straps and belt loop are so strong, there isn't a lot of flexibility in the unit
while you have a PDA inserted. This can be cumbersome while sitting. But I would rather
put up with some stiffness in the PDA Pocket; than worry that the clip is so flexible that
it might pop off my belt. (I have heard stories of other clip cases where they popped
off).
The second point is that although the PDA Pocket is pre-sized to fit a PalmPilot, I
don't think that I would recommend using it this way. There just isn't any protection in
the exposed areas of the PalmPilot. Perhaps Palm III users could get by without a case,
because the Palm III has a screen cover, but as you can see in the picture below, there is
too much exposed area on a PalmPilot. When I got the PDA Pocket to review, I thought:
"No way am I putting my PalmPilot in this with the screen unprotected." Then I
adjusted the size to fit my leather case, and it seems to work out quite nicely.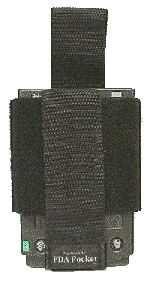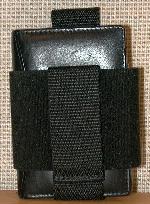 Overall, I like the PDA Pocket. It's light and I don't have to sacrifice my
"protective" case to have a "carrying" case. I plan on using it a lot,
so if you see me on the streets with one of these hanging from my belt, don't think of me
as a nerd, just think of me as "gadgetry enlightened". ( Hey, at least it's not
a slide-rule).
Price: $15.96
(+ $3 S&H)

Pros:
Lightweight.
Fully adjustable.
Strong material, well made.
Cons:
Not enough screen protection for a PalmPilot.
Stiffness may be bothersome while sitting.
Product Information
Price:
$15.96
Manufacturer:
N/A
Pros:

Lightweight.
Fully adjustable.
Strong material, well made.

Cons:

Not enough screen protection for a PalmPilot.
Stiffness may be bothersome while sitting.