We use affiliate links. If you buy something through the links on this page, we may earn a commission at no cost to you. Learn more.
The guys at Tech Center Labs have
done it again with a nifty accessory for any PDA. It's the worlds first lithium powered
stylus! This little gem is a small metal stylus about the size of the original PalmPilot
stylus (but it does not fit in either the Palm III or PalmPilot stylus holders. Nor
does it fit in any PDA that I've seen so far. It is a stand alone stylus). It has a
tip that lights up bright red when the cap is clicked.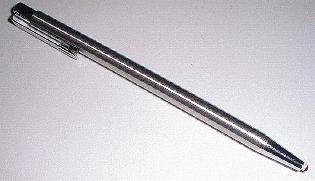 The stylus is light weight and very small. That's the best thing about it. It isn't
made to fit any specific PDA, but has a pocket clip and can probably fit in many different
cases. There is also a matching pen and mechanical pencil set available. To light up the
the stylus, you just press the end cap down and the other end lights up. To turn it off,
you press the pocket clip which releases the cap.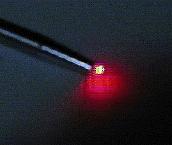 The BrightWriter is powered by a lithium battery that will last between 10-15hrs.
Replacing the battery is a simple matter of unscrewing the end of the writing tip,
removing the old battery and dropping in a new one. The tip of the battery can also double
as a reset switch tool on some PDAs.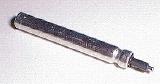 Lithium Battery
The BrightWriter stylus is a great little replacement stylus for any PDA. It is
especially nice for a Palm Pilot or Palm III because the grafitti area of these PDAs do
not have backlighting. The BrightWriter can light up that area to help you see the
Application, Menu, Calculator, and Find silkscreen buttons. It can also help you see the
actual grafitti area. It won't light up the entire PDA screen though… so it's not for
someone that is looking for a backlight alternative for their PDA. The writing tip is
smooth and has a great feel. The light is also bright and easy to turn off and on. It's
made well and would be a great accessory to add to anyone's gadget bag.
Order your BrightWriter and/or matching Pen and Mechanical
Pencil set here.
Price: $22.00 (BrightWriter w/battery), $34 (BrightWriter,
and matching pen and mechanical pencil set), $6 (2 extra lithium batteries)
Pros:
Small size
Works with any PDA
Very cool
Cons:
I really can't think of any  🙂
Product Information
Price:
$22.00
Manufacturer:
Tech Center Labs
Pros:

Small size
Works with any PDA
Very cool

Cons:

I really can't think of any  :-)