We use affiliate links. If you buy something through the links on this page, we may earn a commission at no cost to you. Learn more.
What makes the Palm OS PDAs so great is that virtually everything about them
software-wise can be modified via 3rd party add-ons, or replacements.  The T9
keyboard by Tegic Communications is one such program.
The T9 keyboard replaces the built in QWERTY style keyboard.  The T9 (which stands
for "Text on 9 keys") product isn't new, it's been in use in various mobile
phones, pagers, tv remotes and PDAs.
You might ask, "What could be so special about this keyboard that would make you
want to switch from the built in keyboard?".  The T9 keyboard uses 9 large size
keys that are arranged like a touch tone phone pad. Instead of pressing tiny little keys,
you can easily tap on these large buttons. How can you get all the alphabet on just 9
keys? Well, every key actually has 3 letters each.  The great thing is that you don't
have to tap on the exact letter that you want. You just tap anywhere in the button that
has the desired key.  The T9 word database then guesses what word you actually
wanted.   Sound farfetched? It actually works extremely well. If you enter a word
that is not in the linguistic database, you can easily add it by tapping out the exact
word letter by letter and then by tapping on that word in the word choice list above the
keys, it is then added to your user word list. Your user word list can hold up to 2000
words.  Once you add more than that, it automatically deletes rarely used words first
to make space for new ones.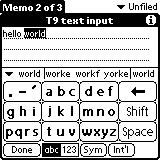 I found that actually using T9 is very easy to pick up. Unlike the Fitaly keyboard
replacement, I didn't need to learn anything new. Using T9 is very quick. I could just
tap, tap, tap out the words with rarely any mistakes or unknown words.  Of course
there are lots of times when the letters of a word that you are using can make up several
different words. In cases like this, you will need to look at the word list line and tap
on the desired word. For example, if you were wanting to tap the word COOL, the letters
that make up that word could also make up BOOK, COOK and others… Since those are real
words, T9 doesn't know which one you want until you tap on it. If you don't tap on any of
the words in the word list, it will just select the most frequently used word.  The
list will then show the 2nd, 3rd, etc most used words and at the end of the list it will
show the actual letters that you tapped to make that word.  If there are more words
in the list that can be show across the screen, a pulldown menu can be accessed.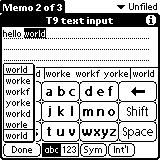 Besides the regular alphabet keyboard, there are keyboards for numbers, punctuation and
symbols. I personally wish that a 'return' key would be added to the main keyboard instead
of on the punctuation keyboard though. But, that brings up another nice feature of T9…
You can mix graffiti with it. If while you're tapping out a sentence you need to go to the
next line, you can use the graffiti stroke for that. Or use CUT and PASTE strokes. You can
even switch to the standard built in keyboard while you're using T9 by just tapping on the
ABC in the graffiti area.  Doing this will pop the standard keyboard right over the
top of the T9 keyboard. When you press DONE, you're back to T9.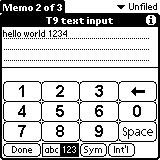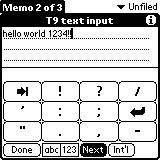 T9 is fast and doesn't slow down your PDA at all. It's great for quickly tapping in
information during those times when you don't want to use graffiti, or you don't know
graffiti. I love graffiti, and use it 99% of the time… but while reviewing T9, it's
caused me to really consider switching over. It really seems quicker to me.
So, I decided to do a little test. I brought up a blank memo in MEMOPAD and tapped out
the following sentence as quickly as possible: "Meeting in conference room 215 at
2:30pm".  Here are the suprising results in order of fastest time first.
| | |
| --- | --- |
| Method | Seconds to Complete |
| QWERTY | 38 |
| Graffiti | 40 |
| Fitaly | 43 |
| T9 | 51 |
| Jot | 52 |
What do these results really tell us? Hmmmm, probably not a lot. It all has to do with
user preferences. You'll use the method that feels most comfortable.  I really
thought that I was blazing away at hyper speed with T9 but in fact, wasn't… But I like
it, and that's what counts.
What don't I like about T9?  There are a few things. Number one, it's
expensive…. almost $40. Number two, it's a large program and takes up 170k of your
memory not including your personal user word list. And lastly, a really minor nit that I
want to pick…. everytime you bring up the T9 keyboard, it has to flash the logo on the
screen for about 2 secs (even in the registered version). Please allow us to turn that
off.
Give T9 a try, and let me know what you think….
Price: $39.95
Pros:
No learning curve.
Quick word entry.
Cons:
Expensive.
Uses 170k of your memory.
For another viewpoint on the T9 Keyboard, read what He Said … – the PalmMarks review.
Product Information
Price:
$39.95
Manufacturer:
Tegic Communications
Pros:

No learning curve.
Quick word entry.

Cons:

Expensive.
Uses 170k of your memory.
 
For another viewpoint on the T9 Keyboard, read what He Said ... - the PalmMarks
review.