The FlightJacket by PilotGear HQ is a compact black leather case with a beltclip for your PalmPilot or Palm III. The PDA is held in the case by a yoke.  No Velcro is needed (Yeah!).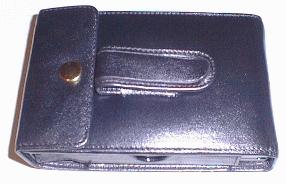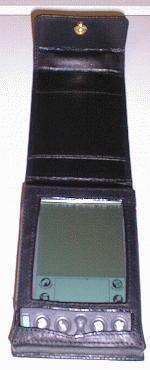 The FlightJacket case has a leather covered slide on/slide off type beltclip. I liked this leather covered clip. In my opinion, it holds on better than the bare metal version. It's also not as noticeable because it blends in with the rest of the case.The screen cover flap has some stiffener in it to help protect the screen. It is held closed with a brass snap. This flap can fold under the Pilot and out of your way when you are using it. Another feature of the flap is a card slot. The snap for the screen cover is located on the back side of the Pilot so that you don't have to worry about putting pressure on the screen or button area of the PDA.
The PalmPilot or Palm III slides into the case from the top of the yoke. It's held in place by friction (the top of the yoke is open). I found it easy to insert and remove both the PalmPilot and Palm III.
The stylus silo is easily accessible on both a Palm III and a PalmPilot.
Note: Since there really isn't anything to keep the PDA in the case, you wouldn't want to hold the case upside down while the screen cover was unsnapped as the PDA could fall out.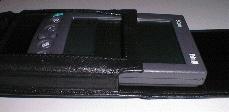 The bottom of the yoke is solid leather, there isn't an opening for a HotSync cable. The PDA must be removed in order to HotSync.
I think this case was really made for the PalmPilot….but does accommodate a Palm III. While I was reviewing the case, I only used it with my Palm III. It fit fine but there were a few minor problems. One thing is that the cut out for the contrast wheel doesn't quite line up. As you can see below… The picture on the left is a Palm III and the picture on the right is a PalmPilot.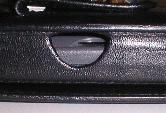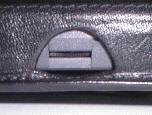 Also, the cutout for the main buttons fits a PalmPilot perfectly but is only adequate for the Palm III. The buttons on a Palm III are more oval than round like the PalmPilot's buttons… because of this, the FlightJacket cutout doesn't match up correctly. Good access to the Palm III's up and down rocker switch is also blocked by the bottom of the cutout. I found that I couldn't press the rocket switch down because of this. You can still use this case with a Palm III though… especially if you are like me and rarely press the buttons.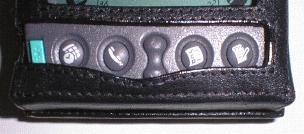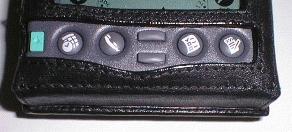 Overall, the FlightJacket is a well made compact leather case. The stitching, leather quality and snap are all top quality.
More of our stories that you'll enjoy: