The BurroPak by LandWare, Inc.is a shoulder holster styled carrying case marketed for the PalmPilot. There is a large pocket, (6.5″ tall x 4″ wide), behind the smaller pocket that the PalmPilot fits into. It is currently only available in black, but other colors and custom logos are available for large orders. LandWare's logo is displayed on the front in dark green. The case is made of Cordura, a rugged material, yet is extremely lightweight. The stitching, straps, and the Velcro fastener are of good quality.
When I first put the BurroPak on, I thought, "All this just to hold my PalmPilot?" Then I realized that I could fit my cellular phone into the back pocket. I found this to be very convenient. I never go anywhere without my cell-phone, and ever since I got my PalmPilot, I have had a problem carrying both. (Try clipping a cell-phone, PalmPilot, and a beeper to your belt!) Also, both devices fit nicely without me having to cram them in. The flap covers both pockets.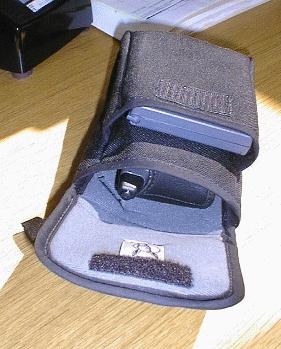 I was surprised by how lightweight the BurroPak felt, even with my two devices inside it. Five minutes after I put it on, I forgot that I was wearing it. Without the phone, I had to peek to see if the PalmPilot was still inside it. With the phone, it was a bit bulky. In general, I hardly noticed the BurroPak, but I think that this product was designed for men, because having a bulky case hanging under their arm would probably bother most women.
The straps that are clipped to the case are made of nylon. The straps that go around the opposite shoulder are made of thin but strong elastic. The joint between the two sides of the straps is nicely padded. It's quite comfortable. Although the straps are fully adjustable, I kept it somewhat lose around the shoulders. Wearing it this way enabled it to swing a bit when I walked. And I noticed it more under my arm when sitting at a desk. (My cell-phone is twice as wide as the PalmPilot, so take that for what it's worth.)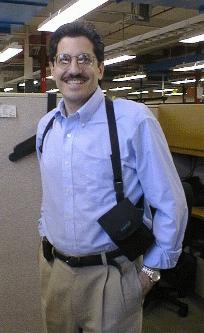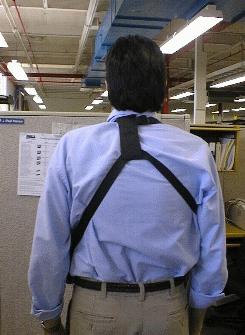 The flap has a Velcro fastener that held securely and yet was easy to open. I did some informal, repetitive testing on how easy it was to remove the PalmPilot and my phone. Neither device was a problem to remove. I suppose the pocket for the PalmPilot could be a bit smaller. It seemed like I could fit two PalmPilots in the same front pocket. But I could see how that extra space would be easily used up if I wore it on a business trip. My PalmPilot is in a leather case, but I would be hesitant to put it in the pocket without a cover of some kind over the glass screen. The only padding in the pockets is on the part of the case that is against your body. (It's the back of the larger pocket).
The BurroPak would fit nicely under a business suit jacket or sports coat, and a jacket would help it to swing less. The case is connected to the straps using two plastic Fastex fasteners. You simply squeeze the clips and it releases the case from the straps. This feature enables you to remove the case from under your jacket without taking your jacket off. This is handy, for example, if you needed to place it on the airport x-ray conveyor. Unfortunately, both of the clips on the straps are "male" and once you take the case off, they just hang loosely. I would prefer if they could be clipped together once the case was removed. Once the case is removed, it was easy to get the straps twisted, and you may need a hand trying to find the lower strap to reconnect the case. Also, the case is designed to fit under the left arm. Keep that in mind if you are left-handed.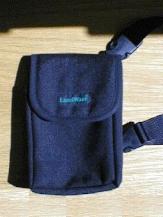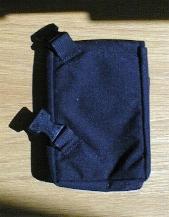 I found the BurroPak a convenient way to carry your PalmPilot and anything else that you want to keep within reach. I liked the way that all of the weight was transferred to my shoulders, and the case hung just under my arm. Some belt clipped cases bother me when I sit in a chair or in my car seat. But I don't see myself wearing it with just a T-shirt and jeans. The black straps and case stand out a bit too much for me. Perhaps I would wear it with a black T-shirt, but I would definitely wear it under a jacket.
Some of our links in posts like this one are affiliate links, which means that we may receive a small commission on purchases at no cost to you.
Product Information
Price:
$39.95
Manufacturer:
Landware
Pros:

Lightweight.
Transfers weight to shoulders.
Large pockets hold a lot.
Quick access.

Cons:

Straps hang lose once case is removed.
Pockets won't protect the PalmPilot screen.
May tend to swing if worn without a jacket.