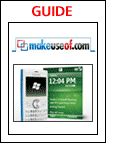 The Ultimate Guide To Your Windows Mobile Phone [affiliate link] is a 50 page guide starts with the very basics of Windows Mobile, and quietly builds up its pace to a more advanced level..
There are a few hoops to jump through to get this guide, but it helps The Gadgeteer to earn some some affiliate fees that can help us to bring you more cool product reviews.
Other articles that we've written that you might like...