We use affiliate links. If you buy something through the links on this page, we may earn a commission at no cost to you. Learn more.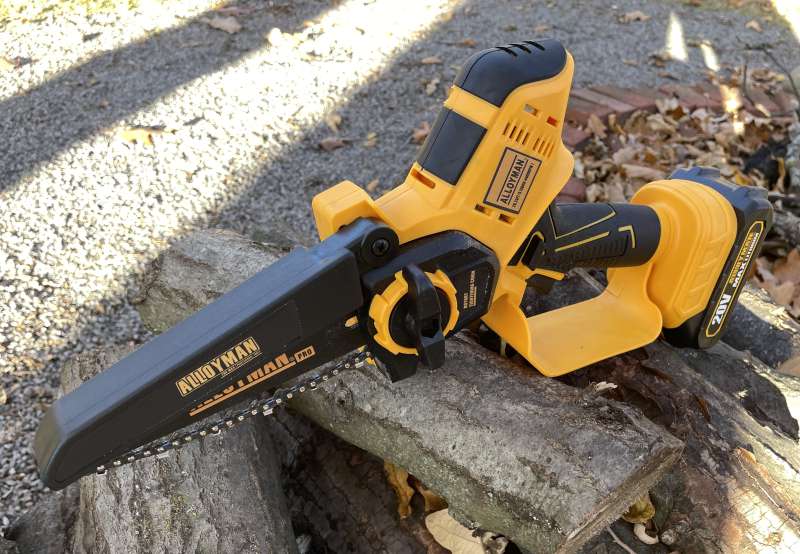 REVIEW – If you maintain a home, taming the onslaught of renegade flora can be challenging. Sometimes a full-size chainsaw is dramatic overkill. Having the right tools for the job makes all the difference. Make your pruning and trimming needs easy with Alloyman's CS-BM11 Mini Cordless Chainsaw!
What is it?
The Alloyman CS-BM11 is a rechargeable hand-held chain saw with removable batteries capable of cutting wood up to five inches in diameter.
What's in the box?
Alloyman CS-BM11 Cordless chain saw
Fitted case
Two batteries
Power supply
Extra chain
Safety glasses
Work gloves
User manual
Hardware specs
Model: Alloyman CS-BM11
Supply voltage: 20VDC
Chain Speed: Up to 4200 revolutions per minute
Sprocket number of teeth: 32 links, 16 with toothed cutting blades
Guide bar length: Six inches
Cutting length: Five inches
Battery: lithium-ion, 2.0 Ah
Power supply rated voltage: 100-240VAC, 50-60Hz
Charging current: 1A
Battery voltage: 20VDC
Weight: 4.6 pounds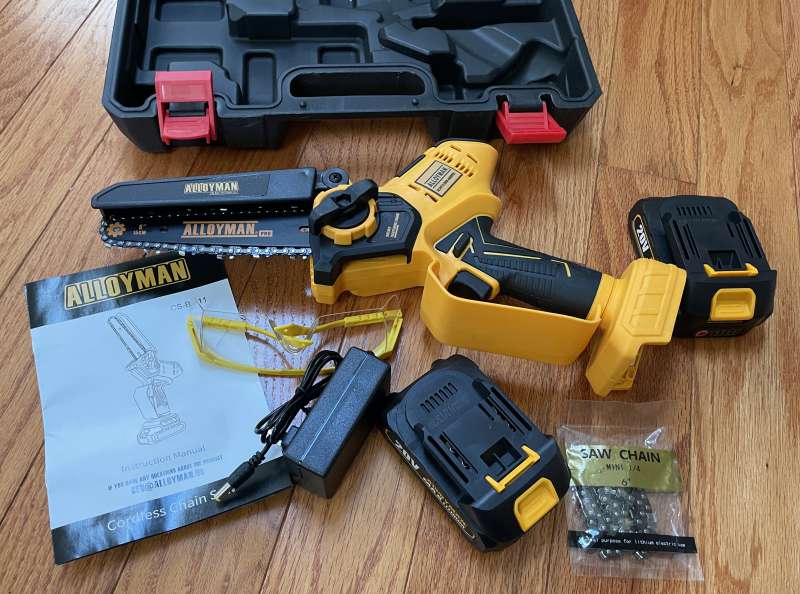 Design and features
The Alloyman CS-BM11 cordless chainsaw arrived in a nicely displayed box.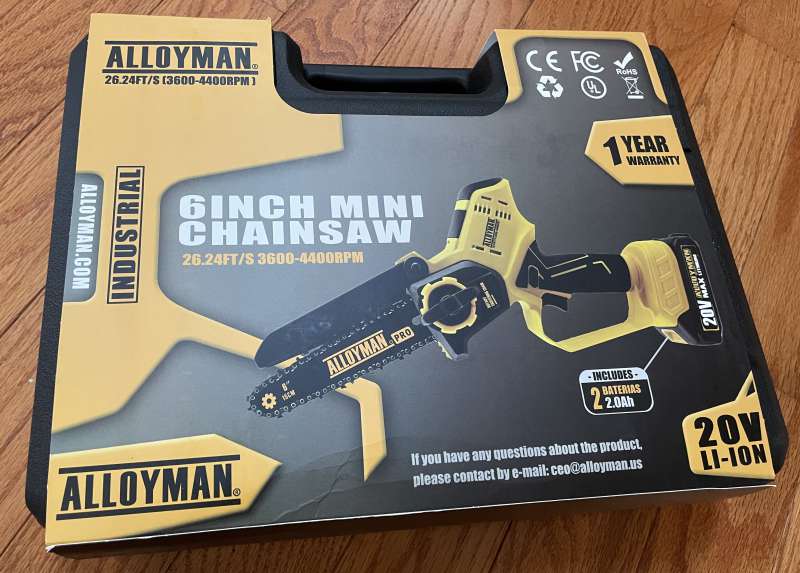 Inside the cardboard cover is a fitted case. I am especially fond of gadgets that include cases that make organization and storage effortless.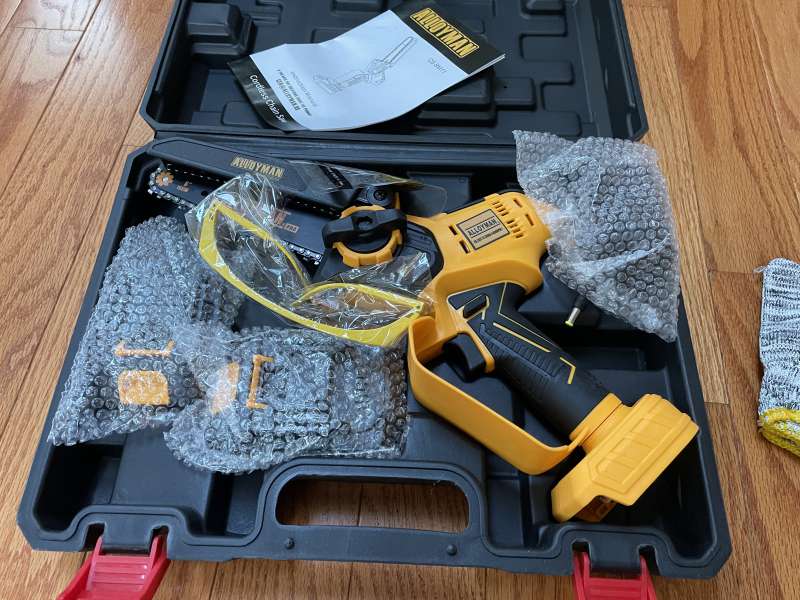 The case is secured with a pair of gutsy latches.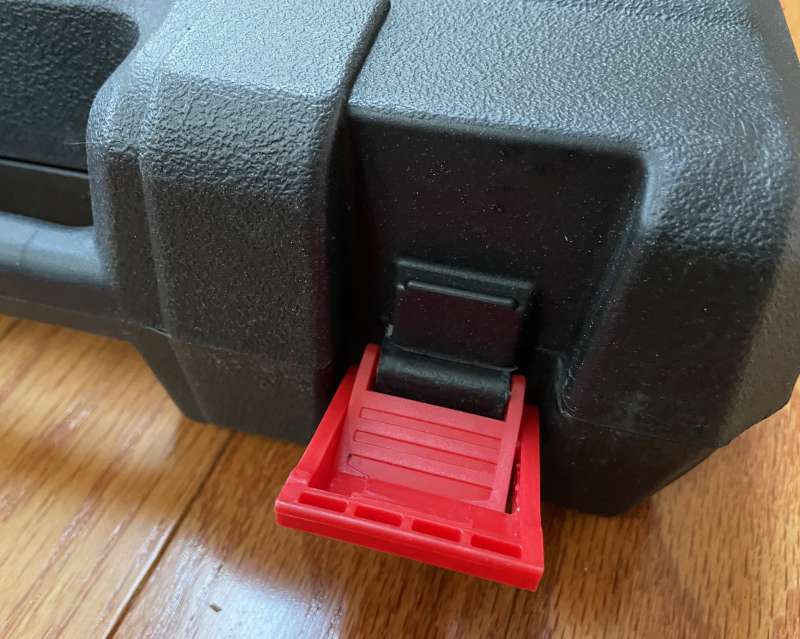 Surprise, surprise! Alloyman includes a pair of work gloves and safety goggles. Please, dear Gadgeteers, use them with diligence. They're in the box so there's no excuse not to use them!  Your hands deserve to be shielded from sawdust and the inevitable snapping of branches, and, for me, when working outside are indispensable when there is a chance I might accidentally touch a spider.  As for the goggles – eyesight is precious and should always be protected, especially when using a tool capable of blasting toothpicks towards your face.  Okay, in fairness, the CS-BM11 emits copious amounts of sawdust, but you get the point.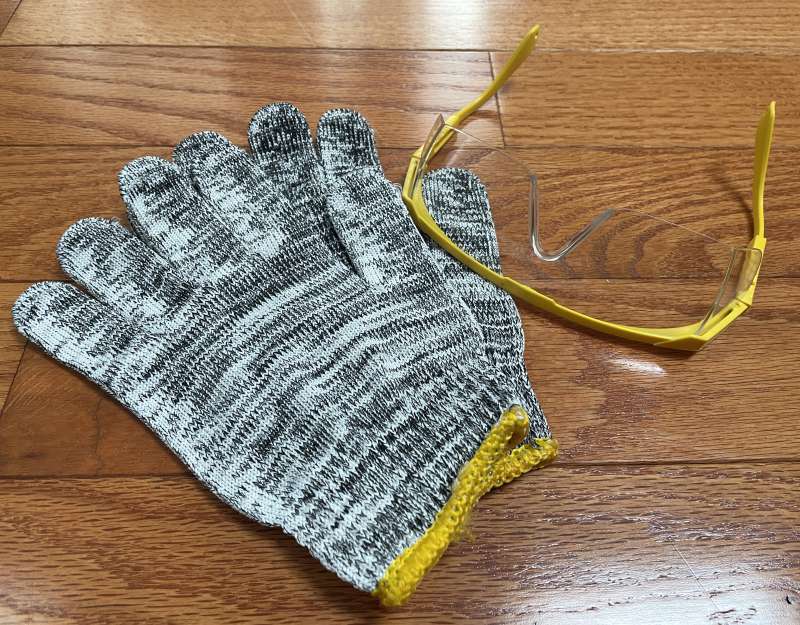 Another pleasant surprise is the inclusion of not one, but two removable batteries. Wooo!  As a big fan of rechargeable tools, I can attest that running out of juice halfway through a work project is the pits. The extra battery means one can be working while the other receives a respite with enthusiastic electrons. Well done, Alloyman.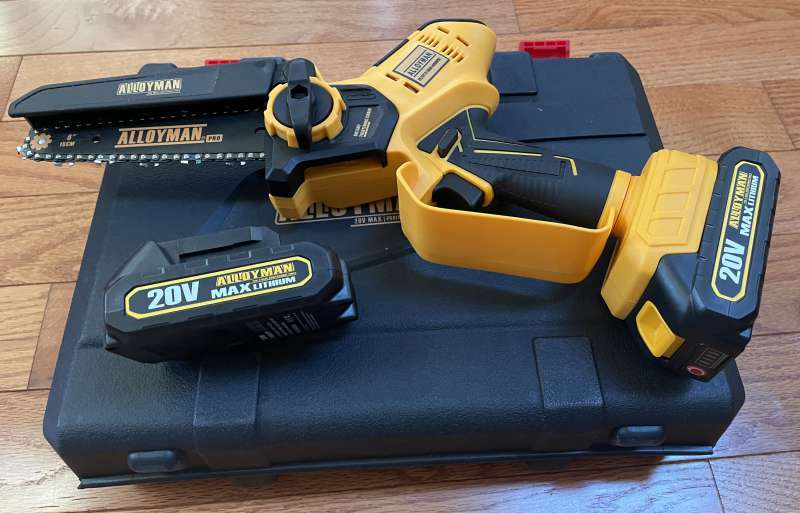 The coaxial charging port is located on the battery.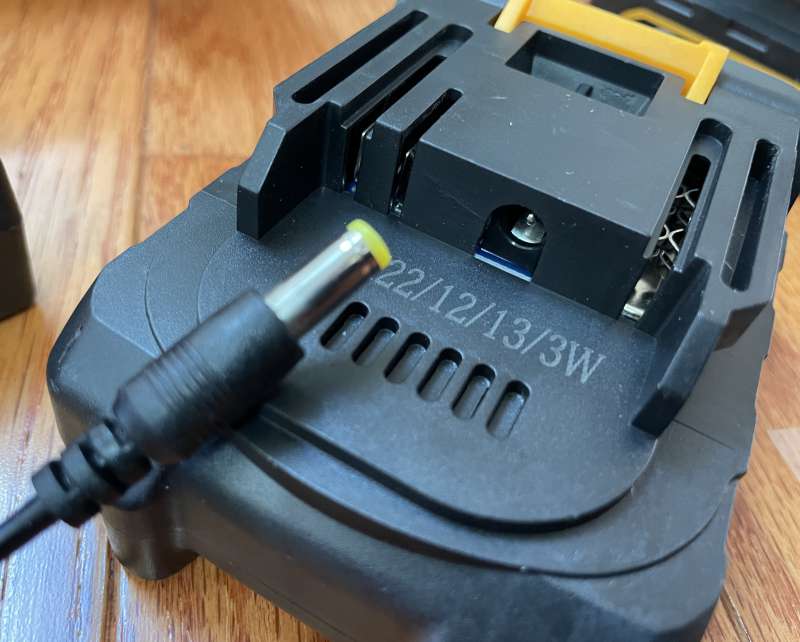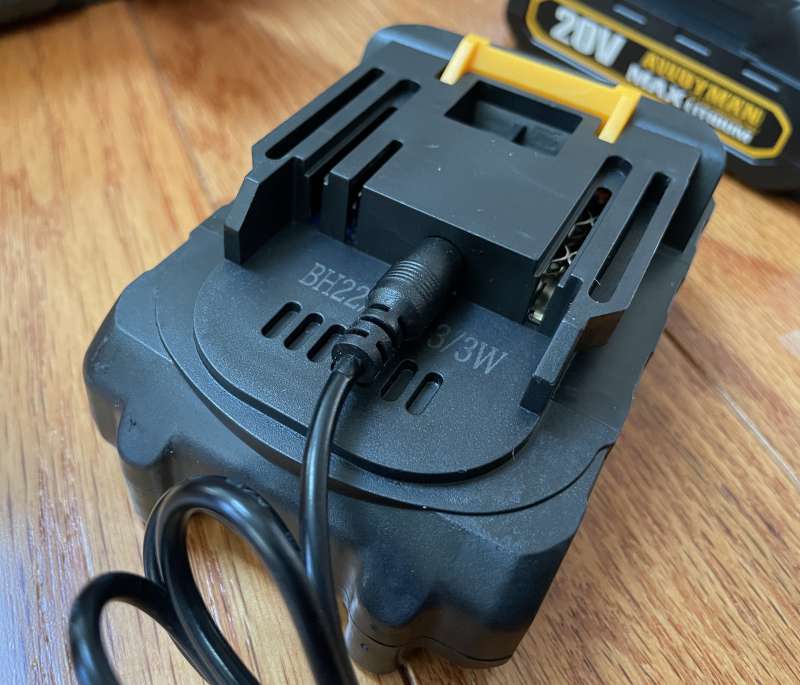 Power is supplied through a wall-wart transformer.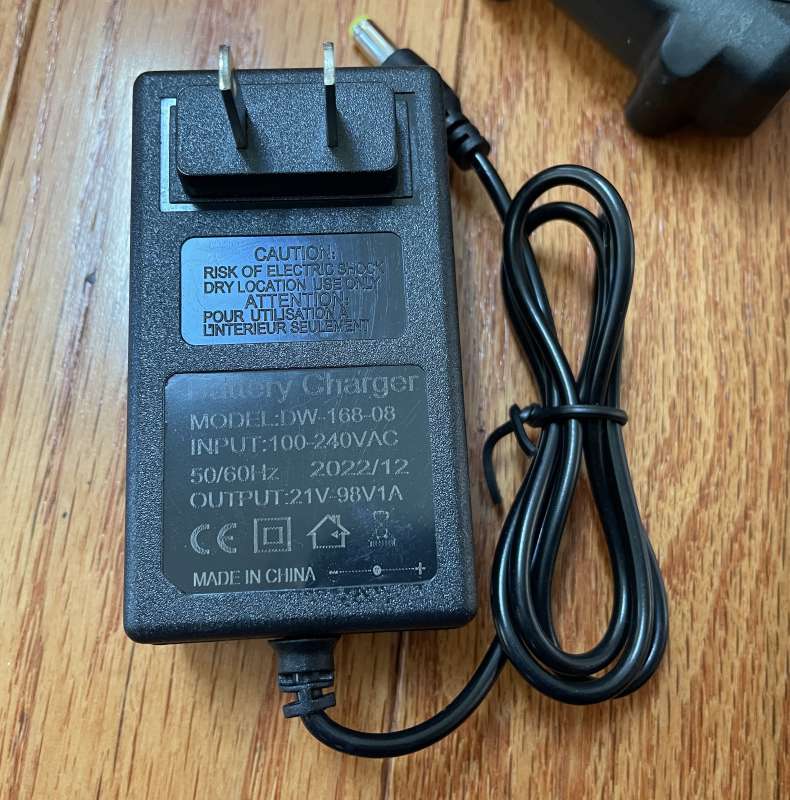 An LED indicates changes from red to green when charging is complete. I measured a bit less than 90 minutes to full capacity yielding a commendable 37 minutes of continuous run time. Of course, cutting wayward branches won't require uninterrupted use so actual work time should be much longer.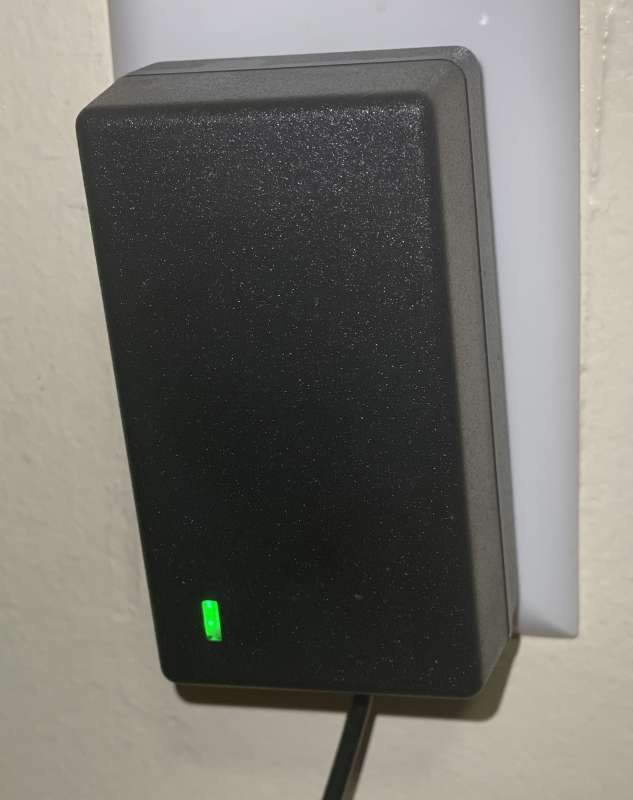 There's a handy button with a four-segment LED to let you know how much power is left in the battery.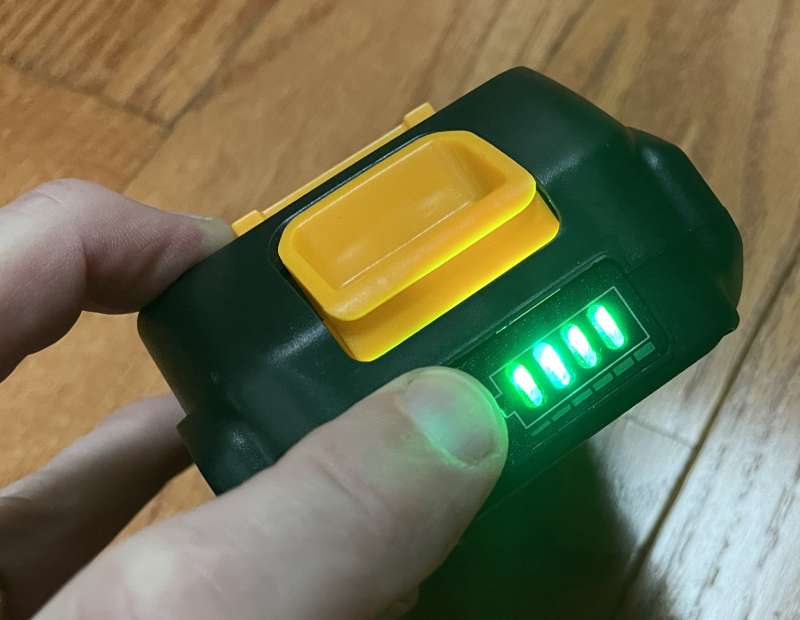 The battery slides into the saw and securely latches. To detach, press the yellow button.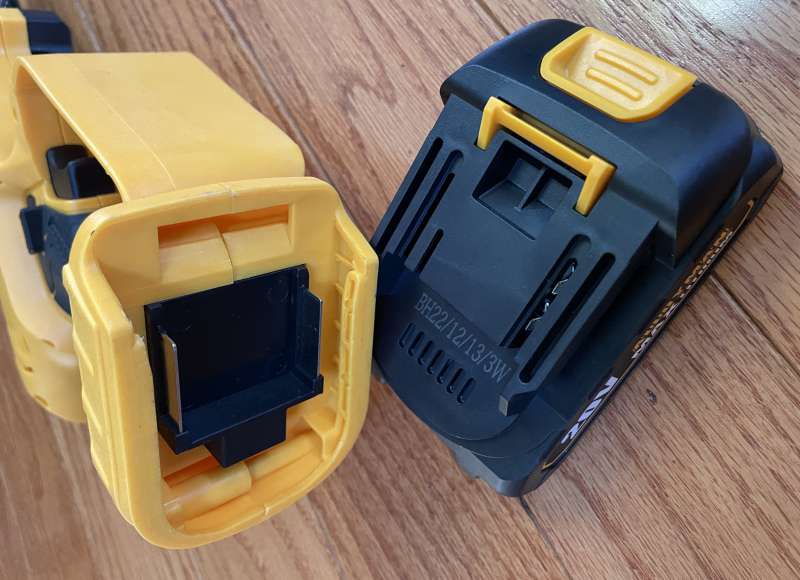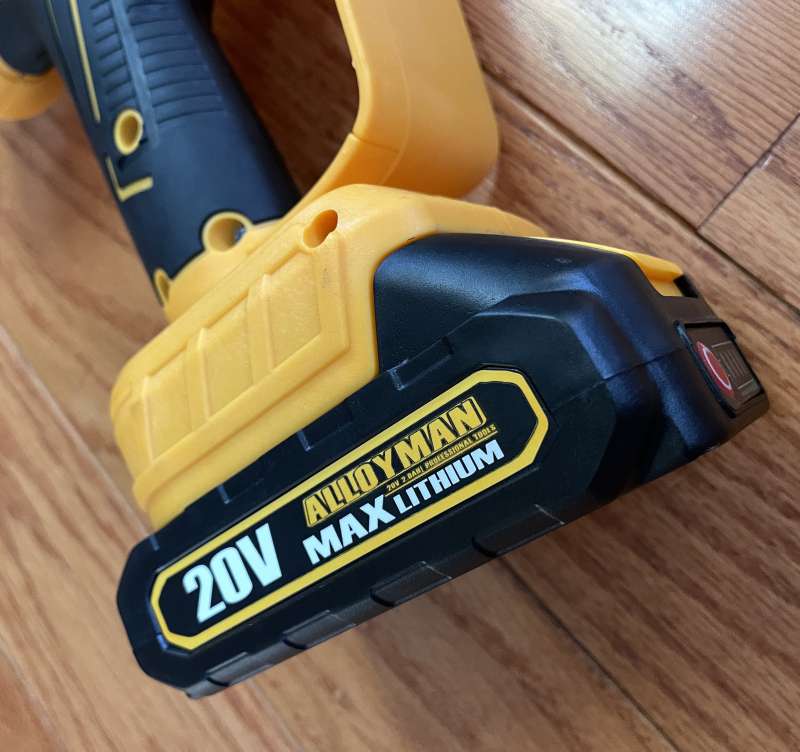 Recessed terminals in the battery engage with the power connections on the saw.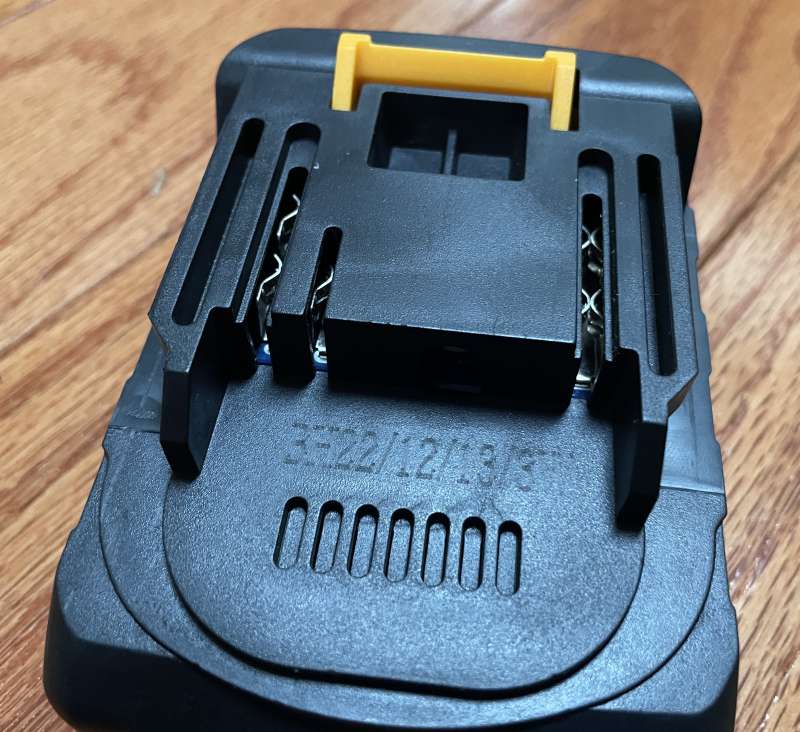 There is a safety latch on the side of the saw that must be pressed to operate and will automatically engage when the trigger is released. It extends through the saw handle and works for both righties and lefties.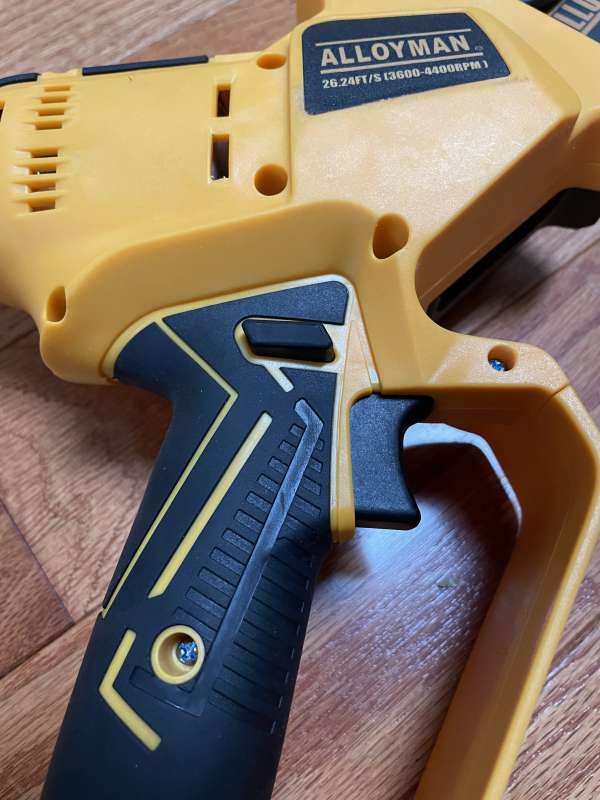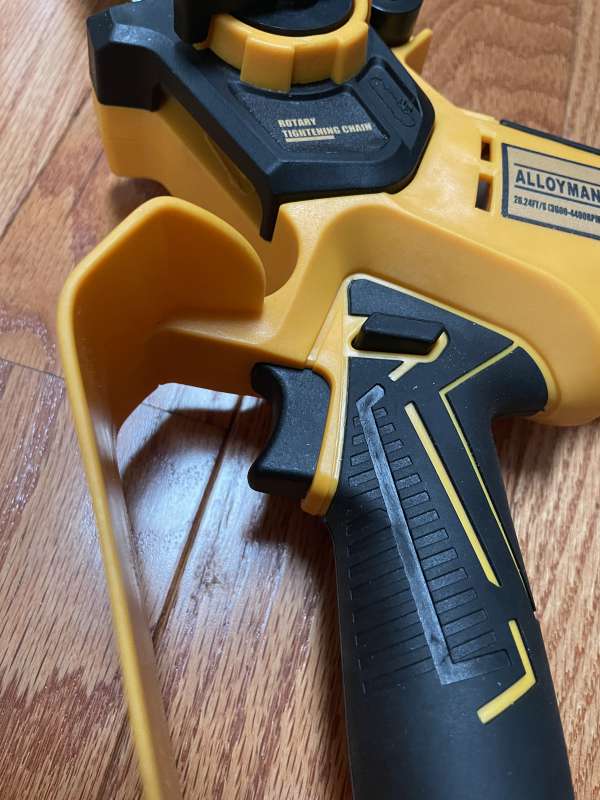 The Alloyman CS-BM11 Cordless Chain Saw's motor is single-speed and sends the saw chain whirring at speeds over 4000rpm.  It's very fast… and dangerous… and useful!  The first time I fired it up it was obvious this was NOT a toy!  Let's be careful out there, folks!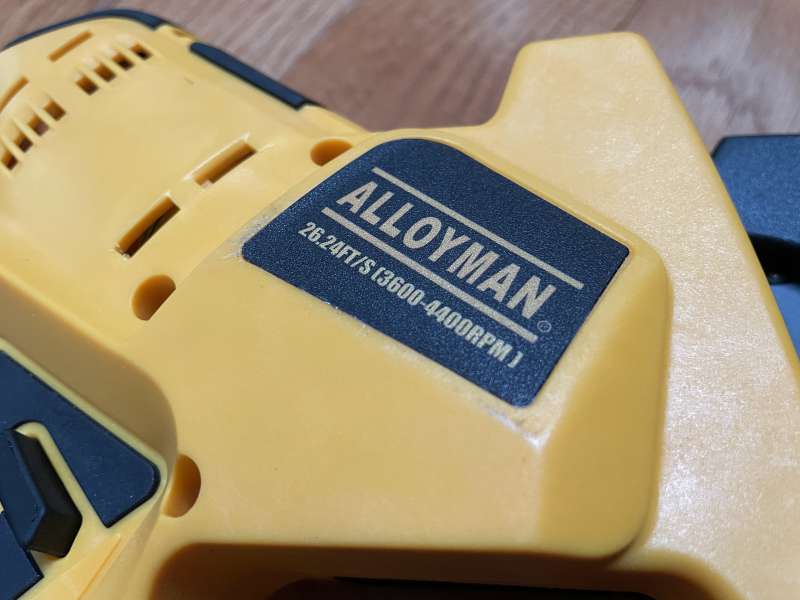 The body of the saw feels strong and feels comfortable to use. There is a protective guard around the handle.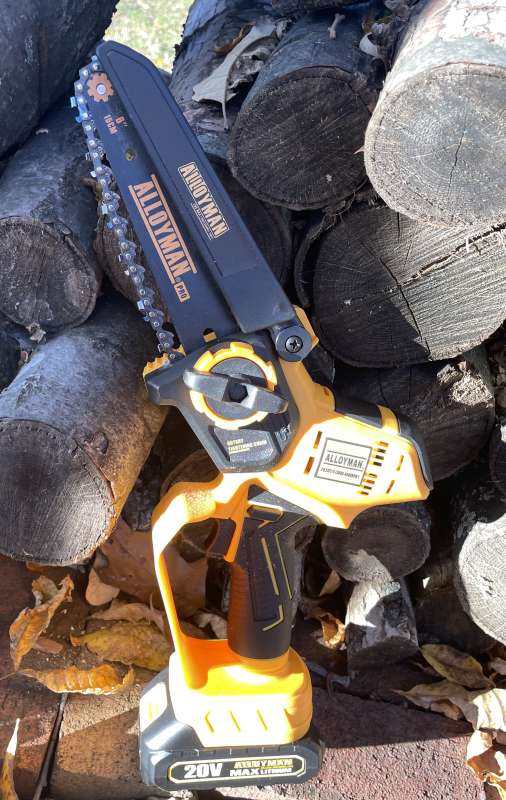 The chain bar is six inches long. I was super happy to find that bar oil isn't needed. This keeps the tool much cleaner than other chain saws I own and reduces operating time and maintenance. Excellent!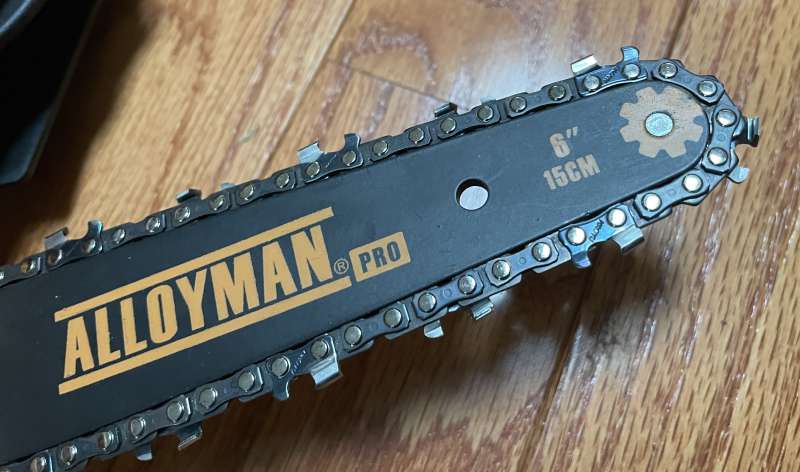 Atop the blade is a spring-loaded safety cover. It pivots out of the way when cutting deeper stuff.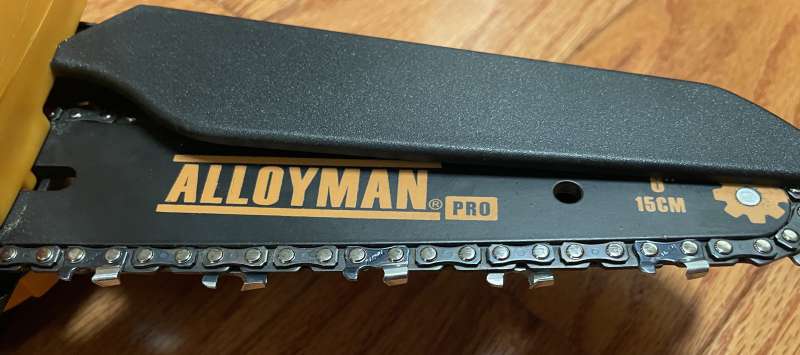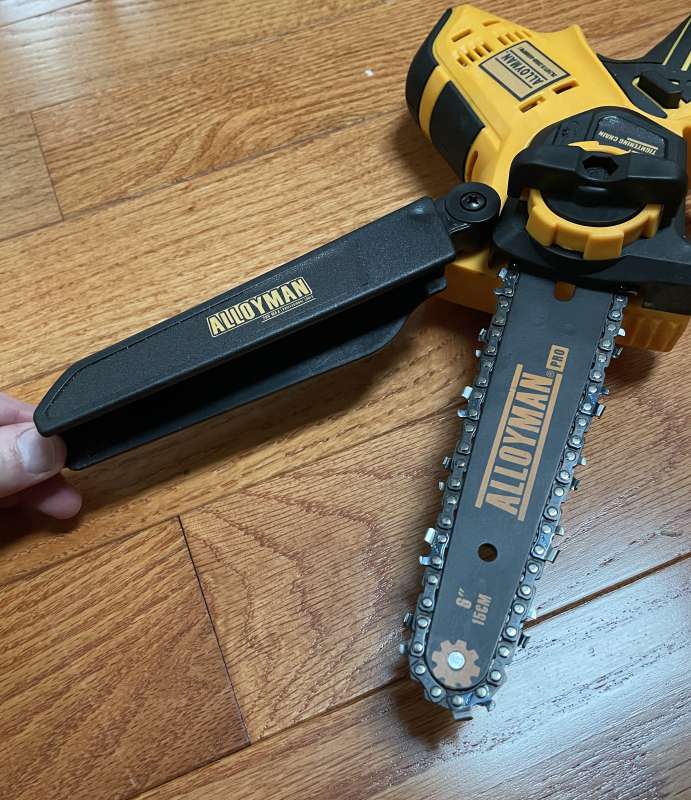 The CS-BM11 easily cut through a 1.75-inch branch in a touch over three seconds.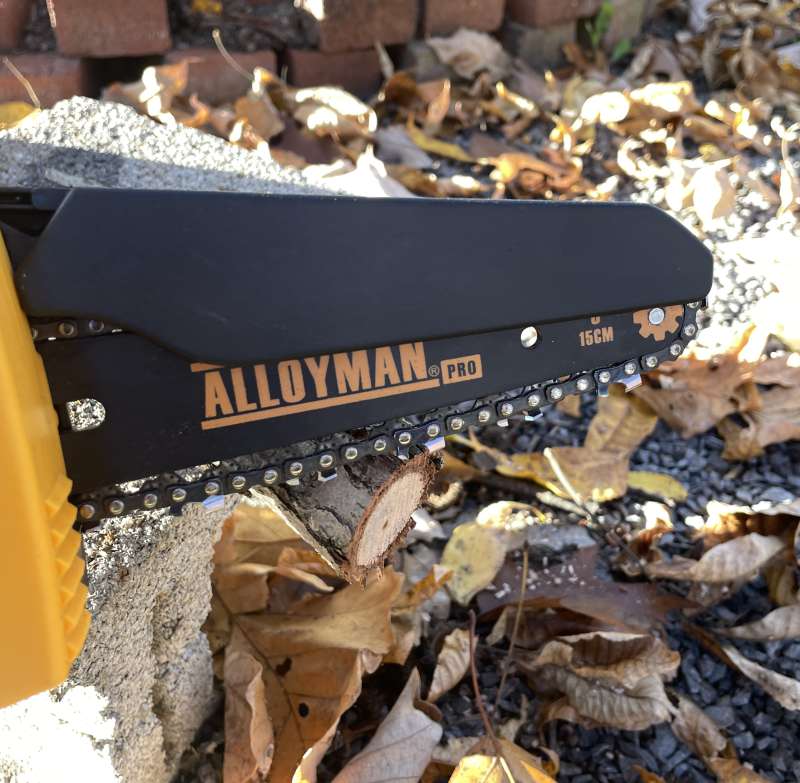 A larger log with a diameter of about four inches took about 15 seconds.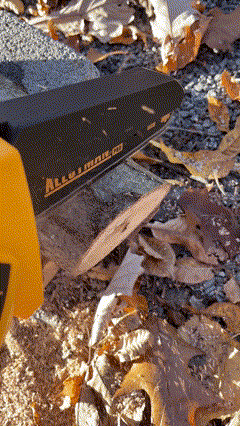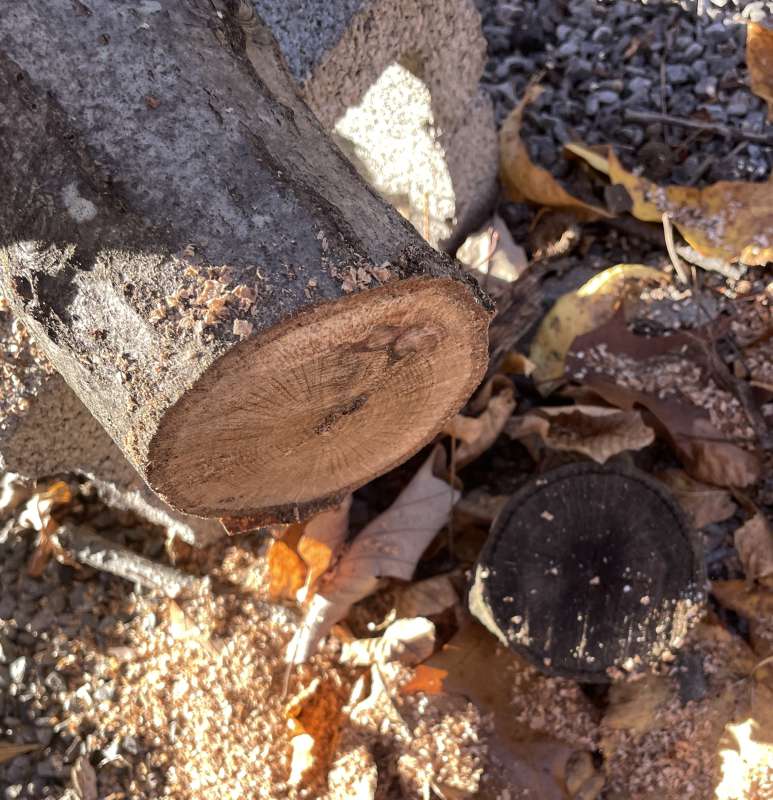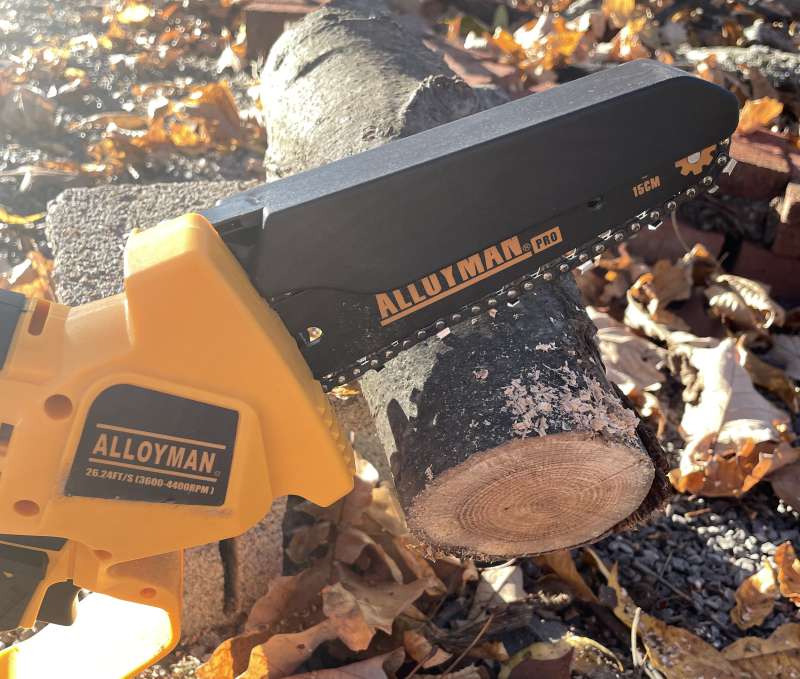 When the time comes to adjust or replace the chain, the saw can be disassembled without tools. Alloyman even includes a spare chain! Bravo!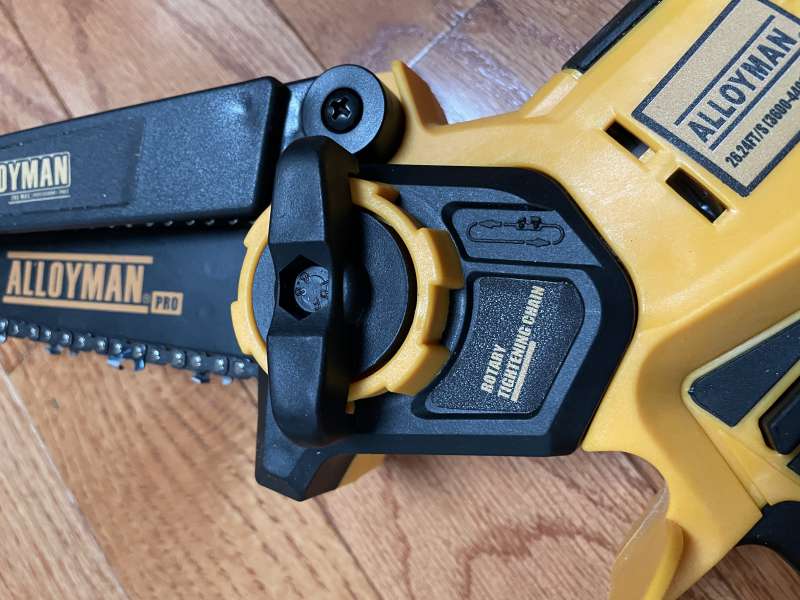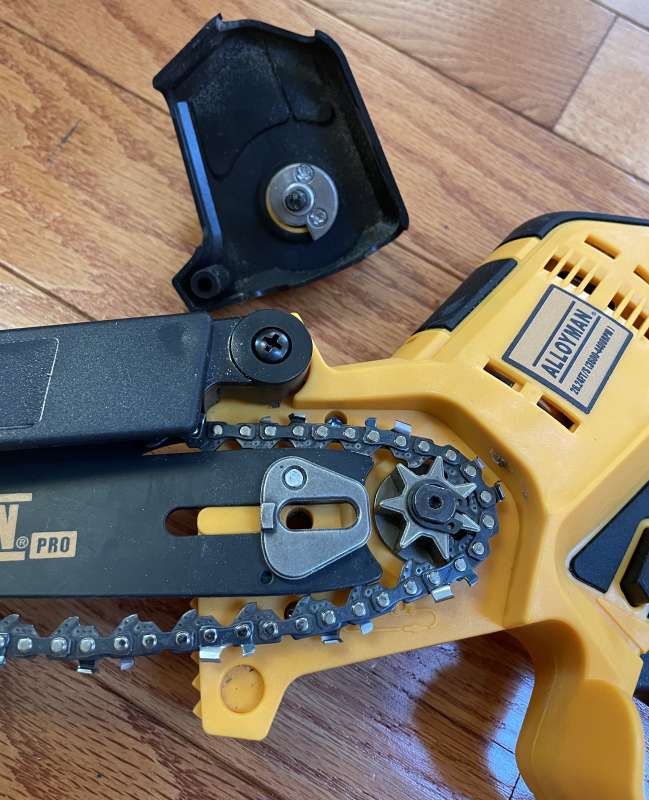 What I like
Two batteries! Yay!
No bar oil!
Uncomplicated operation
Cuts remarkably well
Extra chain included
No tools are needed for maintenance
What I'd change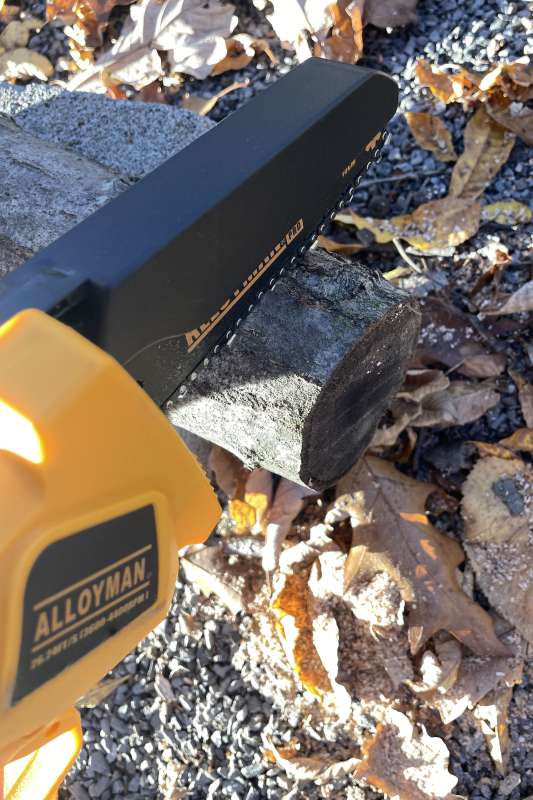 Final thoughts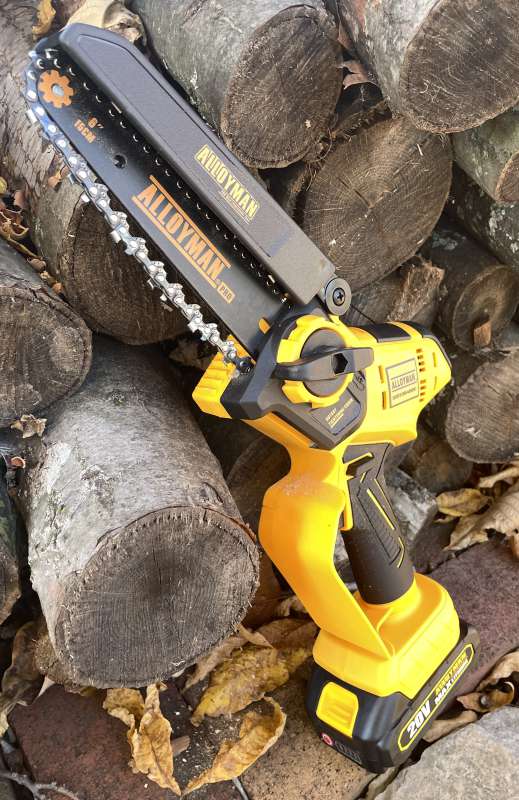 With two batteries, a carrying case, gloves, safety goggles, and under $80, the Alloyman CS-BM11 mini chainsaw is an outstanding value!  As I've been doing fall yard cleanup, I used it to trim and shorten branches that were too long to fit into my backyard fire pit and remove some tree roots that were dinging up my lawn mower blades.  I found deploying and maintaining the saw is straightforward and it's an ideal tool for small yardwork.  I imagine having an Alloyman Cordless Chain saw handy on my next camp trip will make stoking the fires painless. Bring on the s'mores!  Great job and thank you Alloyman!
Price:  $69.99
Where to buy: Amazon and Alloyman
Source: The sample for this review was provided by Alloyman