We use affiliate links. If you buy something through the links on this page, we may earn a commission at no cost to you. Learn more.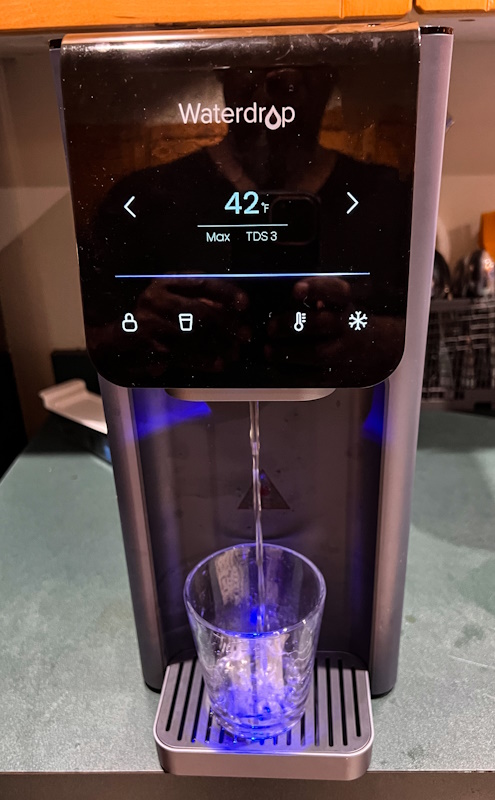 REVIEW – Over the past year, I have tested and reviewed a couple of water filter systems, all with reasonably good results. As my family continues to use them, they have become our source of water and all but eliminated our need to buy bottled water. As a result, I have kept a lookout for any opportunity to review water filters, always looking for new and improved ones. My most recent opportunity is this Waterdrop WD-A1 Countertop Reverse Osmosis System. So, follow along with me, and let's see how things go and how I feel about it after testing.
What is it?
The Waterdrop WD-A1 Countertop Reverse Osmosis System is a Hot and Cold Water Dispenser that meets the NSF/ANSI 58 Standard. It is a Bottleless Water Cooler, with 6 Temperature Settings of Hot, Cold & Ambient temperature water and it features a 2:1 Pure to Drain.
What's in the box?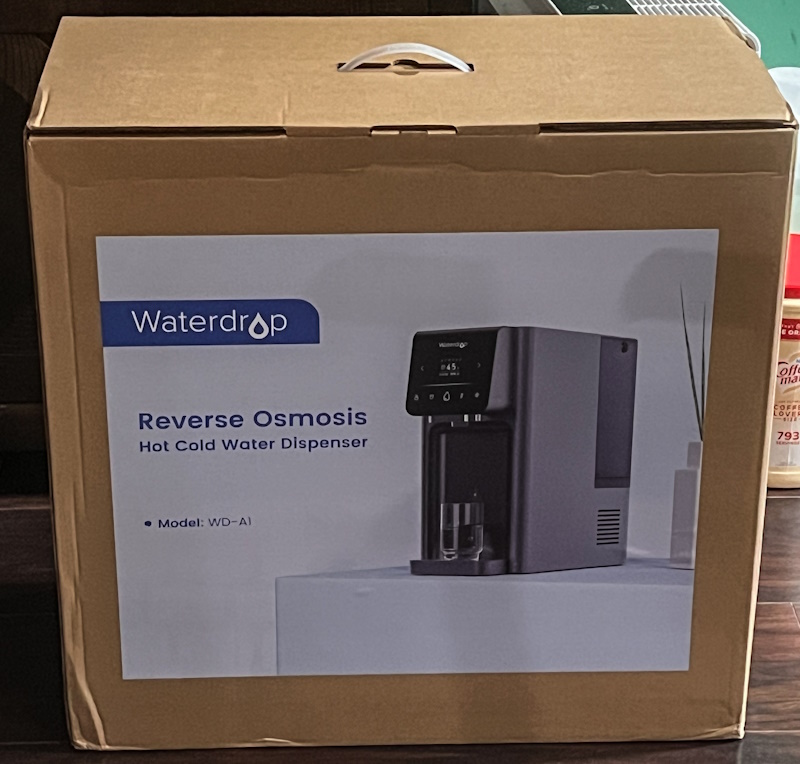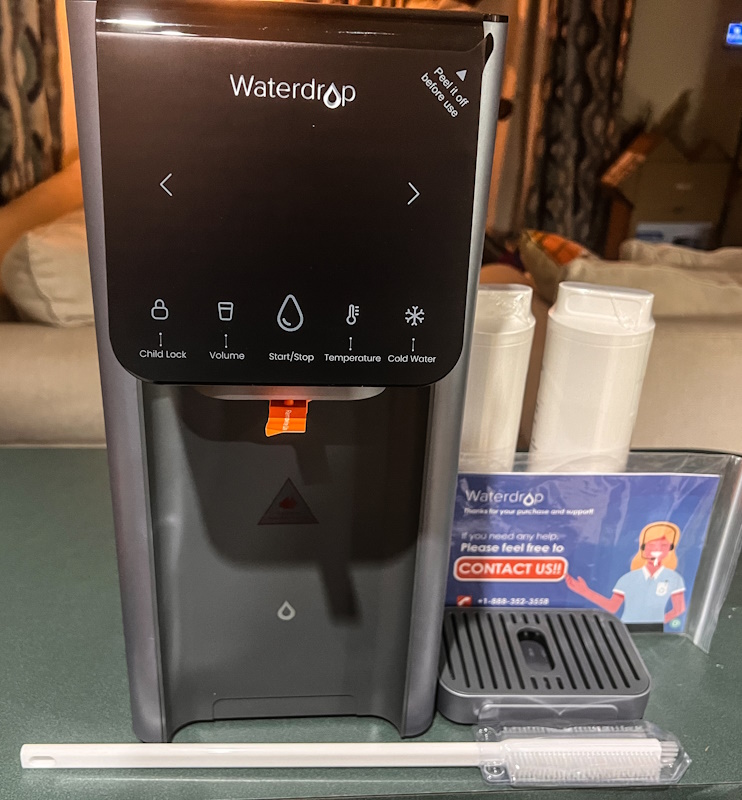 1 x Waterdrop WD-A1 Countertop Reverse Osmosis Filter
1 x Reverse Osmosis Membrane Filter
1 x Carbon Block Filter
1 x Drip Tray
1 x Cleaning Brush
1 x User Manual
Hardware specs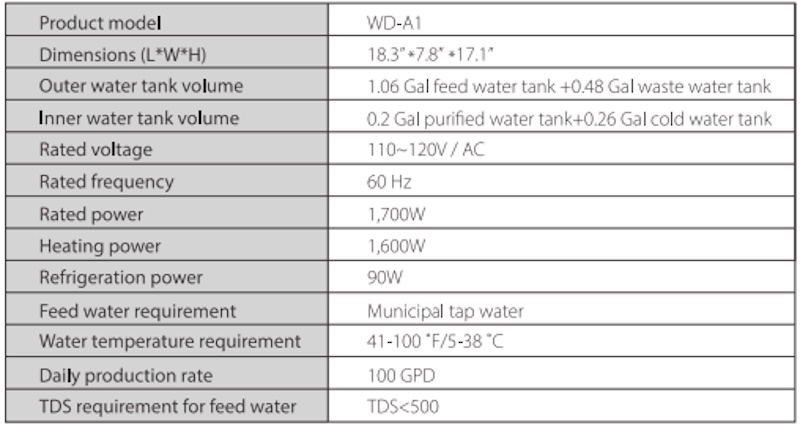 Design and features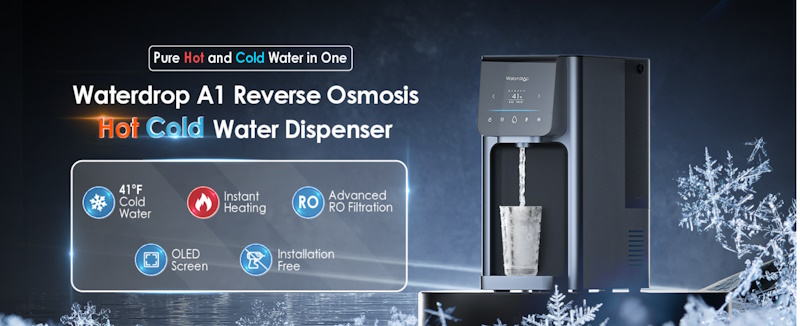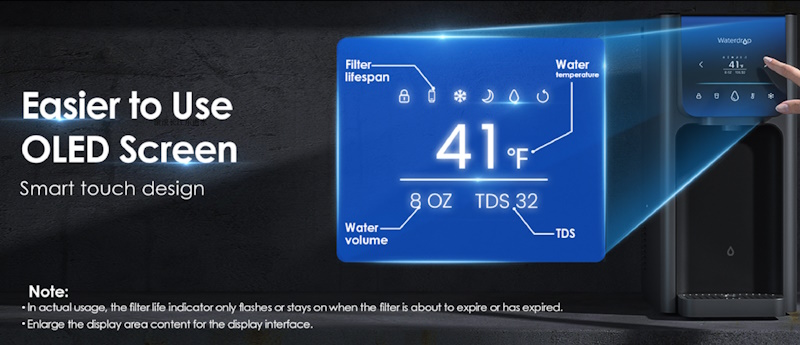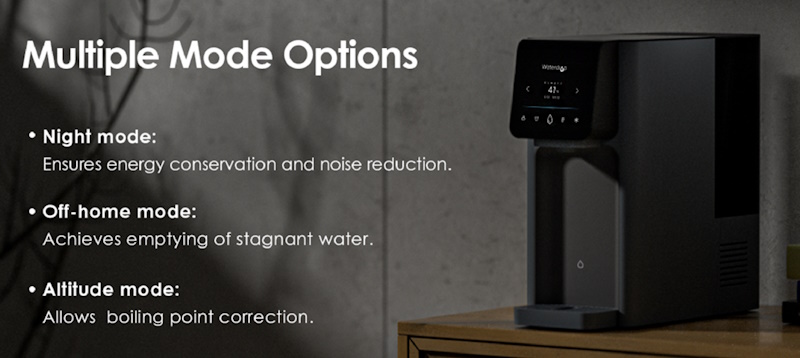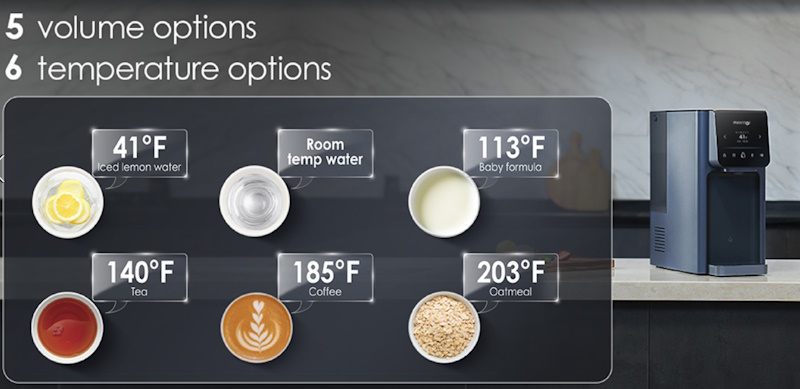 𝐀𝐥𝐥-𝐢𝐧-𝐎𝐧𝐞 𝐑𝐞𝐯𝐞𝐫𝐬𝐞 𝐎𝐬𝐦𝐨𝐬𝐢𝐬 𝐒𝐲𝐬𝐭𝐞𝐦 𝐟𝐨𝐫 𝐘𝐨𝐮𝐫 𝐇𝐨𝐦𝐞: This hot and cold water dispenser is ideal for families seeking convenient access to water at different temperatures. It has been certified against NSF/ANSI 372 for lead-free materials and has passed the SGS testing. Here is the perfect solution to your healthy water needs.
𝟔-𝐬𝐭𝐚𝐠𝐞 𝐅𝐢𝐥𝐭𝐫𝐚𝐭𝐢𝐨𝐧 & 𝐋𝐄𝐃 𝐅𝐮𝐧𝐜𝐭𝐢𝐨𝐧: This RO system is passed official third-party laboratory (SGS) test according to NSF/ANSI 53&58&42&401 standard, effectively reduces 95.34% TDS, 99.5% Chrome, 97.38% Chromium, 99.53% Fluoride, 91.67% Arsenic, 99.69% Lead and PFAS, PFOA, PFOS, iron, radium, calcium, nitrate, chloride, and radioactive substances. The LED light system also effectively sterilizes the double water tanks, always guaranteeing clean and healthy water.
𝟔 𝐓𝐞𝐦𝐩𝐞𝐫𝐚𝐭𝐮𝐫𝐞 𝐎𝐩𝐭𝐢𝐨𝐧𝐬: Equipped with a high-quality cooling system found in refrigerators, this water dispenser can deliver cold water as low as 41℉. Its temperature adjustment range of 41℉-203℉ also makes it an excellent choice for making tea, coffee, or other beverages. There are five standard cup volumes and six preset temperatures to choose from to cater to your water needs and preferences, including options for ice-cold, room temperature, 113℉, 140℉, 185℉, and 203℉.
𝐎𝐋𝐄𝐃 𝐒𝐦𝐚𝐫𝐭 𝐃𝐢𝐬𝐩𝐥𝐚𝐲 𝐒𝐜𝐫𝐞𝐞𝐧: This bottle-less water cooler provides a user-friendly experience by displaying water quality, volume, temperature, and filter life at a glance, thanks to its smart touch keys and LED screen. The convenient user experience also includes a night mode, an off-home mode, and an altitude mode. The night mode is the ideal low-noise and energy-efficient operational mode for homes or offices.
𝐏𝐥𝐮𝐠-𝐚𝐧𝐝-𝐩𝐥𝐚𝐲, 𝐈𝐧𝐬𝐭𝐚𝐥𝐥𝐚𝐭𝐢𝐨𝐧-𝐟𝐫𝐞𝐞: Installing this hot&cold water dispenser requires no drilling or plumbing. Just power it on, and it's ready to use. You can place it in the kitchen, office, living room, or any other indoor space. The high pure-to-drain ratio of 2:1 makes it a water saver, and the separate feed water and wastewater design ensures efficient purification and prevents repeated filtration. This ultimately prolongs the lifespan of the RO membrane.
The Waterdrop WD-A1 Countertop Reverse Osmosis System is made mostly of plastic and consists of the main body with the touch control panel on the front and access to the filters from the top. On the back, there is the removable water tank/reservoir. The two replaceable filter cartridges are included.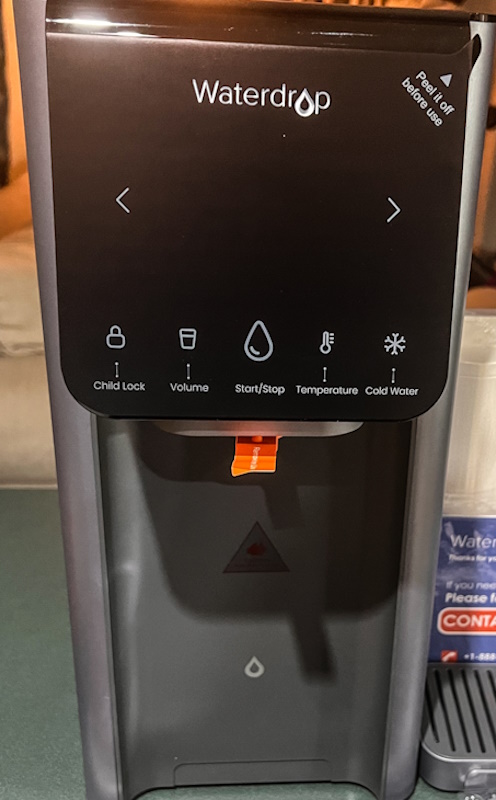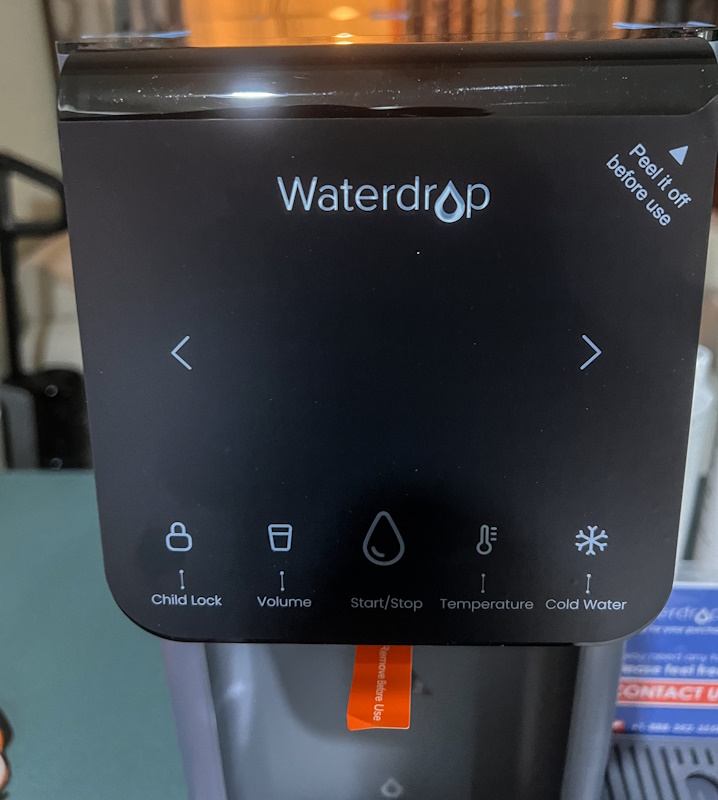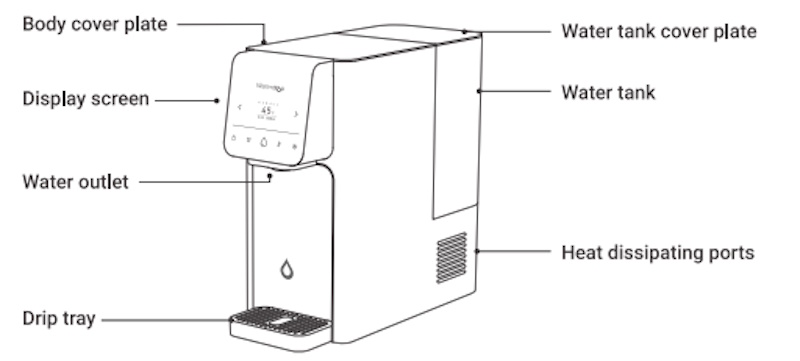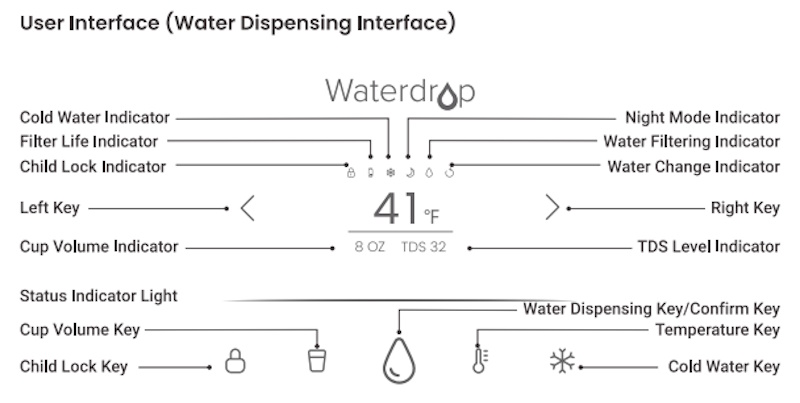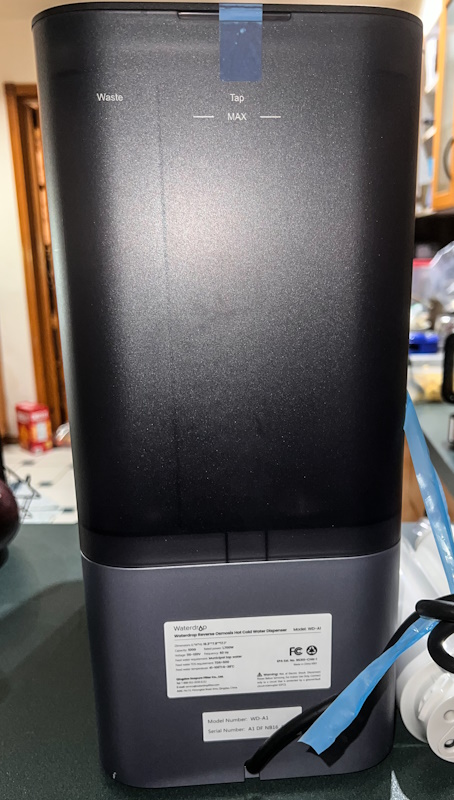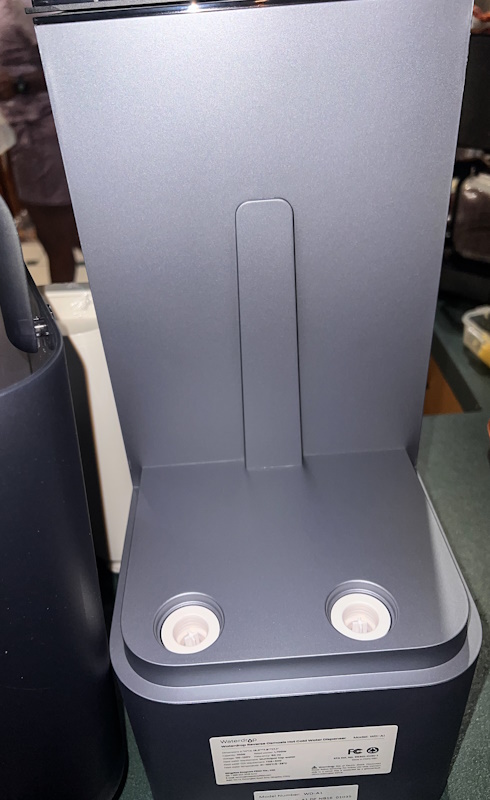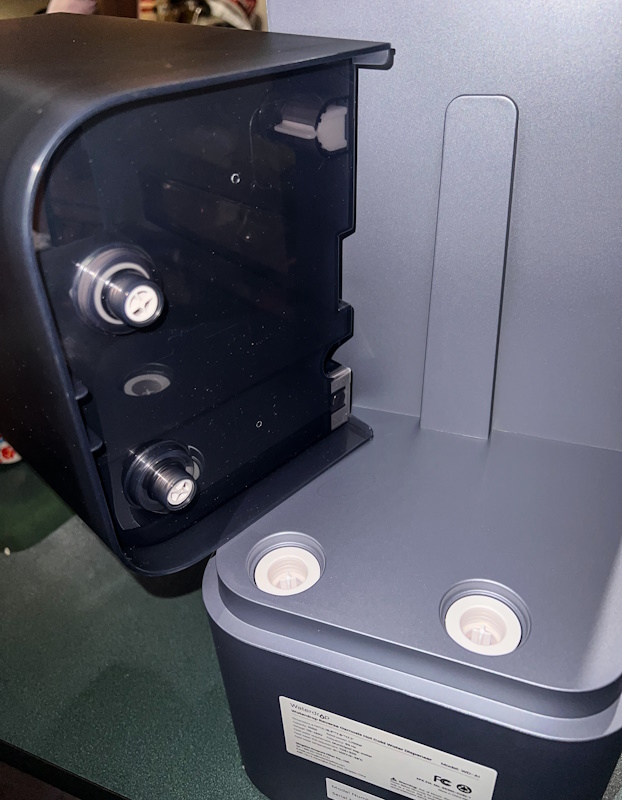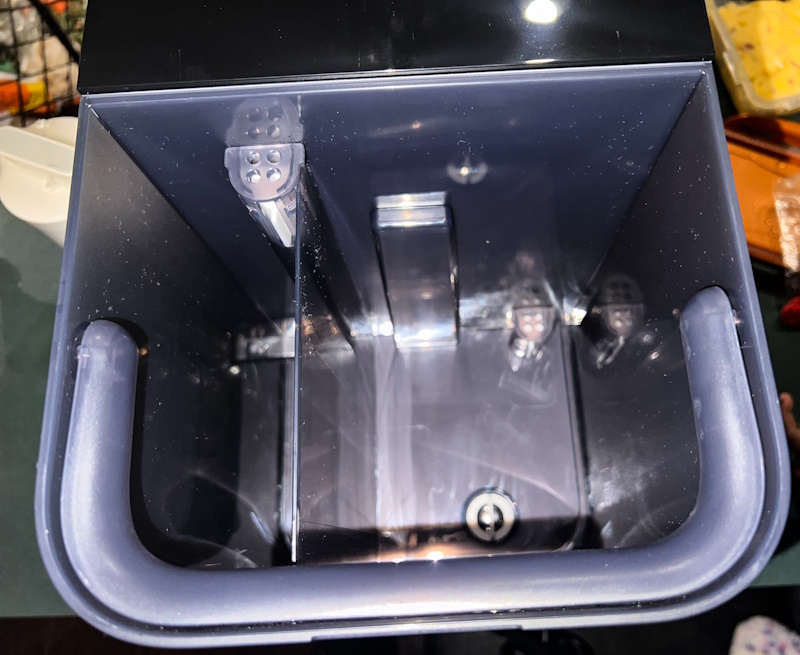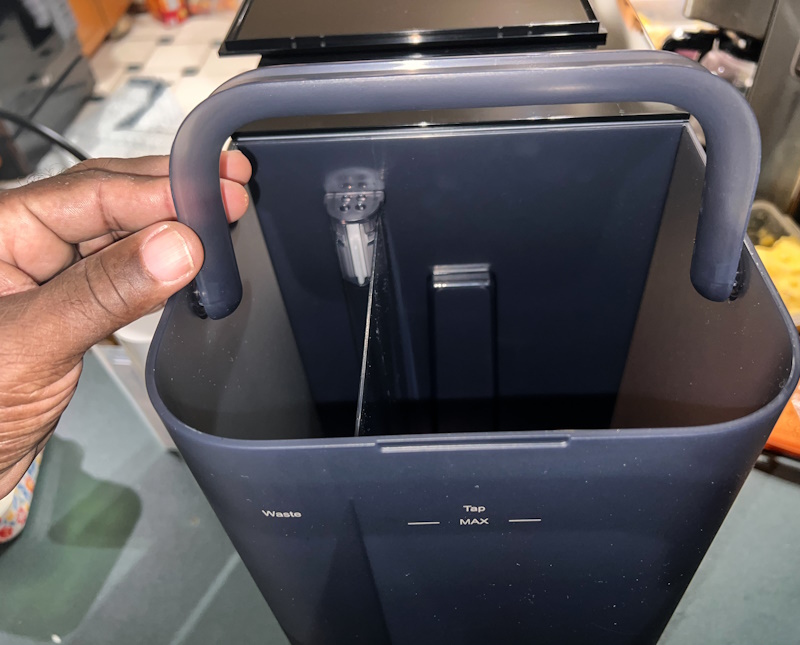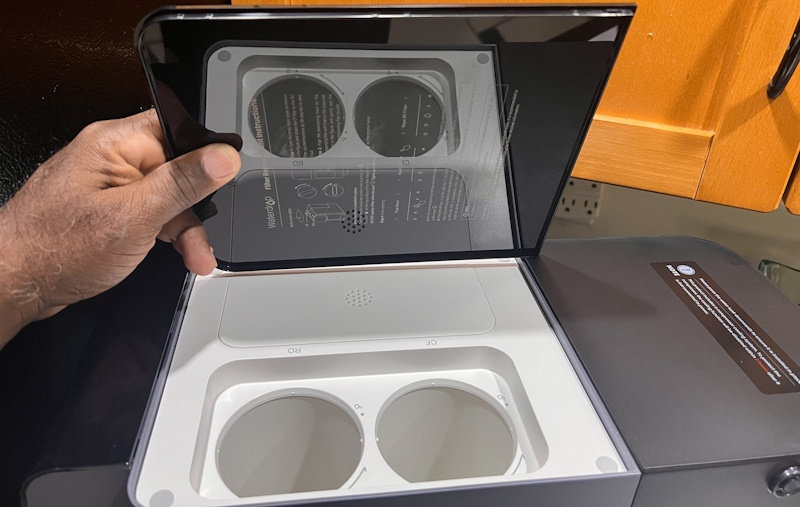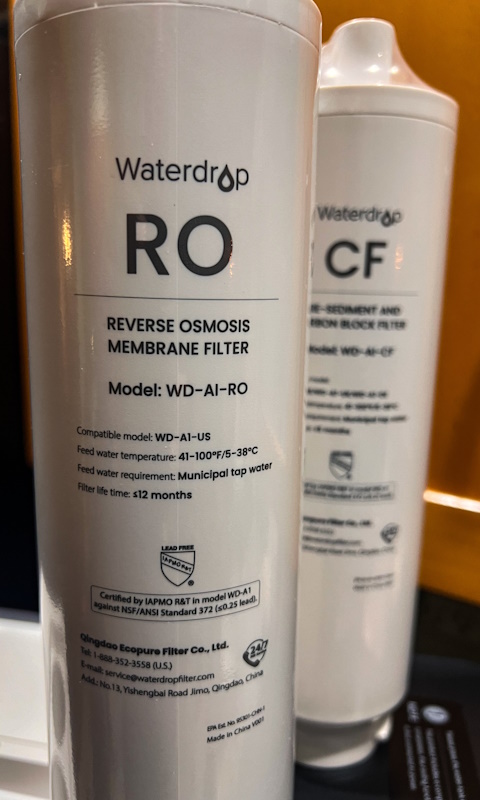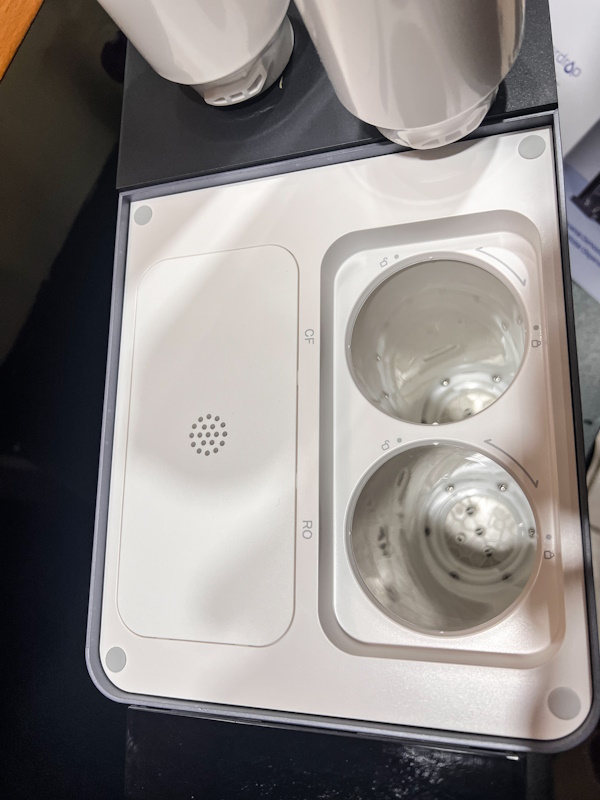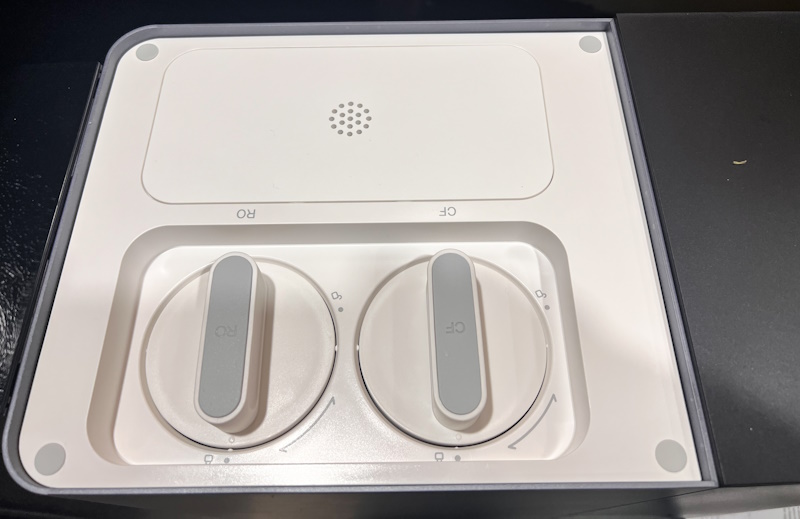 Setup
Setting up the Waterdrop WD-A1 Countertop Reverse Osmosis System is quite easy. Once unpacked, you must install the included filters and follow the instructions to flush the machine. The flushing process should be done each time any filter is changed.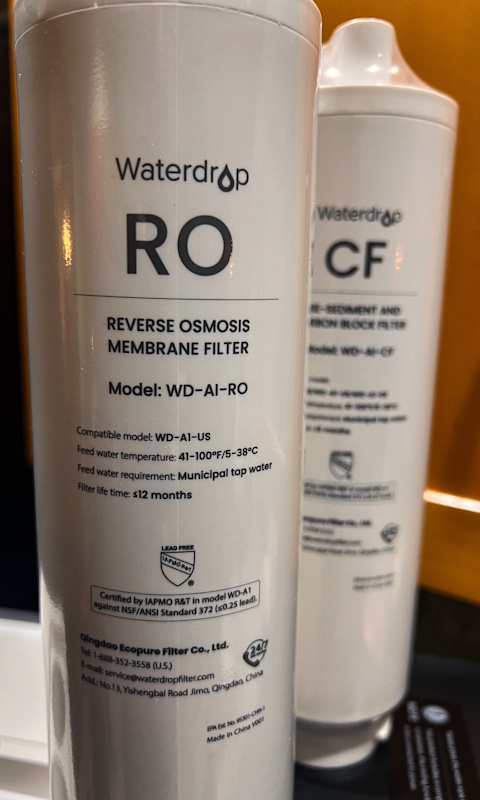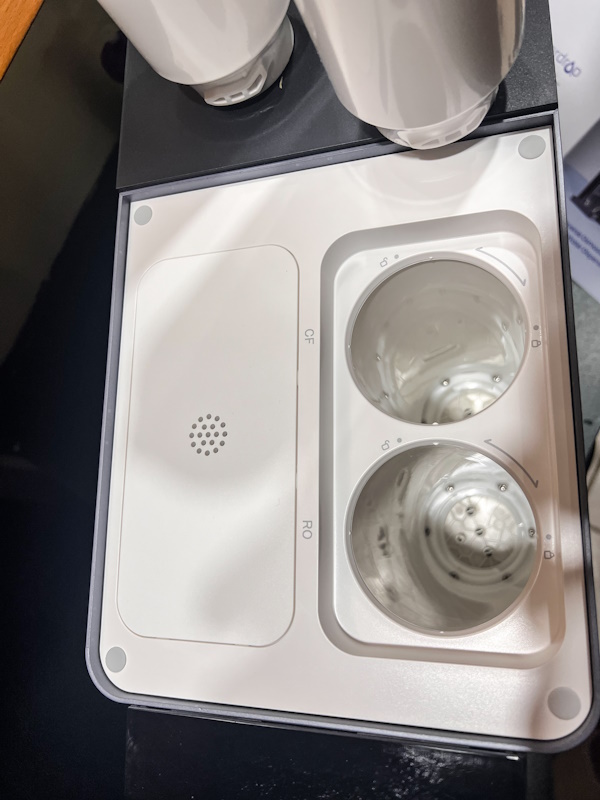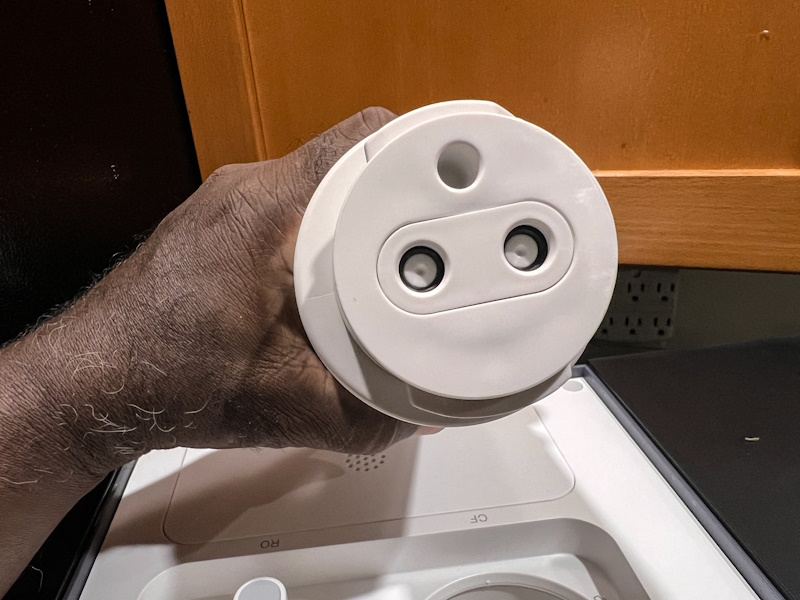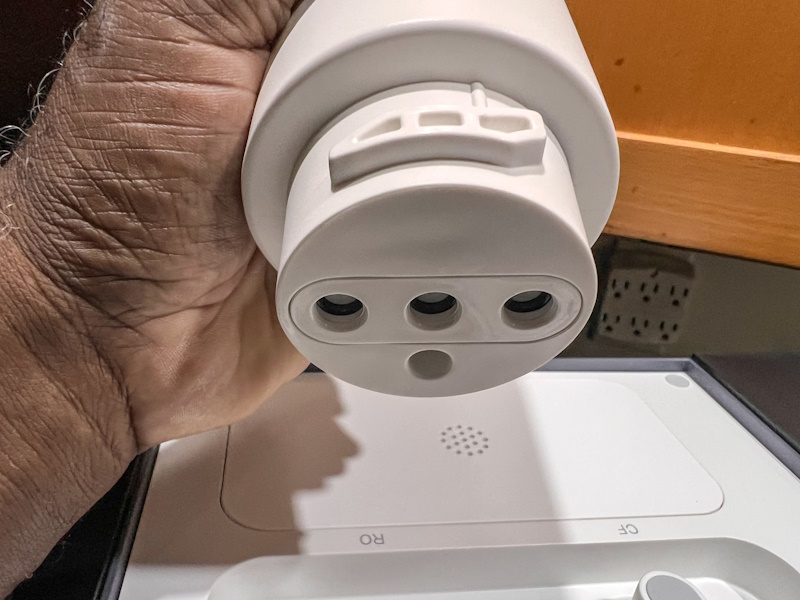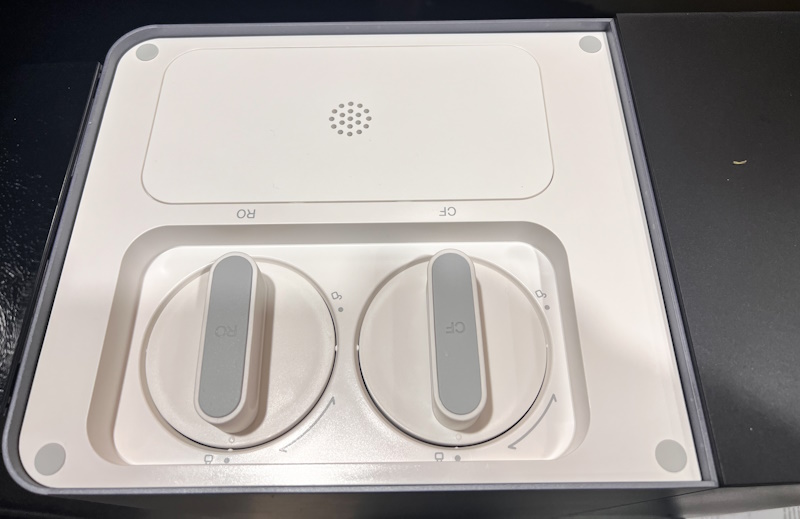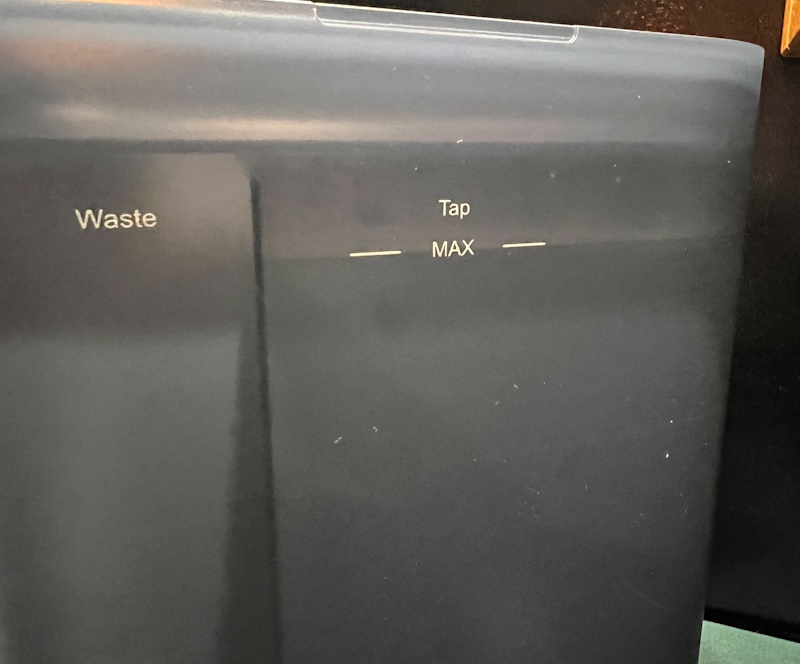 The flushing process takes about 30 minutes. Here is a video showing the process:
Performance
The Waterdrop WD-A1 Countertop Reverse Osmosis System performs very well. Setting it up is easy and the flushing process for new filters is easy. This water filter provides very cold and very hot water via temperature increments. Caution: The hot water can get really hot based on the temperature selection. The outcome is what my entire household has judged as amazingly great-tasting water. Since I have tested other filters and have also used bottled water, we have a good sample to compare to. This water just makes us want to drink more water. On the downside, for each full reservoir of water, there is a "waste compartment" of water that is created. That compartment which is a part of the reservoir, has to be emptied when refilling the main water feed compartment.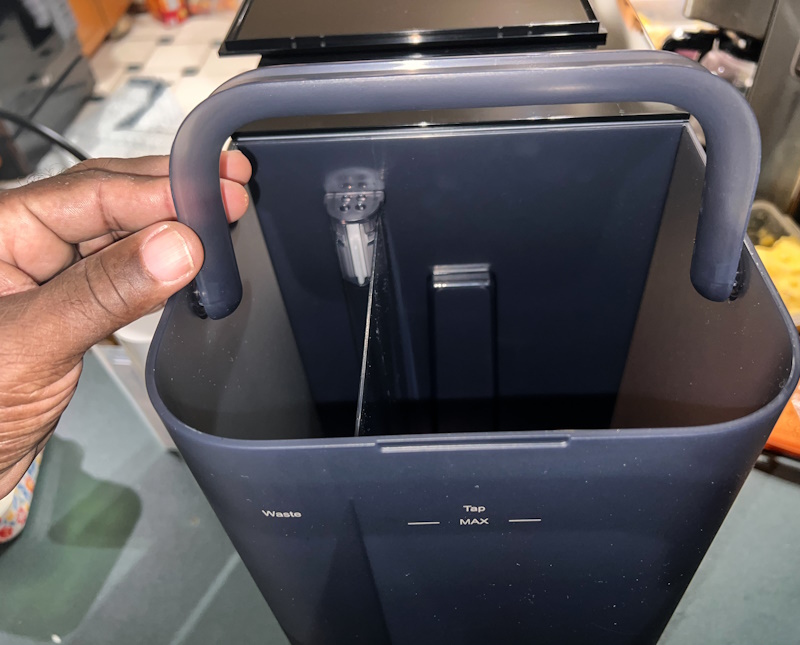 This process can become a bit tedious if you drink a lot of water since you must remove the reservoir to refill as it seems that the system knows that the reservoir has been removed and replaced and only continues to work once this action has occurred. A possible solution would be to have two hoses, one to keep a constant supply of water available for the system and the other to drain the wastewater.
Regardless, this a nice water filter system that produces great-tasting water, and the filters last a long time:



The following is a short demo video showing the control panel and the options:
The following are the modes mentioned in the preceding video: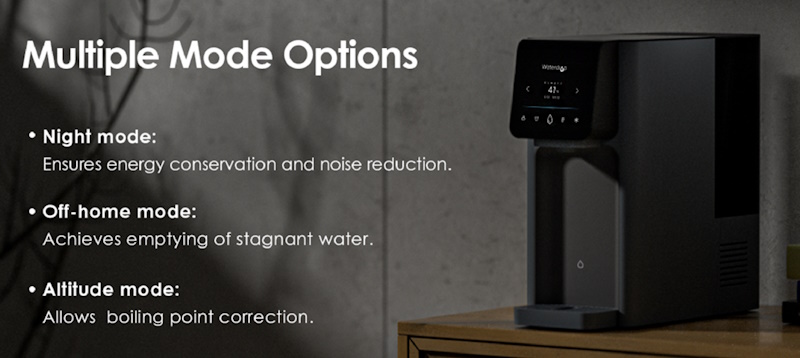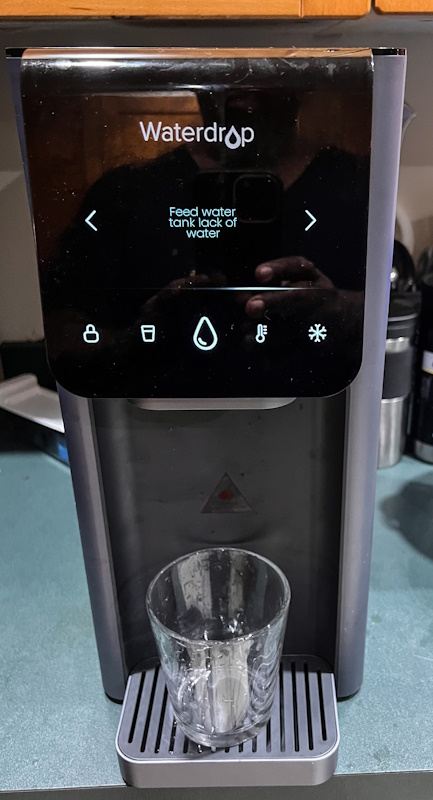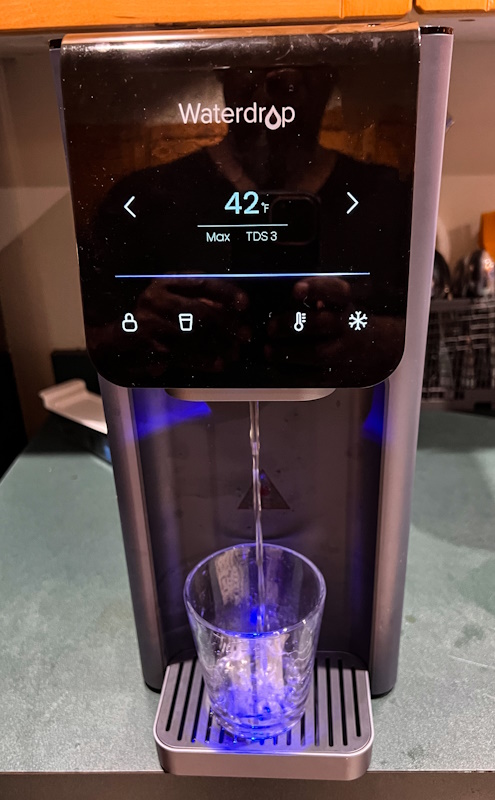 What I like
It is a simple and sleek design
The filter cartridges last a long time
The controls are easy to use and the temperature selections for hot and cold water are great
The water tastes amazing
What I'd change
It would be nice to have the option to connect to the waterline for refilling and another for draining the waste tank. Just my wishlist.
Final thoughts
The Waterdrop WD-A1 Countertop Reverse Osmosis System is one of the top 2 I have tested. The setup process is easy and the water tastes amazing. I wish there was a way not to have to manually keep filling the reservoir since everyone in my household is now drinking lots more ware, which means a lot more manual refilling. I also do understand that to accomplish automatic refilling, there would also need to be an automatic waste water drain. Regardless, I give this water filter/system a well done and two thumbs up!!
Price: $699.00
Where to buy: Waterdrop and Amazon
Source: The sample of this product was provided by Waterdrop.
If you shop directly from
Waterdropfilter.com
, the Waterdrop A1 Reverse Osmosis water dispenser will have a 20 % off from 11/17/2023 to 11/30 2023 and will have a 17% discount from 12/01/2023 to 12/03/2023.