We use affiliate links. If you buy something through the links on this page, we may earn a commission at no cost to you. Learn more.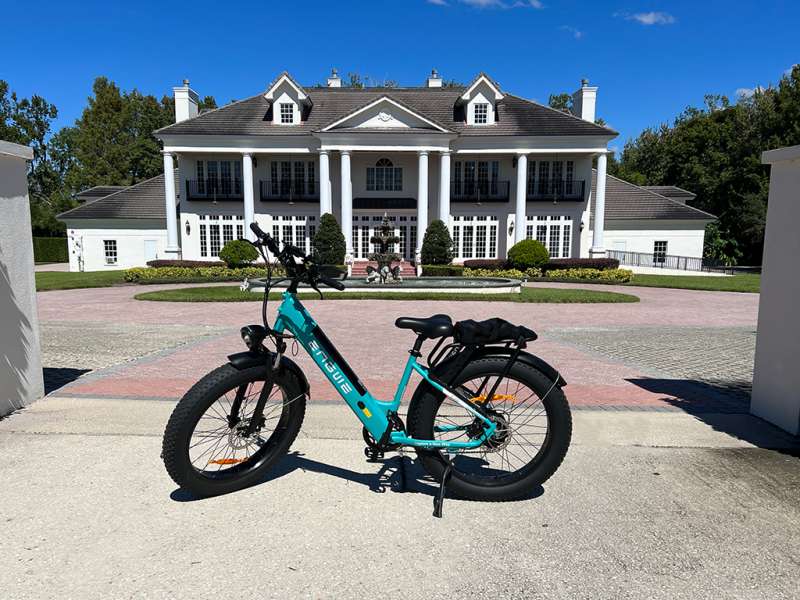 REVIEW – Engwe is a well-known brand of e-bike manufacturer. Their line of e-bikes is highly regarded among enthusiasts. Do a quick Google search for "Engwe" and you'll see hundreds of reviews of their other models, including on The Gadgeteer! Their latest model, the Engwe E26 is the culmination of all their experience and innovation.
What is it?
The Engwe E26 is an all-terrain, fat-tire e-bike. It has power, looks, speed, comfort, and all the right equipment for a modern e-bike. The E26 has 26" x 4" all-terrain tires, a 750W (peak 1000W) rear hub motor with 5 levels of PAS (pedal assist), and a removable 48V/16 Ah battery with a reported range of 87 miles. More on range later in this review. Here is a more comprehensive list of its impressive specifications:
Hardware specs
Frame Material: Aluminum alloy
Tires: 26″ x 4" (66 cm x 10 cm) Fat Tires
Motor: 750W (nominal) / 1000W (peak) brushless motor
Torque: 70 Nm
Pedal sensor: Cadence
Battery: 48V 16Ah Lithium-Ion Battery
Speed: 0-28 MPH (17.4 kph)
Range: 87 Miles (140 km) (PAS mode)
Charger: 2A output (Charging time: About 8 hours from empty to full)
Brakes: Hydraulic front & rear brakes
Gears: Shimano 7 Gears, Shimano Tourney Derailleur
Bike weight: 76.0lbs (34.5 kg)
Maximum Load: 330lbs (150 kg)
Rider Height: 5.5 ft (167 cm) to 6.5 ft (198 cm)
Available colors: Bumblebee Yellow, Galaxy Grey, and Gem Blue
Frame styles: Step-Thru and High-Step
What's in the box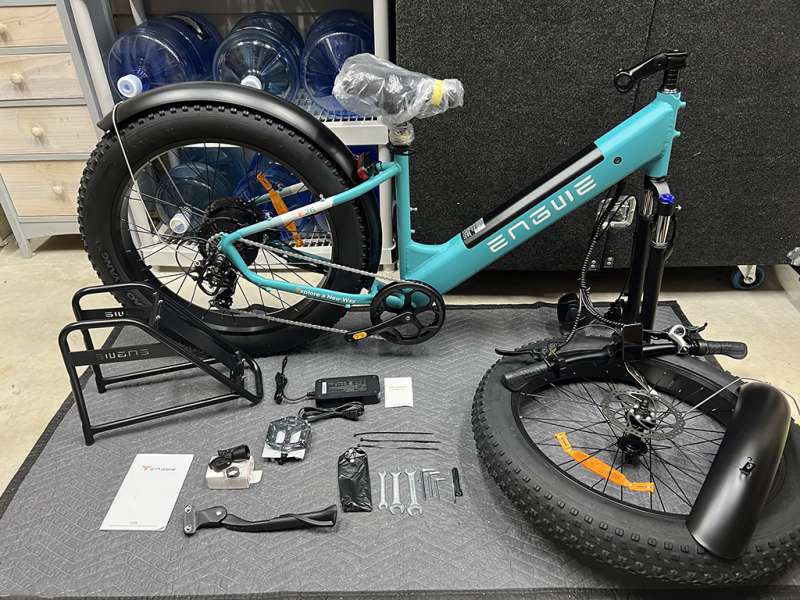 Partially assembled Engwe E26
Front tire
Front fender
Pedals
Charger
Kickstand
Rear rack
Battery removal keys
Bell
Assembly tools
Instruction manual
Design and features
Installation and setup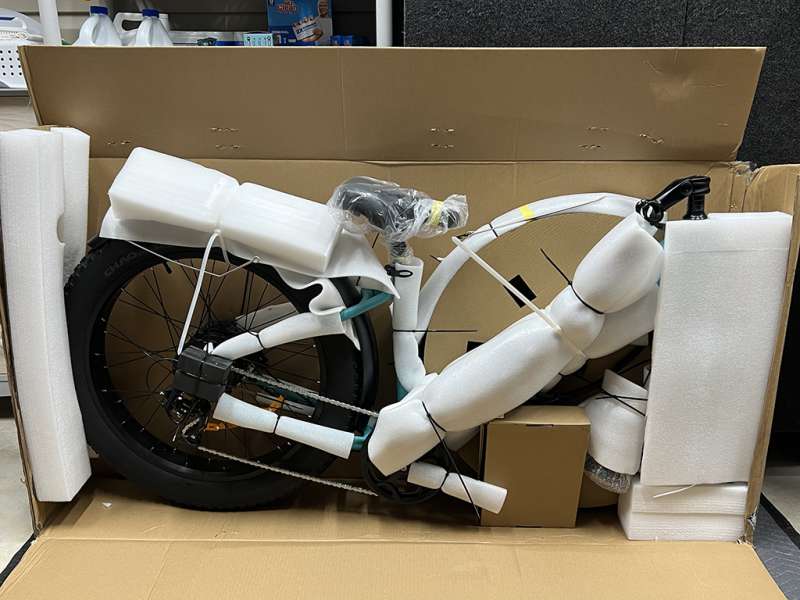 The Engwe E26 e-bike comes packaged very well in its shipping box. There was ample foam and wrappings to protect it on its journey from Engwe to me. Most of the assembly time was spent unpacking and unwrapping everything. I filled two trash bags with all the packing material.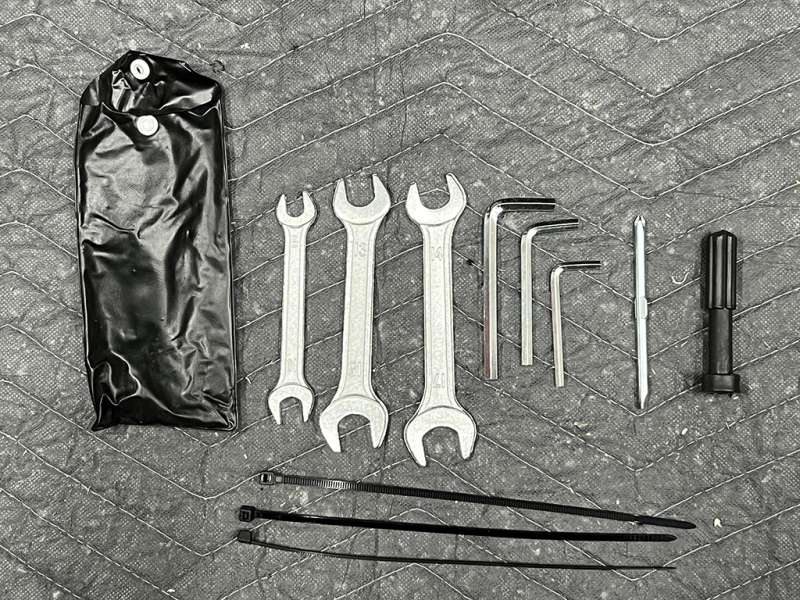 The assembly was very straightforward, and the instructions were excellent. Engwe also offers a video on their YouTube channel that shows the assembly process in slow, methodical steps. I had no issues assembling the bike. The toolkit that Engwe supplies is the best I have ever seen on a budget-friendly e-bike.
As with any bicycle assembly, you will need to adjust the seat and handlebars to your leg length, overall height, and comfort. The E26's seat can go from 35.4 inches (90cm) from the ground to 40.1 inches (102cm). I'm on the shorter side of stature, so I put the seat at its lowest setting.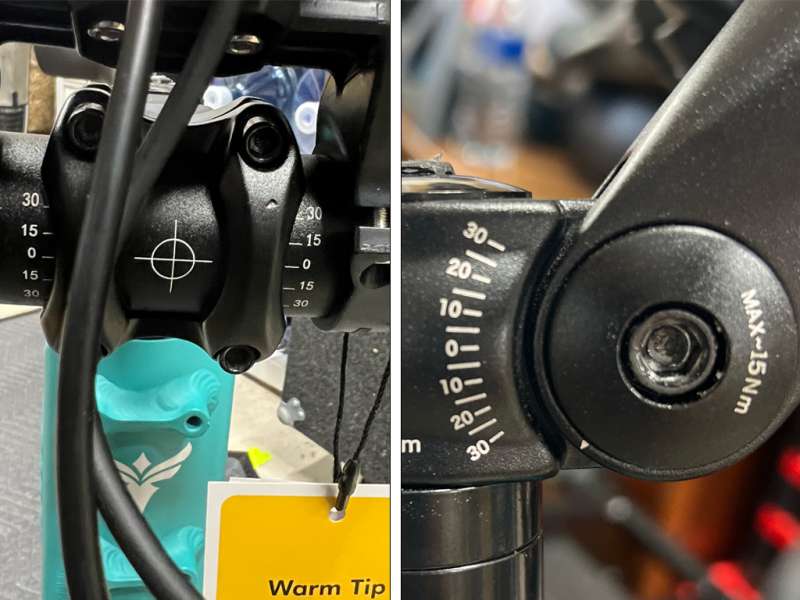 The handlebars have adjustability forward/backward, and up/down. This just about accommodates anyone wishing to ride this machine. I set mine higher than the default setting. I came to this position after riding it for many miles and noticing my back was a little sore after riding. Adjusting it after assembly was very quick and easy. The handlebars come with angle gauges on the side of the handlebar post and on the front of the handlebars so you can dial in what's best for yourself.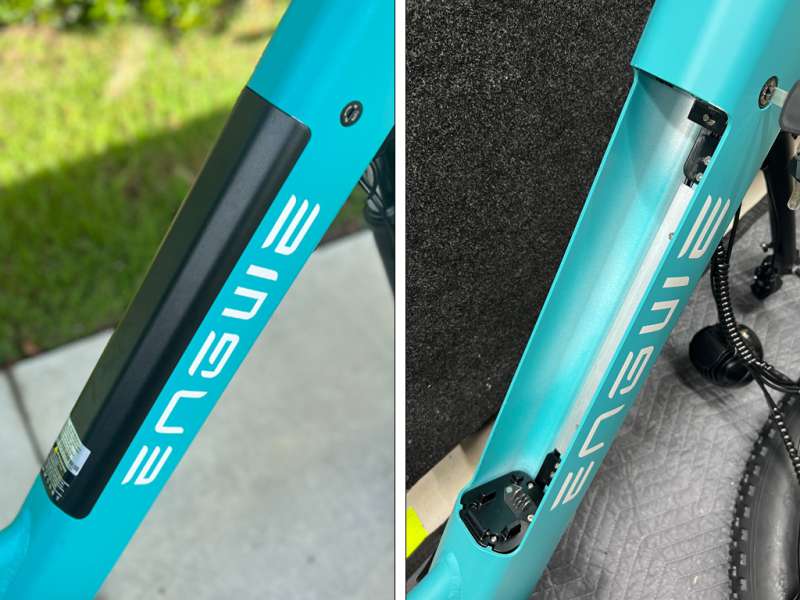 The battery is pre-installed on the frame. With the included key, you can remove the battery and charge it out of the bike, or keep in in the frame and charge it with a charge port on the side of the bike, just below the battery. Either method charges the bike the same way. From empty to full will take about 8 hours.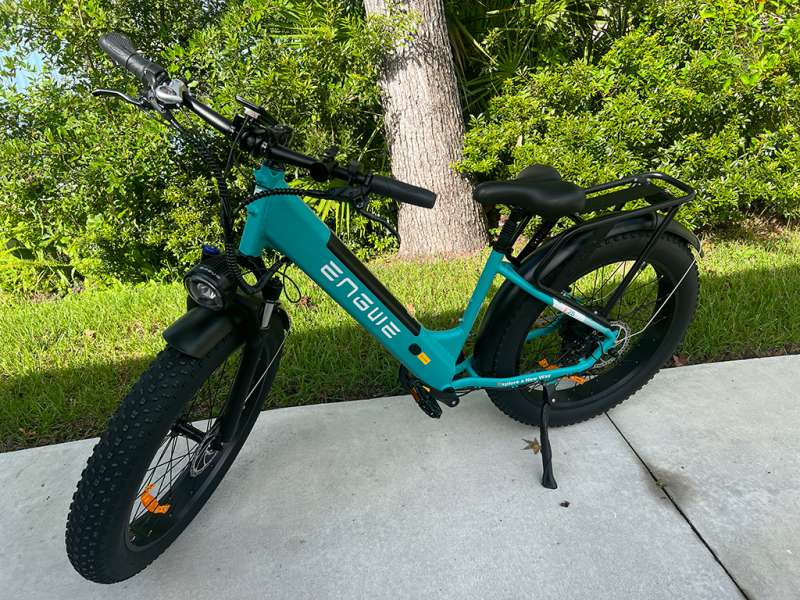 Overall, the E26 is a well-built e-bike. The paint is phenomenal. The review bike I received was a matt-finish powder-coated blue. I believe Engwe refers to it as "Gem Blue". It's very pleasing to the eye. The welds on the frame are clean and done with precision. I did not find one flaw in the paint or any issues at all with the construction of the bike. Kudos to Engwe and their assembly and quality control teams.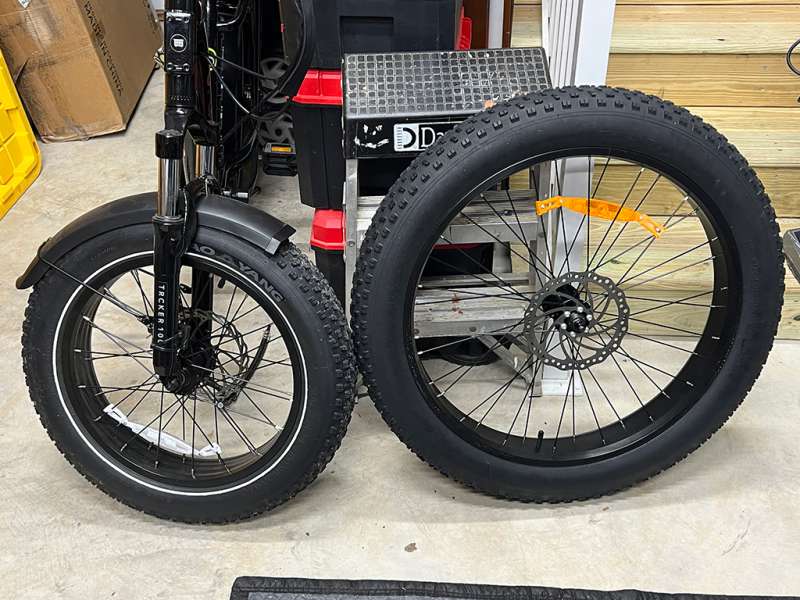 At first glance after completing assembly, I think I said out loud "holy-moly, this bike is big!" My previous e-bike had a 20" wheel. The E26 has a 26" wheel. See the picture for a comparison. Although I can reach the ground while still on the seat, it's a little precarious. I prefer to hop off the seat when I stop the bike. The step-through frame is essential in doing that, and not injuring myself.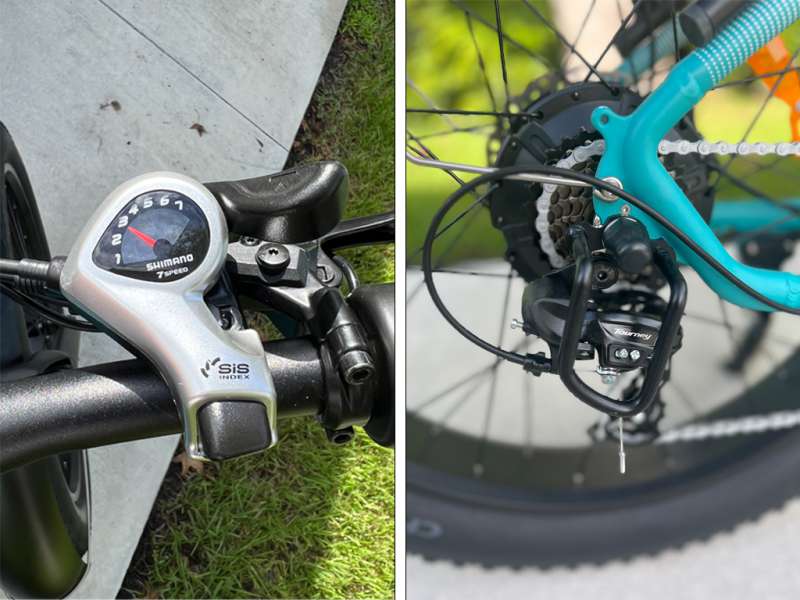 The Engwe E26 is a well-equipped e-bike for the price. It comes with a Shimano 7-gear transmission and Tourney derailleur. This setup provides very simple and smooth gear changes. There is a button to move up through the gears, and a lever to move back down.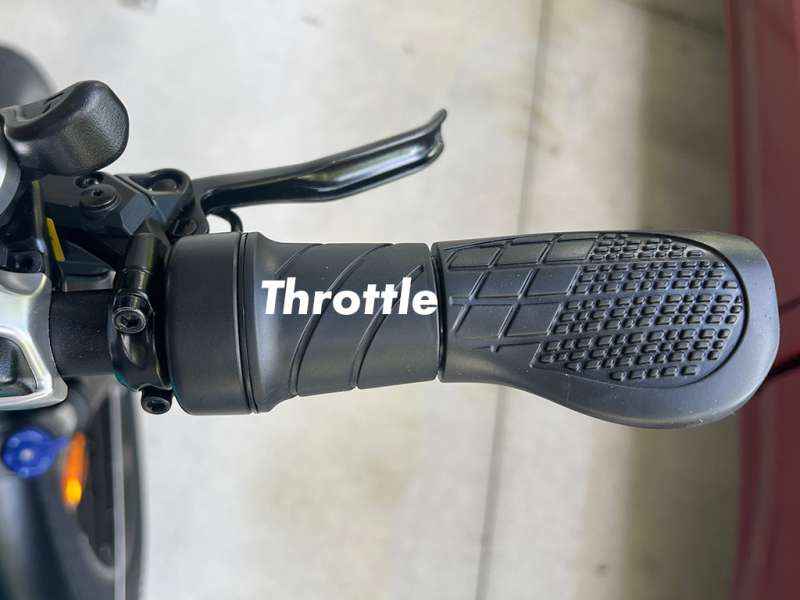 The E26, as with almost all e-bikes, can be powered by your legs, the motor, or a combination of the two. It has 5 levels of pedal assist (PAS) that add motorized assistance to your pedaling effort. PAS 1 will take you to about 9 mph (14.5 kph). PAS 2 up to about 11 mph (17.7 kph), and so on up to PAS 5 which is about 28 mph (45 kph). The E26 also has a quarter-turn throttle on the right side of the handlebars. This provides pure adrenaline-fueled power and will take the bike up to its maximum throttle-only speed of 20 mph (32 kph). If you want the fastest speed, you have to help it out and pedal some on PAS 5. I found that pedaling at the higher PAS levels (3-5), you have to have the bike in the highest gear setting. Also, make sure that you "ghost" pedal to give the cadence sensor an indication you are pedaling. If you try to pedal to keep up with the speed at PAS 5, you will be pedaling so fast that it will be unsafe.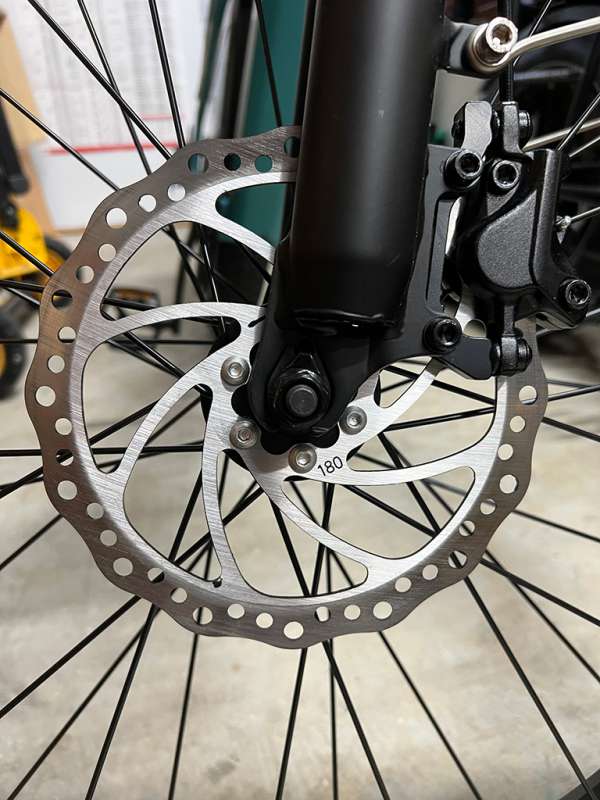 With all that power, you need something safe and effective to stop the E26. Engwe has provided 180 mm disc brakes and excellent hydraulic brakes. The brake levers are comfortable, and very smooth in their operation. The hydraulic brakes are a necessity to stop this behemoth. Mechanical-type brakes would not be sufficient for this heavy and large bike. The brake rotors were perfectly flat and did not scrape the brake pads at all after assembly. This was a very satisfying discovery. Many e-bikes need at least some brake adjustment out of the box. The E26 did not. I was very happy about that.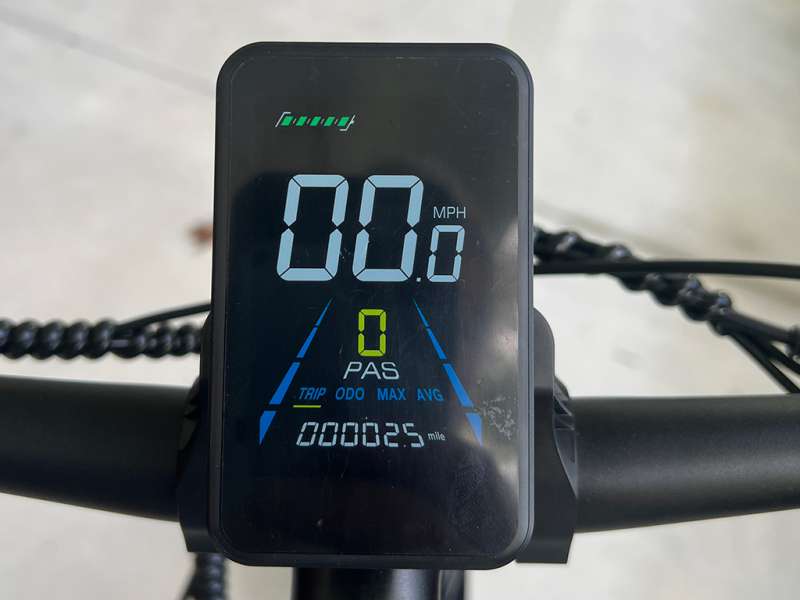 The Engwe E26 comes with a very impressive full-color display that shows you the battery level remaining with a 5-segmented bar. I wish it showed the percentage, or better yet, the remaining voltage. Maybe there is a setting to change that. The display also shows your current speed in either miles-per-hour, or kilometers-per-hour via a setting. It also displays total miles, trip odometer, average speed, and max speed, among other things. There is a "secret" settings menu you can access to change settings in the bike's controller. Some of these settings, if set incorrectly, can make the bike inoperable. And also, some of the settings make the bike even better, and more fun! You will have to do your own research on how to access this secret settings menu.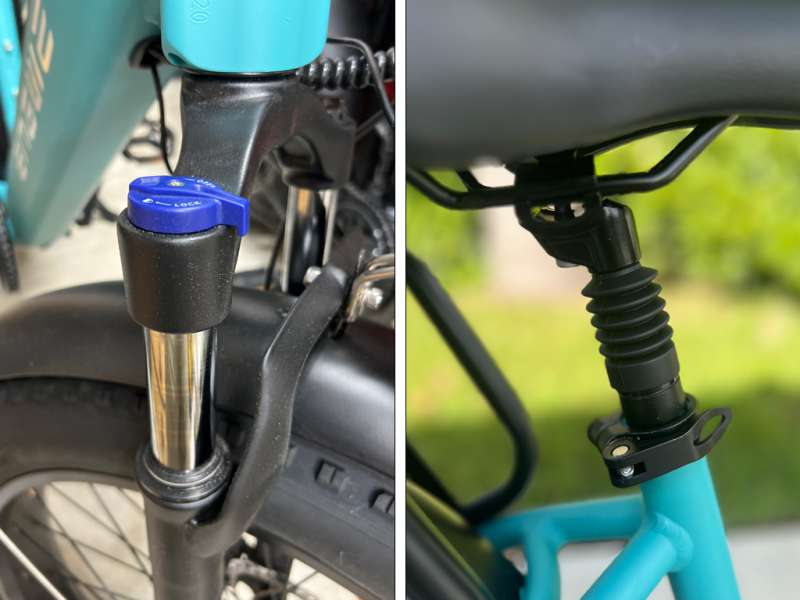 With the large fat tires, a very cushy seat, and the dual suspension, the E26 is extremely comfortable to ride. It will glide on smooth surfaces with ease. It can tackle grass and gravel with grace. The suspension in the front fork is adjustable and can be completely turned off. The seat has a limited shock absorber in the seat post. This was quite the backsaver for those times I hit potholes or a gutter. Overall, the ride is smooth and pleasing. I have no complaints at all.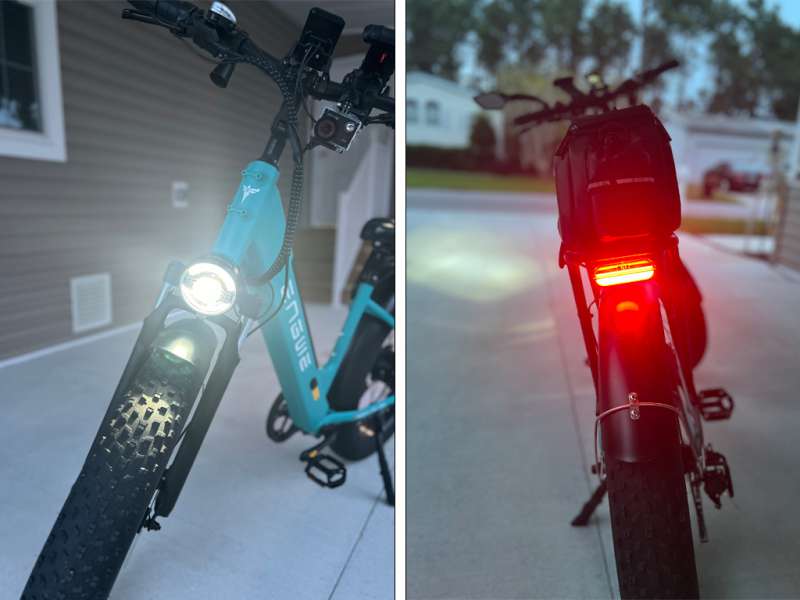 The E26 is meant to be ridden at all times of the day. It comes with a large and very bright headlight and tail light. Riding at dusk or night, was nice when the path before you was lit up. The tail light is also a brake light. Whenever the brake levers are squeezed, the tail light easily doubles in brightness. These are excellent safety features.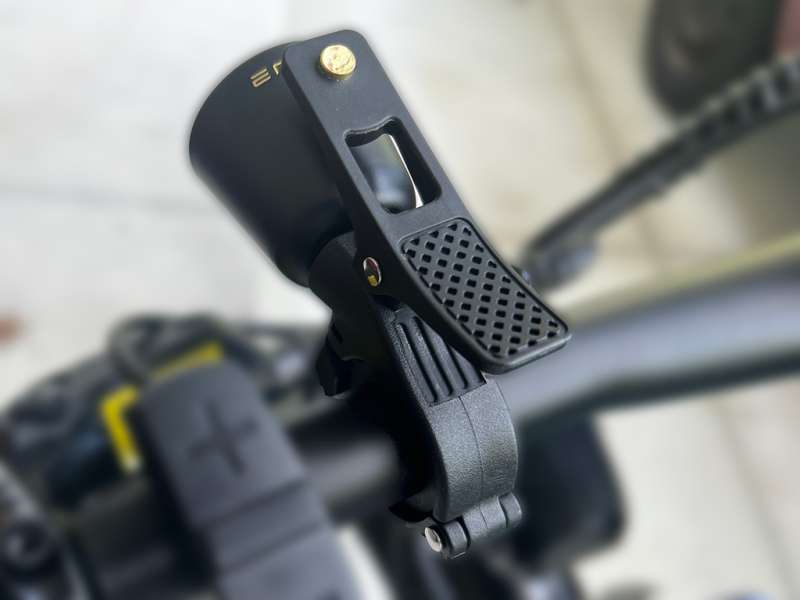 Another very unforeseen safety accessory that Engwe includes is a bell. Not an inexpensive child's bell, but a very well-made, and LOUD bell. This may seem like an insignificant thing, but it has come in handy more than I would have thought. The exercise path in my area is very popular, and crowded on weekend mornings. The bell has proven its worthiness on several occasions to alert people that I'm coming up on their left. With almost everyone wearing headphones or earphones, they don't always hear me coming up behind them. The bell on the E26 cuts through and gets the message across.
Riding the bike is a pure joy. I have gone on many long (25+ mile / 20+ km) treks around the area where I live. I used it to go to the grocery store, the bike shop, to destinations in neighboring towns, all over. I've ridden it early in the morning, late at night, and for hours at a time on the weekend. The E26 has been flawless on every trip. Not one single issue or worry about its reliability.
The reported range on Engwe's website is 87 miles (140 km) in PAS mode. I have yet to run the battery completely dead, but I have gotten down to one bar on the power meter and wondered if I would make it home. I have yet to go more than 35 miles on a full battery charge. I primarily use PAS levels 1-3, with PAS 2 being the most frequently used. I pedal everywhere. I rarely use the throttle as I would like to lose some weight with this bike. Now admittedly, I am a pretty big guy. Probably heavier than the average rider. I know that impacts the battery range quite a bit. So, I'll let you be the judge on battery range. I think the reported range is a little exaggerated. I'll post an update after I shed some weight and make my wife and doctor happy.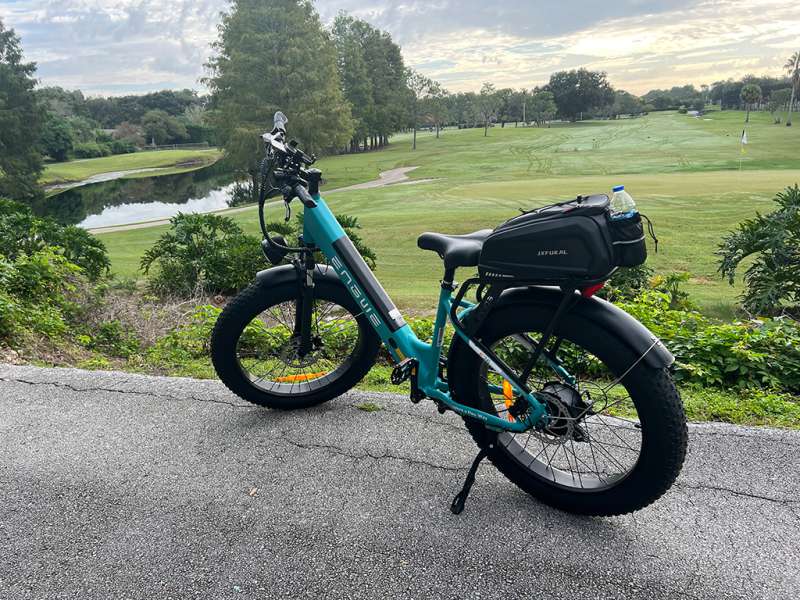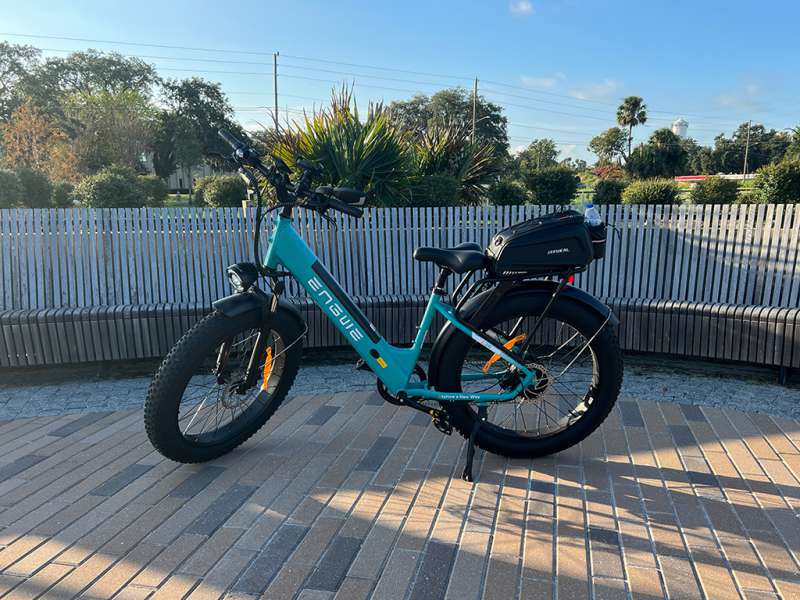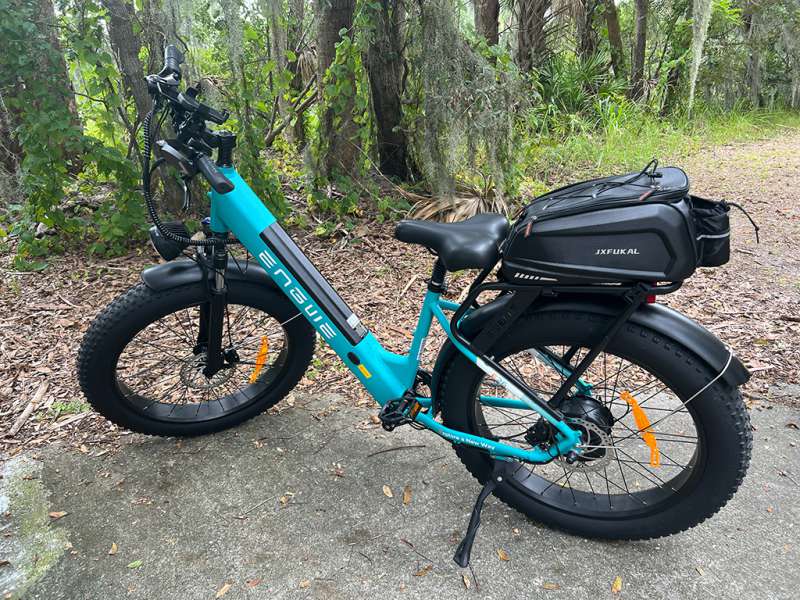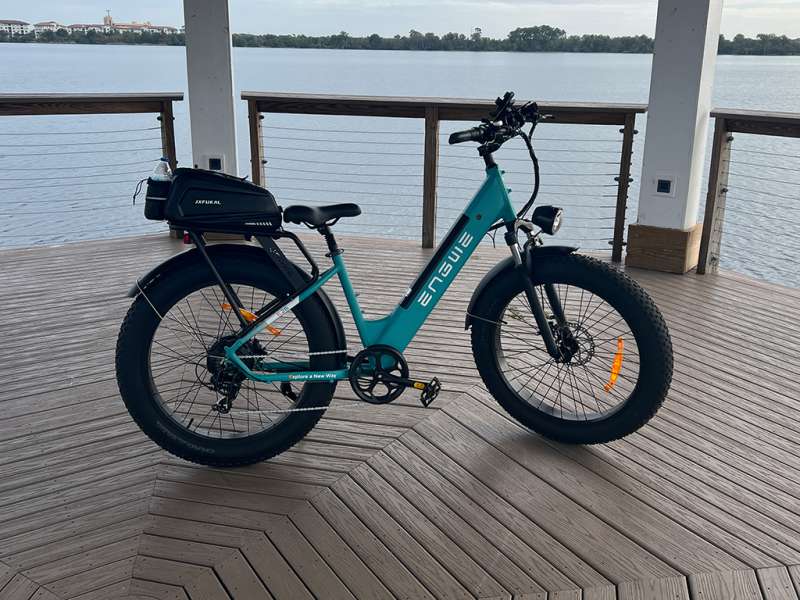 Note: I added the bag and phone mount. These are not included with the Engwe E26.
What I like
Almost everything…
Exceptional build quality
Easy Assembly
Comfortable and smooth ride
Features galore
Perfect riding experience overall
The bell is awesome
What I'd change
Higher capacity battery. Maybe something like a 20-30 Ah
Setting to display battery percentage or voltage remaining
Final Thoughts
The Engwe E26 is a near-perfect e-bike. It has all the right features from its dual suspension, excellent hydraulic brakes, the Shimano 7-gear transmission, and excellent build quality. All of this is not surprising given Engwe's commitment to excellence with the other e-bikes they sell. I anticipate many years of enjoyment riding the E26 and I think you would also. Oh, and did I mention it comes with a bell? It's great!
Price: $1,199.99 (currently on sale for Black Friday for $1149.99)
Where to buy: Engwe
Source: The sample of this product was provided by Engwe.