We use affiliate links. If you buy something through the links on this page, we may earn a commission at no cost to you. Learn more.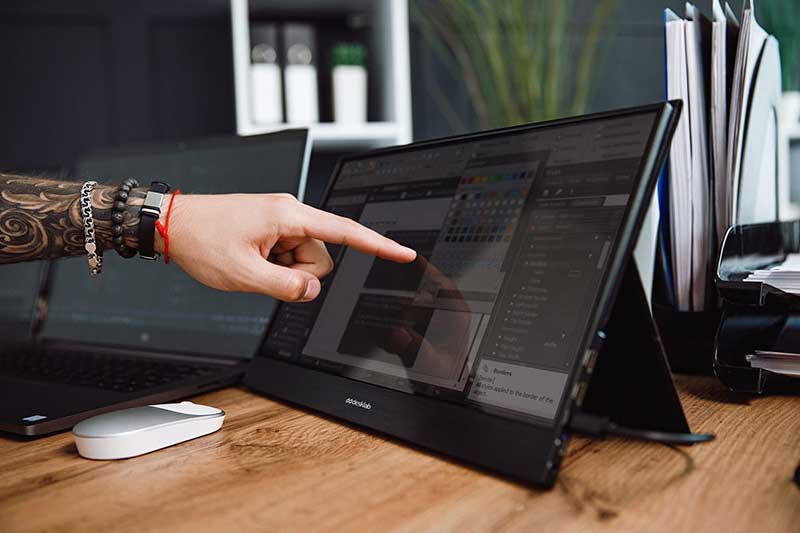 DEAL NEWS – Add touchscreen technology to your computer setup with the Desklab Portable 4K Touchscreen Monitor today for $249.97 (reg. $375) through Nov. 16.
The benefits of adding a second — and third — monitor to one's desktop setup are undeniable. Not only are they exceptional when it comes to assisting with and boosting productivity, but they're also highly valuable for those who use their computers for gaming and streaming. 
As additional monitors have become more prevalent, the technology behind them has only gotten better. Touchscreen monitors/displays have taken it up even another notch. 
Add this 15.6-inch Desklab Portable 4K Touchscreen Monitor to your setup for just $249.97 (reg. $375) ahead of the holidays. Though, these savings end at 11:59 p.m. PT on Nov. 16.
This highly intuitive monitor features a vivid display with 4K resolution. The clarity and detail bring life to gaming while giving photographers and videographers an eye-catching canvas to view or edit their photos and videos. 
Desklab's monitor departs from the traditional in that it features touchscreen capabilities. Rather than rely on a mouse to click, drag, and navigate its screen, users can touch on the app or items they wish to select. However, some devices are not compatible with the touchscreen feature.
Those familiar with tech know all too well about dealing with incompatible devices. That shouldn't be a problem with this monitor, as it features two USB-C ports, one micro-USB port, one mini HDMI port, and an auxiliary 3.5 mm port. Additionally, it comes plug-and-play ready. 
Further features include proper LED backlighting, a 60Hz refresh rate, and two built-in Hi-Fi speakers. It ships with a USB-C to USB-C cable and an HDMI to mini HDMI cable.
"I found this product to be functional and fantastic with more than enough inputs to connect to virtually any laptop, tablet, or other device," writes a verified 5-star reviewer. 
Take your computing efforts to another level and purchase the Desklab Portable 4K Touchscreen Monitor today for $249.97 (reg. $375) through Nov. 16 at 11:59 p.m. PT.