We use affiliate links. If you buy something through the links on this page, we may earn a commission at no cost to you. Learn more.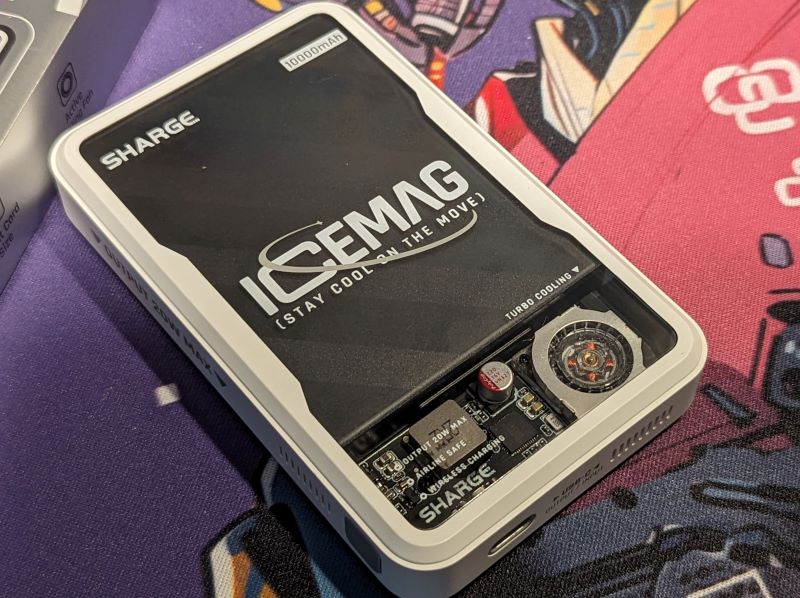 REVIEW – How many times have you been out and about, whether for work or play, and your phone was about to die? I think we've all had that problem. I definitely do when I'm out on a job site, constantly talking on the phone, and keeping up with Teams chats, emails, and meetings. Now, I already have a battery pack for those kinds of emergencies but it's large and requires the use of a cable. Along comes the Sharge Icemag magnetic wireless power bank. If you have a compatible Magsafe phone or, in my case, a Magsafe-compatible phone case, you now have the ability to magnetically stick this to your phone and wirelessly charge it. Sounds great but how is it to use? Is it worth the price of admission? Keep reading if you're interested in my thoughts.
What is it?
The Sharge Icemag is a magnetic wireless power bank with active cooling.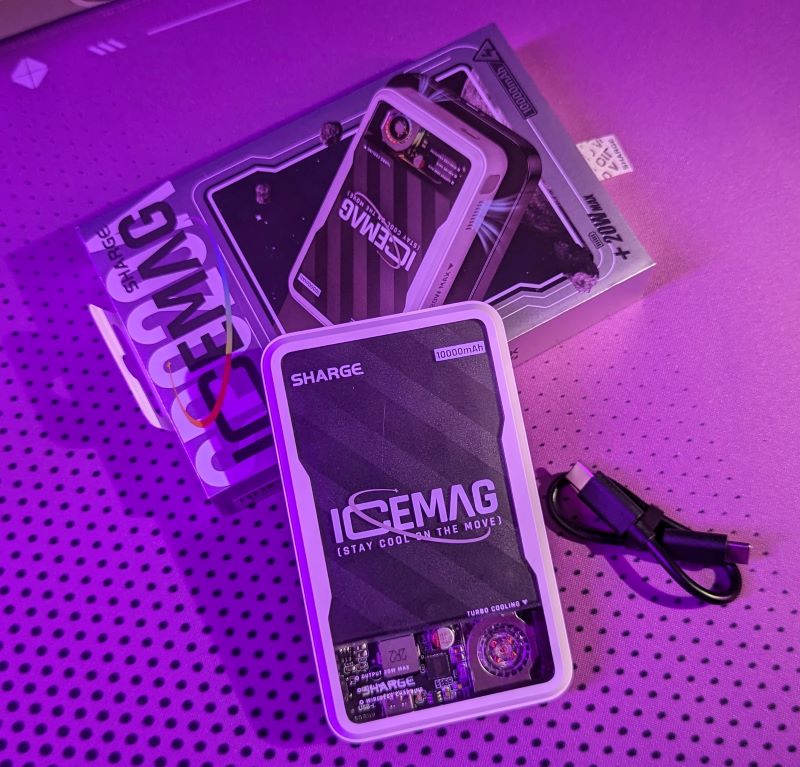 What's in the box?
Sharge Icemag power bank
USB charging cable
User manual
Hardware specs
Weight 225g
Dimension 115.2 × 70.5 × 18mm
Battery Capacity 10,000mAh
Ports Wireless × 1, USB-C × 1
Supported Protocols QC3.0, QC4.0, PD2.0, PD3.0, Apple5V/2.4A, BC1.2, FCP, AFC
Input 5V⎓3A
Output

Wireless: Max 7.5W
USB-C: Max 20W
USB-C+Wireless: 5V⎓3A (in total)
Design and features
So I've already said the Sharge Icemag is magnetic. Any Magsafe device should stick to it. Even my case which seems to have a weak magnet when compared to others sticks well to the Icemag. Now if I shake my phone a bit it will fall off, but if you don't have problems with other Magsafe accessories, then the Sharge Icemag shouldn't be an issue. Icemag has a 10000 mAh battery with 20W maximum output via the USB C port or 7.5W via wireless charging. You won't be fast charging anything wirelessly but at least it will charge your device wirelessly. This is the feature I most wanted from the Icemag, but wireless charging isn't without its drawbacks. There's a lot of heat generated by wireless charging. So how does the Sharge Icemag deal with that? It has active cooling with a built-in fan.  That's right, there's a fan inside that you can clearly see through the window.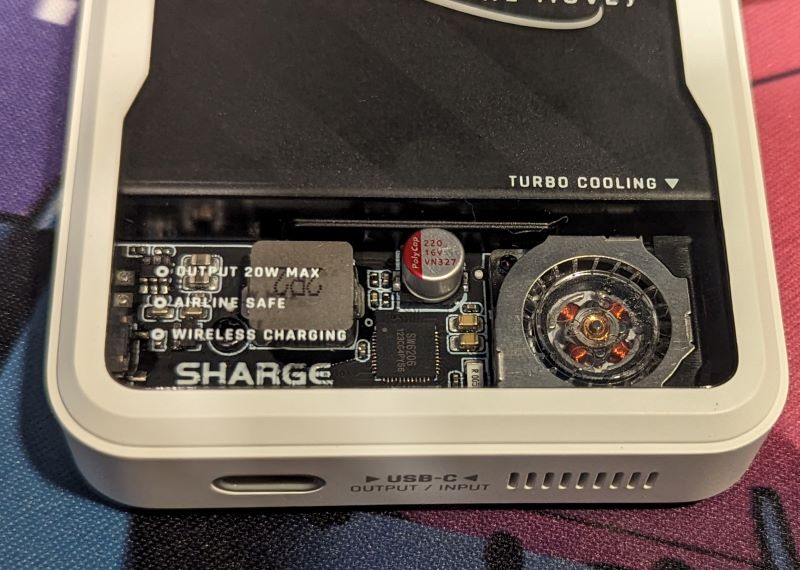 As soon as the Sharge Icemag power bank detects your device wirelessly charging the fan kicks in, pulling air in and pushing it out through its vents. And so as not to be too boring, there are RGB LEDs that cycle through colors. I'm not normally a fan of RGB on any and everything, but these look pretty good.  They're only on the fan so it doesn't look like the carnival is in town.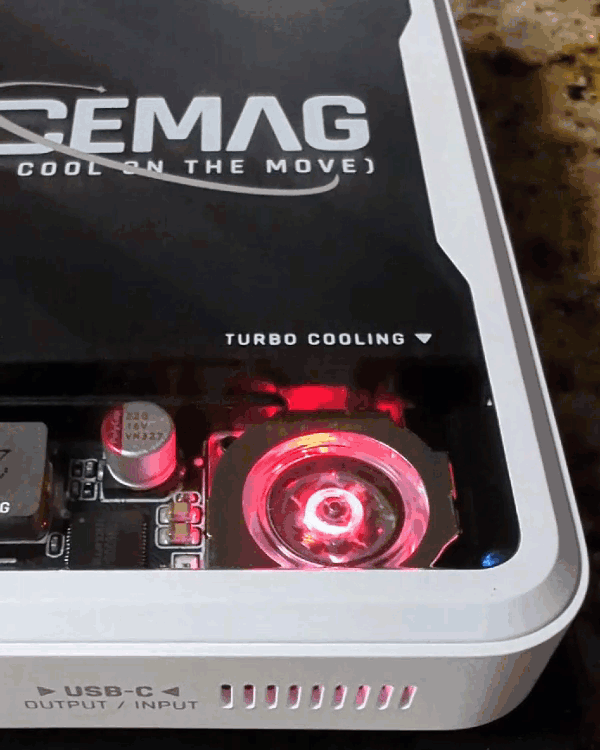 The Icemag offers two modes of wireless charging as well. By default, the Icemag is set for the higher rate of wireless charging, but if you press and hold the button until the side LEDs blink, then it enters a low-voltage charging mode.


This allows you to charge things like wireless earbuds and smartwatches. Speaking of the side LEDs, with a quick press of the button, it shows the battery level available. The back side of the Icemag has a soft, rubbery feel to it as well, protecting your phone from scratches.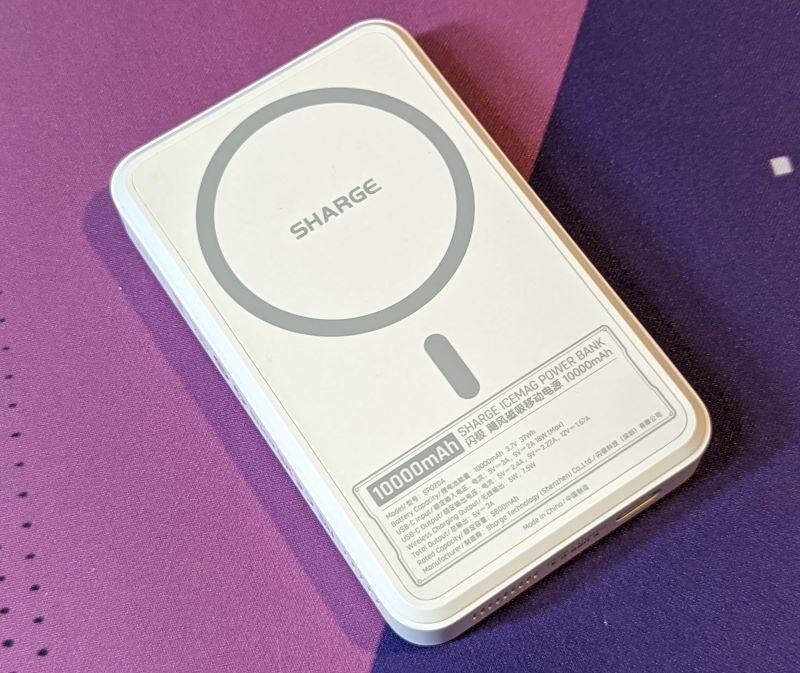 The size of the Sharge Icemag power bank is also more convenient than my other power bank. The Icemag is about the size of a deck of cards whereas my other is about twice that size, with the same capacity.
Performance
The Sharge Icemag power bank is a bit of a mixed bag for me. It sticks well enough to my phone but can slide around a bit. I'm going to blame that on my case. It does start charging immediately without having to move it around to find a sweet spot. The fan isn't loud although in a quiet room, you can hear it.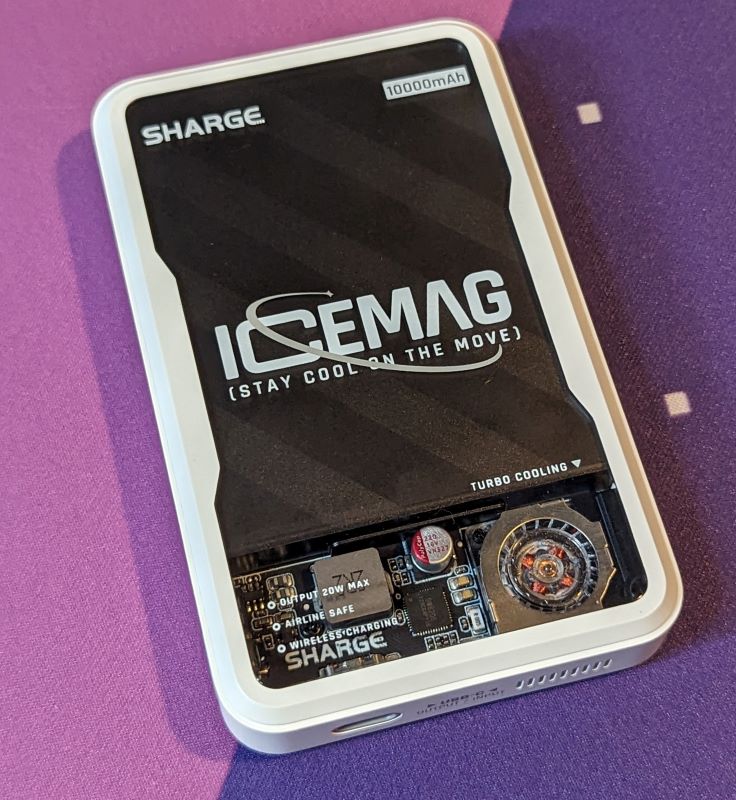 The battery capacity is good. It's 10000 mAh whereas my phone is 5000. So, I should get two charges out of it, right? That's what I thought but for some reason, I can only get one full charge out of it. I'm guessing the fan is drawing enough power to use quite a bit of that battery. That's not a huge problem. I can get my phone through a long workday onsite without having to run around trying to find an outlet. It also keeps me mobile so I'm not stuck in one place waiting on my phone.  Wireless charging my phone with the Icemag is really slow, 7.5W isn't much, but it works, and if I want fast charging, I can connect it to the USB C port.  With a short cable and my phone stuck to it, I can still be mobile.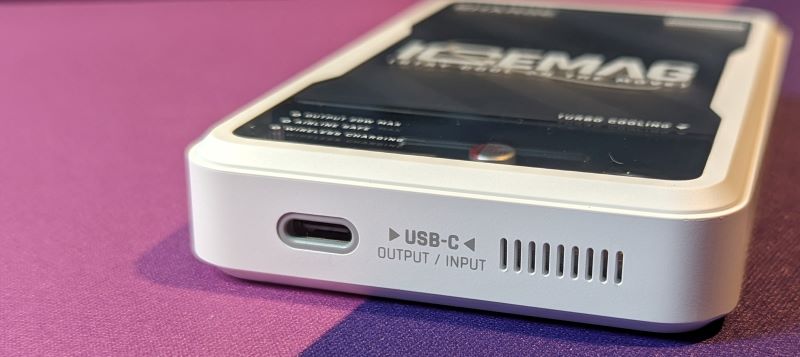 What I like
Battery capacity, I can get one whole charge out of it
MagSafe compatible
Wireless charging
Compact size
What I'd change
I could always use more battery capacity
Final thoughts
Look, we all know heat is detrimental to electronics, so anything we can do to keep them cool while using them is a good thing. The Sharge Icemag power bank does a great job of doing just that with my phone. The fan runs constantly keeping it nice and cool. The size is great.  It fits nicely into a pocket or a bag and its light weight won't weigh you down. I'm happy with the convenience of the Sharge Icemag and I do like the addition of a fan. I'm not one to replace my phone every time a new one is released, so anything I can do to prolong its life, I'll take it. If you have needs like mine, check out the Sharge Icemag.  For the price and features, I think it's worth it.
Price: $59.99
Where to buy: Sharge.com and Amazon
Source: The sample of this product was provided by Sharge.