We use affiliate links. If you buy something through the links on this page, we may earn a commission at no cost to you. Learn more.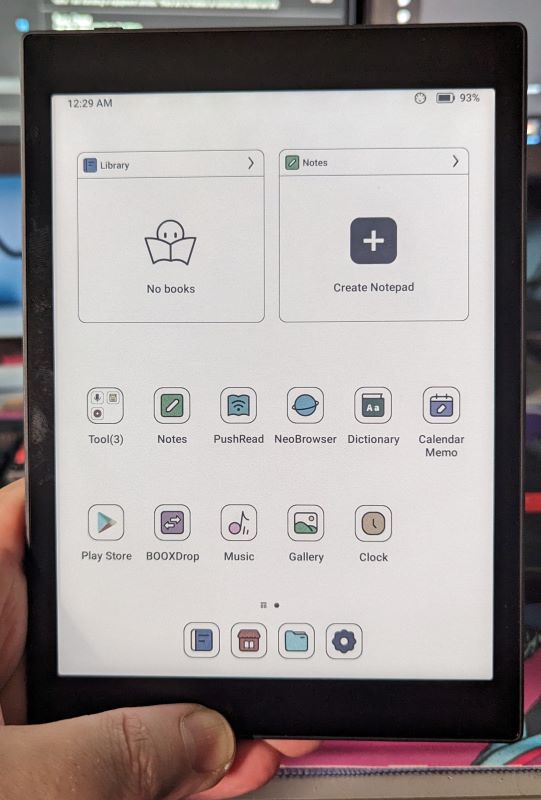 REVIEW – I love e-ink devices. Text is so easy to read. They use very little power for the most part. The tablets with handwritten note-taking abilities are my favorite. My favorite one up to this point has been the reMarkable 2, but I'm always on the lookout for the next best thing. One manufacturer, Boox, always comes to the top of the list whenever I search for articles or YouTube videos on what's new.  So when the Boox Tab Mini C came along I was intrigued. Color e-ink? Yes, please. I want to see that! A full-fledged Android tablet? Mm-hmm, tell me more. Smaller form factor making it easier to use when I'm out on business trips? I think I may be in love. Not to be crude but is this a case of good from far, but far from good? I had to know.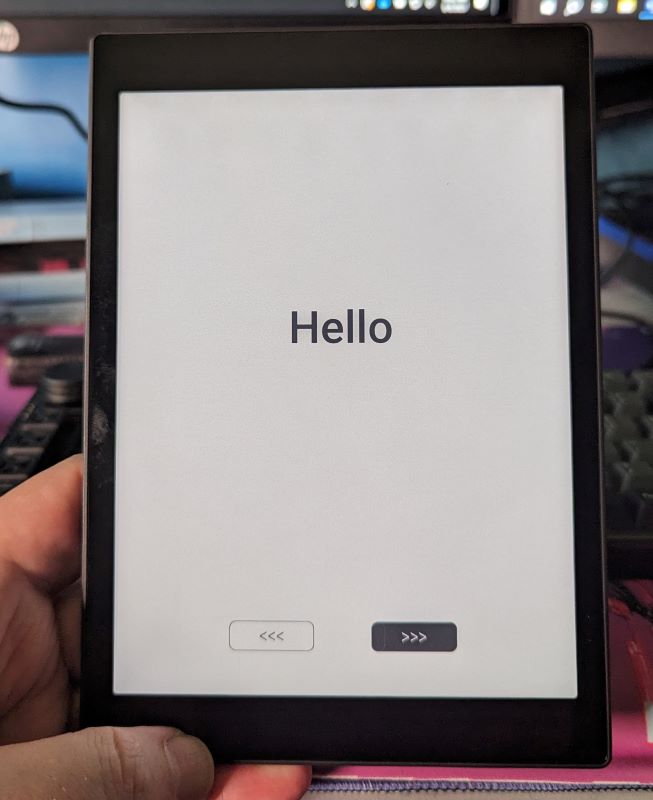 What is it?
The Boox Tab Mini C is a 7.8″ color e-paper Android tablet that takes reading and drawing to new heights while offering most of the capabilities of a regular Android tablet device.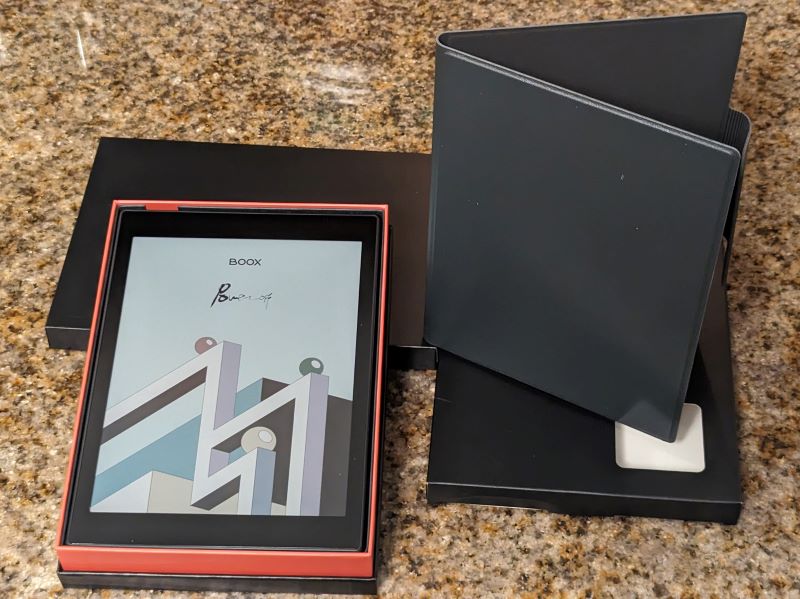 What's in the box?
You can remove this heading and section if it doesn't apply to your review.
Boox Tab Mini C
Magnetic protective case
Magnetic Pen Plus stylus
USB A to USB C charging cable
Quick start guide
Hardware specs
Screen: 7.8″ Kaleido 3 (4,096 colors) with AG glass flat cover-lens
Resolution: B/W: 1404 x 1872 (300 ppi) Color: 702 x 936 (150 ppi)
Touch: BOOX stylus touch (4,096 levels of pressure sensitivity) + capacitive touch
CPU: Qualcomm Advanced Octa-core
RAM: 4GB (LPDDR4X)
ROM: 64GB (UFS2.1)
Connectivity: Wi-Fi (2.4GHz + 5GHz) + BT 5.0
Front Light with CTM (Warm and Cold)
Software Specs
OS: Android 11
Document Formats: PDF, DJVU, CBR, CBZ, EPUB, AZW3, MOBI, TXT, DOC, DOCX, FB2, CHM, RTF, HTML, ZIP, PRC, PPT, PPTX
Image Formats: PNG, JPG, BMP, TIFF
Audio Formats: WAV, MP3
Supports 3rd-party apps
Other Specs
Button: Power Button
USB-C Port (Supports OTG or use as an audio jack)
Built-in Dual Speakers
Built-in Microphone
G-sensor for Auto Rotation
Battery: 5,000mAh Li-ion Polymer
Dimensions: 194 x 136.5 x 8.3 mm (7.6″ x 5.4″ x 0.33″)
Weight: Approx. 310g (10.9oz) (Magnetic Version)
Design and features
Let me start by saying, I won't be able to touch on every aspect of the Boox Tab Mini C. There's just so much to this tablet so don't base your judgment solely on this review.  There are some great reviewers on YouTube like my favorite, Kit Betts-Master. There's also a review on the Tab Mini C's big brother, the Boox Tab Ultra, right here on The Gadgeteer with great information about the capabilities shared by the two.
The first thing that struck my fancy was the color e-ink display. If you aren't used to e-ink or e-paper displays, you need to know they are nothing like LCDs at all, OK? It's apples vs oranges, but now you can see the color of both on each. The 7.8″ Kaleido 3 screen displays 4096 colors, which in my mind, is pretty amazing for an e-ink screen. You can now take notes, highlight, mark up documents, and more in several different colors. This is great for my job where I need to mark up a doc for several different people, so I can assign a color for each person who receives the document. Now they can differentiate on sight what's important to them. I can also draw quick diagrams of equipment on a job site to have a reference when I create a training document later on. The screen is also a capacitive touch screen with 4096 levels of pressure sensitivity so if I were a true artist, I could draw up some really nice diagrams with real artistic flair.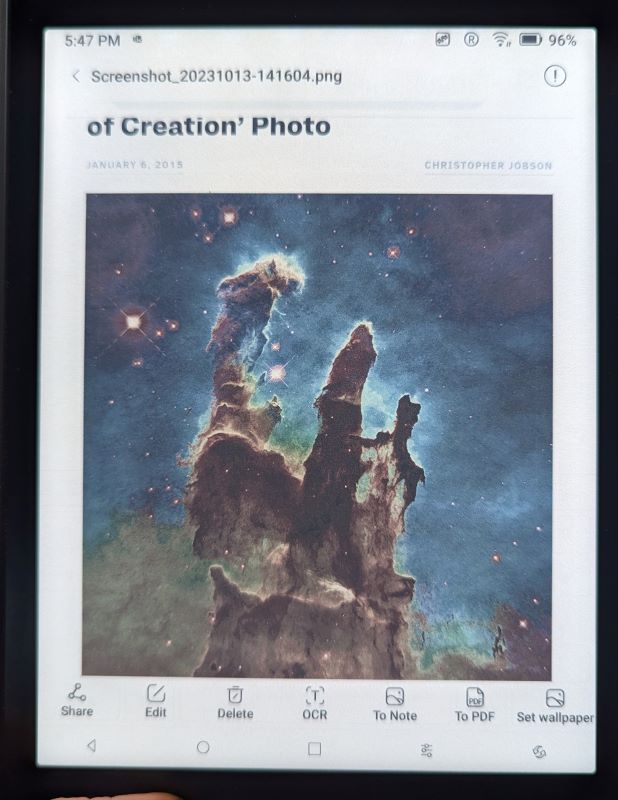 The size is perfect for reading novels, though some may find it too small for dense PDF files. I'm reading for enjoyment and I like it. It's much smaller than the reMarkable 2 and slightly larger than my old Kindle Paperwhite. There are settings in the Control Center that allow you to adjust brightness and color temperature that can be quickly accessed by dragging one finger from the right side of the top of the screen. So, you don't have to go digging around through the Android OS settings to access them.
The Boox Tab Mini C has a metal back, although it's not specified what that metal is.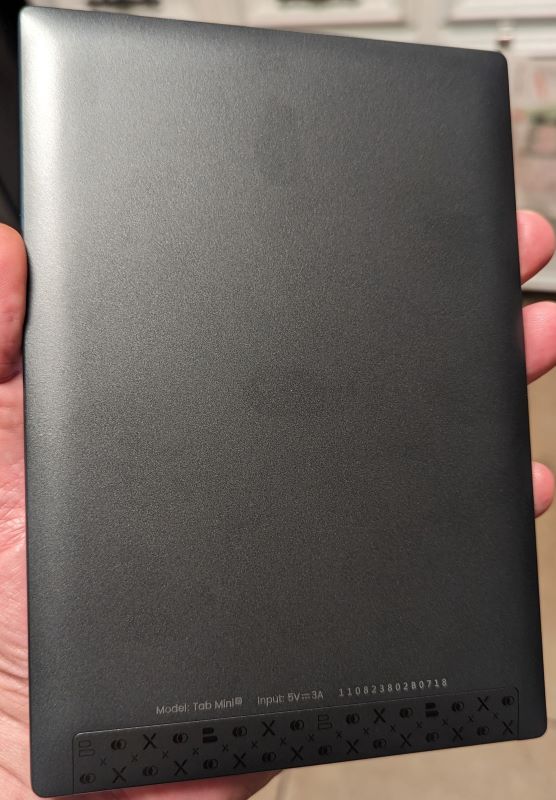 I'm assuming it's aluminum with magnets underneath which allows it to stick to the cover. You just plop it down onto the cover and voila! It stays put just fine. It's been on several flights and in and out of multiple bags and never fallen out. When not using the cover, the case has a slight tooth to it so it's not slippery. It has a nice matte finish.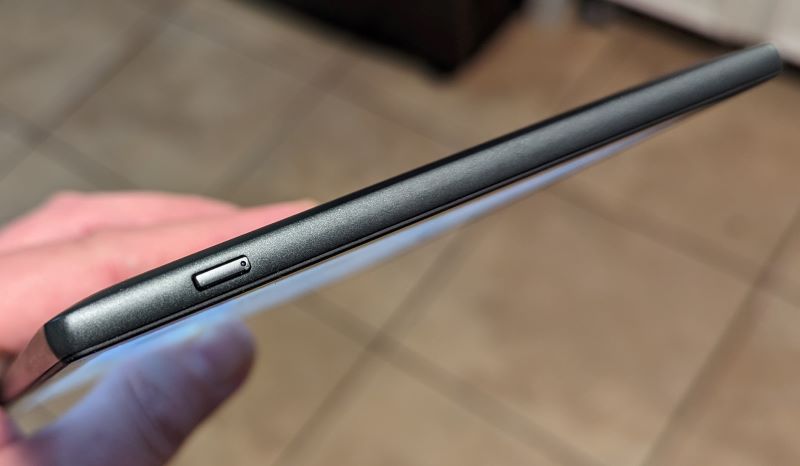 Along the top of the tablet, there's one singular button for power while on the bottom, you've got the USB C charging port, two downward-firing speakers, and a microphone.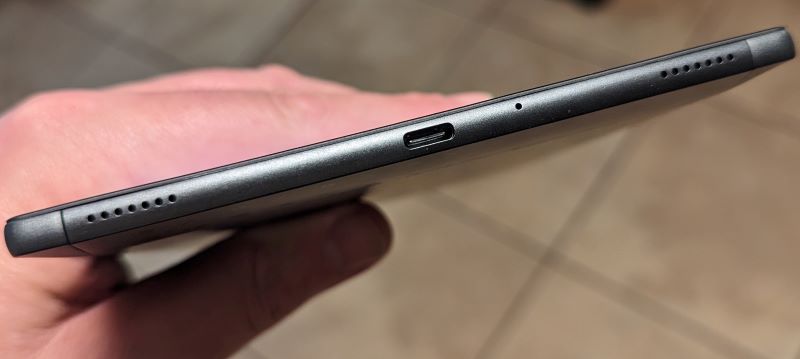 The sound from the speakers is definitely nothing to write home about. They sound very thin and tinny which I fully expected. Honestly, I don't think I would ever use any tablet speakers unless it was a matter of last resort. I was surprised by the sound I was able to get from my earbuds though. Although there's no headphone jack, using a USB C to headphone adapter, I was able to listen to music on the Boox Tab Mini C and get pretty good sound. Can you watch videos on it? Ummm. You CAN watch videos, but trust me, you don't want to. Being that this is e-paper, the refresh rate is way too low for that to work with any sort of satisfactory results. That's not a knock against the Tab Mini C. I knew going in that was the case and my purpose for wanting it was not to be a media consumption device.
The mic works pretty well on it though I've only used it once in testing. I was able to record a message and send it to a co-worker in Teams. The results were pretty good. Also having a mic allows you to use speech-to-text which works pretty well in my testing. Even with my southern drawl, it correctly caught what I was saying and converted it to text. Now that I think about it, I'll have to try it out for a Teams meeting. There's no camera but that's fine by me. I don't like showing my ugly mug unless absolutely necessary anyway.
Since the OS on the Boox Tab Mini C is Android 11, I can install any Android-compatible app, or at least the ones I've installed so far. I'm using this mainly as a tool for work while traveling. So I've installed the Kindle app, MS Teams, One Note, MS Office 365, and Outlook, along with Google Chrome, Gmail, and YouTube Music.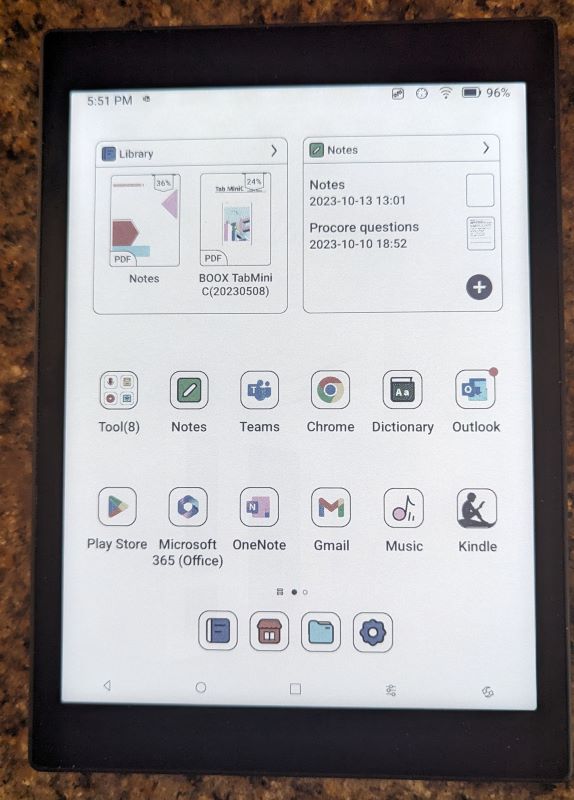 The nice folks at Boox were kind enough to include a nice stylus, the Boox Pen Plus, which only makes sense when you're supposed to write on the device. You'd think other companies would include their stylus considering the cost of some alternatives. The Boox Pen Plus has a good weight to it. It's a little heavier than a pencil. It's also magnetic so when not in use you can store it on the right side of the tablet. I'm guessing the nib will never wear out. There were no extra nibs included nor any nib removal tool. If that's the case, then great! I won't have to try to remember where I put the extras so I won't forget where I put them.
Setup
Setting up the Boox Tab Mini C for the first time is really very simple. Power it on and follow the prompts. The only real choice to make is whether you want to use a navigation bar at the bottom of the screen or gestures.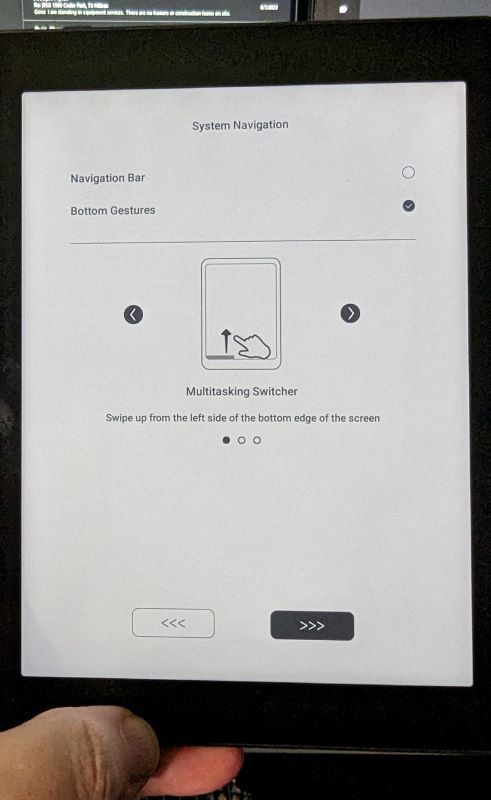 I initially chose Gesture because it's what I use for my Pixel phone. I figured since they're both Android they would be roughly the same and there are some similarities, but I've now gone to using the Navigation bar. There are enough differences that I find myself using gestures that work on my phone but give different results on the Tab Mini C.
Performance
Use case
As I said, I have a particular use case for the Boox Tab Mini C. I want to use it for work, mainly when I travel to job sites. It's much easier to walk around with it to take notes, respond to Teams messages, and compose emails than a laptop. I took it on a trip last week and am taking it with me this week as well. I can read or listen to music while on a plane or in my hotel room, take notes, make diagrams, and keep in contact with the team while saving my phone's battery.  It's more convenient than the reMarkable 2 for this purpose because of its size and capabilities. It also helps to keep me on target since I won't be watching TikTok or YouTube or playing Pickle Pete on it. Plus, there are several cloud storage options. Currently, I'm just using Google Drive, OneDrive, and OneNote but there are more. It also supports Bluetooth 5.0 so I could pair it to a wireless keyboard if I wanted, but my eyes aren't the best in the world anymore.
Battery Life
The Boox Tab Mini C comes with a 5000 mAh Li-on battery so how long does that last? That all depends on you and how you use it. It can last a number of days or even weeks. If you have the screen at max brightness with WiFi and Bluetooth on it's not going to last nearly as long as it would otherwise.  I try to turn off Wifi when I don't need it but I usually have the brightness up when I read because I mostly read at night before bed. I was able to get a few days on a charge when I first received it because I had to find out what everything did. Now that I've calmed down a bit I'm getting about 5 days to a week. Again, it's all about how you use it.
Writing Experience
Here's my first complaint about the Boox Tab Mini C. It feels like writing on glass. The reMarkable 2 offers a much better pen-to-paper feel when using it. There's actually a tooth to the screen so it feels natural. I have gotten used to writing on the Tab Mini C. I just wish it had a better feel to it. On the other hand, since this is color, I can now mark up documents much easier and actually see what the highlight color is. I will say I like the native Boox Notes app better than OneNote. I've never really cared for OneNote but it's what my company uses so I do. The Boox Notes app, however, just works better. The OCR works very well and is performed on board, so I don't have to have an internet connection to convert my text.
Gestures
Here's my second complaint. Remember how I said I originally chose Gesture navigation over the navigation bar but have since changed? It wasn't all due to differences between my phone an it. There are a ton of different gestures you can do on different parts of the screen to achieve different results. The problem is I have big hands and the screen is too small to have all those different hot zones for my taste.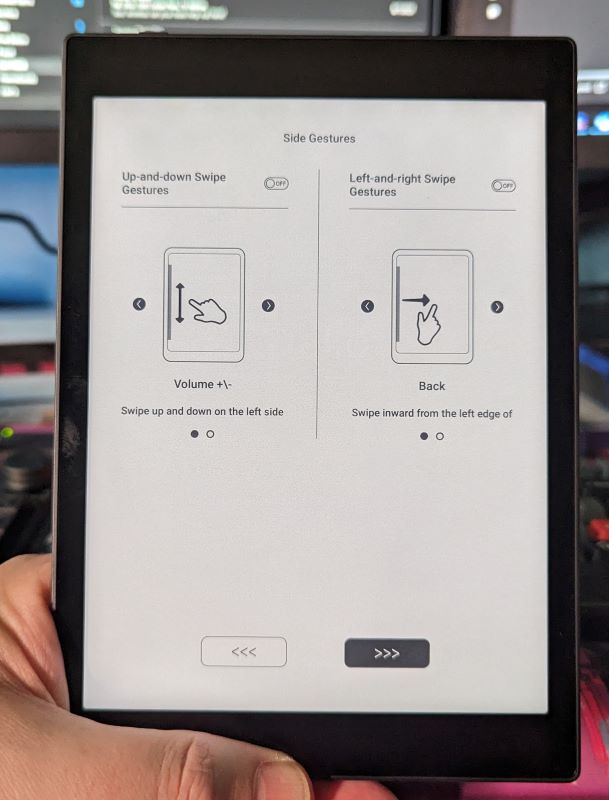 There are gestures for sliding up and down the left side of the screen, up and down the right, sliding left from the right edge of the screen, and vice versa. There are more for sliding down from the top right for one menu and sliding down from the top middle for something else. Sliding up from the bottom is the same way. I either touch it in the wrong place and get the wrong action or I get nothing at all.  I'm sure others have no issues with the gesture navigation but I sure do, which is strange since I use it on my phone with no issues.
What I like
Size and form factor
Android compatibility
Good note-taking software
Color e-ink
The stylus
What I'd change
Improve the writing feel
Gesture navigation
Final thoughts
I really like the Boox Tab Mini C. It's so close to perfect for me. It suits my workflow very well. I think Boox did a bang-up job on the hardware too. The look and feel of the device itself is nice. There's plenty of storage capacity for my needs and the CPU is peppy enough to do what I want it to do. Would I give up my reMarkable 2 entirely? No, I still love it but the Boox Tab Mini C is going to be my new work buddy for the foreseeable future. It does such a good job at a number of different things that I can't NOT take it with me.
Price: $399.00
Where to buy: Boox and Amazon
Source: The sample of this product was provided by Boox.