We use affiliate links. If you buy something through the links on this page, we may earn a commission at no cost to you. Learn more.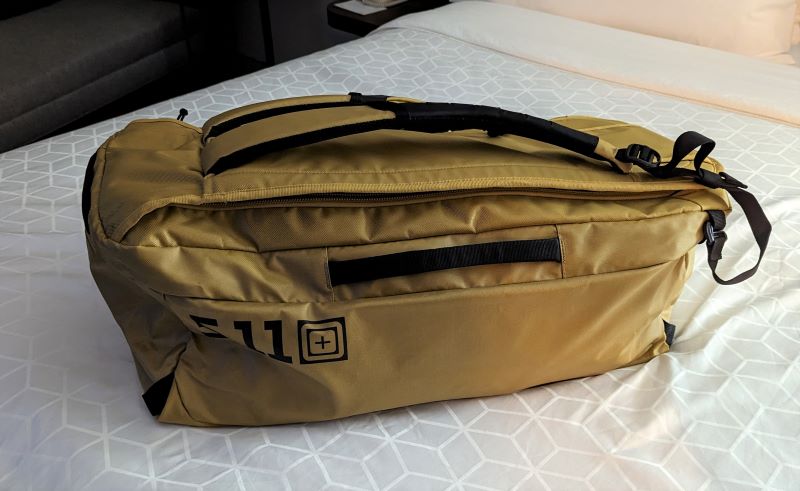 REVIEW – I started a new job last November and now work for an employee-owned company. As such, I now own some of the fiscal responsibility for making the company profitable. So, I've been trying to find ways here and there where I can save money while traveling for business. I usually carry a suitcase, which I check, and I backpack for my laptop and such. With the new job, I sometimes have to carry a tool case so that would mean checking two bags. Not only does that cost more money, it means I now have 3 bags to lug in and out of the airport. To quote the woman from a meme, "Ain't nobody got time for that!" I had already been looking for a duffel to replace my suitcase and backpack when the 5.11 Tactical Allhaula duffels came up for review. I jumped and Julie said, "All yours." Now the only question was, will this work for my traveling needs?
What is it?
The 5.11 Allhaula 65L duffel is a heckuva big duffel bag with backpack straps built from tough weather-resistant TPU-coated 840D Nylon.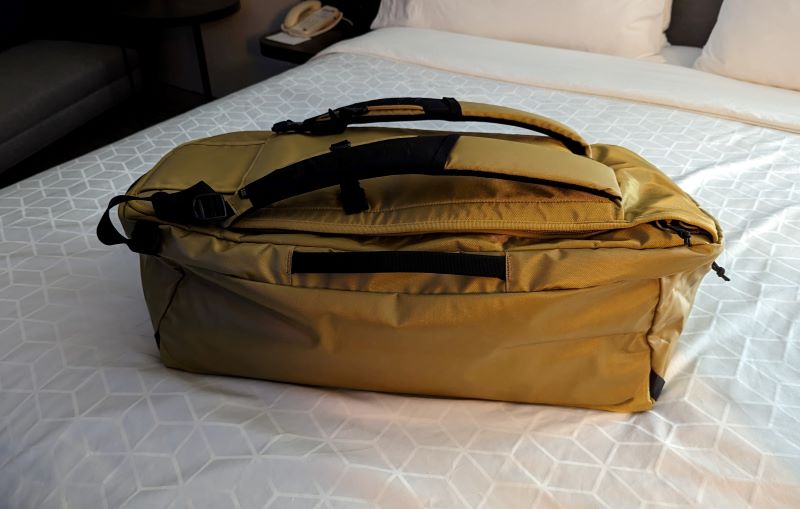 Hardware specs
Weather-resistant TPU Coated 840D Nylon with storm flap on main compartment zipper
Stowable shoulder straps with laser-cut laminate MOLLE & gear loops
Internal vertical/horizontal compression panel with zippered mesh pocket
Design and features
The 5.11 Tactical Allhaula 65L duffel is made of 840D nylon. 5.11 says it's TPU-coated, but I'm not sure if they mean partially coated or different amounts of coating on different parts of the bag. Different panels of the duffel have a coating that makes the bag more water-resistant than others.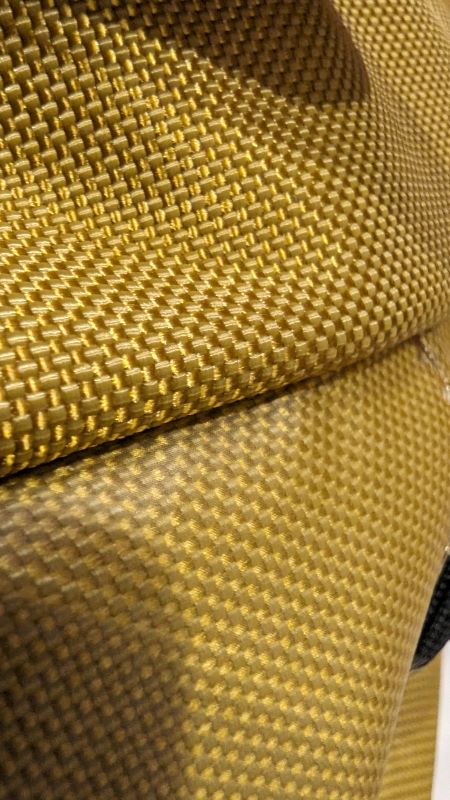 I don't know if you can see it but the lower panel is the heavier coated of the two and has a smooth surface whereas the upper panel has more of a rough Cordura feel. It's the side panels that are coated and I found it strange the bottom was not coated in the same manner.
The next thing to notice is the size. I chose the 65 liter but 5.11 offers a 45L and a 90L as well. The 65L was much bigger than I anticipated. I almost went with the 90L but am glad I didn't. The Allhaula 65L is just the right size for a few days' worth of clothing, my PPE gear while on a job site, my DOP kit, laptop, chargers, and such.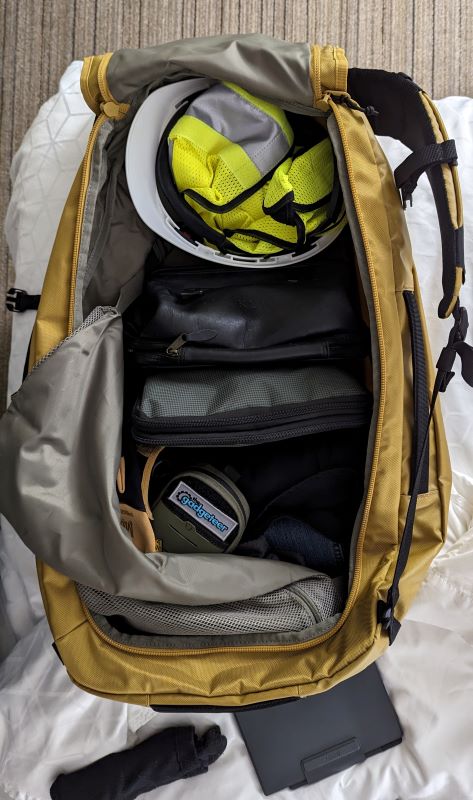 This was my first trip with it and I had room for more stuff if needed. I had another trip shortly after this one for a week instead of a couple of days. I left the hard hat and vest behind, but was able to fit more clothes and a laptop bag inside. Even with the additional items, I was still able to fit the Allhaula 65L in the overhead bins on the plane without having to turn it sideways. I only had to gate check it once and that was because of the small size of the plane. If you had anything larger than a normal backpack, you had to gate your bag.
There's an included mesh bag with straps that you can use for more storage and for strapping everything else down to keep things in place and prevent shifting.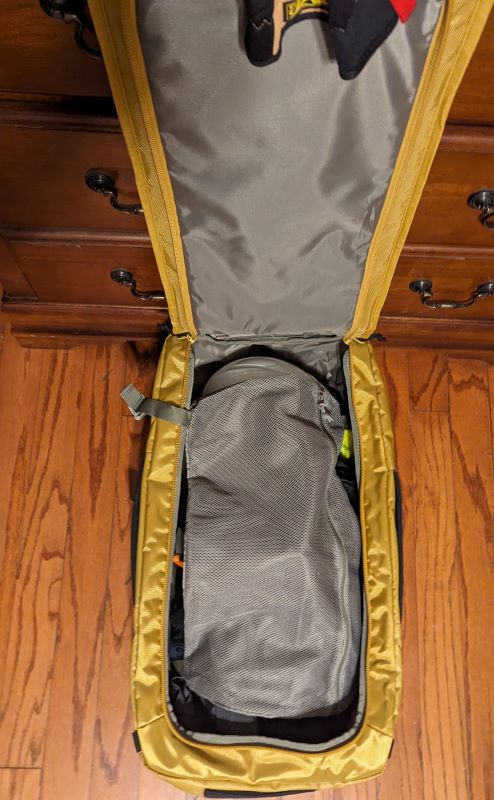 There are a couple of issues I had with this. One issue is the way the mesh bag attaches to the bag. 5.11 Tactical has used these hooks/buckles (huckles?) to hook into a loop in the bottom of the duffel.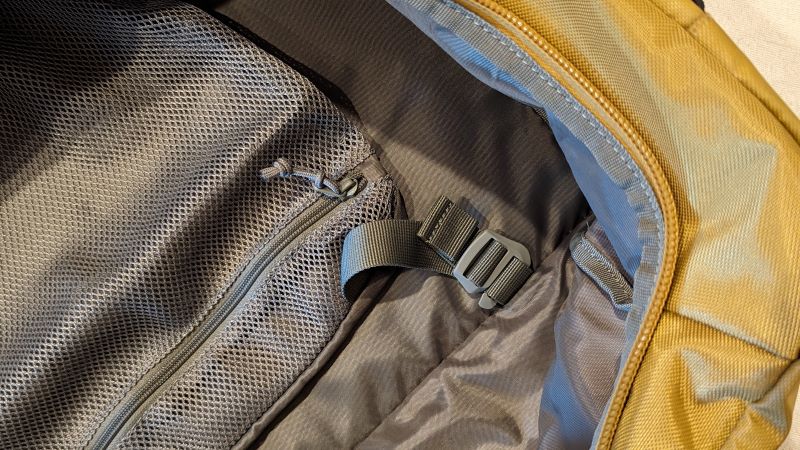 Sounds good on paper. But do you see the little nubbin on the end of the hook?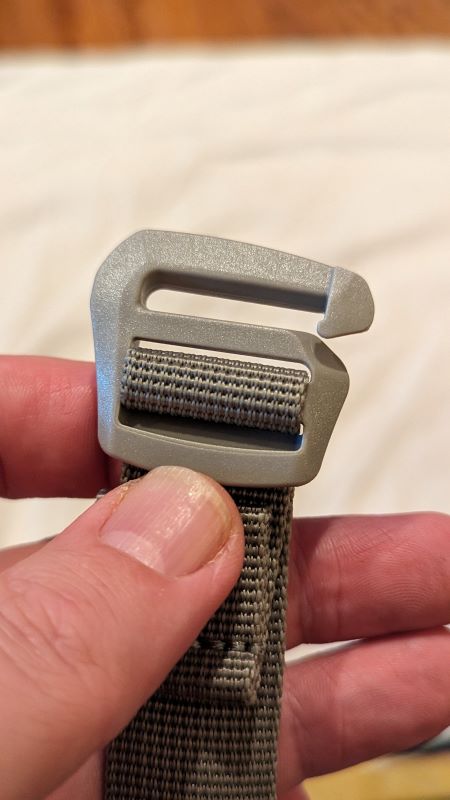 They prevent the strap from coming unhooked which means they prevent YOU from unhooking them as well. If your bag is full, then you have to wrestle everything out of the way and try to hook this thing into the loop in the bottom. Most of the time I was basically doing it blind.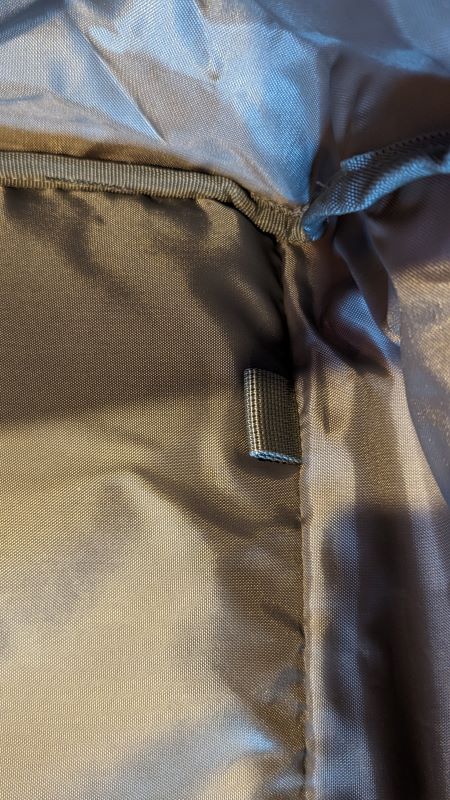 I did eventually get it but there has to be an easier way to facilitate this. The other problem I have with this mesh bag is the actual length of the straps.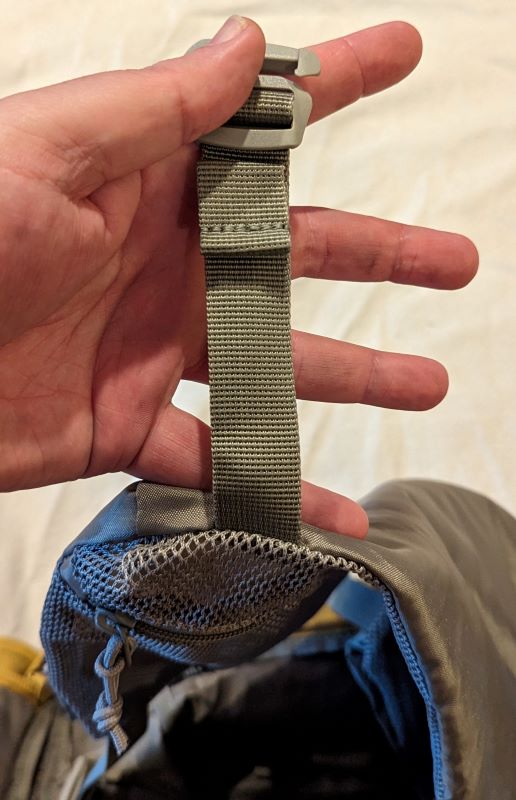 In my opinion, they're too short. Again, if your bag is full then you'll be fighting to get everything hooked together because of a lack of slack in the strap. On my second trip, I just left the mesh bag at home.
They also use the same huckles on the shoulder straps.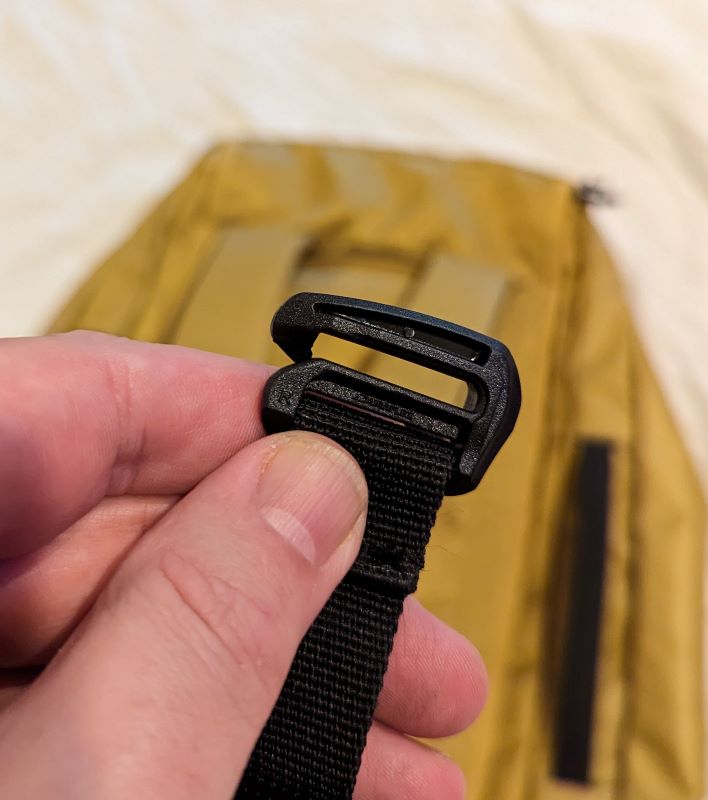 They work the same way but luckily hook into a loop on the OUTSIDE of the bag. The weird thing is I still had a hard time unhooking them due to that little nubbin that grabs the loop and starts bunching it up. I finally got a method that worked fairly well, but what blew my mind, was on two separate occasions when it went through the security scanners at the airport, one of the straps unhooked itself. Obviously, there's an easy way to do this. I wish I could have watched the little gremlins inside of the scanner to see how they did it so easily.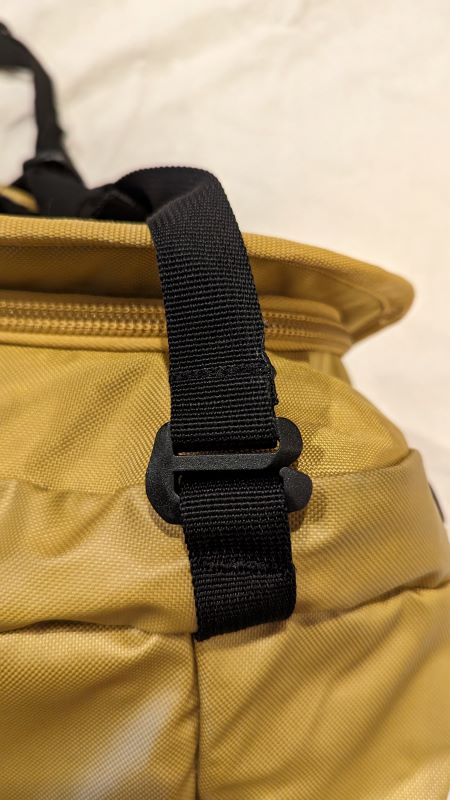 The straps themselves are heavily padded and comfortable considering the amount of weight I had in it. I will say there was a sharp portion of the strap that was rubbing my back for a while that was a bit uncomfortable, but I was able to fix that with a little heat from a lighter. After that, no hot spots. There's also a chest strap you can use to secure the Allhaula 65L even more to your body and help a little to distribute the load.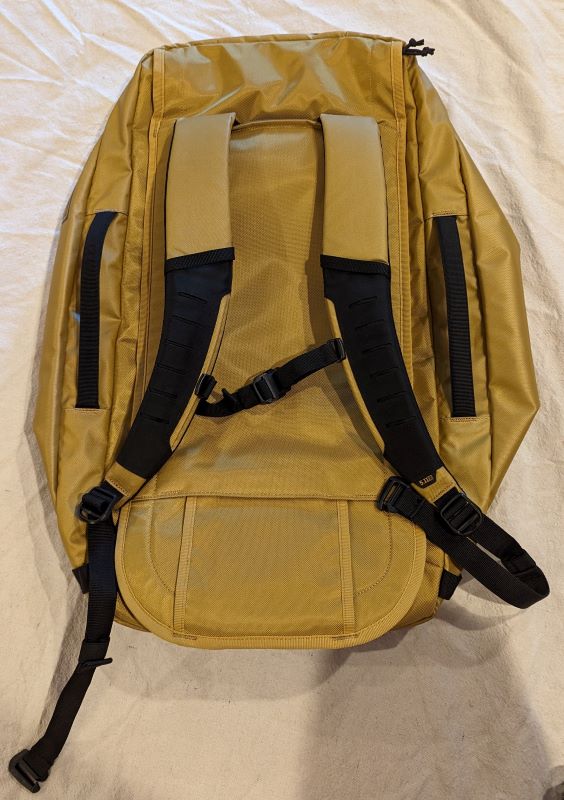 The straps have a nice little feature making the MOLLE compatible, so you can hang your tactical gear on it.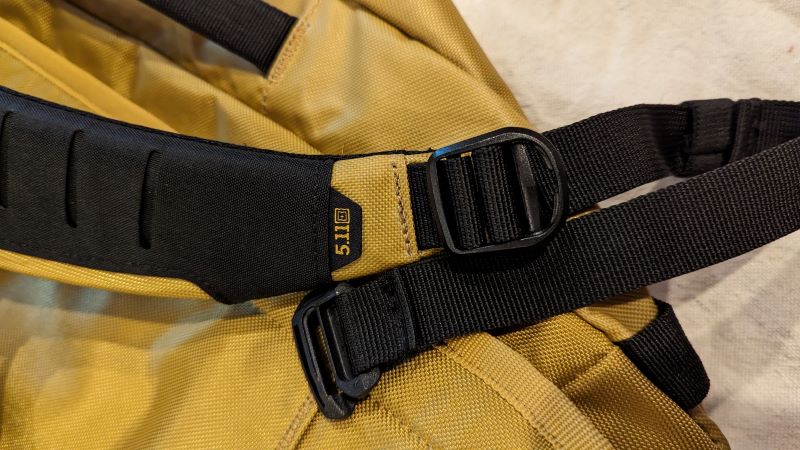 Another feature of the Allhaula 65L is you can stow the straps away in a pouch on the top of the duffel.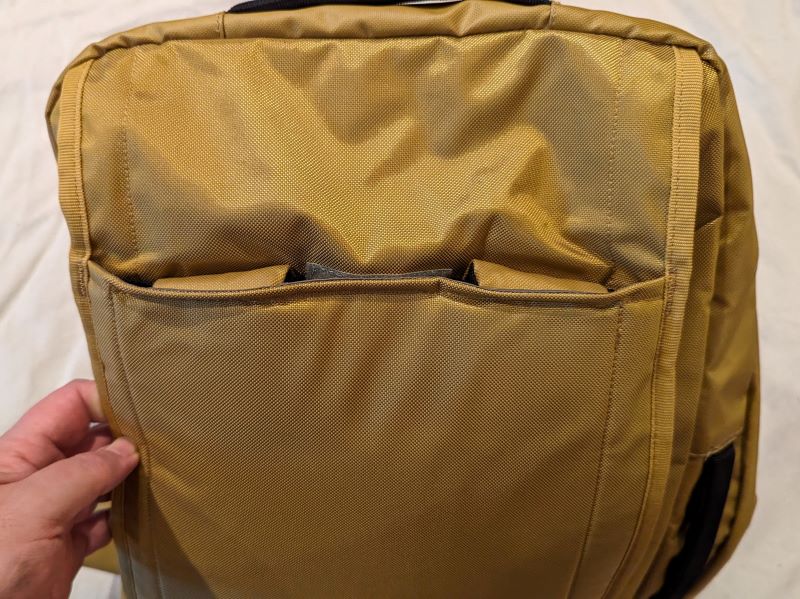 That's a nice touch except there's no single strap or handles so that you can carry it like a normal duffel bag. The hand straps they do have seem to be designed more for dragging or moving the bag around versus carrying. They're nicely padded though and seem to be very durable.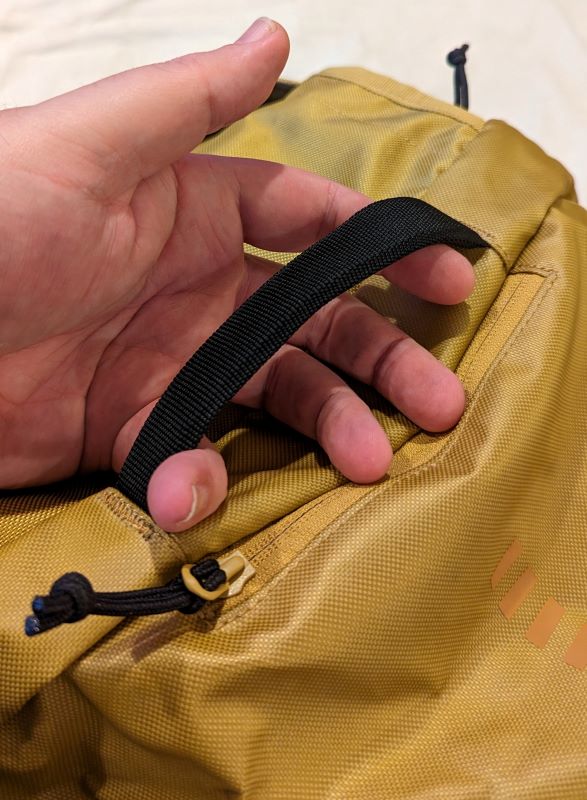 You'll notice too there on the end of the duffel, there's a small zippered pocket. I wish I had remembered it was there the last time I went through security at the airport. I could've put my phone in there instead of the main compartment.  It would've saved me unpacking half my bag to find the danged thing.
Speaking of zippers, all of the zippers are from YKK and are very rugged.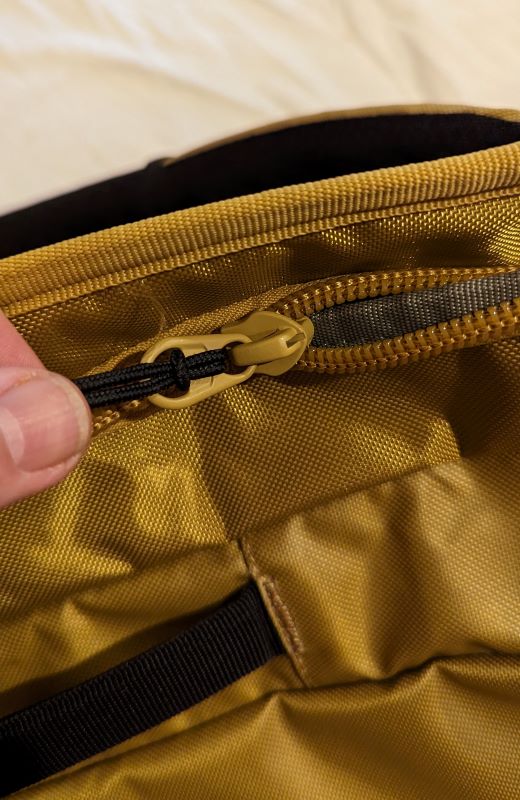 An additional feature of the 5.11 Tactical Allhaula duffel is the passthrough.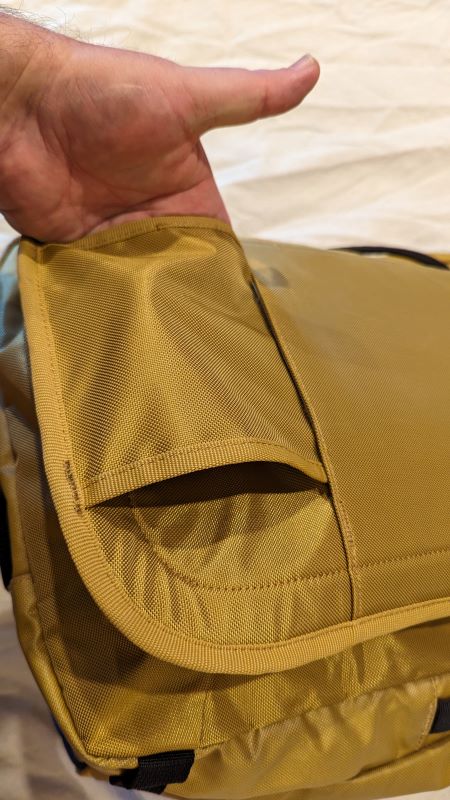 It's designed for use with a belt 5.11 Tactical offers as an accessory. It too can be stored into the top of the duffel. I'm thinking seriously about getting it. I'd loved to distribute the weight more evenly, making it even more comfortable to wear.
5.11 Tactical did a good job on the branding in my opinion. It's not plastered all over the place. There's a little tag inside the bag, a tag on the straps, and a logo on the side.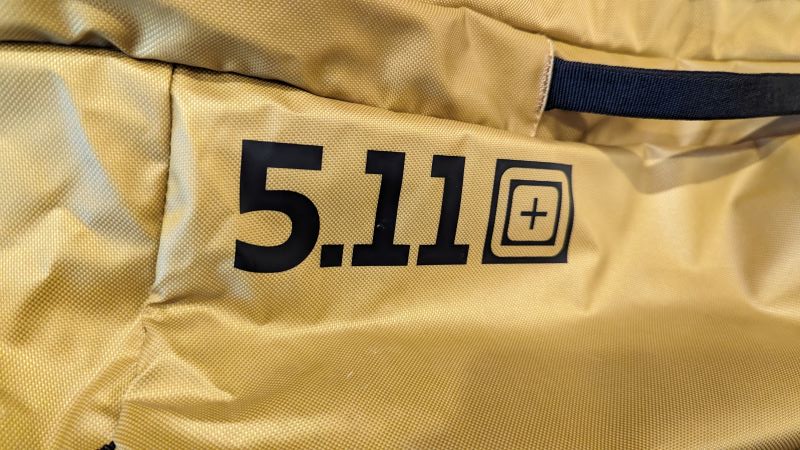 And in case you forget what size duffel you have, they remind you on the end.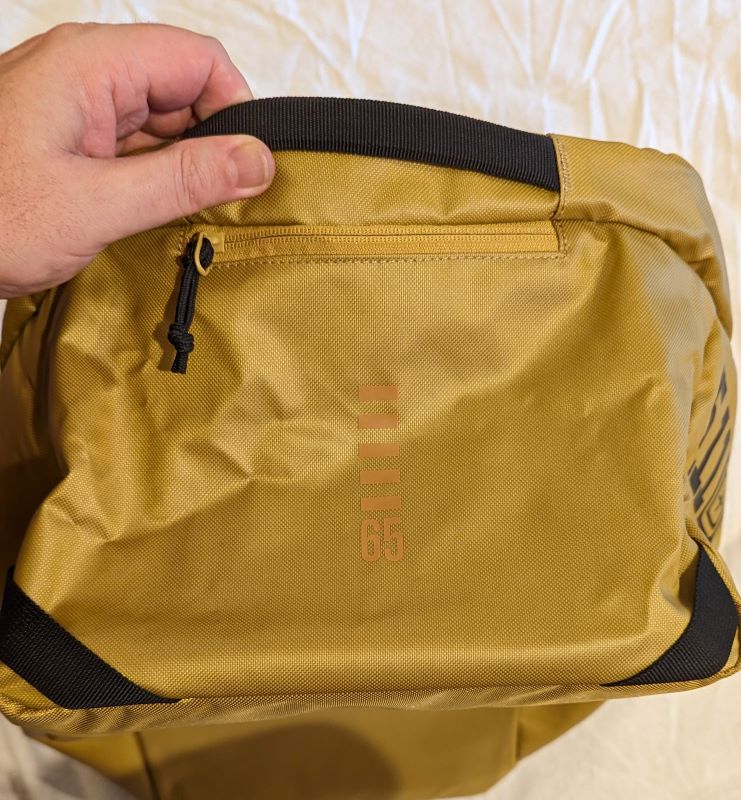 What I like
Construction is rugged
It's a good size for my traveling needs and still fits in the overhead bins
Weather-resistant
Thickly padded shoulder straps
Stowable straps
What I'd change
Lengthen the straps on the mesh bag
Rethink the huckles
Add a single strap for carrying when shoulder straps are stored
Final thoughts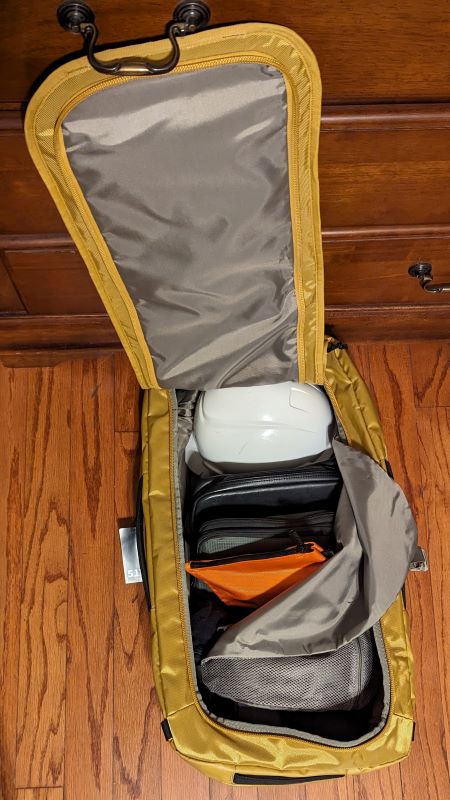 The 5.11 Tactical Allhaula 65L duffel is pretty close to exactly what I wanted.  I can pack everything I need for a week-long work trip without having to check multiple bags. I can fit my clothes, PPE, toiletries, and even a small laptop bag into it. If I don't have to take my tools on the trip, I can just stroll out of the airport without ever having to deal with baggage checks. I will definitely be using the 5.11 Tactical Allhaula 65L on all my trips from now on. It's convenient, rugged, and reliable. Now, if the same could be said about me.
Price: $160.00
Where to buy: 5.11 Tactical
Source: The sample of this product was provided by 5.11 Tactical.