We use affiliate links. If you buy something through the links on this page, we may earn a commission at no cost to you. Learn more.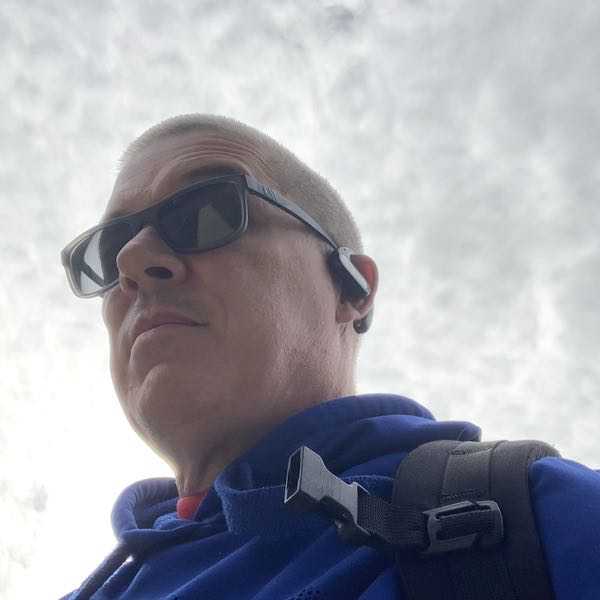 REVIEW – Listen up, people! No really… listen up. We're testing earbuds! The OpenRock Pro earbuds use "air conduction technology" to deliver high quality sound in a durable package that's tough enough for sports and outdoor activities. Let's go for a walk and learn more. To the review!
What is it?
The OpenRock Pro earbuds are open ear air conduction wireless earbuds designed for exercise, outdoor, and regular use.
What's in the box?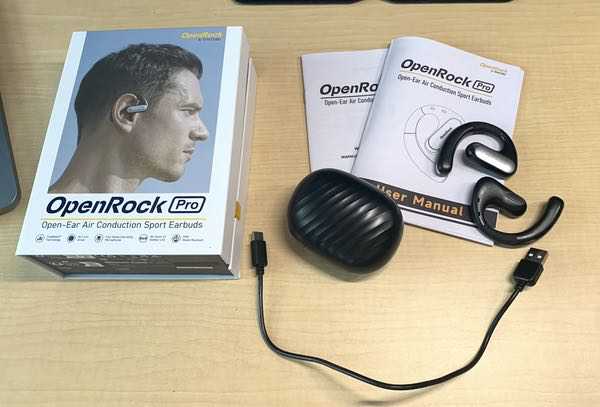 OpenRock Pro open ear air conduction earbuds
Charger case
USB-C charging cable
User manual
Hardware specs
IPX5 water resistance
CVC 8.0 call noise cancellation microphones
46 hours of optimized play time between charges (including earbud battery & charging case)
5 minutes of charging for 1 hour of playtime (1.5 hours to full charge)
Dual 16.2 mm dynamic audio drivers
USB-C charging port
Earbuds weigh 13 grams each; total kit including charging case weighs 90 grams
Design and features
Our journey with the OpenRock Pro Open Ear Air Conduction Earbuds starts with the storage/charging pod. This 2″ by 3″ by 1.5″ chunk o' plastic has a textured surface to facilitate grabbing and opening. Here's a size reference next to my magic mouse, which I probably should have cleaned before taking this photo.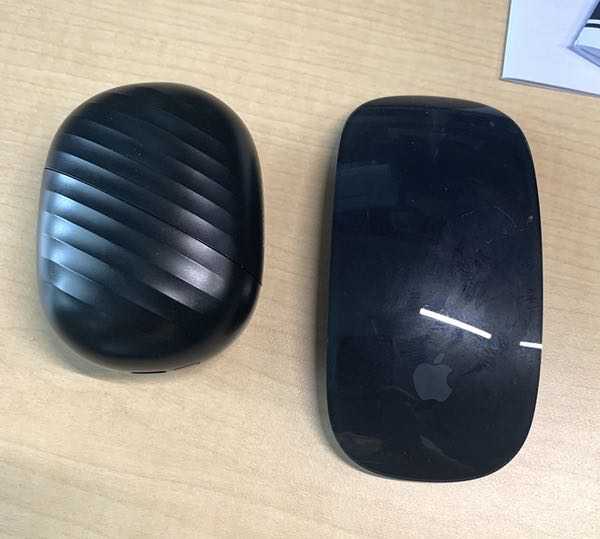 Your USB-C charging port is on the base of the pod, along with a button to enable Bluetooth pairing and some extra power options. When fully charged, this case provides 27 hours of recharging power. Couple this with the 19 hours of playtime power in the earbuds, and you get about 46 hours of play between charges under optimal conditions!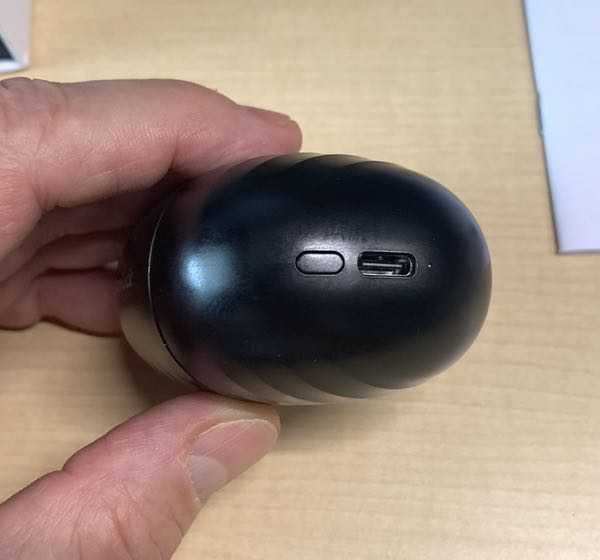 The earbuds are nestled snugly in the pod, where they'll recharge from the contact points in their respective slots. Little magnets ensure that they make proper contact for charging.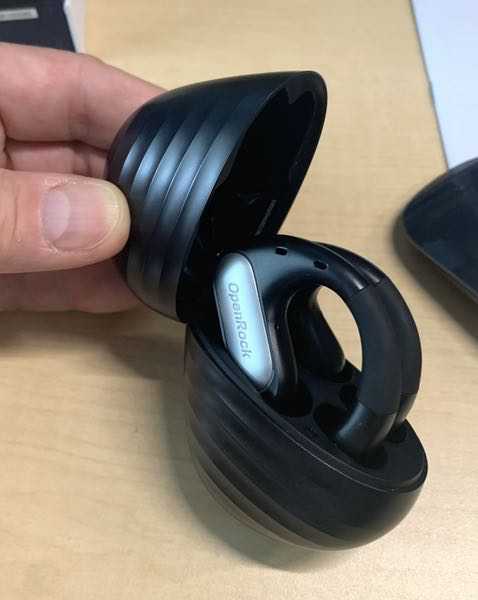 The setup is designed so that the earbuds power on and pair with your device when the case is opened. You can also use the power button on the pod or the buttons on the earbuds to turn them on/off.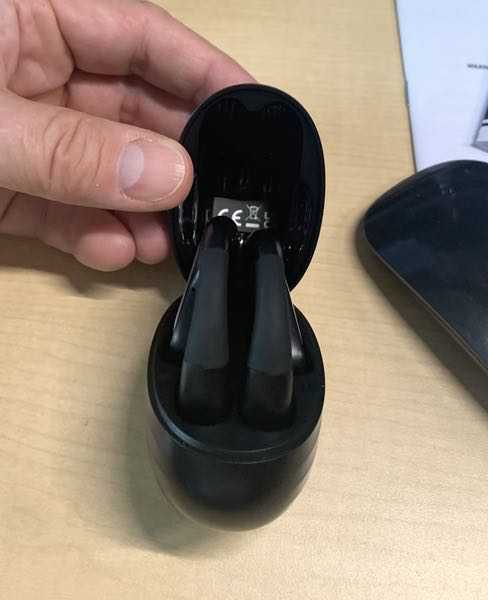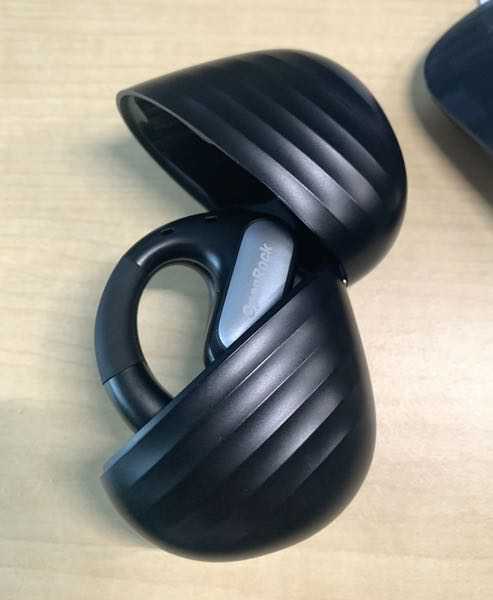 The earbuds themselves are chunky but super lightweight. Durable plastic is the primary build material here with an IPX5 water resistance rating. That means they can get very wet or sweaty, but you can't submerge them.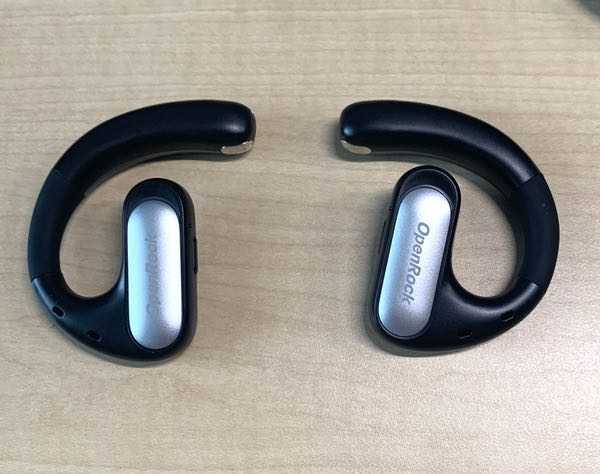 Here's a shot of the inside of the earbuds. The OpenRock Pro uses "air conduction" technology, sitting on the outside of your ear. You can see those speaker points that blast the noise vibrations into your earholes. The idea is that the audio quality is superior to something like bone conduction technology, but because they project from outside the ear canal you can still get a sense of your surroundings. This is especially valuable if you're spending time outside.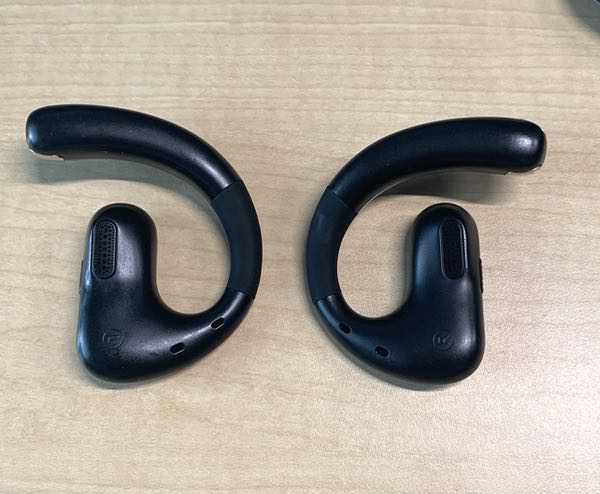 Here's how they look in place. You slide/rotate the curled armature behind your ear so that the speaker pod sits over your earhole as shown below.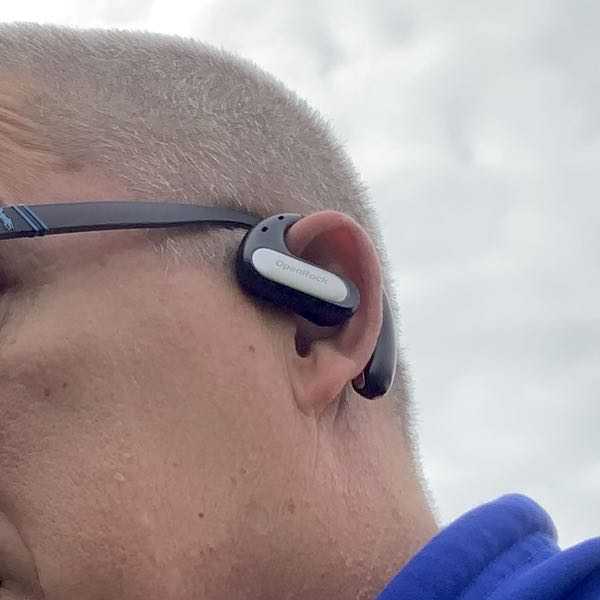 One of OpenRock's big design features is the flexible fit of the armatures on the earbuds. The ends are plastic, but that middle arm can twist and bend a bit to help you find an ideal comfortable position. You can't twist it into a pretzel, but you can move them around to find the best fit.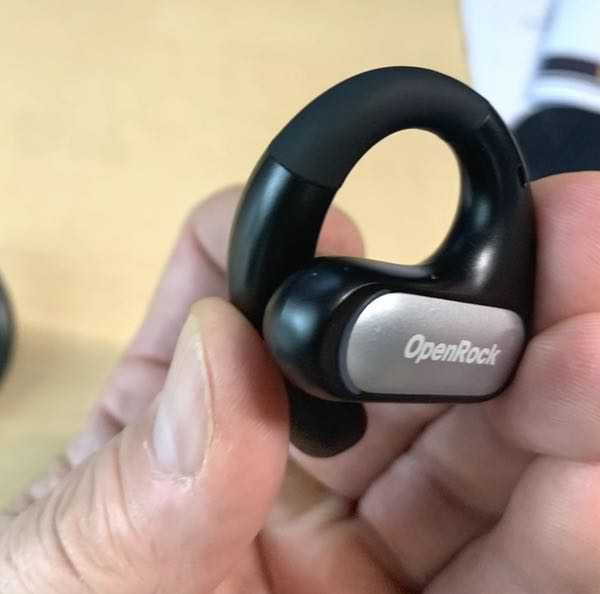 There's also a bit of spring in the armature so that they'll bounce back to a normal position if they get twisted around and stay relatively tight against your ear.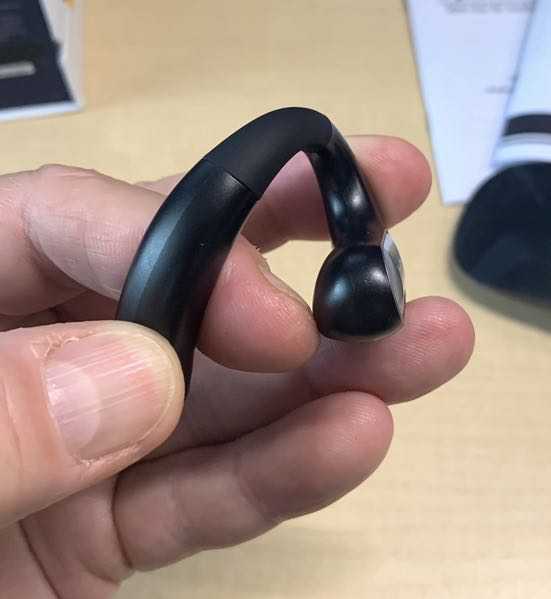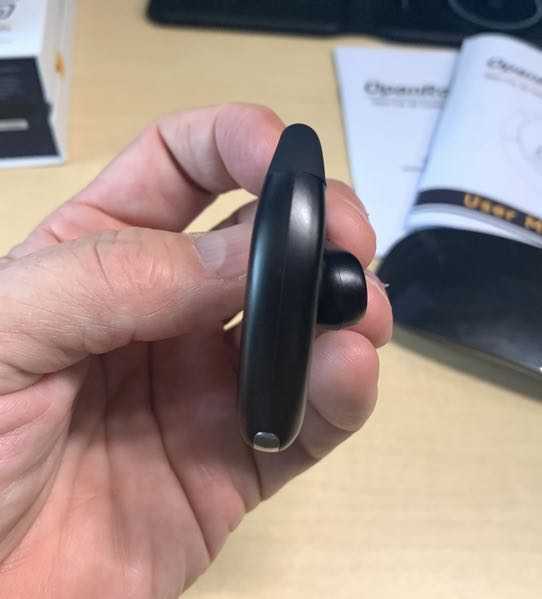 On the underside of that speaker pod is a single multifunctional button on both earbuds. This button incorporates pause/play (either earbud, 1 tap), volume up/down (right/left earbud respectively, 2 taps), activate voice assistance (either earbud, 3 taps), or previous/next song (left and right earbud respectively, press and hold 1,5 seconds). You can also answer the phone & hang up with one tap on either earbud.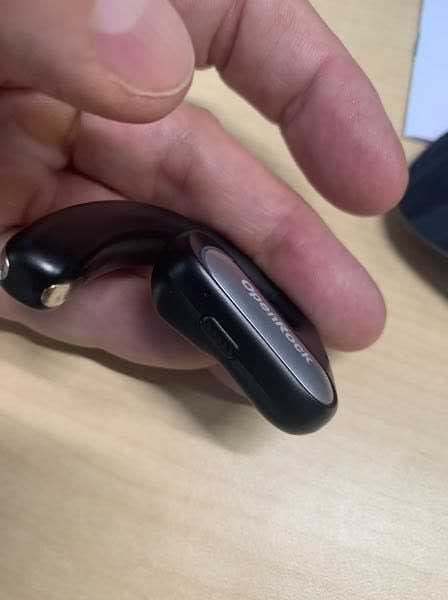 The overall build is solid. The case itself feels a bit lightweight, but I haven't seen any issues with cracks or scratches so far. The earbuds themselves are as durable as they are chunky. Solid plastics with a bit of rubberized elements will handle a drop or knock.
Performance
The OpenRock Pro Open Ear Air Conduction Earbuds bring some excellent quality audio with super crisp, clean sound with excellent bass range. I can see the attraction here over bone conduction technology if sound quality is your thing. They also offer surprisingly clear phone call quality, which I did not expect.
It's important to keep in mind that the air conduction design means that you'll get a lot of ambient noise, more even than bone conduction headphones. This is kind of the point if you're outside running or walking, as you want to have a sense of what's going on around you. This doesn't mean that you can't adjust the volume to subdue background noise if you want to, but they get quickly overwhelmed in loud environments or when you're using equipment (like a lawnmower).
The battery life is absurd in the best of ways. OpenRock claims that you'll get 46 hours of play between the earbuds (19 hours) and the charging case (29 hours) between power ups provided you run at 70% volume. I use my earbuds for 60-120 minutes on a typical day depending on the workouts and chores I have going on, and I didn't charge these once for three solid weeks. It's remarkable.
The elephant in the room (or on your ears) is going to be the size of the earbuds themselves. They are really chunky. Here's a shot of me heading out for a ruck from the front view, where you can see the size of the audio pods.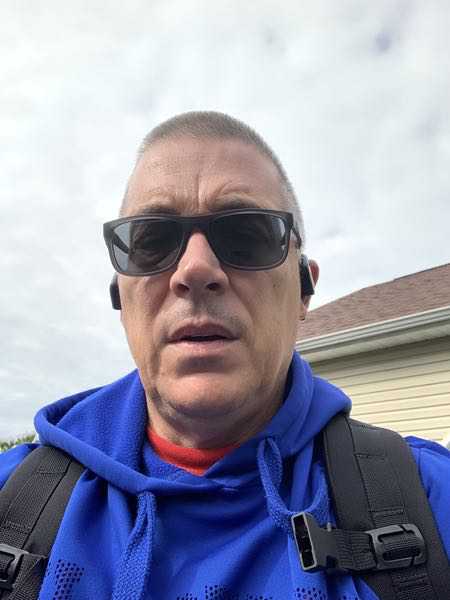 Here are some close ups for reference. I have relatively small ears, by the way.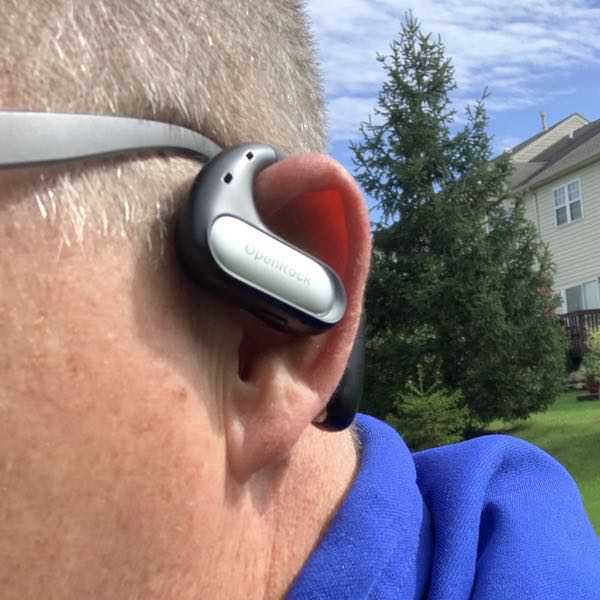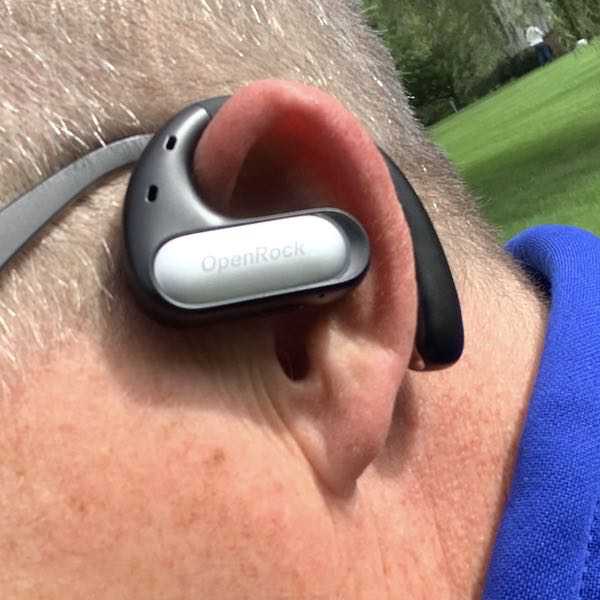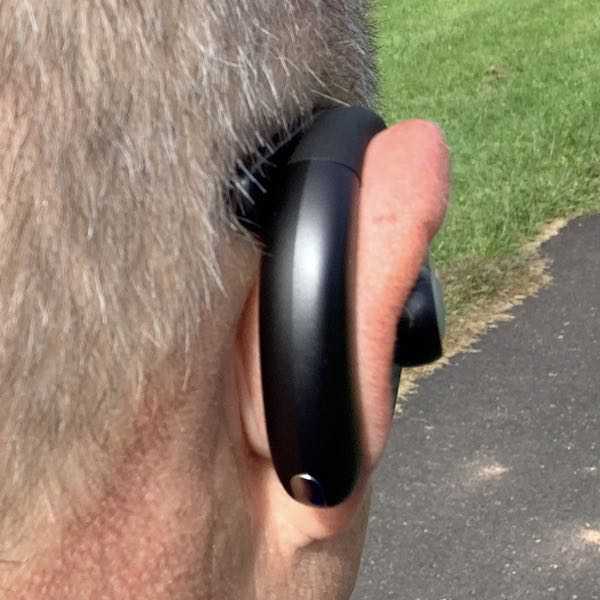 Despite that chunk, I have found them to be surprisingly comfortable. even with my small ears & my glasses. Maybe it's the smooth shape and the flexible posts, but I rarely have an issue with discomfort even during heavier physical activity.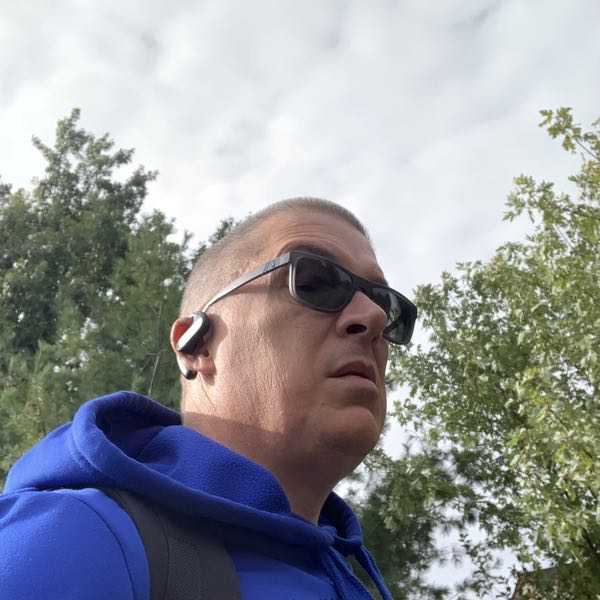 I've also been pleasantly surprised that I can wear my bucket hat with the earbuds on without discomfort. I don't don't think they'll work so well with a skullcap, however, if it goes over your ears.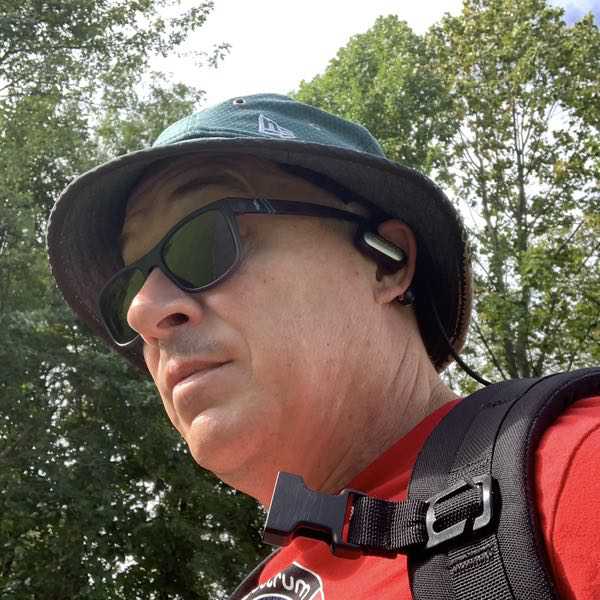 I've also found that these earbuds stay tight in most situations. I wear them for rucking, walking, rowing, yard work, and all sorts of weight training and functional training that involves body movement. They don't slide around when I'm moving & sweating. I'm pleasantly surprised at the amount of effort it takes to knock them loose. And if you do knock them loose, the durable build will take a hit, even on concrete (I found that out the hard way).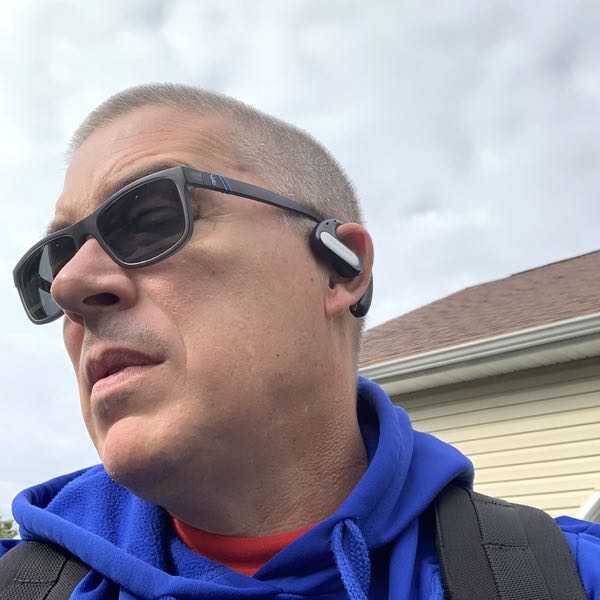 I also REALLY like that the controls utilize an honest-to-goodness button as opposed to some sort of tap pad. They are very easy to manipulate. The controls themselves are also intuitive and easy to manage without memorizing a bunch of tap combinations.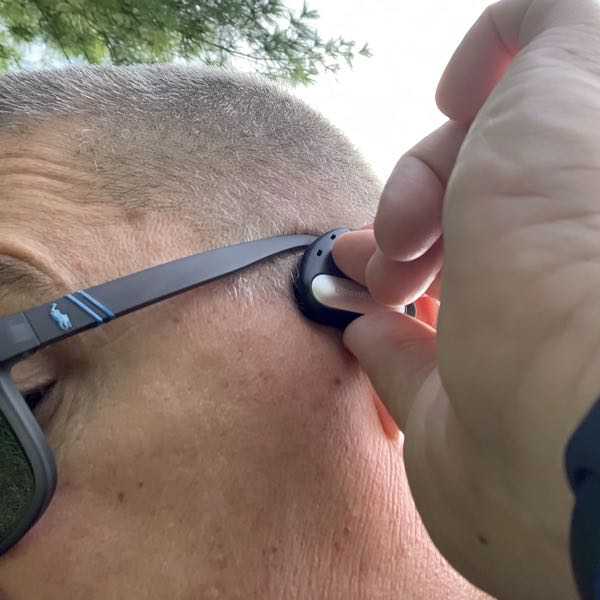 Initial pairing and subsequent pairing on my iPhone XS MAX have yet to be a problem. I don't see any issues with Bluetooth connectivity, and I have yet to have them drop out in use. The Bluetooth range is strong enough that I get a clean connection even if my phone is on another floor in my house (the official spec is over 15 meters).
If there is one technical flaw that I have found, it is in the automatic disconnecting of the headphones from my iPhone. They connect immediately upon opening the case every time, but they are supposed to disconnect within 5 seconds of being returned to the case & closing the lid. This doesn't happen consistently in my experience, and sometimes I have to disconnect them in my phone settings or power them down using the button on the case. But this is a minor annoyance in the grand scheme of things.
What I like
Excellent sound quality
Amazing battery life
Durable, tough build is great for physical and outdoor activities
What I'd change
Chunky design may not be comfortable for everyone
Does not consistently disconnect from my phone automatically
Final thoughts
The OpenRock Pro Open Ear Air Conduction Earbuds have become my new go-to earbuds for general use. The sound quality is excellent and the battery life is so good that I rarely have to think about it. The durability, water resistance, and snug fit make them ideal for exercise, outdoor activities, and any sort of stuff that involves moving & sweating (or getting a bit wet). Just keep in mind that the thick design may not work for some ears, and the nature of air conduction technology allows more ambient noise than closed-ear designs.
Price: $129.99
Where to buy: Amazon
Source: The sample of this product was provided by OpenRock.