We use affiliate links. If you buy something through the links on this page, we may earn a commission at no cost to you. Learn more.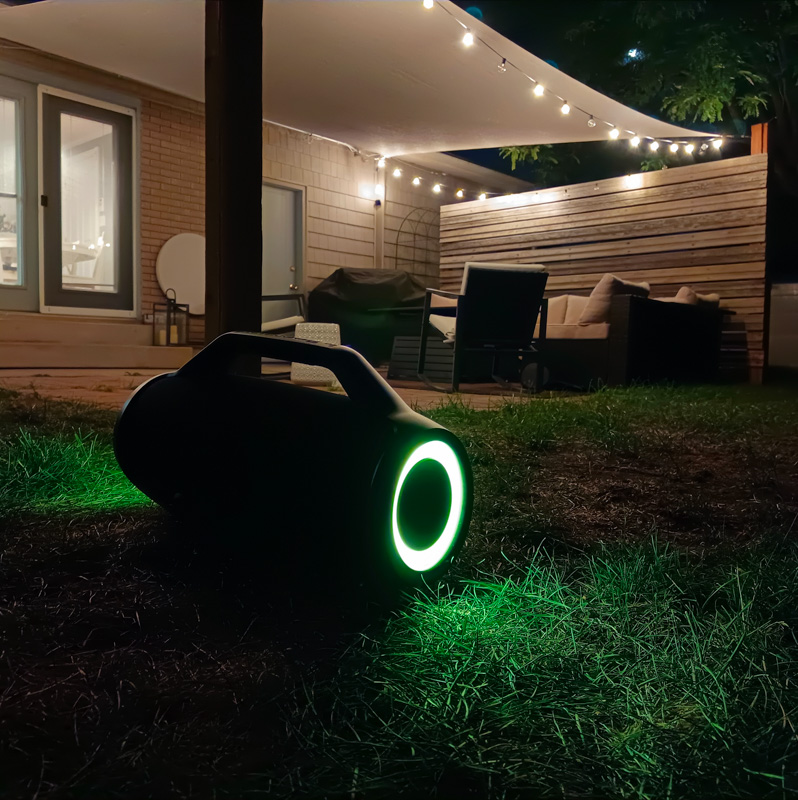 REVIEW – We've been using the same older Bluetooth outdoor speaker for at least 3 years now, a smaller no-frills cheap model that lacks bass but at least lasts 8+ hours per charge. During a recent gathering in our back yard I realized how woefully underpowered it was when I could barely hear it from 20 feet away, even at max volume (or at least the highest setting before it started sounding blown out). The Tronsmart Bang Max 130W party speaker seems like the perfect thing to remedy this situation for future parties and outdoor movie nights, and has some tricks up its sleeve as well!
What is it?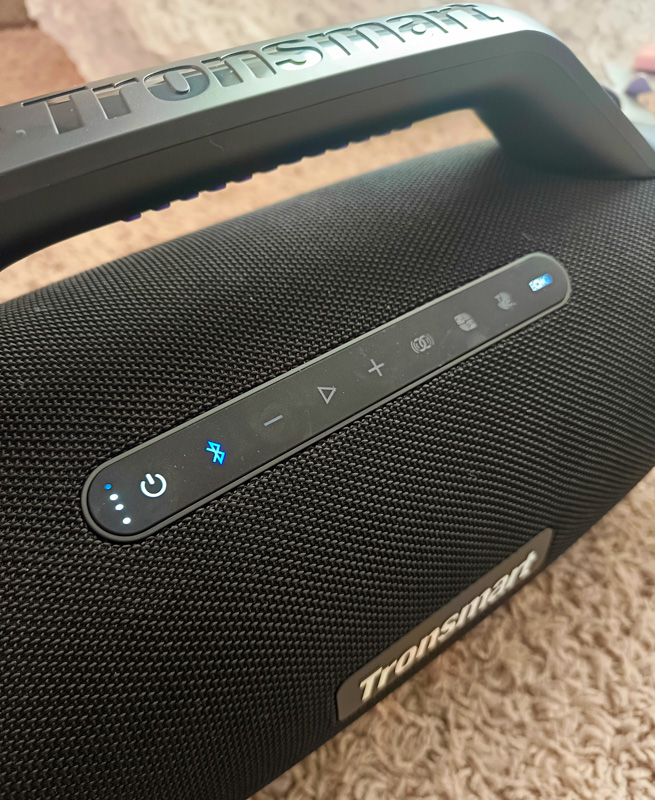 The Tronsmart Bang Max 130W party speaker is a Bluetooth portable speaker with six speakers to cover the sound spectrum and enough power to be effective outdoors (or in larger indoor spaces). You can also easily pair up to 100 Tronsmart speakers to form a multi-room sound experience. I'd imagine most people aren't going to spend $20k+ to get 100 of these speakers, but it's nice to have the option, right?
What's in the box?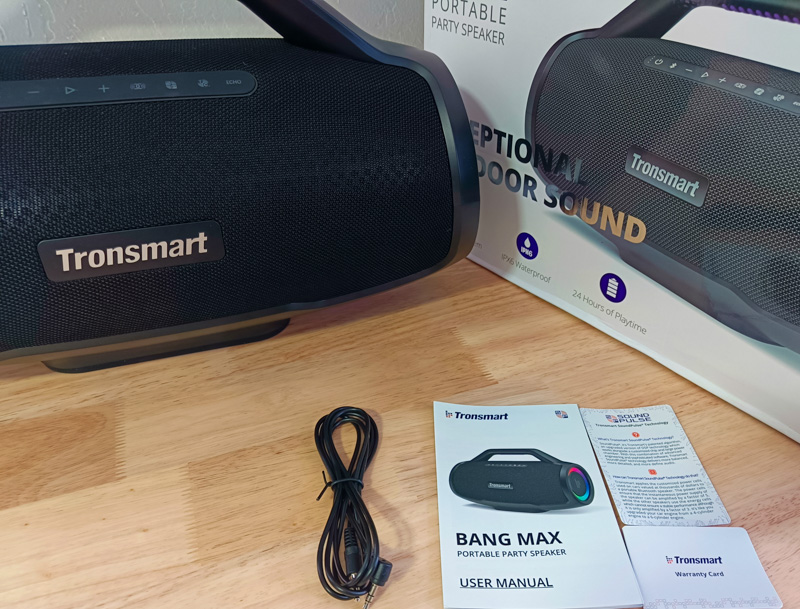 Tronsmart Bang Max 130W party speaker
Audio cable
Manual
AC charger
Hardware specs
Size: 18.5 x 7.83 x 10.24″ (470 x 199 x 260 mm)
Weight: 13.18 lbs (5.98 kg)
Output power: 130 W
Speakers: 2 x 30W woofers, 2 x 20W mids, 2 x 10W tweeters
Inputs: 2 wired microphones or 1 microphone + 1 instrument
Bluetooth version : 5.3
Bluetooth codec: SBC
Transmission distance: 59 ft (18 m)
Loudness (max): 110dB
Frequency Range: 50Hz – 20KHz
Playtime: Up to 24 hours at 50% volume
Charge time: 5 hours
Weather Resistance: IPX6
Playback modes: Bluetooth, Aux in, U-Disk, TF Card
Design and features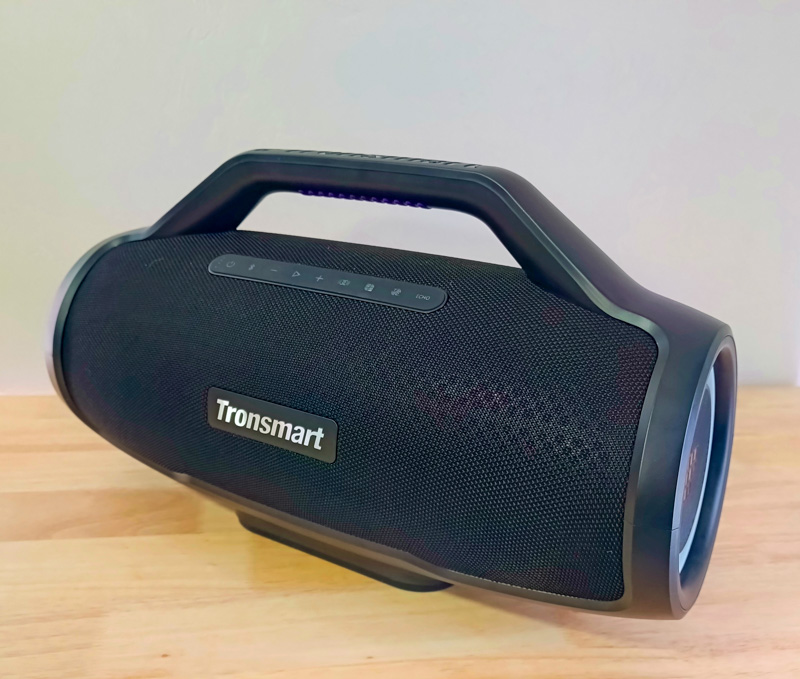 The Tronsmart Bang Max 130W party speaker resembles a cylindrical boombox (and is as large as some of the boomboxes I had as an 80's/90's kid). At nearly a foot tall and a foot and a half wide, this is a decent sized speaker.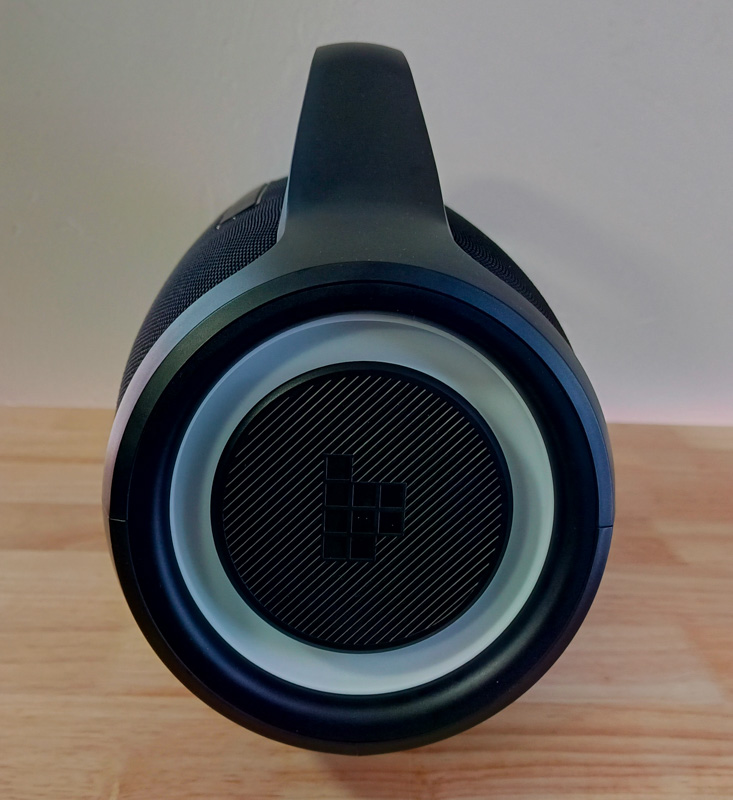 The subwoofers are on either end of the device, and visibly move when heavy bass is hitting. The RGB LED lighting is a ring around each of these woofers.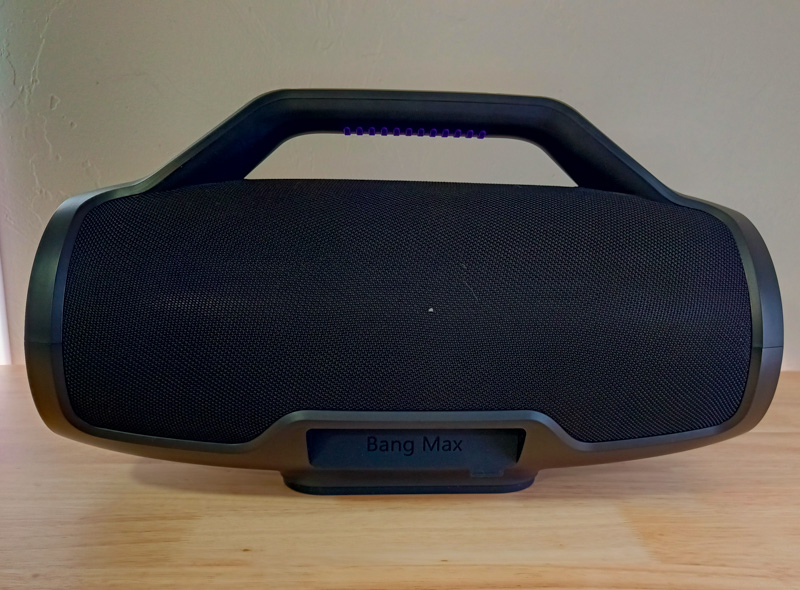 The remaining 4 speakers (mids and tweeters) are hidden behind cloth mesh. The back of the speaker has a rubber cover that keeps all the IO ports dry in case of surprise rain or splashes.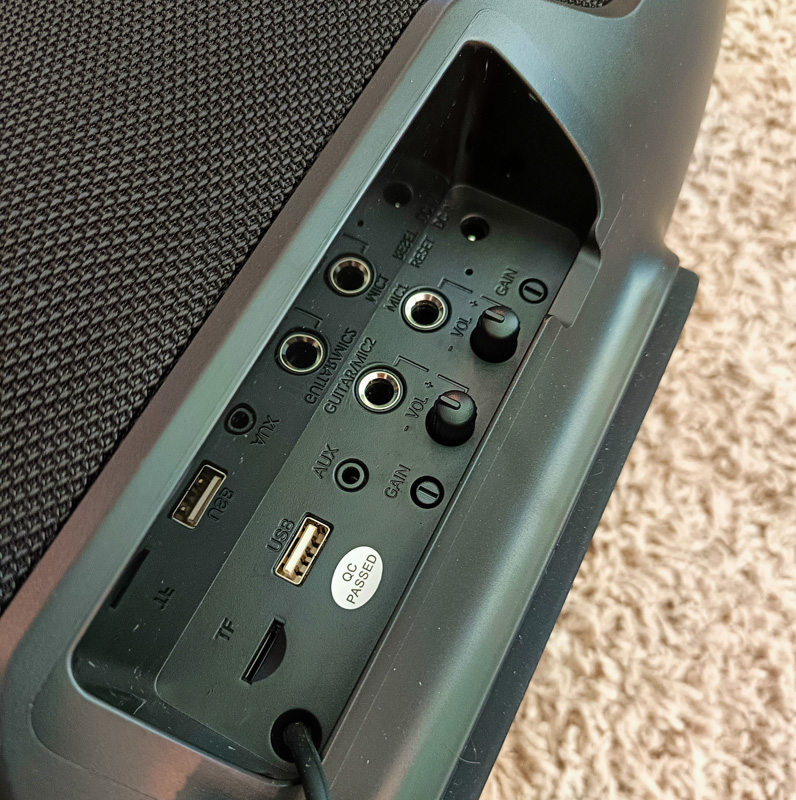 There's more IO ports than I had expected, and this opens up some fun scenarios I hadn't even dreamed of being able to do. For one, there's two Mic input ports (or one guitar and one mic), which is perfect as an amp for my electric guitars. I tested this out, and it's as good or better than the cheap amp I was previously using, and has the added benefit of being able to also play music simultaneously (like a backing track or a song I'm trying to learn). There's also USB and micro-SD card slots so you can load songs onto a memory card and play from that instead of requiring the Bluetooth connection. The USB-A port also doubles as a charging port for a phone/tablet, and given the size of the battery on this speaker you could recharge a phone many times over.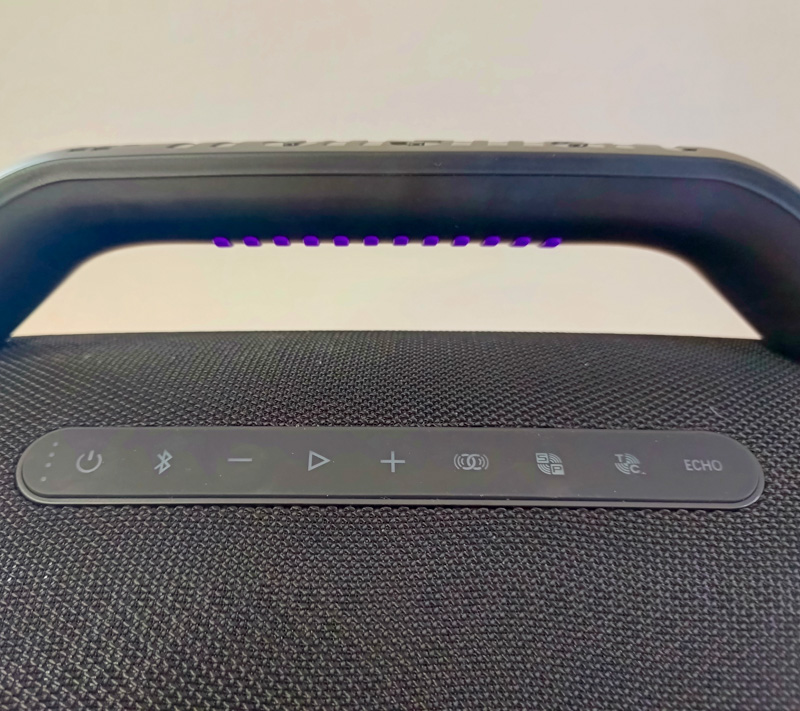 The handle has a textured purple rubber grip on the underside. The control strip is a rubbery push-button affair, with power, bluetooth pairing, volume controls, pause/play, and more.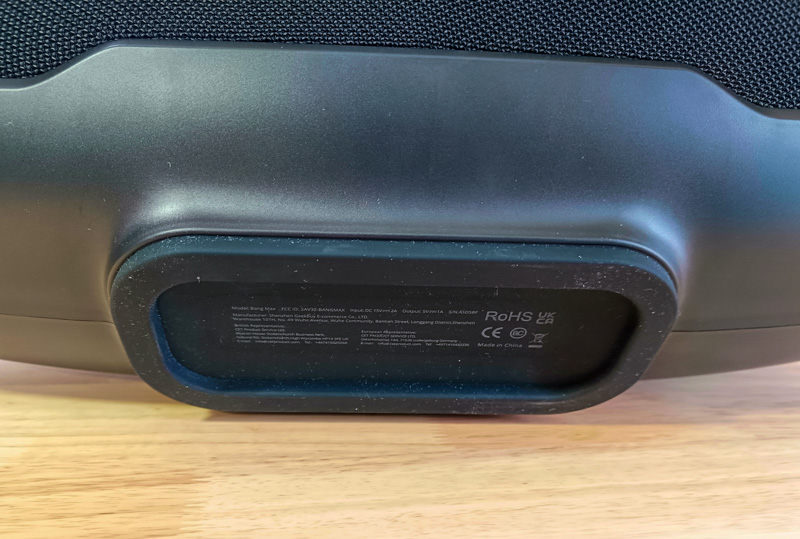 The underside has a rubber base that prevents sliding while on a flat surface.
Setup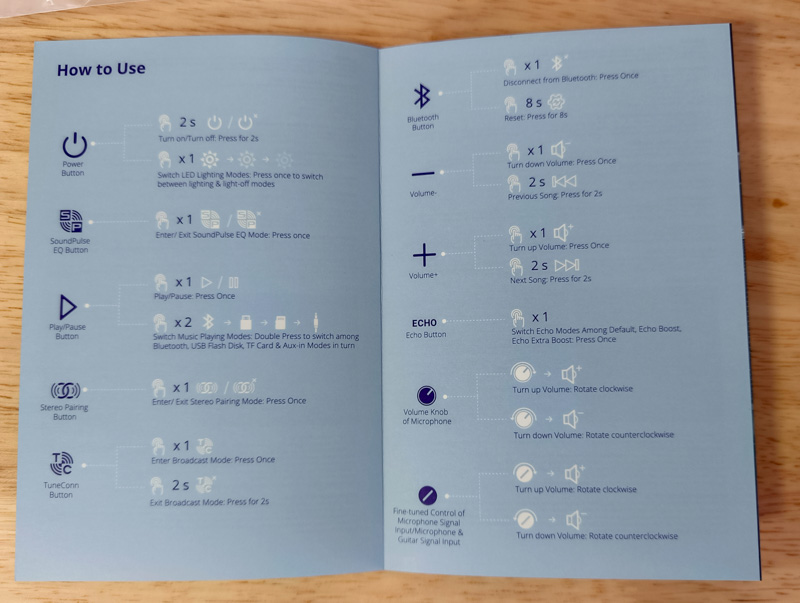 First, you'll want to charge the Tronsmart Bang Max 130W party speaker. Then, pairing it to your device of choice is similar to other Bluetooth speakers – after powering it on you long press the Bluetooth button until it's flashing, then you can pair from any Bluetooth device.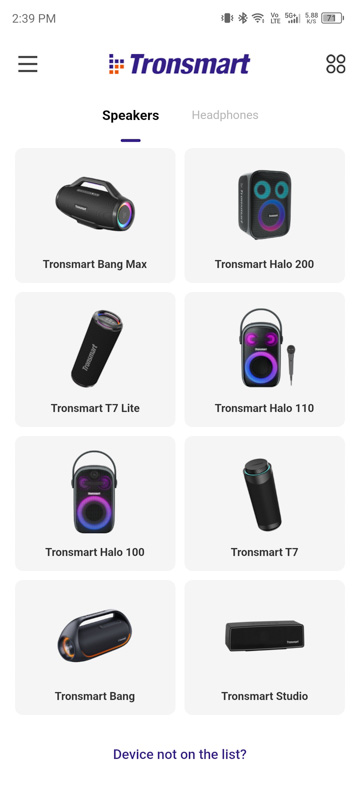 The Tronsmart app isn't required to use the Tronsmart Bang Max 130W party speaker, but you'll want it if you want to customize or change the EQ settings or the lighting. I found the app to be easy and straightforward and quickly lowered the bass a little bit (the default is a tad strong for my taste).
Performance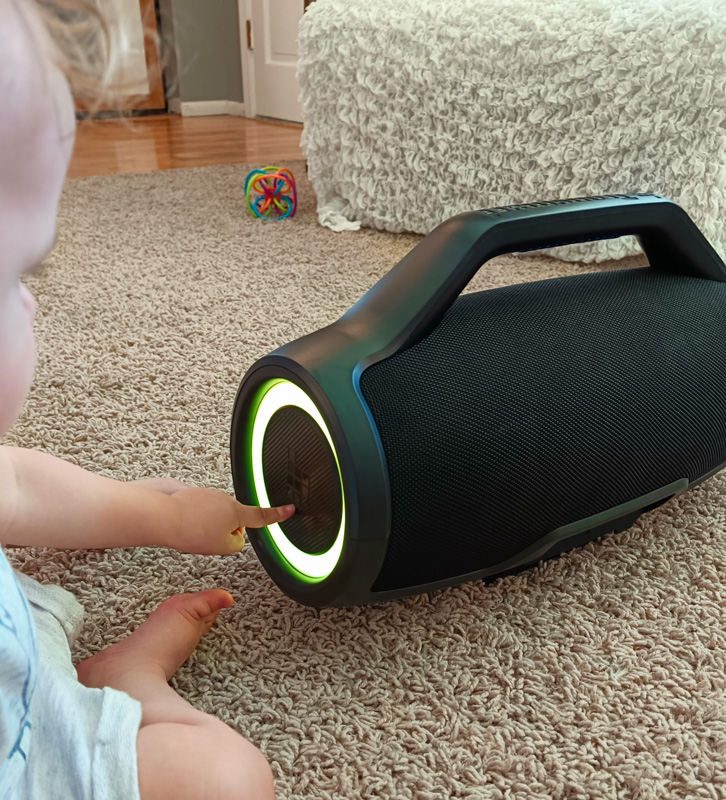 My new assistant Gadgeteer was mesmerized by the Tronsmart Bang Max 130W party speaker. The flashing lights and throbbing woofers entertained him for 5+ minutes, which is a record at his stage of development. This speaker can put out more volume than I'd want indoors, unless you're using it in a large theatre or gymnasium space (or have music tastes like our former neighbors at 2 am during our newlywed apartment days). Outdoors the Tronsmart Bang Max 130W party speaker really shines, providing excellent audio quality that can be easily heard anywhere in our backyard even at medium volume settings. If we had a loud party with many people, it can go higher, so in most typical backyard settings it's going to be more than enough audio output for most people.
The sound profile is well balanced by default, except for a bit too much bass (I like to be able to hear all the instruments, not just the bass line). Once I tweaked that down a bit it was a very full and balanced sound, I tried multiple genres of music and was pleased across the board.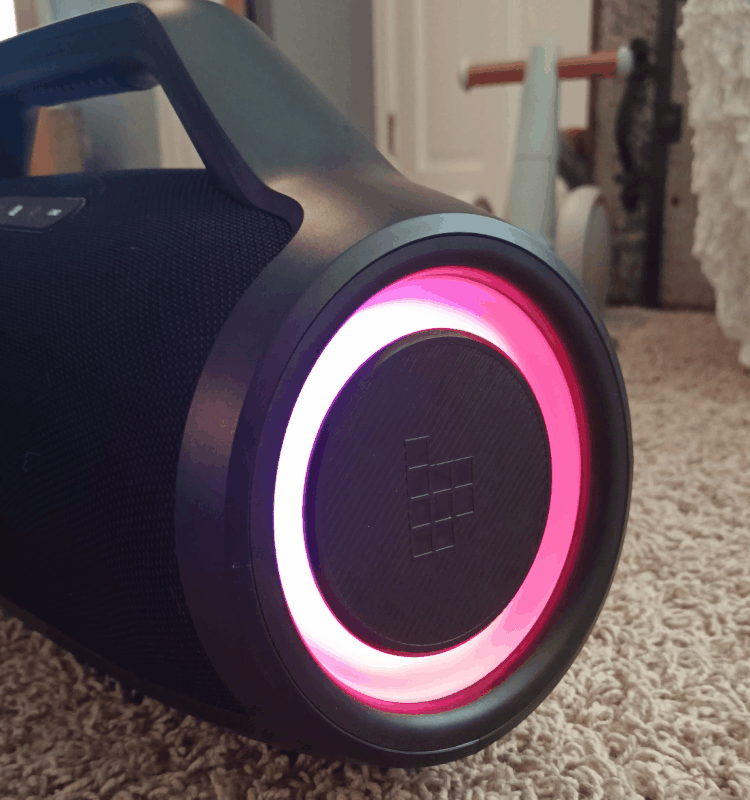 The light rings on either side can be changed to different themes in the app or turned off. I think they're a fun addition and my mini Gadgeteer assistant agrees, so they stay on for now.
What I like
Can get very loud without distortion, more than enough bass
Long battery life
Ability to sync 2 or more speakers together for larger events.
What I'd change
Wish this had USB-C charging (both in and out) – I've already misplaced the wall AC charger in my clutter.
Final thoughts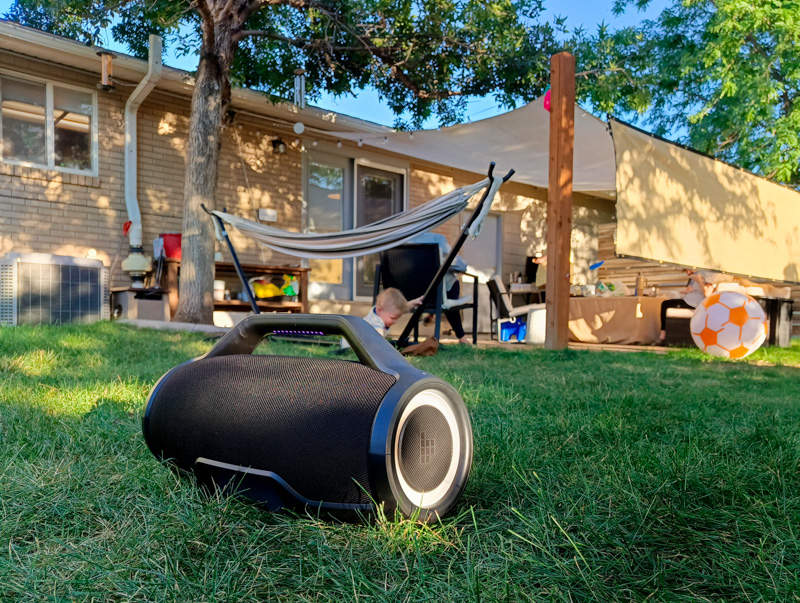 If the smaller portable Bluetooth speakers haven't been up to the task of filling a backyard or large room with sound, you might want to check out the Tronsmart Bang Max 130W party speaker. It's capable of pumping out a lot of great audio at a reasonable price. Combined with the epic battery life, it'll be our go-to speaker for years to come!
Price: $229.99
Where to buy: Tronsmart
Source: The sample of this product was provided by Tronsmart