We use affiliate links. If you buy something through the links on this page, we may earn a commission at no cost to you. Learn more.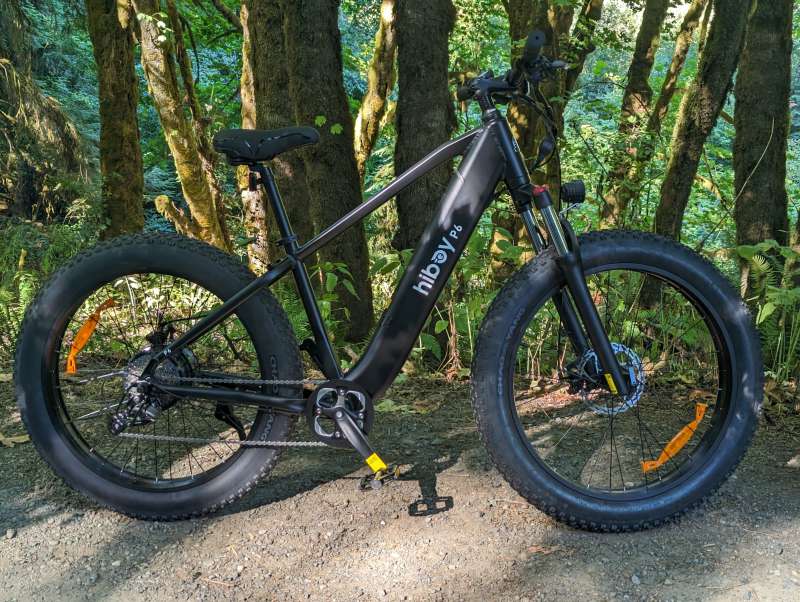 REVIEW – I've been curious about fat tire bikes for a while so when Hiboy offered their P6 Fat Tire electric bike to review I decided to give it a try. Let's see what the Hiboy P6 Fat Tire Ebike has to offer.
What is it?
The Hiboy P6 is a Class 3 fat tire electric bike that offers 750W of power from a Bafang rear hub brushless motor that is capable of propelling you up to 28 mph with up to 62+ miles of range. It also sports a 9 speed Shimano Altus drivetrain and weighs in at 65 lbs with the 48V 13AH battery.
Price: $1479.99 | Where to buy: Hiboy website or Amazon
What's in the box?
Hiboy P6 ebike
Charger
Manual
Two keys
2x wrenches and 3x Allen wrenches
Specifications
E-Bike Class: Class 3
Weight: 65 lbs total with battery
Battery Weight: 7.46 lbs
Battery: IPX5 Lithium ion 48V 13AH with a 5-6 hour charge time
Frame Material: Aluminum
Fork: Steel, 80mm of travel with preload adjustment and lockout ability
Max speed: 28mph without pedaling
Pure Electric Range: 25-30 miles based on weight, load, terrain, weather, etc
Pedal Assisted Range: 50-62+ miles based on weight, load, terrain, weather, etc
Capacity: 265 lbs payload
Brakes: 180mm JAK Super Brake mechanical disc brakes
Motor: 750W Bafang (1000W max power) rear hub
Pedal Assist: 5 PAS levels and throttle only mode
Drivetrain: 9 speed Shimano Altus
Tires: Chao Yang 26″ x 4″
Standover Height: 33"
Ingress Protection: IPX4 (Resistant to water only at splash level)
Seat Height: Min- 33", Max- 41"
Top Tube Length: 33″ center to center
Seat Tube Length: 17.5″ c-c
Down Tube Length: 29.5″ c-c
Head Tube Length: 7″
Setup
The Hiboy P6 arrived in a large (59.4x12x33.9") and heavy (87lbs) package but was adequately protected with foam so there was no damage.
Some assembly was required but the included manual walks you through everything. I attached the front wheel with the quick release skewer. I then used a 4mm Allen wrench to bolt the handlebar on the stem. Pedals went on next and then I adjusted the seat. Lastly, I installed the front light/horn and plugged it in. You can hear an audio clip of the horn here.
I checked over everything else and found the brakes and rear derailleur were adjusted properly. The Hiboy P6 only comes in one frame size and unfortunately, Hiboy does not provide any specifications on frame dimensions or geometry. I am 6 feet tall and I normally ride a 19" or large size framed mountain bike with 29″ wheels. The P6 frame is a bit of a compromise in that it feels like a medium when it comes to the distance from the seat to the handlebars but feels like an XL when it comes to standover height which is 33". With a mountain bike you ideally want at least 2″ of clearance between you and the top tube.
I have a 32" inseam so the 33″ stand over height proved to be problematic. I got stuck on a log going uphill in the wrong gear and had to bring my feet down to keep from falling which caused some pain to my sensitive bits when they contacted the top tube. I decided to stick to the pavement after that. The Hiboy P6 comes with two keys that allow you to easily remove the battery. Otherwise, they aren't needed to ride the P6 and there's no associated app required.
Components consist of a Shimano Altus shifter and rear derailleur as well as the 9 speed cassette. Pedaling without electric assistance was easy due to the nice range of the gears but you definitely feel the 65lbs going up hill even in the granny gear. The 180mm JAK Super Brake mechanical disc brakes provide adequate stopping power.
The front fork has 80mm of travel with lockout and preload adjustments possible. The seat is equally plush and may be the most comfortable bicycle seat I've ever sat on. There are also rack mounts on the seat stays right behind the seat post.
The controller display is located on the left side of the handlebar. Holding the power button for a few seconds turns the Hiboy P6 on and off. To cycle through the pedal assist (PAS) levels from 0-5 is done with single presses of the + and – buttons and as long as the PAS level is above 0 you can twist the throttle to get power at any time without pedaling. The Bafang motor kicks in smoothly during engagement and disengagement. Once on single presses of the power button cycles through the odometer, trip A, time, and voltage. I did notice that whenever you turn the bike on it will be in PAS 1. Even if I turned it on zero before turning it off it reverts back to PAS 1 so just something to be aware of. With the bike on you can also press and hold the – button and the bike will enter a 3.7 mph towing mode. Releasing the button will exit towing mode.
Performance
Fat bikes are known for their stability and the P6 is no different. The Hiboy P6 is super stable with moped like acceleration and speed. I had no trouble getting it up to 32mph in 9th gear and PAS 5 selected. This thing can haul butt and it didn't feel squirrelly at all.  I've ridden motorcycles most of my life and this felt just as stable as a motorcycle which isn't surprising considering the 4″ tires are wider than some motorcycle tires. At low speed however, that stability translated to a lack of maneuverability or flickability. It's not that bad but definitely takes some getting used to. The heavy and wide wheels resisted turning and with the 7lb battery towards the top of the down tube the center of gravity is higher than other bikes. Motor engagement at all PAS levels was smooth and due to the brushless Bafang motor I could hardly tell it was on. The electric whine was hardly noticeable at speed.
I did notice the controller was a little far to reach with my thumb when riding and I had to shift my hand from the grip to change PAS levels. The light/horn controller got in the way so I took the grip off and switched them around which made it much easier to reach. The front LED light is pretty bright and the horn is integrated into the rear of the light and although facing backwards is easily heard by pedestrians in the front. I did notice with gloves on the PAS buttons were hard to find without looking. I would have preferred they swap the PAS buttons with the horn/light module. That would have made more sense to me and made it easy to control the PAS levels without looking or having to rearrange the controls.
Charging is easy as well without having to remove the battery. Just plug into the side and the charger's LED will turn green while the LED on the battery will be blue when fully charged. Another design oddity where I think the colors should have gone red, blue, green instead to match the charger but that's just my two cents.
Despite the frame sizing issue the Hiboy P6 shines as a daily commuter. I took a 27 mile ride and still had 2 of the 5 bars left on the power meter. If you are looking for an Ebike that will get you to work or school quickly without a sweat this is the bike for you. The fat tires feel super stable even at 30mph on any terrain and the smooth power and long range could last you a few days before charging.  At 65lbs the Hiboy P6 is heavy and not something I would choose to take down tight mountain lines with its almost boat-like reaction to steering input but with the super wide tires you almost don't have to steer since it'll roll over pretty much anything.
What I like
Very fast and super stable
What I'd change
Fix the geometry and/or offer another frame size
Swap the light/horn buttons with the PAS buttons
Final thoughts
I really like the Hiboy P6 electric bike but unfortunately, with bike frames, one size does not fit all and if your bike doesn't fit then it won't be as fun to ride or may not even be safe to ride. I think if Hiboy added another frame size, maybe a small/medium and a large/XL frame with appropriate geometry the P6 would fit better for more people.  Hiboy does have a step through bike option that might be better for anyone under 6′ tall. I do like that it comes with Shimano drive components and the Bafang 750W brushless motor provides smooth power that doesn't get bogged down even on steep uphill climbs. The fat tire stability is rock solid in any weather or terrain and is definitely needed when cruising at 30 mph. At $1,049.99 on sale right now the Hiboy P6 is a super fun commuter bike but could be even better with some design tweaks.
Price: $1479.99
Where to buy: Hiboy website or Amazon
Source: The sample for this review was provided by Hiboy.