We use affiliate links. If you buy something through the links on this page, we may earn a commission at no cost to you. Learn more.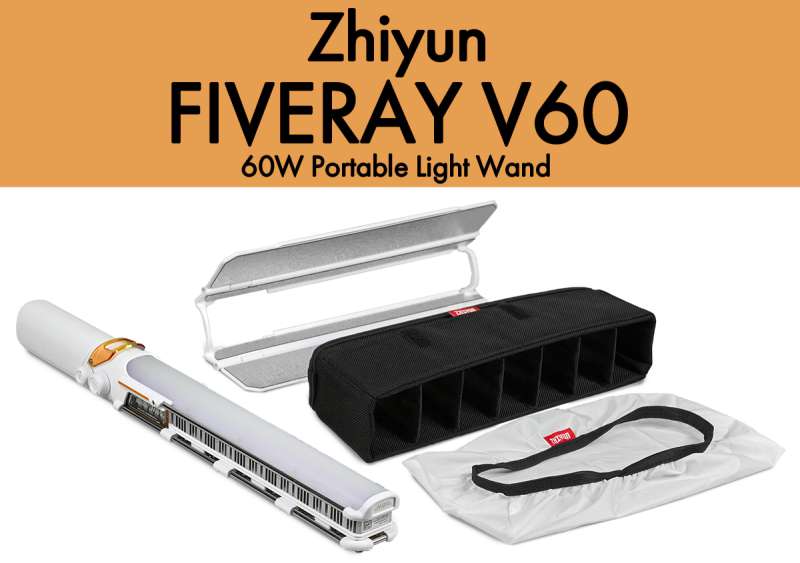 REVIEW – Whether you are a photographer, filmmaker, videographer, or all-around content creator, chances are that you are using a light source in one way or another. And when you reach a certain level in your creative process, you want some control over your lighting. It doesn't have to be control over the main key lighting, it could even be just a little hint of light. The Zhiyun FIVERAY V60 Light Wand allows you to have creative control as a key light or as a kicker light. Plus, using the FIVERAY V60 as a handheld light wand or attaching it to a tripod or light stand adds more variety to your creative process.
What is it?
The Zhiyun FIVERAY V60 Light Wand is a portable handheld light that can be used for many photo and video applications. This light wand is rechargeable and also comes with a power adapter that you can plug into an outlet which will boost the wattage of the light from 60 watts to 100 watts. With its dimmable lighting, the FIVERAY V60 is capable of being a fill light all the way to being the main key lighting source with just a turn of a knob. You can adjust the color temperature of the light to suit the needs of your shoot. Plus, it has several light effects to help give some dynamic lighting to your photo or video shoots.
Price: $199.00 | Where to buy: Zhiyun and Amazon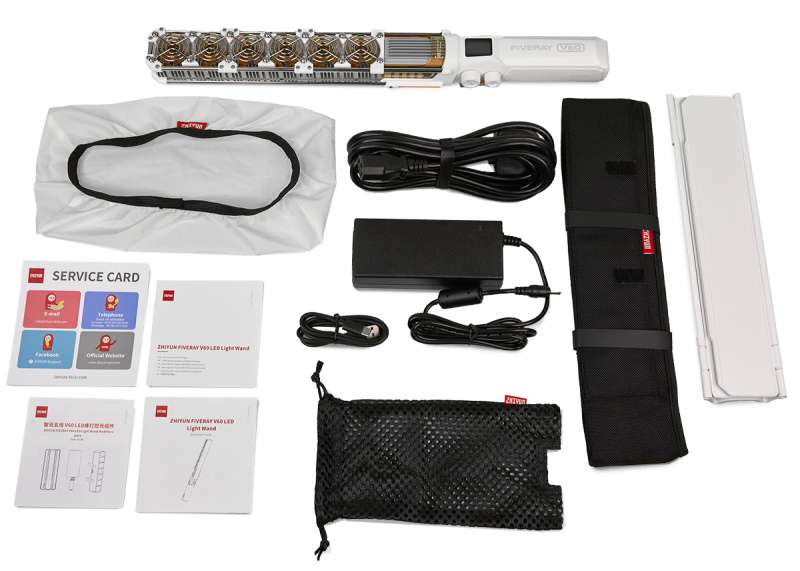 What's in the box?
Zhiyun FIVERAY V60 Light Wand
Barn doors
Diffuser
Grid Modifier
USB-C Cable
Power Adapter
Mesh Adapter Pouch
Manual
Storage Bag
Hardware specs
Built-in Battery Capacity                                         2600MAH
CCT Mode Power                                                    60W
MAX Mode Power                                                   100W (PD), 120W (DC)
Color Temperature Range                                       2700K~6500K
Dimming Range                                                     0~100%
CCT Mode 5500K/100% Brightness                         1730 (1 meter)
MAX Mode 4200K/100% Brightness                        2470 (1 meter)
LED Chip                                                              120
Charging Time (PD)                                               1 hr 21 min(20V/1.2A 25W )
Charging Time (DC)                                               1 hr 27 min(24V 25W )
Charging Time (QC)                                               2 hr 30 min (12V/1.5A 9V/2A)
Continuous Runtime (4200K/100% brightness)        24 min
Dimensions                                                           17.64 in. x 1.99 in. x 2.1 in.
                                                                            (448mm×50.5mm×53mm)
Net Weight                                                            2 lbs (891g)
Power Adapter Output Voltage/Current                    24V/5A
Extension                                                              1/4″ Threaded Hole
Design and features
Although most of this light wand has a plastic build, it doesn't feel cheap. In fact, just the weight alone gives it a sturdy and solid feel. Even the plastic trim on the wand seems to be robust. The FIVERAY  V60 is 17.64in. x 1.98in. x 2.1in. (448mm×50.5mm×53mm) in length. It weighs in about 1.96lbs (891g). It's not heavy at all but I can see that it could tire out your arm if you had to hold it up for long periods of time. Fortunately, there is a 1/4″ in. screw thread hole at the bottom of the wand so you can attach the FIVERAY  V60 to a tripod or light stand whenever needed. This can help alleviate having to hold the V60 while keeping you hands free.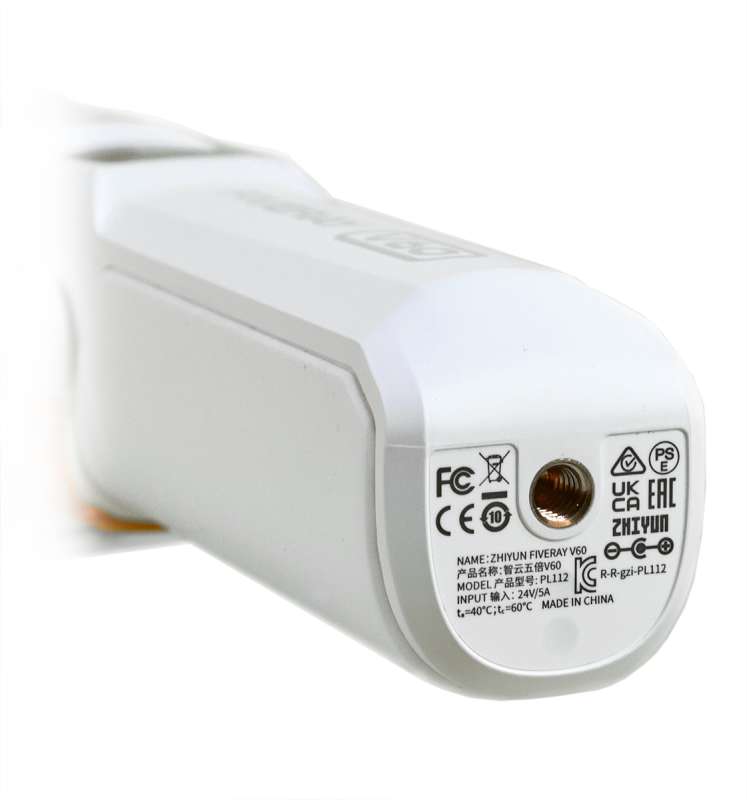 The Zhiyun FIVERAY V60 Light Wand feels rugged and I think that might also be to due in part to the metal grate at the back of the light wand that covers the DynaVort Cooling System. This cooling system consists of gyroscope-modeled heat sinks and six FOC (field-oriented control) fans, and cooling vents. According to Zhiyun's website, this "expertly designed cooling system prevents overheating, ensuring consistently high efficiency and exceptional cooling performance." Basically, it is meant to minimize noise and lessen power consumption. When the light wand gets to a certain temperature, the cooling fans should kick in to help prevent overheating. And with all that metal, it does give the FIVERAY V60 a somewhat industrial futuristic look.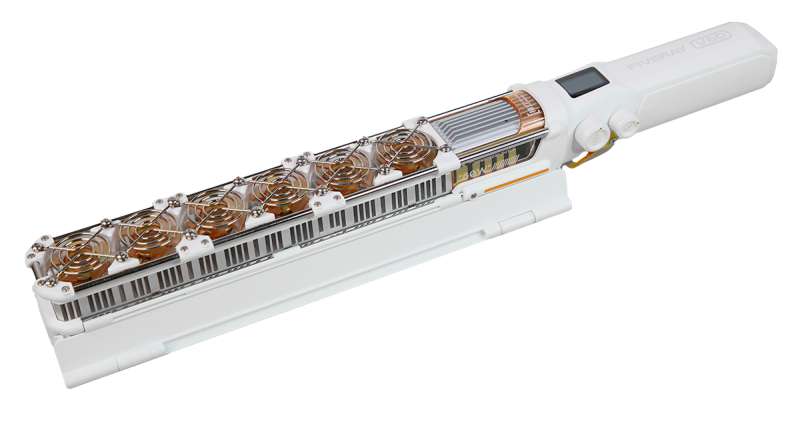 Along the handle are the knobs for the brightness and color temperature of the light. At its highest, the FIVERAY  V60 has a brightness of 22,500 LUX and has a color temperature range between  2700K and 6500K. The FIVERAY  V60 also has a Max Mode feature, which instantly boosts the light's intensity with the press of a button. This allows the output of the Zhiyun FIVERAY V60 Light Wand to go from 60 watts to 100 watts of power. Keep in mind that in order to use the Max Mode feature, you need to have the DC charger adapter plugged into this light wand. The Max Mode feature cannot operate when the light wand is powered by the built-in battery only.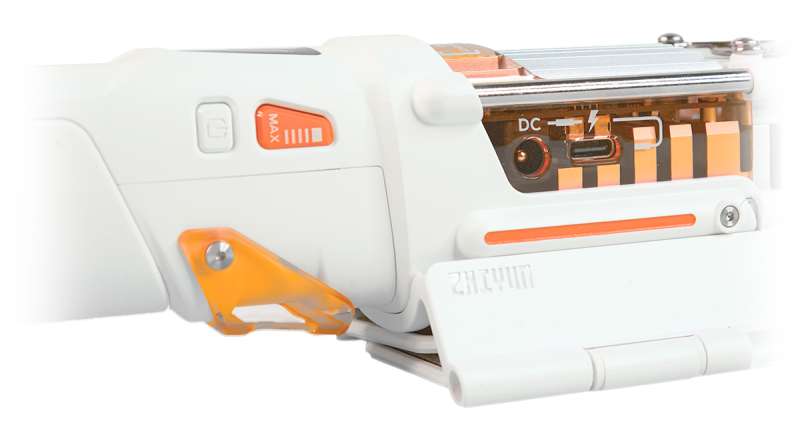 In addition to the DC charger adapter, you can also use a USB-C (a.k.a Type-C) Power Delivery cable connected to a charger and plugged into an AC powered outlet. Once you have the FIVERAY  V60 plugged into an outlet, you can turn on and off the Max Mode with a single push of the Max button. When the MAX Mode is activated, the brightness of the light wand defaults to 100%, with a color temperature of 4300K. The USB-C port can also be used to upgrade the V60's firmware when available. The Max button is conveniently located next to the Power button.
And speaking of pushing buttons, both the Dim (Brightness) and CCT (Temperature) button knobs have presets that you can cycle through just by pressing each button knob.
With the light wand on, and when you press the Dim knob, you can jump through the light brightness in increments of 0%, 50%, and 100%. With the CCT (Correlated Color Temperature) button knob, pressing it lets you select between 2700K, 5500K, and 6500K. I like using this one touch feature because it makes it convenient in conjunction with dialing the knobs.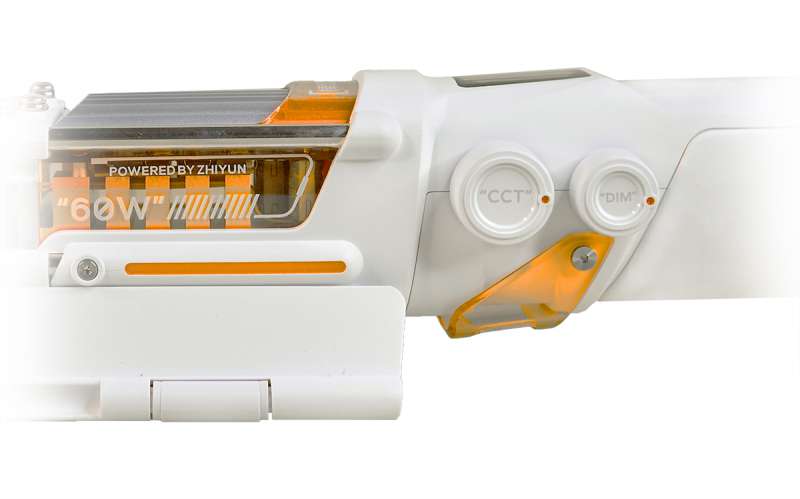 The Zhiyun FIVERAY V60 Light Wand's battery runtime is around 24 minutes at 60 watts at 100%, and up to 50 minutes at 30 watts at 50%, and up to 2 hours at 12 watts at 25%. These runtimes are calculated with the FIVERAY  V60 temperature set at 4200K. I wish the battery life was longer at 100% because I feel like 24 minutes at full brightness is rather low. With that in mind, you can see the status of the battery and other info in the compact display screen located on the handle of the light wand.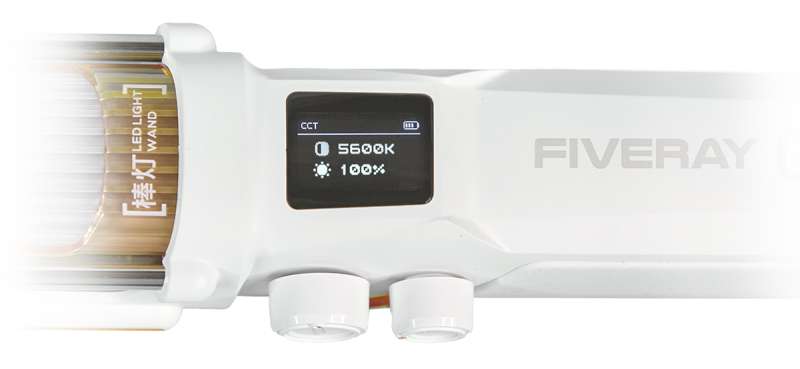 A built-in feature that the FIVERAY  V60 has is a Light Effects Mode. This feature simulates lighted effects such as SOS, TV, Faulty Light Bulb, Candle, Lightning, and Fire.  Although these effects are nice to have, I wasn't too impressed with some of the effects. For example, the Lightning effect appeared to just flash every 2 seconds. I'd prefer that the flashing was more random and at different intervals. Same thing with the TV effect. Plus, the flicker of the Candle and Fire seemed to be the same output. I feel like these effects would have more of an impact if they had customizable settings.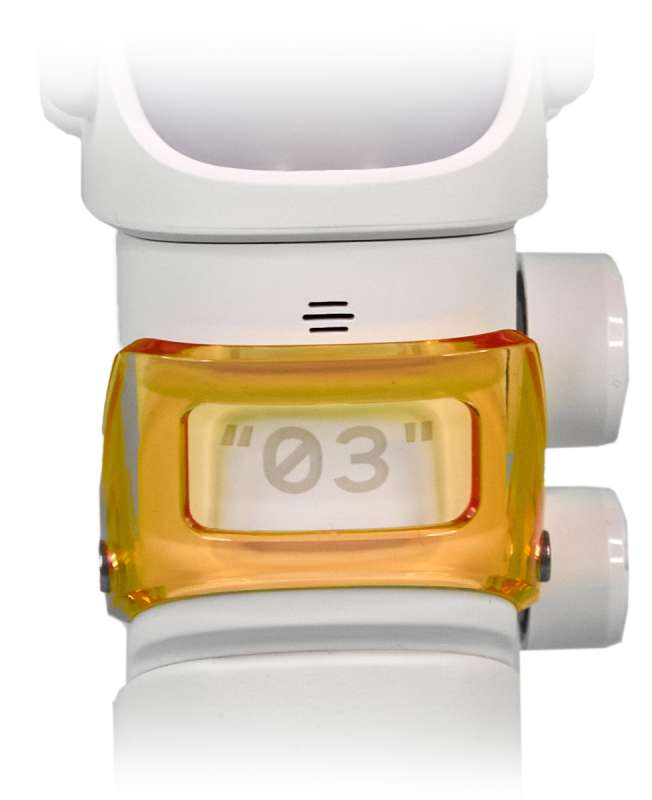 Another effect feature on the Zhiyun FIVERAY V60 Light Wand is Music Mode. There is a microphone just below the bottom of the light which triggers the light to flash from the beat of music. It seems to work well enough. I was also able to trigger it with just the sound of snapping my fingers. This feature is nice to have since it can allow the light wand to flash on the music beat which could work well in a video shoot.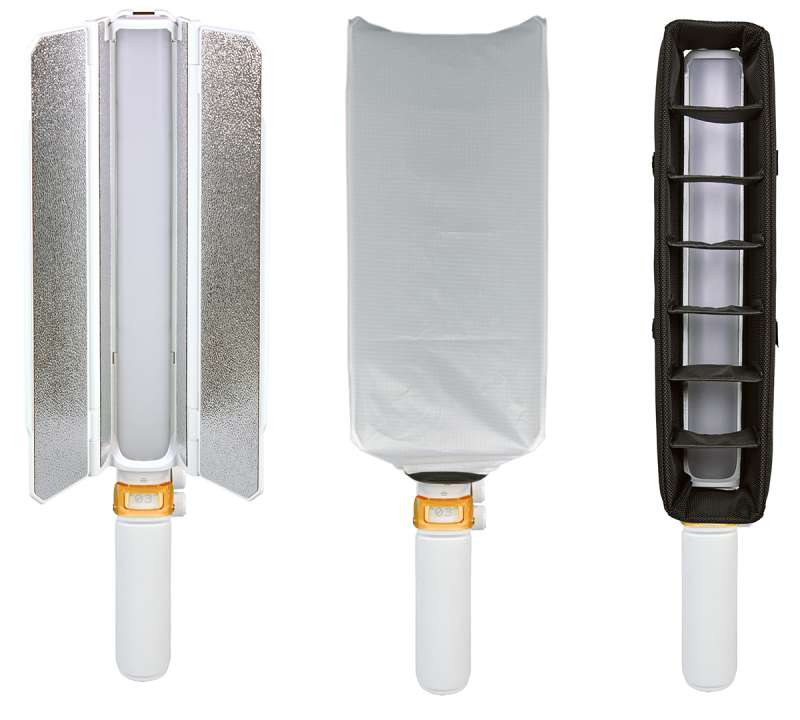 The FIVERAY Z60 comes with a few light modifiers such as a barn door, diffuser, and a light grid. These were some nice add-ons to be included since they are handy to have during shoots. The modifiers allow you to control the wand's light so you can have some creativity on how you want the light to be in the scene. The barn doors allow you to control light spill from the wand. The barn doors also help control the size and shape of the light allowing the light to be more focused on the subject. The grid helps point the light in somewhat of a spotlight feel. It doesn't control the size or shape of the light but mostly restricts the light in a forward direction. The diffuser basically softens the light which lessens any harsh shadows and lowers the glare of the highlights, therefore, helping to balance the contrast and brightness. Normally, you would have to buy these light modifiers separately, so it is a nice touch for Zhiyun to include them.
Performance
What I really like about this wand is how bright it can get. I was surprised at the output especially when the Max Mode is enabled. I feel like this light wand has many uses in a run and gun situation all the way to a studio environment. I personally like the fact that it is portable and that I can dial in as little or as much light as I want. It comes in handy as a kicker light when I need just a little bit of light to fill a dark area or if I need to give some depth to an object or to a scene. I find the Zhiyun FIVERAY V60 Light Wand to be handy with product photoshoots as well. Because this light is so portable and produces a great amount of light, I can quickly place the FIVERAY V60 anywhere around the product until I am satisfied with the lighting. Once I know where I want the light wand to be, I can set the timer on my camera and go back and hold the V60 where I want it.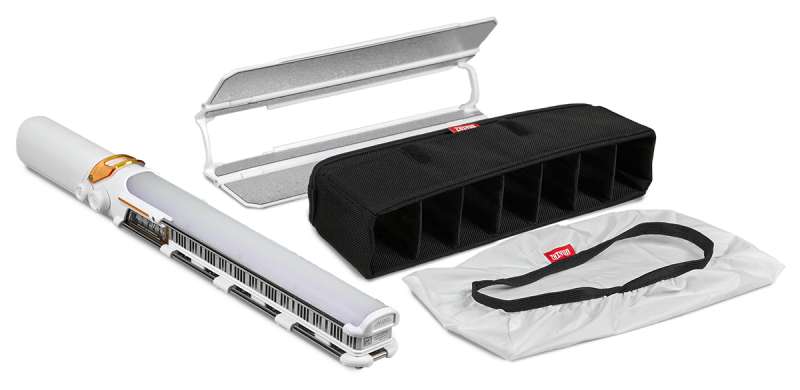 When using either the barndoors or the grid, they give me the ability to have more directional control over the lighting so that there is less unwanted light spill. This allows me to be more creative with some of my images and videos, especially ones with dark scenes where I want them to be moody or be more contrasty with shadows. The diffuser is nice to soften the overall light and helps eliminate harsh shadows. The one thing I found challenging with the diffuser was just actually putting it on. The diffuser is very snug to fit over the barndoors. I have read some reviews where people say to use the diffuser over the grid, which I tried and that works, too. But the included paper pamphlet states to attach the diffuser over the barndoors. I find that it's just awkward to pull the barndoors apart once the diffuser is on. However, pulling the barndoors apart helps stretch the diffuser to make it taut and not sag. Unfortunately, there isn't a manual included with the FIVERAY  V60 so, you will have to jump online to check out the User Guide.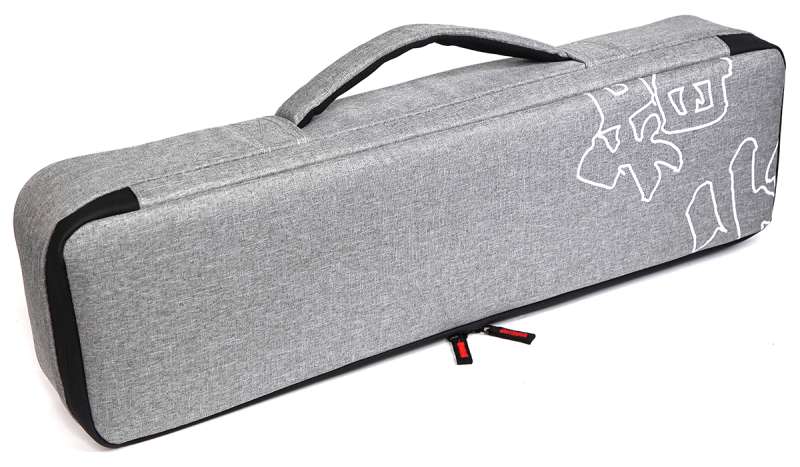 What I like
Portability
Bright light
Easy to use knobs
Included light modifiers
What I'd change
Make light effects customizable
Longer battery life
Final thoughts
Overall, I really enjoyed using the Zhiyun FIVERAY V60 Light Wand. Its portability gave me the freedom and creativity to maneuver and set the light wand in all sorts of positions, places, and scenarios. Having the light modifiers such as the barndoor, the grid, and the diffuser, really gave me better control with the lighting as well as gave me options on my lighting setups. With as much light that this wand can produce, it gives me the choice to use it as a key light or dim it down to use it as a hairlight, rim light, or kicker light. This is handy when I am doing a studio shoot or a run and gun shoot. This FIVERAY  V60 light wand is definitely going into my camera gear bag. And I'll be sure to bring it with me on my shoots since it's super light and portable which makes the FIVERAY  V60 perfect for studio or run and gun shoot settings.
Price: $199.00
Where to buy: Zhiyun and Amazon
Source: The sample of this product was provided by Zhiyun.