We use affiliate links. If you buy something through the links on this page, we may earn a commission at no cost to you. Learn more.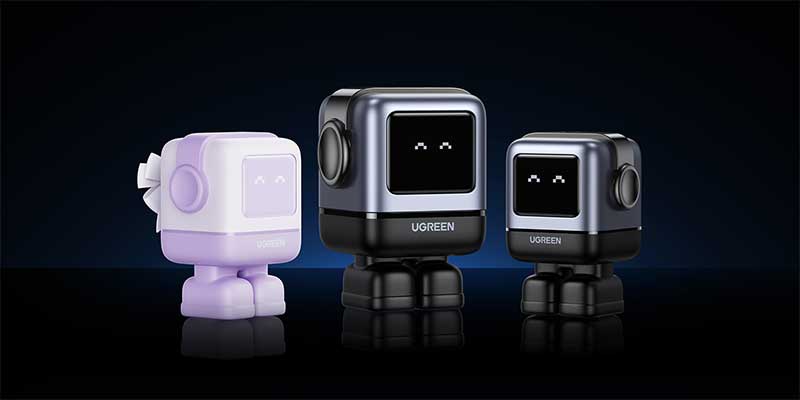 SPONSORED NEWS – Ugreen, a global leader in charging accessories, is excited to introduce its latest adapters. The Nexode RG 30W USB C GaN Charger ("the RG 30W") and the Nexode RG 65W USB C GaN Charger ("the RG 65W"). Both chargers utilize GaNFast technology to provide faster, safer, and more convenient charging for multiple devices. They also come in a unique, playful robot design to add character to the room.
Speed is the key capability for both the RG 30W and the RG 65W. The RG 30W provides 30 watts of high-speed power that enables users to charge an iPhone 14 Pro Max to 51% in 30 minutes. Likewise, the RG 65W powers devices with 65-watts of high-speed power, bringing an iPhone to 60% battery strength in 30 minutes. Meanwhile, it can take the battery of the latest MacBook Air from 0-70% in an hour, as it is equipped with 3 ports to allow for the charging of multiple devices simultaneously.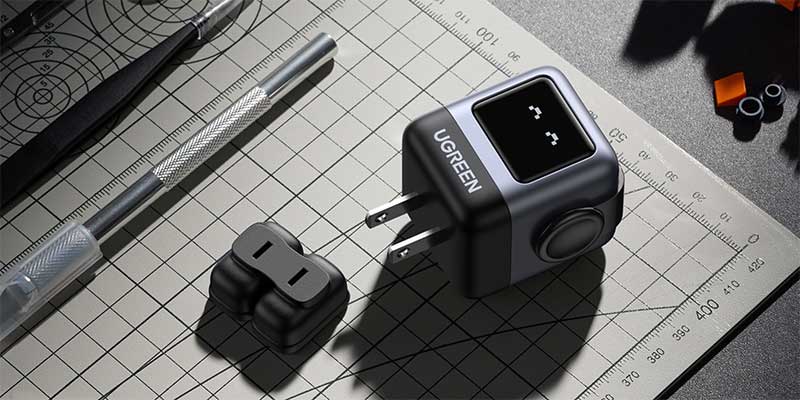 Along with speed comes convenience and safety for the new chargers. Both come with an LED mini-smart screen displaying real-time charging status. Following the robot design, the display can be read as various facial expressions to understand charge levels, with a smile meaning the device battery is at full charge. Users don't have to worry about adaptability either, as the chargers can work with a wide variety of smartphones, tablets, and charging protocols including PD/QC/SCP/FAC/AFC. With the addition of Ugreen's built-in Thermal Guard system, the chargers monitor temperature levels in real-time to prevent the devices from overheating, overcharging, or using an excessive current. Meanwhile, the chargers' flame-retardant shells add bonus security against the cause of or damage from fires.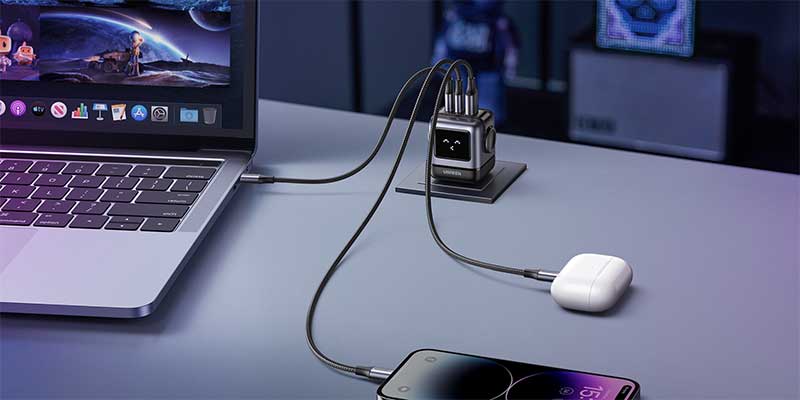 These speed and safety measures lend themselves to Ugreen's commitment to a greener world. The GaNFast technology enables the chargers to convert energy with 95% efficiency so that less energy is lost and heat generation is kept in check while devices charge. The GaNFast chip also helps reduce up to 8.8 pounds of CO2 production compared to traditional silicon chips, as evidenced by a Navitas semiconductor calculation. This means that by 2050, Ugreen charges will have reduced nearly 5,503 tons of CO2, equivalent to waste generated by over 650 coal-fired power stations, six billion barrels of oil, or the annual electricity use of over 470 million homes.
With all these unique speed, safety, and environment-friendly features comes a conversation-starting piece of technology. Designed to resemble a robot, the RG 30W and RG 65W appear as fun, friendly additions to any room, be it a home office or shared working space. The robotic face providing updates on charge levels is mimicked in design by the magnetic robotic shoes, which are removable and protect the chargers' prongs from damage, to provide an added level of safety and fun.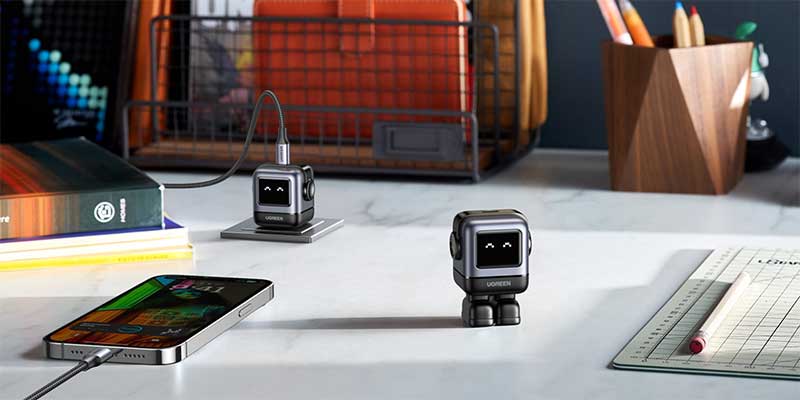 Pricing and Availability
The RG 30W and RG 65W are both available today.
The RG 30W is priced at $25.99 on Amazon.com and Ugreen.com, and comes with black and purple color options. The RG 65W is available for $49.99 on Amazon.com and Ugreen.com.
About Ugreen
Established in 2012, Ugreen specializes in providing distinguished accessories and digital solutions for global consumers. Ugreen has steadily grown into a trustworthy brand with over 40 million users worldwide, providing products ranging from charging devices, phone and computer accessories to home and automobile accessories. For more information, please visit www.ugreen.com.