We use affiliate links. If you buy something through the links on this page, we may earn a commission at no cost to you. Learn more.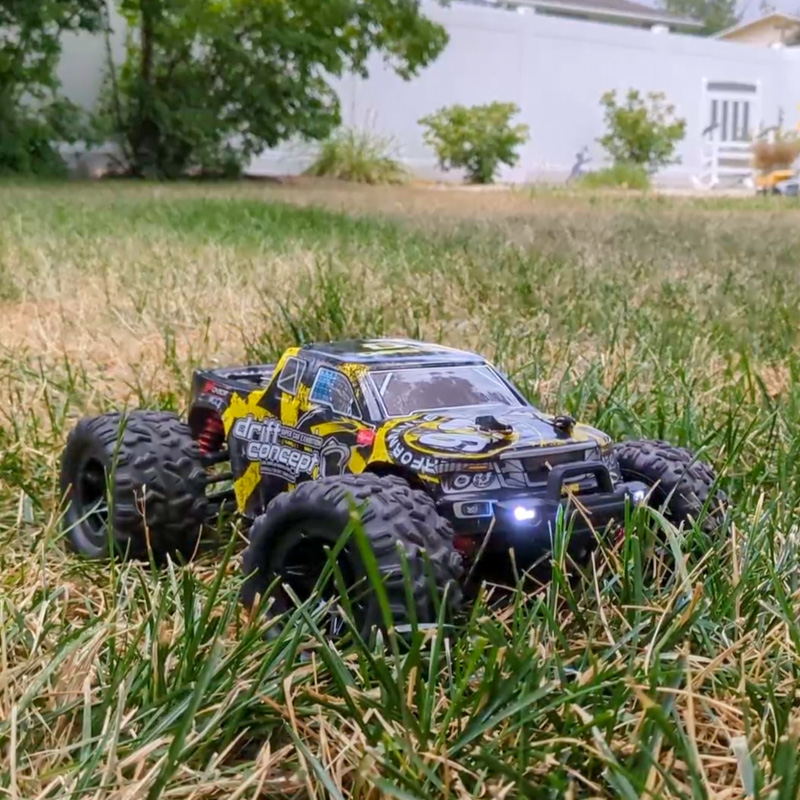 REVIEW – When I was a kid, one of my most memorable possessions was a remote control car. Because this was the technology of the 80's, it only drove (slowly) for about 10 minutes before requiring a 3-4 hour charging session, but nevertheless I still loved it. Fast forward more years than I'd like to admit, and from the first time I hit the accelerator, the DEERC Brushless RC Car immediately brought out that inner child again. But I suppose I should share a bit more than just that, so on to the review!
What is it?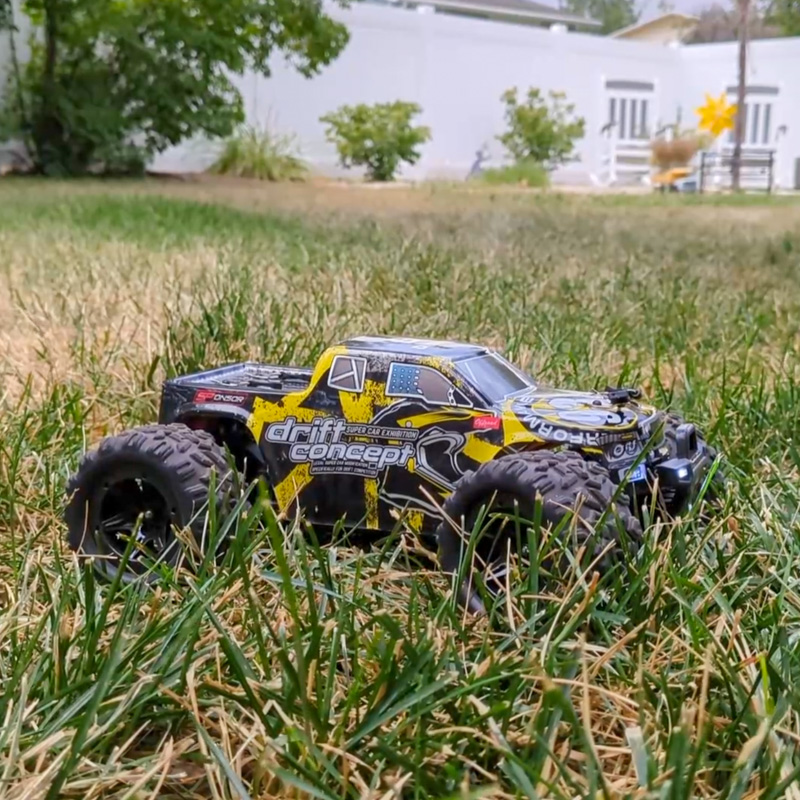 The DEERC Brushless RC Car is a small remote control car, with per-wheel motors and independent suspension, capable of speeds of 35 mph and tackling off road terrain. As the name implies, the motors are brushless, and therefore should last much longer with use as opposed to brushed motors.
What's in the box?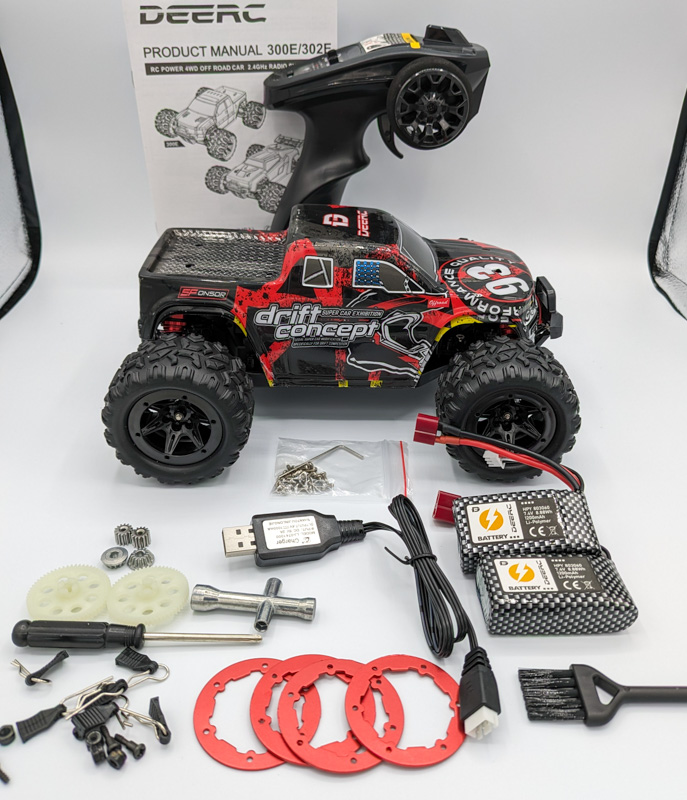 DEERC Brushless RC Car
Two plastic body shells
Two batteries
USB-A charger with LED charging lights
Installation and repair tools
Many spare parts for future repairs
Cleaning brush
Remote Control (2.4 Ghz wireless, uses 3 x AA batteries – not included)
Hardware specs
Top speed: 35 mph
Motors: 2440 Waterproof Brushless
ESC: 25A Brushless
Size: 9.45 x 5.51 x 3.94 inches
Weight: 2.75 lbs
Battery (x2): 1200 mAH LiPo batteries (up to 20 minutes runtime each battery, for 40 total)
Adjustable top speed
Adjustable steering trim
2.4 Ghz remote control, up to 12 vehicles can operate in same vicinity
328 ft remote control range (no obstructions or interference)
4 wheel independent oil-filled shock+spring suspension
Suitable terrain: Hard/road, sand, dirt, muddy, grass
Design and features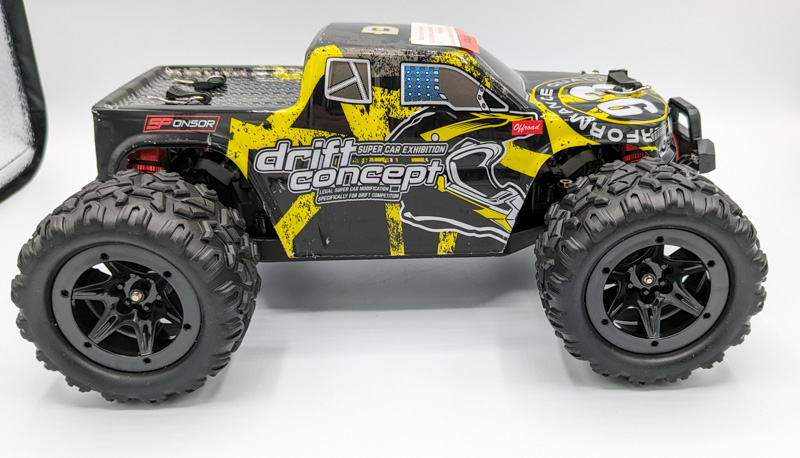 The DEERC Brushless RC Car sent to me is the 300E model, but there's other models that look to be built on the same or similar chassis sold by DEERC as well. The 300E looks like an offroad racing truck with oversized tires. For some reason, I was expecting a bigger car from the photos, the DEERC Brushless RC Car is about 9.5 inches long so it's not large but also not tiny. This doesn't detract from the fun factor at all though, it's a good size for being able to tackle grass and other obstacles or just fly over pavement.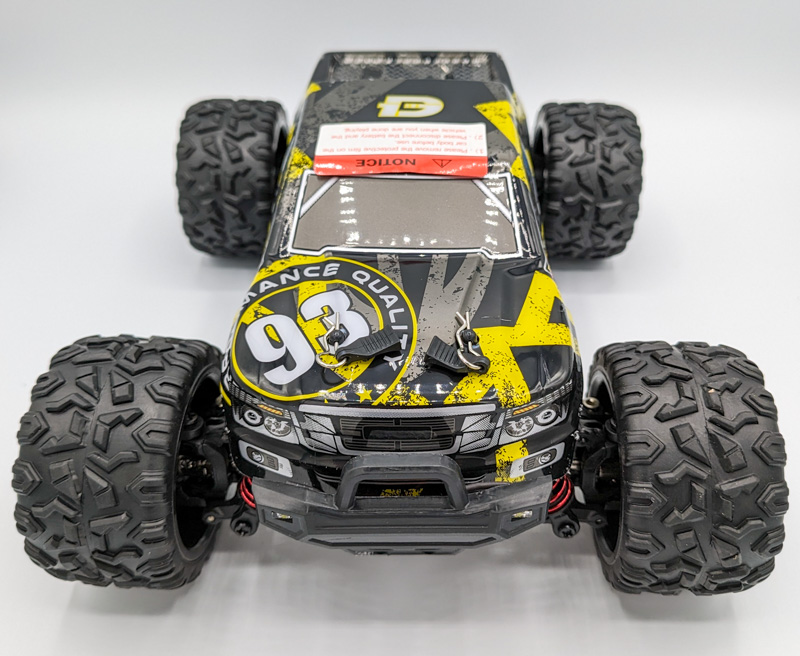 The body shell is held on by 4 clips that are easy to install and remove. The tires have a nice tread pattern to them and are a soft rubber while not being actually air-filled (they are hollow and have air in there, but it's not under pressure, they hold their shape and position without pressure).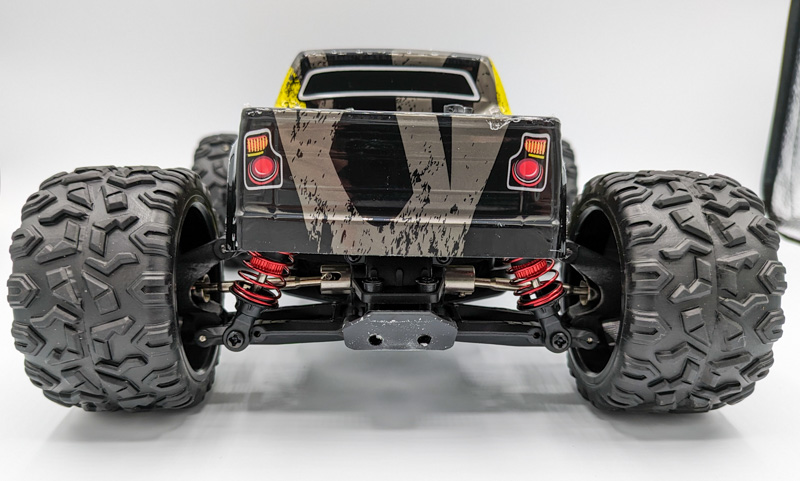 From the back you can see the suspension and drive shafts going to each wheel.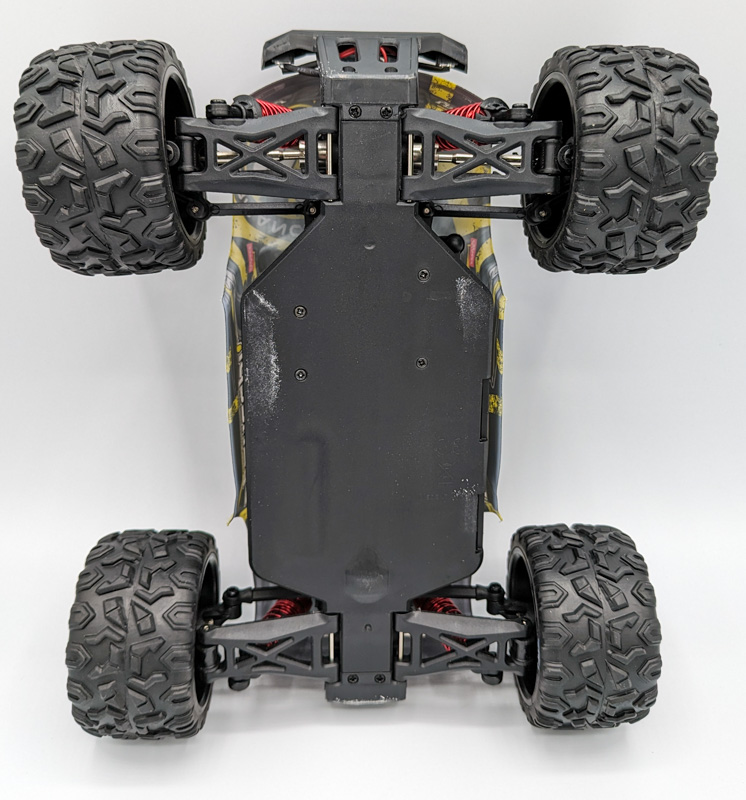 Looking underneath, you can see that the entire underside is well protected from road debris. I ran over quite a few sticks and rocks with no damage at all to the car.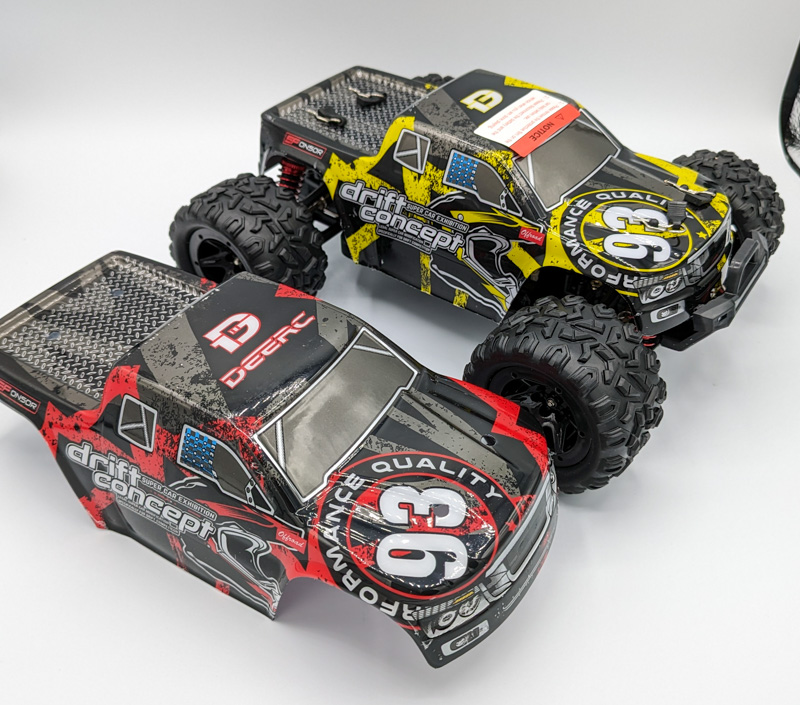 An alternate body shell is included in the box, and allows you to swap out the color as well as providing a backup in case either is broken. This shell protects the top compartment a bit in case of rollovers (of which I did several with no damage).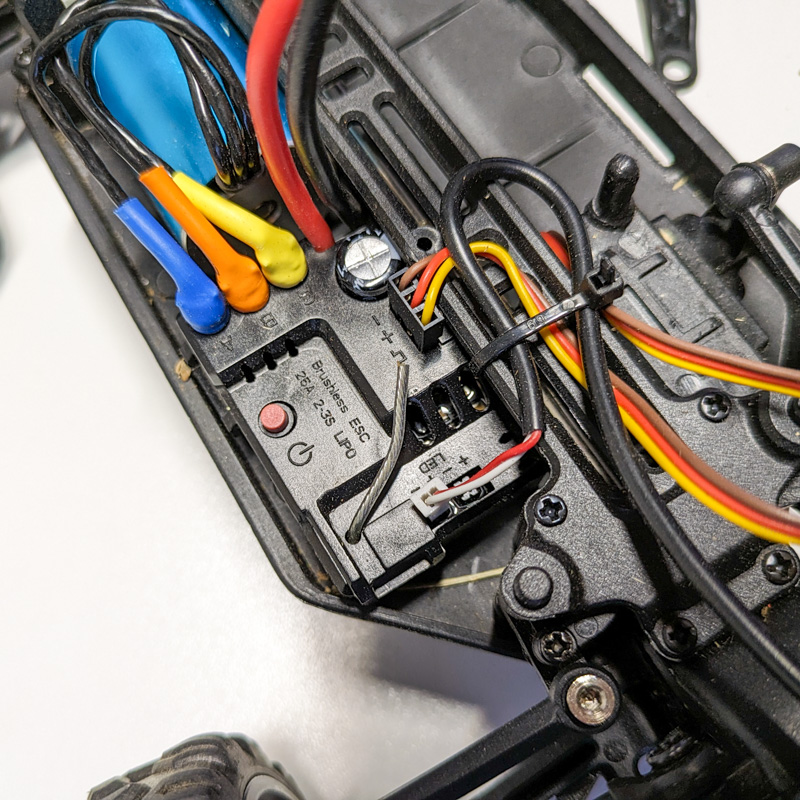 Inside the top compartment is the battery bay, power button, and other wires and parts. Everything seems to be modular where possible with quick release clips – very nice if you need to replace/repair individual parts down the line.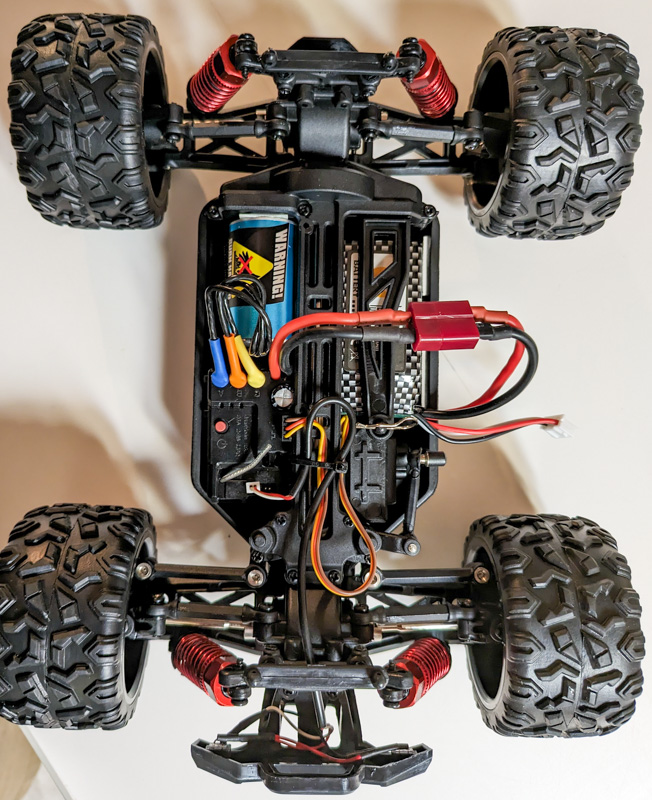 The battery attaches with a sturdy connector and is secured with a quick release pin clip as well.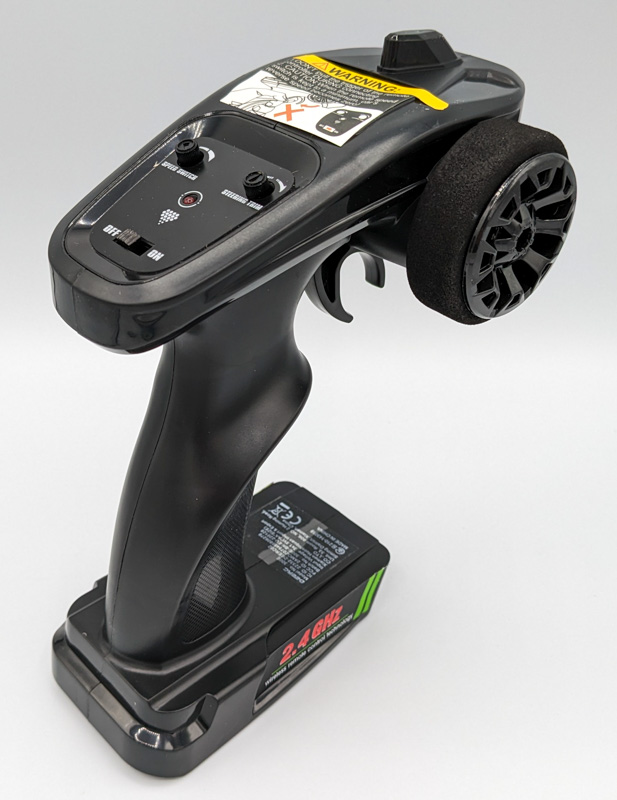 The remote control looks like most of the hobby RC vehicle controllers I've seen around parks and other places. It has a soft foam covered steering wheel, an analog trigger forward/reverse throttle, and controls up top for top speed and steering trim, as well as the on/off siwtch and LED status indicator.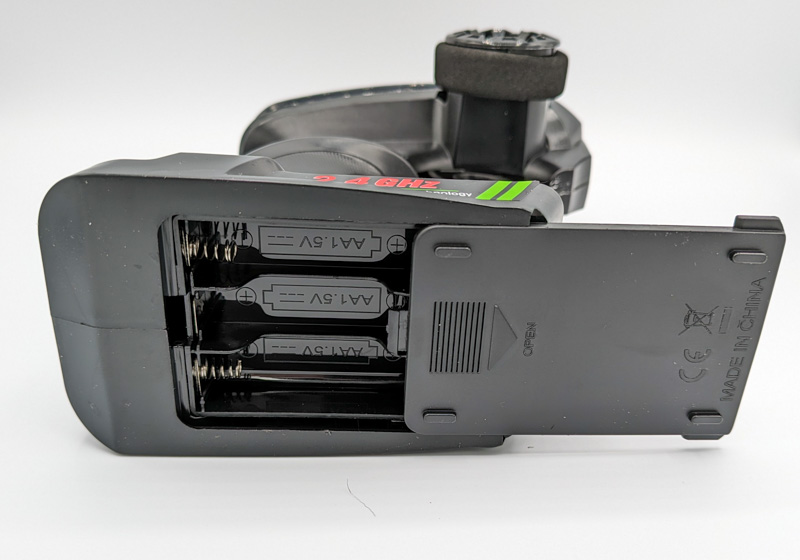 The controller is powered by 3 x AA batteries, and the battery bay is secure, no worries about it falling off while in use. I even dropped it once to a hard floor and everything's still perfect.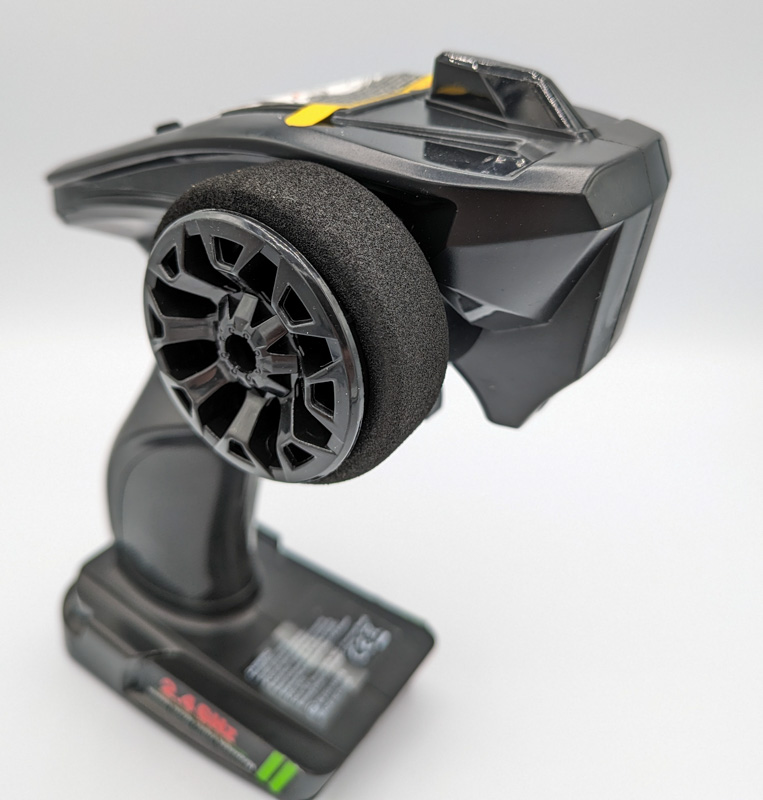 The steering wheel is nicely textured and very responsive, I didn't feel any lag while driving the car at all and quickly picked up the feel for the car after a few minutes of driving.
Setup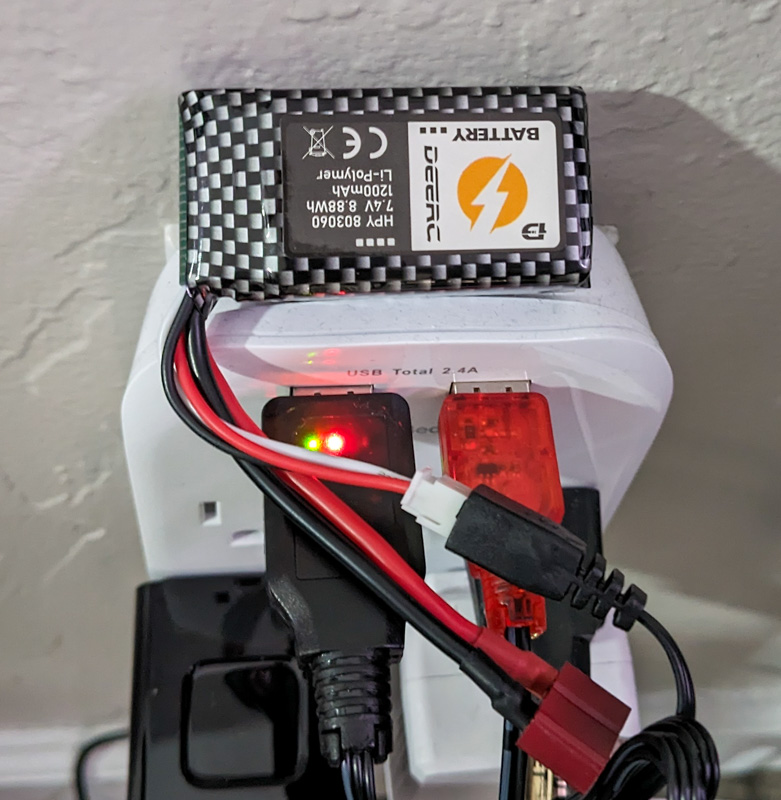 Setup is as simple as plugging the USB-A charging cord in and then connecting a battery. Red and green LED indicators show charging/charged status (blinking red while charging, green when full).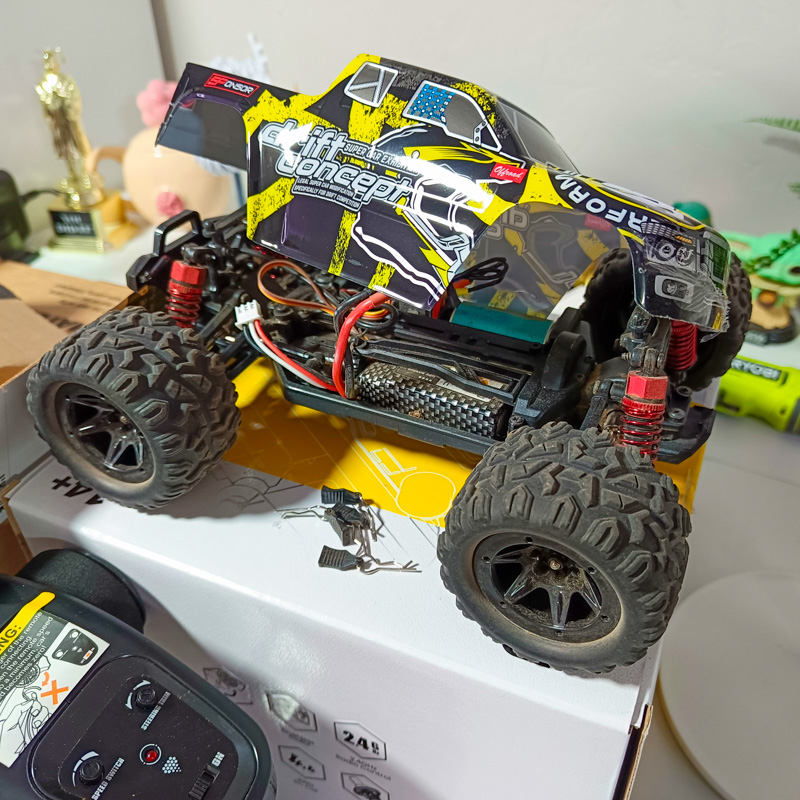 You then secure the battery in the battery compartment, plug it in, and hit the red On/Off button in the top compartment before putting on the shell.
Performance
If you can't tell from some of my giggles in the video above, I loved testing the DEERC Brushless RC Car. Our dog went absolute bananas any time it was driving in the backyard, much to the entertainment of our toddler. I slowly worked my way up from the slowest speed settings to maximum, and at full speed it's crazy fast. Doing donuts and drifting on the dead-lawn patch in our backyard was a blast (around the 1:00 mark in video above), and at the 1:44 mark you can see the car do a wheelie when I gave it full throttle while already cruising along.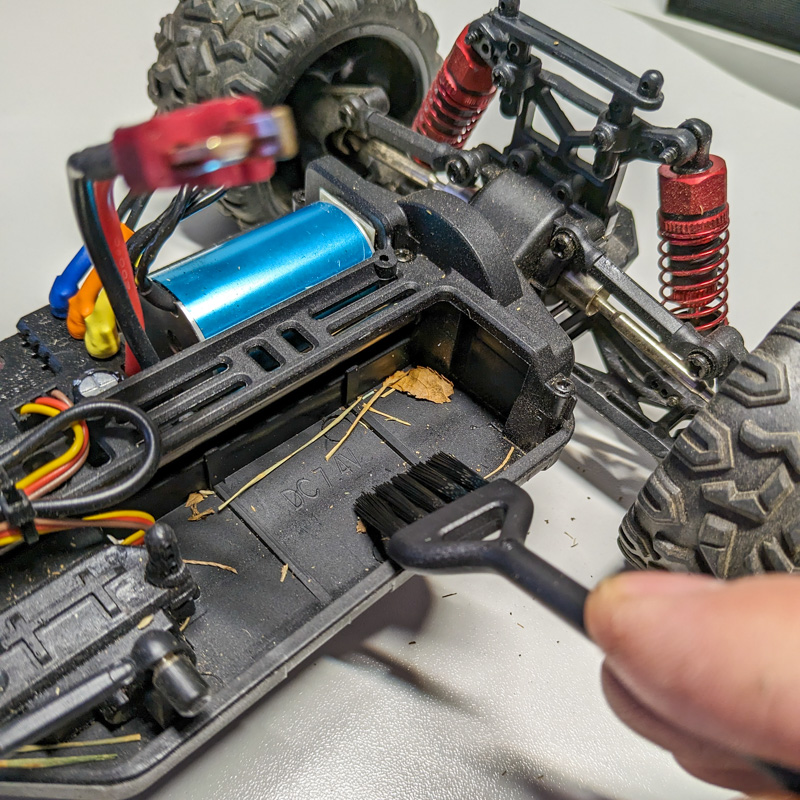 If you're doing a lot of driving off-road (like on a lawn and on dirt like me), then you'll need to clean up the interior of the car between each drive. The included brush helps a lot, but I found compressed air to work even better so you might want to grab a can.
What I like
Easy to learn for novices
Seems built to last and extra parts in the box should extend longevity
No smartphone app required
What I'd change
Some kind of display with more info (like top speed, current speed, etc.) would have been cool
Final thoughts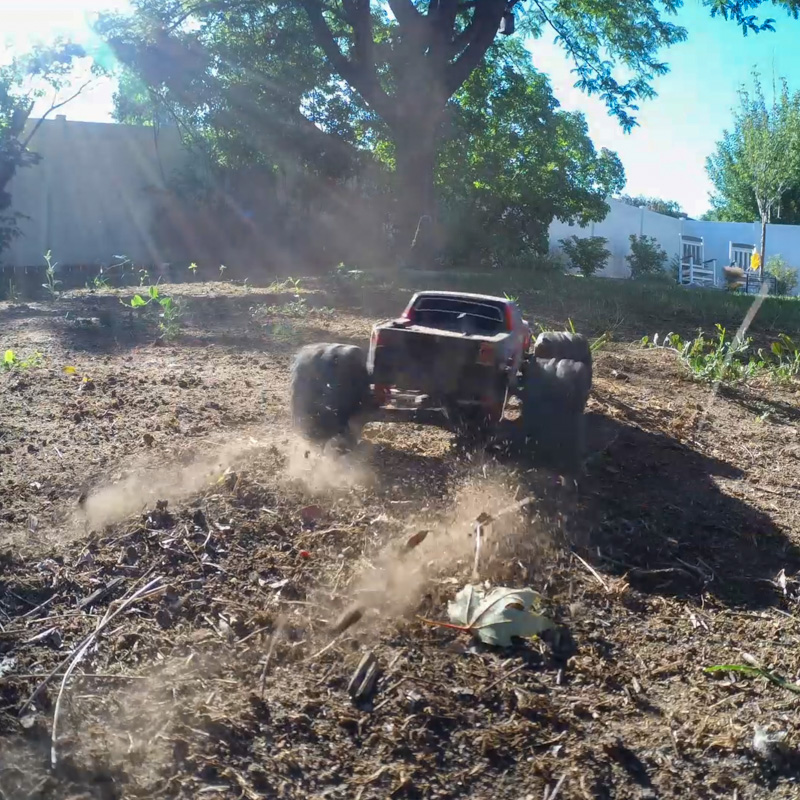 The DEERC Brushless RC Car was one of those reviews that was fun from start to finish. I look forward to many future driving sessions simultaneously teasing the dog and entertaining our kid. If you're looking for a fun gift idea for a kid of any age (well, I'd probably follow DEERC's 14+ years suggestion), I think this would make a great one. Alternately, I've been eyeballing some of DEERC's RC boats after testing this thing out, I'll have to take the party to the water in the future.
Price: $99.99
Where to buy: Amazon (5% off  with the code: 5TGT300EWS)
Source: The sample of this product was provided by DEERC