We use affiliate links. If you buy something through the links on this page, we may earn a commission at no cost to you. Learn more.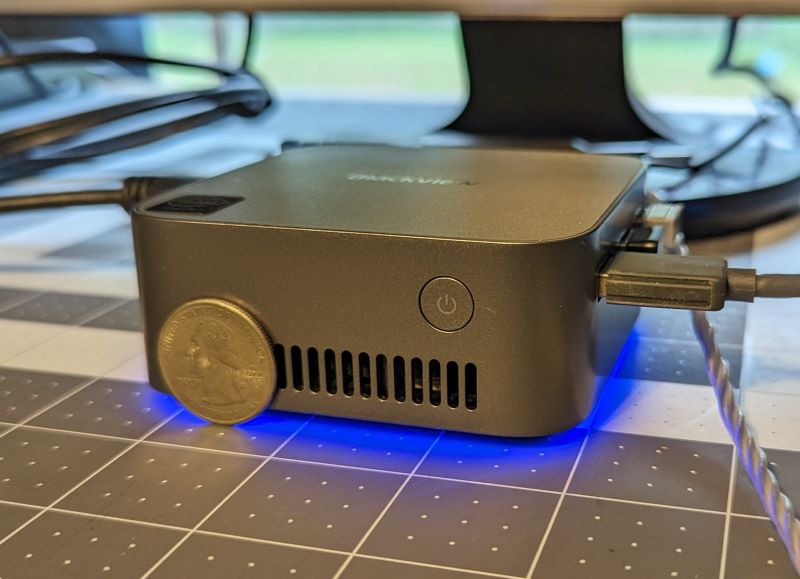 REVIEW – I've been seeing smaller and smaller PCs all over the place and wanted to play with one to see if it would work for a special use case I have in mind. We've had several come through for review here at the Gadgeteer and I always seemed to just miss getting my hands on one until now.  Enter the Blackview MP80 mini PC. My main goal was to create a small workstation for my laser engravers. Does it run full-blown Windows or some weird Windows CE variant? Is it enough to run the Laserpecker Design Space and Lightburn for my Laserpecker 4 laser engraver? What else could I do with it? Is it worth the asking price?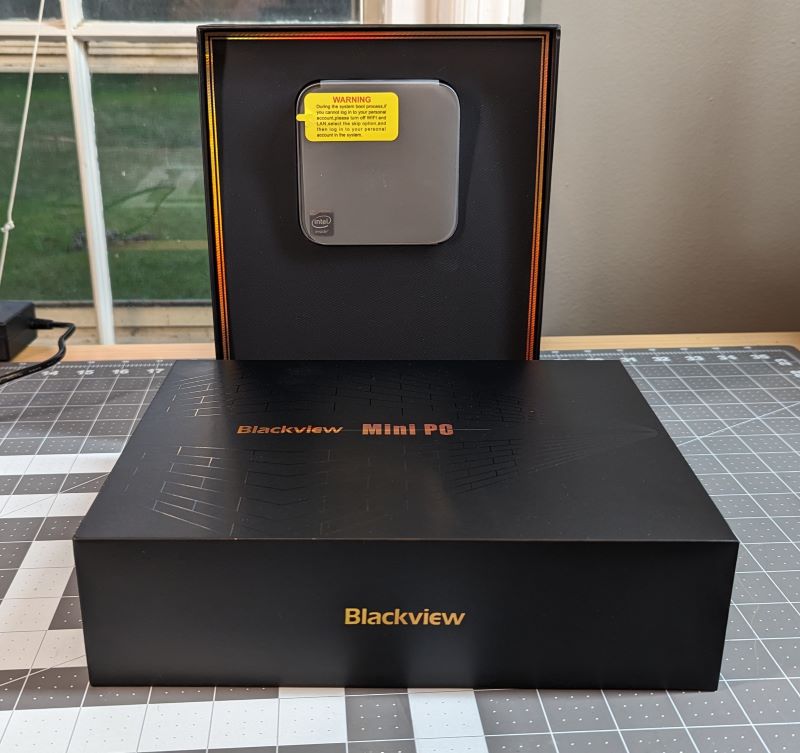 What is it?
The Blackview MP80 mini PC is a Windows 11 Pro computer with up to 16GB of RAM and 512GB SSD that can fit in your pocket.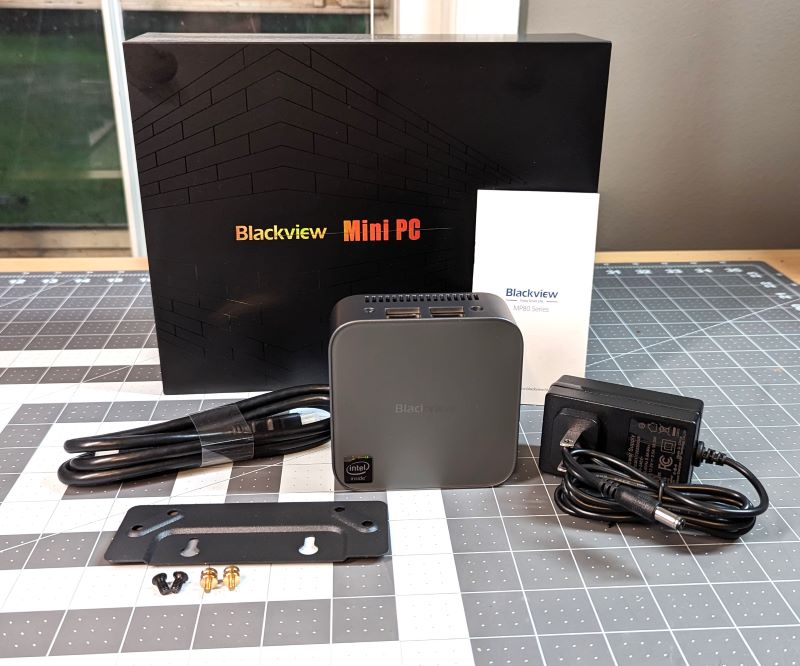 What's in the box?
Blackview MP80 mini PC
Power supply
HDMI cable
VESA mounting bracket with hardware
Hardware specs
12th Gen Alder Lake N95 Intel CPU
16GB LPDDR5 RAM
512GB M.2 SSD
Bluetooth 4.2
Dual-band WIFI
2 – Ethernet ports
3 – HDMI
3 – USB3 A ports
1 – 3.5 mm audio jack
1 – power jack
Intel 4K UHD Graphics
Design and features
The Blackview MP80 mini PC boasts of having the 3.4 GHz 12th Gen Alder Lake N95 Intel CPU, which really told me nothing.  I haven't kept up with all the Intel CPU iterations over the years, so, of course, I Googled it. What I found is it's an entry-level mobile CPU for thin and light laptops. Ok, sounds like it'll do what I want it to.
Next, it has 16GB of LPDDR5. Capacity wise, 16GB is usually the minimum I want in a system. So another point for the Blackview MP80. But what is LPDDR5?  I know what the DDR is but LP? Back to Google to find out it stands for Low Power. So far, it sounds like this little guy will be sipping power from its included 12V 5A power supply.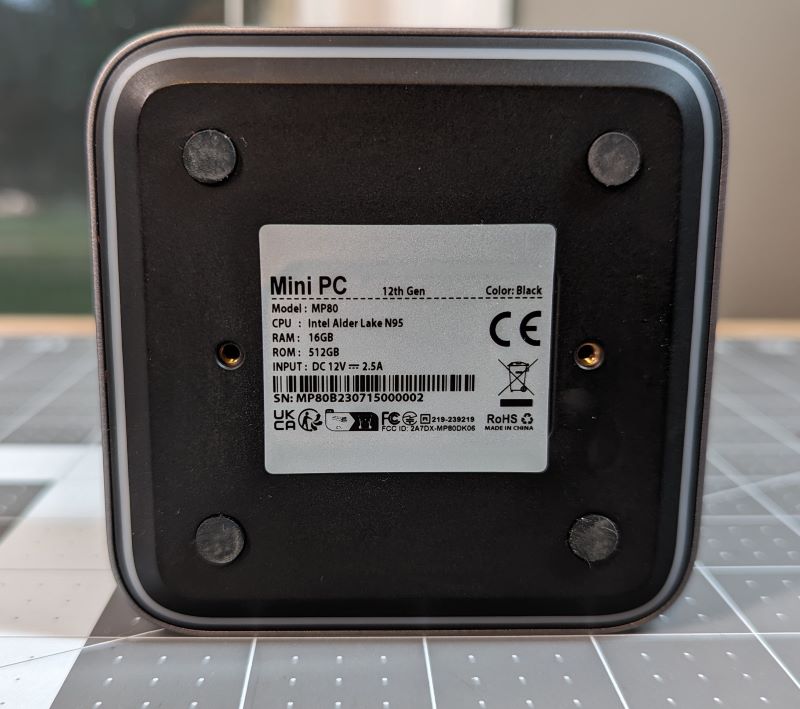 Now let's look at what you can connect to the MP80.  Surely, with it being this small, ports will be very limited. Nope! This thing has 3 HDMI ports for 3 monitor support and 4k UHD graphics.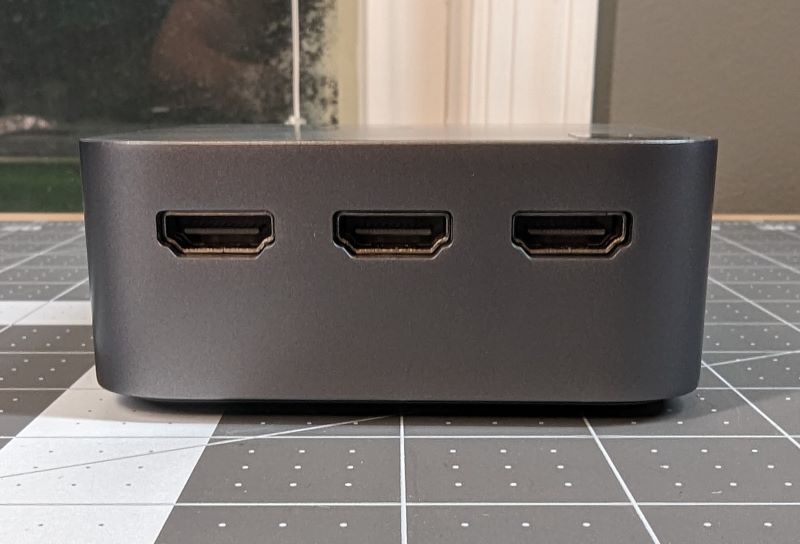 Sadly, I couldn't test the 4k bit since I don't have a 4k monitor. (Hint, hint Julie!) It did however do just fine with 1080 HD which is just fine for my purpose.
On the rear, there are not one but 2 ethernet jacks for wired connectivity. I'm not sure what the use case would be for that but I'm sure there are those of you out there way smarter than me do. There's also a 3.5 mm audio jack so you can connect a set of speakers or in my case currently a set of earbuds. On the opposite side is the power jack.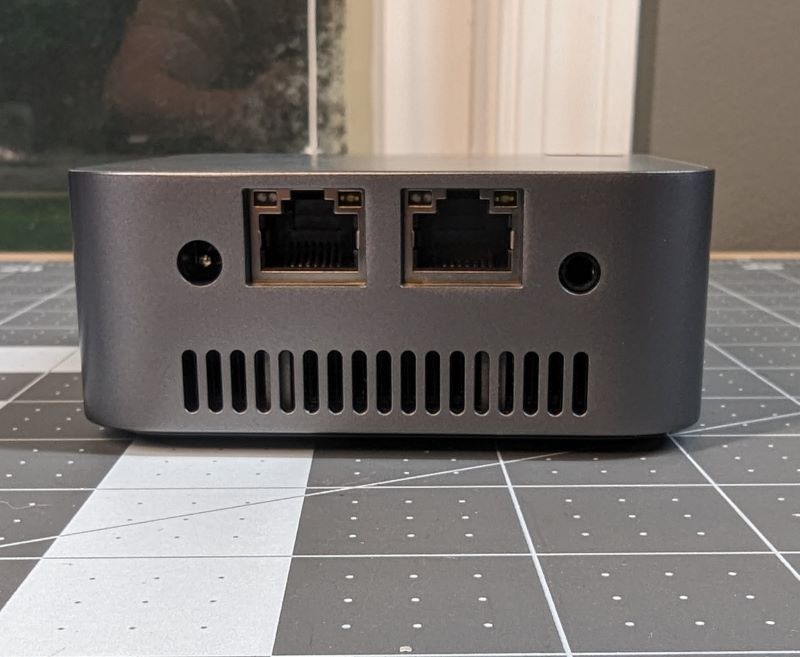 Spinning to the right side, there are 3 USB3 A ports. Currently, I have a wireless mouse, keyboard, and USB SSD.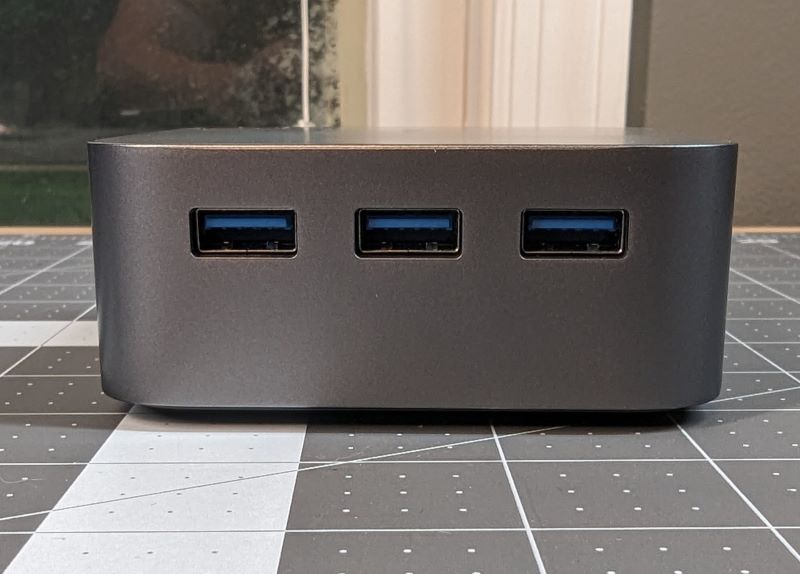 Bluetooth works fine on it and I can free up 2 of those ports by switching the keyboard and mouse over to it. So another point for the Blackview MP80. I can connect my 3 laser engravers to the little box and still use my mouse and keyboard wirelessly.
Finally, on the front, there's simply a power button.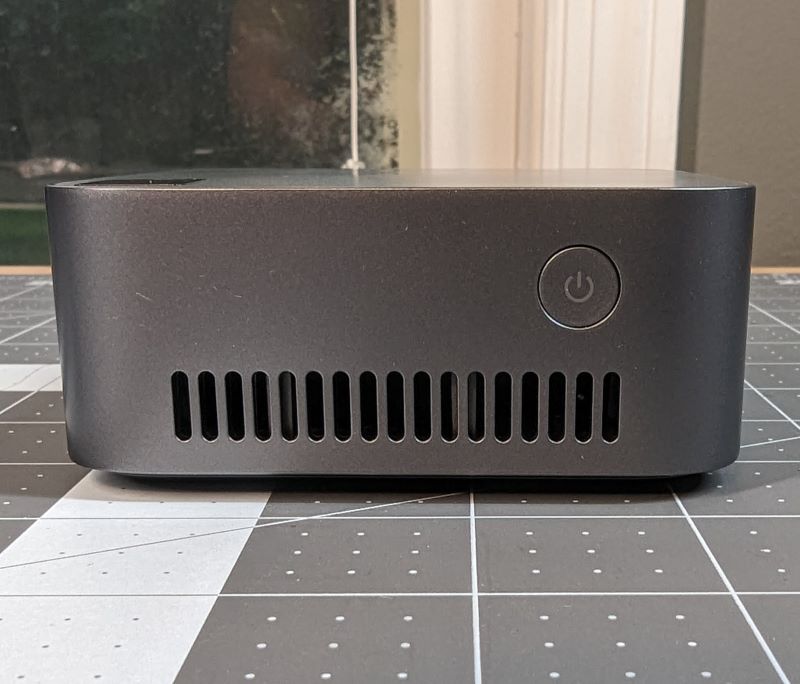 Seriously what more do you need? LEDs you say? Well, you're in luck. The unit glows blue while in use. Sure it's not much and not really necessary, but I like blue and I think it looks nice.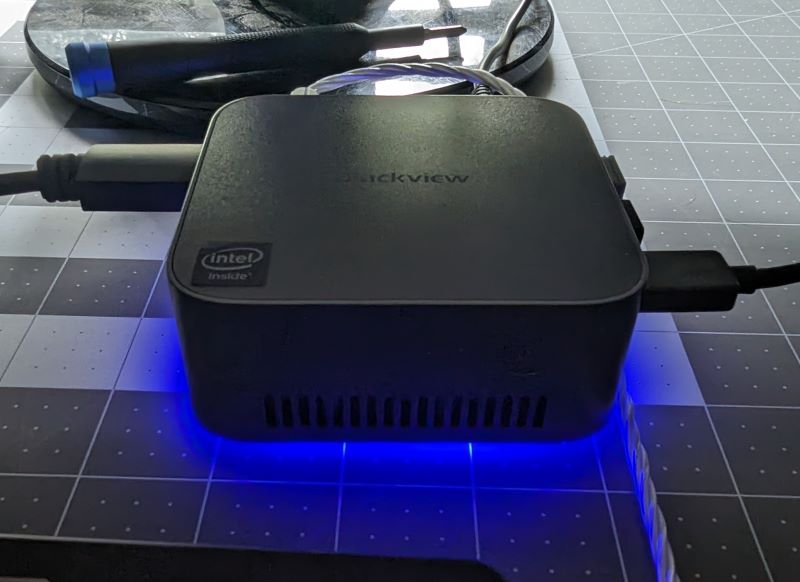 Here's a top-down view showing what it looks like with everything connected to it. Cable management might be a little difficult with cables coming out on all sides, but no show stopper.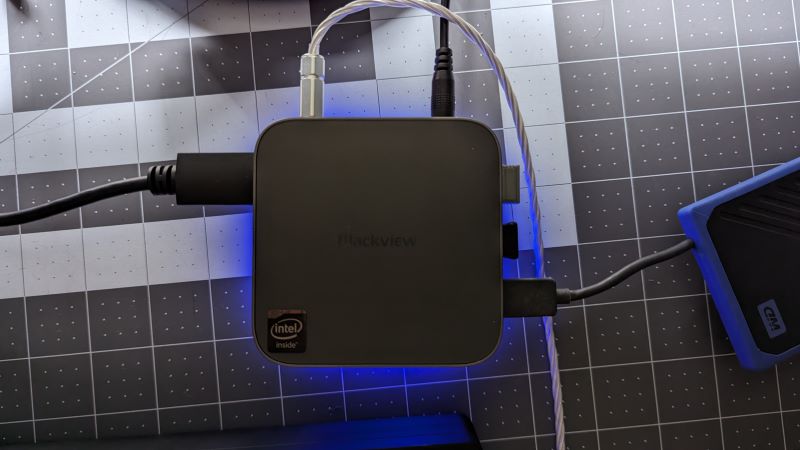 Setup
Setup for the Blackview MP80 is just any other Windows PC. Power it up. Answer a few questions to complete the Windows 11 Pro installation and there you have it. I know some may worry about pirated copies of Windows on some of these little PCs and TV boxes you see for sale but the OS here seems legit to me. It's activated and gets Windows updates with no issues.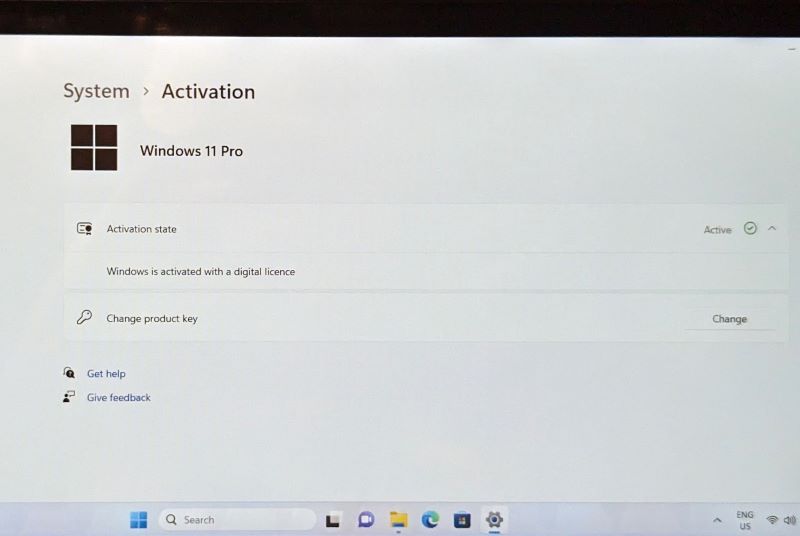 Since it runs the latest version of Windows OS, I haven't experienced any issues with the devices I've connected to the MP80. I've used a couple of different keyboards and mice, my laser engravers, HDMI monitors, SSDs, flash drives, the typical things I normally use. I didn't have to go searching for drivers to get anything working which really surprised me. One of my laser engravers gave me a fit when I connected it to my Windows 11 Pro laptop. Not so with the MP80. It just worked. HP, you got some 'splainin' to do.
Needless to say, setup was easy. One more point for the MP80.
Performance
To make it perfectly clear, this is NOT some uber-gaming setup that plays all the latest AAA games. I ran one of my favorite benchmarks, Userbenchmark, just to get a baseline of what to expect. I like their rating system. It makes me smile.  You can see below the MP80 didn't fair well as a gaming machine but did pretty well in the Desktop category.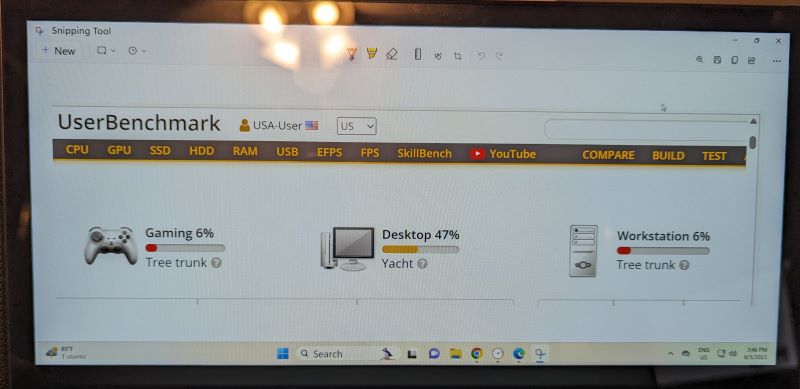 I did have a slight issue with WiFi when I first started using the MP80. Download speeds were atrocious even though I have it right next to my wireless router and no one else in the house complained of any problems. Even after a couple of Windows updates, it was still painfully slow so I went hard-wired for a while. The MP80 performed great. I'm not sure what changed but after another Windows update, I decided to try WiFi again and now it works perfectly fine. Before I was getting 4-5 MBps, now I'm getting 35-40, so big improvement.
So what have I used the Blackview MP80 for? What did I install? Well, I installed both the Laserpecker and Lightburn software I use for my engravers. Both worked great. I didn't notice much difference from when I used the same devices and software on my much beefier laptop.  Of course, I've used it to browse the internet, watch some videos in 1080 HD, stream a movie and some music. I even installed RetroArch, a game emulation app, and played some Nintendo Gamecube and PSP games. I was pleasantly surprised by how well they ran. I've done the same thing with Raspberry PIs in the past and never got them running smoothly. I even connected an old Xbox 360 controller and Nintendo USB Gamecube controller to the MP80. Both worked flawlessly. I've also done some very basic photo editing on it using the Windows photo editor which admittedly isn't very feature-rich but did what I needed it to do. The pictures in this review were edited on the little MP80. I'm even using it to write and submit this review. I even partitioned the drive and installed Zorin Linux on it so I could dual-boot it. I'm by no means a Linux guru but I do like to check out different distros now and then.
What I like
The size
Full Windows 11 Pro
Simple to set up and use
What I'd change
Final thoughts
For what the Blackview MP80 mini PC is, I think it's a great little PC. It's going to be the center of a dedicated laser engraver station for me with more functionality if needed. I mean, it could be a media player, retro-gaming machine, or just a simple PC where you just want to browse the net, do some simple photo touch-ups, or say, write a review.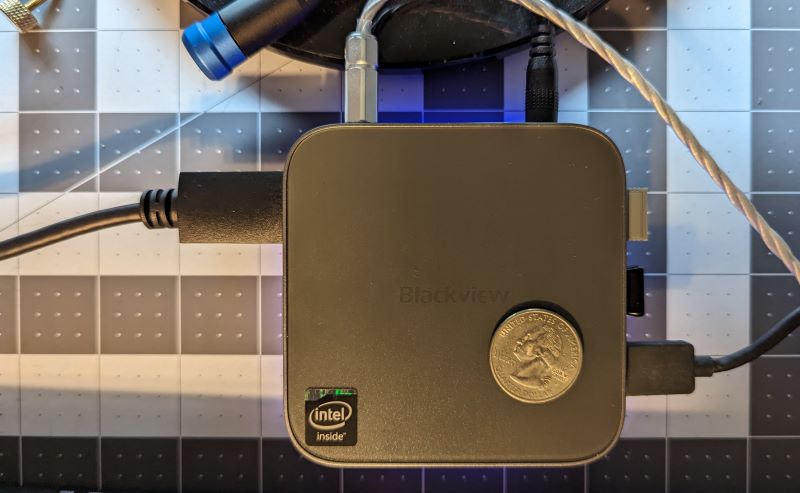 One suggestion I have is if you decide you want to get one of your own is to run Chris Titus Tech's Ultimate Windows Utility. Windows is infamous for having some bloatware and running all kinds of unnecessary background processes. With the Ultimate Windows Utility, you can gain back some precious CPU cycles. If you're curious, you can watch his video about it here.
Price: $249.99
Where to buy: Blackview and Amazon (Save 35% OFF with code: OFFERMP80PC + $16 coupon expires 9-20-2023 23:59 PDT)
Source: The sample of this product was provided by Blackview.