We use affiliate links. If you buy something through the links on this page, we may earn a commission at no cost to you. Learn more.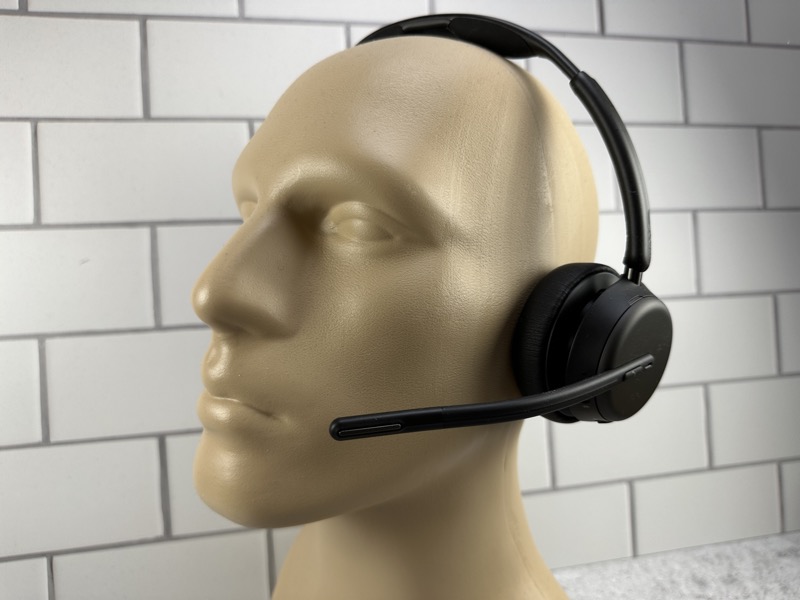 REVIEW – My interest in computer headsets has risen quite a bit since the era of desktop videoconferencing has become mainstream. Wearing a headset can be tiresome, and sound quality varies all over the place. The EPOS IMPACT 1000 series headset boasts a design to reduce wearer fatigue.
What is it?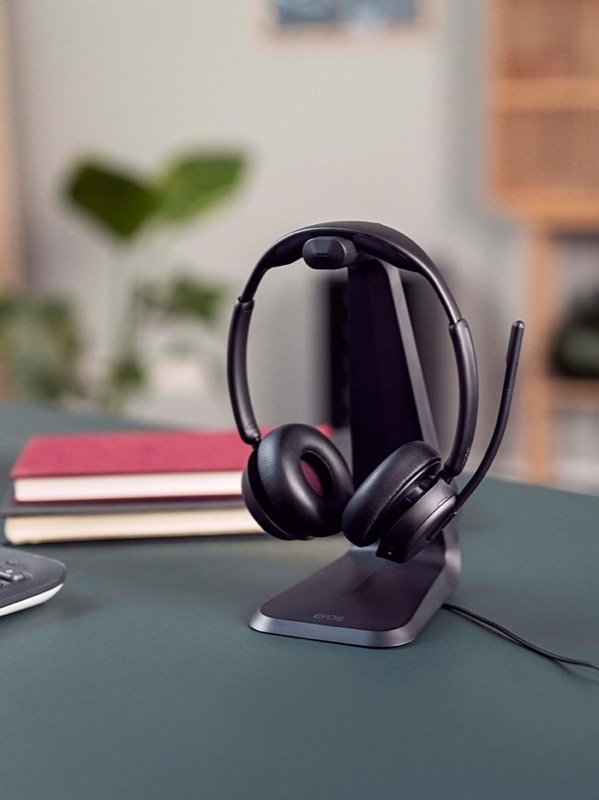 The EPOS IMPACT 1000 series is a wireless headset that features adaptive microphone technology to reduce background noise, and includes active noise cancellation for better concentration for the wearer.
What's in the box?
EPOS IMPACT 1000 series headset
Soft carrying pouch
Bluetooth USB dongle (BTD 800a)
USB-C cable (1.2m)
Safety & compliance sheet
Wireless charging stand (included in variants: 1061, 1061T, 1061T ANC)
Hardware specs
Connectivity: Bluetooth
Wearing Styles Available: Monoaural and binaural (binaural tested)
Microphone: 4 digital MEMS
Bandwith in call mode: Super Wideband
Multipoint connectivity: Triple connectivity
Active Noise Cancellation: Hybrid & adaptive
Wireless range: Up to 30 m / 100 ft
Microsoft Teams Certified: Yes
The EPOS IMPACT 1000 series headset by itself weighed in at 6.4 ounces.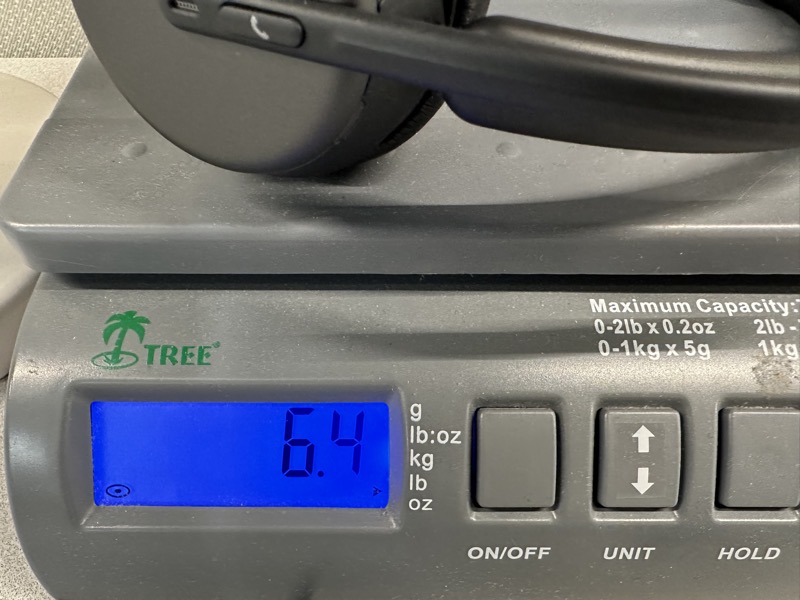 Design and features
The most obvious feature I wanted to try out of the box was the charging stand.  The EPOS IMPACT 1000 series headset rests on top of the magnetic charging "arm", and provides a wireless charge. When docked, an LED lights up.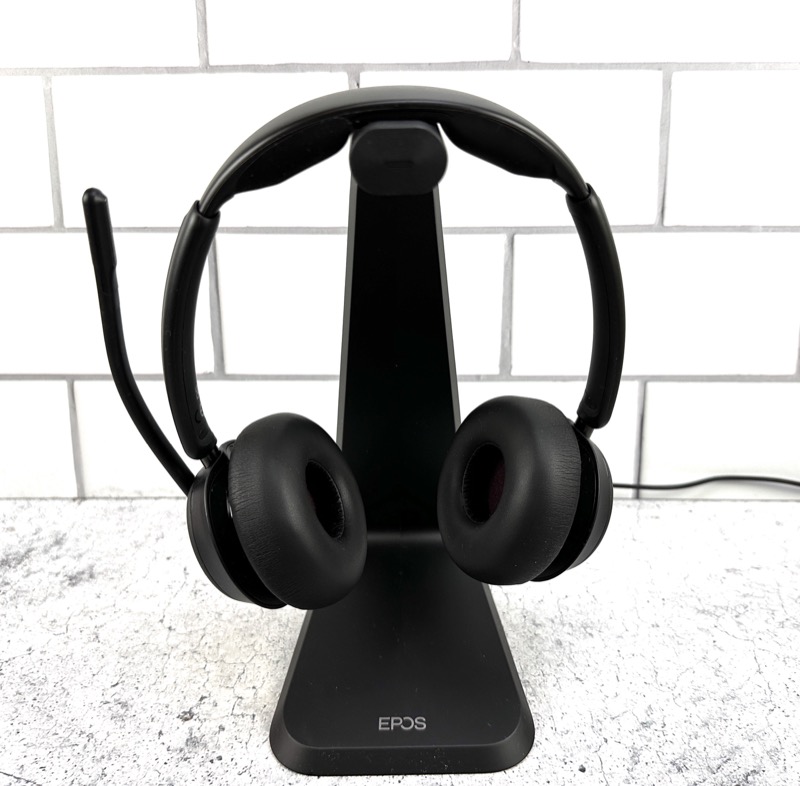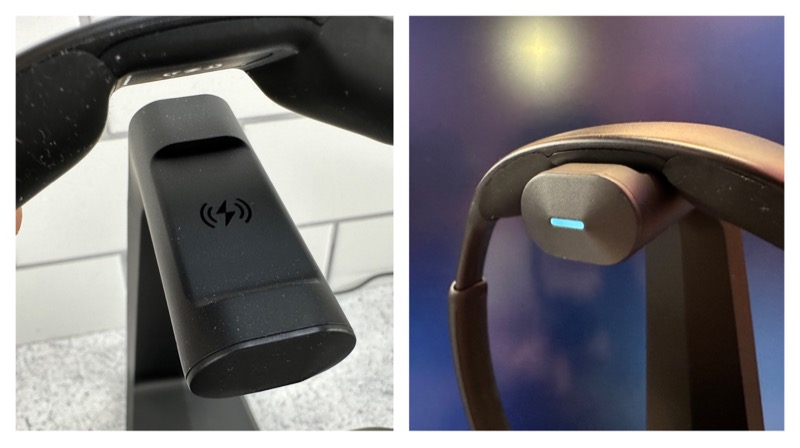 I received the double-sided binaural variant with active noise cancellation and a charging stand (Article 1001131) so the headset has a left and right ear cup. The cups have a wide swivel range.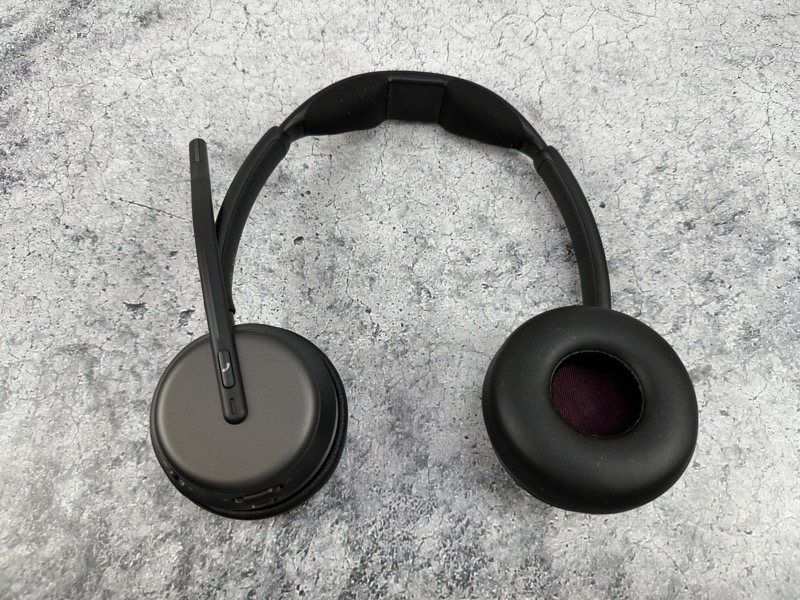 One side holds the power/Bluetooth switch, USB-C charging port, and volume slider. The volume slider also doubles as a mute button if you push inward. Note the call pick button on the base of the microphone.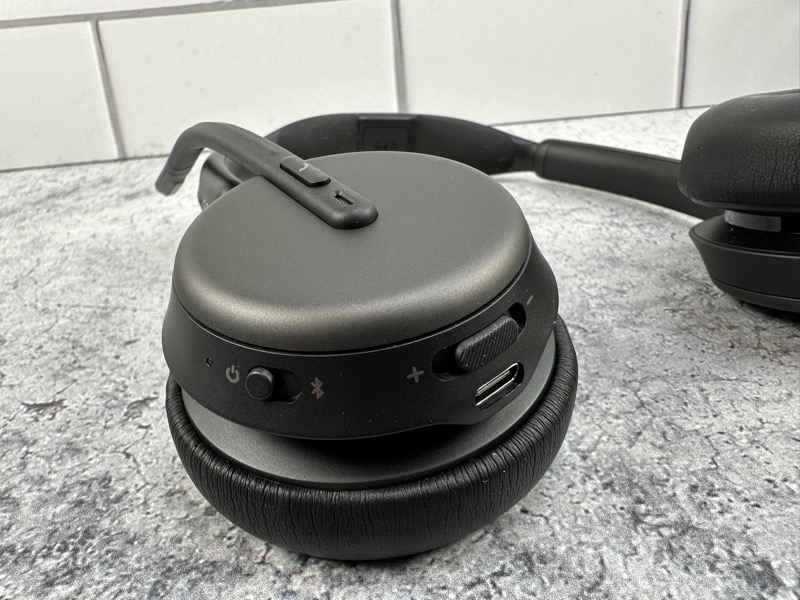 The other cup has a single ANC button that toggles the noise cancellation feature.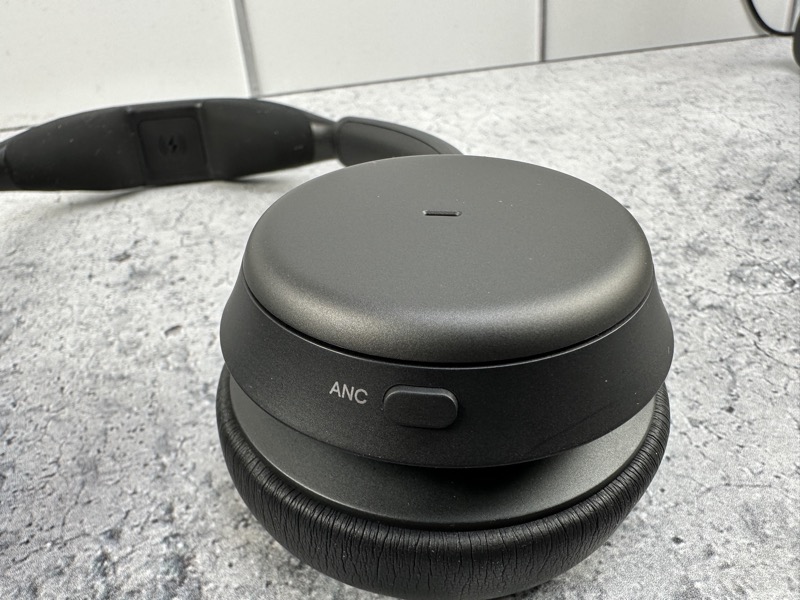 There's a USB dongle included. I have found that relying on a computer's Bluetooth is sometimes hit and miss. Using the included dongle remedies most connectivity "bugs".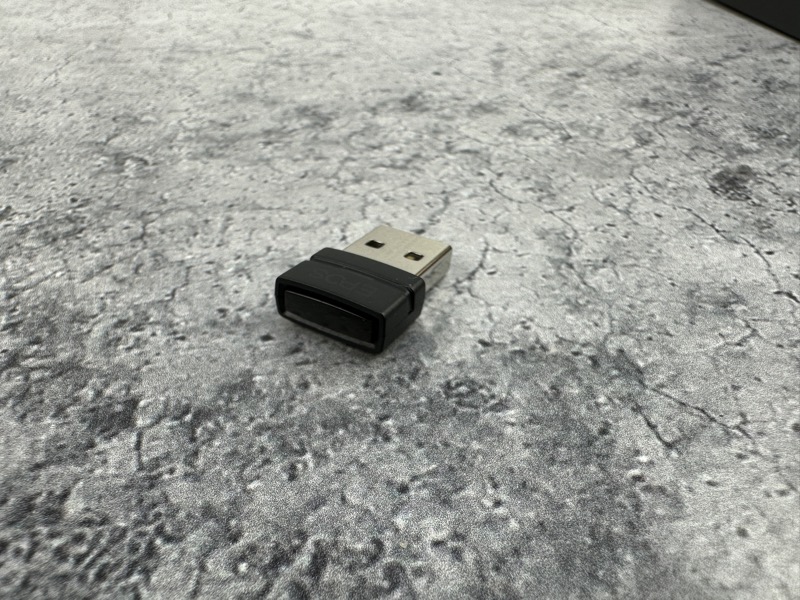 There's a nice carry pouch for the EPOS IMPACT 1000 series headset that has a small pocket that fits the USB-C charging cable and the wireless USB dongle.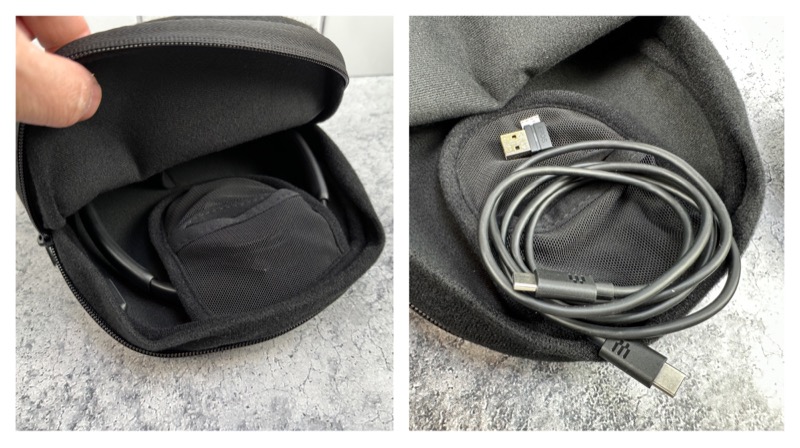 The ear pads measure 7 cm across (about 2-3/4 inches) and are very soft. I did not see any obvious way to swap ear pads if one becomes worn.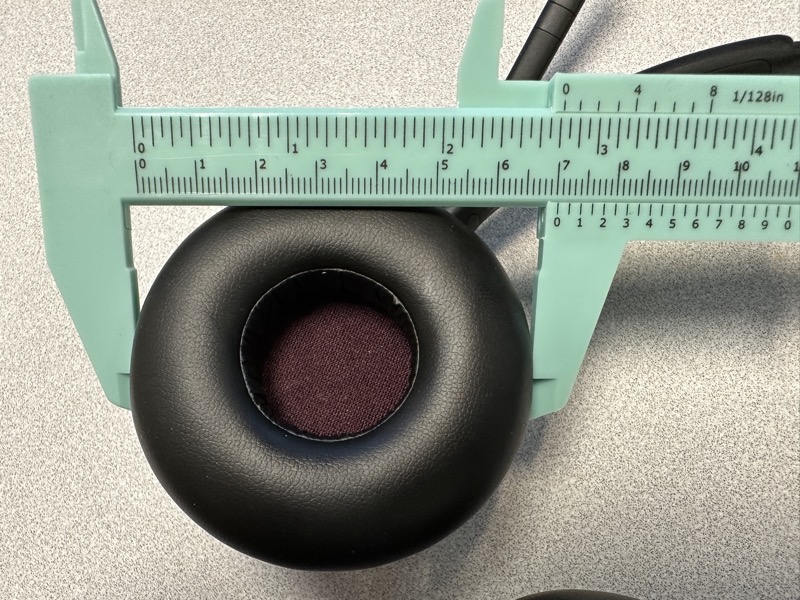 Setup
If you're not a fan of reading, good news! There's a diagram inside the lid that shows you pretty much everything you need to know to get going.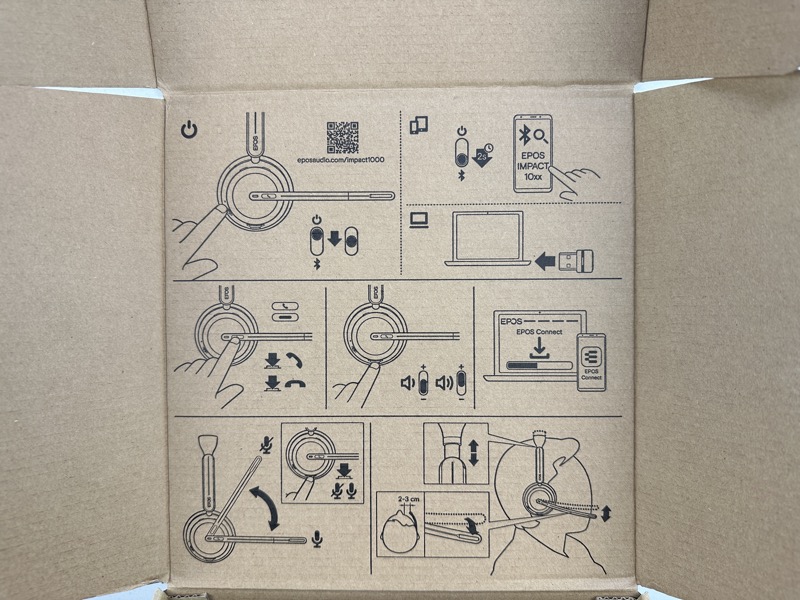 I plugged the wireless USB dongle into my computer, and it appeared as an audio source (Mac OS shown). Pairing via Bluetooth is optional.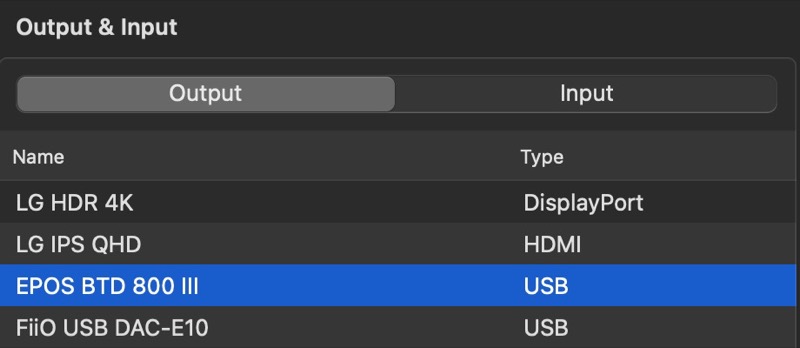 Performance
The microphone itself swings out of the way if you don't need it. It also doubles as a mute switch if you swing it up.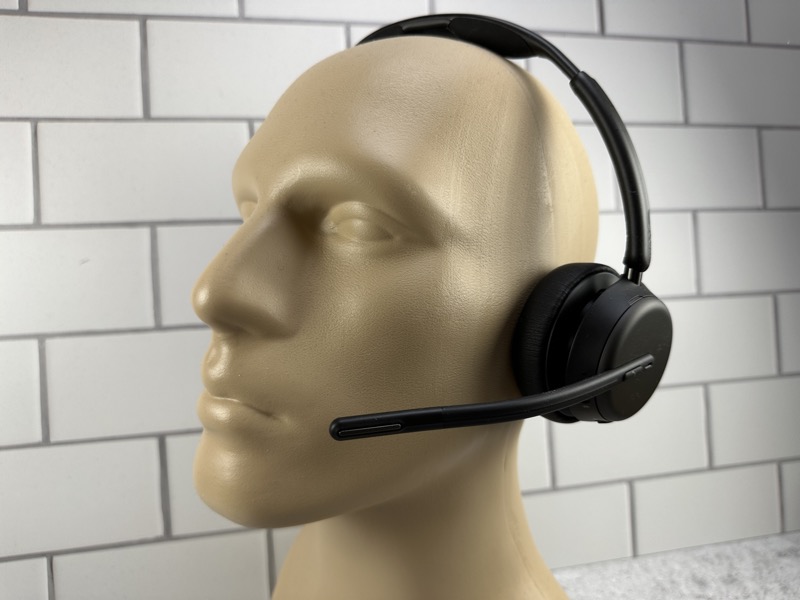 Here's a view of the headset from the front. The cups aren't as large as full-size, over-the-ear headsets.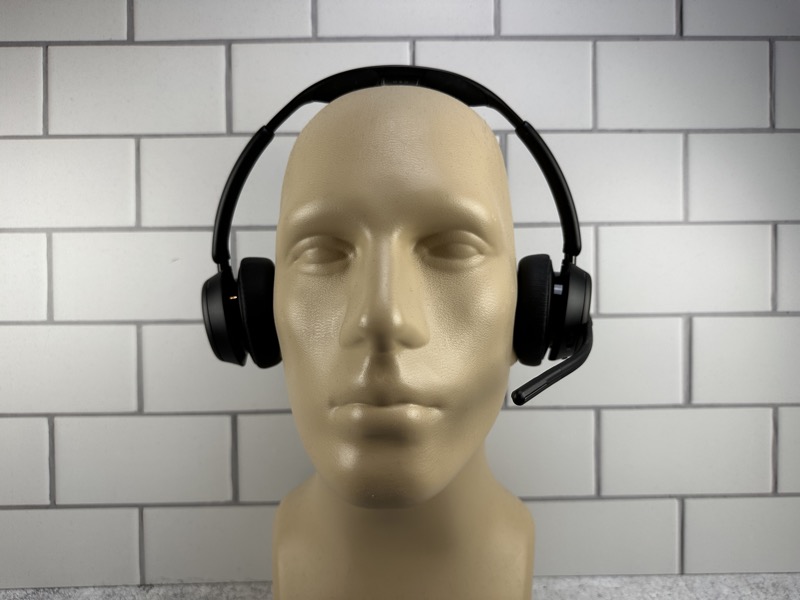 There's a tiny LED on the microphone side that shows power/pairing status.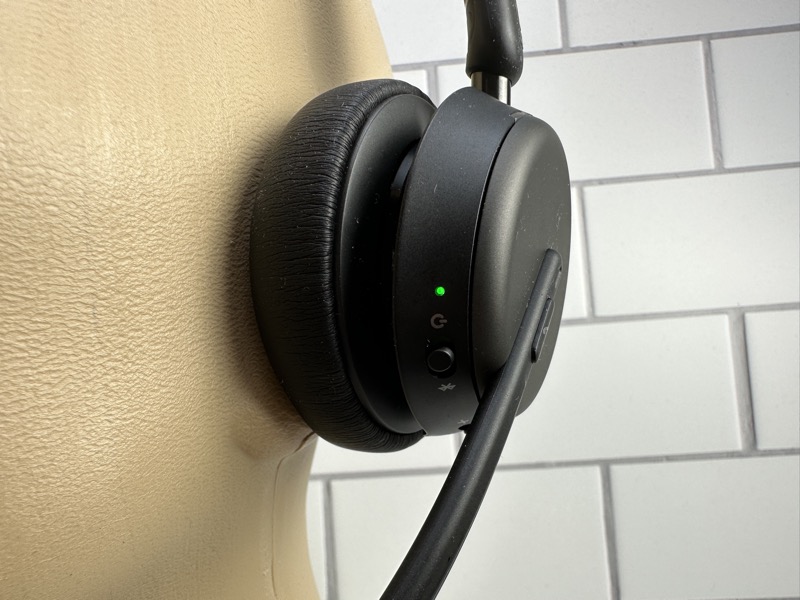 There are also two "busy lights" on each side to let others know you're in a call.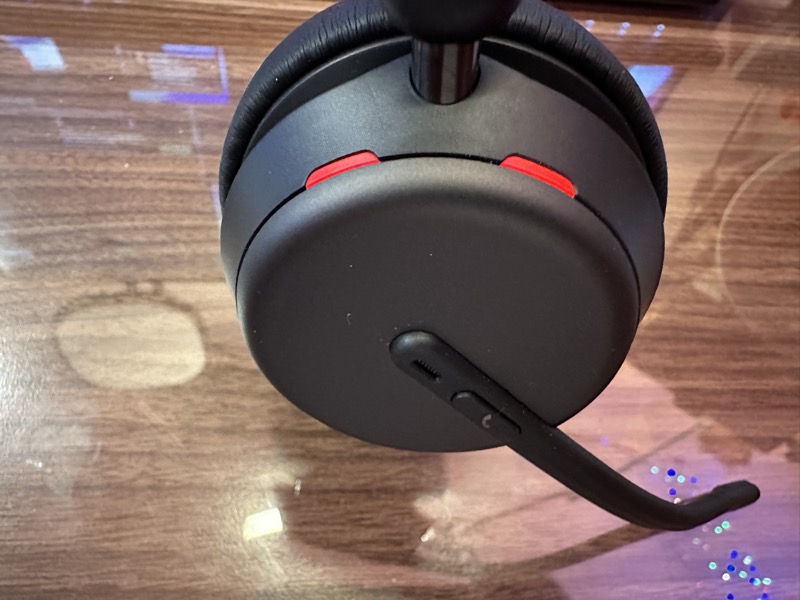 The ANC provides some reduction of outside noises. This can be a blessing if you're in a noisy work environment and you need to focus. I generally don't like ANC because I don't like to feel too isolated. The EPOS IMPACT ANC isn't too aggressive. It's not like sticking your head in a black hole, or wearing those famous Bose headsets on a flight. If you're looking for the cone of silence, this isn't it. That's not a bad thing.
As for the microphone's ability to reduce unwanted sounds, I set up a test where I spoke into a regular webcam on my monitor, and again wearing the headset.
Webcam mounted on top of a monitor, one arm length way.

EPOS IMPACT 1000 headset speech sample, same room.

To simulate consistent noise, I took some paper and crumpled it in my hand while speaking.
Crumpling paper noises with webcam mounted on top of a monitor, one armlength way.

Crumpling paper noises while wearing the EPOS IMPACT 1000 headset.

I could not make out any crumpling sounds with the headset sample. There did seem some slight audio variances in the speech but nothing too aggressive or intrusive.
What I like
Superb build quality
Sleek magnetic charging stand
Natural-sounding microphone noise reduction
Wireless USB dongle reduces connection headaches
What I'd change
The volume controls aren't the easiest to find by touch. Takes practice.
No obvious way to change earpads if necessary
Final thoughts
There is no doubt that this is a premium headset. The microphone's ability to block unwanted noise is impressive, and the magnetic charging stand just begs you to fiddle with it. If you need a professional looking headset that can weed out sounds, give the EPOS IMPACT 1000 series a look.
Price: From $289 ($429 as tested)
Where to buy: EPOS Audio and CDW
Source: The sample of this product was provided by EPOS Audio.