We use affiliate links. If you buy something through the links on this page, we may earn a commission at no cost to you. Learn more.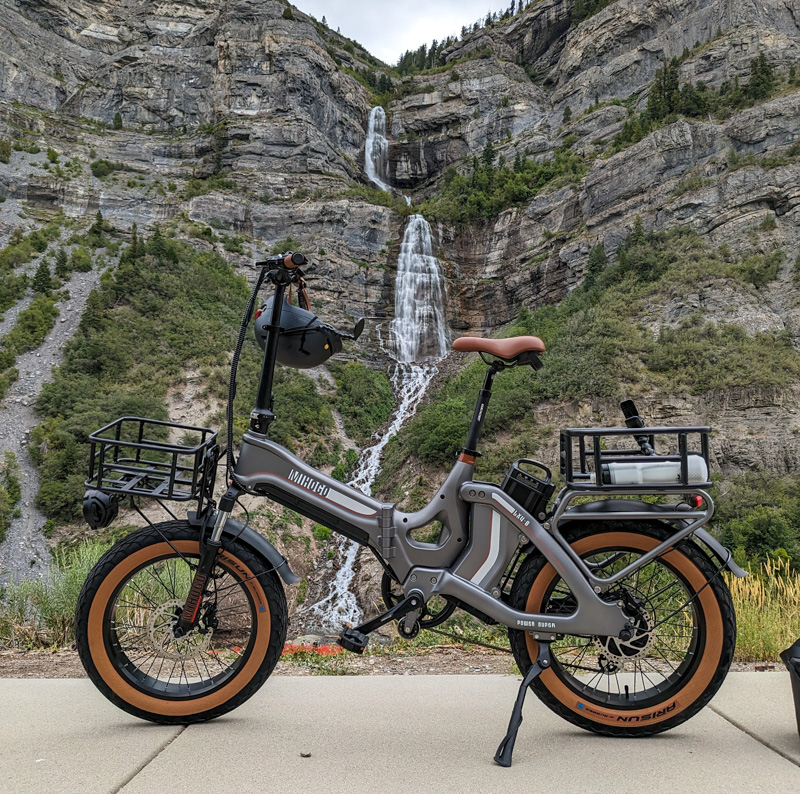 REVIEW – While we've reviewed quite a few electric bikes here at The Gadgeteer, not many of them so far can go much farther than ~40 miles on a charge. If you end up riding more than that between charges, you're likely to end up with a dead battery, and a 60-80 pound bike can be exhausting to pedal in that case. Mihogo offered to send over their LX 4.0 folding electric bike, and I was excited to see if it could be my new goldilocks bike: small enough when folded to fit in a trunk, have lots of range, enough power to not feel slow, and capable of carrying a bit of cargo for adventures or around town errands.
What is it?
The Mihogo LX 4.0 electric bike is a folding electric bike, with dual batteries paired to a 750 watt motor to provide speed and range. A stylish silver/brown/black colorway and integrated rear rack makes for a stylish bike right out of the box, and you can add on accessories like brown saddlebags or front and/or rear racks for cargo (sold separately). The front and rear racks were sent to me for the review, but aren't included with the bike.
What's in the box?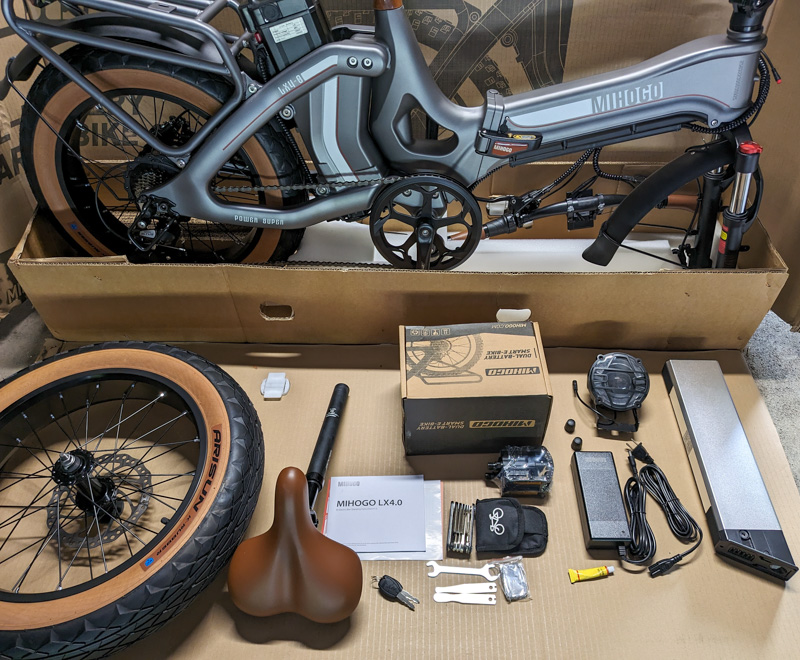 Mihogo LX 4.0 electric bike
Hydraulic shock saddle post and saddle
Toolkit and wrenches/levers
Flat tire patch kit
Front battery (rear battery is installed)
Pedals
Headlight
Keys
AC Charger
Manual
Hardware specs
Motor: 750W (1000W peak) rear hub motor with 85 Nm of torque
Max speed: 28 mph (Class 3)
Range: 80-100 miles
Connectivity: Bluetooth Low Energy
Batteries: 12.8 Ah (614.4 Wh) + 16 Ah (768 Wh)
Charger: 48V / 2A
Pedal Assist Levels: 5
Charge time (from empty): 6 hours front battery, 8 hours rear
Range: 80-100 miles
Mobile app (optional): IOS/Android
Frame material: "magnesium integrated"
Display: IPS 3.5″ LCD "Smart Easy Read" with backlight
Front fork: Hydraulic adjustable shock with lockout
Brakes: Hydraulic Disc
Tires: 20×4.0″ Chaoyang Puncture Resistant brown sidewall
Saddle: PU Foam Brown
Seatpost: Hydraulic shock post, 31.6mm x 300mm
Stem: Folding and Height Adjustable
Max weight: 440 Lbs
Bike weight (including batteries): 81.6 Lbs
Design and features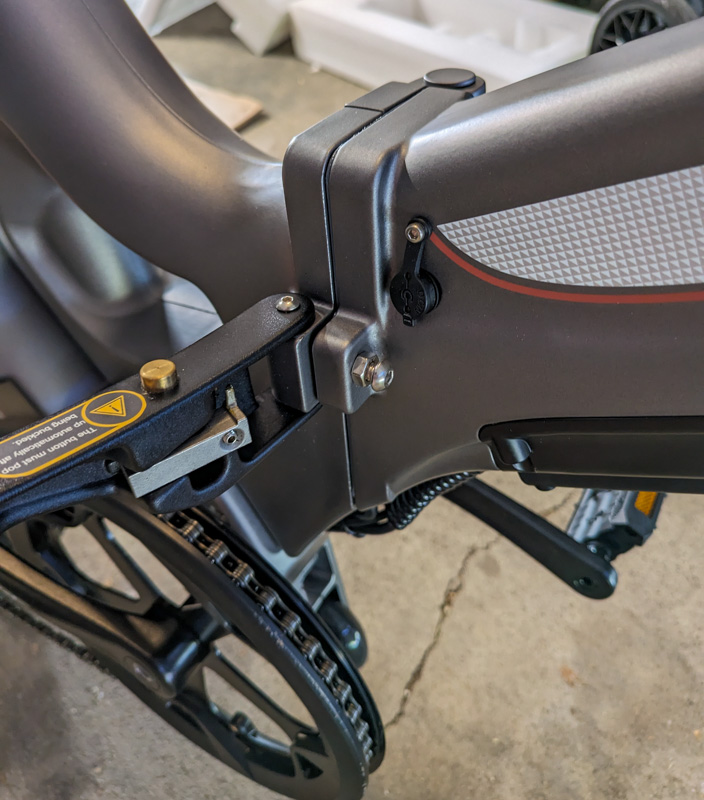 Since the Mihogo LX 4.0 electric bike is a folding bike, so I'll start there on the design. A locking lever secures the bike while riding, so this is where you'll start unfolding it (a pin has to be pressed in then the lever pulled out).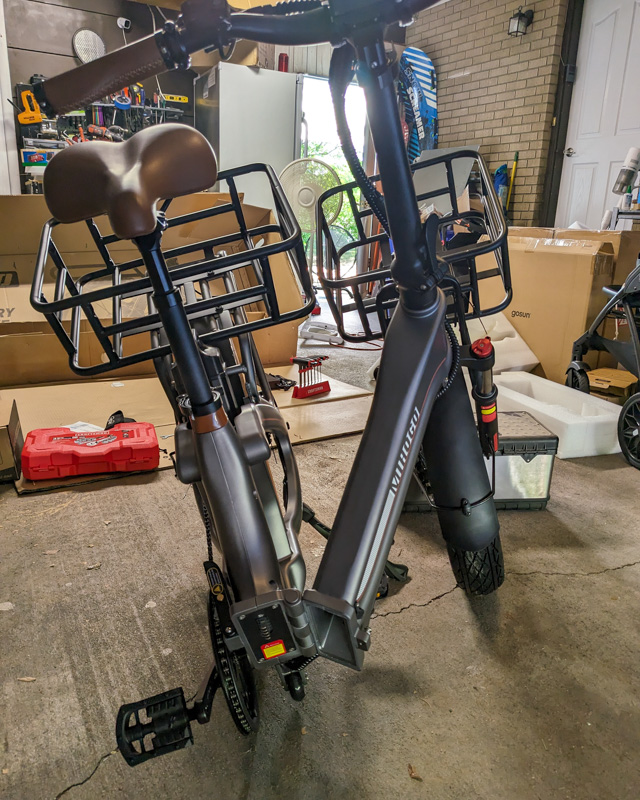 The handlebars also fold down as well as featuring adjustable heights. In the photo above, you can see the opening in the main tube for the forward battery. With both front and rear bike racks installed, the bike doesn't fold as flat as it does without them – something to consider if you're going to be transporting it folded frequently.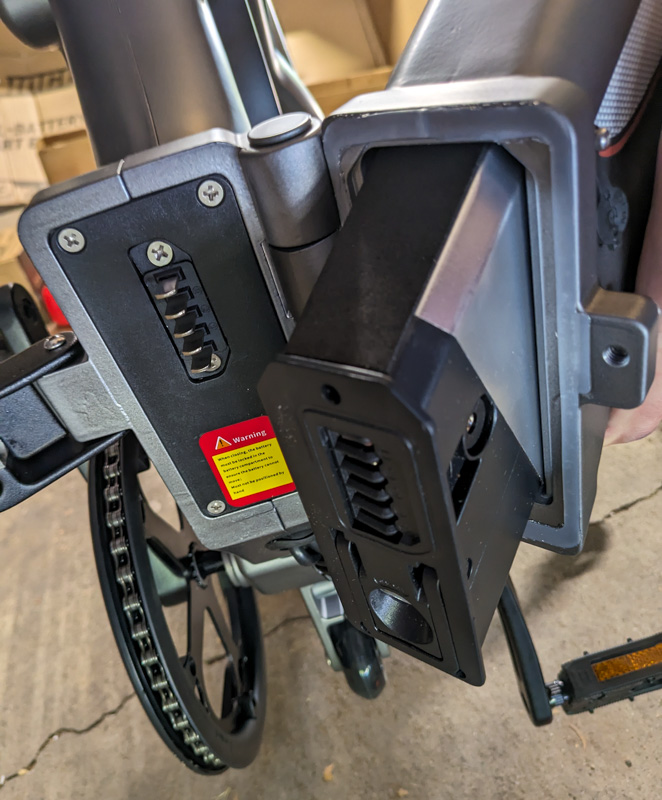 This front battery needs to be pushed in and then locked once in place with the provided key. It does have a charging port on it, so you could fold the bike, pull it out, and charge it somewhere away from the bike (though I definitely wouldn't want to do this very often).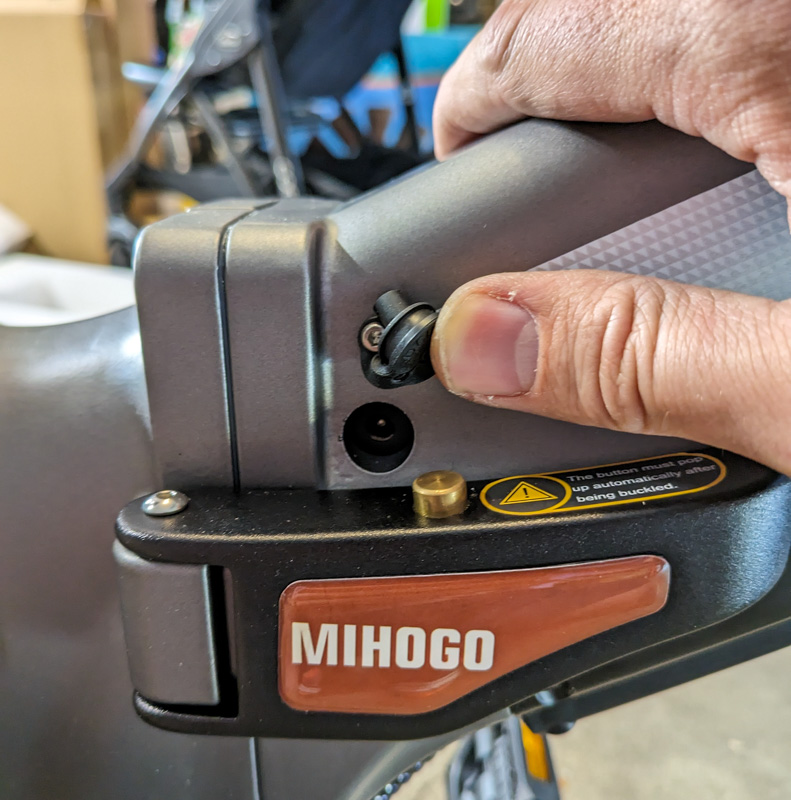 The charging port for the front battery is accessed right above the folding lever machinism. A weather resistant plug keeps water and dirt out while riding.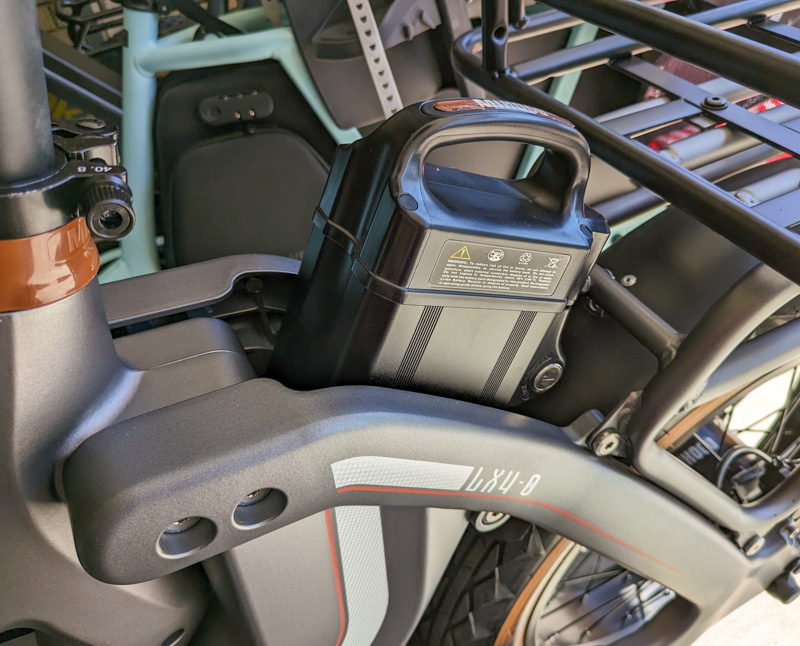 The rear battery ships with a foam spacer so it's not making electrical contact while in transit, so you'll need to pull it out, remove the spacer, and insert it back in. Make sure to do this before installing the rear basket, if you get one (the rear basket blocks this rear battery from being removed). Without the rear rack you can carry this battery and charge it away from the bike as well.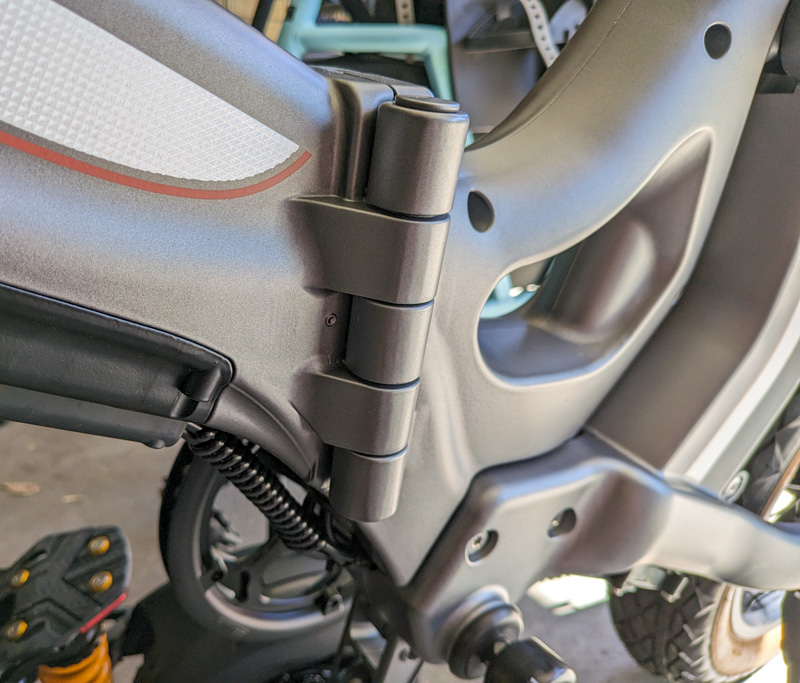 The magnesium alloy frame seems sturdy, and the hinge and folding mechanism have no wobble. Once folded up, the bike fits easily into our cargo area, but it might be a tight fit in smaller cars (we have a compact SUV with a large cargo area).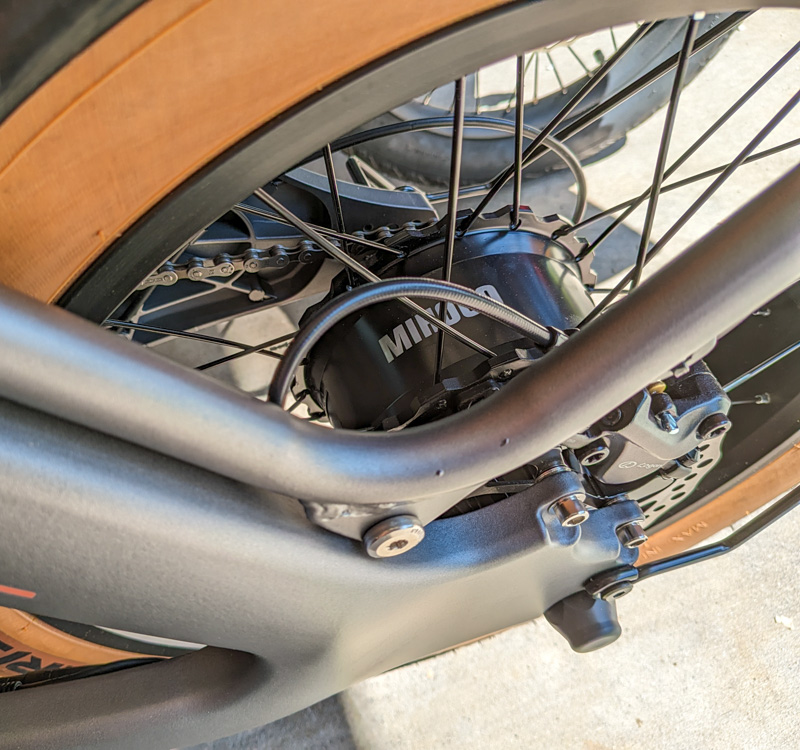 The 750 watt motor (1000 watts peak) providing 85 Nm of torque is in the rear wheel hub. This motor provides ample acceleration and around 25 mph top speed for this 220 pound reviewer (with no pedaling – can push it a bit faster if I add my own power).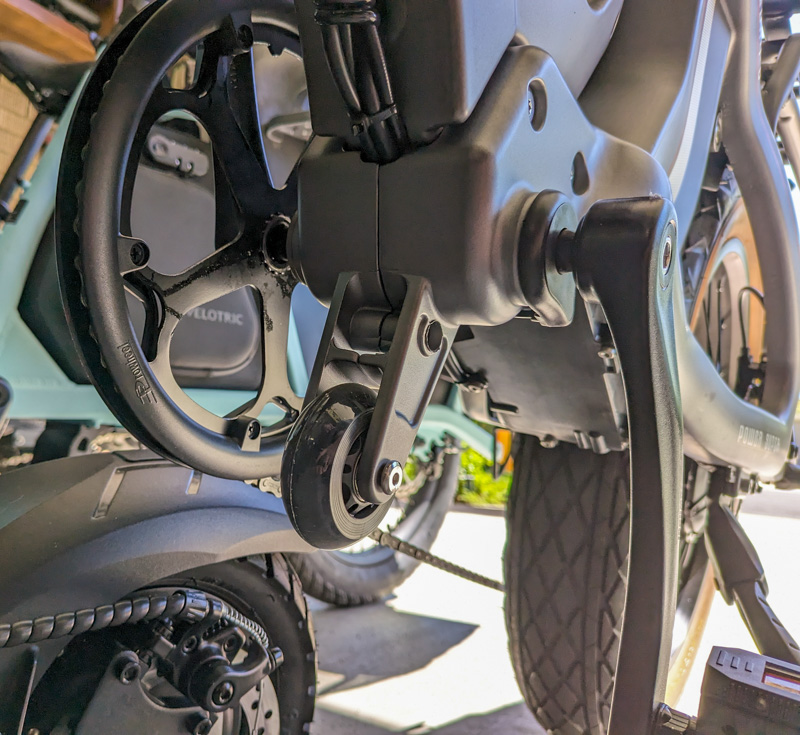 Under the bike is a handy miniature wheel that keeps the bottom of the bike from being scraped up when in folded form.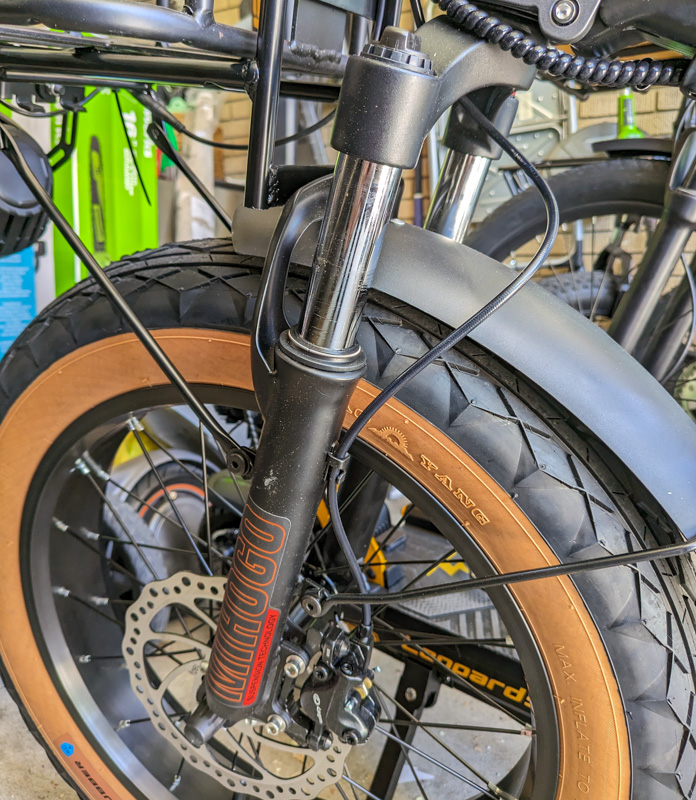 The front fork easily absorbs small to medium bumps and uneven terrain. It's adjustable and can be locked out entirely for more stability on smooth flat rides. The tires have a great-looking brown sidewall that gives the bike some retro flair, and the tread pattern is good for most hard surfaces but lacks the knobby depth you'd want for anything offroad.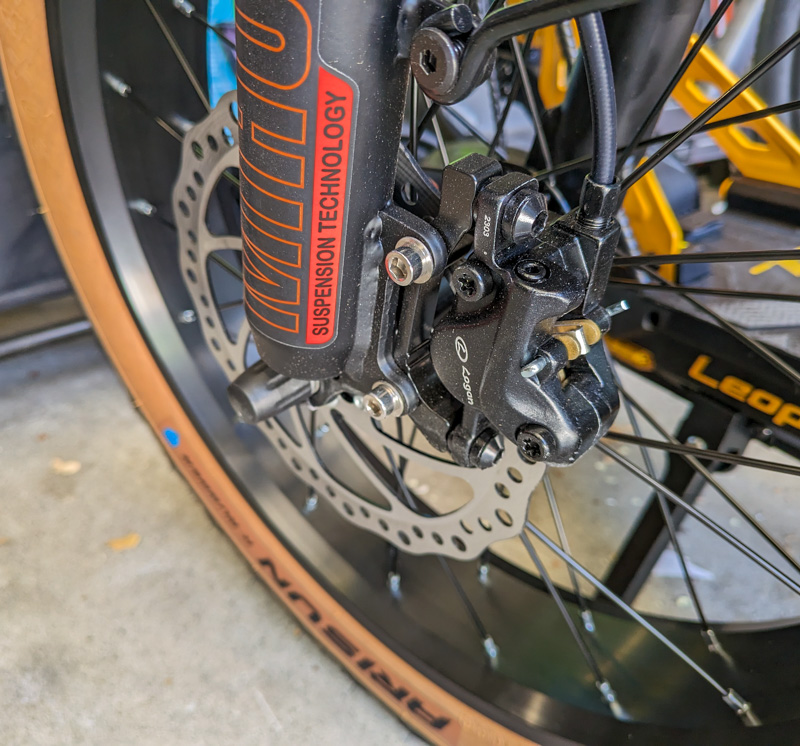 The hydraulic disc brakes are up to the task of stopping the bike quickly, and were well adjusted from the factory.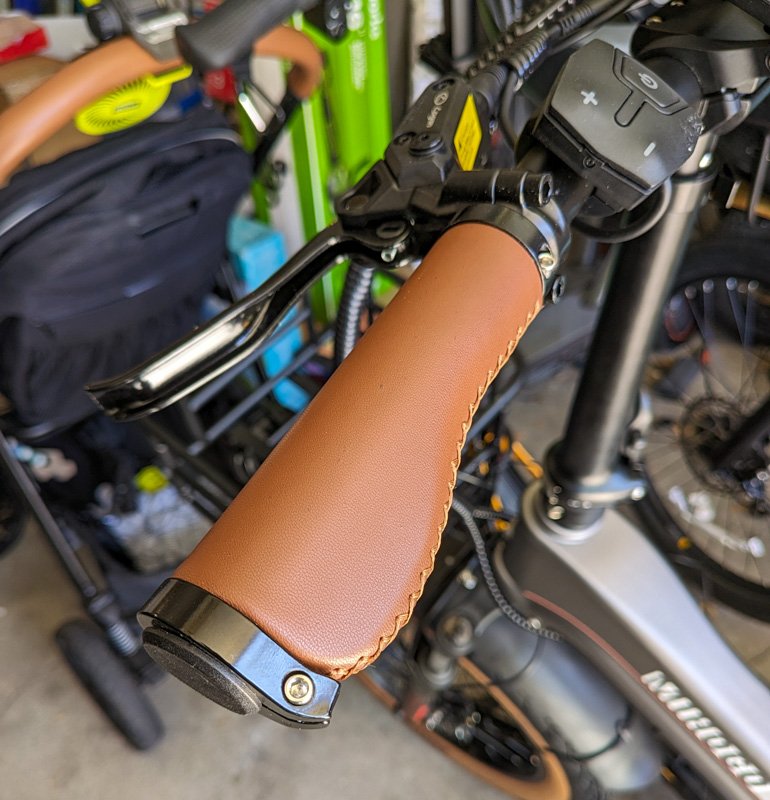 The handlebars have a great leather (or fake leather?) material, and a shape that feels good in the hands while riding.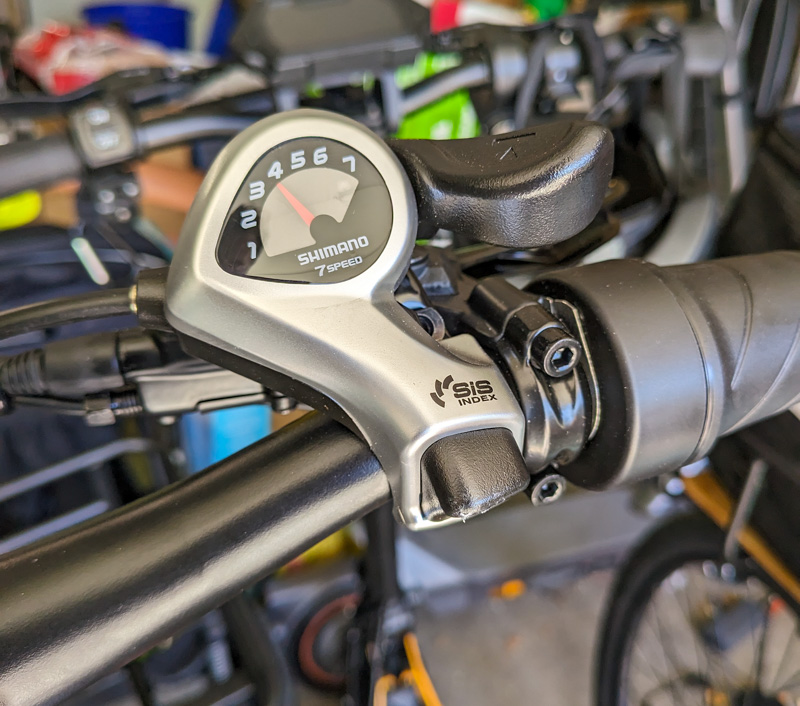 The Shimano shifters and derailleurs worked great. The gears are a good ratio for this size of bike and it's intended purpose: you don't feel like you run out of gears at high speed. I typically just leave the shifter on gear 7 and use the half-twist throttle to get up to speed from each stop, only downshifting when climbing steep hills and helping the motor out to go a bit faster.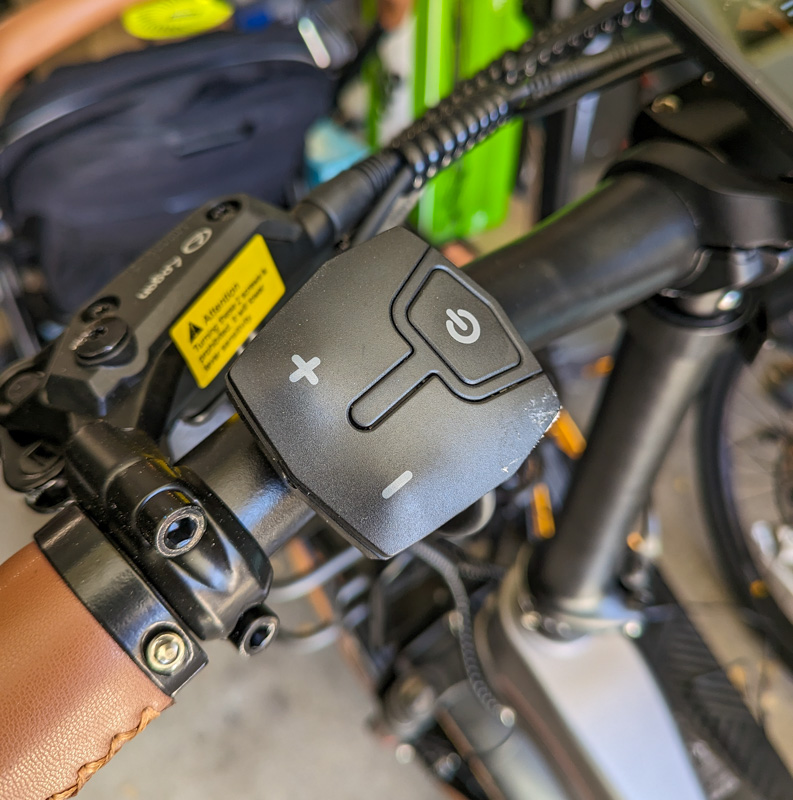 A simple 3 button control cluster makes it quick and easy to change pedal assist levels on the fly, and also works well to navigate the menu while you're stopped.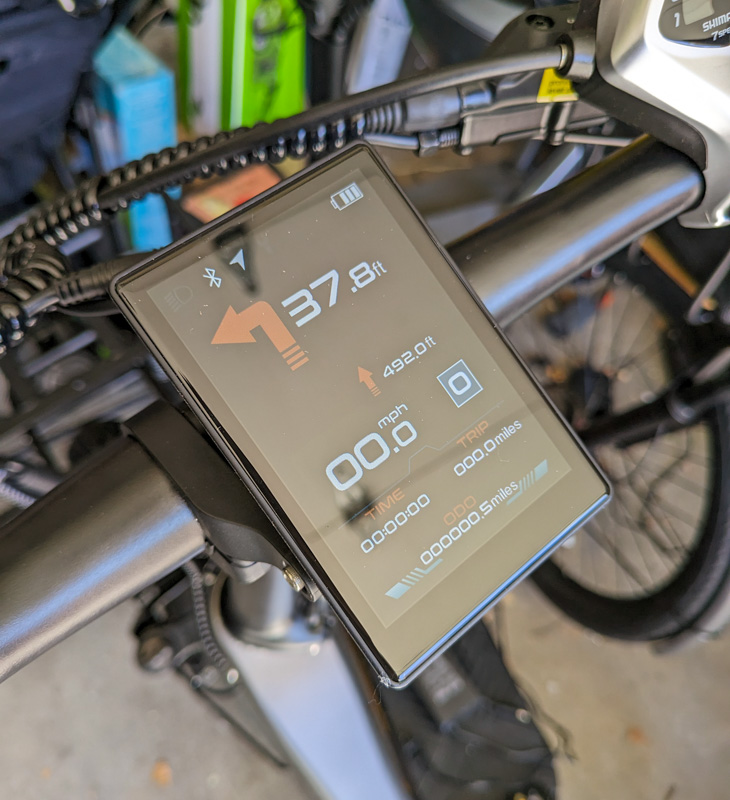 The display is easily readable in most conditions, except if direct sunlight is reflecting right onto your face. Luckily you can easily adjust the angle of the screen in that case. You can also see the optional smartphone-controlled navigation in work in the photo above: you can get real-time navigation instructions right on the screen while riding around without needing to mount your phone (which can be problematic to newer phones and optical image stabilization systems). I like that Mihogo gives this app-driven functionality as a bonus, but the bike operates completely independently of it (so if the app ever stops working or they go out of business, the bike will still function and just lose the navigation feature).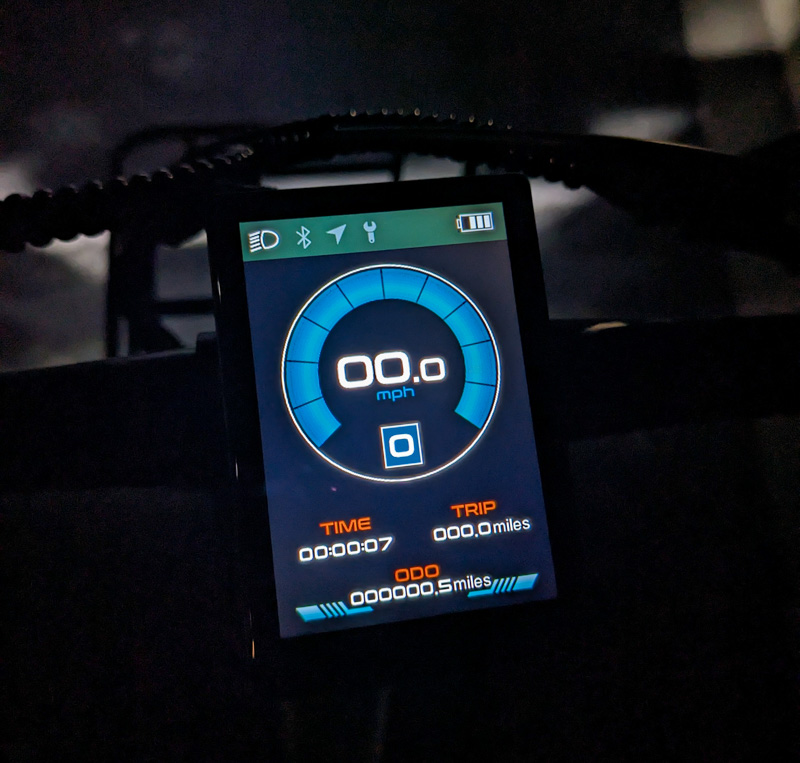 At night, the color display is backlit and very easy to see. If navigation is not being used, a large speedometer dominates the screen.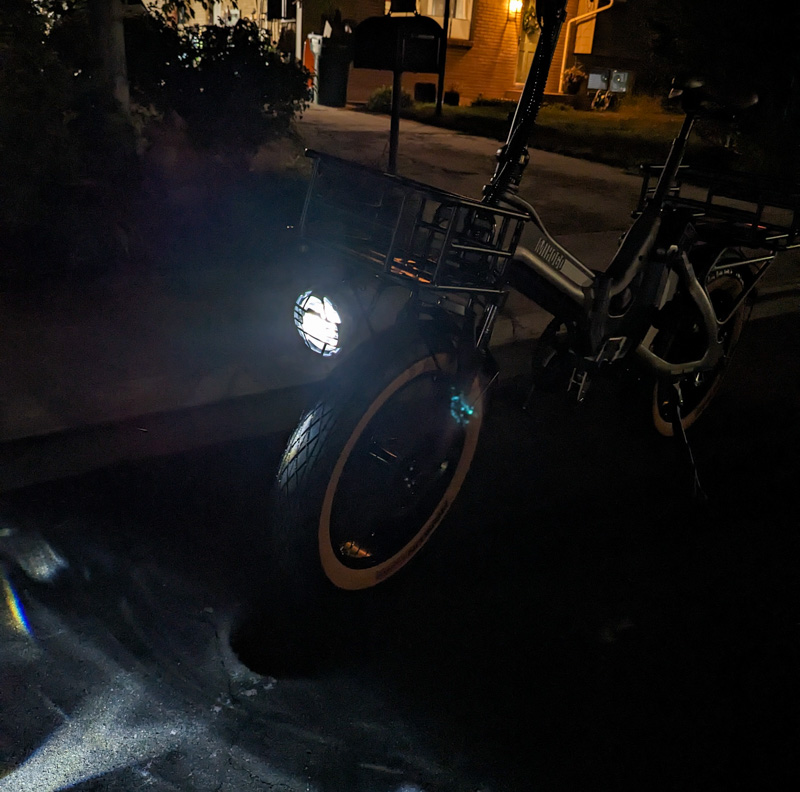 The front light is bright, and normally you'd mount it at the top of the front fork, but with the front basket there's an extension cable and mounting point to go on the front of the basket.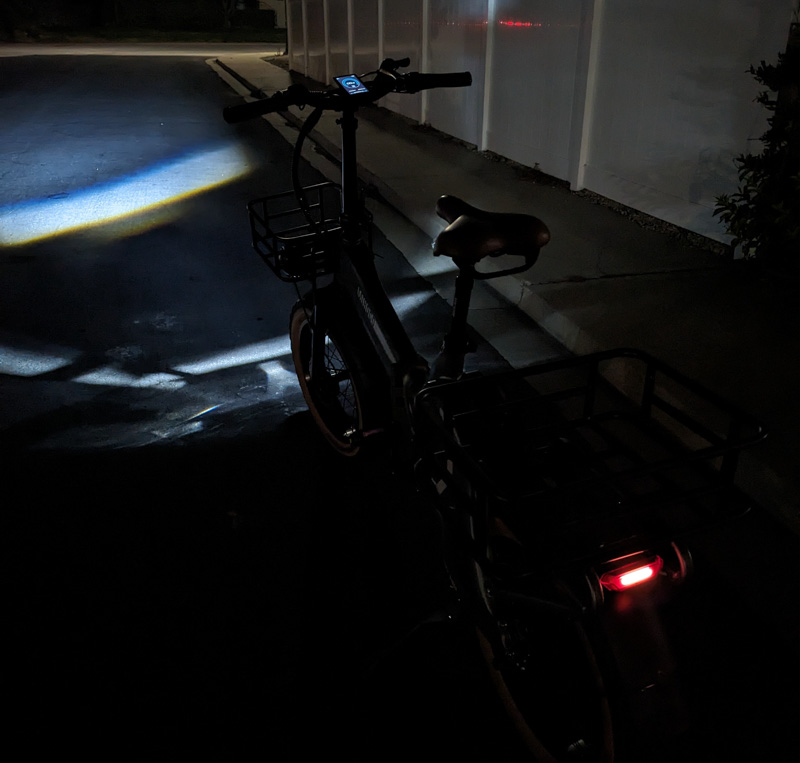 The rear brake light is bright, especially at night. This lights up day or night when you brake whether the lights are on or off.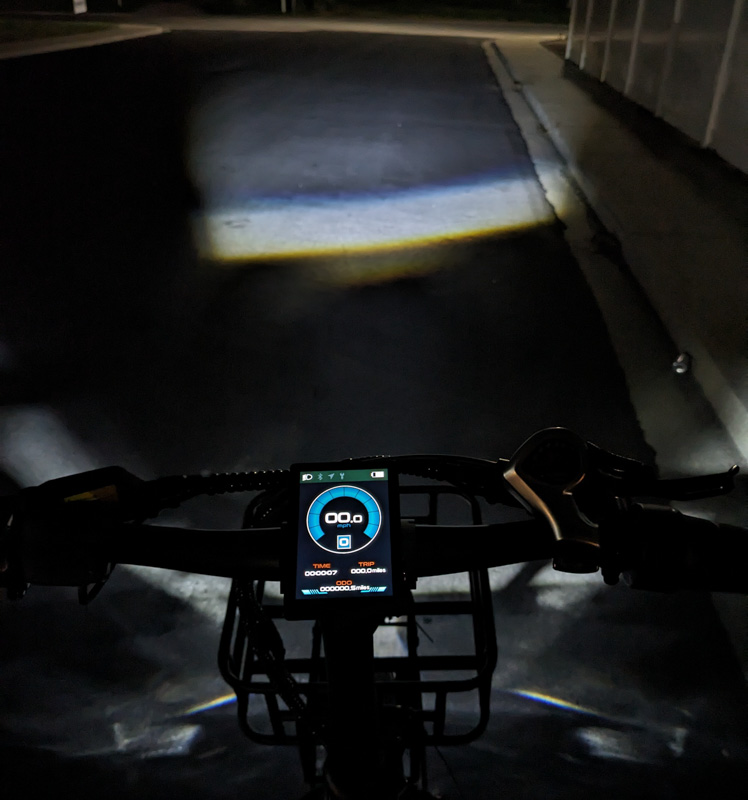 And this final photo shows the headlight pattern at night. As you can see, it nicely illuminates the road ahead.
Setup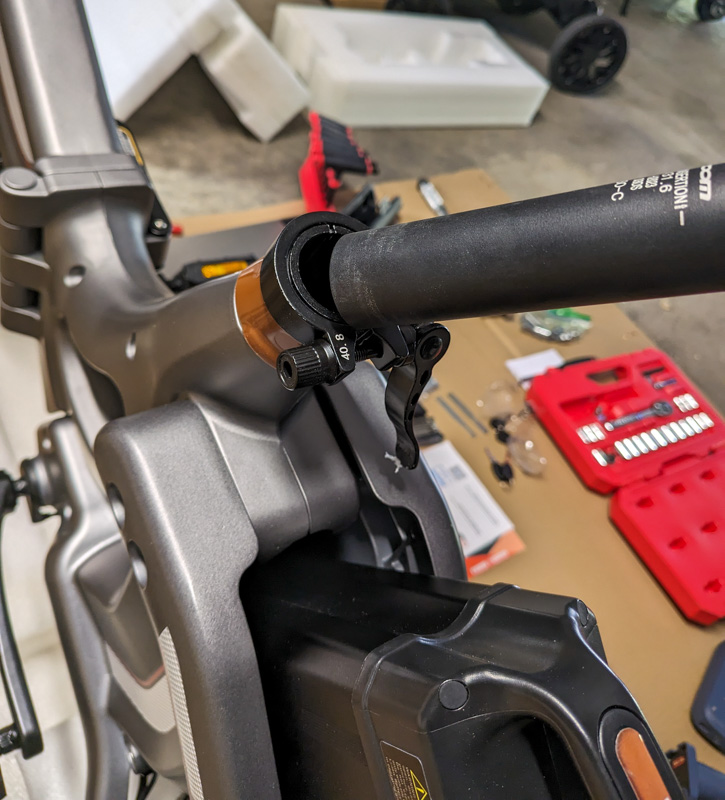 Setup is just like most of the other bikes we review here, but one minor difference is the need to pull out the rear battery to remove shipping material at the bottom, then reinsert and lock it.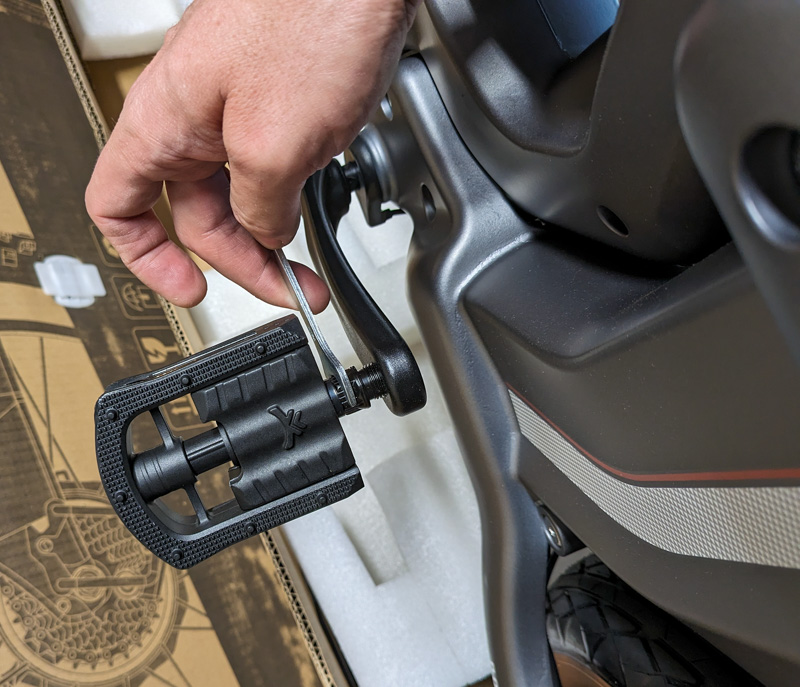 The pedals are a bit smaller than average bike pedals, I do wish they'd done full size ones here, but you can easily replace them. The ones included are folding though, to take up less space when transporting the bike.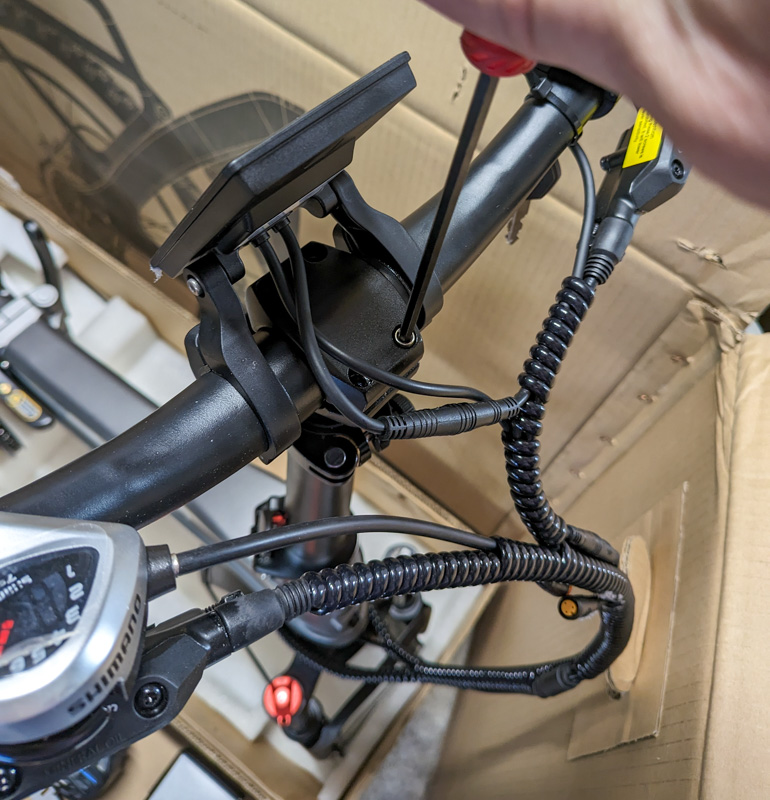 You'll need to install the handlebars to the handlebar stem, like most other bikes.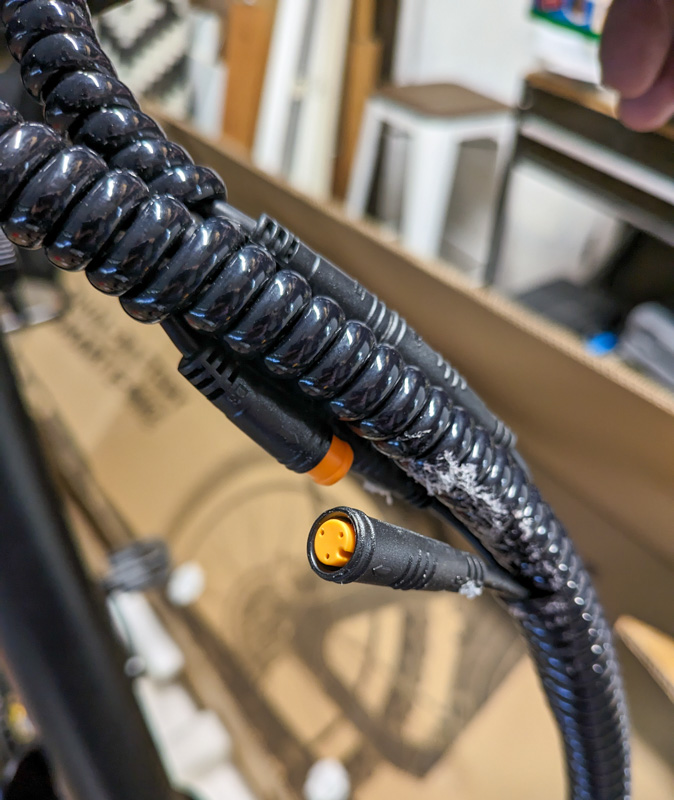 Finally, you'll connect a few wires (and add a wire extender if installing the front bike rack.
I then installed the phone app, called Bikego on both Android and iPhone, and the experience was nearly identical on both. Here's permissions and screenshots on Android (the iPhone app is nearly identical so I didn't take a second set of screenshots):
Navigation through the app is easy and works pretty well, though I would prefer street names for upcoming turns instead of just a "feet until next turn" which is what's displayed on the bike's screen.
Performance
The first time I set the power level to highest on the Mihogo LX 4.0 electric bike and twisted the throttle, I had a giant grin on my face. It ranks among the fastest ebikes that I've been able to try out (though I haven't touched the insane 50+ mph bikes yet). Acceleration is the nearly the best I've experienced on all the ebikes I've reviewed or purchased myself (getting close to double digits here!).
Handling is really nice for a folding bike with slightly smaller tires, it really doesn't feel like a "clown bike" which can be a problem for some folding ebikes with small tires. The only exception to that statement are the pedals, which feel a bit small. Luckily this is easily changed, but I wouldn't want to ride every day or long rides with these pedals. It's nice that they're folding though.
Here's a video of ride testing:
https://youtu.be/0zXDnVoDeVE
Finally, range testing. I've had one other dual-battery bike before, made by eCells, and it had a custom load balancer and charger that distributed charge and draw between the two batteries. I haven't been able to fully confirm, but based on my testing it seems that the Mihogo LX 4.0 electric bike takes a different approach and charges and uses the two batteries independently. Nothing is specific in the manual except for two charging ports, and on the website it cites different charge times for front and rear battery, and based on my testing it seems that they need to be charged independently. I then did a long range ride of about 30 miles including a long medium hill climb, which brought the battery meter on the display down to less than 1 bar. However, when I turned the bike back on a short time later, it was at 3 bars. This could indicate that it automatically switches between batteries, or it could be the natural bounce back in battery voltage after long use on a hot day.  I think Mihogo's 80-100 mile claimed range is probably accurate with a lighter rider, flat surfaces, low speeds, and milder weather. Getting 30 miles in grueling conditions is nearly the best I've achieved on an ebike so far, and it seemed like it was going to give me another 20 by switching to the other battery!
What I like
Good acceleration and top speed – without feeling unsafe
Good handling, feels like a normal fat tire bike
Nice components and build quality
What I'd change
Small pedals – just a bit bigger would feel much better
Navigation requires extra payments if you use it heavily – would have preferred direct integration with Google/Apple maps for both functionality and avoiding that hassle.
The optional front basket is mounted by a single bolt to the top of the fork combined with two support arms to the middle of each side of the fork – seems like it can't carry much weight, and a is bit wobbly and rattles.
At full retail price I'd really like to see a torque sensor. While the cadence sensor is better than most (sensing your pedaling and adding electric motor power according to your PAS level), a torque sensor provides instant and more intuitive assistance.
Final thoughts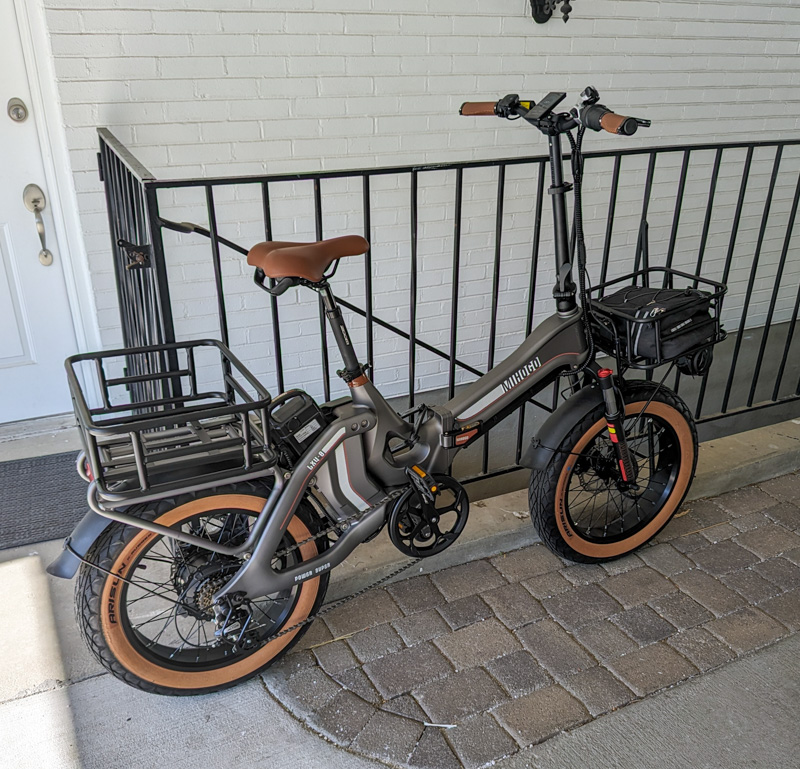 Overall, the Mihogo LX 4.0 electric bike is a great urban commuter, combining ample power and utility with subjectively great style. The ability to fold up the bike into a trunk can be a lifesaver for some: the heavier nature of electric bikes may be too much for existing bike racks, and heavier duty ones are expensive! In the several weeks of reviewing the bike, I looked forward to any excuse to take it out. I could run errands while also having a fun ride, and that's a win for me!
Price: $1899 (on sale for $1599 at time of review)
Where to buy: Mihogo
Source: The sample of this product was provided by Mihogo