We use affiliate links. If you buy something through the links on this page, we may earn a commission at no cost to you. Learn more.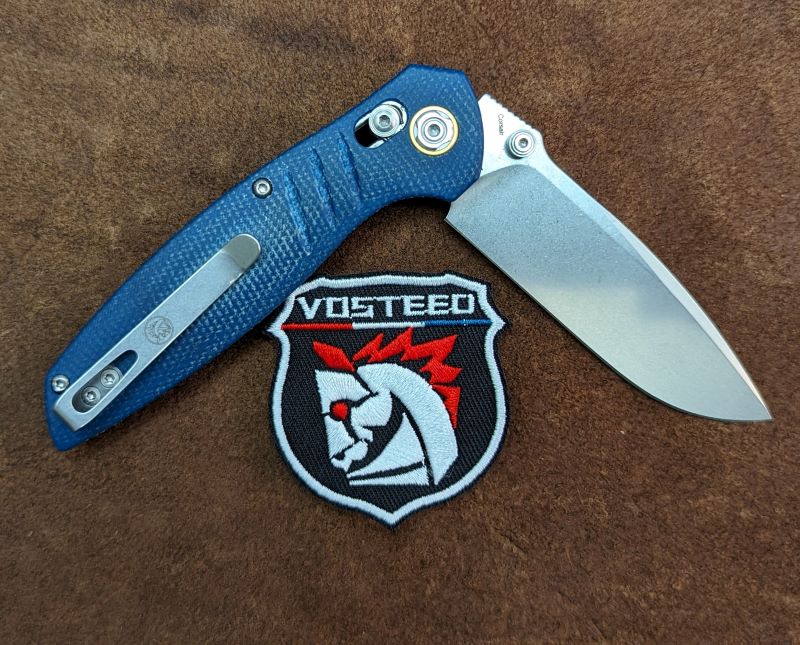 REVIEW – This may come as a shock to you, dear reader, but we LOVE Vosteed knives here at the Gadgeteer (actually if it does come as a surprise, you should visit our site more). We've got several reviews on their knives and I don't think we've gotten a dud yet. The new Vosteed Corsair knife is no exception. So, if you like quality knives made with great materials and a fantastic price, keep reading. This Corsair might cause you to lose a little money, but you won't mind.
What is it?
The Vosteed Corsair is a pocketknife with Micarta handle scales ( I love Micarta) and a Nitro-V blade.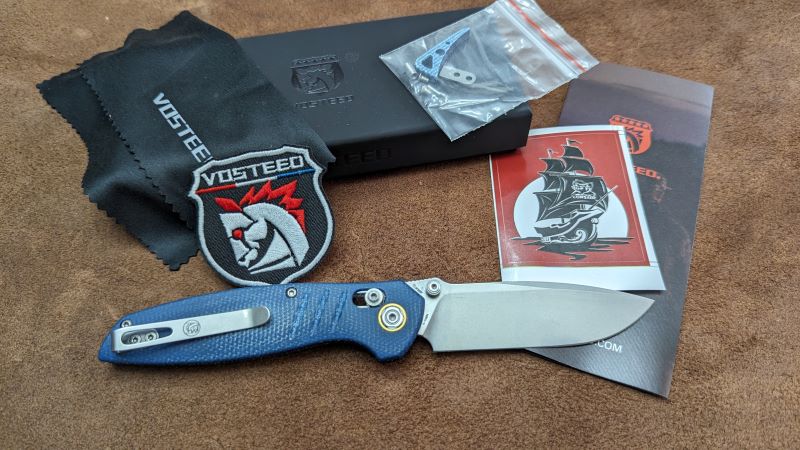 What's in the box?
The Vosteed Corsair
A Vosteed patch
A Corsair sticker
Microfiber cloth
Extra hardware
Warranty info/Care instructions
Hardware specs
Model Number: CS29NWML
Overall Length: 7.58″ | 192.48 mm
Blade Length: 3.25″ | 82.55 mm
Blade Width: 1.04″ | 26.49 mm
Blade Thickness: 0.118″ | 3.00 mm
Blade Material: Nitro-V
Grind: Flat
Blade Style: Modified Drop Point
Finish: Stonewash
Hardness: HRC 60±2
Handle Length: 4.33″ | 109.93 mm
Handle Width: 0.94″ | 23.91 mm
Handle Thickness: 0.49″ | 12.4 mm
Handle Material: Micarta
Color: Blue
Weight: 2.91 oz | 82.5 g
Opener: Thumb Stud
Lock Type: Crossbar Lock
Pivot Assembly: Caged Ceramic Ball Bearing
Pocket Clip: Stainless Steel | Reversible
Carry Position: Tip-up
Design and features
I was excited to get the Vosteed Corsair in my hands. It looks great, but I was really wanting to check the Nitro-V blade steel. I've used their S35VN and 154CM steels in the other two Vosteed knives I reviewed so Nitro-V was new to me. I see it used all over the place on YouTube. Yes, I watch knife reviews on YouTube and no it's not weird regardless of what my kids think. So what's special about Nitro-V? This steel incorporates nitrogen and vanadium for increased toughness and corrosion resistance. Because of this, knife makers can get much thinner blades without the edge becoming brittle and still have great edge retention. Since I've had this one, I've carried it every day and used it constantly. I've given it a few swipes across my fine grit stone and it's right back to razor sharp. It didn't actually need to be sharpened but it didn't shave quite as well as it did out of the box, so why not?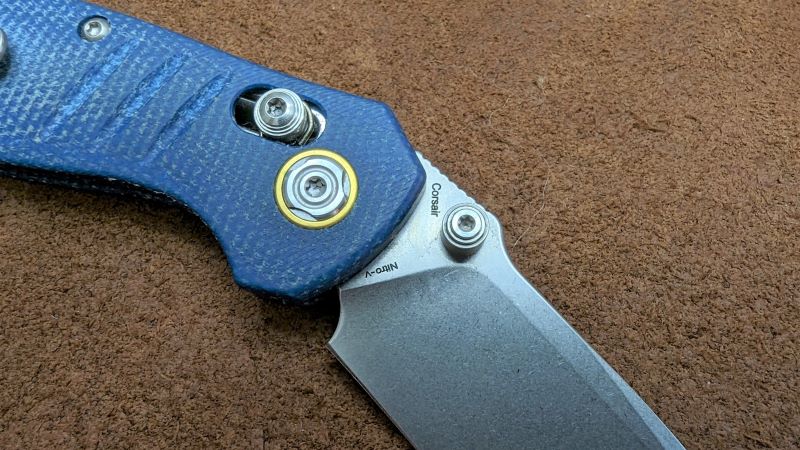 The next feature I was anxious to try was the crossbar lock. I don't have any other knives with that type of lock so I wanted to see what it was all about. In my opinion, Vosteed's is perfect. Lock up on the Corsair is rock solid with no rock lock whatsoever straight out of the box. I also like the fact that, unlike a liner lock, I don't have to put my fingers in the blade path to close it. Unlike a lockback knife, I can close it one-handed. And, unlike a push button lock, I'm not worrying if this is the time I accidentally press the button and the knife closes on my hand. Now I'm not saying the last one will happen, it's just me being paranoid.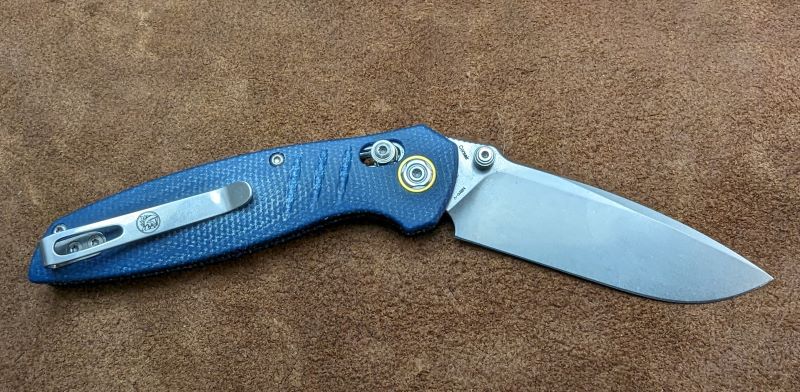 The Vosteed Corsair's thumb studs on the crossbar lock are perfect for swift deployment with a flick of your thumb. You can also reverse-flick it just as well. And Lefties, you aren't left out because the clip is reversible. The design is truly ambidextrous.
Micarta scales. Did I say I like micarta scales? I like micarta scales and I really like the micarta scales on the Vosteed Corsair. Besides the version I received being the best color, blue, the scales have a nice tooth to them. They're grippy without being too rough. Straight out of the box, they don't have the nicest finish. They had some scraggly bits, but once you carry it a bit, the handles smooth out nicely without affecting the grip.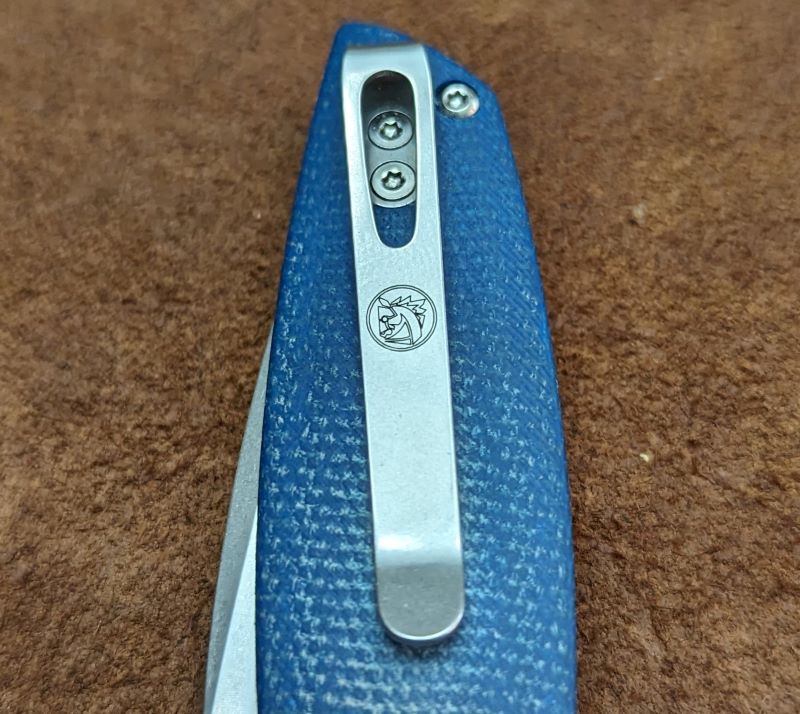 The blade shape is what I would call a modified spear point. Vosteed calls it a modified drop point. Call it what you want it looks great and it has a nice swedge at the top edge. There's also a little bit of jimping on the spine just behind the thumb studs to give that little bit of extra grip. The blade also has a lovely stonewash finish with a flat grind.  The whole thing runs super smoothly on caged ceramic bearings. I've tested a couple of other manufacturer's knives that were on bearings and they were a little gritty in feel, but not these.  They're like buttah!  It's also perfectly centered right out of the box.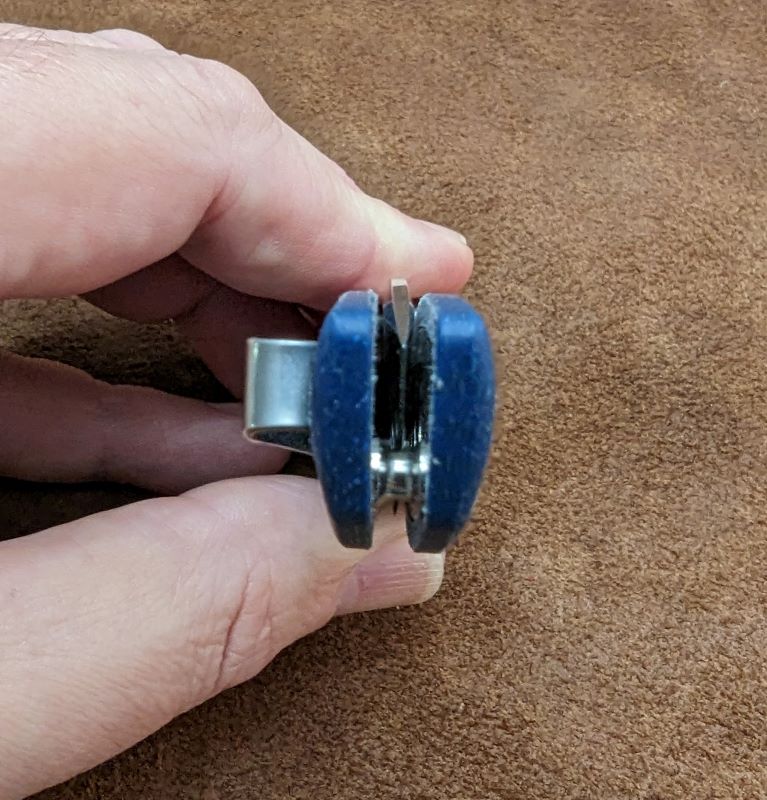 All the hardware is stainless steel. Stainless steel liners, stainless steel T6 and T8 Torx screws, stainless steel spacers, and stainless steel pivot. But they did add a little pop of color with the brass pivot collar.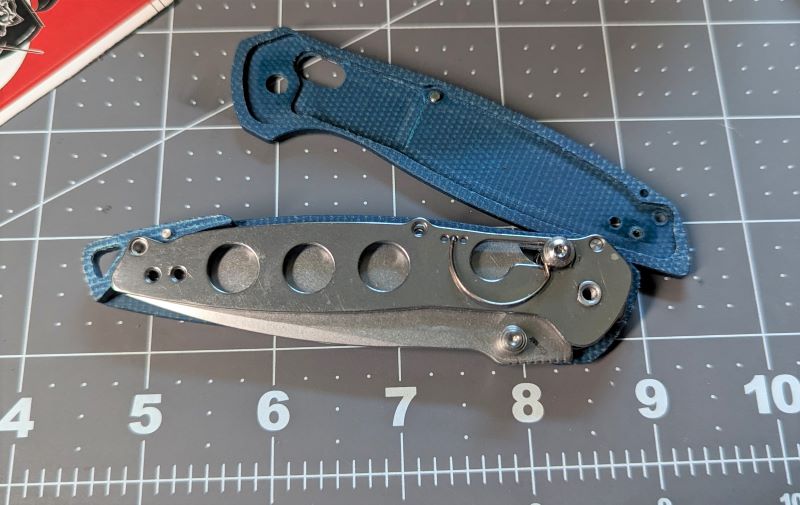 Speaking of hardware, the Vosteed Corsair comes with a bag of extra hardware. Now, usually extra hardware means you get a couple of replacement screws. Not here.  Vosteed has supplied a Micarta backspacer with a lanyard hole, all the necessary screws, and a little steel blank to fill in the recess on the opposite side of the pocket clip.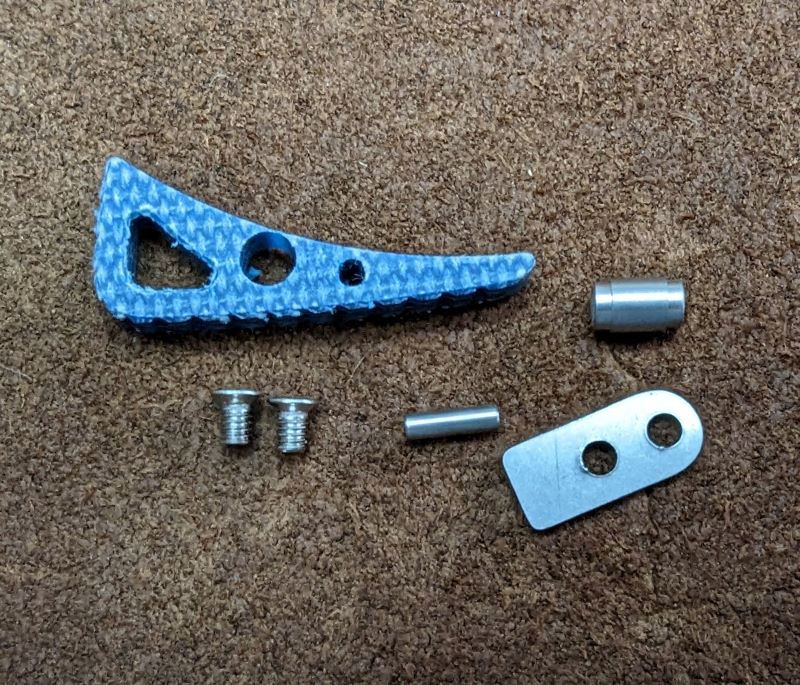 I don't know why I like that piece so much but I didn't like looking at the hole. Thank you Vosteed for including that. That little piece of steel made my day.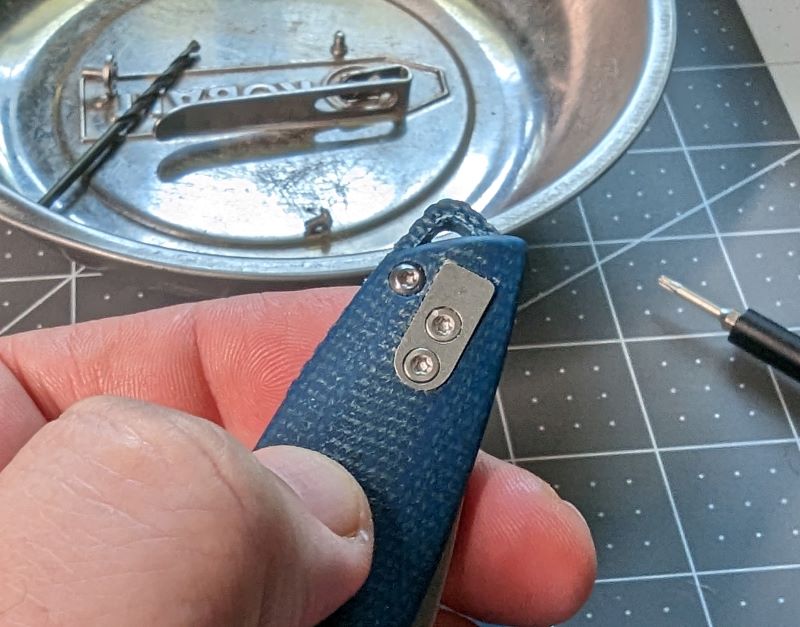 The pocket clip has a good design. No sharp edges to bite when you grip the knife. It has a single little upsweep to help slide it into (onto?) your pocket and not catch on everything else you walk past. I also appreciate the fact that its screws are flush with the clip. Again, it's the little things that all add up.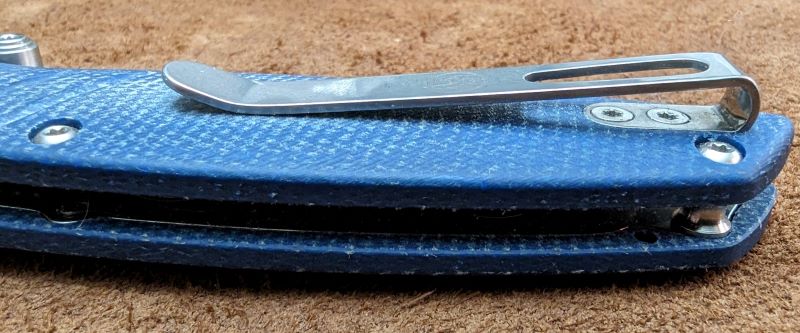 The only thing I can say that I don't care for with the Vosteed Corsair knife is a very minor one. Make all the Torx screws take the same size bit. It would be nice to only have to have one when taking it apart to clean and maintain it. It's nitpicky I know.
What I like
Nitro-V blade
Blade shape
Micarta!
Ceramic bearings
Crossbar lock
The price
What I'd change
Final thoughts
The Vosteed Corsair knife has become my everyday carry and will be for quite a while. It has dethroned the Vosteed Labrador for now. It's the perfect size for pocket carry or in my case in the slot in my front pocket wallet. Even with my big hands, I can get a full four-finger grip on it. It has that rock-solid lockup and feels good in the hand. If you're a fan of Vosteed, you'll want this one. If you're looking for a quality knife with quality materials, you need to check it out. It's only $69 for the price of admission. It's twice the knife at half the price of others I've seen.
Price: $69.00
Where to buy: Vosteed
Source: The sample of this product was provided by Vosteed.