We use affiliate links. If you buy something through the links on this page, we may earn a commission at no cost to you. Learn more.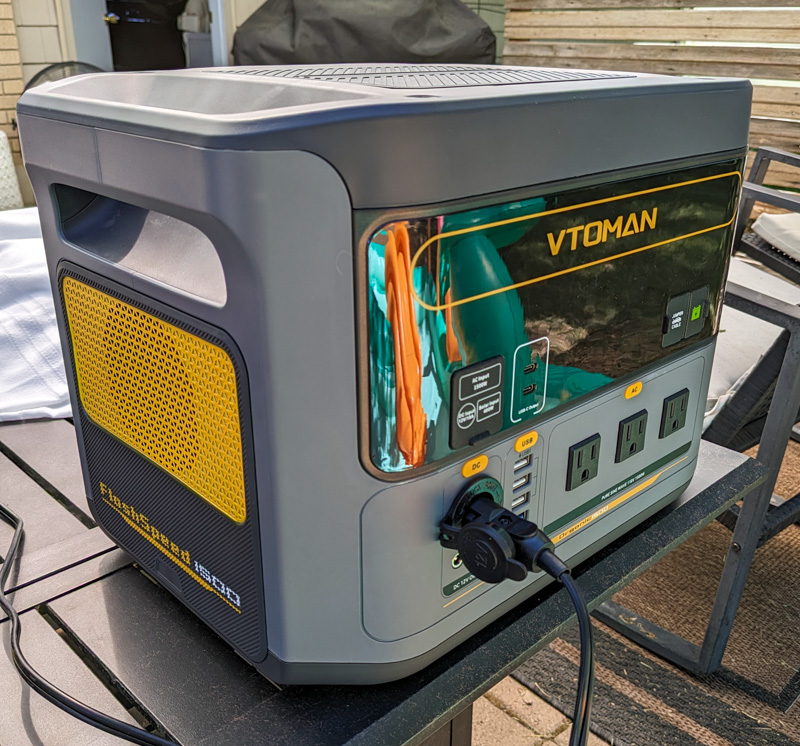 REVIEW – If you've been following our site at all, you'll know we get quite a few power stations in for review. This being (checks calendar…) a normal month, we have yet another station in. Power stations are great for creating a solar generator setup, for camping and other outdoor use, or for home backup power in case of emergency. In our house, I have our garage freezer connected to a power station, as well as another connected to our core internet infrastructure, so that during the couple-of-blackouts a year that we get we can keep working/playing/not-losing-hundreds-of-dollars-of-food. Let's take a look at the VTOMAN FlashSpeed 1500 Portable Power Station.
What is it?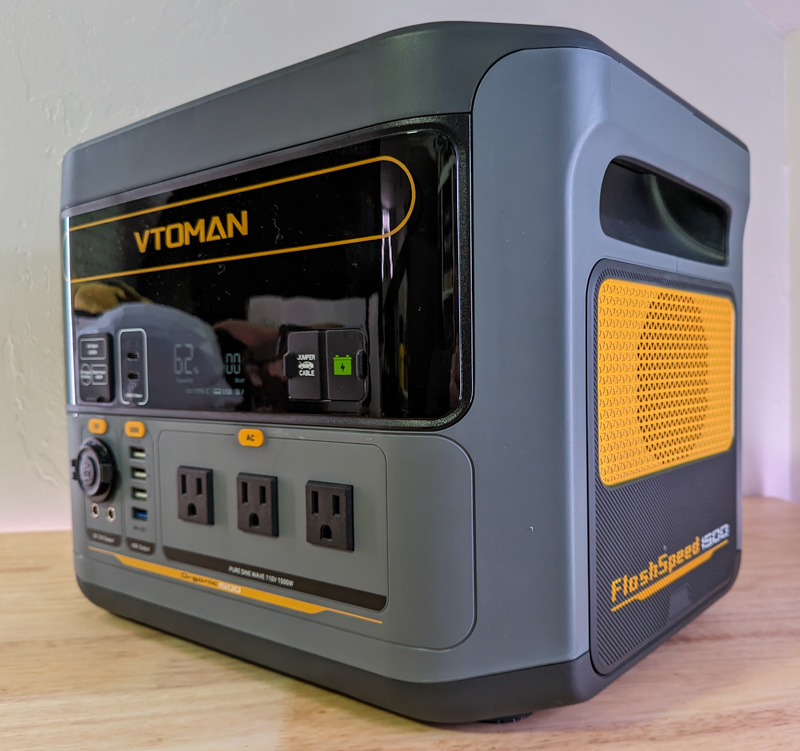 The VTOMAN FlashSpeed 1500 Portable Power Station is on the larger end of the portable power station category, resembling an oversized car battery with two carrying handles. You wouldn't want to carry it far since it weighs 40+ lbs, but short trips are just fine. It can power up to 12 different devices through various ports, including 3 AC wall outlets. It's rated for up to 1500 watts of sustained output, so you can even run a high wattage device like a blender or hotplate for a while. Alternatively, you can run devices like small fans, refrigerators, or CPAP machines for many hours or even days, depending on the device.
What's in the box?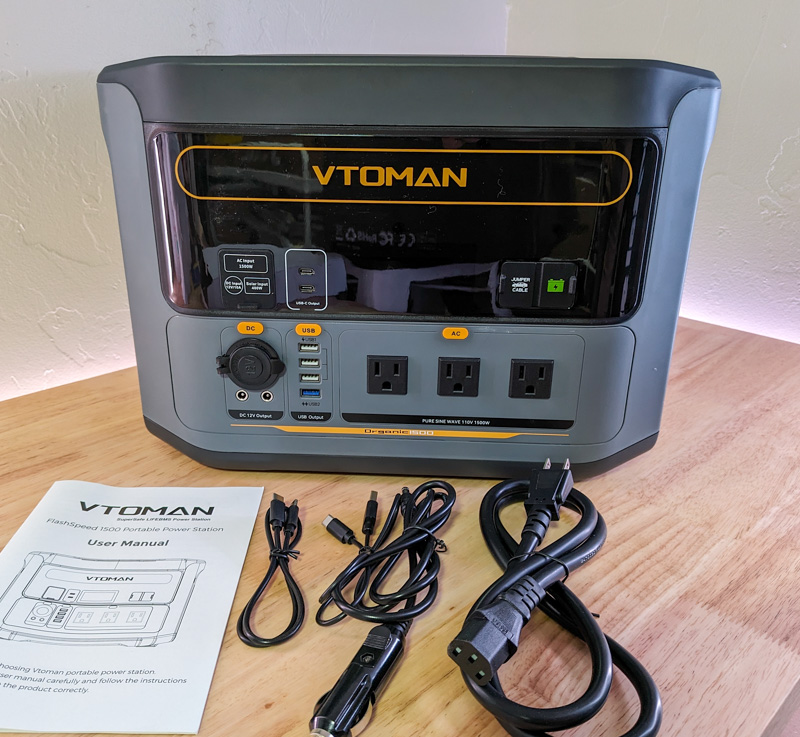 VTOMAN FlashSpeed 1500 Portable Power Station
AC charging cable
DC (car) charging cable
USB-A to USB-C cable
USB-C to USB-C cable
Manual
Hardware specs
Battery Capacity: 1548 Wh
Battery Chemistry: LiFePO4
Battery Rated Lifespan: 3,000+ cycles to 80%
AC output: 3x 110V~ 60Hz, 1500W combined (3000W Peak), pure sine wave
USB-A output: 3x 5V-2.4A
USB-A Quickcharge 3.0 output: 1x 18W, 5-3A, 9V-2A, 12V-1.5A
USB-C output: 2x PD 100W, 5V-3A, 9V-3A, 12V-3A, 15V-3A, 20V-3A
Car Output: 1x 12V-10A
DC Output: 2x 12V-10A
AC Input: 100-130V, 1500W max
Anderson (solar/DC) input: 30-60V, 200W max
DC (car) input: 12-20V, 200W max
UPS function: yes, 20 ms
Pass-through charging: Yes
LED flashlight: 5 Modes (Weak/Medium/Strong/Strobe/SOS)
Net Weight: 41.5 lbs
Dimensions: 15.6″L x 10.5″W x 11″H
Design and features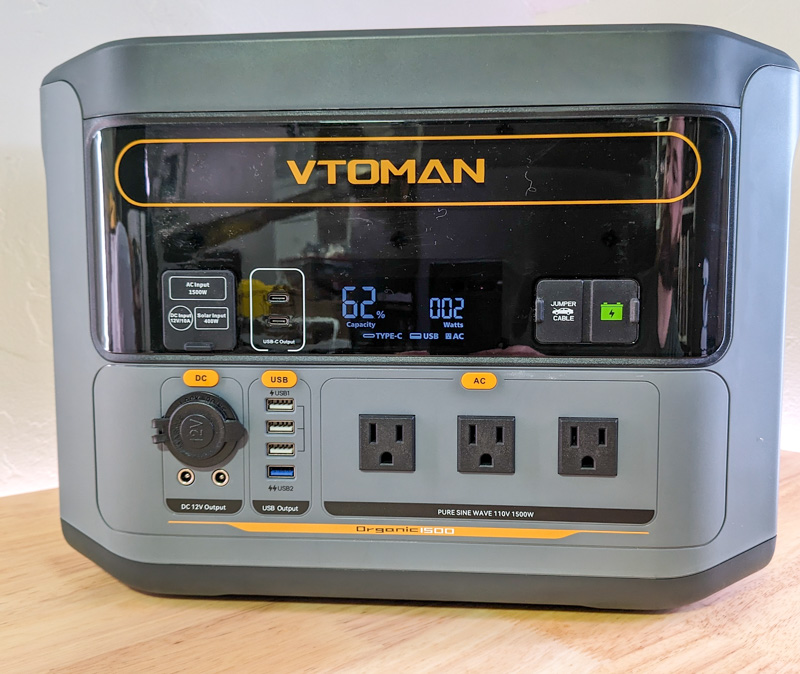 The VTOMAN FlashSpeed 1500 Portable Power Station resembles a large orange-yellow and grey-black brick. All of the input/output is on the front of the device, which I like. An LCD display on the front shows power level and status, while each section can be toggled on or off to save power if not in use. Overall build is a rugged plastic with rubberized elements.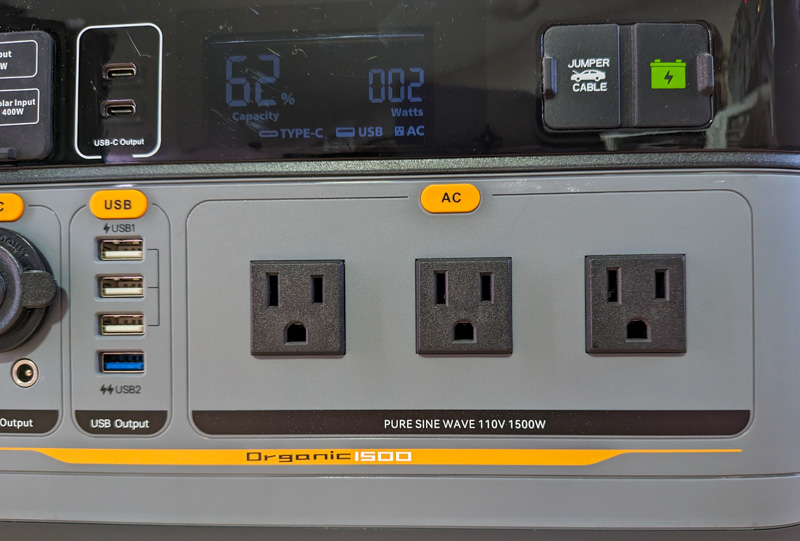 The triple AC ports are three-prong and nicely spaced out so you can even plug in larger power supplies without crowding the next port. This cluster can output up to 1500 watts sustained (and 3000 watts peak) to the connected device(s).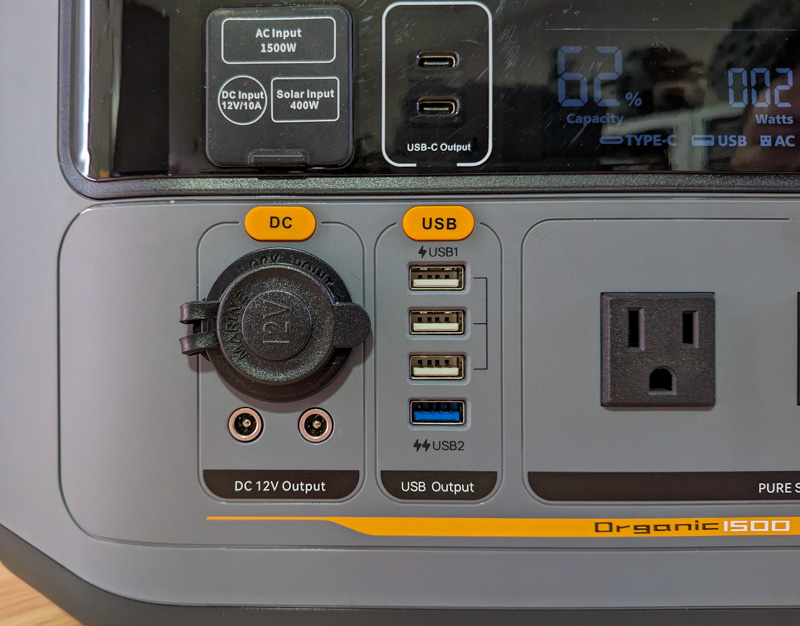 On the lower left, we have our DC and USB output ports. There's a standard car port (formerly known as a cigarette lighter plug), as well as two barrel plug DC outputs. Next to those is a set of four USB-A ports for charging various lower power USB devices (one port marked USB2 supports higher wattage charging with QuickCharge 3.0 support). Above those are a pair of USB-C ports, both of which can power up to 100 watts Power Delivery (PD), which many modern laptops can use.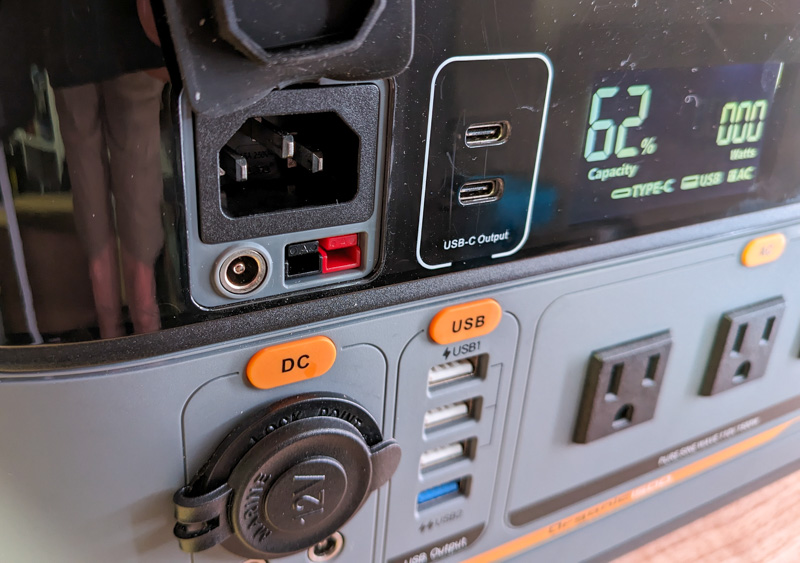 To the left of the USB-C PD plugs is a rubber flap covering the three input charging options: AC, DC (car), and Anderson (solar). The AC charging alone can accept up to 1500 watts, so the entire device can recharge in a little over an hour. Amazingly, you can also add in solar (up to 400 watts) and car charging (up to 200 watts – this could be from another solar panel as well) to increase total charging input to a staggering 2100 watts all at once, which should charge the unit in under an hour!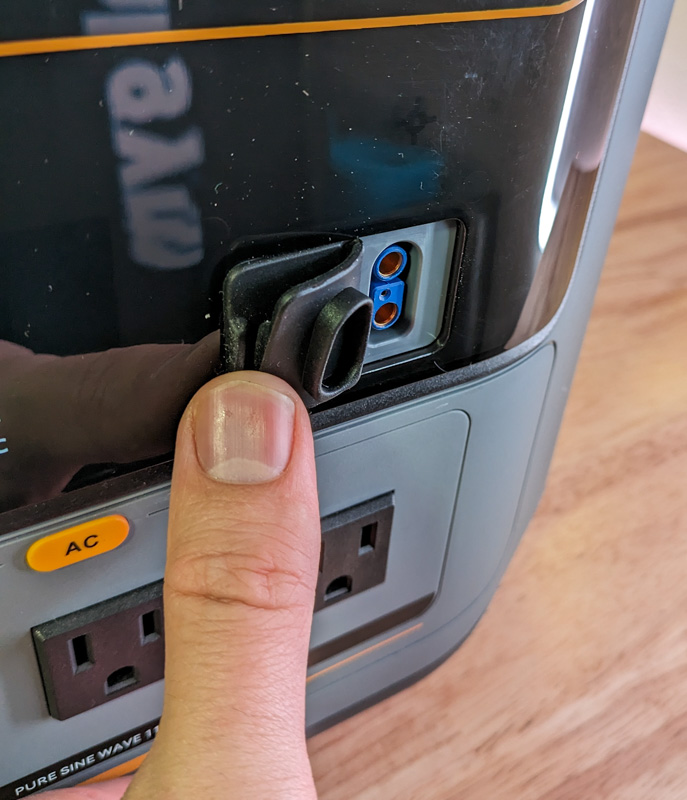 A pair of rubber flaps on the right cover nearly identical ports. The one shown above can be used to add an expandable battery add-on to increase the station's storage to over 3000 Wh.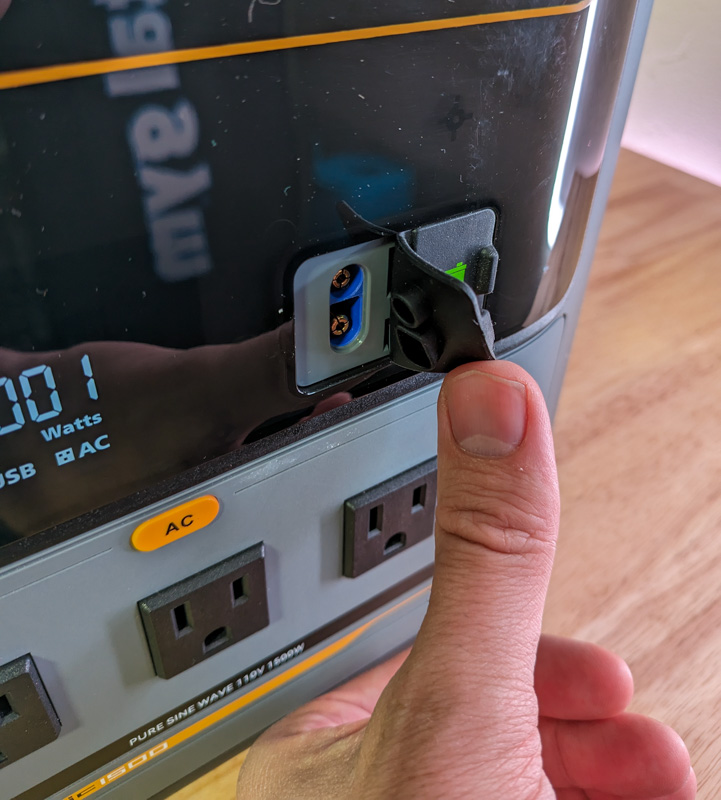 The left port is for a car jump starter accessory, which would be handy if you have need for that.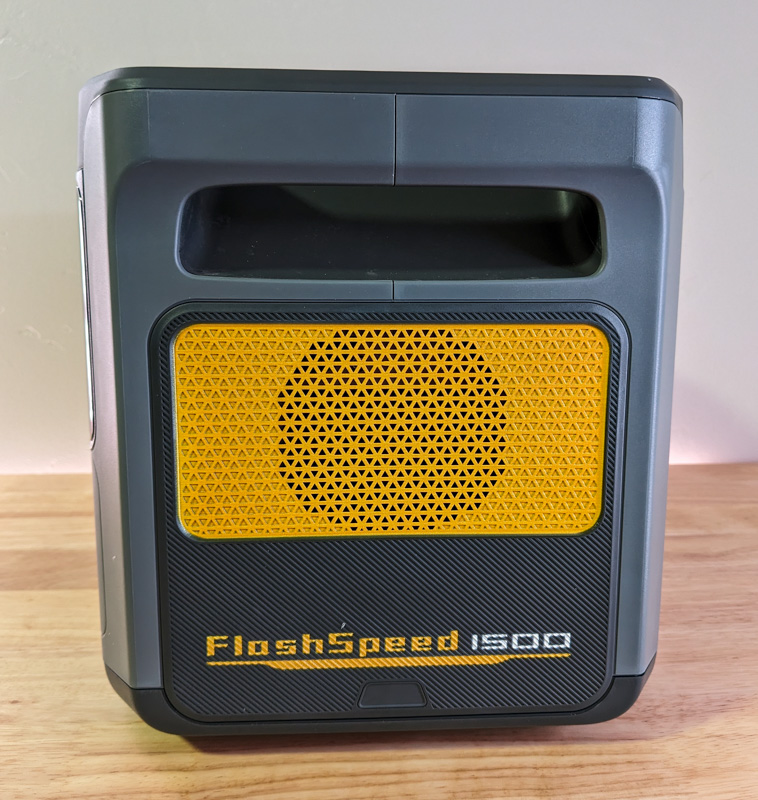 Turning the VTOMAN FlashSpeed 1500 Portable Power Station to the side, you have ventilation grills, and one of two carry handles.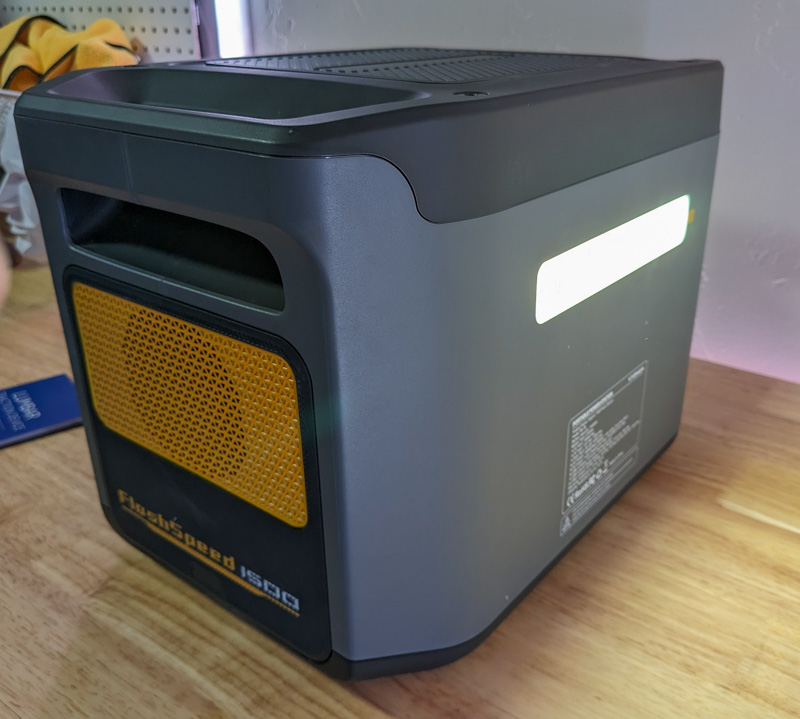 The back of the power generator sports an LED light that can be set to low/medium/high/SOS modes and works well for filling a small room with light.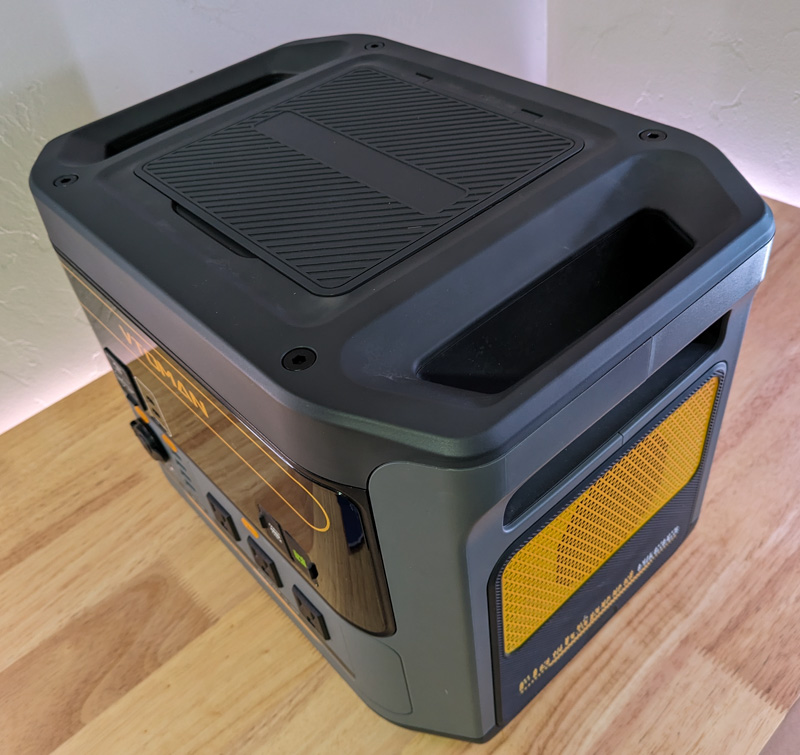 The VTOMAN FlashSpeed's top is flat, which is great for storage (or stacking the add-on battery if you purchase that as well).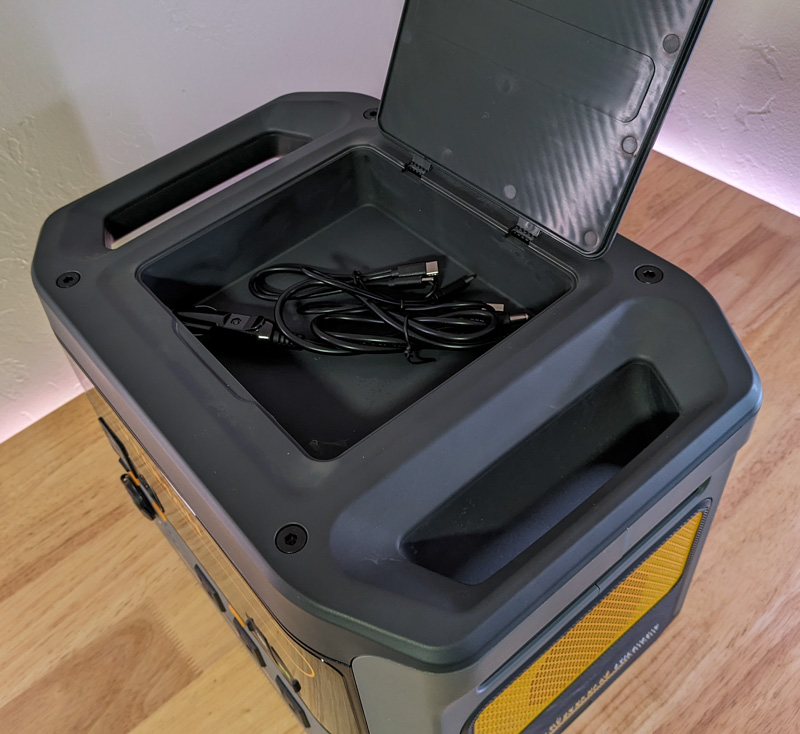 While it doesn't have wireless charging like some power stations, it does have a storage compartment on top, which I'd gladly take over the wireless charging!
Setup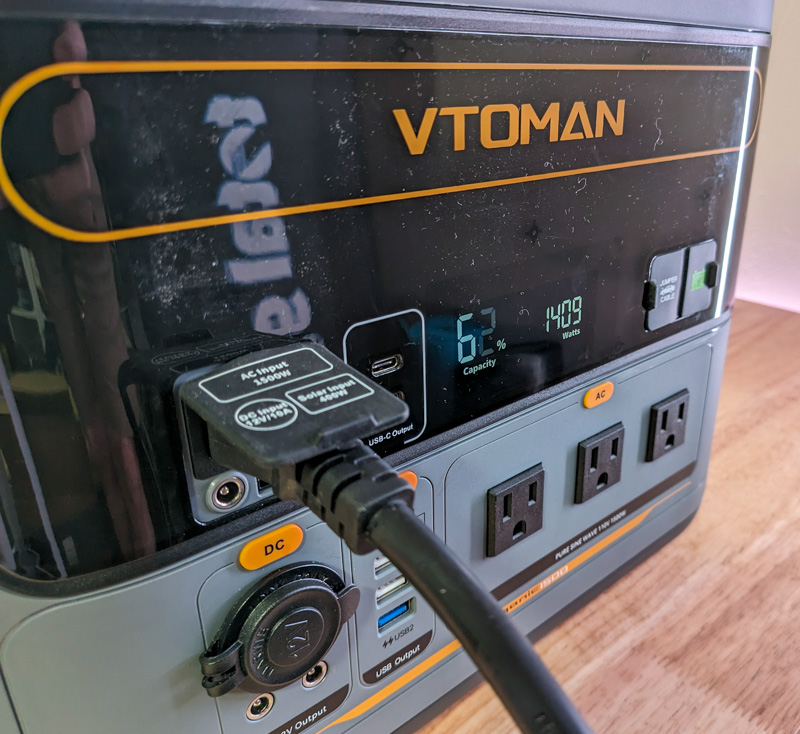 Setup is as simple as charging up the VTOMAN FlashSpeed 1500 Portable Power Station from wall AC power, using the car DC cord (included), or connecting a solar panel (Anderson connector, up to 400 watts). You can do any combo of these three options, the station will accept all the power you can give it (up to the limit of each type of connection, which is printed on the rubber flap). The power station came half charged, and filled to 100% in under an hour from a wall socket.
Performance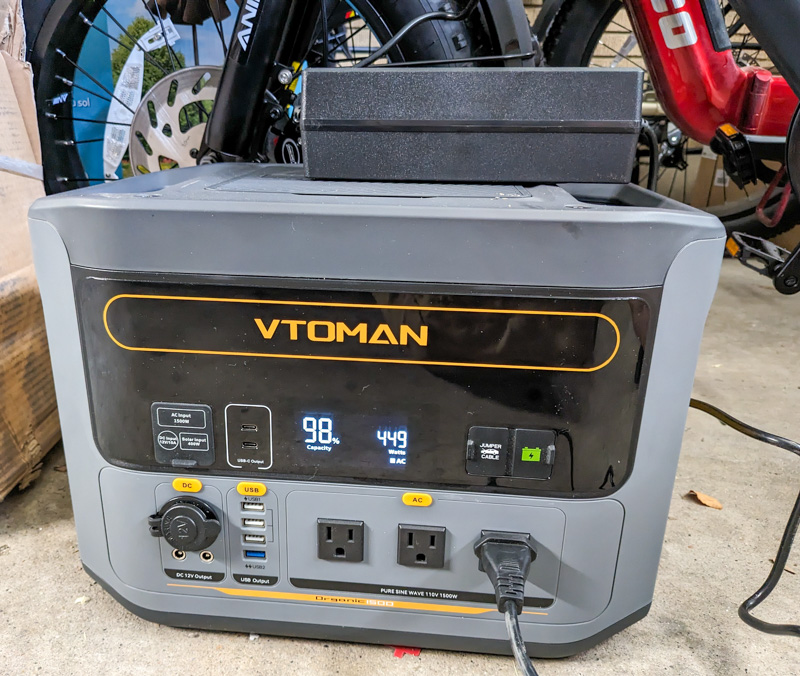 I am also working on a review for an e-bike right now that accepts up to 800 watts input, so the VTOMAN FlashSpeed 1500 Portable Power Station was a great option to test it out. The power station happily spit out all 800 watts (when the bike asked for it) and only intermittently had fans kick on to keep things cool inside (in a 90+ degree hot garage). I also tested the USB-C PD with laptops (all 100 watts pumped right into the laptops), and various phones and tablets with the USB connections. Everything worked great, exactly as I'd expect for a station rated for 1500 watts and watt-hours.
My only minor complaint is the omission of any ETA to full/empty on the display while using the power station. I always like to see this on power stations, and it can be painful when it's not there – you have to do a bit of extra mental calculation when using devices to determine how long they're going to run before draining the power station. If VTOMAN had added this in, I really wouldn't have been able to think of anything for the "con" column below.
I especially like the support for passthrough charging and UPS functionality – I tested this out and it works perfectly. When plugged into wall power, it simply passes that power through to attached devices, but then if power is interrupted (by a blackout for example), it nearly instantly switches over to battery-supplied power (they rate it for 20 milliseconds, which should be good for most devices).
What I like
High wattage and storage
LiFePO4 battery chemistry – much longer lifespan than standard power station batteries
All IO up front
Fast charging
Storage compartment up top
What I'd change
ETA to full/empty on LCD display while in use
Final thoughts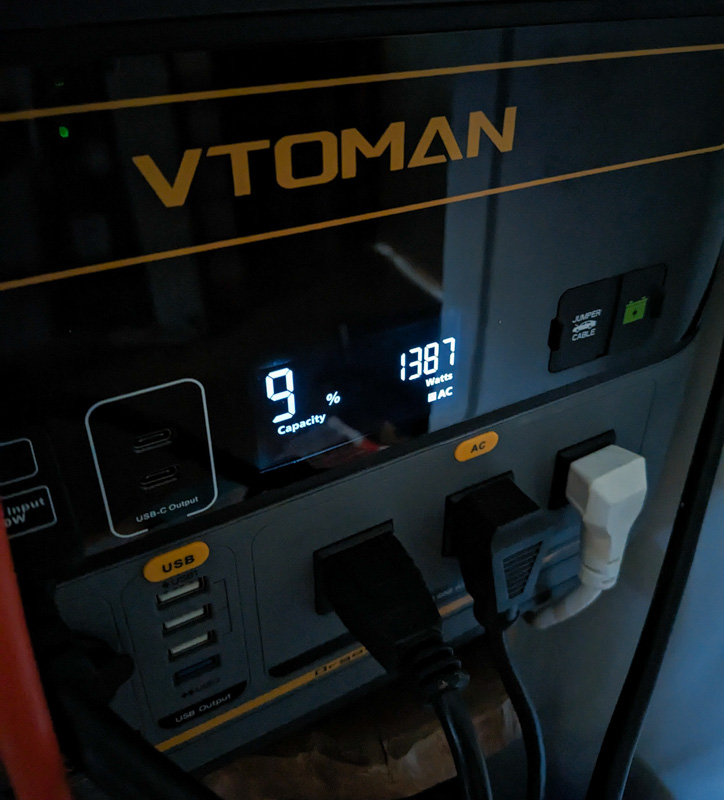 The VTOMAN FlashSpeed 1500 Portable Power Station is a solid power station choice for anyone looking to set up a power station with a 1500 Wh / watts rating. You can find cheaper options on the market, but most are not using LiFePO4 battery chemistry, and will wear out 3 to 5 times as fast. Features like passthrough charging and UPS functionality means the Flashspeed 1500 has earned a spot as our garage freezer/refrigerator backup power supply. It regularly spikes a little over 1500 watts when multiple devices turn their compressors on at once, but has never exceeded the peak 3000 watt rating and has worked perfectly for weeks. Because we have it plugged into the wall, it's not constantly charging/discharging, but stands ready to kick on when and if the next storm (or clumsy worker) knocks out our neighborhood power.
Price: $1699 ($1299 at time of review)
Where to buy: Amazon
Source: The sample of this product was provided by VTOMAN