We use affiliate links. If you buy something through the links on this page, we may earn a commission at no cost to you. Learn more.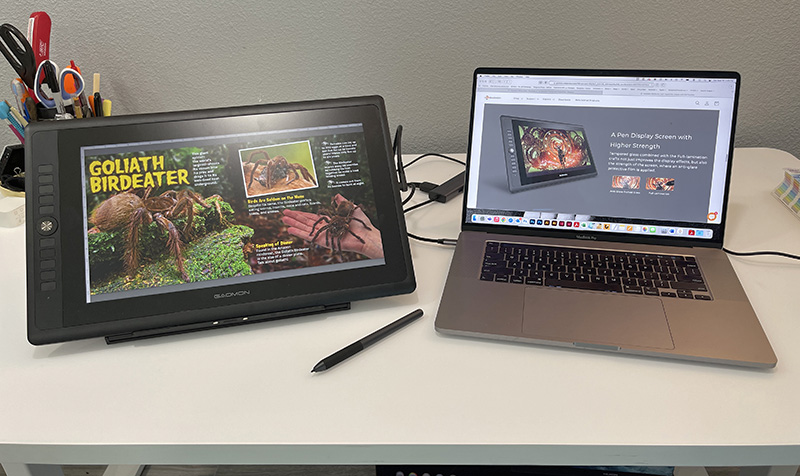 REVIEW – In my multi-year career as an art director and children's book designer, I've used quite a few graphics tablets. And over the past few years, I've reviewed many other graphics tablets, both with and without screens. Some I now use every day in my work—I like them that much. And while I may appreciate other tablets, they are sometimes outshined by better ones and go back into the box when the review is done. No matter what tablet I am testing, there's one commonality I require of the tablets I review—ease of use. If you spend valuable time futzing around with hardware or software issues, it can sour your experience. This brings us to the Gaomon PD156 Pro Pen Display.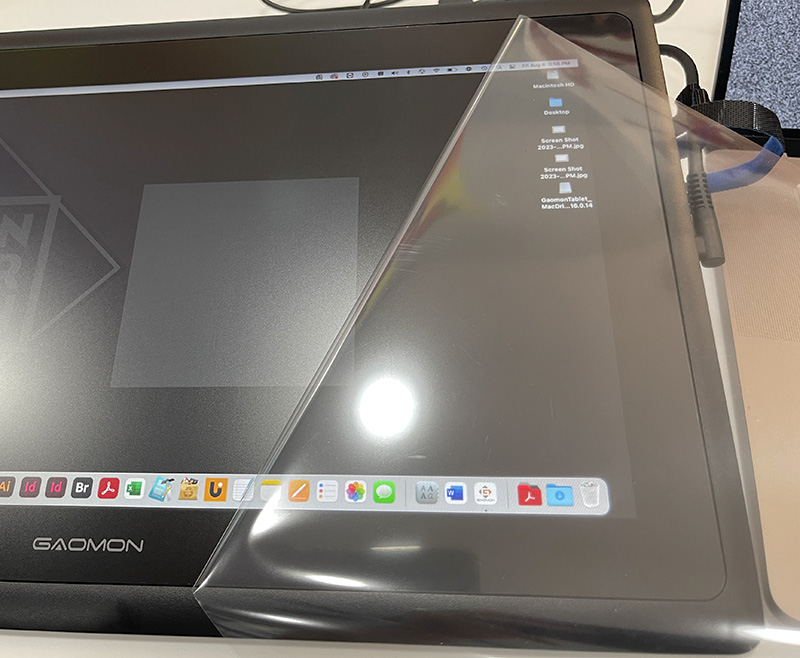 What is it?
The Gaomon PD156 Pro Pen Display is a lightweight, 15.6-inch graphics tablet that comes with a built-in screen. Think iPad with an Apple Pencil. However, pen displays require a separate computer to work since it's a monitor that can be drawn on with a supplied pen. Its size and weight mean it can be portable when connected to a laptop.
The Gaomon PD156 Pro Pen Display has an anti-glare glass laminated screen. While the screen is glass, it has a protective film applied over it. More expensive pen displays have etched-glass screens which are more durable over time. Lamination simply means the pen and on-screen cursor match exactly where the pen tip touches the screen. More on that later.

There are 10 shortcut buttons and a scroll wheel along the side of the tablet. Shortcut keys are exactly that—keys that can perform various functions with a single click. These keys are fully customizable per application. This means that the shortcut key settings are almost limitless—only dependent on the number of applications in use.
Color accuracy is pretty good—not great. Note that absolute color accuracy comes at a much higher cost—something only a discerning artist might be concerned about.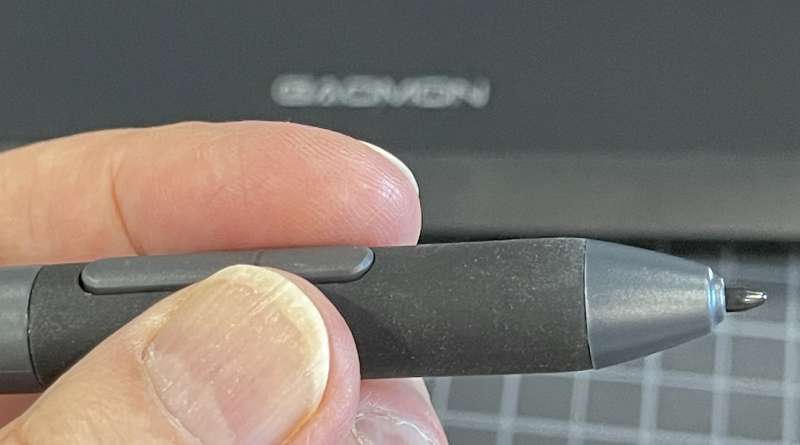 The pen sports the usual 60° tilt and pressure sensitivity, although no pressure rating numbers are supplied by Gaomon.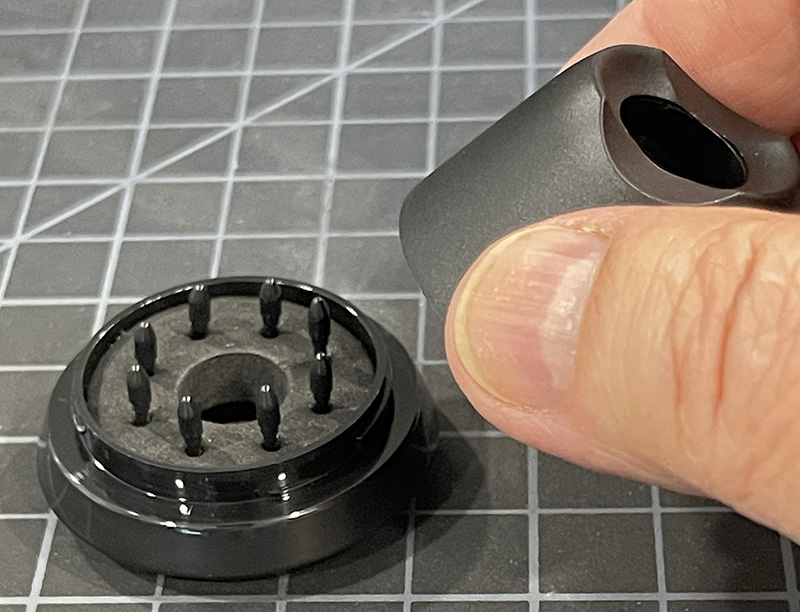 Many accessories are included in the box, among them: Pen, Cables, Glove (really comfortable), a pen holder that holds extra drawing nibs, an adjustable stand, and a protective carrying pouch for times when the display needs transporting.

Specs
Panel size: 15.6 Inches
Resolution: 1920 x 1080
LCD screen
Aspect ratio: 16:9
Contrast ratio: 1000:1
Gamut volume: 88% NTSC
Display color: 16.7M (8bit)
Pen: Battery-free electromagnetic resonance
Pressure level: 8192 levels
Pen resolution: 5080 LPI
Tilt: ±60°
Glass: Anti-glare protective film
Full lamination: Yes
Press keys: 9 customized press keys, 1 OSD switch button
Weight: 2.9 lbs.e
Dimensions: 17.4 x 10.7 x .5 inches
Input interface: Type-C
Output interface: USB-A, HDMI, DC

Design and features
Let's begin with the many plusses of the Gaomon PD156 Pro pen display. The tablet feels solidly built. There's very little flexing. The glass surface feels good to draw on. The surface has a similar toothy feel similar to drawing on paper. Drawing nibs can wear over time, but Gaomon supplies many replaceable nibs.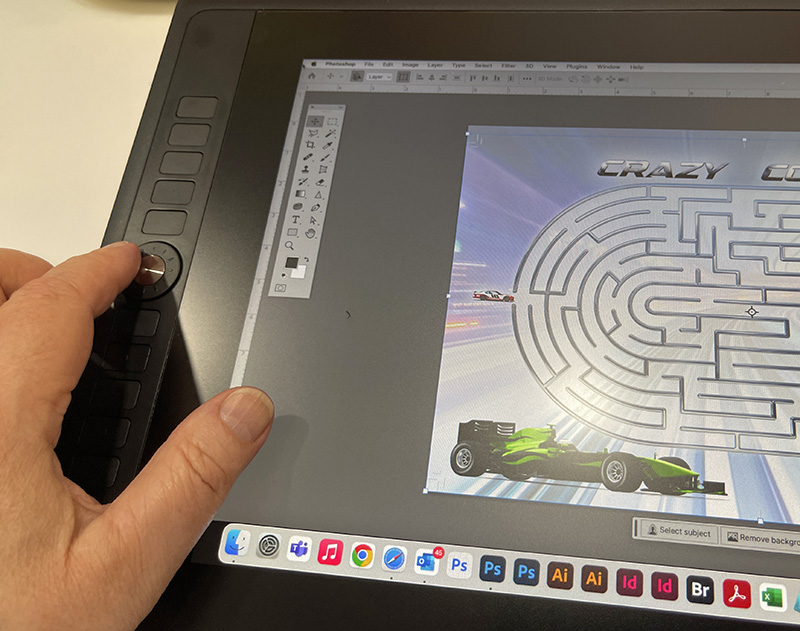 The shortcut keys perform as advertised. Applying shortcuts to your favorite apps can be a huge time-saver when doing repetitive tasks. Using the round, rotational wheel as a zoom tool in Adobe Photoshop or for scrolling up and down in almost any app can be a game-changer in how you work. Yet as useful as the wheel and shortcut keys are, I don't use them. I'm old-school and continue to rely on a standard keyboard for all my shortcuts. Because of this, I gravitate toward pen displays that have no attached shortcut keys. Keyless displays sometimes come with a hand-held, wireless shortcut key device—which again, I don't use. I'm stubborn like that.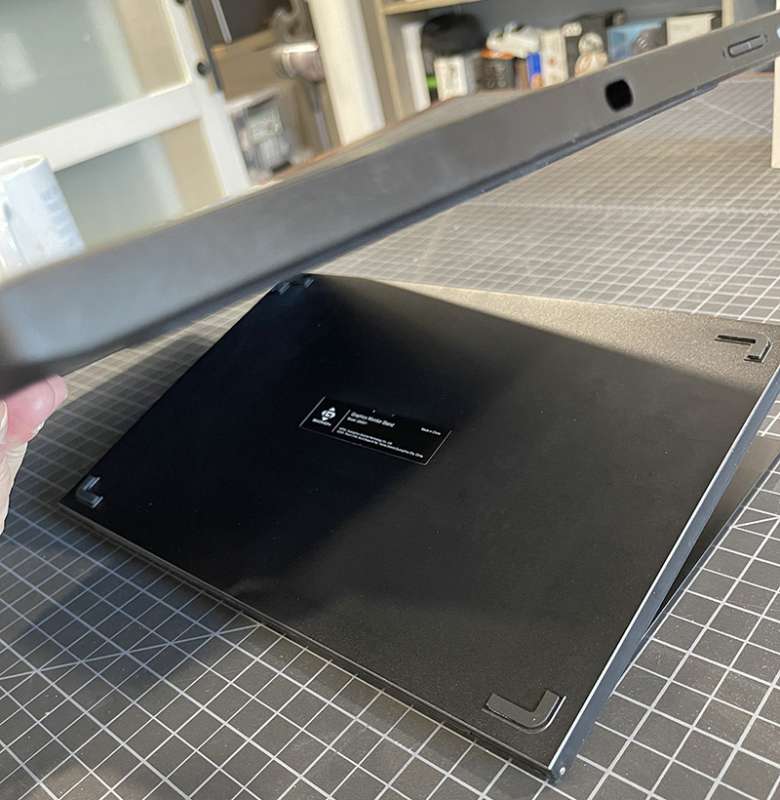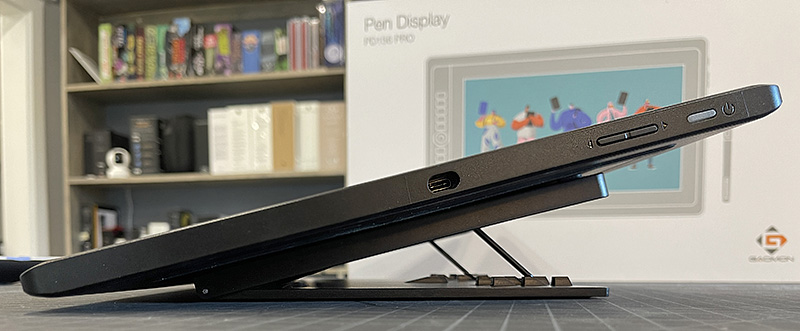 Gaomon includes a small—but useful—portable stand with the PD156 Pro display. I wish all smaller-sized pen displays included stands. I don't know how anyone can draw on a display lying flat on a desk.
Once I installed the driver app (software that allows the PC to connect to the display) on my MacBook Pro, I was ready to connect the Gaomon PD156 Pro Pen Display. That's where the headaches began.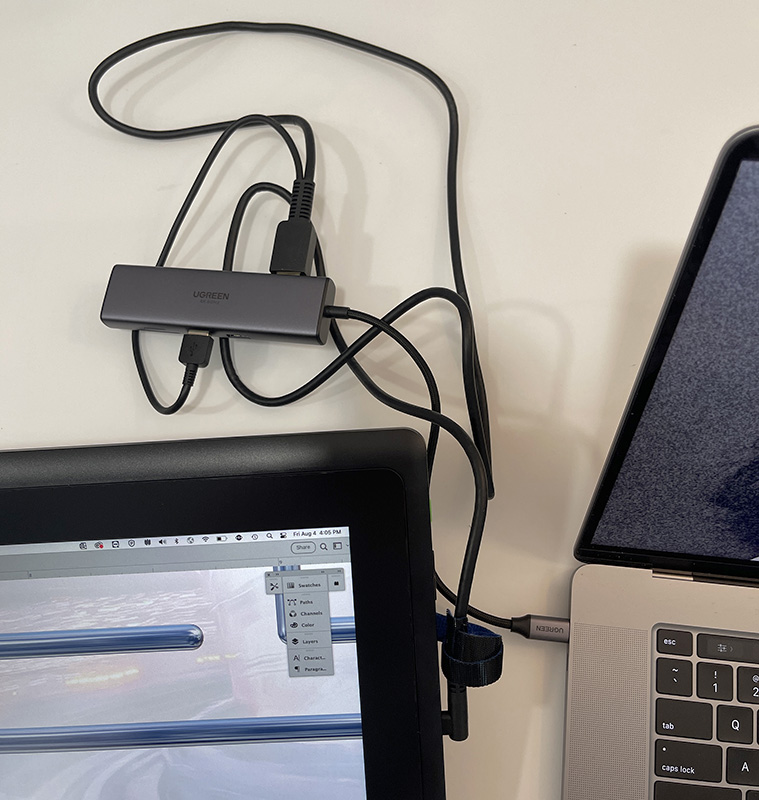 Later Intel MacBook Pros (not the latest M chip versions) come with 4 USB-C ports—that's it. So anything using HDMI (or any other connector) requires an adapter. Note that many newer pen displays only need a single USB-C cable as the sole connection. Unfortunately, the PD560 Pro requires a proprietary 2-in-1 cable—a combo USB-C to HDMI and USB-A cable. Of course, this cable would not work on my MacBook Pro without an adapter—which Gaomon does not include (they offer an extra-cost adapter via Amazon). I was lucky enough to already have an adapter that worked—once I figured out that it must be connected to a wall outlet using the USB-A connector. The USB-C connecting to the MacBook Pro will not provide enough reliable power, causing it to randomly shut down and start back up. Bottom line: Unless your Mac has a built-in HDMI port, you will need an adapter with the tablet connected to an outlet.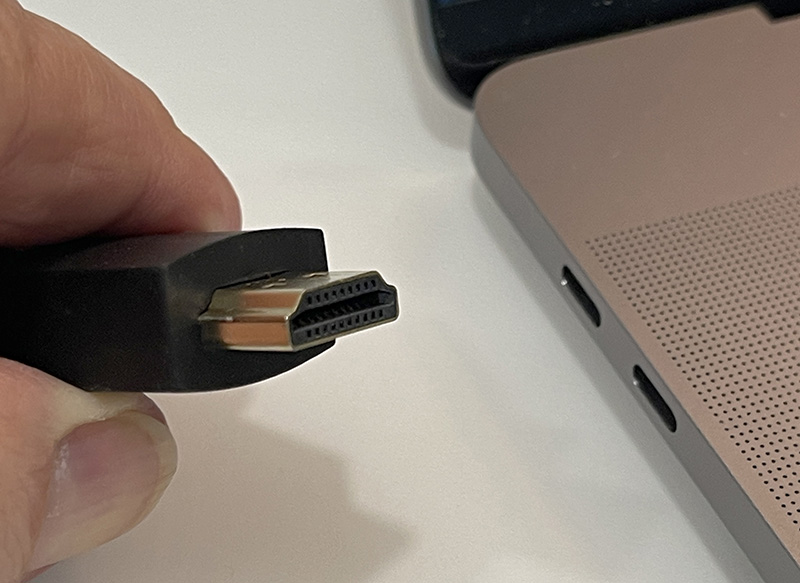 Note to Gaoman: Either include the necessary cabling for popular computers or design them to work with USB-C only.
Hardware was not the only issue I had with the PD156 Pro. Since I am left-handed, my preference is to have any shortcut keys on the right side of the display—draw with the left, activate shortcut keys with the right—if I used them! However, there are many left-handed artists who love shortcut keys. The driver app offers a way to rotate the screen 180° so it can be flipped for left-handers. Great idea, but (on a Mac) to get it to work, the Mac's own monitor setting must also be rotated 180° Keep in mind that if this procedure is not followed, calibration will be off. It really shouldn't be this confusing.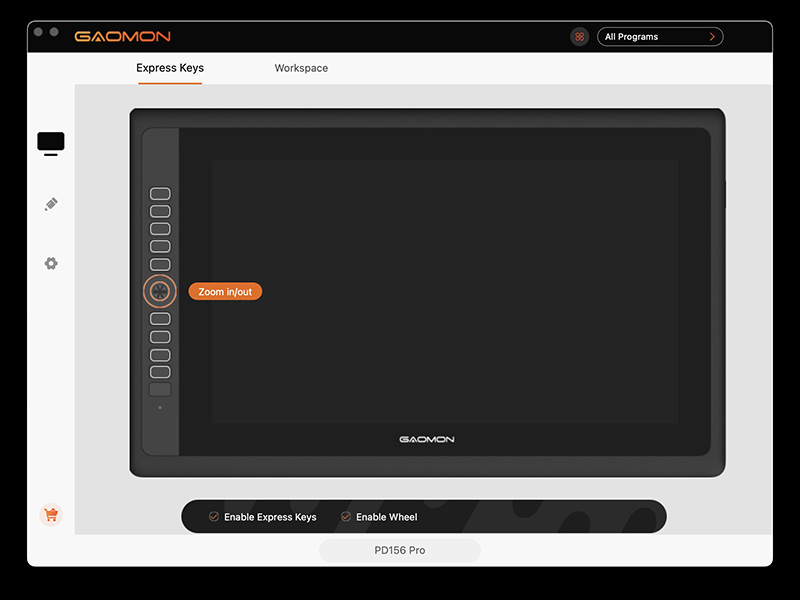 The screen is laminated, which means that the cursor and pen tip should visually line up or match. That only matters if the pen tip calibration is correct. This is not a problem for right-handers, but if you are left-handed and flipped the tablet 180°, calibration will be off unless the procedure is followed.
The driver app has many settings. Pen pressure sensitivity can be adjusted, express keys can be set per app—or globally, and screen ratios can be set. This is standard driver app stuff.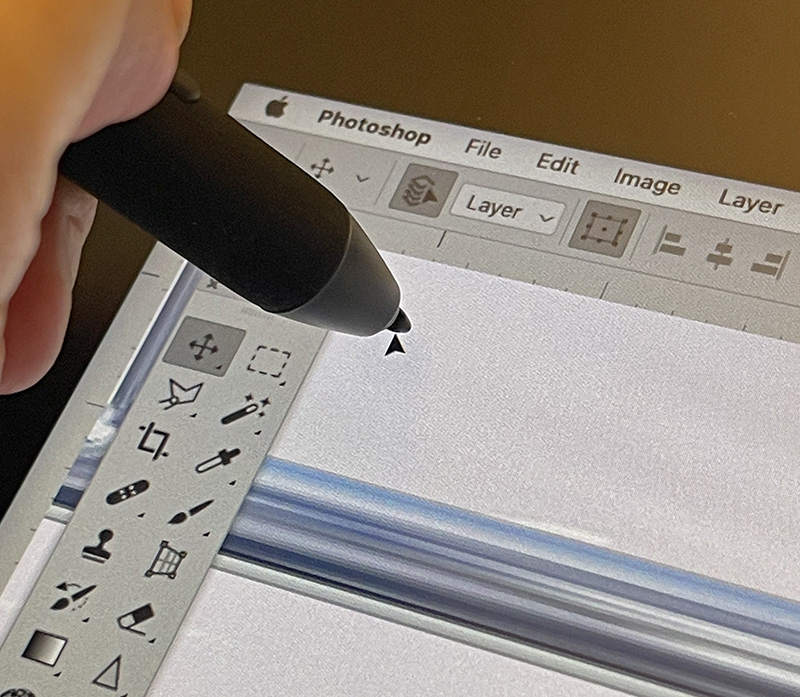 What I like
Well made
Included portable stand
Carrying pouch
What I'd change
The display will shut down and restart if it's not plugged into a wall outlet
The driver's 180° rotational tool is mor complicated than it should be
Design for USB-C only connection

Final thoughts
The Gaomon PD156 Pro Pen Display has a few things to recommend it.—especially for someone new to pen displays. It's well made and has a nice screen and color. But based on its cost and the complicated connection (for MacBook Pro users) and set-up for left-handed artists, it should be more simplified to be considered pro level.
Price: $299.99
Where to buy: Amazon
Source: The sample of this product was provided by Gaomon.