We use affiliate links. If you buy something through the links on this page, we may earn a commission at no cost to you. Learn more.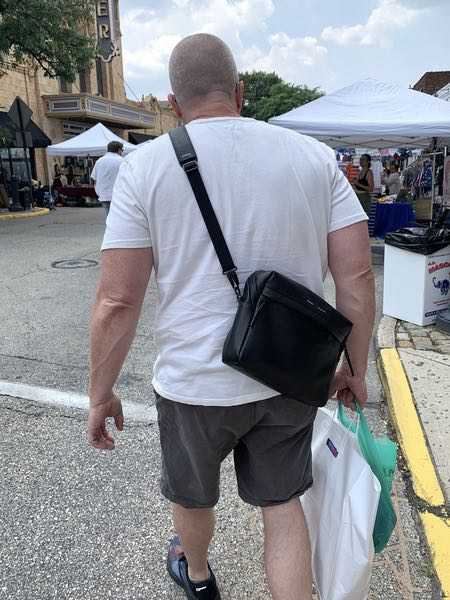 REVIEW – Is it a sling bag? A small messenger? Whatever you call it, the Grams28 154 City Pack wants to be your new best friend for day trips, coffee shop hangs, and even a small carry-on when you need a bit more than your pockets can handle. How does it perform as an EDC companion? To the review!
What is it?
The Grams28 154 City Pack is a sling bag, or a small messenger bag.
Hardware specs
Italian tanned leather
10.5″ by 8.25″ by 2.75″
5 liter capacity
55″ long shoulder strap
12″ long shoulder pad
Design and features
The Grams28 154 City Pack boasts a sophisticated & upscale urban style. Italian leather is the primary material with a rectilinear shape that ditches external adornments for a sleek, neutral style.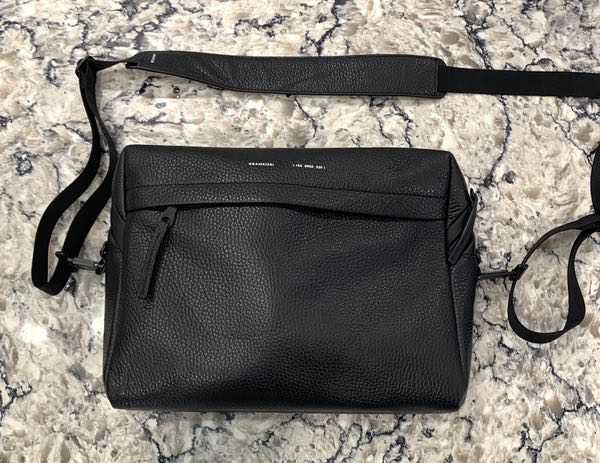 Here's a look at the lean side profile.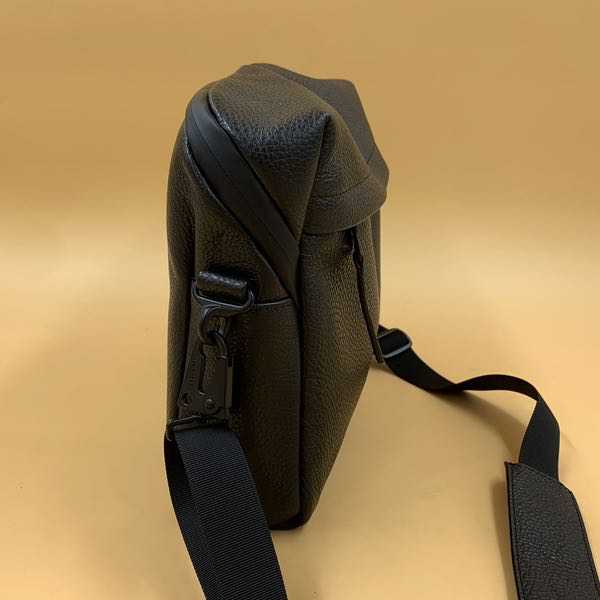 Full grain pebbled Italian leather from certified environmentally-friendly tanneries is the primary material, something that Grams28 takes very seriously in their sourcing and presentation. See that little code printed on the front of the bag?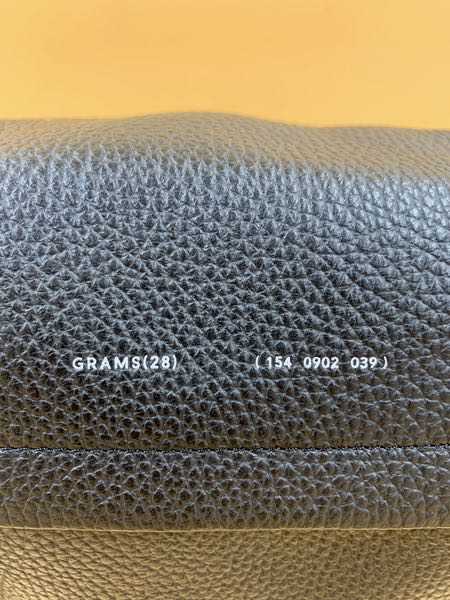 There's a corresponding tag on the Grams28 154 City Pack's interior that explains it. It's a combination of the bag model along with the info about the tannery that was used for this particular product. Grams28 imprints all their goods with this info so you know the sourcing.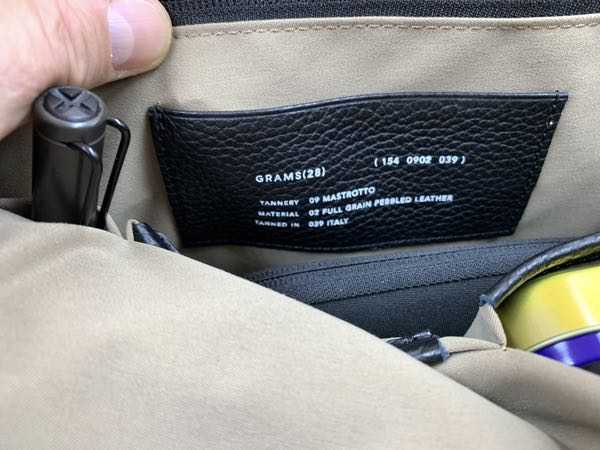 The leather itself feels good and has a nice semi-gloss finish that holds up well to scratches in my tests. The hardware throughout is excellent.  You've got durable metal zips that feature leather pull tabs for an extra bit of finishing.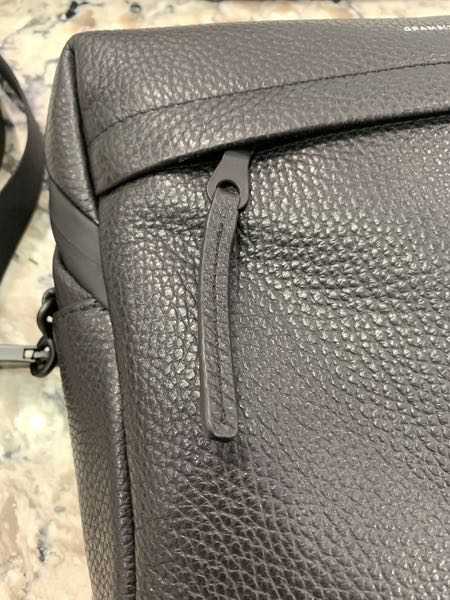 External zips are either hooded as shown above or sealed to prevent your stuff from getting wet.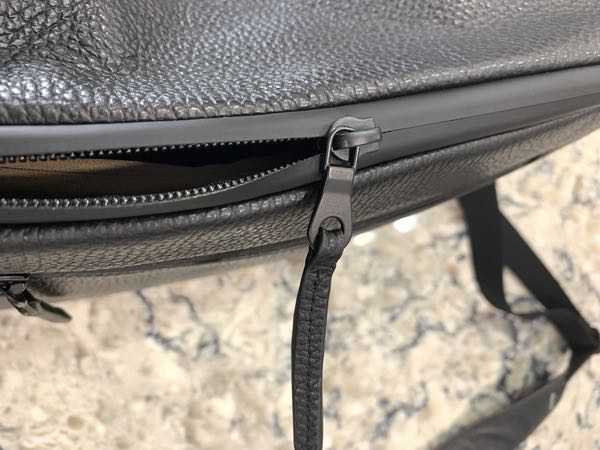 Metal swivel clips & loops anchor the bag strap, which is made from black vinyl.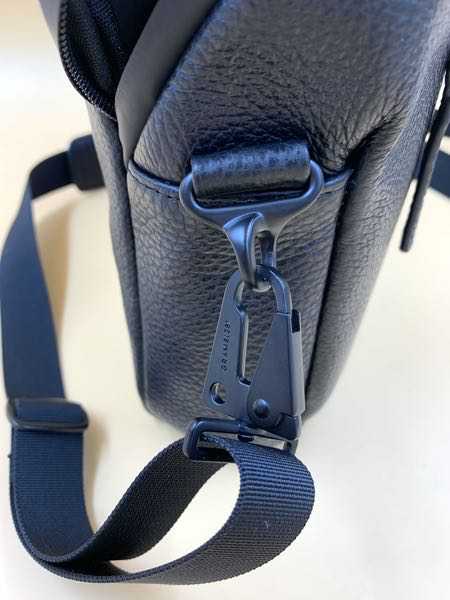 The strap measures 55″ in total length and is adjustable from both sides so that you can use it over the shoulder or cross body. The 12″ shoulder pad, while thin, is more than enough for the size of the bag.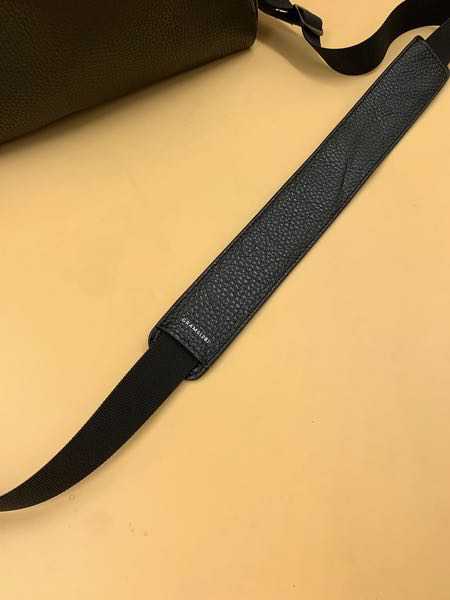 The interior of the Grams28 154 City Pack uses a sand-colored cotton liner throughout for visibility. Finishing throughout the bag is outstanding. I'll highlight some specific elements as we do the walkaround.
Interesting side note: if you visit their web site (link below), they also provide full disclosure regarding the costs to produce each bag (materials, hardware, labor, etc.). That's a pretty cool piece of transparency for the consumer. Not that you can verify all those details, but it's nice to see the effort to be transparent.
Walkaround
For a smaller bag, the Grams28 154 City Pack is loaded with pockets and organization options! We begin with a pocket on the front face of the bag that has its own hooded zip. It's tucked under that flap that sits below the imprinted bag info.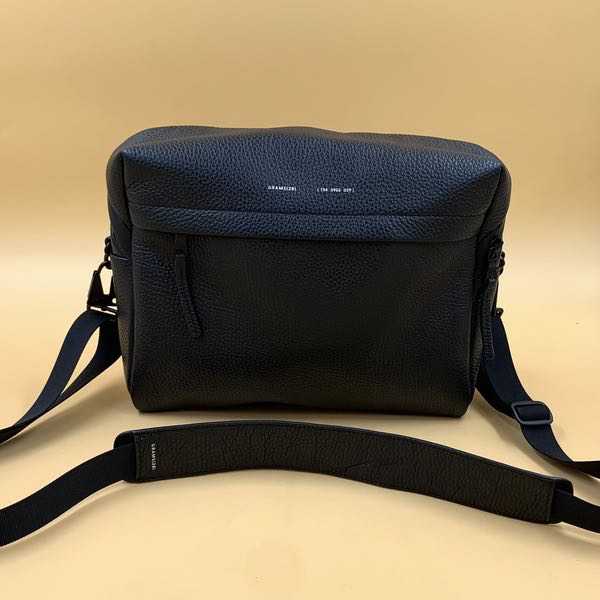 This front pocket is 6″ deep and runs the width of the bag. That space will get crashed pretty quickly if you fill the interior with stuff, but it's a perfect spot for your phone or flatter things. I've been stashing my car keys in there as well.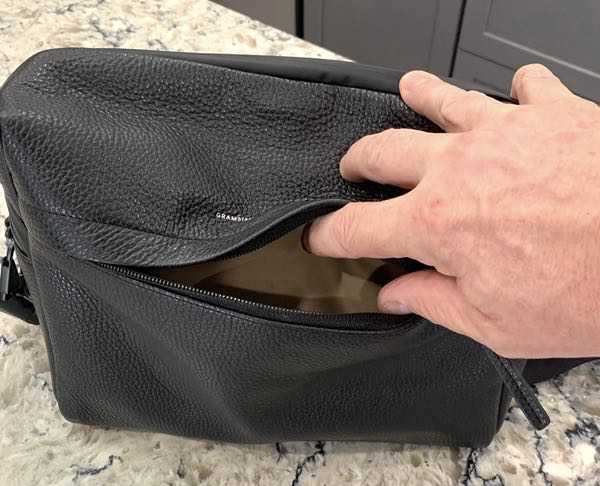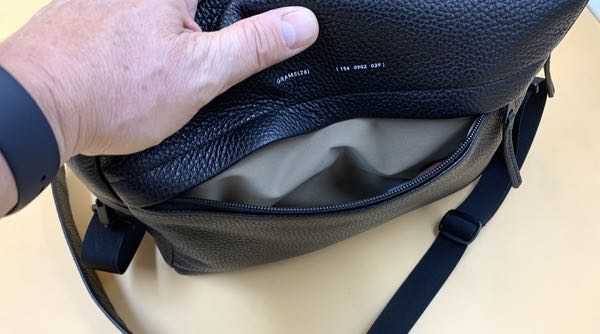 On the back side of the Grams28 154 City Pack is another pocket that is 7″ by 5-1/2″. This is a secure spot to stash your wallet, passport, or cash.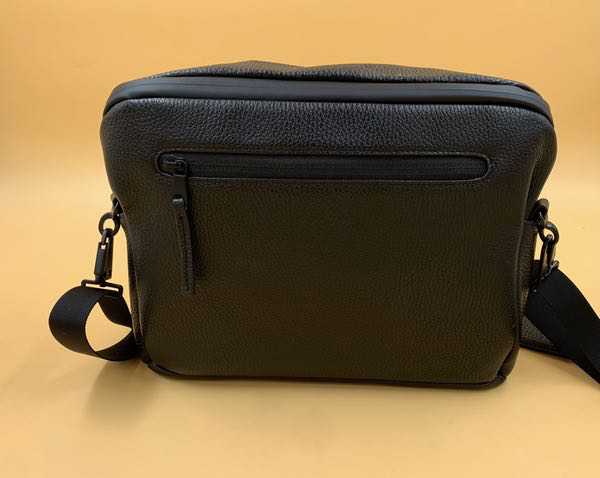 The Grams28 154 City Pack uses an interesting reversed opening to get to the main compartment. See how that water-sealed zip travels from the front to the back of the bag?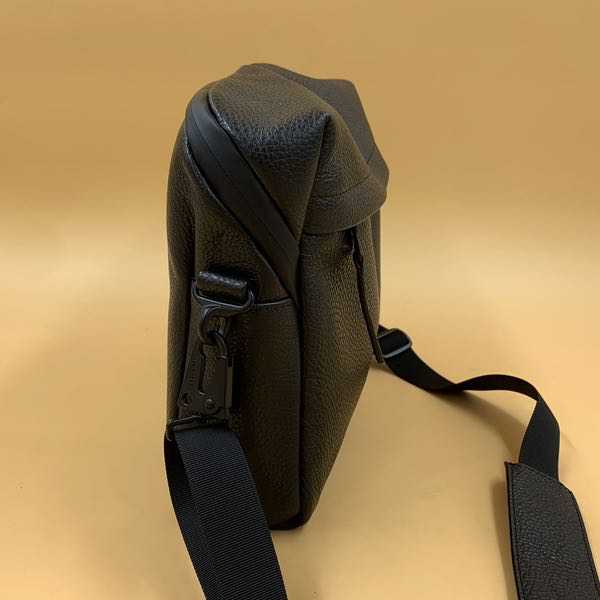 The main compartment opens from the back side, which helps to prevent wandering hands from getting into your stuff if you're in a crowd. It also keeps the front profile of the bag clean.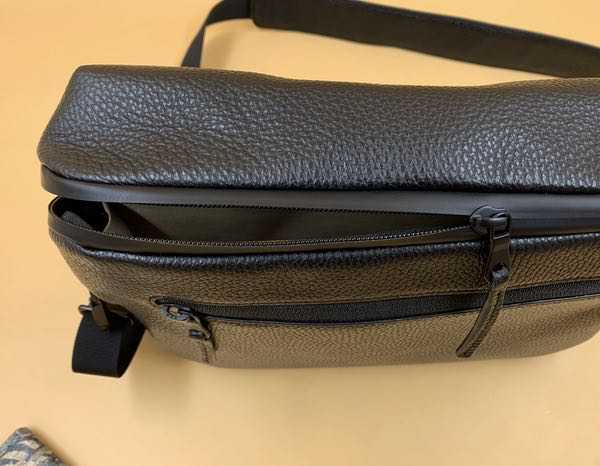 Crack that seal and you will find pockets and pouches galore. I counted 12 different interior spaces to play with.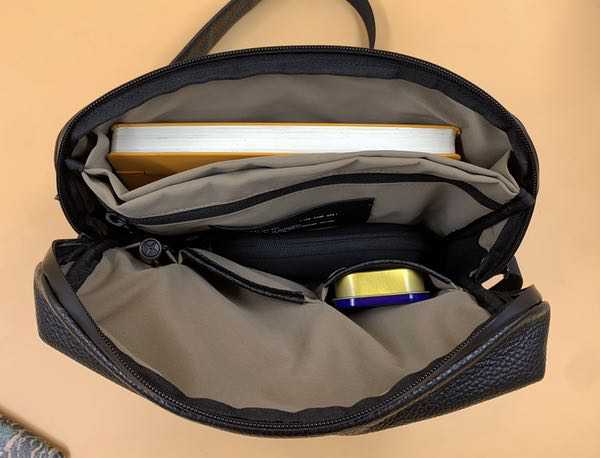 There's a big divider in the bag that bellows out and folds back out of the way if you don't need it. I have my trusty Leuchtturm 1917 notebook in there as a size reference but you'll get a book, a small tablet, or an e-reader in that space. Grams28 says it will take an 11″ iPad Pro with a Magic Keyboard.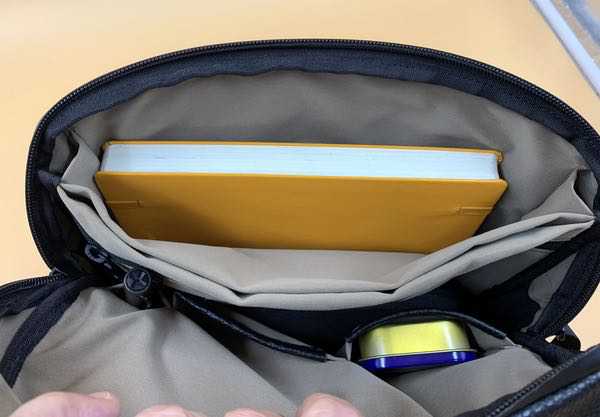 The divider itself has a magnetic clasp and opens to reveal another space that has a wee bit of padding to it. This is intended as a pocket for sunglasses but will work for other smallish items.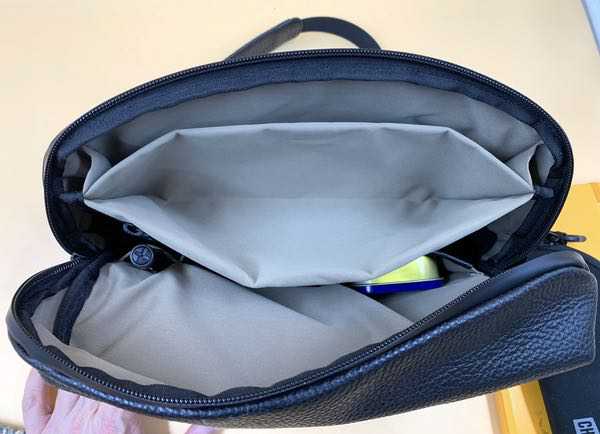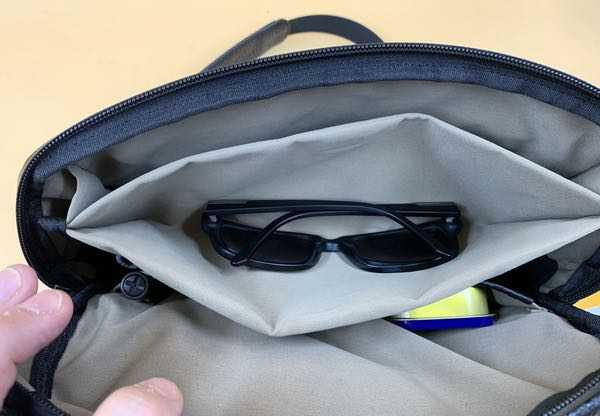 On the front of this divider is a zip pocket with three smaller open pockets. This would be a good spot for smaller tech bits and cables. I have a 4″ pocket knife in there for size reference. Grams28 advertises the 154 City Pack as a small camera bag as well, so some of the pockets would serve double-duty for camera accessories.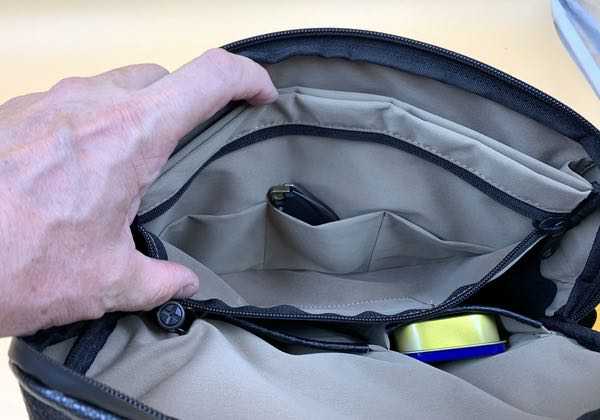 Flip the Grams28 154 City Pack around, and you'll find two additional larger pockets along with a pen slot. I have a tin of mints in one for size reference, I do like that they reinforced these pockets with a bit of leather on the flap since you may be using them quite a bit to get at quick-grab stuff like airpods, a poer brick, or a small wallet/credit card holder. There are also two elastic mesh pockets on either side you can just see in these pics that would be good for thumb drives, a small knife/multitool, or even a small EDC flashlight.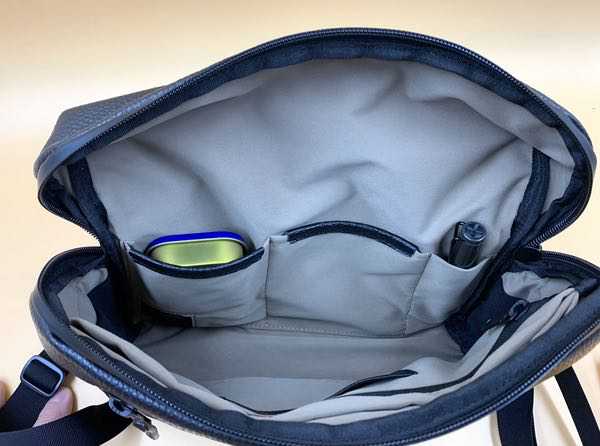 All of this pocketing also leaves an extra inch or two of space in the main compartment for extra stuff, depending on what you're carrying.
Performance
Sling-style bags are immensely popular these days, but they are very dialed into specific styles and use cases. I feel that the Grams28 154 City Pack stands up well as an urban/travel runabout for the person who has lots of small things to organize… and is particularly style-conscious.
The layout of this bag is perfect for EDC essentials, small electronics, and those little bits and baubles you may need for a day trip (like a charging block and earbuds). It's also just big enough to keep a notebook, a small tablet, or an e-reader if you want to use it as a minimalist carry-on, switching roles to a small camera bag when you go touring at your destination. It's perfect for organizing & prioritizing those sorts of things with different zones for different purposes.
Overpacking this bag, however, is not an option. That internal space fills up quickly with your essential bits with a small bit of room to spare. I've got the bag loaded here with my sunglasses in a case, a notebook, my wallet, a pen, car keys, a tin of mints, a couple of charger cables and a small charging block. I can get a few more well-placed items in there, but that's about it.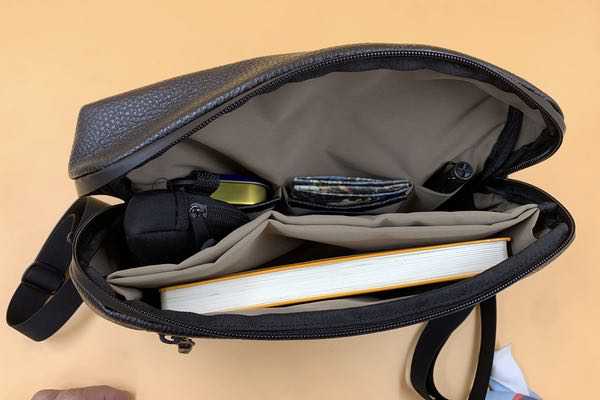 That's not a bad thing, mind you. Some slings I have tested are smaller and less convenient for extras like this. Just be aware that you're not getting a big hydration bottle or a rolled-up jacket in here.
Carry comfort is excellent. The 55″ strap with adjustments on both sides, coupled with the swivel clips, enables a quick change from over-the-shoulder to crossbody as I am wearing it here. It will accommodate a large variety of body types, and the simple not-too-bulky box shape makes it easy to find a comfortable position for walking about for hours at a time. I don't miss a quick grab strap on this bag either. It's small enough and light enough to sweep up and go.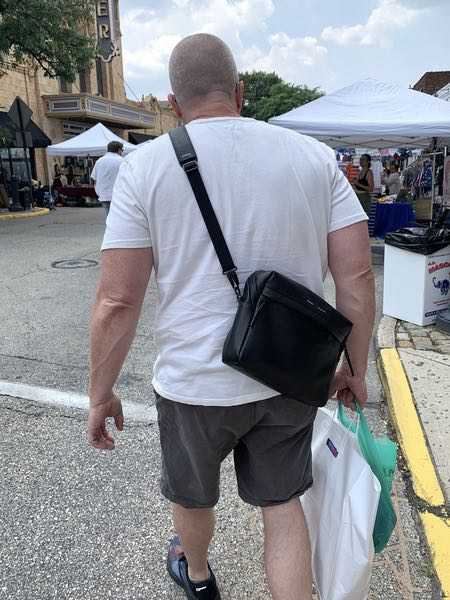 The Grams28 154 City Pack's build quality and materials are really tight. Some of these leather products feel like it's just a veneer that's easy to destroy. I'm not getting that feeling in my testing here. It's been remarkably resilient so far, even to scratch testing. We'll see how the leather lasts over time.
This all brings us to the issue of style. This is a bag that leans heavily into upscale style — think sports jackets and polo shirts as opposed to gym shorts and tank tops. And that's perfectly OK. You'll want to consider that depending on your personal style & budget.
What I like
Excellent construction & finishing
Beautiful leather
Smart, versatile layout
Easy to carry
What I'd change
No major flaws to report here.
Final thoughts
The Grams28 154 City Pack is a well-designed, upscale, sling-style bag that works nicely as an EDC carryall to free up your pockets from all the things. Construction and materials are top-notch. The usability is excellent. Just keep in mind that it is very style- and purpose-specific, so you'll want to make sure that an investment like this aligns with your needs.
Price: $299.00
Where to buy: Grams28.com
Source: The sample of this product was provided by Grams28.