We use affiliate links. If you buy something through the links on this page, we may earn a commission at no cost to you. Learn more.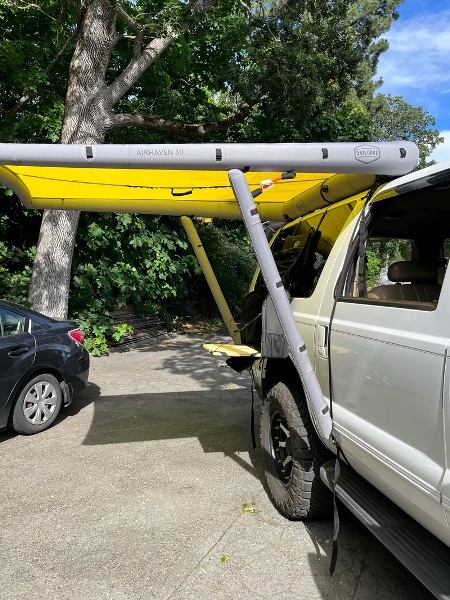 NEWS – My husband enjoys rocketry. In the past, we would head out to a remote area where the Dallas Area Rocketry Society (DARS) would be launching rockets. Once there, we would pitch a pop-up canopy to protect us from the blazing Texas sun while my husband prepped his rockets for launch. The drawback to such a canopy is that it is quite cumbersome and easily adversely affected by the wind and rain.
When I visited the DAYLODGE website after seeing it on coolthings.com and saw the AirHaven, I was intrigued. DAYLODGE is a small business that was founded during the pandemic and the AirHaven is an inflatable awning that you can attach to the side of your SUV, van, truck, etc. to protect you from the sun and elements.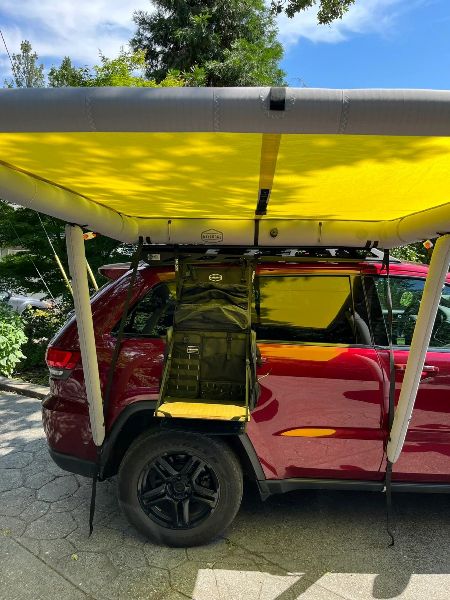 The AirHaven 40 measures 6'x7′ and uses lightweight ripstop polyester canopy material to diffuse light. Surprisingly, there are "no poles, rods, mechanical devices, fixed mounting hardware, or ground support" needed to use the AirHaven. When the wind blows, the awning bends and then pops back into place because it's inflatable. To inflate it, you use a standard high-volume air pump (the pump does NOT come with the awning).
You can set the AirHaven 40 up on vehicles with or without racks. On those without racks, you can use aftermarket suction anchors, magnetic mounts, or DAYLODGE Flexmount VHB anchors. Could this be an alternative to our popup canopy? We don't have one, but it looks promising.
The DAYLODGE AirHaven 40 is an updated awning from the AirHaven 30 and is available for preorder from the DAYLODGE website for $599.00.  It comes in a camo color version and blackout canopy (for more shade) options. There are only 50 of the awnings available right now for presale which are set to ship in September 2023.
The website doesn't detail what comes with the AirHaven 40, but the previous version came with the awning, carrying bag, setup instructions, and attachment accessories (vehicle slider, hinged door, gutter/channel attachment accessories, universal attachment accessories included for top anchor point setups including racks, etc.).
The following videos provide some more info on the awning and about how to set up and remove it: