We use affiliate links. If you buy something through the links on this page, we may earn a commission at no cost to you. Learn more.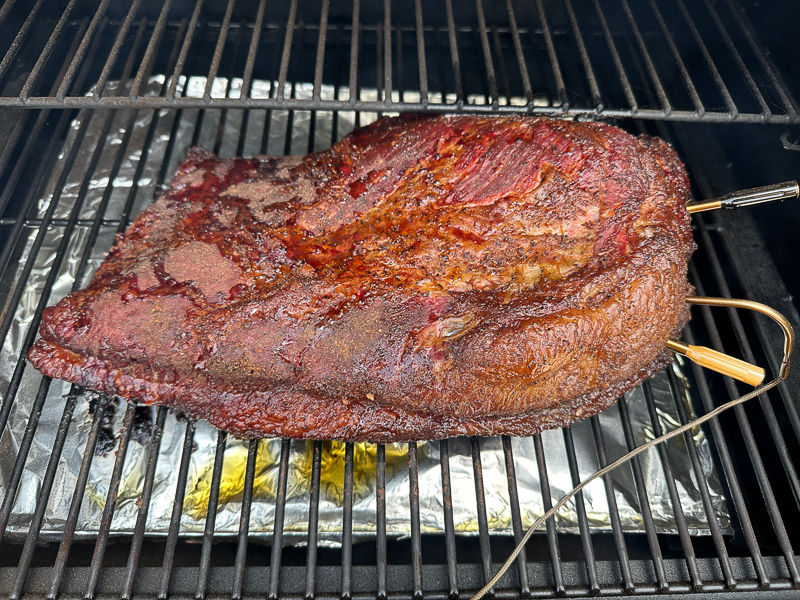 REVIEW – Summer is officially here in South Texas, and for me and my family, that means BBQ!  I am not talking about tossing some hamburgers on the grill or loading up your kettle grill with charcoal and grilling up a steak.  I am talking about hours of slow-cooking a big chunk of meat into a delicious slab of mouth-watering, smokey goodness!  Nothing speaks BBQ better to me than brisket.   To make a brisket properly, you must slow cook it over indirect heat with lots of smoke at about an hour per lb.  The preferred temperature is around 225 degrees Fahrenheit.  A few years ago, I broke down and purchased a 'cheat' and got myself a Traeger pellet grill.  So instead of maintaining a wood fire off to the side of my BBQ pit and keeping a huge stack of wood in my yard, I feed my grill wood pellets.   It will maintain a set temperature by slowly feeding the pellets to the igniter in the grill.  My grill is an older model where I can turn the dial to set specific temperatures.  Two hundred twenty-five degrees is a setting, but I have long suspected that my grill gives me an optimistic reading.  So when the opportunity to review the new ThermoPro TempSpike Wireless Meat Thermometer came out, I volunteered to review it.
What is it?
The ThermoPro Tempspike II are a pair of wireless meat thermometers that have sensors at both ends of the stick.  One is for the internal temp and the other for external.  They come housed in a 'booster' box that allows you to charge the thermometers and see the current internal temperature readings.  There is also an app available for more options.
What's in the box?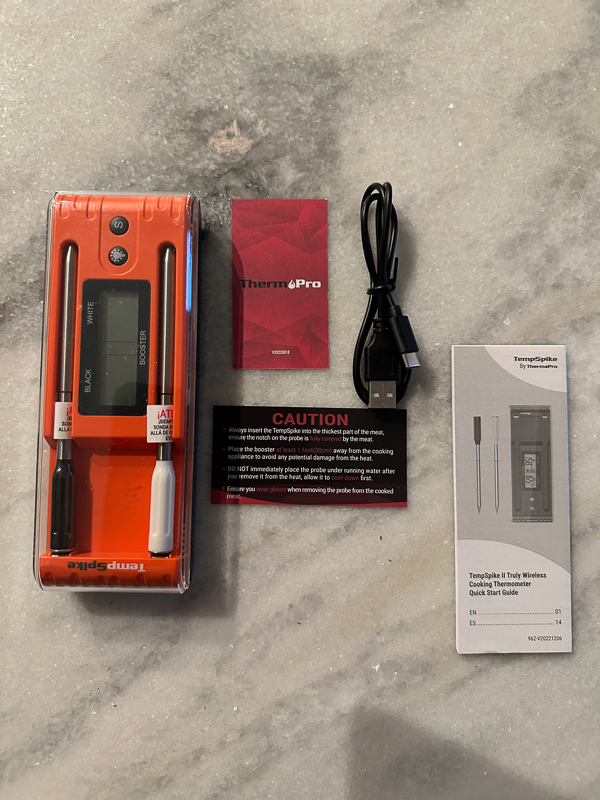 Booster storage box and two thermometers
Customer support card
Safety card
Instruction manual
Charging cable – USB-C
Hardware specs
Bluetooth range of up to 500 feet from the booster
backlit display on booster
Booster will display internal temp of both probes along with battery power
Booster will sound alarms
App available to customize alarms
Probe battery life of 36+ hours
Booster battery life of 3 months if used once a week.
Booster has auto-off in 5 minutes once probes are placed back in the box.
Internal temp range of 14 – 212 degrees Fahrenheit
Ambient temp range of 14 – 572 degrees Fahrenheit
Accuracy of +/- 1.8 degrees Fahrenheit
Design and features
The picture below is a closeup of the white probe.  It is five inches long with the insert line at two and a half inches from the bottom of the spike.  When inserting the probe into meat, you need to make sure you insert it so the line is fully covered by the meat.  The probe is IP67 waterproof.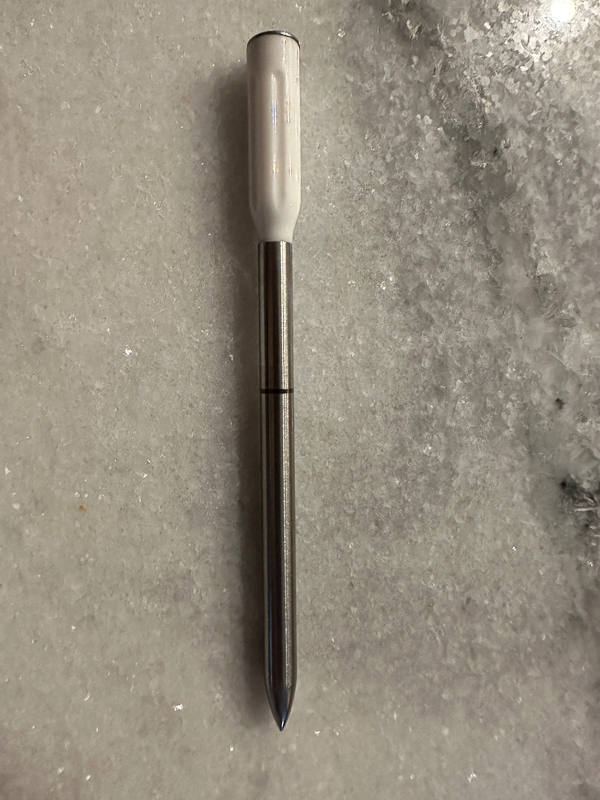 On top of the probe, you can see two holes that are used to read the ambient temperature in your cooking device.  In my case, it will be reading the temperature inside my grill.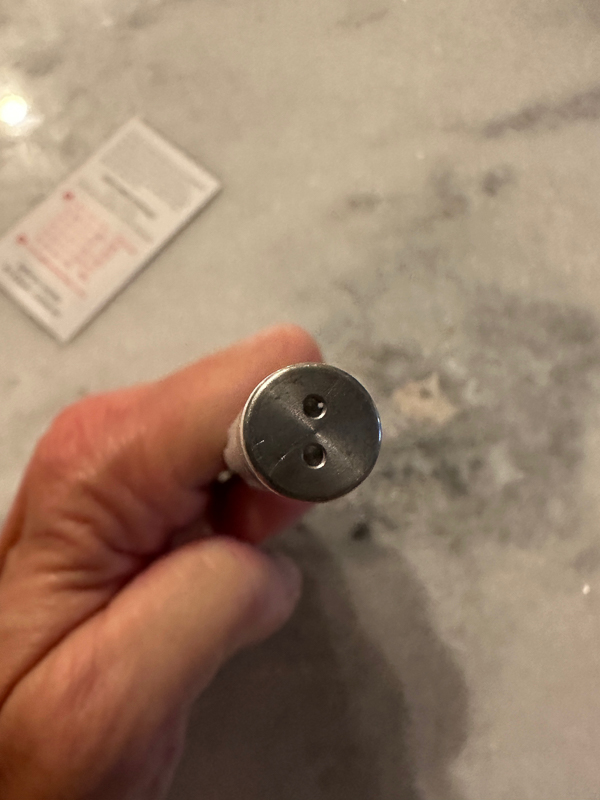 The bottom of the booster box has five rubber feet.  Plus, it is also magnetic if you want to stick it on the side of something metal.  I personally would not stick it on the side or front of my grill because the booster is made of plastic.  I could stick it on the side of my pellet hopper box.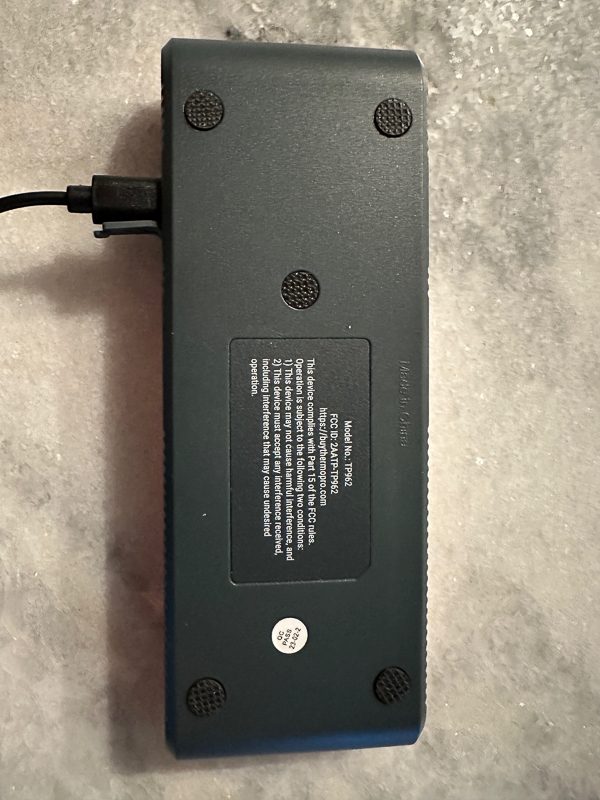 There are two buttons on the booster.  The first is the backlight button, then the S button.  It has four functions:
press once to turn on the booster.
If the booster is on, press once to rotate between internal and ambient temperature displays.
If the booster sounds an alarm, press the S button to silence it.
Press and hold for three seconds to pair a probe.

Setup
The first thing I had to do was to make sure the booster and probes were charged up.  A USB-C port on the side of the booster is covered with a rubber flap.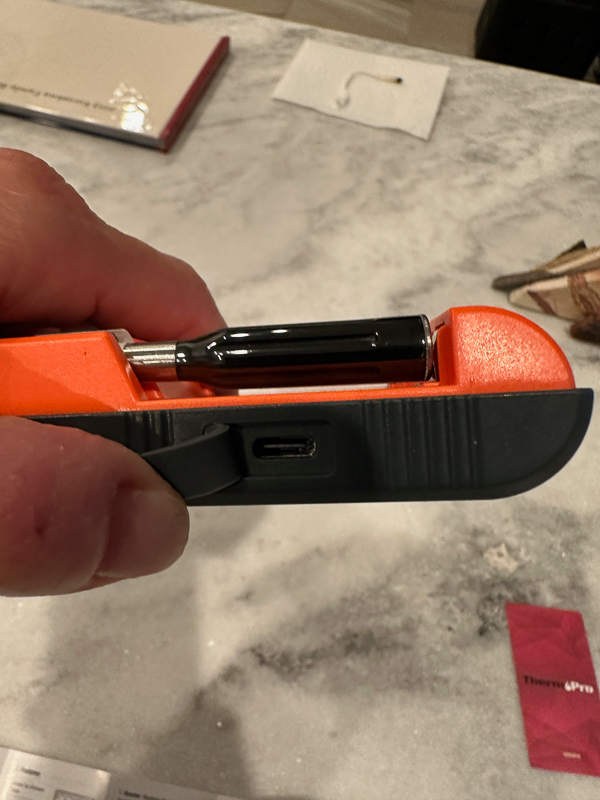 Once the booster and probes are fully charged, you will see three bars in the battery for each.  The battery in the center is the probe battery indicator.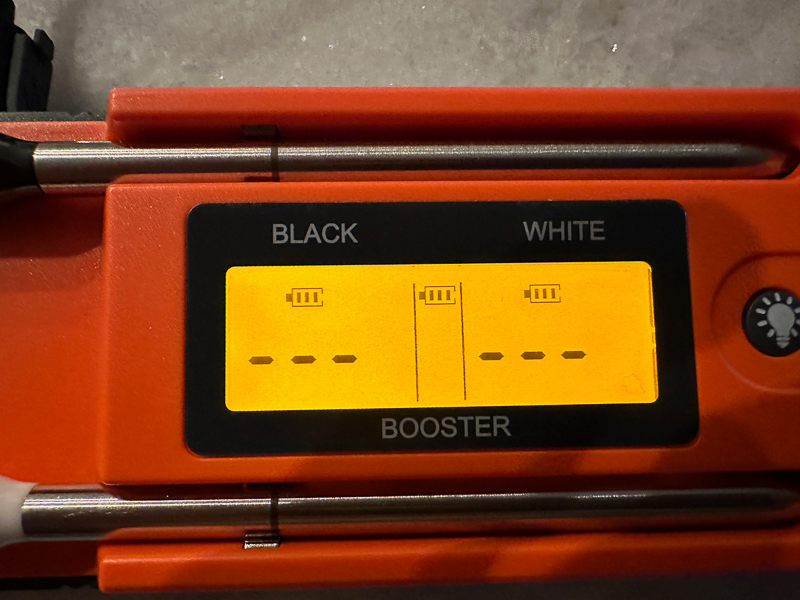 The next step was to download the app and pair the device.  I am happy to report I was not required to create an account.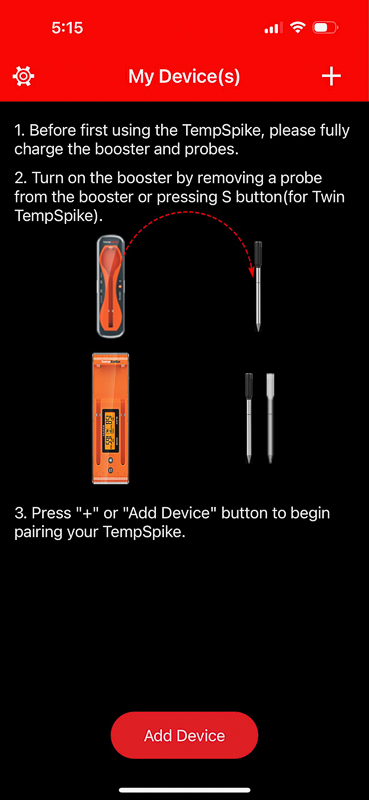 The ThermoPro Twin Tempspike showed up right away and was easy to pair.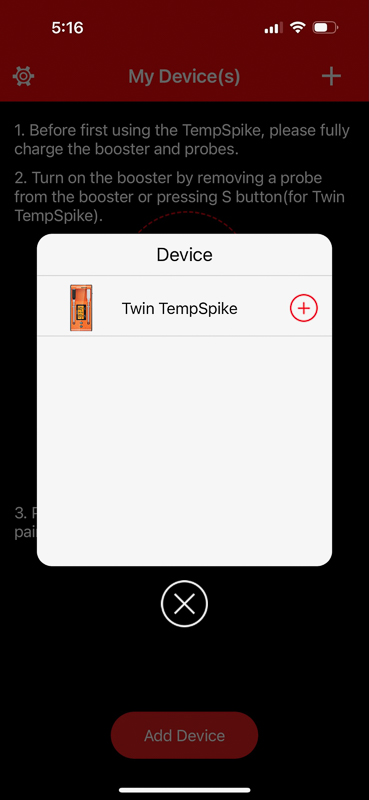 Once both probes were paired, the ambient and internal temp was displayed for both.  Since they were not inserted into anything the temperatures matched.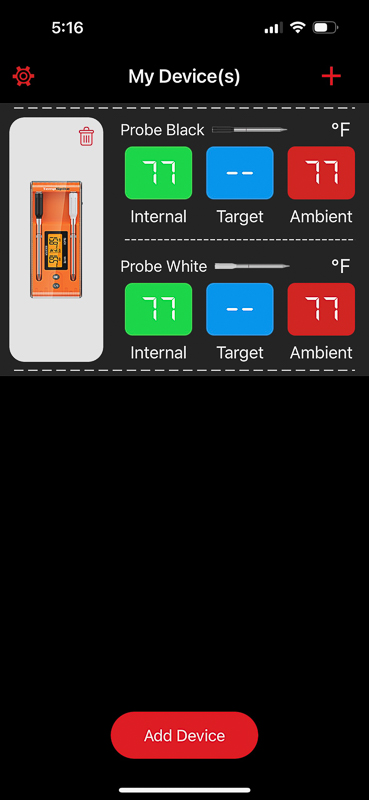 There are a ton of settings on the app.  You can of course use Celcius or Fahrenheit.    There are multiple notification options.  It can notify you when the app loses connectivity to the booster, when internal temps are reached, and ambient temps are reached.  There are also 357 different sounds you can set for the notifications.   If you can't find one that makes you happy, nothing will!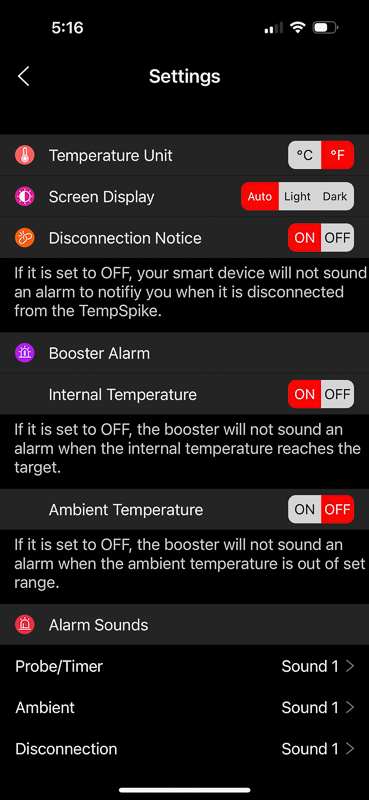 You can even set a notification for when you cook is at 5 degrees before the target temp.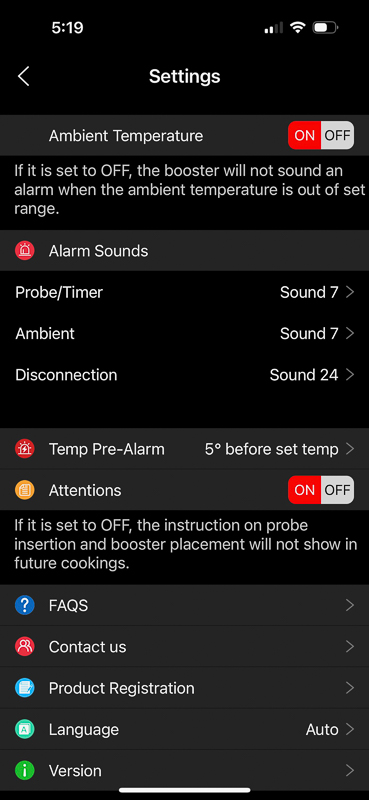 Performance
I had a nice ten pound brisket to test with.   I inserted both white and black probes into the heel of the brisket.  I also inserted the wired Traeger probe.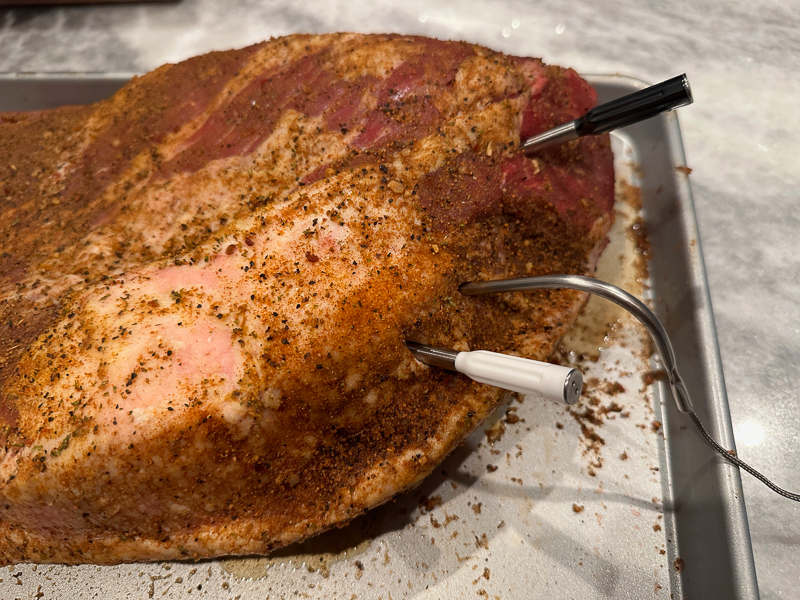 The booster immediately showed the internal temp was 37 degrees on both probes.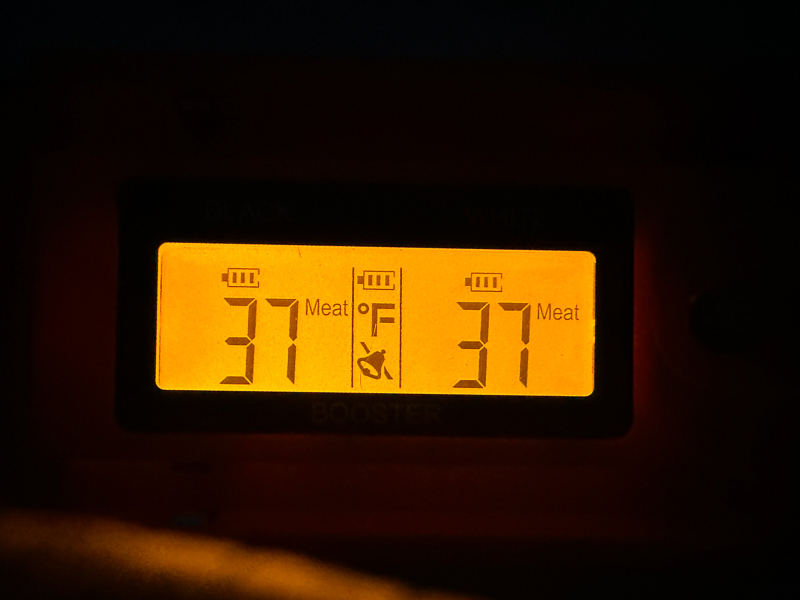 I tested the reading by inserting my instant read thermometer.  It showed 36.6 which means that the ThermoPro TempSpike probes were well within the +/- 1.8 degree range.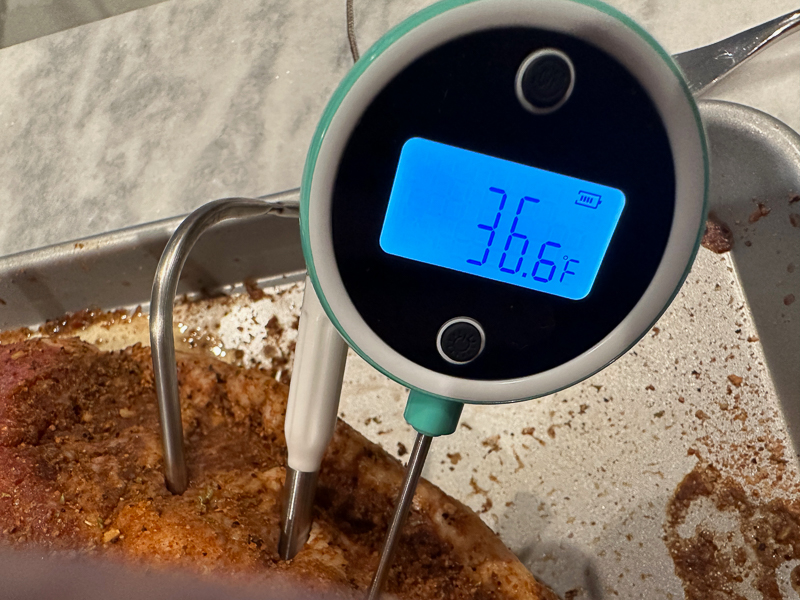 The app has a couple of nice screens telling you how to place the probes.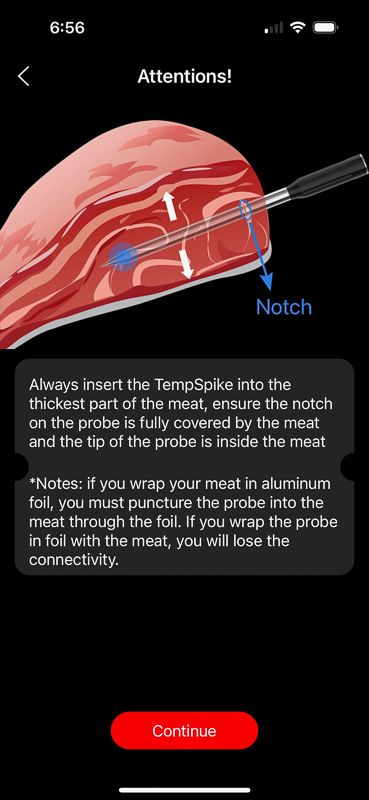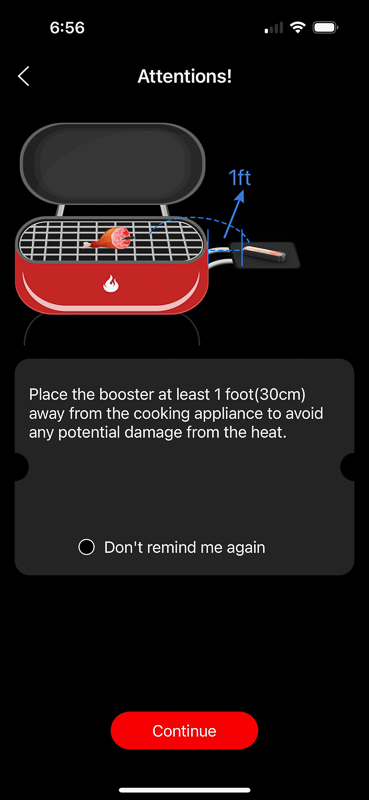 The ThermoPro app comes with several preset temperatures for various types of meat.  I chose to make two custom settings.  I made one for 160 degrees.  That was when I needed to take the brisket out and wrap it in foil.  Then I made a final setting for the final brisket temp of 200.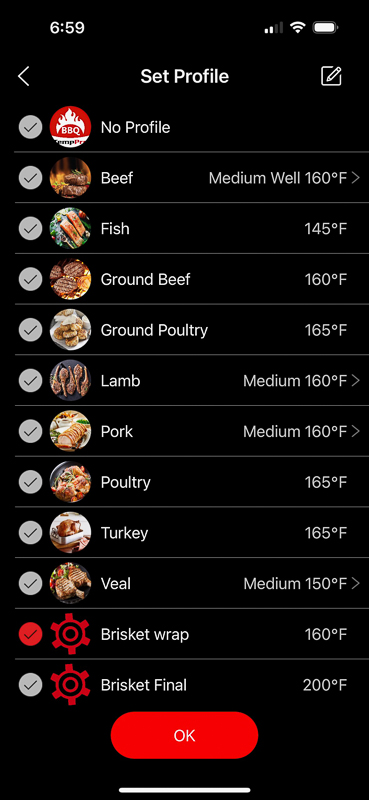 I put the brisket in the grill and placed the booster on my deck railing which is about 5 feet above the grill.  That let the booster send a signal into my house with less interference from a cement slab.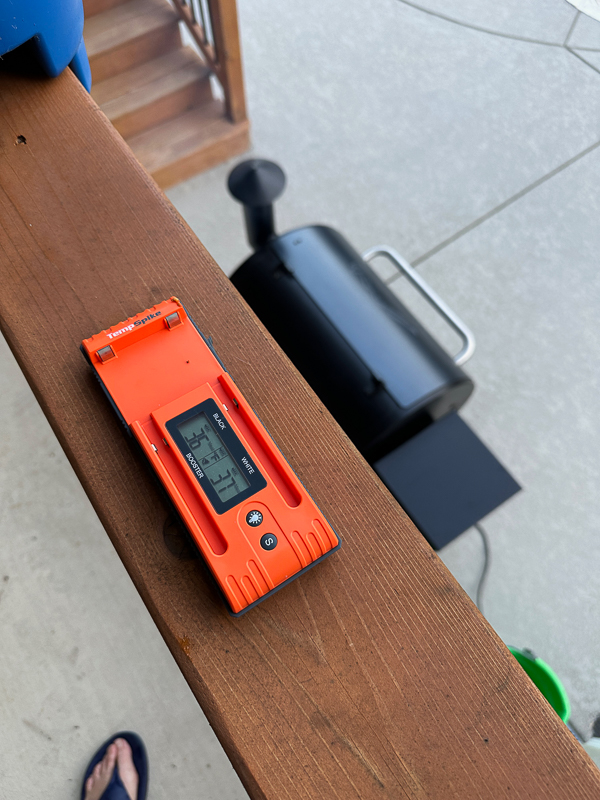 I took a screenshot to show you how to set an alarm for the ambient temperature.  I had my Traeger fail on me one time in the middle of a brisket cook.  It just stopped heating.  I had no idea until I wandered outside, glanced at the display temp, and saw 150 degrees!  I am happy to report that it did not fail on this cook.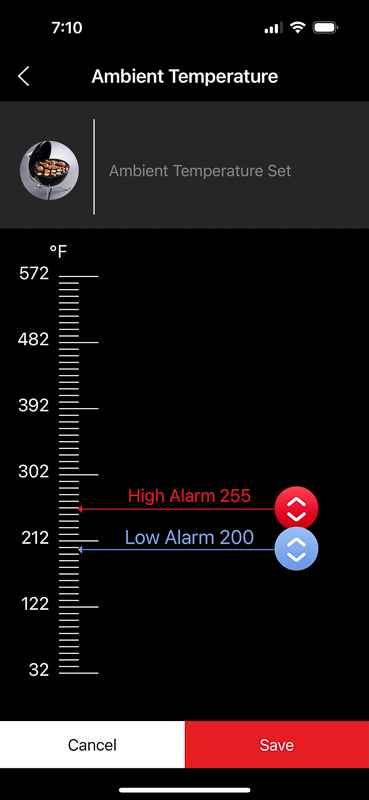 Here is a screen shot within the first hour of my cook.   I soon found out that my Traeger was over reporting the temperature.   I had the grill set to 225, but it was barely breaking 210-215.  I ended up having to set it at 250 and cooked the brisket around 235 – 240 degrees.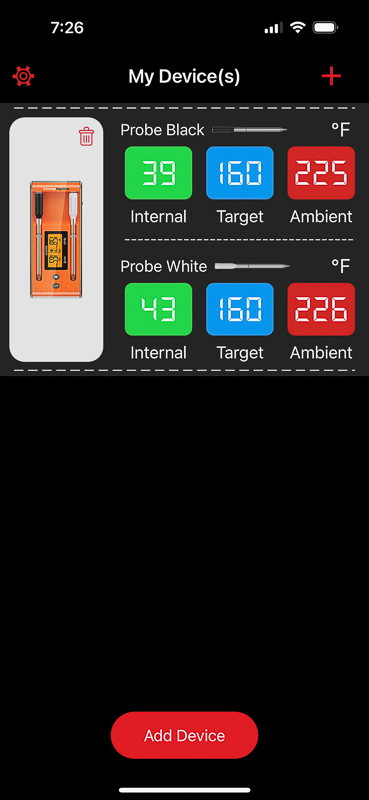 If you click on either probe from the above screen, you get the screen below.  You can start recording the history of the cook.  It will also give you an estimated cook time.  I will have to cook some more and watch that estimation again.  It seemed flakey to me as each probe gave a drastically different estimated cook time.  That screen also shows a high temp of over 418 which seems a bit crazy.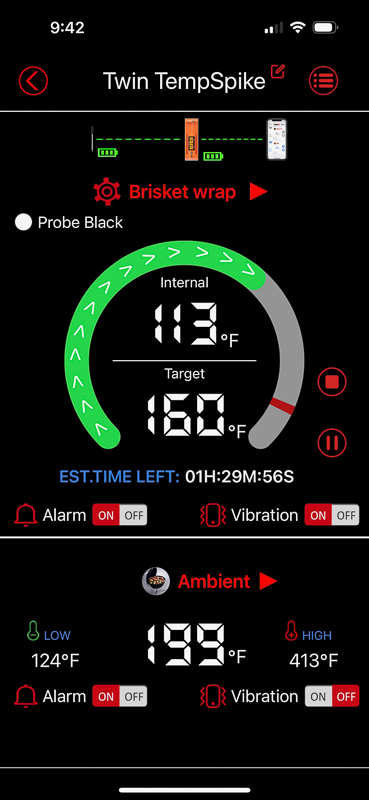 Here is a picture of the brisket with a nice bark on it when it reached the wrap temperature of 160 degrees.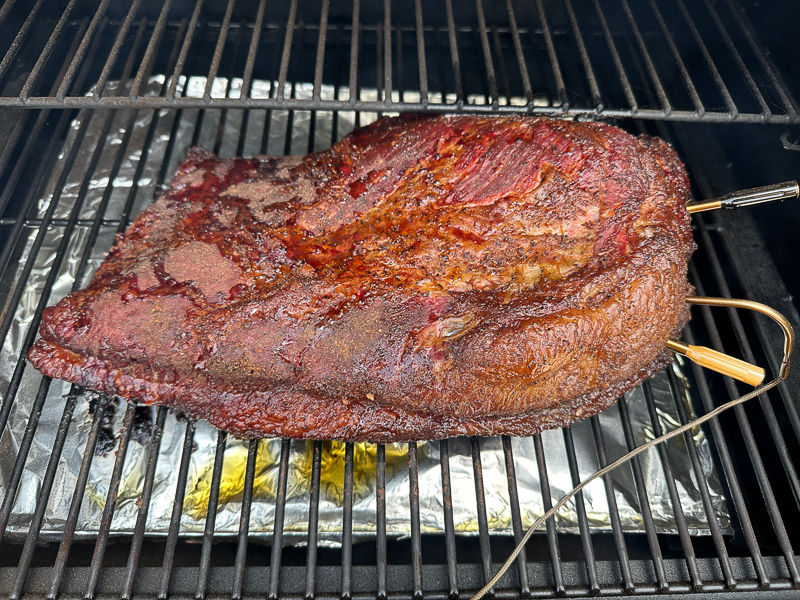 I took a picture of the probes when I was done cooking.  The white one got pretty smokey, but with some elbow grease, it came clean.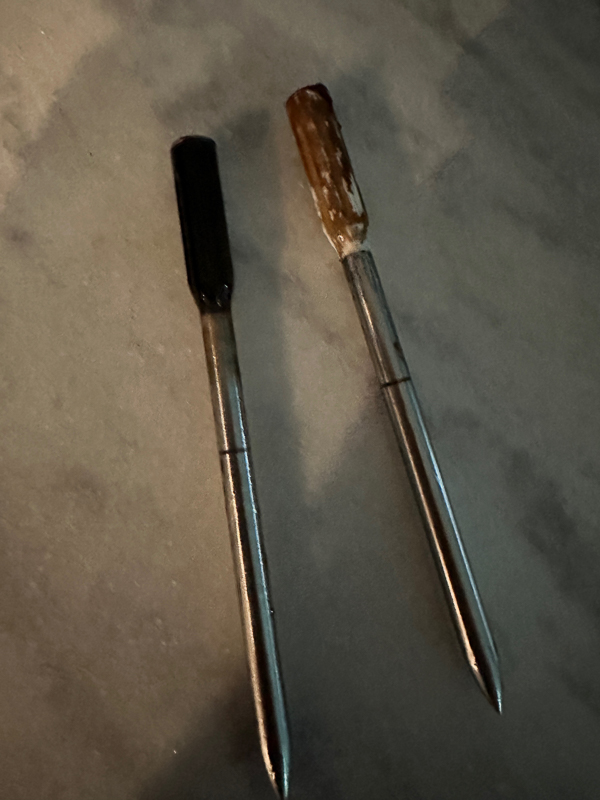 Here is a screen shot of the history of the final part of the cook.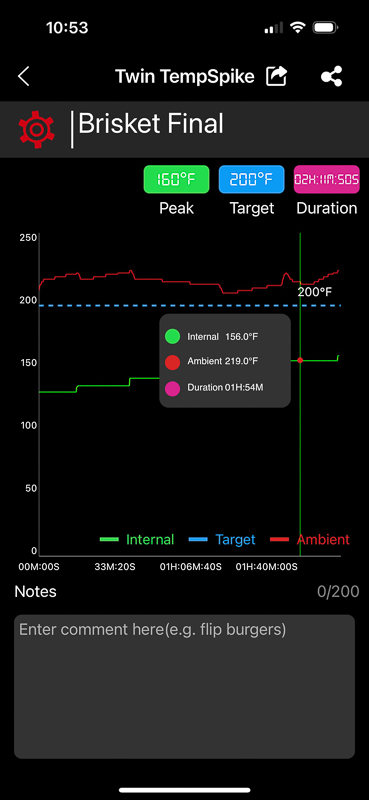 Finally, here is a shot of the completed brisket.  I took it out at just over 9 hours and let it sit for an hour.  It came out awesome.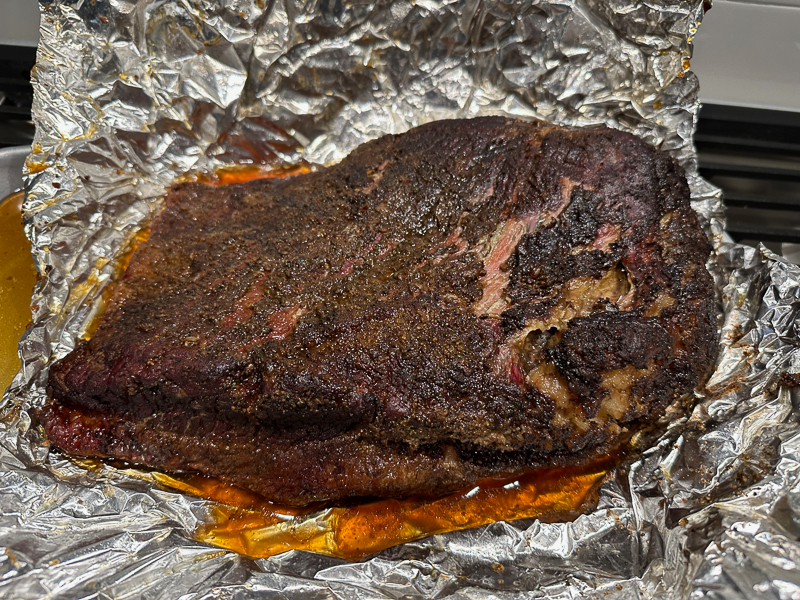 What I like
Very accurate thermometers – both internal and ambient
The booster let me get a good signal throughout most of my house.
Lots of notification options.
great battery life
What I'd change
I wish it had internet connectivity.  No way to see how my cook is going if I leave the house.
No manual shutoff of the booster.  Only auto shut off.
Final thoughts
I was very happy with the performance of the ThermoPro TempSpike II wireless Thermometers.  They were very accurate in their temperature readings.  I could use my phone and get readings through one and two walls in my home.  I found the app easy to use and had many features and options.  I will use these thermometers every time I grill outside and the next time I cook a turkey or large meat item in my oven.  If they would only offer internet connectivity, I think they would be unbeatable.
Price: $104.99
Where to buy: ThermoPro
Source: The sample of this product was provided by ThermoPro.