We use affiliate links. If you buy something through the links on this page, we may earn a commission at no cost to you. Learn more.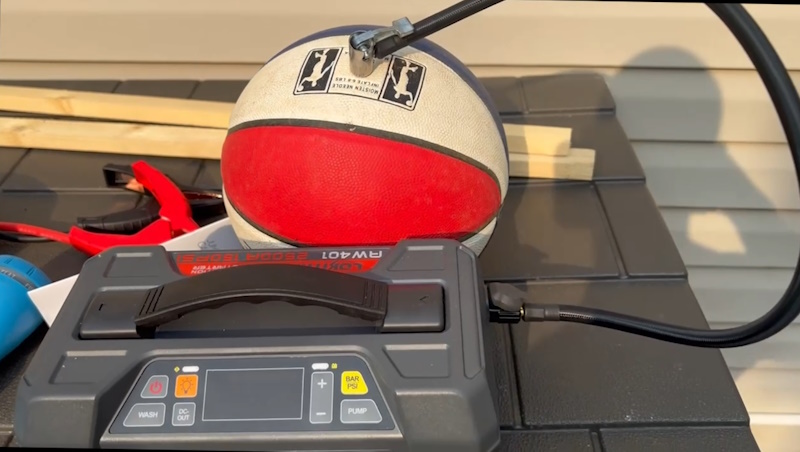 REVIEW – I can remember the days years ago when I would make sure that in the back of my car, I always had a portable battery pack for an emergency jump start, a portable tire inflator, and a flashlight among other things. Back then, I would never have even entertained the thought that there could be one small, compact device that would handle all of those emergency needs. That is until I saw the devices that are being manufactured today, including this Lokithor AW401 Jump Starter with Car Washer.
What is it?
The Lokithor AW401 Jump Starter with Car Washer features a 1.5 MPA Cordless Portable Pressure Washer Kit, a 150PSI Tire Inflator with Digital Screen, and a 2500 Peak Car Battery Booster for Up to 8.5L Gas or 6.5L Diesel.
What's in the box?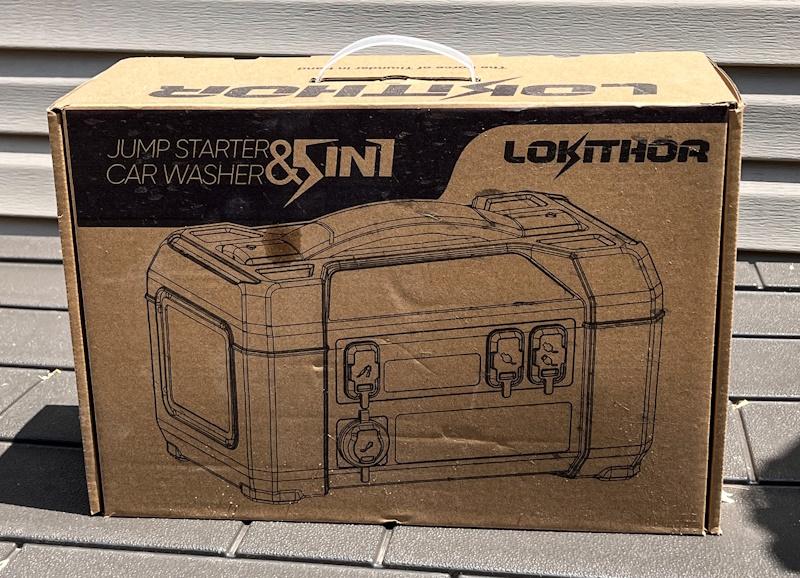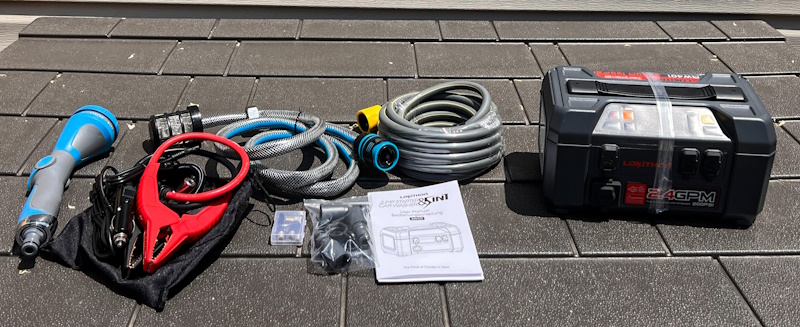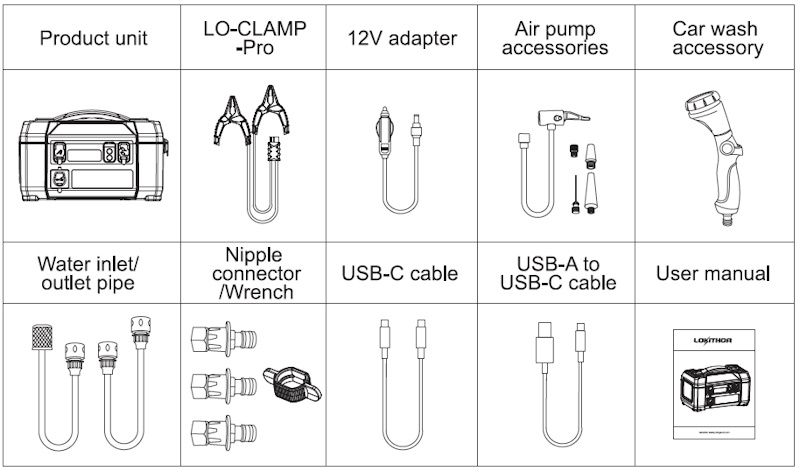 1 x Lokithor AW401 Jump Starter with Car Washer
1 x Lokithor CLAMP-Pro
1 x 12V Adapter
1 x Inflatable hose & 4*Nozzle adapters
1 x Car Washer Accessories
1 x User Manual
Hardware specs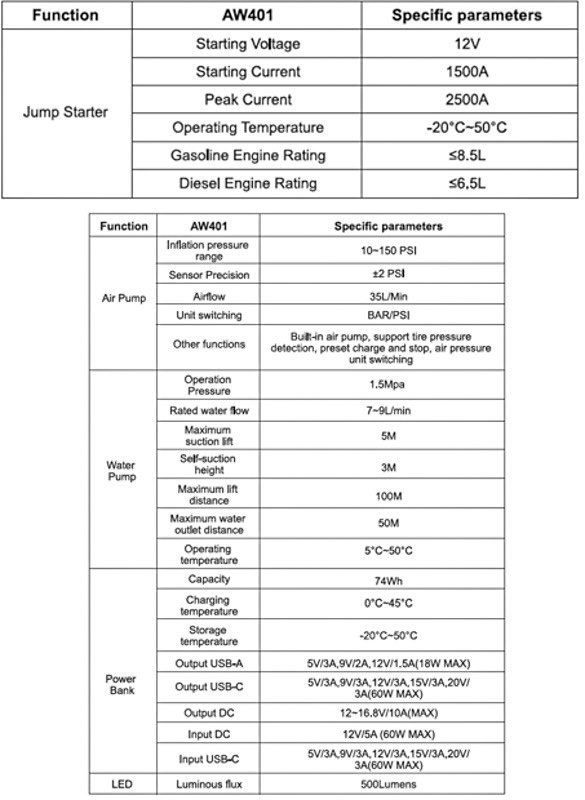 Design and features
HIGH PERFORMANCE DRIVEN: AW401 battery jump starter has supper starting current 2500A after a full charge and can achieve 60 times jump-start. Suitable for gasoline engines under 8.5 liters and diesel engines under 6.5 liters, including Cars, Motorcycles, Boats, RVs, ATVs, SUVs, Vans, Tractors, Mowers, and more.
CORDLESS PRESSURE WASHER: Portable AW401 Car Washer has up to 200 PSI pressure, perfect for quick cleanups in campgrounds, cabins, cars, beaches, and boats or anywhere electricity is at a premium, built-in Toss (total stop system), automatically shuts off the pump when the trigger is not engaged to save energy and prolong pump life. 20000mAh portable power bank, with a battery life of up to 40 minutes.
EMERGENCY AIR PUMP: AW401 digital air pump is manufactured with the unique Turbocharged Movement, which is more powerful, more stable, and less noisy. It can provide a maximum pressure of 150 PSI and airflow of 35L/Min, supports tire-pressure detection, Preset values stopping, and unit switching (BAR/PSI). You only need 5 mins to fully Inflate the 195/65/R15 car tire from 0 to 35 PSI. Professionally calibrated to always about the Digital-display within 1.0% of the pressure of the tire.
60W TWO-WAY FAST CHARGING: AW401 jump pack Completely input recharges in just 1.6 hours, or Start your car in just 5 minutes of charge. Its internal power bank provides 60W of power output – easily powering your USB-C devices such as phones, tablets, and laptops.
ULTIMATE SAFETY AND MULTI-FUNCTION: The function of the AW401 is to also start a dead car battery, with a safe and spark-free operation. 10+ protections to instantly start your car's engine. Mistake-proof design with reverse polarity and spark-proof technology. In addition, the integrated 500-lumen LED flashlight(Flashlight; Strobe; SOS), Light up the night and keep you away from danger.
The Lokithor AW401 Jump Starter with Car Washer is a solidly built compact device that features a LED screen, touch buttons for the controls and functions, and ports on 3 sides. there is a flashlight on the 4th side and a top handle.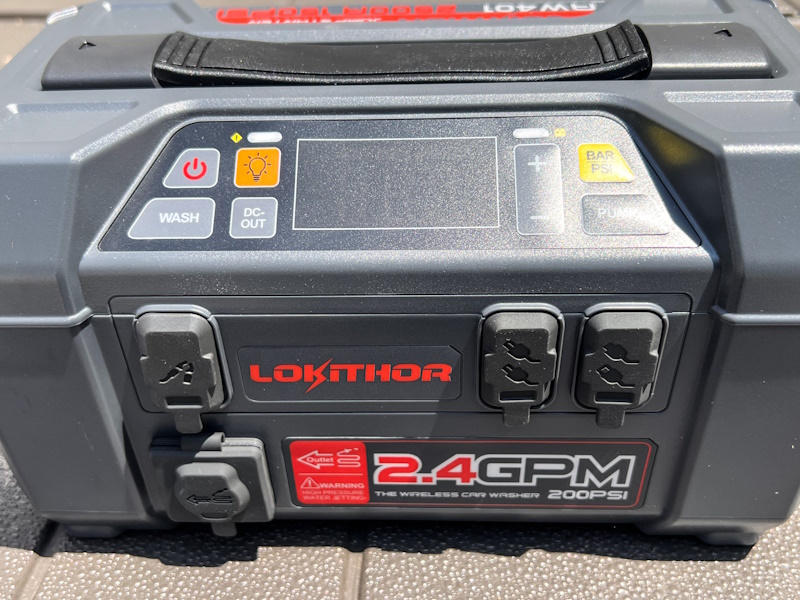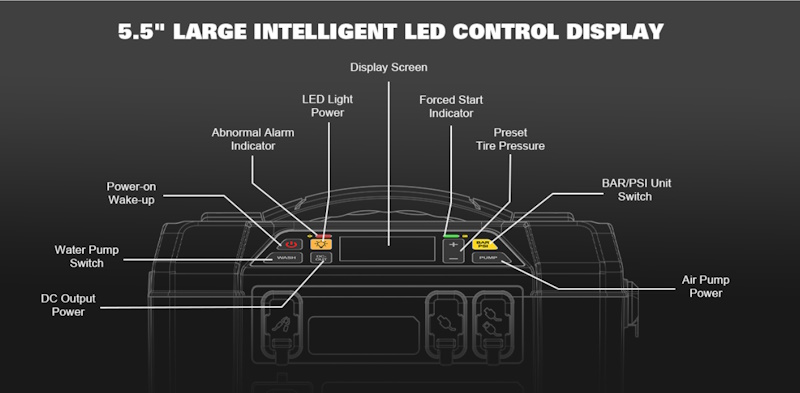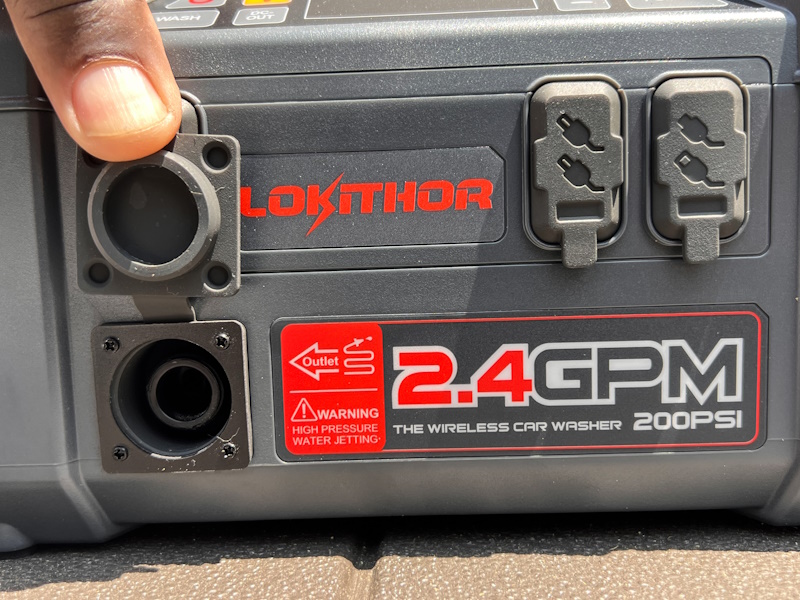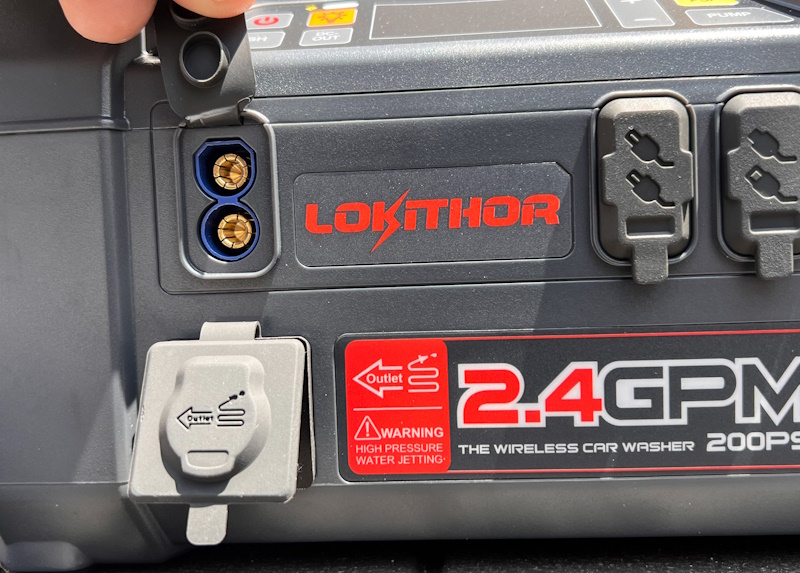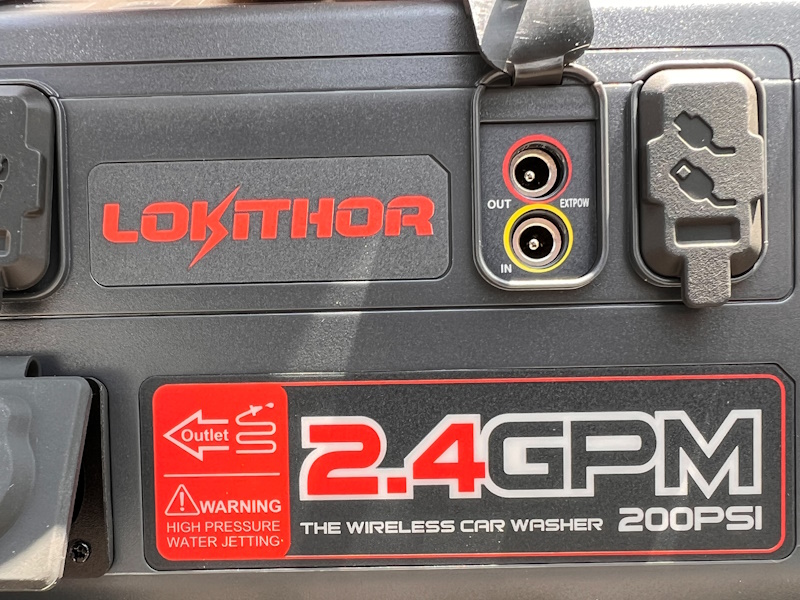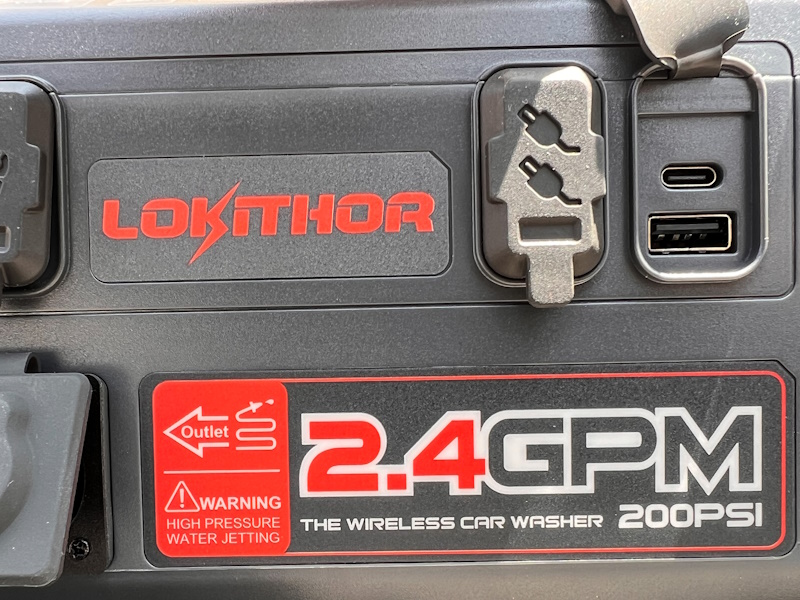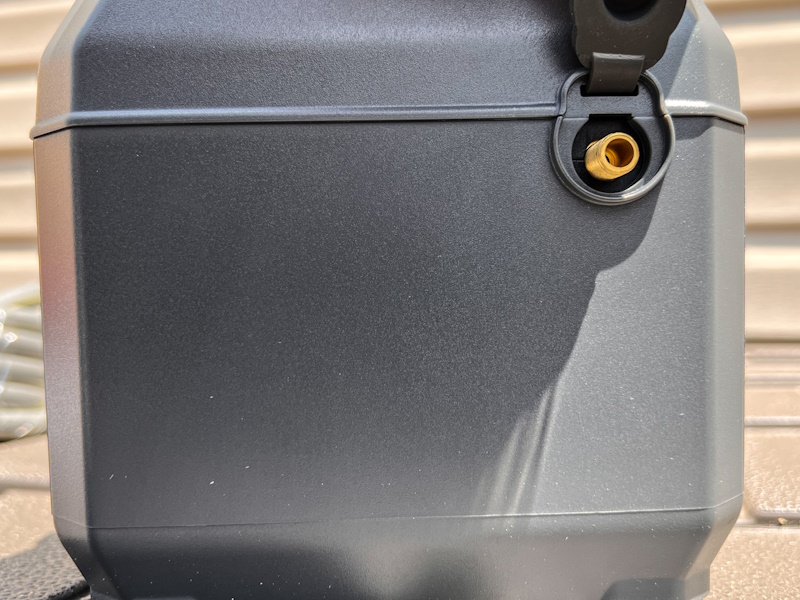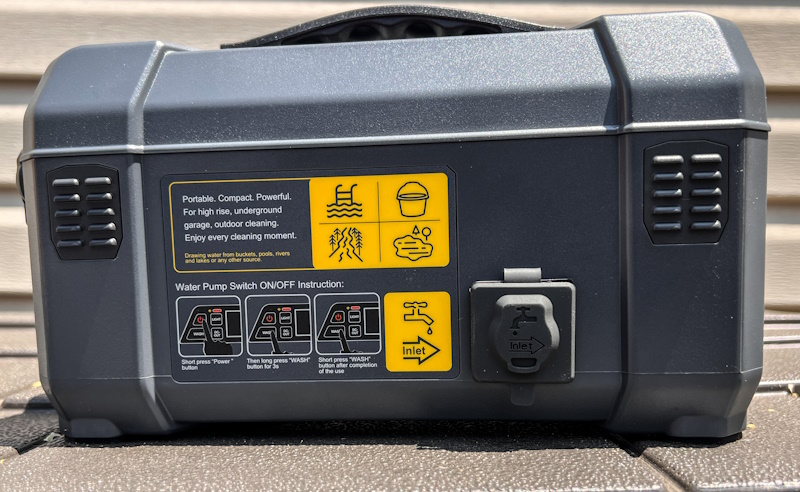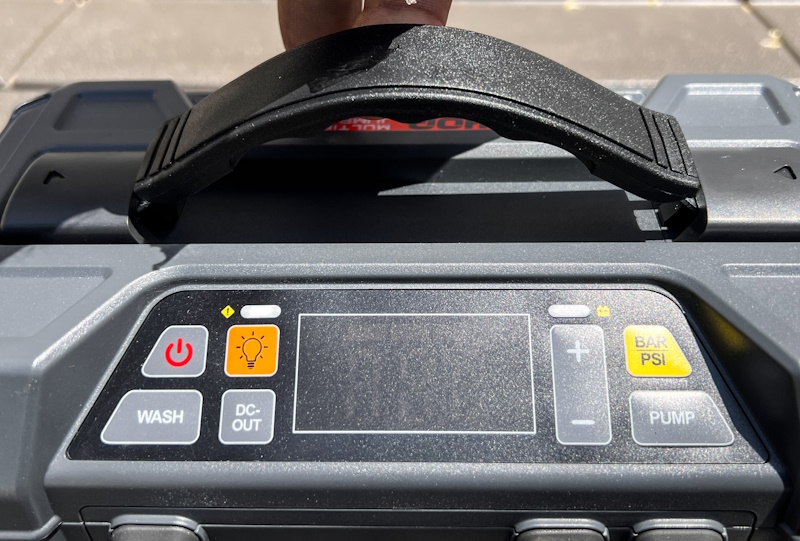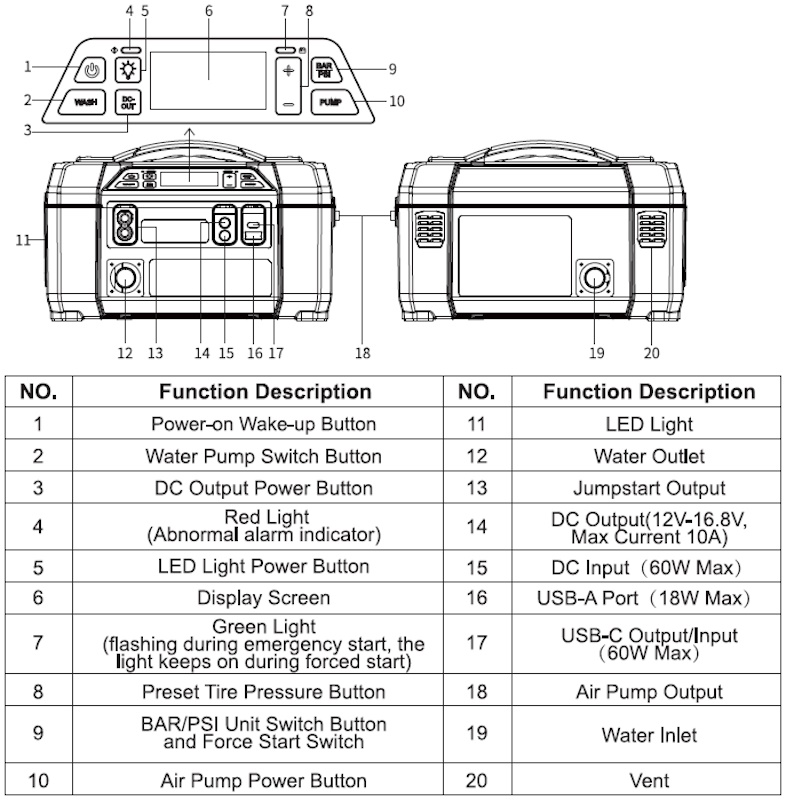 Performance
The Lokithor AW401 Jump Starter with Car Washer has a built-in battery, so the first thing that I did was charge it fully.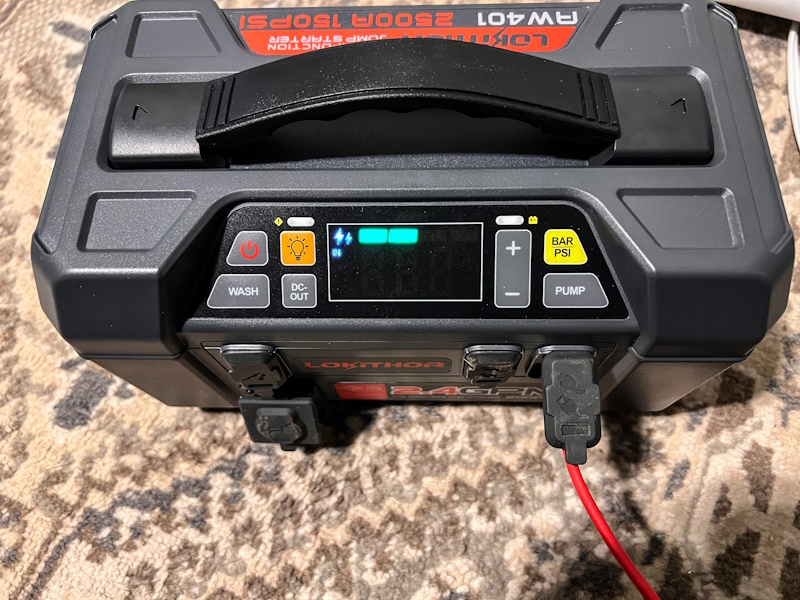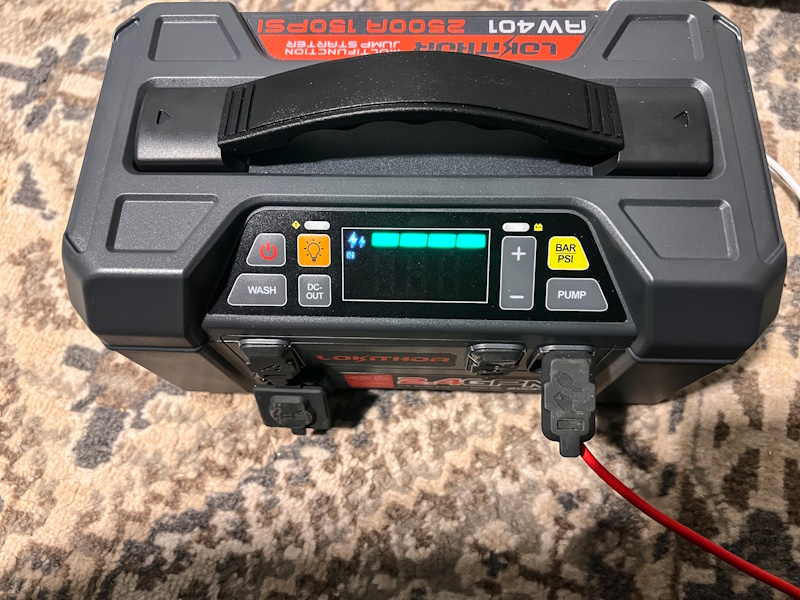 Once the Lokithor AW401 Jump Starter with Car Washer was charged, the first test I did was to help my neighbor who needed a jump start for his car. Unfortunately, he jumped the battery when I stepped away for a moment, so I did not get a video of it, but it worked well.
The next test was to try the air inflator. The only thing I had to test on at the time was a partially soft kids' basketball. It pumped the ball up easily. In the video below you, see the device constantly shutting off. I have experienced that with other inflators when using that nozzle on an almost full ball. The air inflator works fine. I think it is that type of nozzle and back pressure that causes the issue:
The final test was connecting and using the car washer feature. The video below shows the experience:
Overall, this is an excellent device and the multiple functions all work well.
What I like
It is very well built
The built-in functionality
The portability
It has a built-in battery
What I'd change
The inlet washer hose kinks very easily
Final thoughts
The Lokithor AW401 Jump Starter with Car Washer is a compact device that packs several features into one very portable package. The battery jumper and inflator features work well as well as the car washer feature. The built-in battery is great and when needed, you also have use of the flashlight with multiple operational lighting modes. Here is a quick look at the lighting modes:
Overall, I do like this device despite it being a bit pricey.
Price: $209.98
Where to buy: Amazon
Source: The sample of this product was provided by Lokithor.