We use affiliate links. If you buy something through the links on this page, we may earn a commission at no cost to you. Learn more.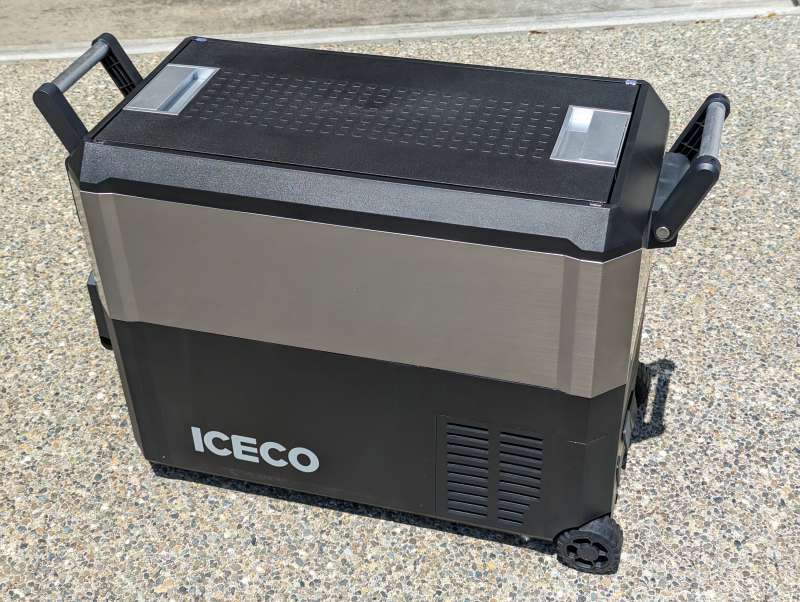 REVIEW – I've been on some camping and long road trips where a portable fridge would have been very useful so when Iceco offered their Iceco JP50 Pro 50L freezer for review I couldn't say no. Let's see what the Iceco JP Pro 50L portable freezer has to offer.
What is it?
The Iceco JP50 Pro 50L is a portable refrigerator and freezer that can cool from 77°F to -4°F in 38 minutes. You can power it with the included AC or DC power cords and is also available in a 3" shorter 40L size.
What's in the box?
Iceco JP50 Pro 50L freezer

1x AC power cord, 6 feet long

1x DC power cord, 8 feet long


Insulated cover

User manual
Hardware specs
Model: JP50 Pro

Capacity: 52.8QT / 50L

Temperature Range: -4 to 68 degrees F

Cooling: 77 to -4 F in 38 minutes

Compressor: Secop

Wattage: 50W

UV Sterilizer: 30 minutes

Cooling Range -4 to 50 degrees F

Power Source: AC + DC

Consumption: 0.405 KW.H/24H 

Vacuum insulated bottle keeps drinks cold up to 24 hours

Weight: 40lbs

Dimensions: 28.5 L x 13.8 W x 21 in H
Design and features
The Iceco JP50 Pro 50L portable freezer has the typical rectangular cooler design but with a very quiet Secop compressor located right in front of the rear wheels.

There is a DC power port in the front and in the back plus the AC port and a USB port as well. The USB is an output port so when the Iceco JP50 Pro is plugged in with DC power only you can charge your cell or other USB powered devices. Strangely you can't use it on AC power. The display on the top is easy to use and see. I plugged the freezer in and held the power button for two seconds to turn the freezer on. I then set the temp to 39 °F and starting from 68 °F it only took 28 minutes to reach 39 °F. When you first turn on the Iceco JP50 Pro it initiates a 30 min UV light to sterilize the inside which you can turn off if you want to.
There are two carry handles on each side and a longer flip up handle for rolling the freezer. The Iceco JP50 Pro 50L does weigh 40lbs empty so when loaded up it is recommended to have two people lift it. The lid can open from either end or can be removed completely.
There is a wide steel band around the freezer for attaching magnetic bottle openers or other items. If you fit the included insulated cover on there's a pocket to store the AC cord, DC cord, user manual or anything else you'd like to keep handy. 
At 21 inches high it just fit in the back of my compact truck with the tonneau cover down. I have a 110V outlet in the bed so I was able to plug it directly into my truck on a multi-day road trip.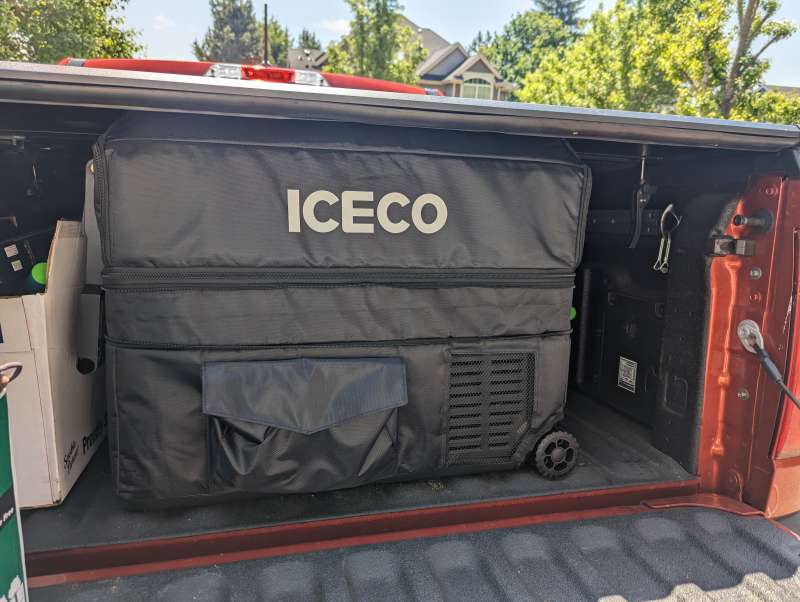 My hotel's fridge didn't have a freezer and was not very cold so it was nice to leave all my perishables and beer in the Iceco JP50 Pro 50L and know that it was at the correct temperature the whole time. 
On a big family trip, the house fridge was taken up by food and kid necessities so we didn't have room for adult beverages. The Iceco JP50 Pro 50L came to the rescue and was able to get our drinks nice and cold in less than 30 minutes. Way quicker than the normal fridge could even do if there was room. When the compressor kicks on the Iceco JP50 Pro portable freezer was even quieter than the house fridge (quieter than the kids for sure) so we left it in the living room the whole time for quick access (which we needed.)

What I like
Fast 70°F to 39°F in 28 minutes

Very quiet
What I'd change
Have USB port work an AC power as well

Final thoughts
The Iceco JP50 Pro 50L portable freezer was so useful to have on a road trip and a big family trip that I wish I had gotten one sooner. It is so much more convenient than having to buy ice for a regular cooler and stays at a set temperature to avoid spoiled food and warm beer. It cools very quickly and is nice to know I can have an ice cold beer within 30 minutes. The only thing I would change is the USB port only charges on DC power. Would be nice to be able to use it on AC power as well so I can charge my portable speaker when plugged in but that's a small gripe. If you are looking for a portable fridge/freezer you should definitely check out the Iceco JPPro series or any of their other offerings. At $659 it is a little pricey but during the Memorial weekend they were $100 off so keep an eye out for holiday sales.

Price: $659.00
Where to buy: Amazon and Iceco website (save %12 on any JP Pro series freezer when you use the code: THEGADGETEER )
Source: The sample for this review was provided by Iceco.