We use affiliate links. If you buy something through the links on this page, we may earn a commission at no cost to you. Learn more.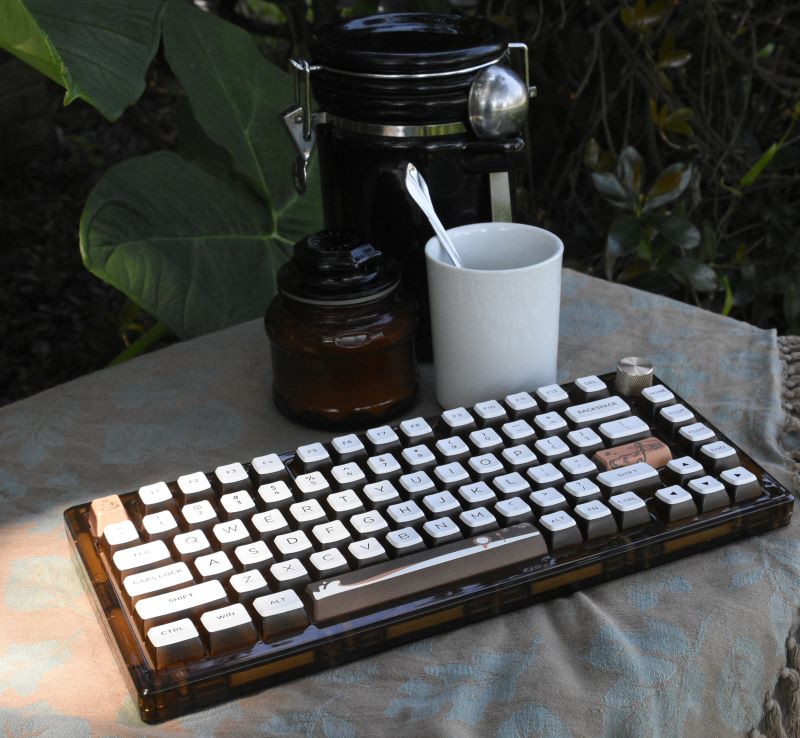 REVIEW – I love coffee. I love mechanical keyboards. And you can find really good examples of both that don't cost an arm and a leg.  In this economy?! Yep, and the Womier G75 Coffee themed mechanical keyboard is both together. There's no better way to start a day than with some dark thocky goodness.
What is it?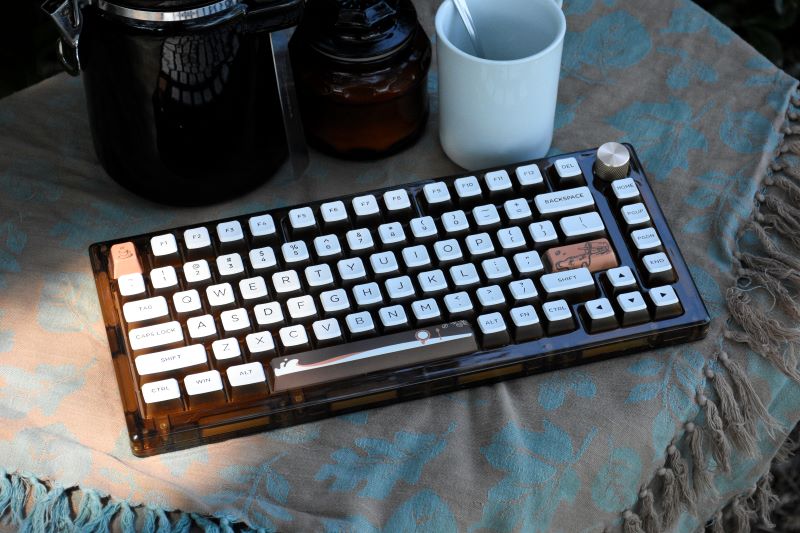 The Womier G75 coffee themed gasket/top mounted mechanical keyboard is an inexpensive mechanical keyboard with numerous features normally reserved for high-end units.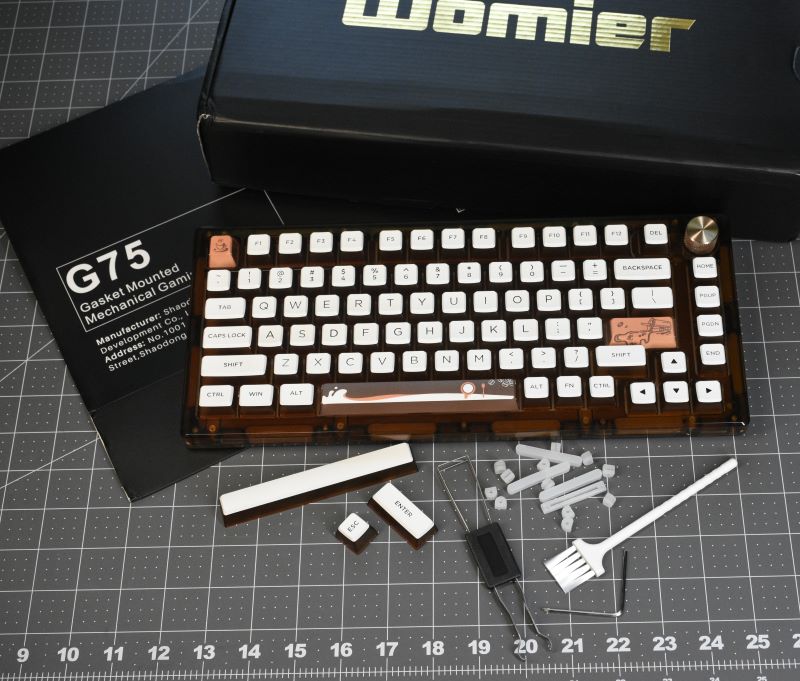 What's in the box?
Womier G75 mechanical keyboard
USB C to USB A cables
Keycap and switch puller
Screwdriver
Extra silicone gaskets
Extra screws
3x keycaps for ESC, Enter, and Spacebar
User guide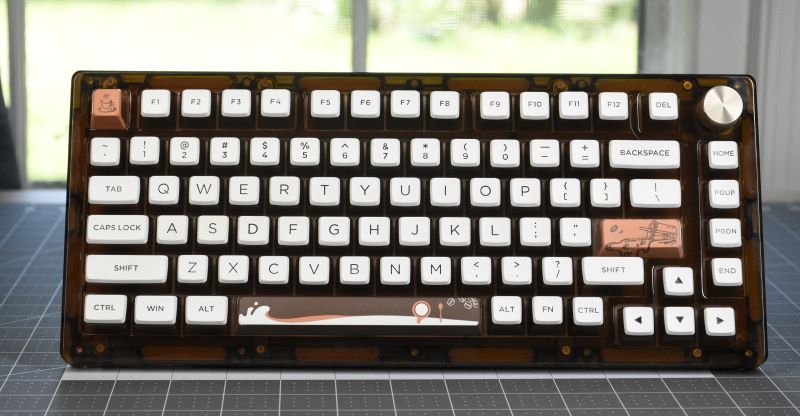 Hardware specs
Total Keys: 82 keys
Material: PBT Plastic (Keycap)+PC Plastic (Case)
Keyboard Layout: US ANSI 75% layout
Mounting Style: Gasket/Top
Switch: Womier Coffee linear mechanical switch
Keycap Printing Method: Double shot
Keycap Profile: ASA profile
Connection Type: Wired
Interface: USB Type-C
Compatible Operating Systems: Windows/macOS
Hot-Swap: Support
Weight: 860g (Keyboard)/1250g (Packaged)
Design and features
Let's get this out of the way because if you're into keyboards at all, you'll know without being told that the Womier G75 has RGB LEDs with numerous modes and colors you can choose from using keyboard shortcuts found in the user manual. I don't care too much for the Vegas strip on my desk so I typically find the most subtle mode in a single color and leave it at that.  Just know you have plenty of options here, if that's your thing.
Now on to the delicious goodness of the coffee themed G75 starting with the keycaps.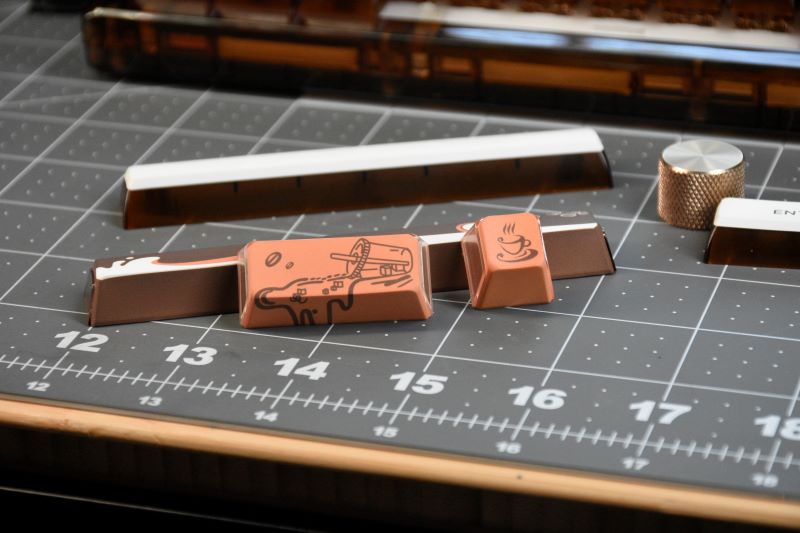 Womier is using PBT double-shot (no, not espresso shots) pudding style keycaps. I'm pretty impressed. With PBT, you aren't going to get shiny keycaps after prolonged use like you would with ABS. On top of that, they're double-shot so the legends and fonts are sharp, crisp, and will stay that way for a long time. If for whatever reason, you don't like the themed keycaps, Womier included extra caps for ESC, Enter, and Spacebar.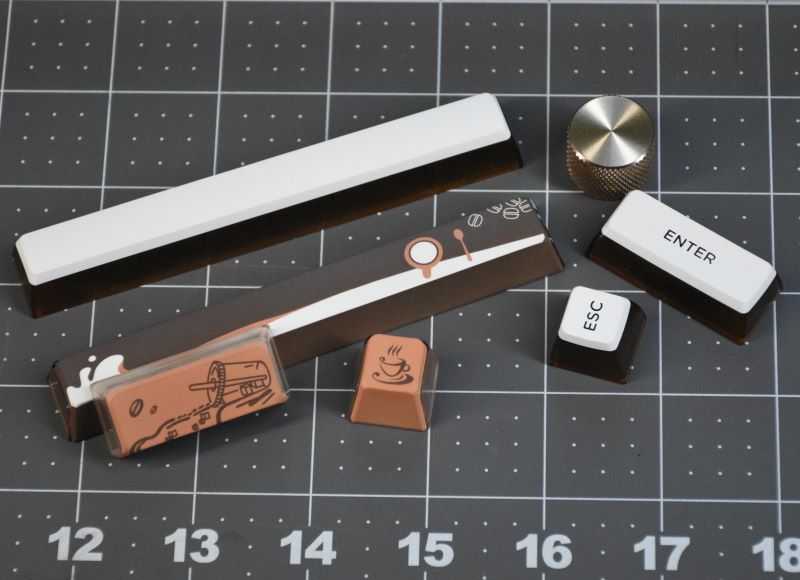 The Womier G75 keyboard also has an encoder with an anodized, knurled aluminum knob. I do like me a knob on my keyboards.  The knob here isn't solid metal.  It's more of a cap over plastic, but that's no knock against Womier. I recently reviewed another keyboard with a similar knob and it was originally 3 times the price.
The coffee themed Womier G75 uses several different layers and types of gaskets and foam to ensure the user gets a great sound all while achieving a nice, comfortable typing experience. Just look below at an explode view below.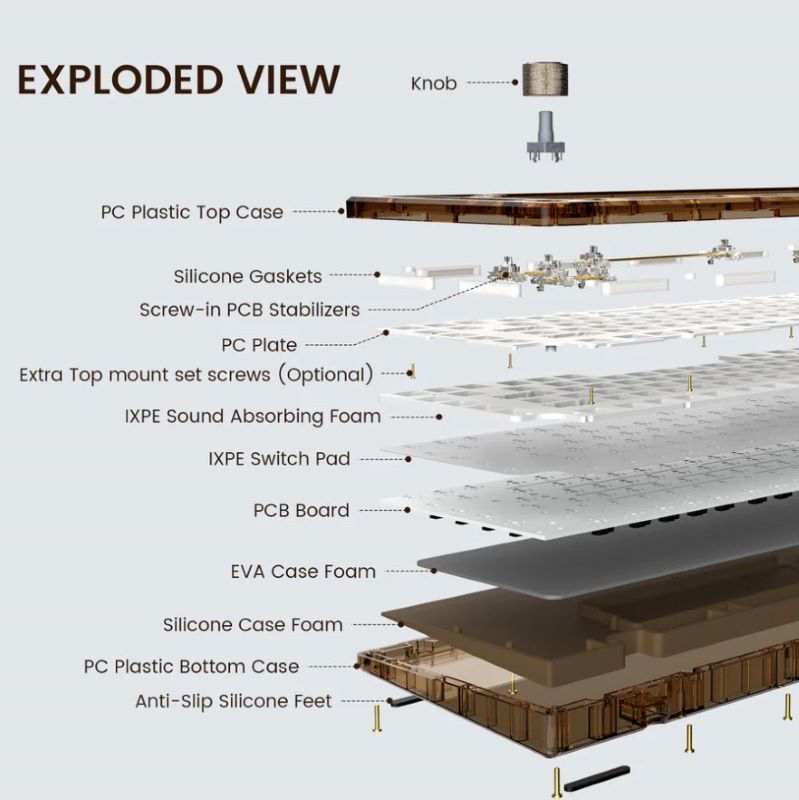 This is fantastic to see! Look at everything Womier has added here and still kept the coffee themed G75 at $100. The EVA case foam is installed on the PCB like the popular tape mod a lot of people use to get a better sound.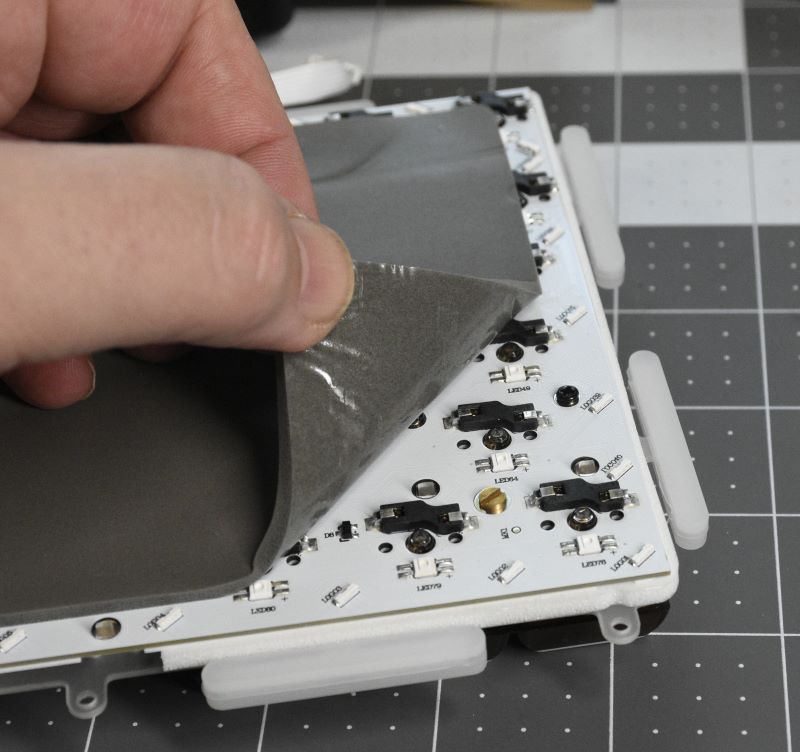 The IXPE foam on top of the PCB spans the entire board with cutouts for the switches. You can also see the fairly thick silicon gaskets here too.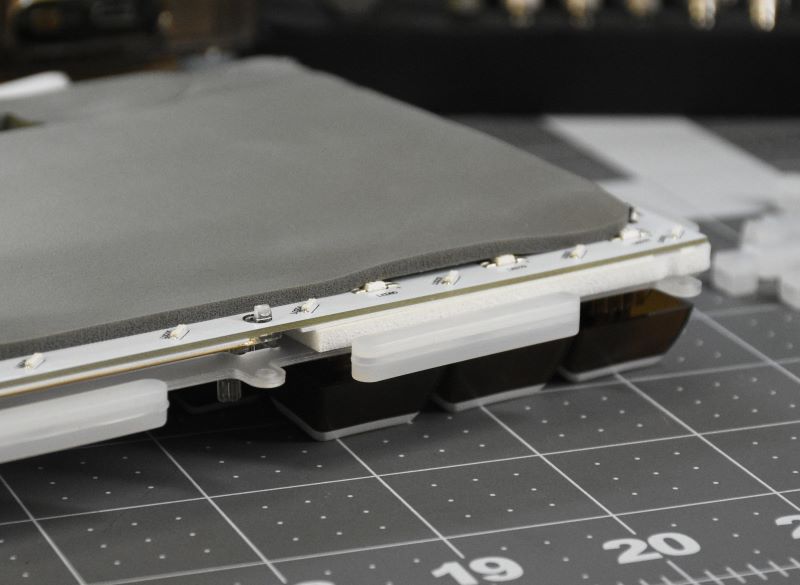 With all the foam and silicone, I got a very firm but flexible typing experience. It's quite comfortable without being squishy. I mean, if I wanted squishy I'd go back to membrane keyboards.
Next up, Womier installed screw in stabilizers and I was surprised to see they were pre-lubed. They were lubed like others I've seen.  I think they used oil instead of grease. Whatever it is, it works well.  I heard no rattling whatsoever.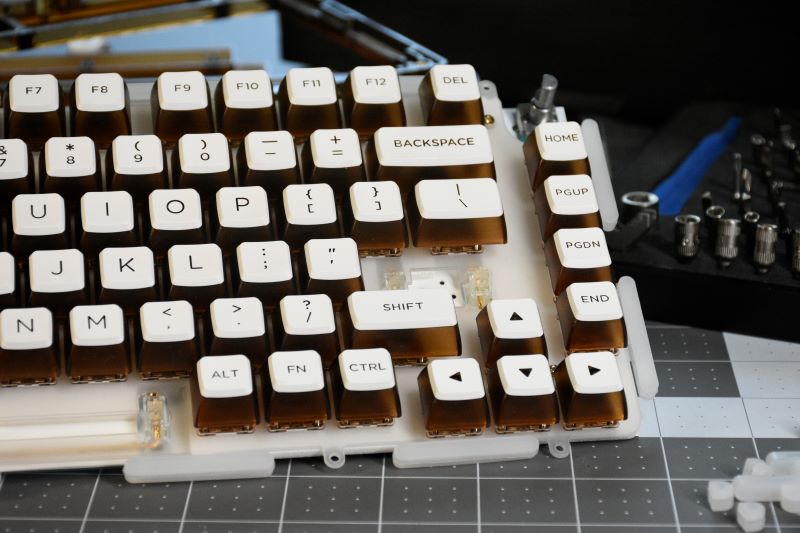 Wormier installed their own Coffee linear switches in this G75.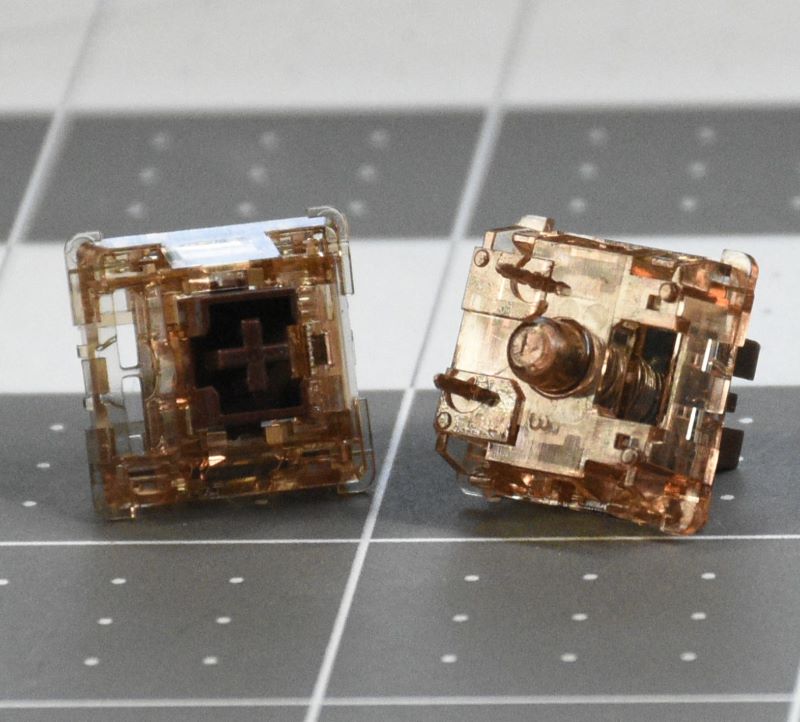 I'd never heard of these before but they aren't bad for linears.  They have a light operating force of 40 grams of force, pre-travel of 2 mm and total travel of 3.8 mm. Womier's site says the switches come pre-lubed, but I didn't notice anything when I cracked one open. They could be using a very light coat of oil but like I said, I didn't see any. Either way, the Coffee linears operate smoothly, no scratching that I noticed.
The coffee themed G75 has one USB C port at the upper left of the top edge. You'll notice a switch there also, allowing you Mac folks to enjoy the yummy goodness too.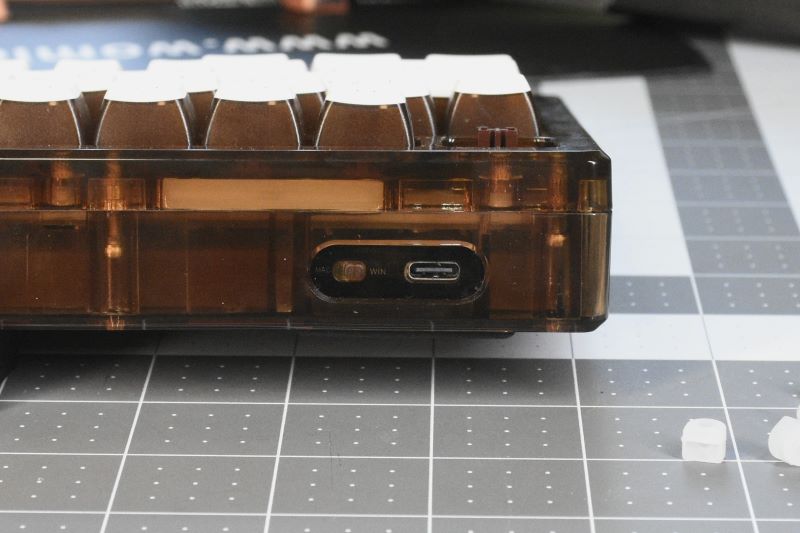 The case is a polycarbonate plastic and I think it looks pretty cool. It's different from any of my other keyboards, allowing me to see the internals of the keyboard. Of course, the brown color plays to the coffee theme.  It's not a perfect finish. I did find a couple of little hot spots where the molds left a little jagged spot. The only other letdown was the included USB cable. It's just a plain Jane, rubbery, white cable. Not a big deal considering the price of what you're getting.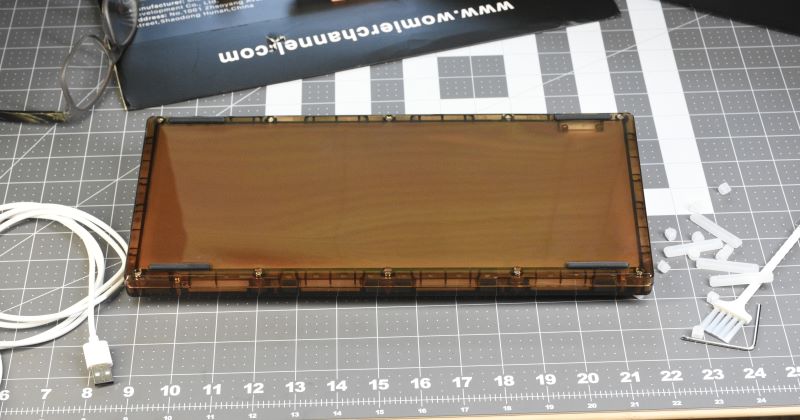 Performance
I was quite impressed with Womier's coffee themed G75 keyboard.  The 75% layout is my preferred size so that was a plus. I like the PBT double-shot keycaps.  They have just the right amount of texture to them and should look great for a long time.  The switches are ok, but I don't care for linears. If I had to compare them to anything, I'd say they remind me of Cherry Reds. So if you like those, you'd probably be happy with them. They're smooth and quiet.  Combining the switches, caps, and all the other features included makes for a really good sounding keyboard.  After coming from another much more expensive keyboard that pinged like crazy, the Womier G75 was proof you don't have to spend a fortune to get a good keyboard.
What I like
The coffee theme
PBT double-shot keycaps
The foam and silicone gaskets for comfort and sound absorption
Screw in stabilizers
The feel
The sound
What I'd change
Final thoughts
I am impressed with the Womier coffee themed G75 mechanical keyboard. They've done a great job of cramming in so many of the features that nerds like me look for in a keyboard. And they've done it for right around $100. No, the case isn't a milled aluminum slab with brass counterweights in the lower case. There aren't any boutique switches or stabilizers. But come on, if you're looking for a keyboard with great performance, feel, and sound then I say look no further. If you're looking for all that AND coffee, then you've found it. I like it. The Womier G75 has earned a spot in my keyboard rotation. You should really check it out.
Price: $99.99
Where to buy: Womier and Amazon
Source: The sample of this product was provided by Womier.