We use affiliate links. If you buy something through the links on this page, we may earn a commission at no cost to you. Learn more.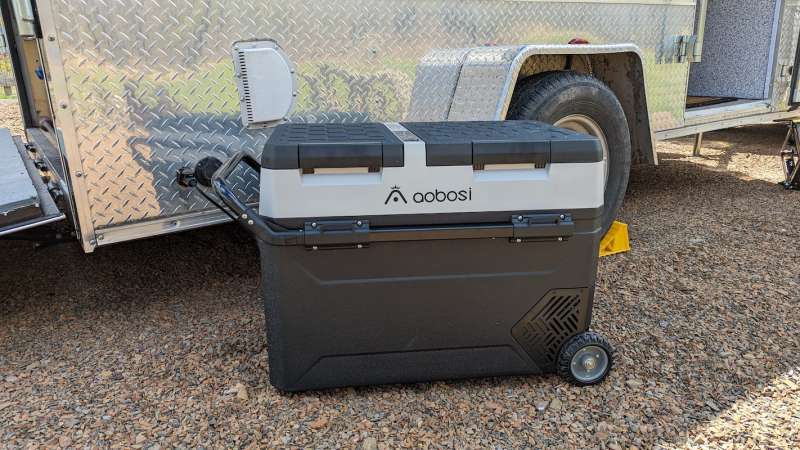 REVIEW – Wouldn't it be nice to always have a cooler available, without having to worry about adding ice?  Wouldn't it be nice to have an extra fridge or freezer around, just when you need it?  The Aobosi Portable Car Fridge is all that, and a little more.  It plugs into a 12V cigarette lighter, or a regular 120V household AC outlet.  And it has two compartments that can have different temperatures.  And with the advent of relatively low cost portable power stations, you can just about have ice-free cold food storage anywhere! 
What is it?
Technically, it's a refrigerator/freezer.  But that fridge has the familiar form factor of a two-compartment cooler, and wheels, which makes it very portable.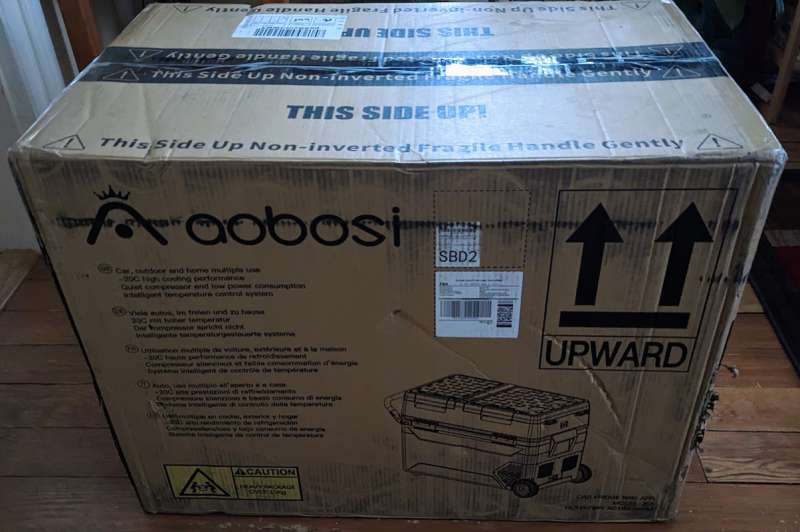 What's in the box?
The Aobosi Portable Car Fridge

12V DC cigarette lighter cord

120V AC household cord

Manual

Tools for assembly
Hardware specs
Capacity:  57 liters or 60 quarts

Dimensions:

14.37″D x 23.12″W x 14.5″H

Weight:  57 lb

Temperature range:  -4℉(-20℃) to 68℉(20℃) 

Power Input:  12/24V DC and 100-240V AC

Power use while running: 60 Watts

Connectivity:  Bluetooth to an App
Design and features
The Aobosi Portable Car Fridge is pretty big!  They make smaller sizes, but in general, more is better.  Who wants to not be able to fit all their food in the fridge!  It has two compartments that can be cooled separately, so you can have some food cold, and some food frozen. It can be powered either through a DC cigarette lighter, or a regular household plug, making it portable, but also the perfect fridge to pull out when you have guests and the regular fridge is full. The Aobosi Portable Fridge even has lights in each compartment!  The controls let you choose between eco mode and max mode, which determines how often the compressor runs. It also has a three-level setting to help protect the batter of whatever it's plugged into.  If the battery voltage drops below a certain level, the fridge will cut off. You can adjust the temperature of each of the two sides independently, and you can also turn one or the other side off, to save power.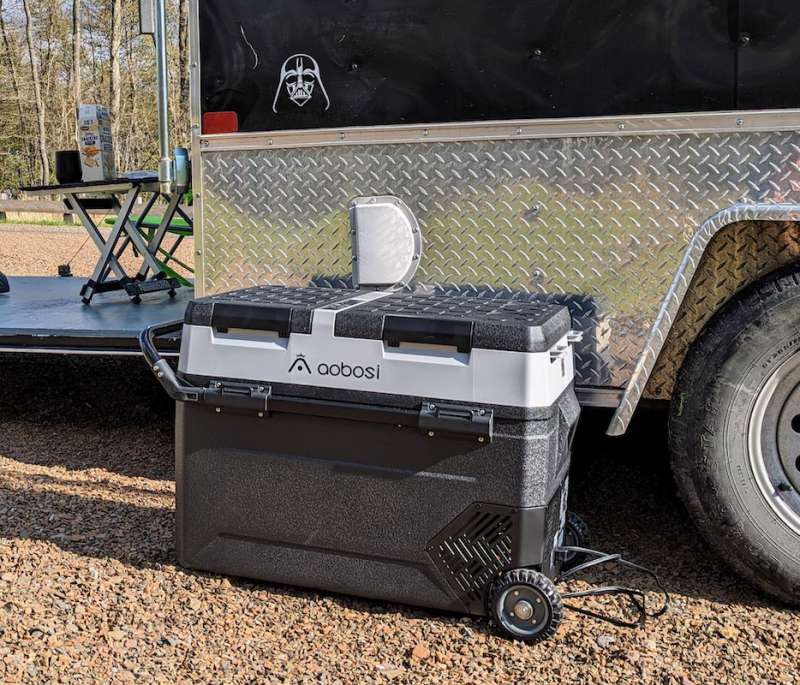 The cAobosi Portable Car Fridge has a set of sturdy wheels in the back, and an extendable handle which makes it easy to tote around, until you have to take it up or down steps.  It is pretty bulky and heavy, and lifting it is no easy task (more because of the size than the weight, but it does weigh more than a "regular" cooler.)  It turns out that it won't even fit down the narrow staircase to my cellar, so I keep it in my shed. But it does have comfortable handles, and it has loops all over for attaching straps, for whatever those could be used for. It even has a cutting board that snaps into the bottom of the lid. And, it has an app; more on that in a bit.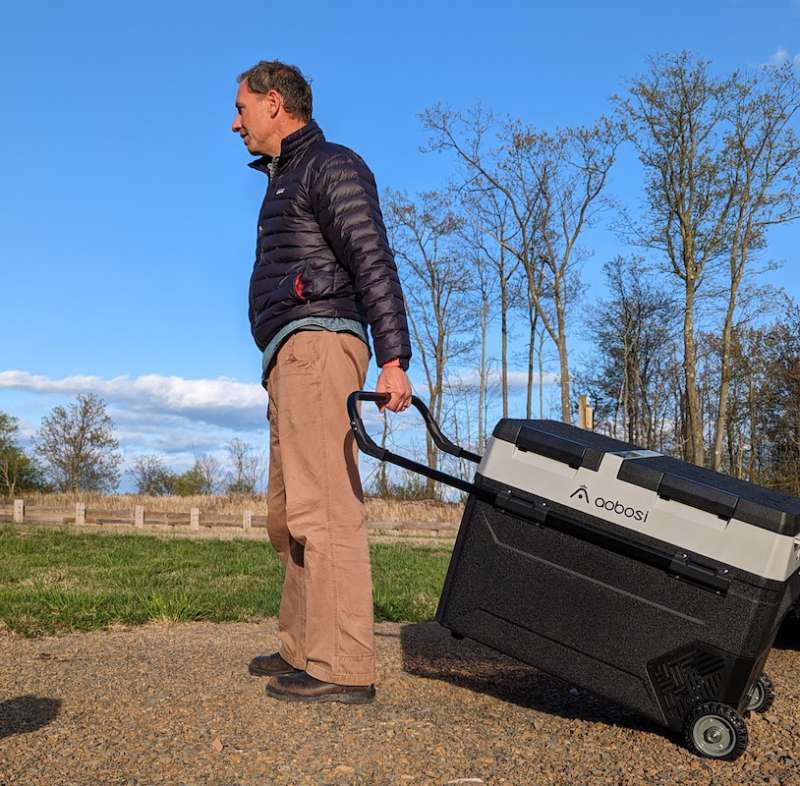 Performance
In general, the Aobosi Portable Car Fridge works really well. It cools things down quickly, and generally keeps them around a static temperature. And it does all this without consuming a ton of power.  I was able to run it all weekend on a 600 Wh power station, with both sides set just above freezing.   It is sufficiently deep to accommodate tall containers like wine bottles, and the lights inside the compartments are really helpful at night.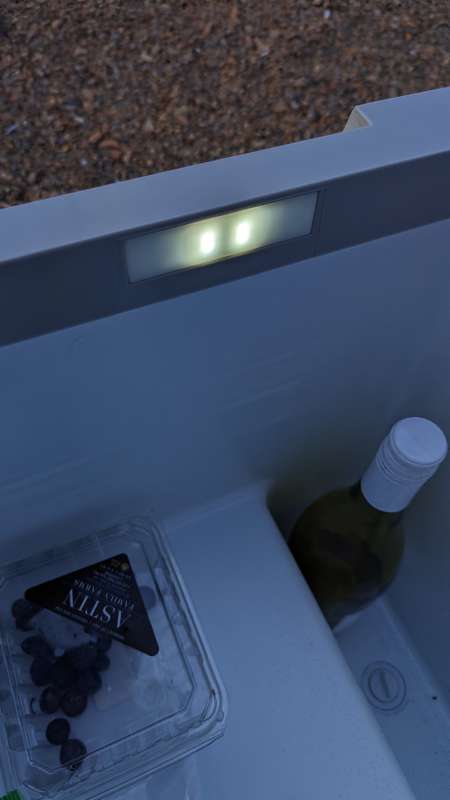 The temperature you set the compartments at is not exactly the temperature of those compartments. This is actually acknowledged in the manual, but it's good to know.  I found that the actual temperature in the compartment is about 4-10 degrees F above what you set it at.  Not a big deal as long as you know.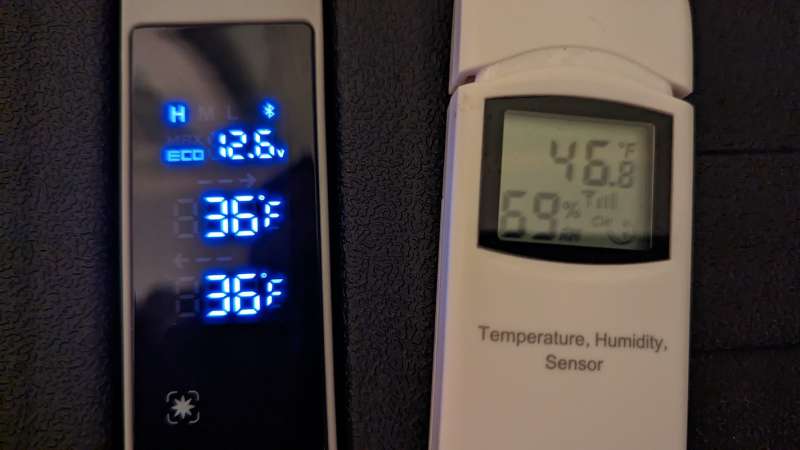 The extendable handle and the wheels make moving it around pretty easy, and it rolls over rough ground smoothly.  However, I found myself being very careful and going slowly when rolling "off road" since it is a refrigerator, after all. There is an odd sticker on the rear of the unit that says "This product have to be stand still for 6 hours before use."  That is somewhat concerning for a portable fridge that is designed to run in a vehicle while moving. I'm just going to ignore that sticker and pretend it doesn't exist.  Thankfully, it is still working and I've banged it around quite a bit.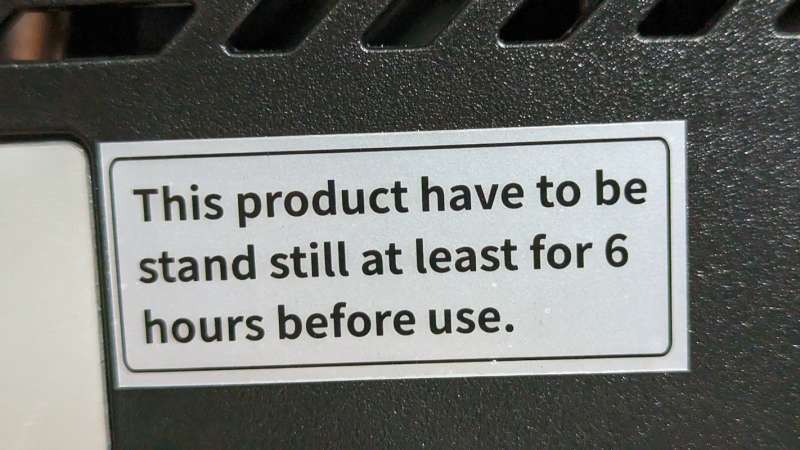 When it's running, the Aobosi portable car fridge is quite quiet.  Without any ambient noise, you'll hear it, but it's generally very quiet. The controls are easy to use, and there's even a app which you can get.  But you shouldn't. The Apple version of the app is available from the App Store, but the Android version must be side-loaded, which is the first problem.  Side-loaded apps are a security risk on Android devices.  But in the interest of this review, I installed it (on an old phone). You don't need it. First, it's Bluetooth, so you still have to be within 30 feet or so of the cooler. Just walk over. Second, it does not add any capability at all.  In fact, it does less than the control panel on the front of the cooler – you can't turn off one of the compartments from the app.  All you can really do is adjust the temperatures, adjust the battery saver mode, and change the mode (eco or max).  It's actually just quicker to walk over to the cooler and adjust the settings on the control panel.  So good fridge, useless app.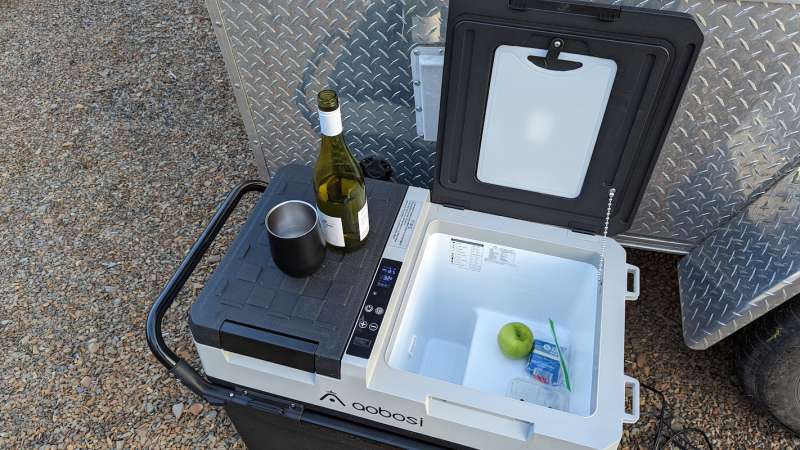 What I like
Lots of space

Low power consumption

Lights in the compartments

Two compartments with independent controls
What I'd change
Useless app

Temperature in the compartments is a little higher than what the display says.
Final thoughts
A portable fridge/cooler is a really useful thing to have.  When camping, no more runs to the camp store for ice.  For the upcoming holiday weekend, you'll have an extra place to keep all the food.  When you take a big family vacation, you can bring all your provisions with the fridge plugged into the car, and then have an extra fridge to keep all your Uncle's beer! The Aobosi Portable Car Fridge is a good portable fridge, with a useless app. 
Price: $449.00
Where to buy: Amazon
Source: The sample for this review was provided by Aobosi.