We use affiliate links. If you buy something through the links on this page, we may earn a commission at no cost to you. Learn more.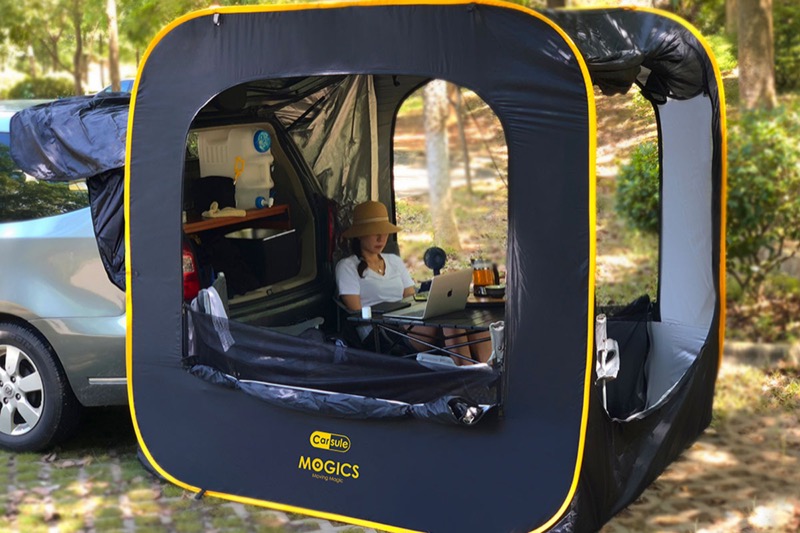 DEAL NEWS – Save $69 off the price of the Carsule Pop-Up Cabin for Your Car and get this cool travel cabin that attaches to your vehicle for just $309.97 during the Memorial Day Sale.
With Memorial Day here, it's official – time to start locking down all those thrilling summer plans to take full advantage of every ounce of sunshine the season has to offer. And if there's any summer plan that doesn't include at least a few days of exploring and appreciating the great outdoors, then you might be doing summer wrong.
Doing summer right is what the Carsule Pop-Up Cabin for Your Car is all about. This ingenious travel companion takes the everyday tent to another level, creating an easy-to-assemble living space that easily attaches to your vehicle for comfortable relaxation anywhere you can park your car.
When packed, the Carsule stows easily in less than three feet of space, then connects seamlessly to virtually any car, truck, or SUV with a swing-up rear tailgate. With the adaptable seal in place and diagonal ceiling tension lines for extra stability, this cabin creates a comfy 6-square-foot space with over 6.5 feet of headroom.
The Carsule feels like a true space for living, protected with waterproof, UV-resistant materials and thick felt carpeting for added durability and comfort. It's even big enough to sleep four easily, set up a table for a meal, get some work done, or just enjoy the world around you.
The Carsule's mesh siding includes surrounding window openings and venting to keep air circulating through the cabin, while the handy mosquito netting assures bugs and other winged insects don't intrude.
Plus, the Carsule is completely modular, with easy connectivity for linking two, three, or more Carsule units to create even larger, more luxurious spaces.
And since it's also part of the Memorial Day Sale, now's the time to score some best-of-the-web pricing on the Carsule. 
Save $69 off the price of the Carsule Pop-Up Cabin with no coupon needed, lowering the total to just $309.97 if you get your order in by 11:59 p.m. on May 31.
Prices subject to change.