We use affiliate links. If you buy something through the links on this page, we may earn a commission at no cost to you. Learn more.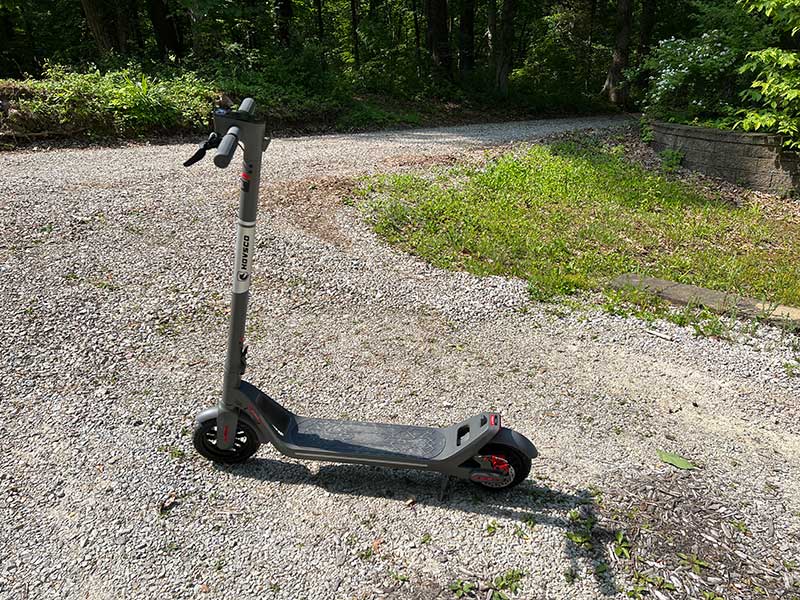 REVIEW – We've reviewed quite a few electric bikes and electric scooters here on The Gadgeteer and I've yet to review one myself because I don't really have a place to ride them where I live without transporting them to another location which isn't convenient. When I was offered the HOVSCO HovDash folding electric scooter I decided to go for it. So let's hop on and take a ride!
What is it?
The HOVSCO HovDash is a folding electric scooter.
What's in the box?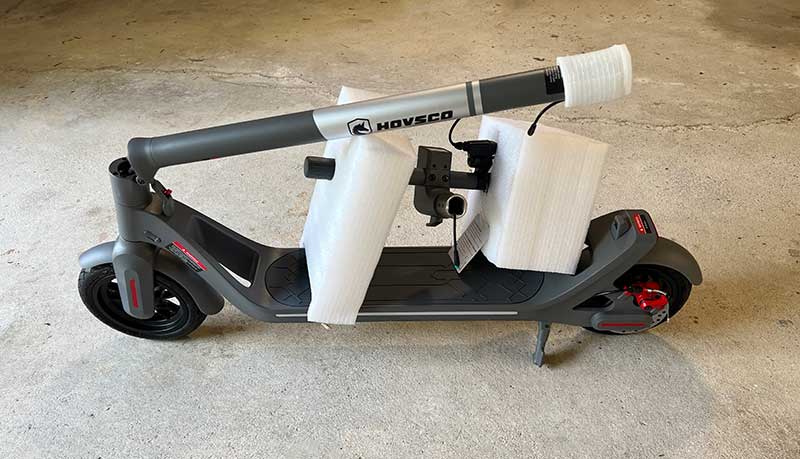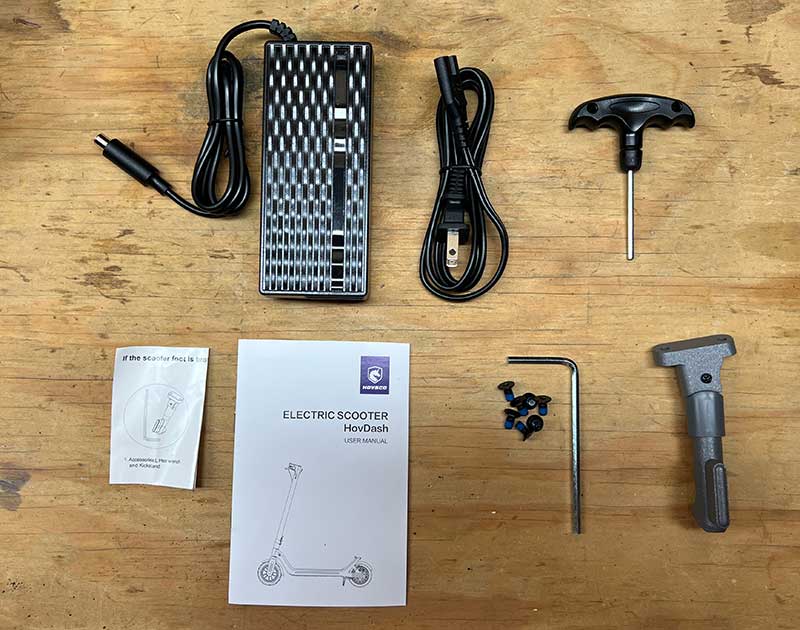 HOVSCO HovDash folding electric scooter
Charger
Assembly hardware
Extra kickstand
User manual
Specifications
MOTOR: 650W (Peak) 350W (Sustained), Brushless Rear Hub Motor
BATTERY: Removable Internal Lithium-ion 36V, 10.4Ah (374.4Wh)
CHARGING TIME: 6 Hours Charging
MAXIMUM SPEED: 15MPH
MILEAGE: 24 Miles
GRADE: About 15%
PROTECTION GRADE: IPX5
BRAKE SYSTEM: Durm brake + Electronic brake
TIRE SIZE: 9 inch puncture-proof tubeless tires
MAXIMUM LOAD: 220 LB (100 KG)
SIZE: 44.25 x 17.32 x 17.71 in (1124 x 440 x 450 mm)
NET WEIGHT: Approx 36.5 lb (16.4 KG)
Assembly required (but not much)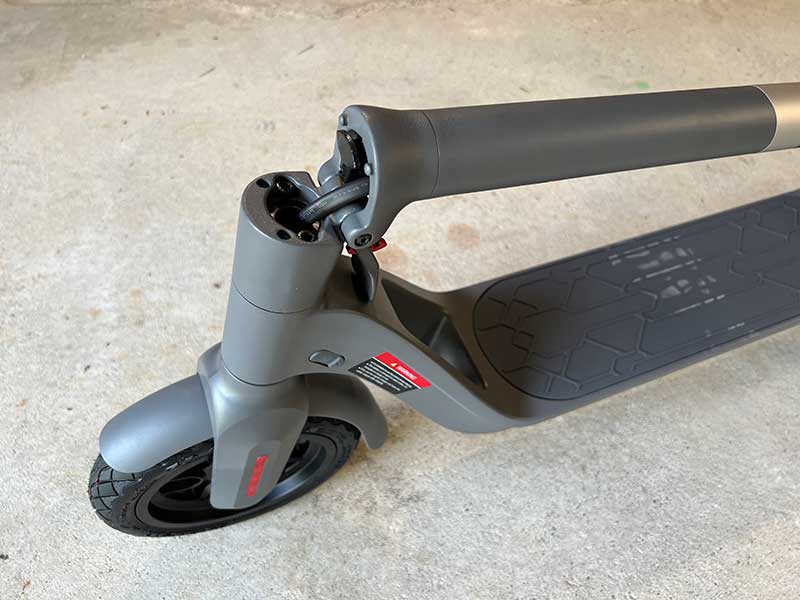 The HOVSCO HovDash folding electric scooter is super easy to assemble. Basically, all you have to do is unfold the front tube…
And then you can flip the latch to lock it in place.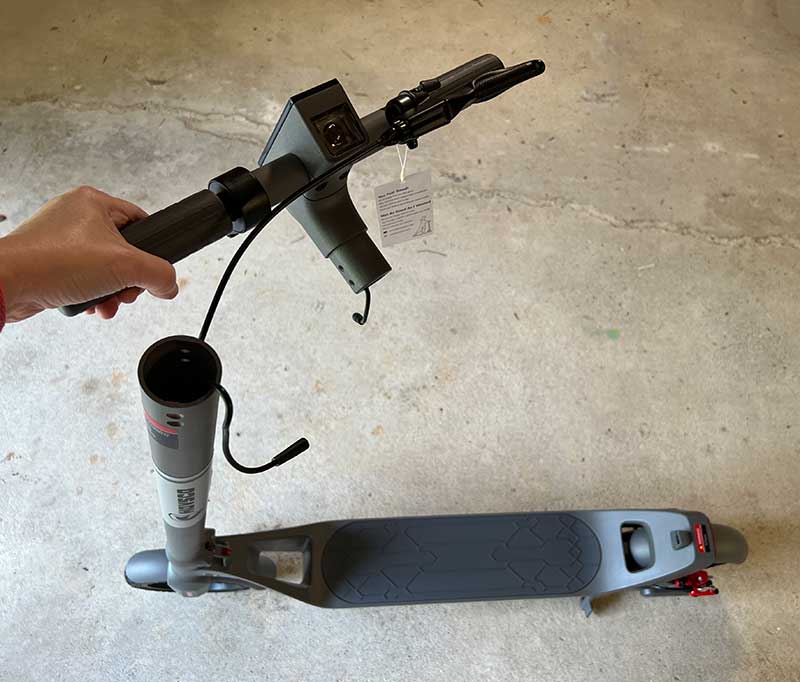 Then all that's left is to connect the data cable and attach the handlebars to the front tube.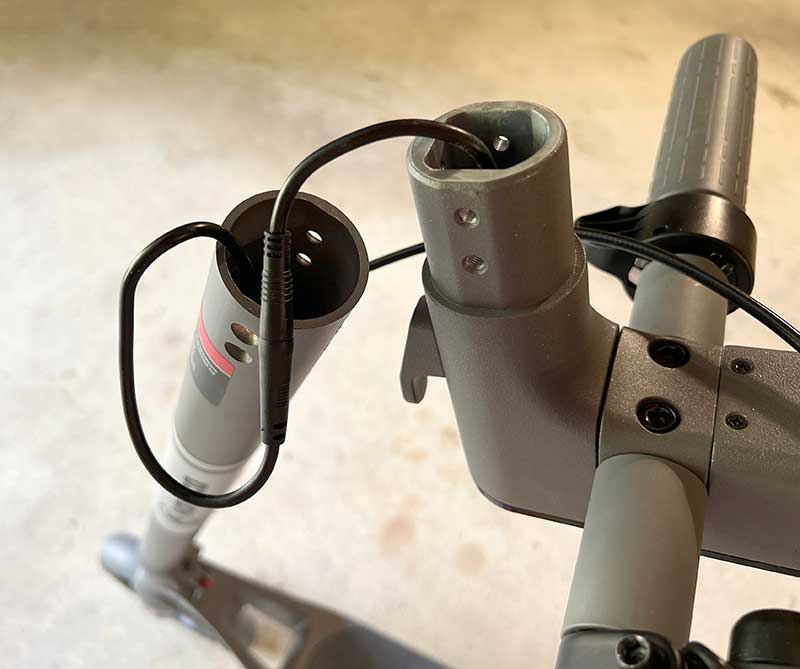 The data cable easily plugs together.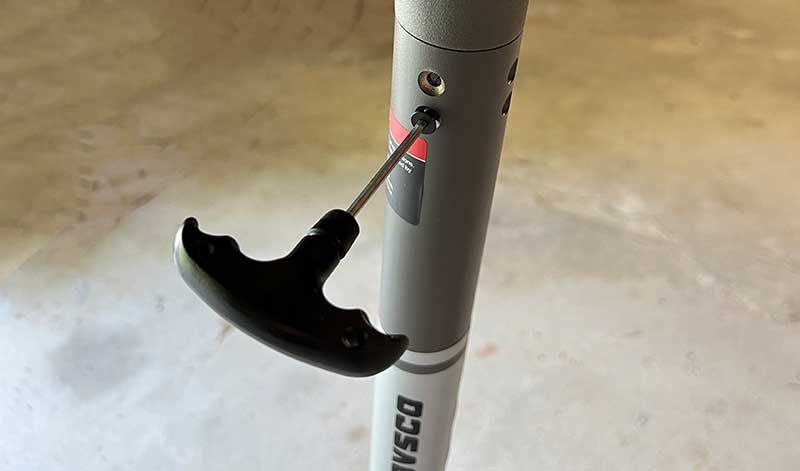 The handlebar unit connects to the front tube with 6 screws. The included T-shaped Allen wrench makes it very easy to do.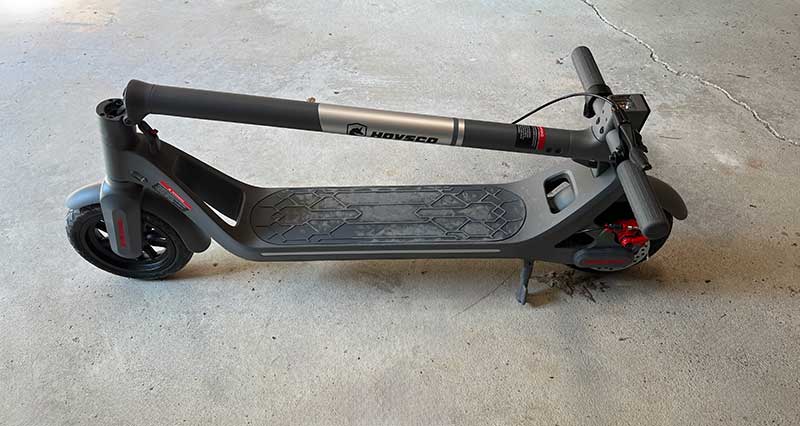 This is what the HOVSCO HovDash folding electric scooter looks like when it's folded. There's a small hook at the back tire area where the handlebar slides into and then you can use the front tube as a handle to pick up the scooter.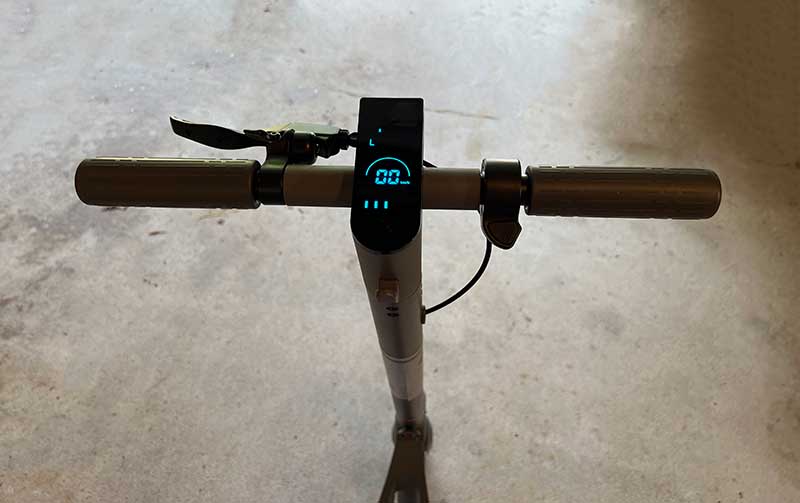 The handlebars for the scooter are padded for comfort. The left side has a hand brake and bell and the right side has the accelerator. In the center is the backlit control panel that shows the gear (L, M, H), the headlight status, speed, and battery capacity). Below the battery level bar display is one multi-function button. This button turns the scooter on and off as well as changes gears by double pressing the button.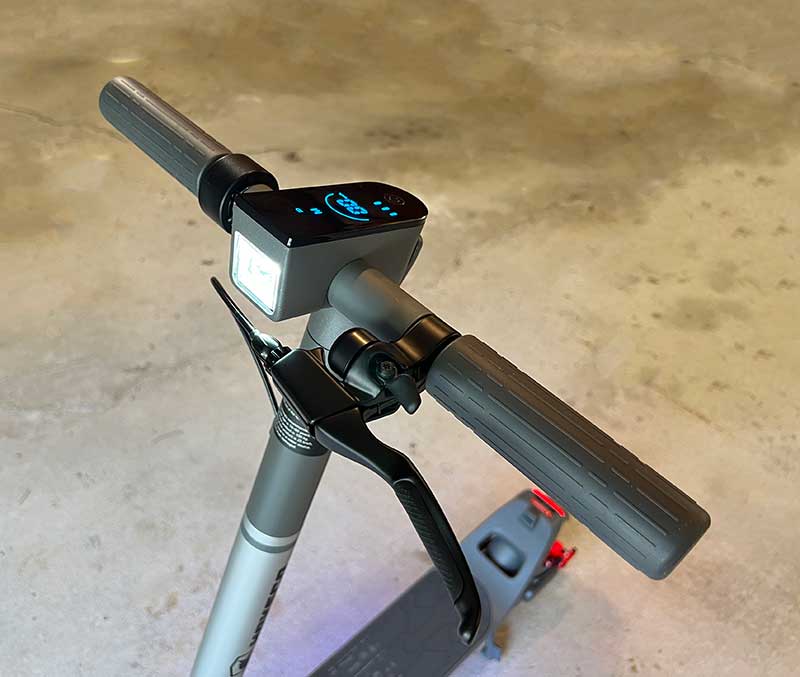 The headlight on the HOVSCO HovDash folding electric scooter is controlled by an ambient light sensor. That means it comes on when it's dark and automatically turns off when it's brighter.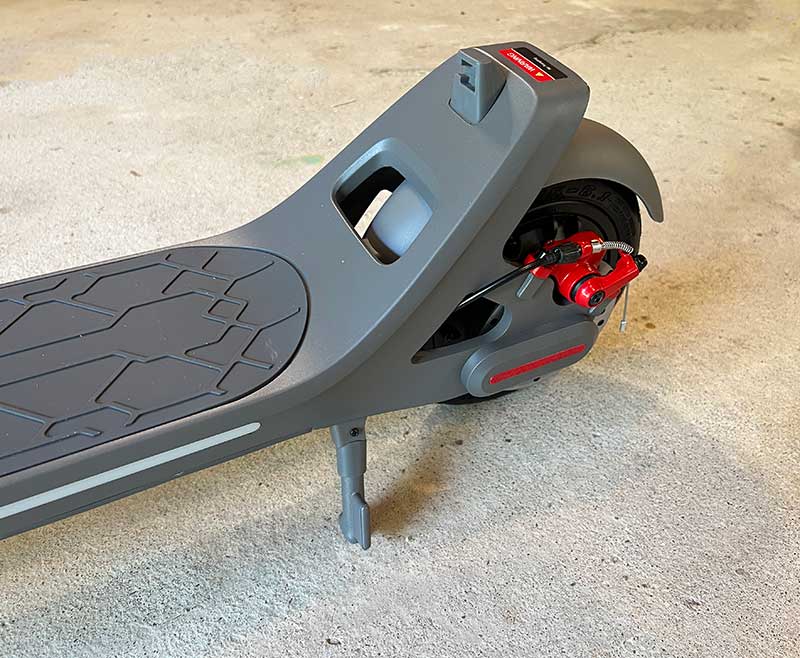 The scooter has a rear brake that is controlled with the hand brake on the handlebar.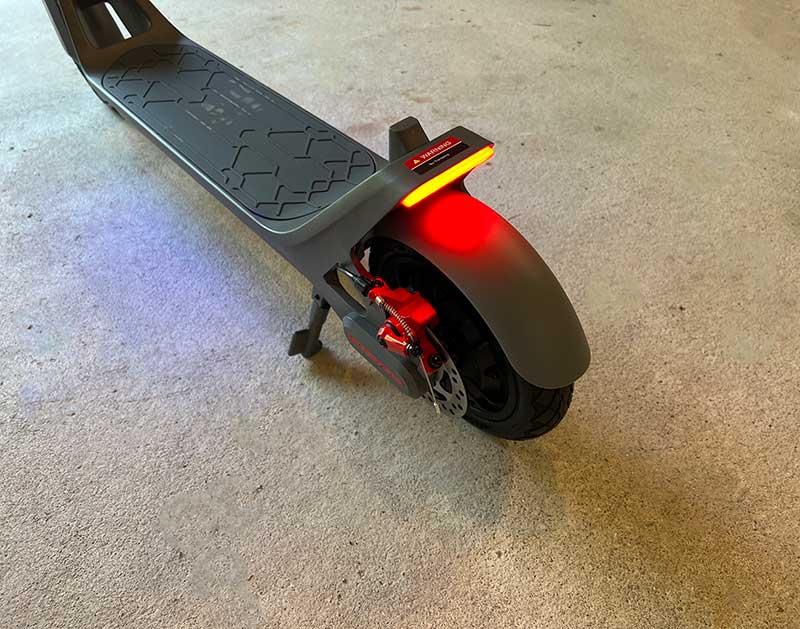 A brake light on the back of the fender illuminates when the brake is engaged.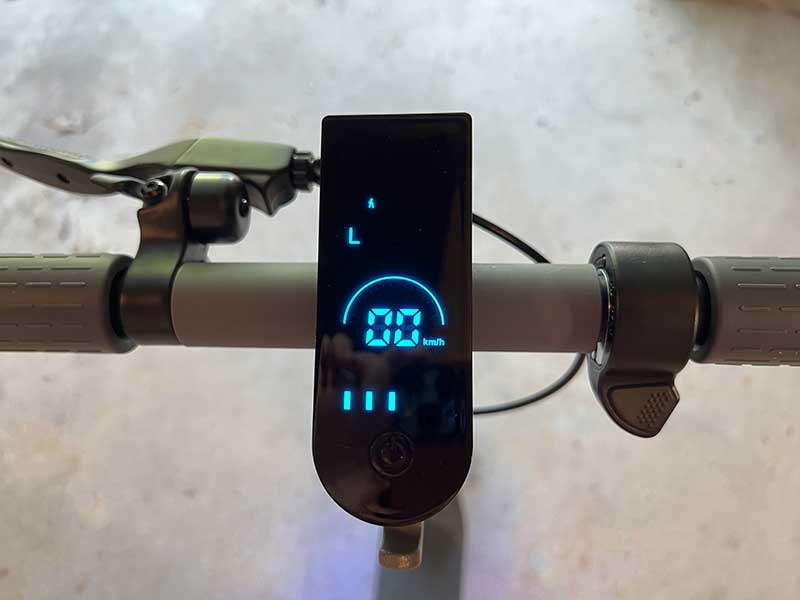 The HOVSCO HovDash folding electric scooter has 3 gears.
L – Max speed 4 mph (6 km/h)
M – Max speed 9 mph (15 km/h)
H – Max speed 15.5 mph (25 km/h)
The speed display is in kilometers per hour and there doesn't seem to be a way to change this to US units of miles per hour.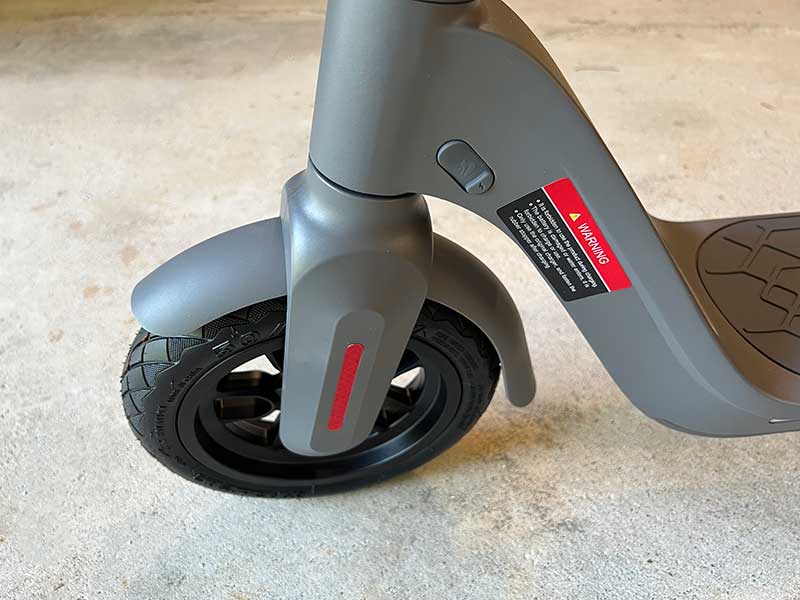 The charging port for the scooter's battery is located near the front tire.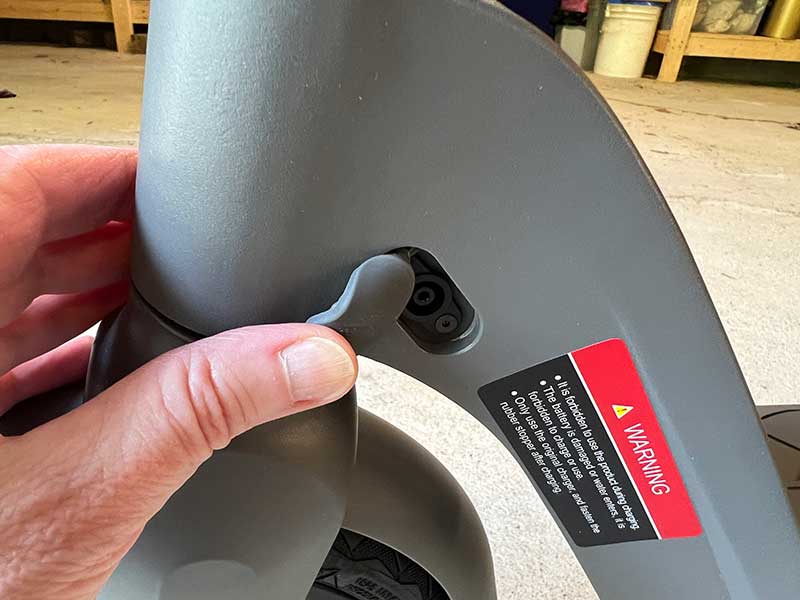 It's protected with a rubber cover. Note that the smaller charging brick got very warm while charging the scooter. It got so hot that I would not feel safe leaving it plugged in for an extended period of time.
Let's take it for a ride!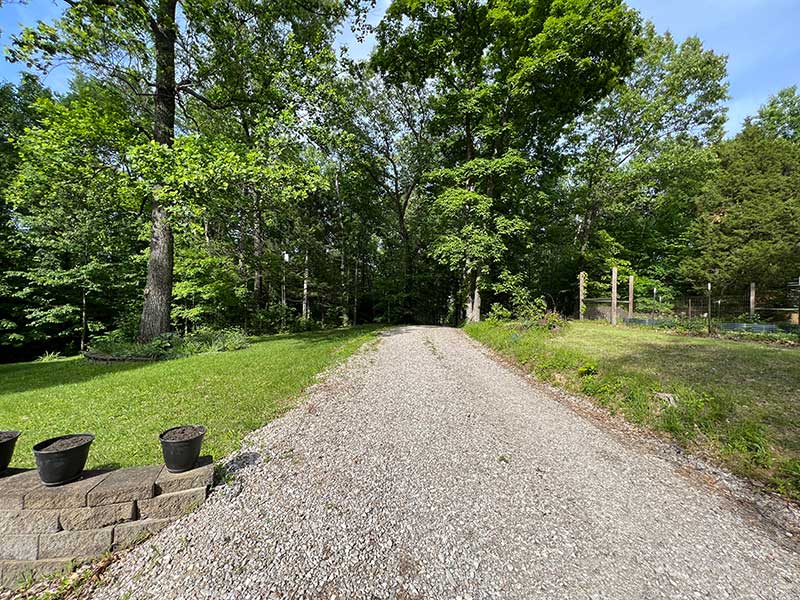 This is my driveway/road. Yes, it's gravel. It's about a quarter of a mile long and then it hooks up with rural roads where people drive like maniacs. This is why I haven't reviewed eBikes or scooters before – I don't have a death wish! 😉 But the HOVSCO HovDash folding electric scooter isn't all that heavy and even I can pick it up and put it in the back of a car if I wanted to take it to another place to ride. But for my review testing, I road it up and down my gravel lane.
Riding the scooter is fun! Just note that you can't easily change gears while riding without taking a hand off the handlebars to double-press the button on the center console. That means that you need to start out in medium or high gear (it remembers the gear you're in) and always stay in that gear while riding it. I found the accelerator to be a little touchy/quick, but it could just be my inexperience.
You should also note that you can't just step on the scooter, turn it on, and press the accelerator and go. You have to push off with your foot and get to about 4 km/h before the accelerator kicks in.
What I like
Simple to assemble
Folding design makes it easy to transport
Easy to operate
FUN!
What I'd change
Put the gear changing mechanism on the accelerator
Have the ability to change from km/h to mph
Final thoughts
I wasn't sure what to expect with the HOVSCO HovDash folding electric scooter, but after riding it for a few days, I can say that it's a LOT of fun. It's well made and easy to control. I am a bit concerned about how the charging adapter gets quite warm while charging, but other than that and the fact that you can't easily change gears while riding it, it's a fun to ride electric vehicle It even does well on gravel roads!
Price: $499.00
Where to buy: HOVSCO and Amazon
Source: The sample for this review was provided by HOVSCO.