We use affiliate links. If you buy something through the links on this page, we may earn a commission at no cost to you. Learn more.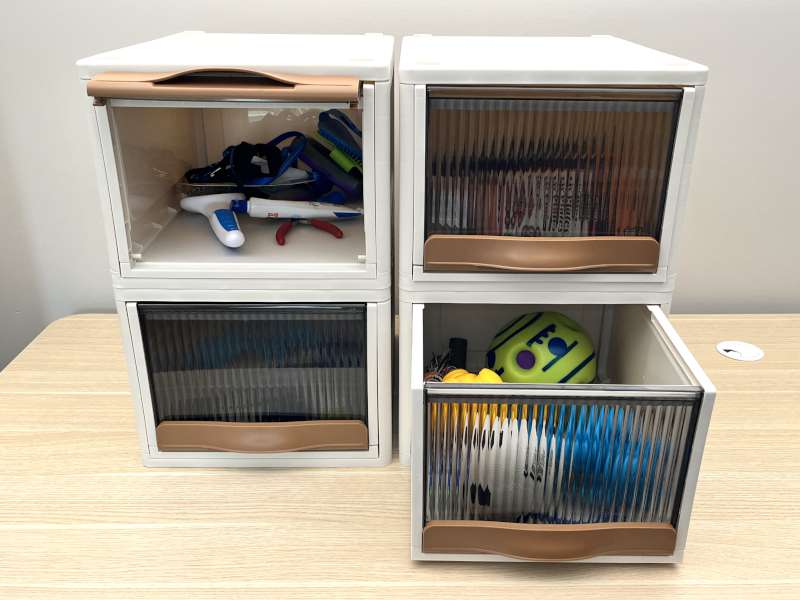 REVIEW – My mom used to say, "There's a place for everything, and everything should be in its place."  These are words that I still live by today, and so I appreciate any gadget that helps me to be more organized.  In this review, I'll be looking at a set of stackable storage drawers from Haixin that hopefully will help me find a place for more of the things in my house.
What is it?
The Haixin Versatile Storage Drawers 4 pack is a set of plastic storage containers with a unique door on the front.  These units are independent from each other yet can stack on top of each other.  Haixin is a Chinese company that is "dedicated to providing high-quality, cost-competitive plastic products and services to global customer."
What's in the box?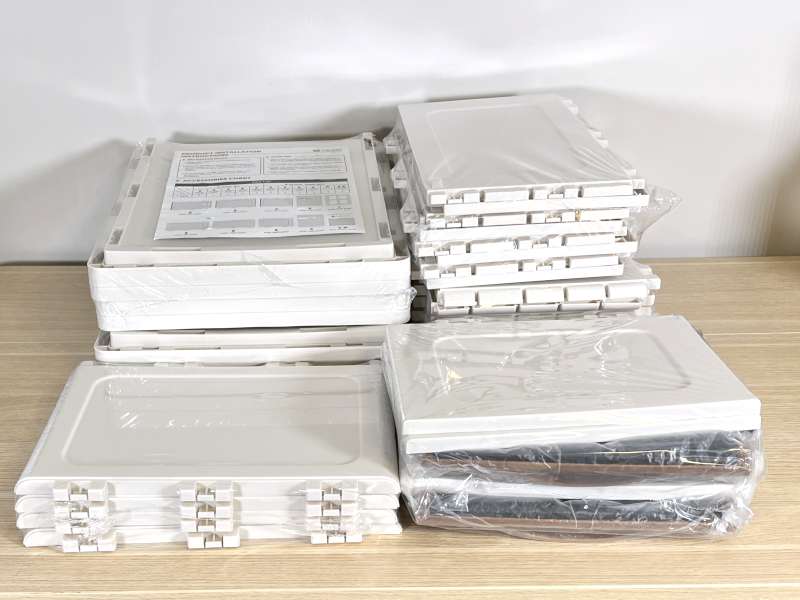 The panels necessary to create four storage containers
Installation instructions
Specifications
Dimensions: 15 x 12 x 9.25 inches (each container)
Total height:  37.5 inches (when all four are stacked together)
Volume:  7.2 gallons (each container)
Material:  plastic
Colors:  beige sides, top and bottom; see-through brown door; brown or orange handle
Design and features
The Haixin storage drawers look like most plastic containers on the market today.  They have an inner drawer that pulls out from an outer shell.  The four containers are not attached to each other, and a set of ridges on top allow them to stack on top of each over and remain in place.  The front doors are translucent yet darkened, allowing me to almost see what's inside.  It's a slight step up in appearance and a slight step down in functionality.  Overall, these drawers look nice, yet they are unmistakably plastic drawers.
Installation and setup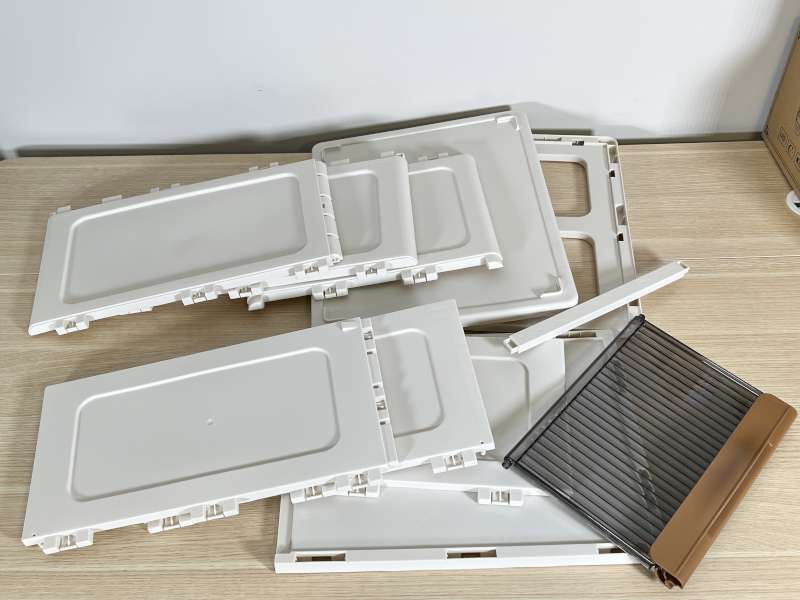 The containers come unassembled, so I removed all the panels from the box and cut off their shrink-wrap.  I sorted them into piles, one pile for each container.  It looks like there are too many panels for each container, but that's because there's an inner and an outer portion of the container.  I read through the instructions and found the English to be pretty bad.  Thankfully, the pictures are clear enough to understand what needs to be done to assemble the containers.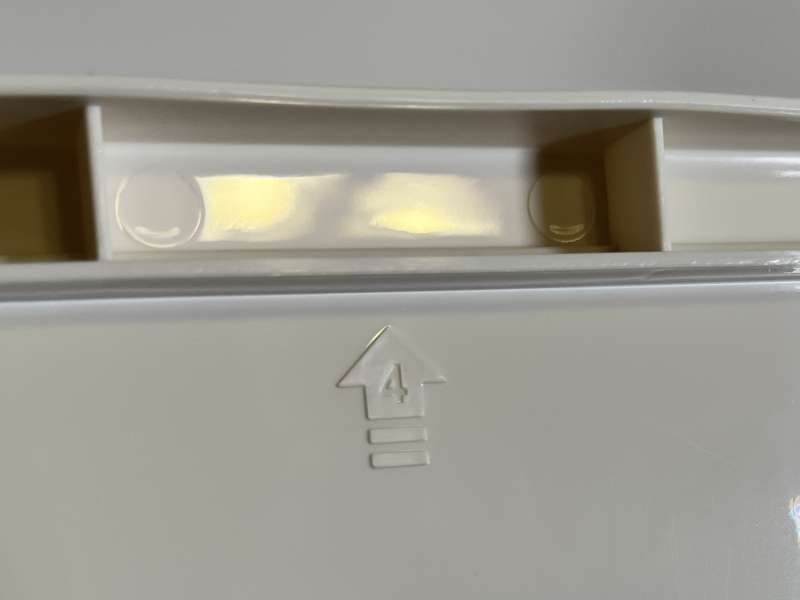 At first, it was a bit confusing to differentiate some of the panels, then I realized that all of the panels are labeled with the number that corresponds to the instructions.  That made it really easy to correlate the instructions to the panels.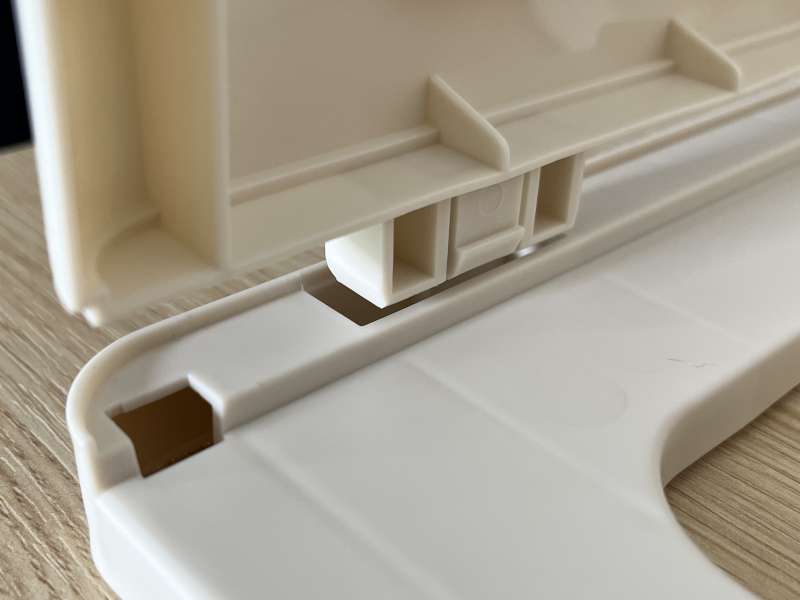 Assembling the panels together is not difficult.  They snap together one panel at a time.  Some are rather a tight fit, so a bit of force is required; a firm but gentle punch was sufficient.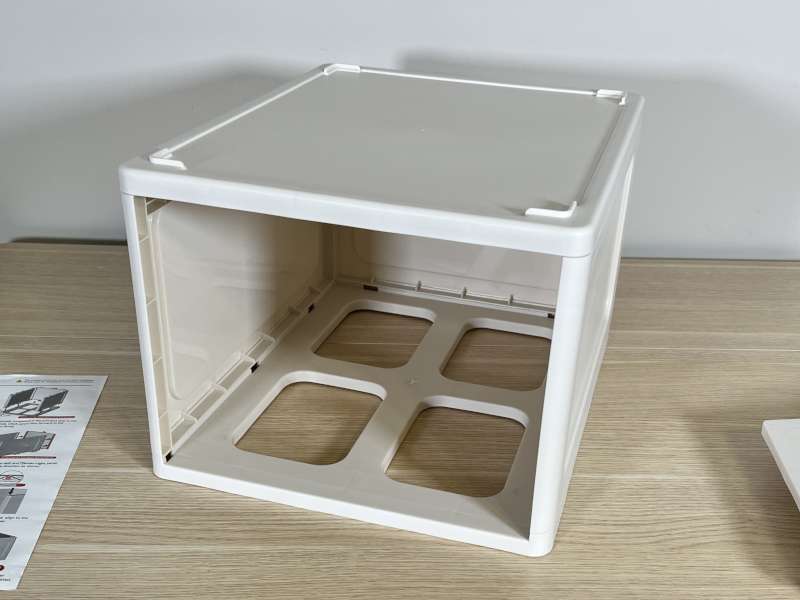 After the first three steps in the instructions, I had completed the outer portion of the container.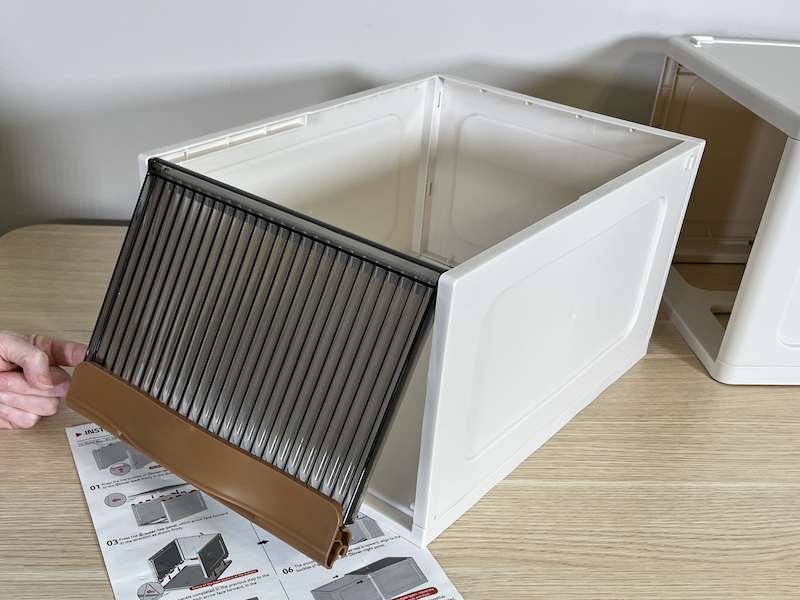 After the next four steps, I had completed the inner portion.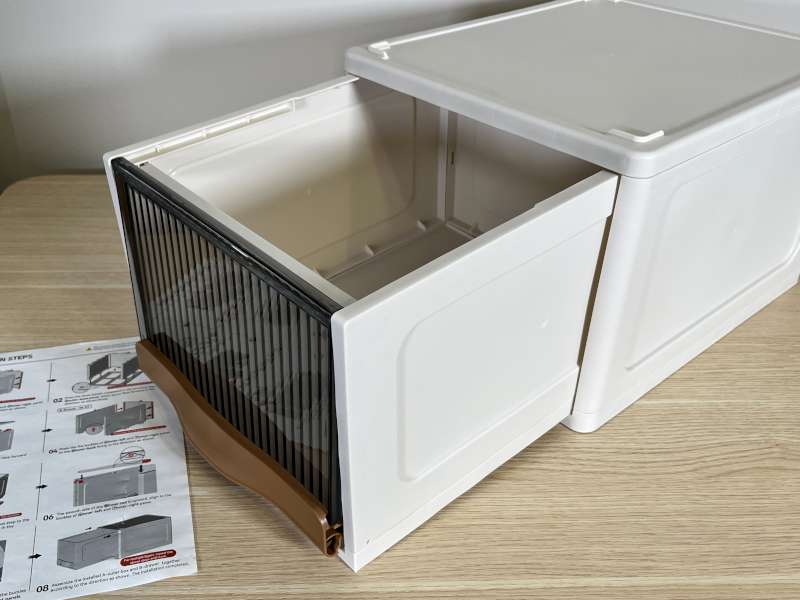 For the final step, I popped the inner portion into the outer.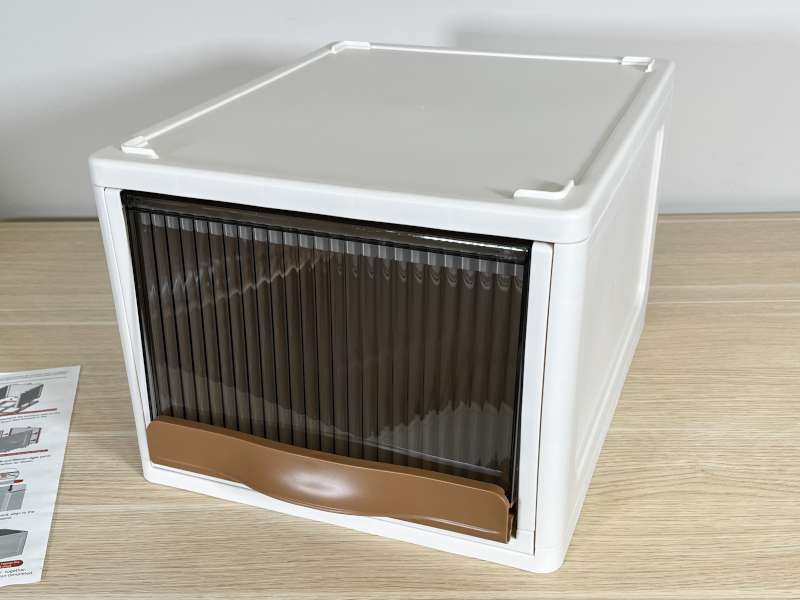 At this point, I had finished one of the containers.  Three more to go!
Performance
In general, the Haixin storage drawers are very typical plastic containers.  They are reasonably sturdy and rugged.  They can hold whatever you need, so long as it's not too heavy.  I wouldn't want to use them to hold books or printer paper, but they would be great for storing toys, socks, cables, card games, and so on.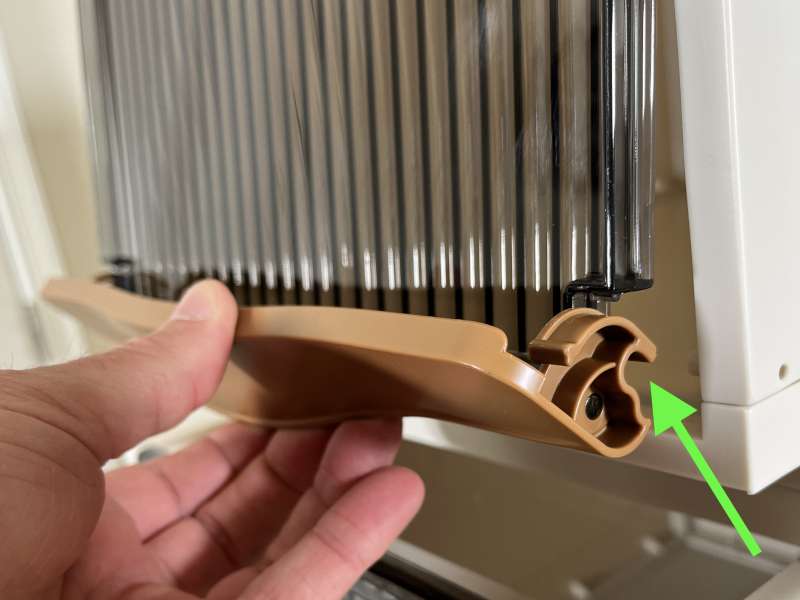 These drawers have one feature that I think sets them apart from other containers:  They can be pull-out drawers, or they can be pull-up drawers.  The secret is this little locking mechanism on the handle.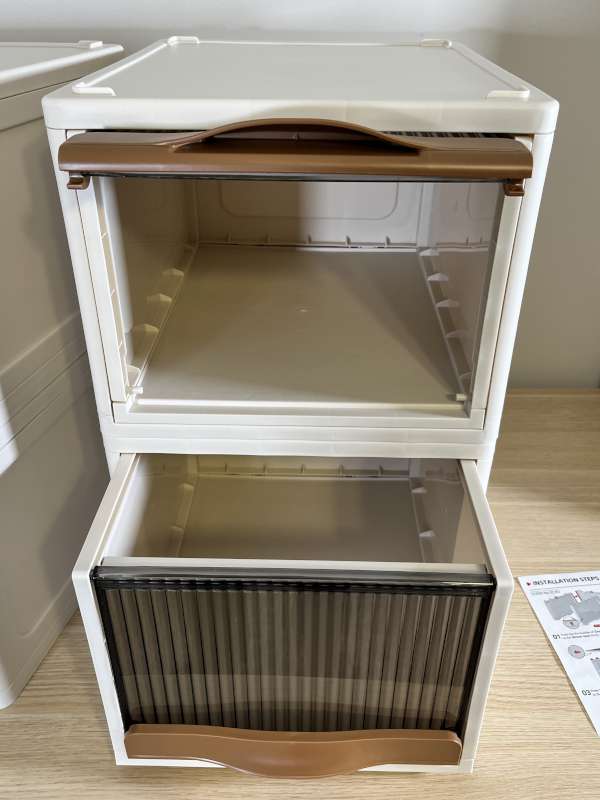 Look at the bottom container in the picture above:  When the locking mechanism locks onto the latch, the drawer will pull out, just like a normal drawer for a dresser.  Now look at the top container:  When it is not locked on, the lid will lift up, like a shoe box storage container.  I can switch back and forth whenever I want.  That's a pretty cool feature and could be very handy, especially since I regularly change how I organize things.
The downside to these containers is that they are expensive; at $36 each, they are more expensive than most of the stacking drawers at the Container Store, which are normally of decent quality.  The ability to switch back and forth needs to be pretty important to you to be worth the cost.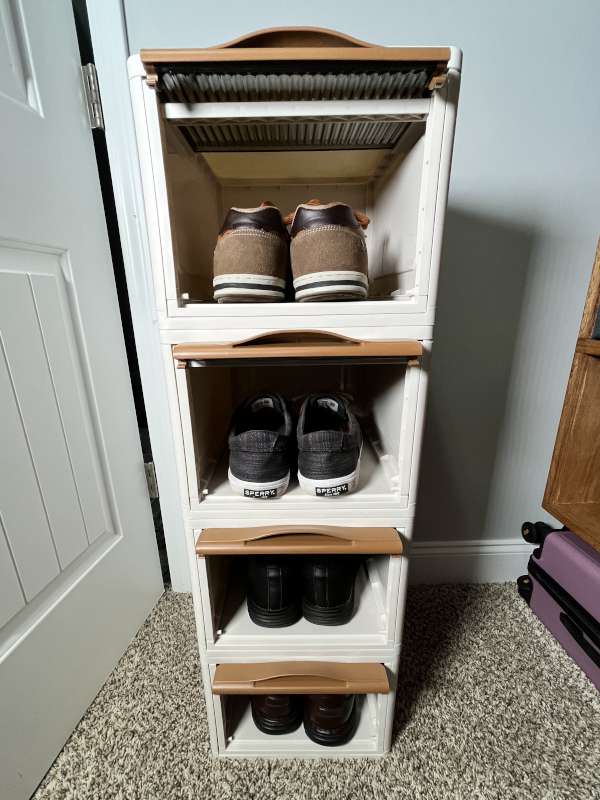 I tested the storage drawers in my closet for a while, where I stored four pairs of shoes.  This worked really well, but I don't think it was the most efficient use of the space for me.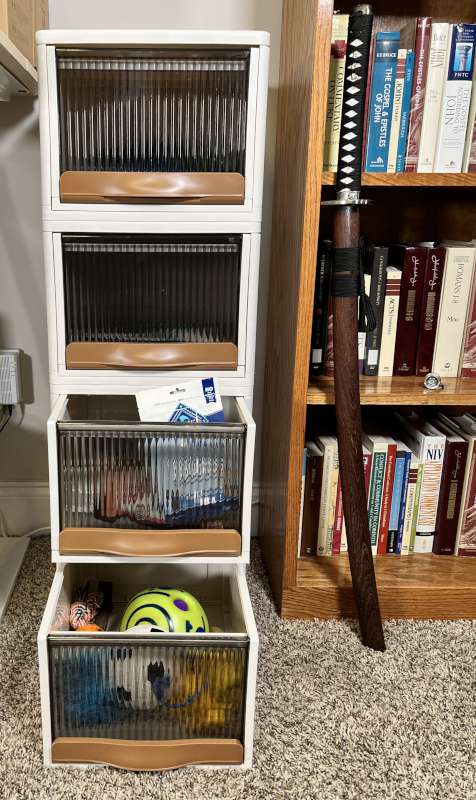 I moved the storage drawers into my office, where I loaded them up with everything that we need for our dogs:  Trimmers, toys, treats, and so on.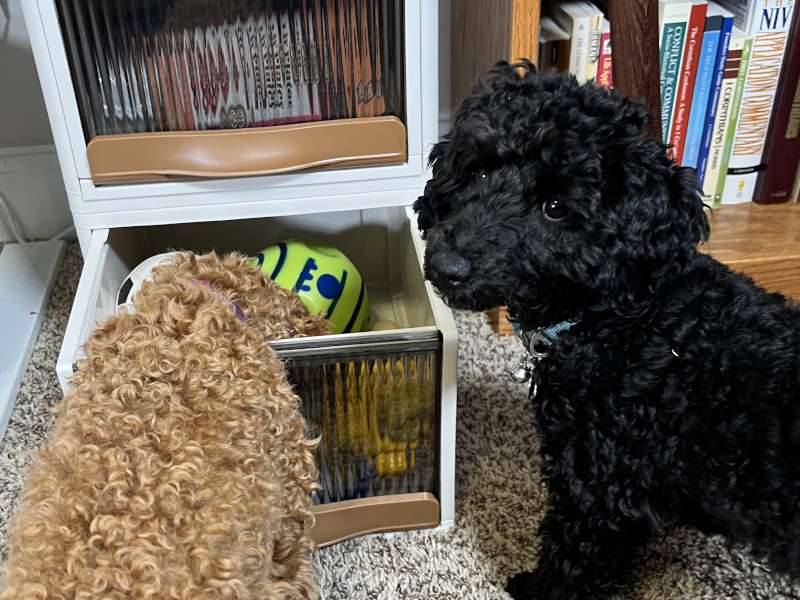 This elicited a lot of curiosity from our toy poodle puppies, who promptly went over to see if they could get the toys or some treats for themselves.
Extra Features
Haixin makes several types of storage containers, and Julie recently posted a Haixin folding storage bins review for their larger-sized storage bins.
What I like
Durable plastic
Individual yet stackable
Switchable between pull-up and pull-out
What I'd change
Final thoughts
Haixin's Versatile Storage Drawers are a set of four drawers that can be used individually or stacked together.  They are made of plastic, feel reasonably sturdy, and are certainly rugged.  They have an interesting locking mechanism in the handles that allows them to be switched back and forth between being pulled out like a drawer or pulled up like a shoe container.  The biggest downside to these containers is that they are expensive compared to other, similar products.  If the flexibility of these drawers sounds like a handy feature to you, and you don't mind the extra cost, then I recommend that you take a look at Haisin's storage drawers.
Price:  $99.99
Where to buy:  Amazon or Haixin's online store
Source: The sample for this review was provided by Haixin.