We use affiliate links. If you buy something through the links on this page, we may earn a commission at no cost to you. Learn more.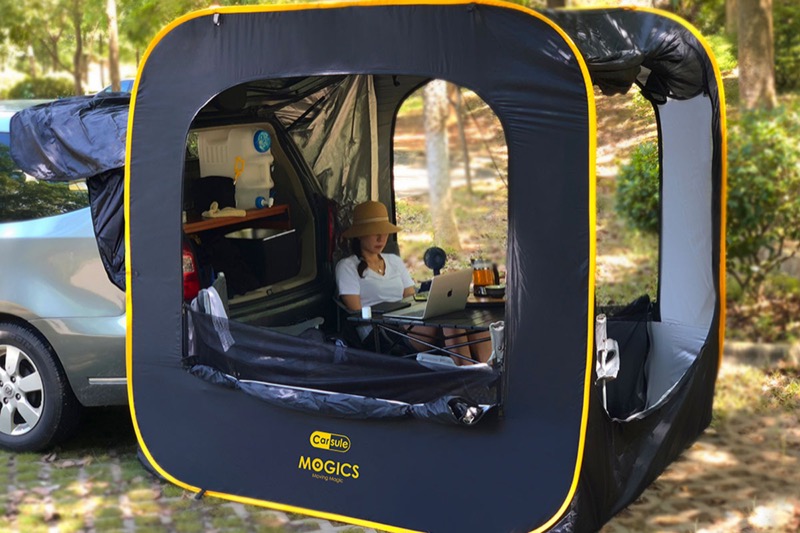 NEWS – TL;DR: Give yourself some living space while enjoying the great outdoors with the Carsule Pop-Up Cabin for Your Car, now $59 off for a limited time.
Everybody looks forward to relaxing in the great outdoors. But nobody looks forward to getting all the stuff out there that you need to do so comfortably. After lugging a tent, provisions, loads of equipment, and more out into the wilderness, the relaxation you feel is often just another word for exhaustion.
If your idea of enjoying nature comes with a little more luxury than sitting on rocks and dirt while swatting away insects, then the Carsule Pop-Up Cabin for your car might be right up your alley.
When packed into your car trunk, the Carsule is less than three feet across. But once you drive to your destination, all it takes is five minutes to spring the structure open and attach it directly to your vehicle's swing-up rear tailgate to essentially add a six square-foot room right on the back of your hatchback, minivan, MPV, SUV, or station wagon. 
Using the raised door and aluminum support rods for support, the Carsule offers 6.5 feet of headroom and room for a family of four to set up chairs, relax, and enjoy the beauty of nature with absolute ease. In addition, the cabin is waterproof and offers UV-resistant protection from the elements, along with thick, sturdy felt carpeting at your feet.
Of course, if you want even more space, the Carsule is also modular, so you can attach other Carsule units to create all the extra elbow room you need for you and your fellow travelers.
Successfully funded on Kickstarter and boasting 4.5/5 stars online, it's an easy way to add living space to your outdoor adventures.
Regularly $379, you can save $59 off the price of the Carsule Pop-Up Cabin with this limited-time deal, bringing your cost down to only $319.99 — that's a best-of-web price!
Prices subject to change.