We use affiliate links. If you buy something through the links on this page, we may earn a commission at no cost to you. Learn more.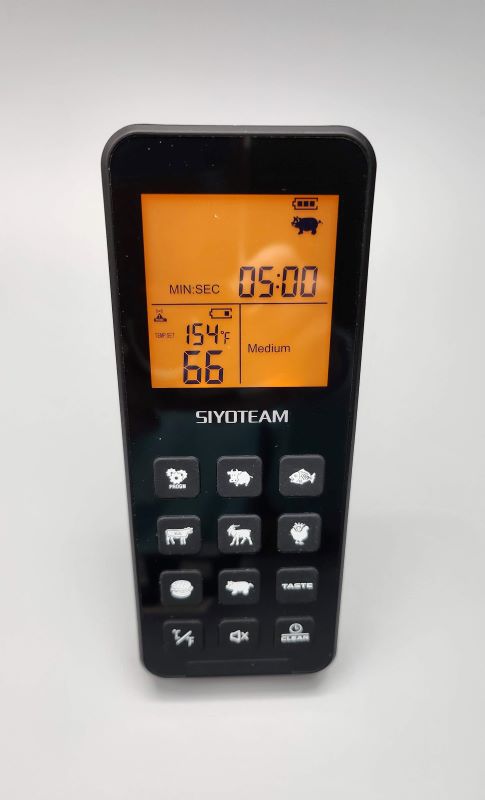 REVIEW – I'm a pretty good cook but I always use a thermometer to roast meat. Life is way too short to eat overdone meat or to spend a few days wishing for death because the meat was undercooked. When I saw the Siyoteam wireless meat thermometer I had to try it! A leave-in wireless meat thermometer with a range of 200 feet? I couldn't wait to put it through its paces.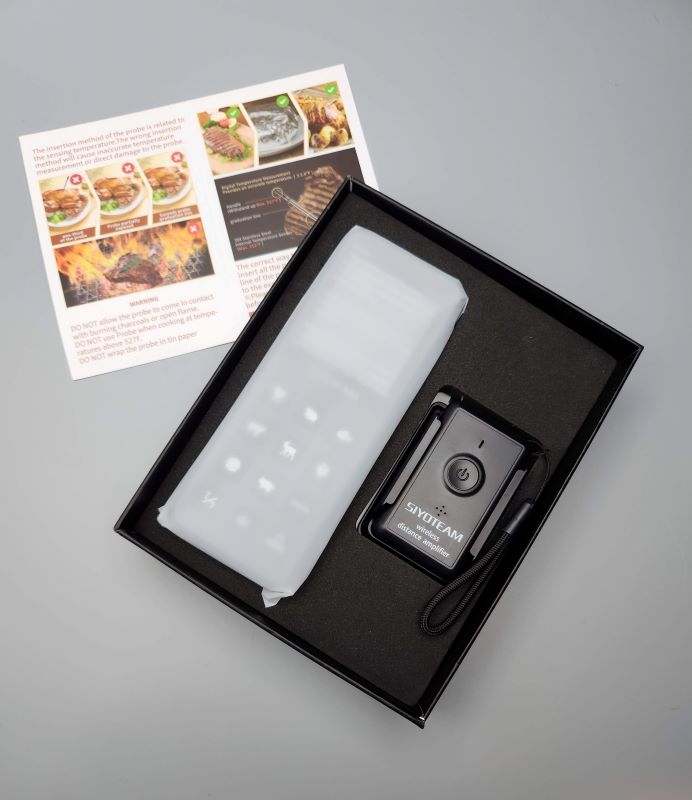 What is it?
The Siyoteam wireless meat thermometer is a meat thermometer with a leave-in probe, a base unit to report the temperature and a signal amplifier.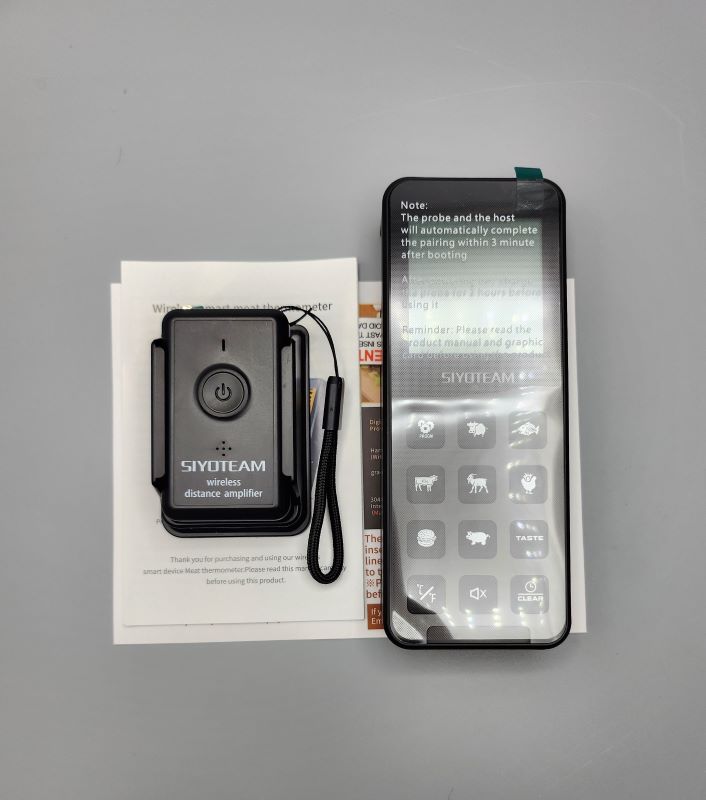 What's in the box?
The Siyoteam wireless meat thermometer with the probe housed in a slot, the distance amplifier in a magnetic holder, and some instructions.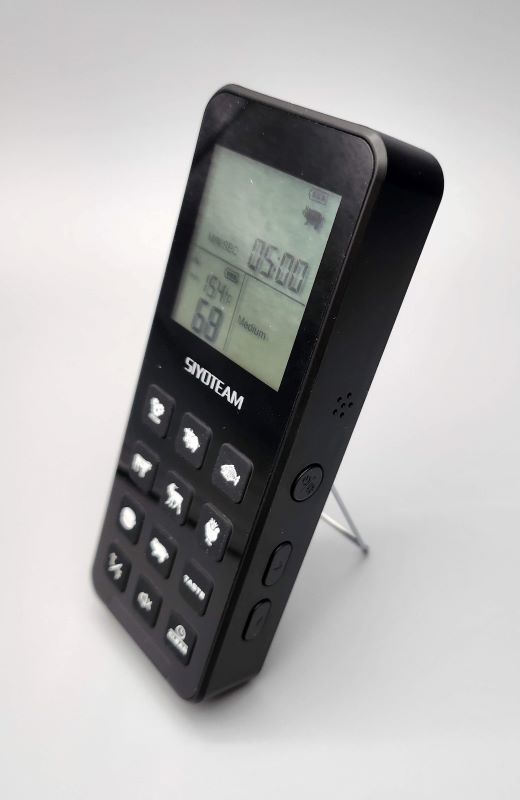 Setup and Features
The Siyoteam wireless meat thermometer doesn't have much setup. You just put in some batteries and you're good to go. I have to admit that I was a little surprised that this thermometer didn't use an app in place of the base unit, but in a way, I'm glad I didn't have to download an app and pair it to the probe. The fact that I can just toss in some batteries and I'm ready for action was refreshing.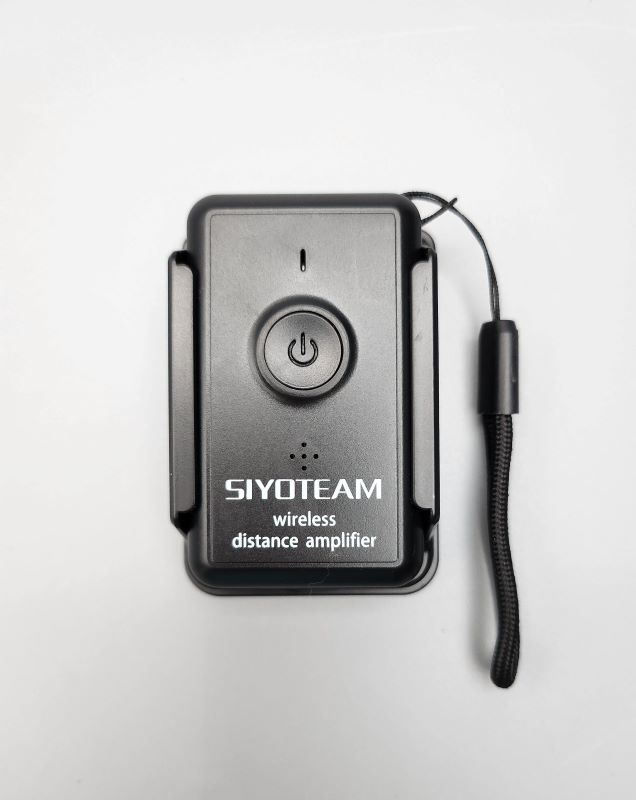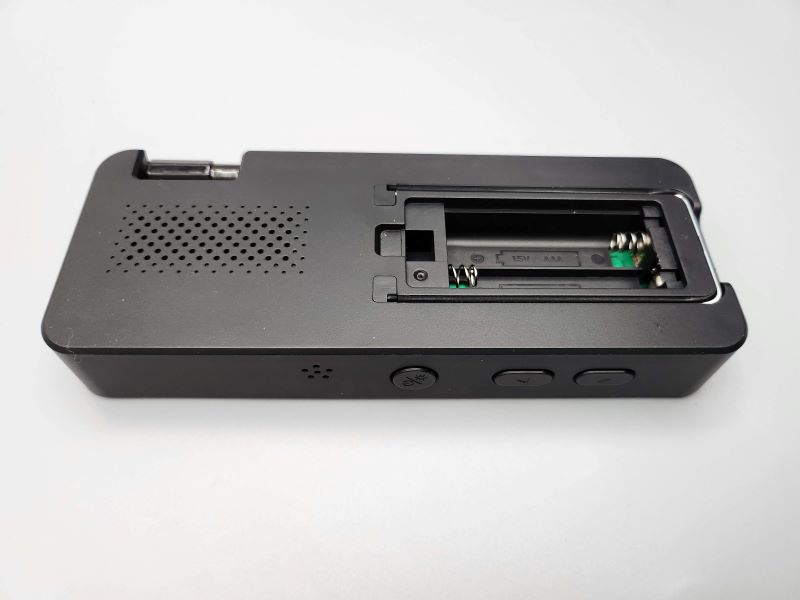 My first test of the Siyoteam wireless meat thermometer was a delicious tri-tip roast. For those of you who don't live on the west coast, chances are you can only envy the majesty of my tri-tip because they are really hard to get in the East. Anyway, I jammed that probe in there and tossed it in my oven. I was having a hard time getting the base unit to work and I double-checked the instructions – I had to probe too far in the meat. It must be a common problem because they have a special pamphlet dedicated to the do's and don'ts of probe placement. I could only get the signal from the probe if I had it really close to the oven door. The signal amplifier was not helping either.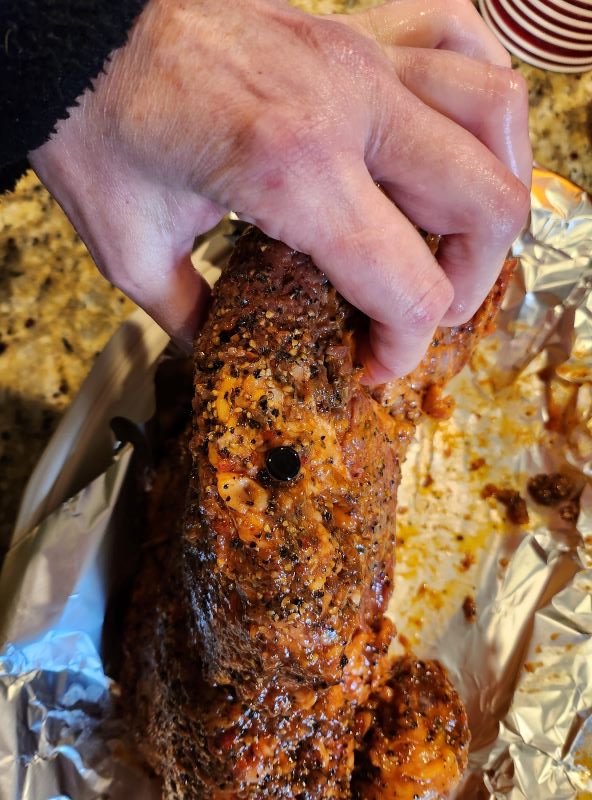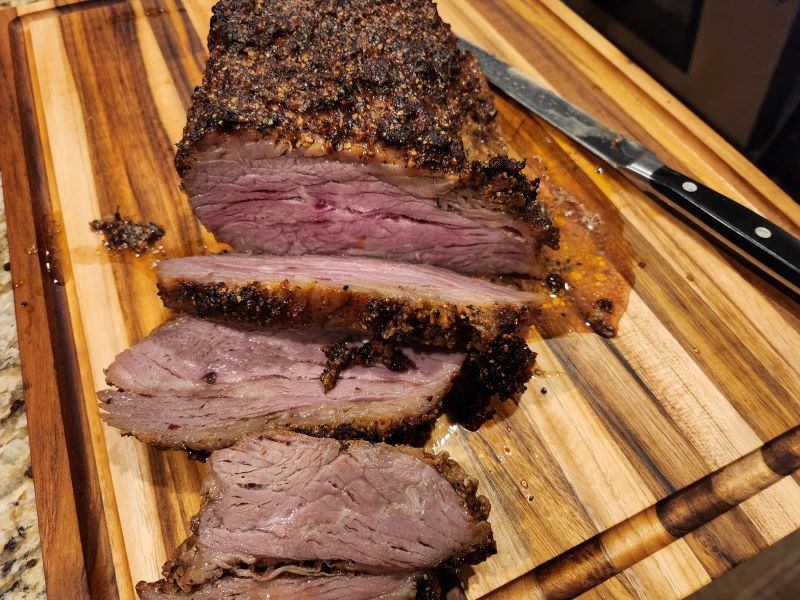 This necessitated another try with the Siyoteam wireless meat thermometer. This time I made yuzu and miso-glazed salmon filets. I thoroughly reviewed the probe placement brochure and placed my probe as accurately as I could. Basically, the probe has to be completely in the meat up to a line on the end. This works great for a roast, and it worked OK for the salmon, but if you had a small piece of meat or a really big roast, you could run into trouble because the 3-inch probe could be too short or long.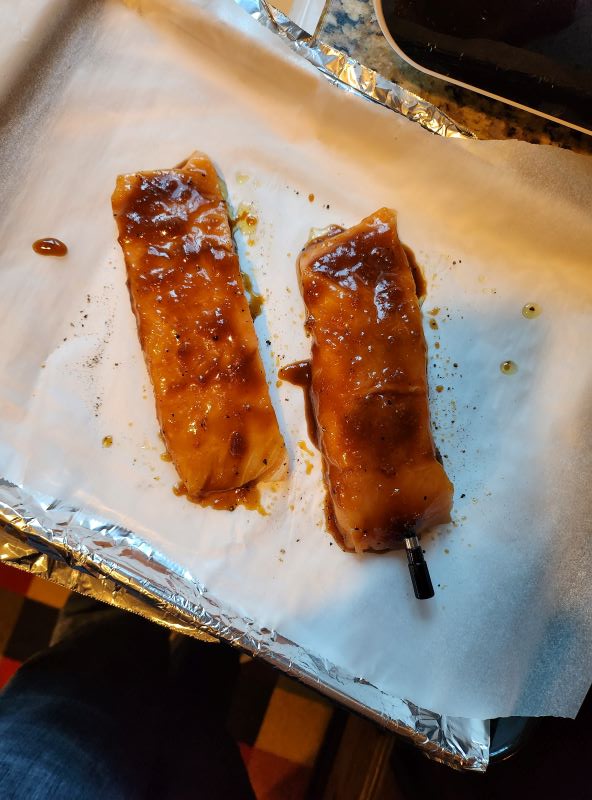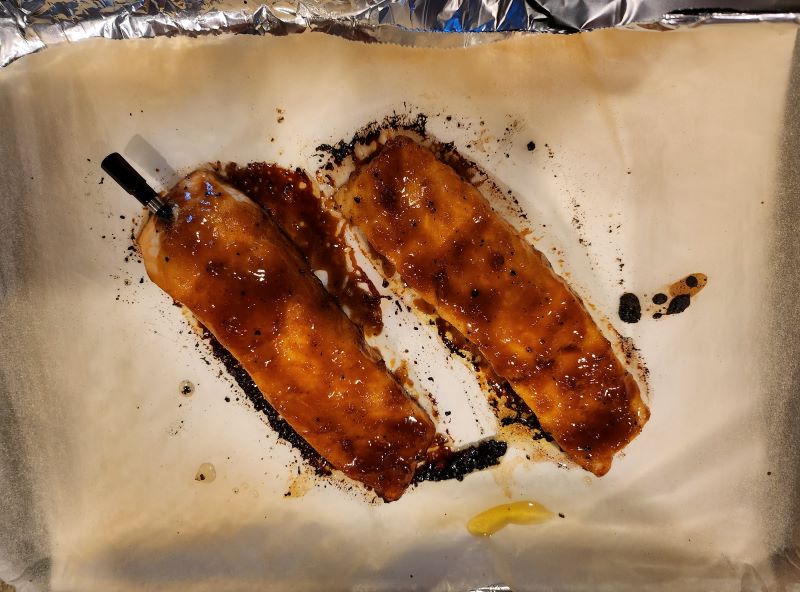 I made my salmon in a toaster oven because my regular oven is quite large and it heats up the whole house. It turned out great and the base unit could be anywhere on the ground floor and I picked up the signal without using the amplifier. The only issue I had was that my "fish" button didn't work. The Siyoteam wireless meat thermometer allows you to pick the type of meat and how "done" you'd like it. You can also set an alarm to ring when it reaches that temperature, which I think is great because sometimes I get distracted and miss when my meat reaches its ideal temperature. For whatever reason, every time I hit the fish button, the beef symbol and settings came up. That also happened when I hit the beef setting, so I know they weren't reversed. It turned out OK, though, because I looked up how hot the salmon should be and then found a temperature on the beef settings that was similar.
Next, I grilled a steak outside. I loved having this thermometer for that because I find myself outside checking the meat while I'm trying to fix a bunch of stuff in my kitchen. This makes me flustered, particularly when I have guests. The Siyoteam wireless meat thermometer allowed me to monitor the steak while I made a salad inside. It was great! I did need to use the amplifier for this because I lost signal without it when I was inside about 30 feet from the grill. One nice feature about the amplifier is the fact that it sits in a magnetized dock so it can stick to your grill somewhere. It also has a strap in case you want to hang it for something, which came in handy on my next dish.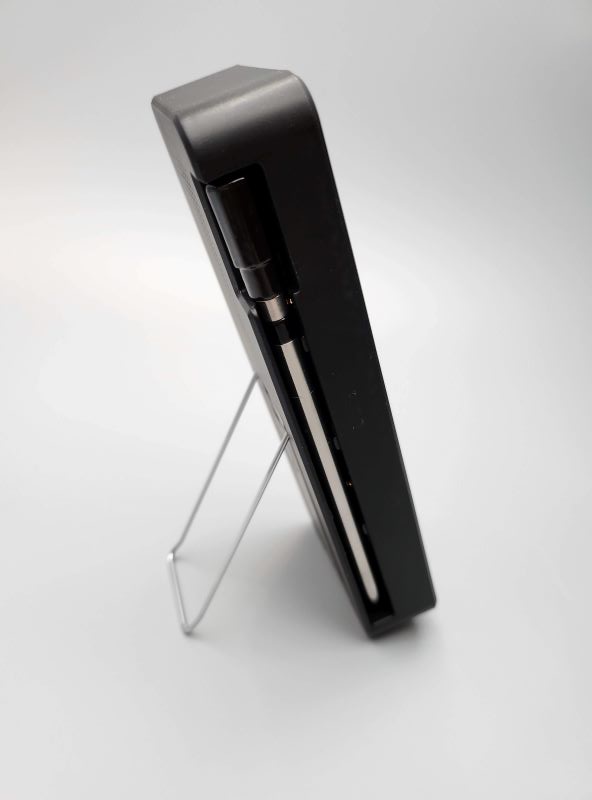 Finally, I roasted a chicken. Probe placement on a chicken is controversial, I know, but I was always taught to put it in the thigh and to avoid bones. There is a large group of people who disagree. I call these the breast people (I also call them wrong, but hey, we can hash that out on another day). Finding 3 inches of probe space that was away from a bone in a chicken thigh proved difficult, so I went against my every instinct and joined the breast people for this experiment. Once again I fired up my gigantic oven to see how the signal would travel.
Once again I had a hard time getting a signal when I was roasting, even with the thermometer placed properly. After some trial and error and using the amplifier, I was able to get a signal. The key turned out to be getting the repeater as close to the chicken as possible. That meant I hung the repeater from the oven handle. It didn't work just sitting on top of the range – it had to be right outside the door in front of the glass. That worked really well, though and I was able to go upstairs and get a little work done with the base unit right next to me to check on whenever I wanted.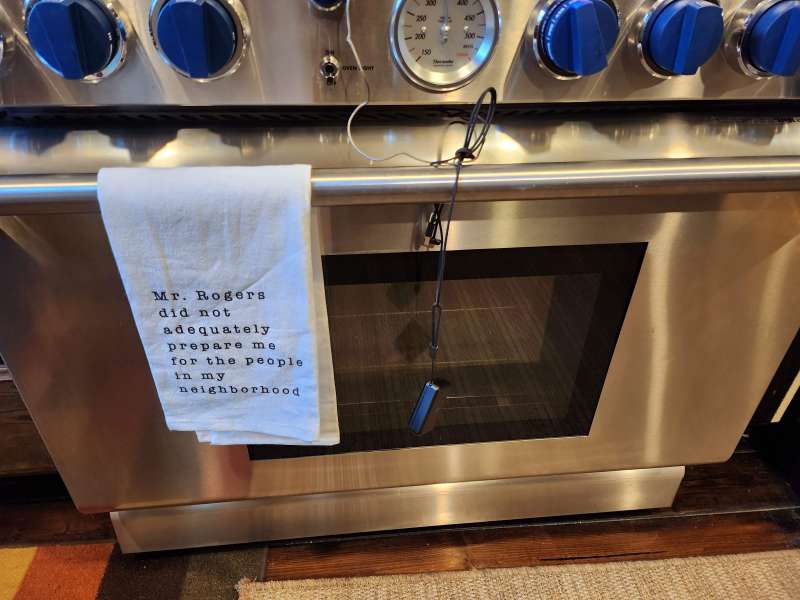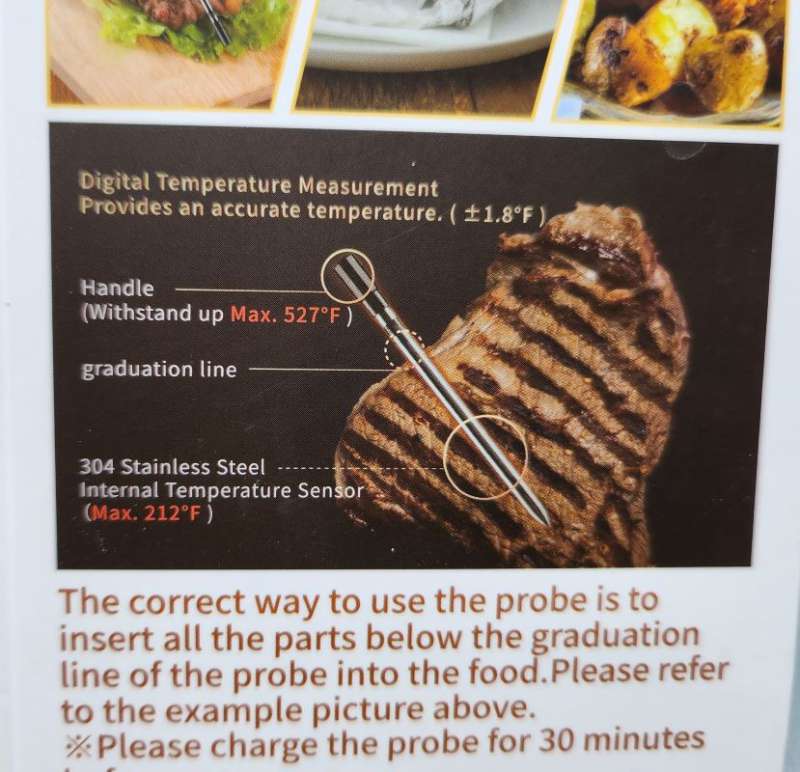 Which line to use? I thought they meant the big black line on the thermometer, but now that I look at it, maybe it was the fine etched one a bit further down. In any case, I wouldn't call these instructions crystal clear.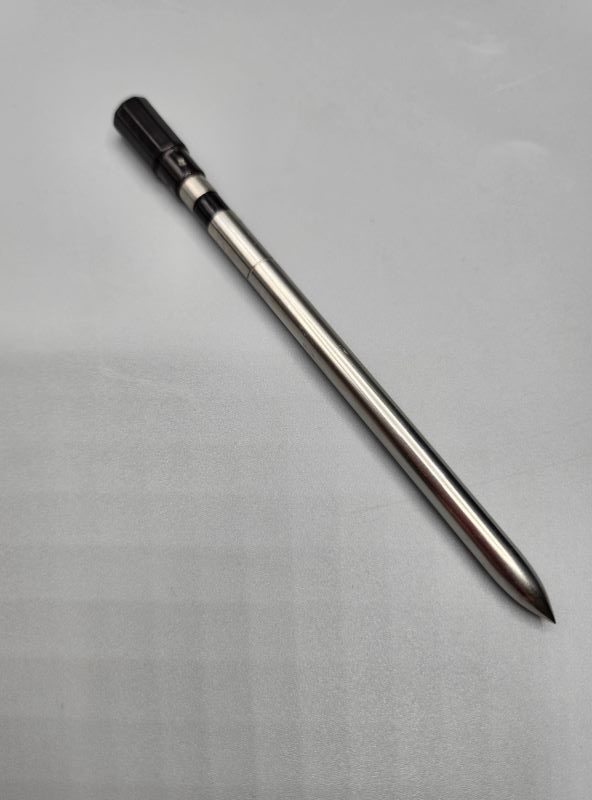 In fairness, my Thermodore oven door is bigger and heavier duty than others I've had in the past, so I'm not sure if this would have been an issue if I had another oven. I was disappointed about having to rig something up to get the Siyoteam wireless meat thermometer to work, but it worked great once I figured out how to hang the amplifier.  Also, while I was reviewing the literature to write this review, I  looked at the probe instructions again and I still might have had it in the meat too far.  I thought it had to be stuck into the meat until the big black line, but when I looked again they might have meant the super thin line a bit further down.
I didn't use the countdown timer or the regular timer while I was testing the Siyoteam wireless meat thermometer, mostly because I wasn't timing a bunch of side dishes to come out at the same time. I think it's nice to have those features at times like Thanksgiving when you're working on a lot of things at once.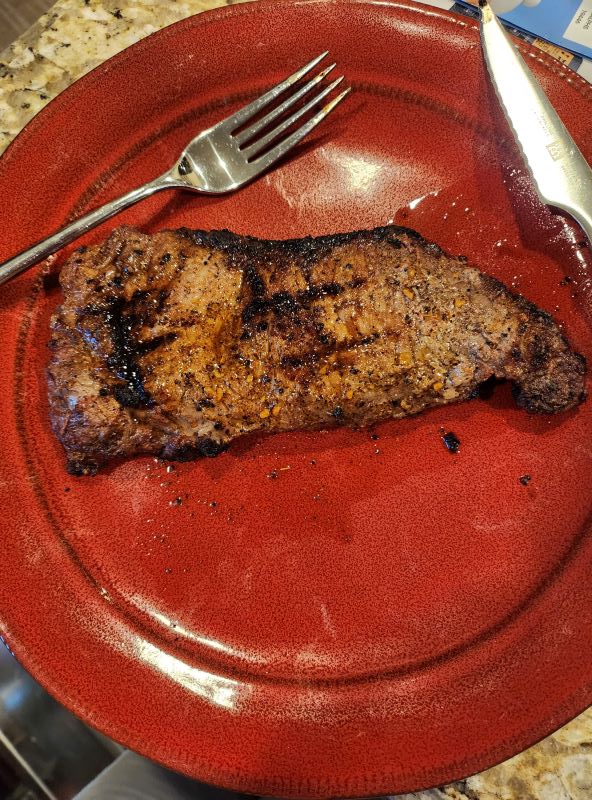 Final thought
While the Siyoteam wireless meat thermometer has a couple of issues, it worked just fine in the end. I'll be using it a lot in the future because it takes some of the stress out of cooking a big meal.
Price: $59.99
Where to buy: Amazon
Source: The sample for this review was provided by Siyoteam.