We use affiliate links. If you buy something through the links on this page, we may earn a commission at no cost to you. Learn more.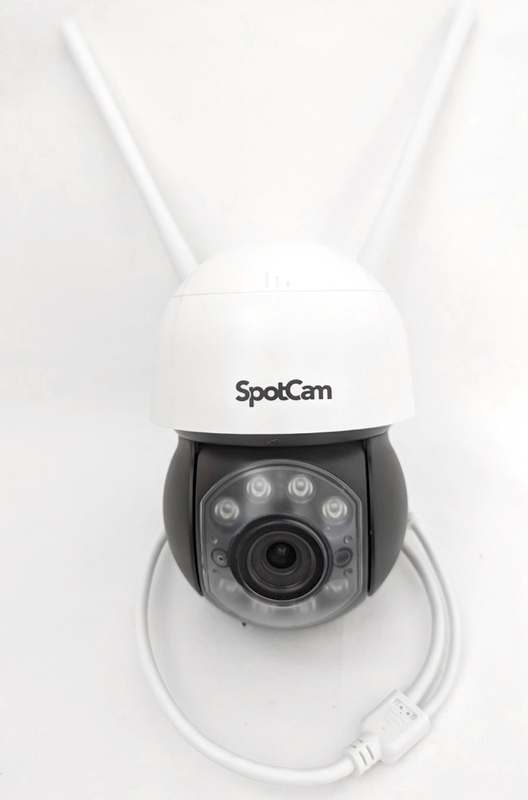 REVIEW – I have used Spotcam cameras for several years now, and all my reviews are here on the Gadgeteer website.  But this is the first Spotcam that I have reviewed that was designed as a "Business Solution".  It looks quite different than all the other Spotcam cameras that I use, but let's see how the $89 Spotcam PT1 dome camera stakes up.
What is it?
The Spotcam PT1 2K wireless business dome security camera is a 2.5K security camera with 24-hr free cloud recording that has a human tracking feature, night vision, two-way audio, a siren alarm, and many other features.
What's in the box?
Spotcam PT1 2K wireless business dome security camera
10ft cord and power supply
Wall mounting kit
Quick start guide
Product specifications:
Video: 2.5K (2560 x 1440) at 30 frame/sec
Streaming: H.264 encoding
Ethernet connection:  RJ45 10M / 100M
Power over Ethernet:  IEEE 802.3af type A
Wireless connection: 802.11b/g/n 2.4GHz
Field of View: 115.3 degrees (Diagonal)
Micro-SD card storage:  up to 256GB
Weatherproof:  IP65 for outdoor/indoor use
Outdoor temp operating range:  -4 degrees to 122 degrees
Dimensions: 6.3 in x 4.7 in x 3 in
Weight: 14 oz.
Horizontal Pan Range: 360 degrees
Vertical Tilt Range: 90 degrees
Infra-red Color Night Vision
Audio speaker and microphone
Siren alarm for motion and audio detection
Human tracking feature
24-hr full-time continuous free recording stored in the cloud
Google Assistant/Alexa/IFTTT integration
Features and performance
The first thing you'll notice when you take the Spotcam PT1 2K wireless business dome security camera out of the box is how big it is.  It looks like a Star Wars robot of some kind, with a large white helmet, a camera that looks like a black ball hanging under the helmet with a bunch of eyes, and 2 ear-like antennae that stick up in the back. It really is quite unlike any of the other webcams that Spotcam makes that seem to get smaller footprints every year.  This PT1 is big!  So that means you won't be hiding this camera anywhere. Which I guess is kinda the point because Spotcam sells this as a business solution where I suppose you want folks to know that you are watching them.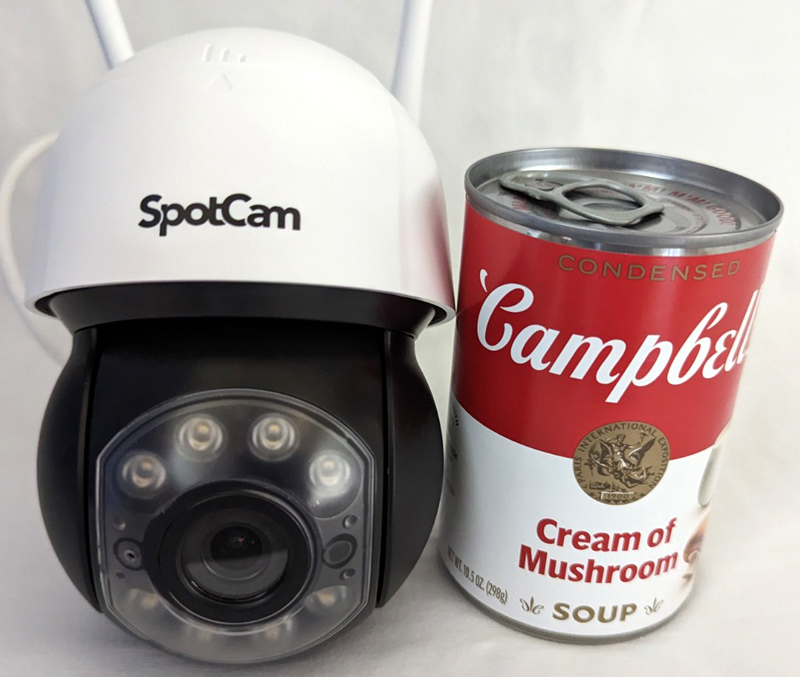 Behind the big white helmet-looking part is where the mounting bracket is located. It's pretty easy to mount with a couple of screws, which are included.  On the back of the round black camera, which I guess is about the size of a softball, you'll find a small rubber cover that you can open and see the slot for the micro-SD card, as well as the reset button. Coming out of the bottom of the mounting wall bracket is a permanently attached dongle that includes the power connector and the Ethernet connector. If you end up not using the Ethernet connector (which was the case with me since I used the wireless connection) you'll find a small cover in the box that seals off the Ethernet connector to keep the weather out. Here is a picture of the back of the camera with the rubber cover removed, as well as a picture of the dongle.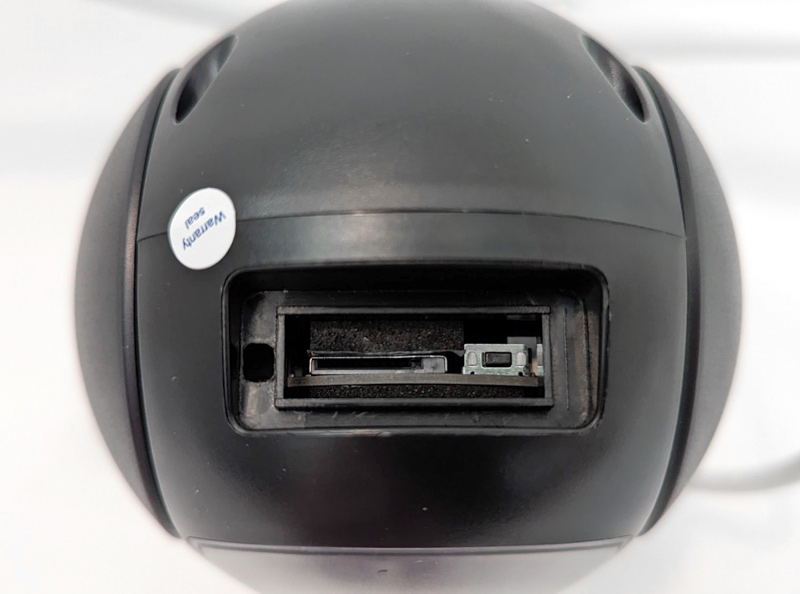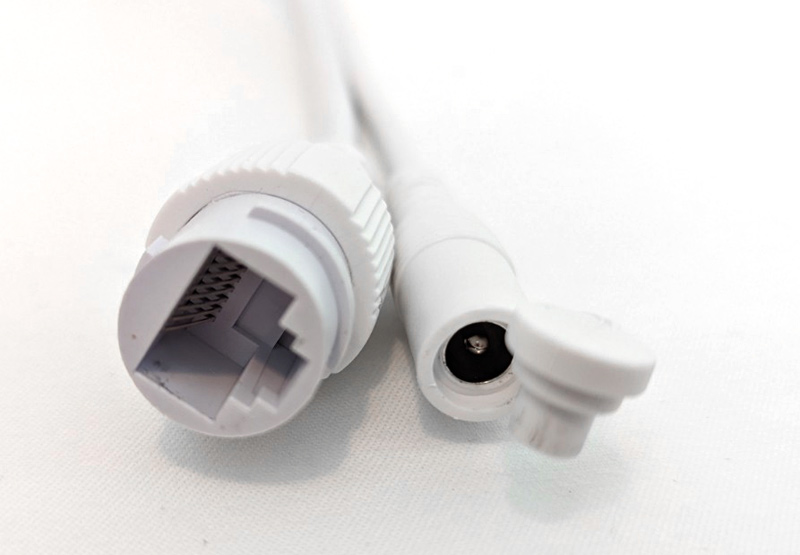 The antennae are easily adjusted up, down, and all around to get the configuration that you need. And because the pan has 360 degrees of rotation you can literally mount this thing up, down, sideways, or whatever configuration you need on a wall, ceiling or wherever.  I can easily see folks putting the PT1 in a warehouse, a large storage room, a lobby, a parking garage, etc.
The camera resolution is great at 2.5K (2560 x 1440) at 30 frame/sec, and it's the best Spotcam resolution I have seen yet.  Like all Spotcams, you can pinch to zoom in the app and the 2.5K resolution has great sharpness for the detail you might need to see people's faces, etc. I do wish it could zoom a little bit more than it does, but you can zoom in a little bit.  It has night vision like all Spotcams, but the PT1 sports color night vision, which I could see being helpful if you needed to tell law enforcement what color shirt an intruder was wearing, etc.  As mentioned before, the Spotcam PT1 2K wireless business dome security camera supports a micro-SD card up to 256MB in size. The PT1 does come with free lifetime 24-hr cloud recording like all other Spotcams, but if you are going to use the PT1 in some sort of business for security purposes I can see where the micro-SD card would be handy to keep all that footage that spans many days.  The only issue is going to be if you mount this camera high up on a wall or ceiling you'll need a ladder to get to it of course.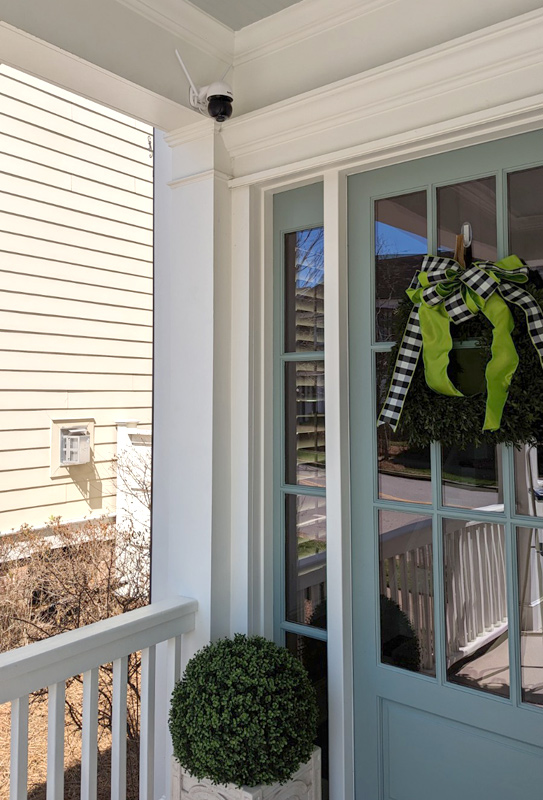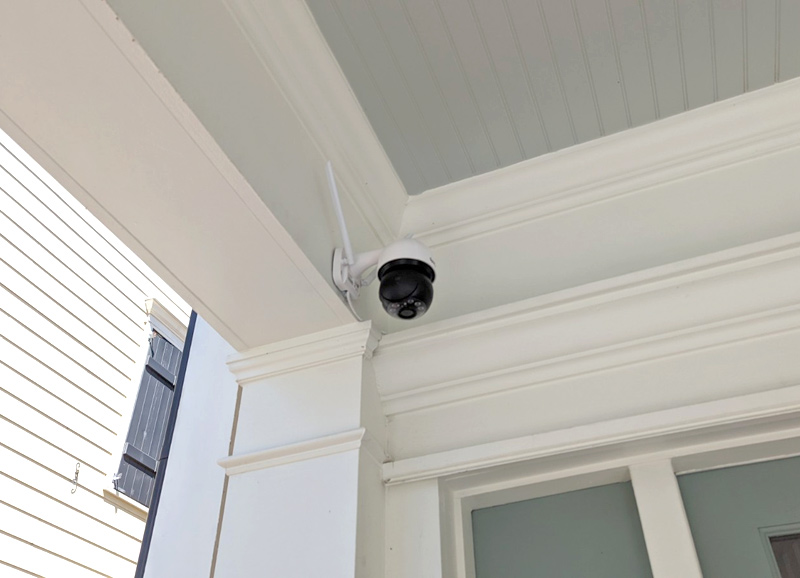 We use cameras mainly for security at our house, so we have them on the front door, the back door, and in the larger open main areas of the house.  The one place where we haven't had a camera, and wish we did, is our front porch. The front porch goes across the entire width of our house, and the PT1 was a perfect solution for this.  As you can see from the screenshot images from the app below, we mounted the PT1 just above our front door, and because the camera portion of the unit hangs down from the mount just below the overhang of our porch, we can utilize the 360-degree pan view the camera to see our entire front porch, as well as up and down the street to the left and right of the house. So I would say one of the biggest benefits of this camera is a large pan/tilt area, and I imagine it would work in just about any situation where you need a large area covered.  I should also mention that because the camera requires power, we had to hire an electrician to come drill a hole through the outside wall of the house and connect the Spotcam PT1 2K wireless business dome security camera to the power inside the wall in our foyer. We didn't want to 'rig it' and thread it through the door opening of the front door!  We are utilizing the wireless interface of the camera as we do with all our Spotcam cameras, but if we were using the Ethernet connection I can see where installation would be a bit more complicated.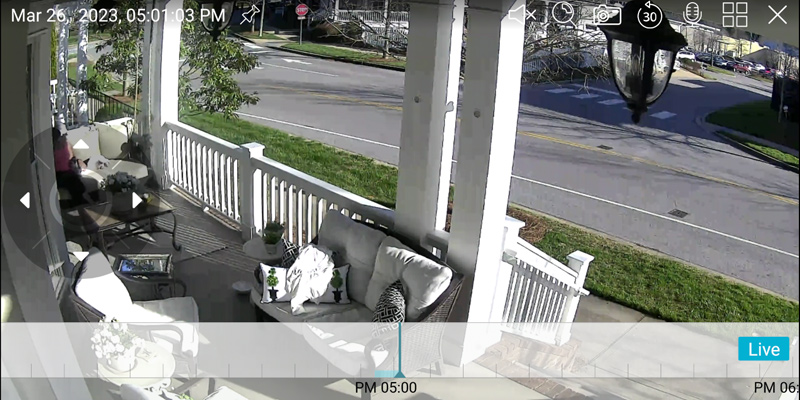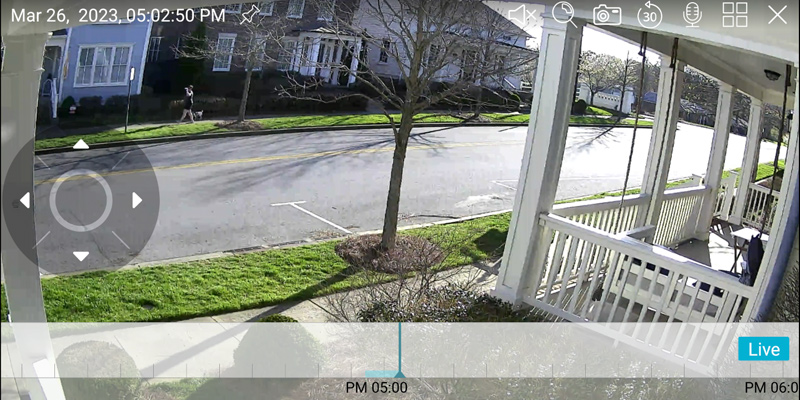 As with all Spotcams, you install it using the free app, and just following the directions in the app will get the camera connected in mere minutes. The Spotcam PT1 2K wireless business dome security camera has the same standard set of features that all Spotcams have like customized email and/or siren alerts for sound and movement, two-way audio, flicker reduction, scheduling, etc. As mentioned previously, night vision, which is very useful. You also get a motion mask feature where you can select specific areas of the screen to watch and get notifications about movement in those areas.  And actually, as opposed to other Spotcams that I have seen with the motion mask feature, the PT1 motion mask has more individual sections than I have ever seen.  You can divide the screen into 144 individual sections in the motion mask, which is amazing!  That means you can get really granular in your selections.
I will make special mention of the Human Tracking feature on the PT1.  As with the recently reviewed Spotcam Eva Pro camera that I did recently, the Human Tracking feature has gotten better than previous cameras that I reviewed a couple of years ago.  It's still not perfect, but it's better. I will also mention that if someone runs in front of the camera, the human tracking feature does its best to follow, but the camera movement isn't as fast as someone running.  But if the person is walking it works fine.
Another neat feature of the Spotcam PT1 2K wireless business dome security camera is that you can set it to turn on a spotlight if a human is detected, and also set an audio siren.  You can set the light to be a solid light, or a strobe light.  And it works!  The siren is quite loud too.  This is why I think that the PT1 would work well in a security setup at night when you want someone to be startled if they pass in front of the camera.
Finally, as with all the other Spotcams in their product line, you can pay extra for features that you might want.  Pet detection, facial recognition, missing object detection, baby care (rollovers, crying, etc), vehicle detection, fall detection, and so forth. The prices range from $4 to $10 per month, and you can try each of them for free for 7 days to see if you like them.  I didn't want to pay for any of those since I didn't really need any of that stuff.
What I like
Great price
Great app
Very wide viewing angle for maximum coverage
24-hr free cloud storage for life
What I would change
I wish it would zoom in a little bit more than it does
Depending on the installation location, it may require some time and effort to get it installed.
Final thoughts
If you are a Spotcam customer with a business, it's a pretty easy choice to add the Spotcam PT1 2K wireless business dome security camera to your collection.  The price is affordable, the features are really good, and the app is really easy to use with notifications that can be customized to your liking. It will take some effort to install this in some locations, so be prepared for that. The camera image is really good, and the pan range is huge so it will enable you to see a large area. But if you need a camera that can easily be hidden and inconspicuous, skip the PT1.
Price: $89.00
Where to buy: Amazon
Source: The sample of this product was provided by Spotcam.