We use affiliate links. If you buy something through the links on this page, we may earn a commission at no cost to you. Learn more.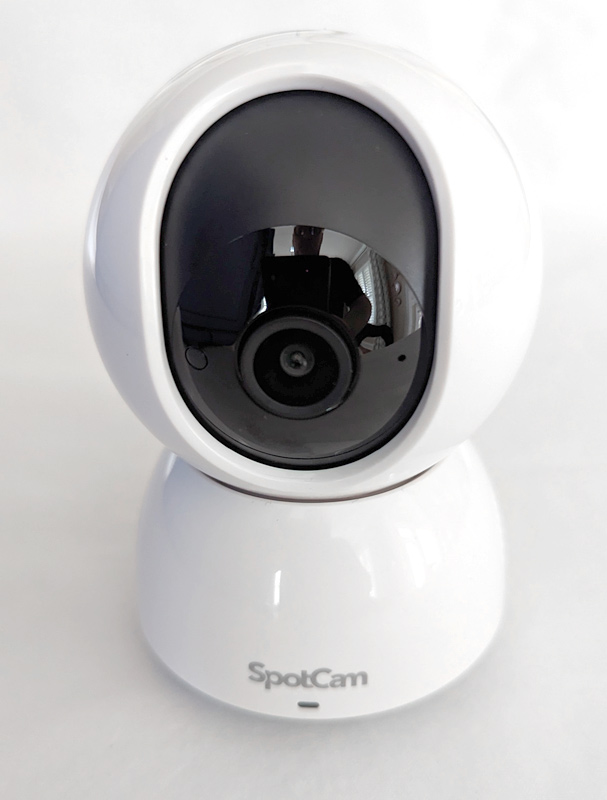 REVIEW – I have been a SpotCam user for many years and use their cameras all over my house, so every time they come out with a new camera I give it a look.  Today I will be reviewing the new SpotCam Eva Pro, which is an upgrade from the SpotCam Eva 2 that came out a little over 2 years ago, and which I reviewed.  There are many similarities between them, and some big differences, so let's jump in and see what we find!
What is it?
The SpotCam Eva Pro is a 2K security camera with 24-hr cloud recording that has a human tracking feature, night vision, two-way audio, a siren alarm, and many other features.
What's in the box?
SpotCam Eva Pro camera
3ft cord and power supply
Wall mounting kit
Quick start guide
Hardware specs
Video: 2K (2304 x 1296) at 30 frame/sec
Streaming: H.264 encoding
Field of View: 115.3 degrees (Diagonal)
Horizontal Pan Range: 360 degrees
Vertical Tilt Range: 90 degrees
8X digital zoom
Night Vision: 6 High power IR LEDs
Audio speaker and microphone
Siren alarm for motion and audio detection
Human tracking feature
24-hr full-time continuous free recording stored in the cloud
Weight: 6 oz.
Google Assistant/Alexa/IFTTT integration
Design and features
To get started with the review, let's take a look at the Eva Pro next to the previous 2 generations of the Eva camera line.  I own and reviewed the previous 2 generations, so here they are next to each other: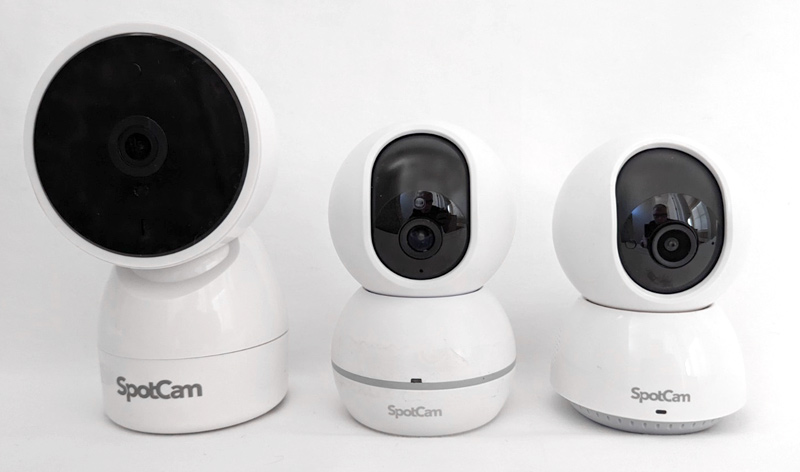 It's pretty easy to see that each new generation of this camera becomes smaller in stature.  And each new generation also brings new and/or upgraded features.  One of the consistent things you find with the SpotCam products is that there is a core set of features that all their cameras have.  For example, they all have speakers and microphones so you can talk to the person who is in front of the camera.  They all have night vision which works really well.  They all work with the SpotCam app, so no matter which cameras you have, you can see them all in the app and get access to their settings. For all their cameras you can also pay for extra premium services that range between $4 and $10 per month.  For example, you can get features like facial recognition, fall detection, pet detection, vehicle detection, virtual fence, and more. And those features come with a free 7-day trial so you can see if you like them.  Finally, all the cameras get regular firmware updates that notify you in the app.  So you just download and install the firmware update right there in the app and push them to the camera, which works really well.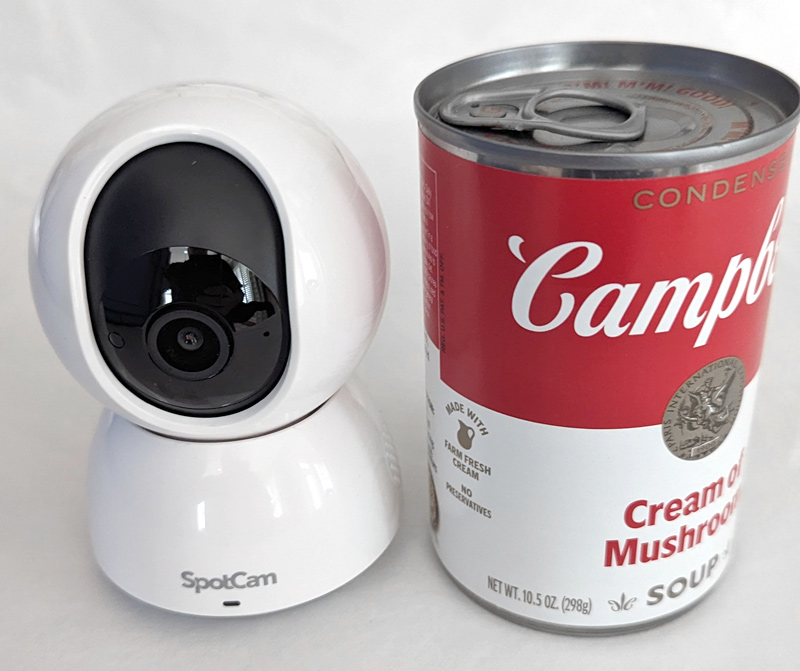 The installation of all their cameras is done through their app, which works great. You just follow the steps and it connects the camera to your network and it shows up in the app. You can also log into the www.myspotcam.com website and see all your cameras as well, and change the settings, install new cameras, etc. So it works seamlessly between the two. When you select the camera in the app you see the main screen for the camera which has various buttons above and below the image to get access to the settings, screenshots, timeline search, sound, and more. Below that, you see a ruler timeline that you can scroll back and forth through time to see events that happened in front of the camera.  And to make it easier to find events, there are colored bars that show up on the ruler that indicate that something happened.  I should also mention that all the Spotcam cameras provide you free cloud storage of 24 hrs of recordings, which is fantastic.  You can pay for longer storage, but 24 hrs of free storage in the cloud is going to be plenty for most people and gives you time to download screenshots or video clips of events if you need them. Here are some screenshots in portrait and landscape view in the app.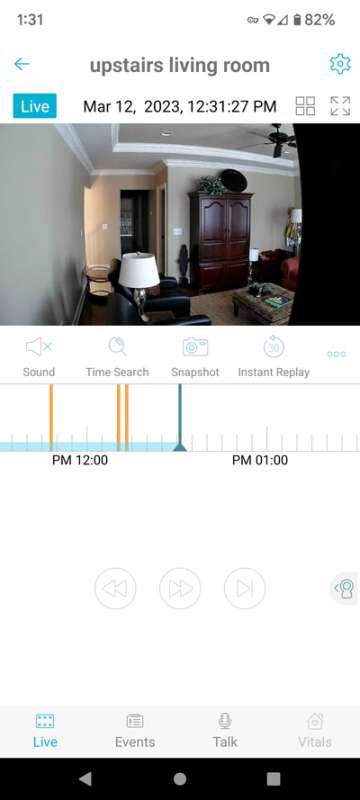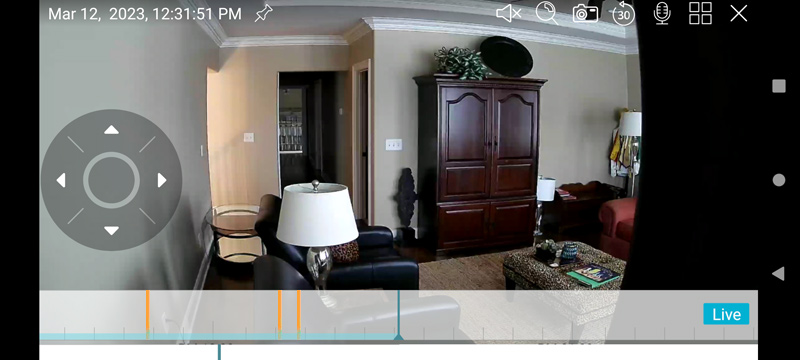 Some features that carry over from the previous Eva 2 are the extremely loud siren alarm (if you choose to use that feature), human tracking detection, scheduling the camera recording periods (if you want) and all the alert notices that you could want like movement, sound, etc. I will say that the human tracking detection on the Eva Pro is a little better than it was with the Eva 2.  I found with the Eva 2 that if I ran across the room that the human tracking feature didn't work every time.  With the Eva Pro it didn't matter if I was moving fast or slow across the room, it caught me. So that feature is improved
Now let's talk about some of the new features of this Eva Pro camera. Probably the biggest upgrade is the quality of the camera.  The Eva Pro sports a 2K camera (2304 x 1296) at 30 frame/sec, whereas the Eva 2 had a camera at 1080P (1920 x 1080) at 30 frame/sec.  And the first generation camera, the HD Eva, only had a 720p camera at a resolution of 1280 x 720, so with each new generation the camera gets better and better.  The detail is just so much better with the Eva Pro than with previous generations, so it's nice to see they are improving the camera here because, of course, what you really want with a security camera is a great camera, right? Here is a screenshot of the original HD Eva versus the new Eva Pro so you can see how far they have come: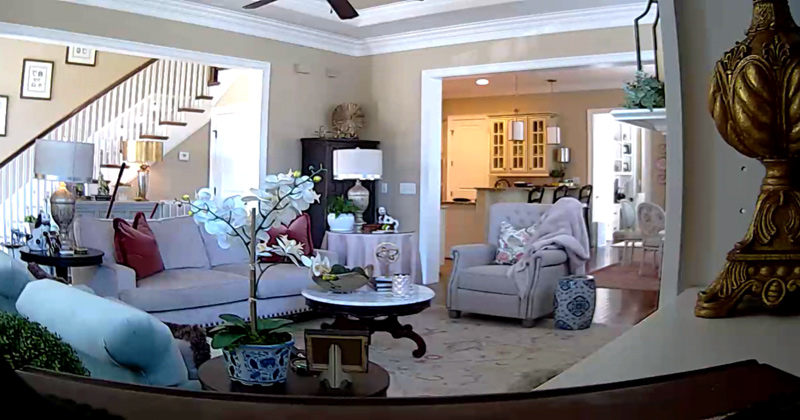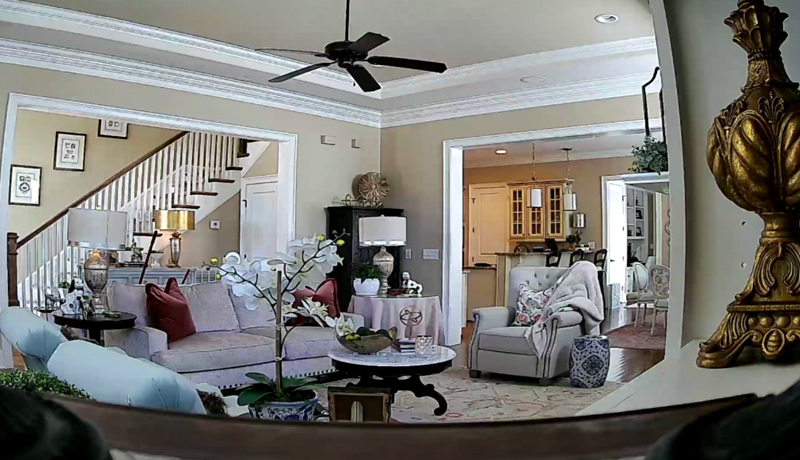 The Eva Pro adds an additional connection option.  In addition to the wireless connection, which most people will use, it now has an Ethernet port on the back if you wanted to hardwire this to your network and avoid any wireless issues. One of my issues with the Eva 2 was the pitifully short power cord at slightly over 3 ft in length.  It was useless without an extension cord. I am happy to report that the Eva Pro comes with a 5 ½ ft cord, which is better than the Eva 2 but shorter than the 8 ft cord on the original HD Eva. Progress, at least.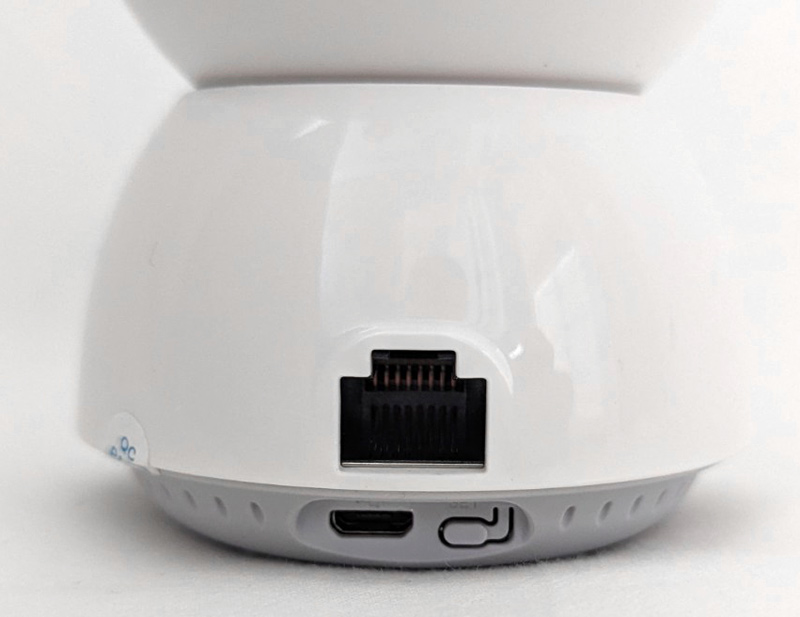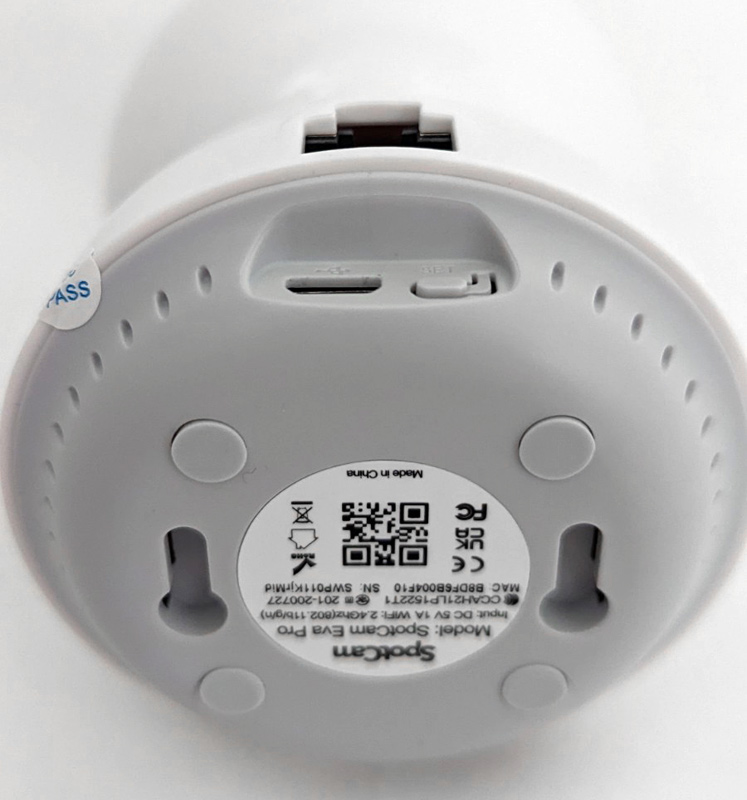 The pan/tilt capabilities of the Eva are still great.  You simply drag your finger across the image in the app and the camera moves, and it's pretty easy to get it where you like it. And just like previous cameras you can create and save preset locations, so if you accidentally mess up the camera view you can get it back where you want it with 1 tap. And if you use 2 fingers you can pinch to zoom into the image without messing up the camera view. You can also pan this camera 360 degrees just like the Eva 2, so I can see how putting this camera up high in a large room would allow you to pan over the entire room.
Also, like the previous generation, the Eva Pro comes with Alexa/Google Assistant integration, so I added it to my Google Home app and was able to view the webcam feed on our Google Home in the kitchen.
Finally, I still have a gripe with something that hasn't changed. These cameras work great, but many people (like me) are going to use them around the house for security purposes.  And these Eva cameras look like little snowmen, so they stick out no matter where you put them.  Some of the other Spotcam cameras that I have are black so they can blend in a little better with furnishings, so I know that Spotcam does indeed have black as an option on their cameras.  These little white cameras just can't hide anywhere.  I wish there was an option for a black color.
What I like
Great price
Great app
Loads of customizable features
24-hr free cloud storage for life
What I would change
Can we please get a black option??
Final thoughts
If you have gone all-in on the Spotcam family like me, the Eva Pro is a strong upgrade in the feature that matters most, which is the quality of the camera image. It maintains all the nice things that I have come to expect from Spotcam products like the great app, loads of features and settings, free cloud storage for 24 hrs, and more, at a price that I think is affordable for most folks at $74. The Spotcam family of products is solidly in that middle range of camera solutions, so you can find cameras that are cheaper and more expensive.  But for the price you pay for these cameras, I believe most folks will be happy with what they get.
Price: $74.00
Where to buy: Amazon
Source: The sample of this product was provided by SpotCam.