We use affiliate links. If you buy something through the links on this page, we may earn a commission at no cost to you. Learn more.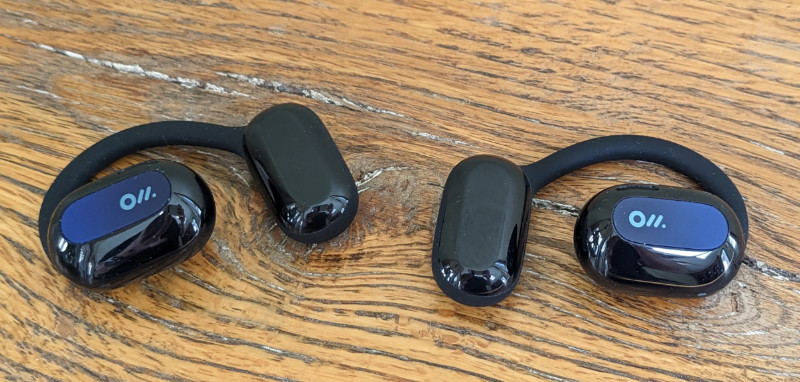 REVIEW – Oladance Open Ear Headphones are a different way to listen to audio. The speakers sit just over the ear canal instead of in the ear, or via bone conduction. This allows you to hear your audio but also environmental sounds as well. I'll describe the fit, comfort, run-time, and audio quality of this headset.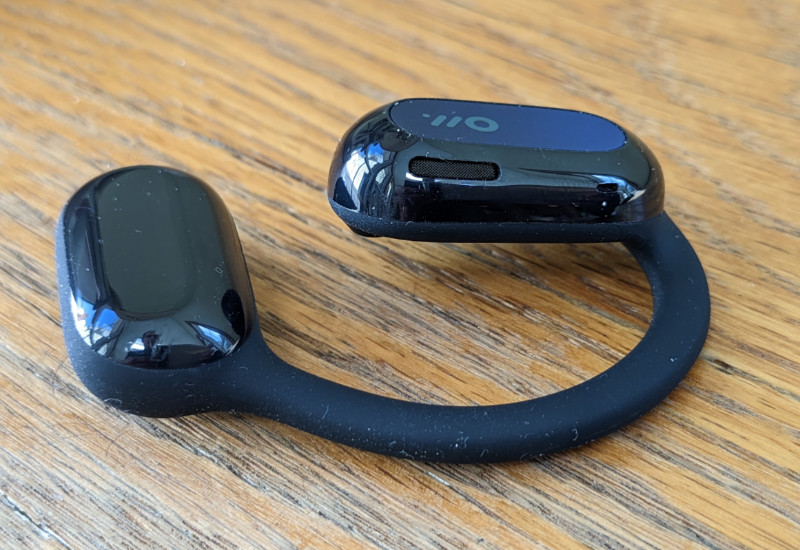 What is it?
The Oladance Open Ear Headphones are lightweight, 'on the ear', Bluetooth, and rechargeable headphones.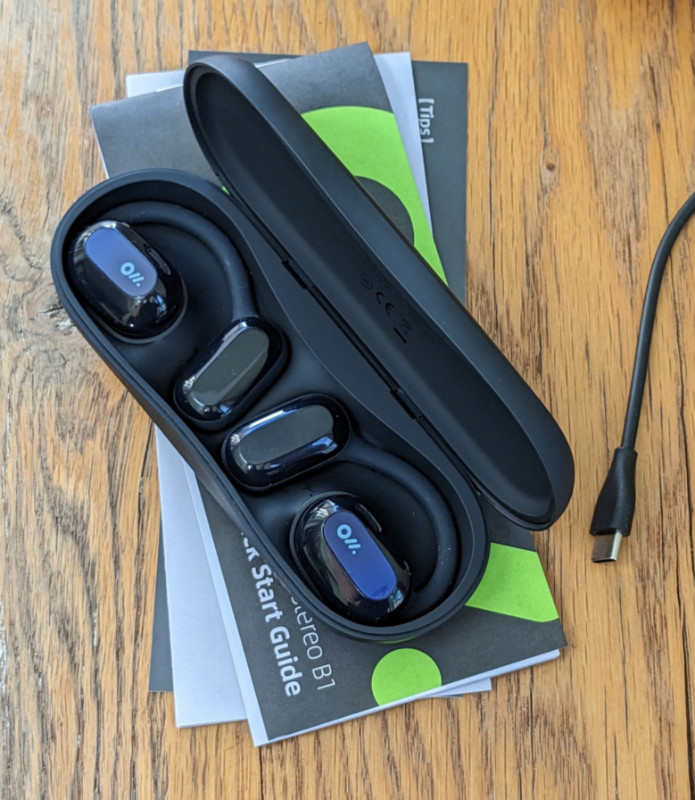 What's in the box?
Two Oladance Open Ear Headphones with case
Charging cable, USB-A to USB-C
Quick start guide and promotional sheet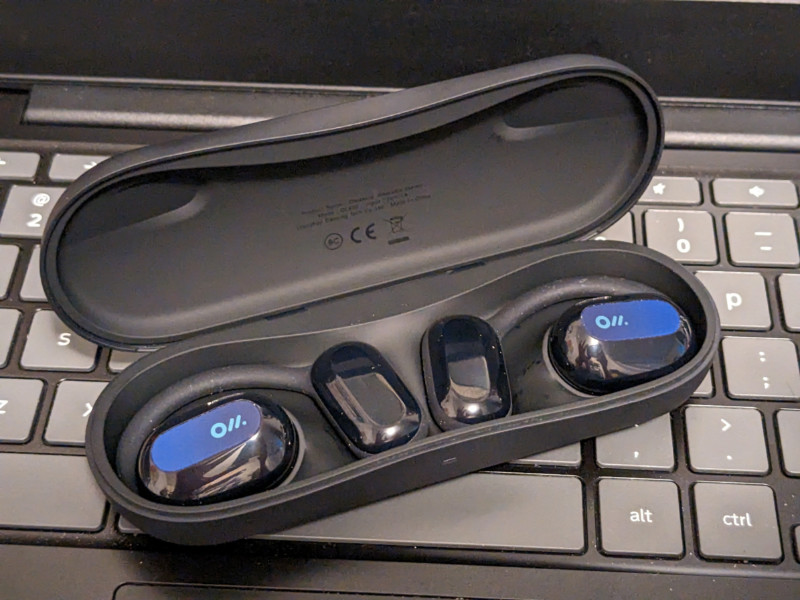 Hardware specs
Open ear design
Bluetooth 5.2
Battery capacity: 160mAh
Up to 16 hour play time per charge
16.5mm dynamic drivers
IPX4 splashproof
Controls: Music, call, volume, phone-native voice assistant
'Clear Call' for phone use
Silicone and plastic external construction
Weight: .5 oz (one earpiece), 3 oz (case+earpieces)
Colors: Interstellar Blue, Space Silver, Martian Orange, Cloud White
Dimensions: 58*40*20mm
Charge time: 1.5-2 hours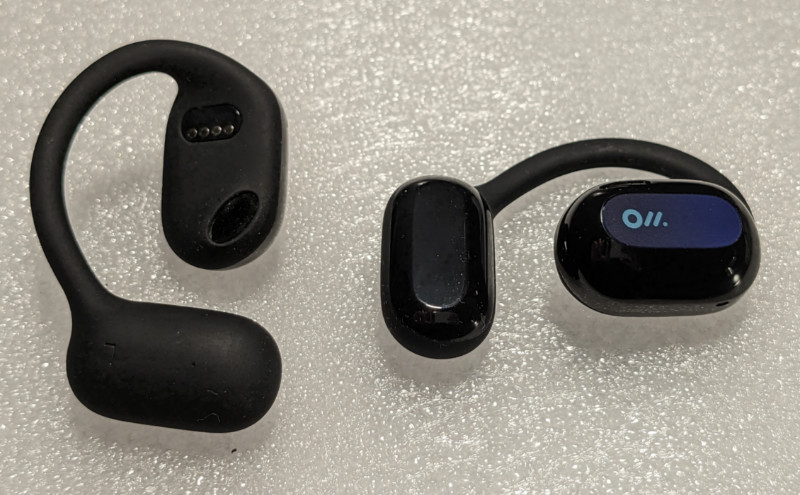 Design and features
The Oladance Open Ear Headphones ('Oladance headphones' from here) come in a case designed for carrying and charging the headphones. The case does not charge the headphones with its own power supply. The earpieces must be in the case for charging via the USB-C port on the case.
There is a cordless charger case available from Oladance for $49.99 as a separate purchase.
The earpieces are lightweight and comfortable if not rotated too tightly on the ear.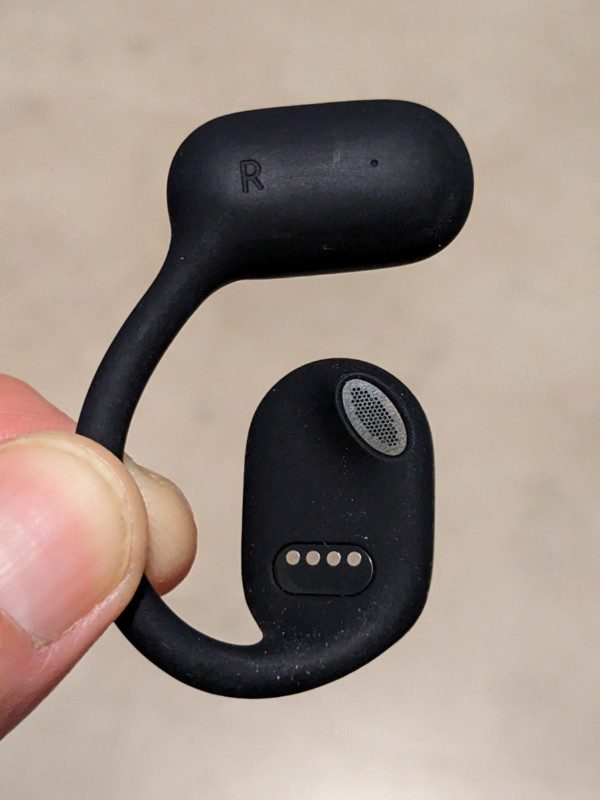 In this photo, you can see the speaker that sits just outside the ear canal. Also, note the 'R' stamped on the behind-the-ear part of the right earpiece.  Apologies that silicone is such a dust magnet. You'll see what I mean in most of my pics. I cleaned off the Oladance Headphones with my glasses cloth before every pic!
The controls are easy with these headphones. Single taps on the flat surface of the earpiece are used to play / pause audio playback or to answer a phone call. Double taps on the left earbud plays the previous track, on the right it plays the next one. Double taps on a phone call either end it or decline one if it's ringing. Sliding a finger up or down either earpiece increases / decreases volume on audio or phone calls.
It was a bit tricky to change my volume level without the device interpreting my touch as a 'pause' command. If I did steady, deliberate swipes, the Oladance headphones knew I was adjusting volume.
Setup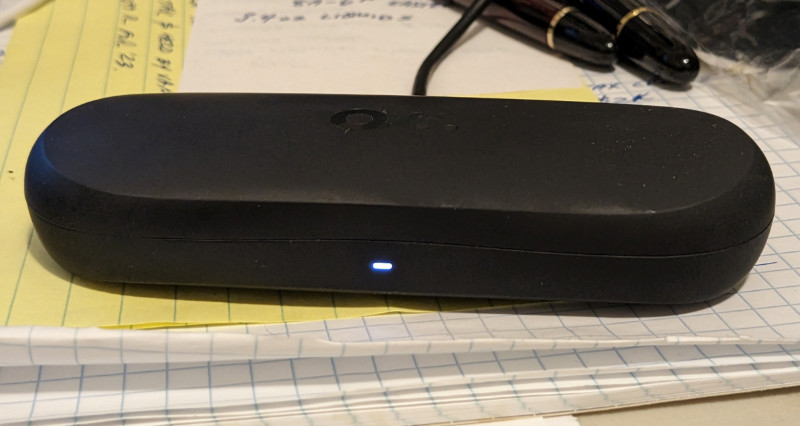 The Oladance headphones charge from fully depleted in about 60-90 minutes. Pairing the headphones to my phone went fast and worked on the first try.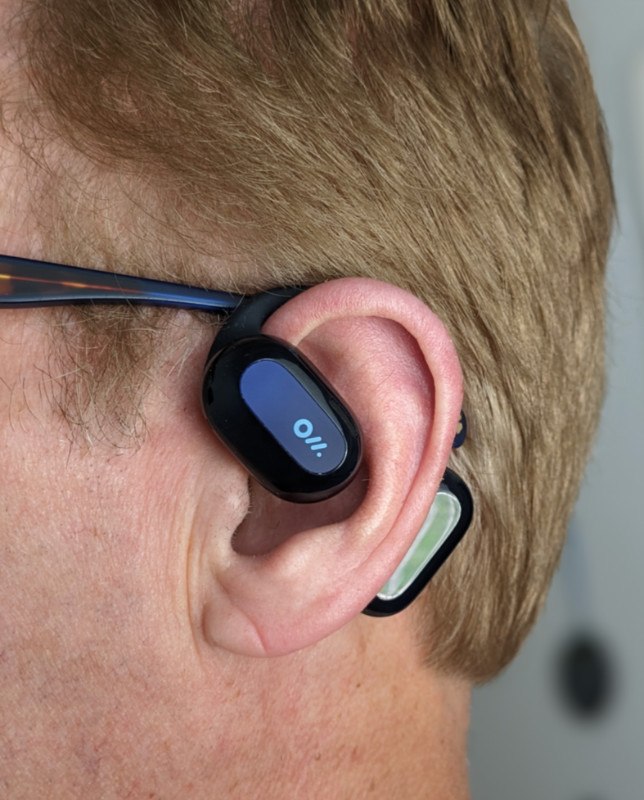 The instruction booklet shows how to place the headphones over the ear and rotate them into place. It shows 'Snap' at the end of the process. There is no 'snap'. If you hear a snap something may have broken and it may be you. The headphone earpiece simply needs to be placed on the ear with the speaker part over your ear canal and the part that rests behind your ear comfortably placed, well, behind your ear.
If I rotate the earpiece too much the device tends to fatigue the top of my ear over time as do new eyeglasses before they're properly adjusted. If I set the Oladance headphones comfortably on and around my ear, I nearly forget they're on.
Performance
The Oladance headphones were recognized by my phone whenever I used them and I didn't have to re-pair them as I do with some Bluetooth audio accessories.
These headphones remained stable on my ears even during vigorous exercise.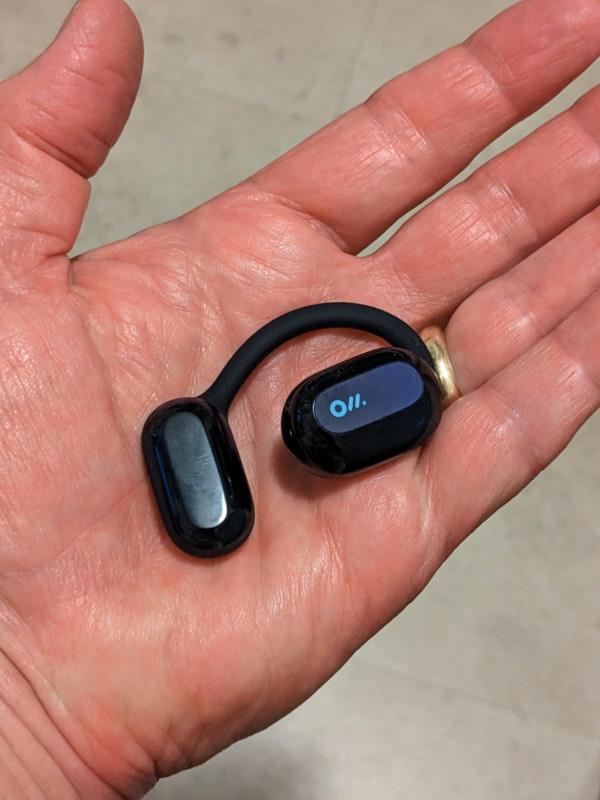 I like the non-isolating quality of the sound delivery system used in the Oladance headphones. I very often will use one earbud when bike riding, dog walking, working around the house, shopping, etc. so that I can perceive and react to sounds around me. I like complete isolation and noise cancellation when I'm mowing, using loud tools, or when listening to great music and want to be in total audio isolation. For those situations, I usually reach for my over-the-ear noise-cancellation headphones. For 95% of my audio listening, I don't want full noise cancellation.
The Oladance headphones work great individually if you want to use them that way.
So, is there a sound quality trade-off with the Oladance headphone system? Not significantly in my perception.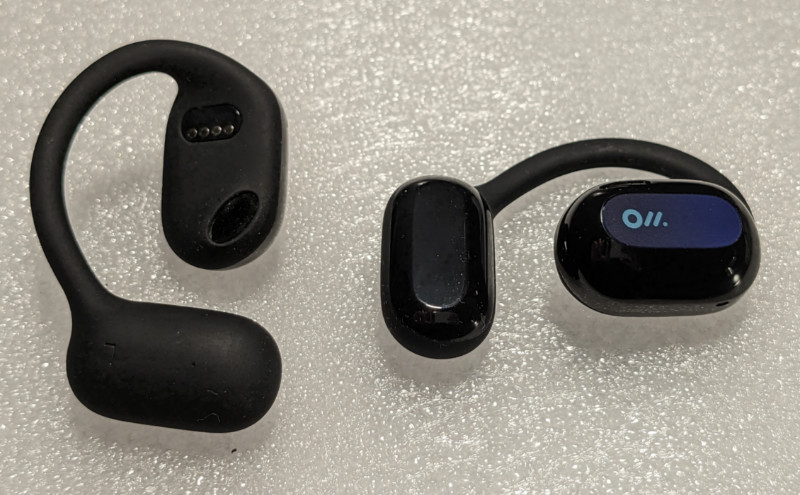 I listened to a variety of music and podcasts with the Oladance headphones. I tend to test audio devices with some good, old, Fleetwood Mac tunes that have a full range of instrumental lows, mid-range, and highs, and I also want to hear the singer's voices clearly, without distortion. I also listen to some high-quality classical music recordings to be sure the audio device I'm testing isn't just appropriate for loud, rocky music. The Oladance headphones delivered on all counts.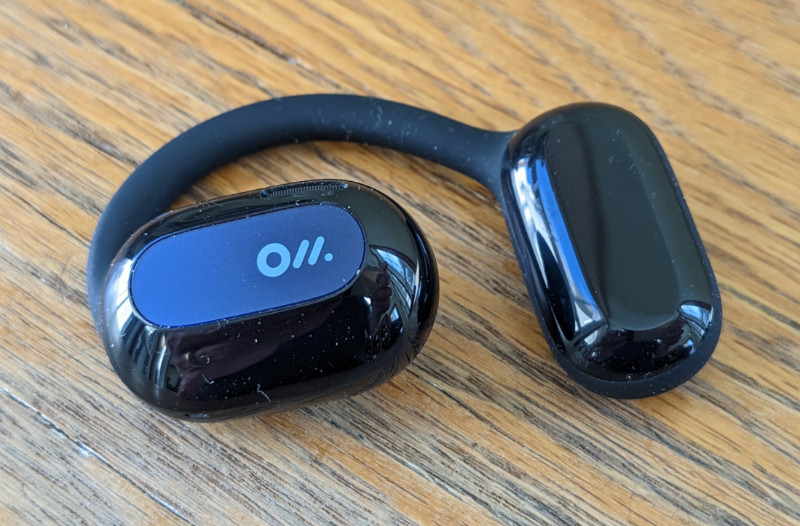 Are the Oladance Open Ear Headphones a true, audiophile listening device? I'd say, no. Our first clue is the price. $150 should get you a very good quality audio listening device, but you'll need to add well to that if you have perfect hearing and want true audiophile-level equipment to use with a very high-quality audio source.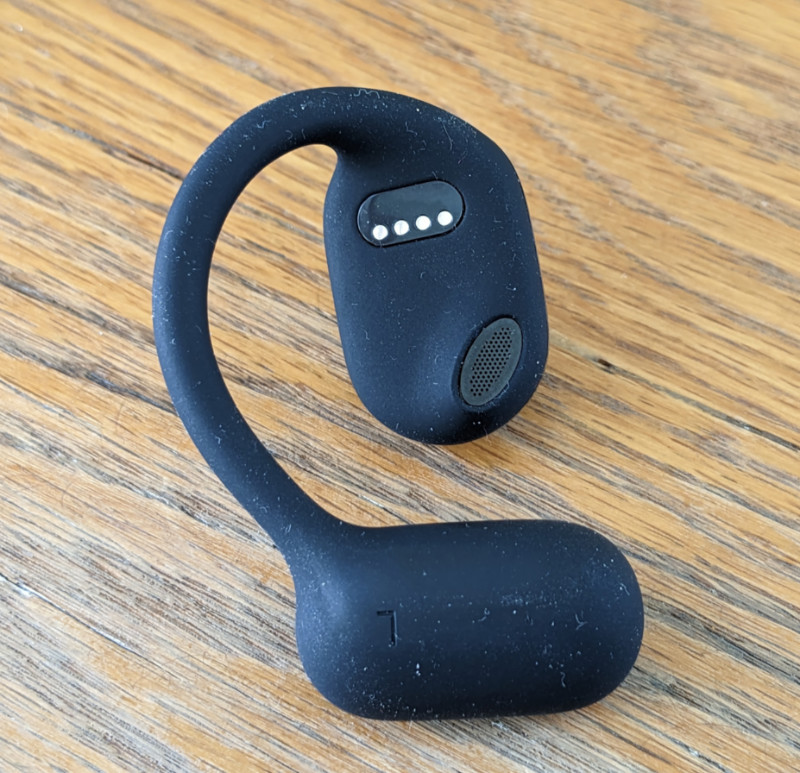 I was impressed with the balanced sound coming from the Oladance headphone's 16.5mm drivers. It is more than adequate for my general listening needs while doing other stuff and for most of my music listening.
I compared the Oladance headphones with these Creative on-ear phones I reviewed two years ago. I listened to the same piece of music with both. As you'd expect, a 32mm driver sounds superior to one half that size, but when I put the Oladance headphones back on, the difference was not at all striking. These two very different headphones were more similar in sound production than different. The little 16.5mm Oladance drivers competed quite well in my test.
Phone call quality was excellent with the Oladance headphones. People I called could hear me well, and their audio was clear to me.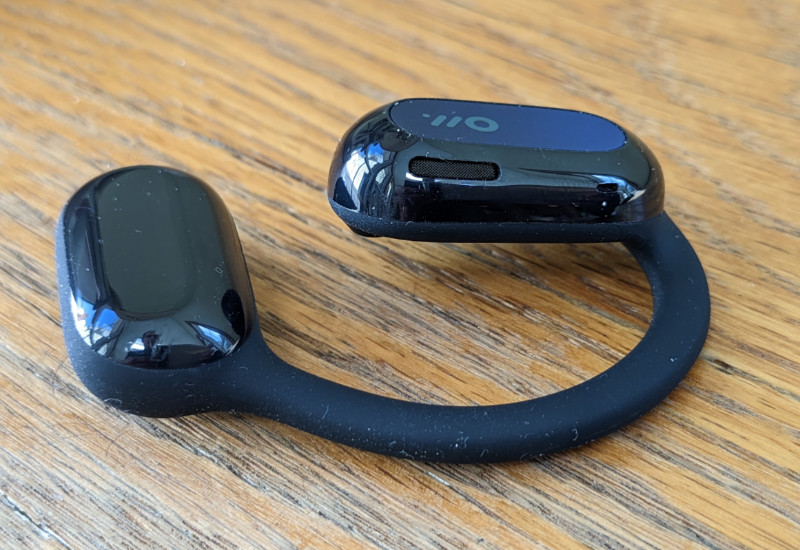 What I like
The non-isolating feature is good for safety in many scenarios.
Excellent battery life for long playtime.
Great sound reproduction
What I'd change
I wish the standard case charged the earpieces.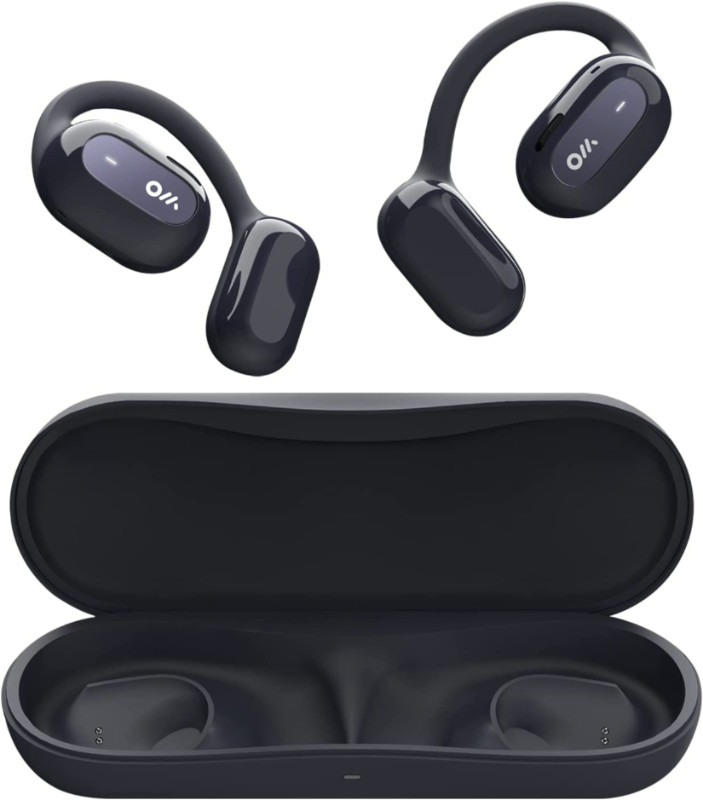 Final thoughts
The Oladance Open Ear Headphones may deserve your consideration if you need a lightweight, solid performing audio listening set that also allows for environmental sounds to be heard.
Price: $149.99
Where to buy: Amazon
Source: The sample of this product was provided by Oladance.