We use affiliate links. If you buy something through the links on this page, we may earn a commission at no cost to you. Learn more.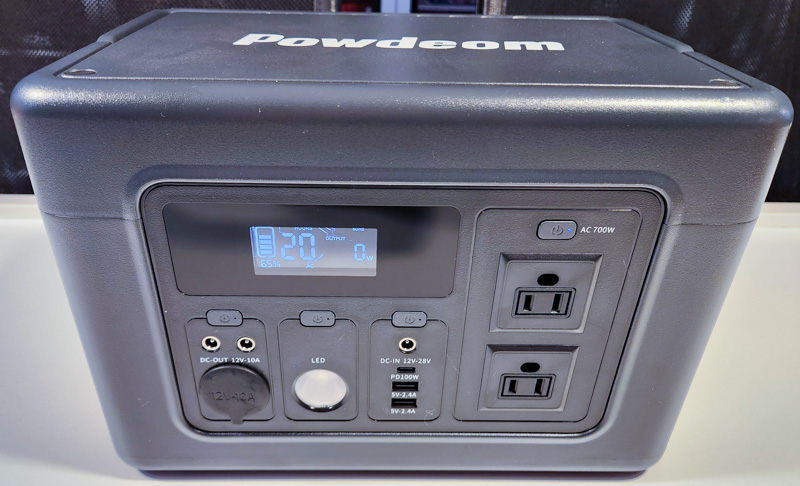 REVIEW – I've reviewed quite a few power stations with the Gadgeteer so far, and I have my own list of what I like to see on my ideal power station: ETA to full/empty while in use, LiFePO4 battery chemistry, enough AC/USB/DC options to charge the various things I need to charge on the go or during a power outage, and a decent price. The Powdeom 700 Watt Portable Power Station ticks all these requirements off on paper, but I'll give it the ol' Gadgeteer treatment to be sure.
What is it?
The Powdeom 700 Watt Portable Power Station is a large battery designed to be used as a portable power source (off the grid in a cabin/car-camping/RV situation, or as a backup in case of a power outage). It has quite a few power output options and can pump out 700 watts total distributed amongst those outputs, making it suitable for almost anything you'd like to power (though if you draw the full 700 watts it's going to go flat in about an hour). Running a small refrigerator could last 2 or 3 days depending on the model, and if you add a solar panel system to recharge during the day you could create an off-grid long-term power supply – the sky's literally the limit.
What's in the box?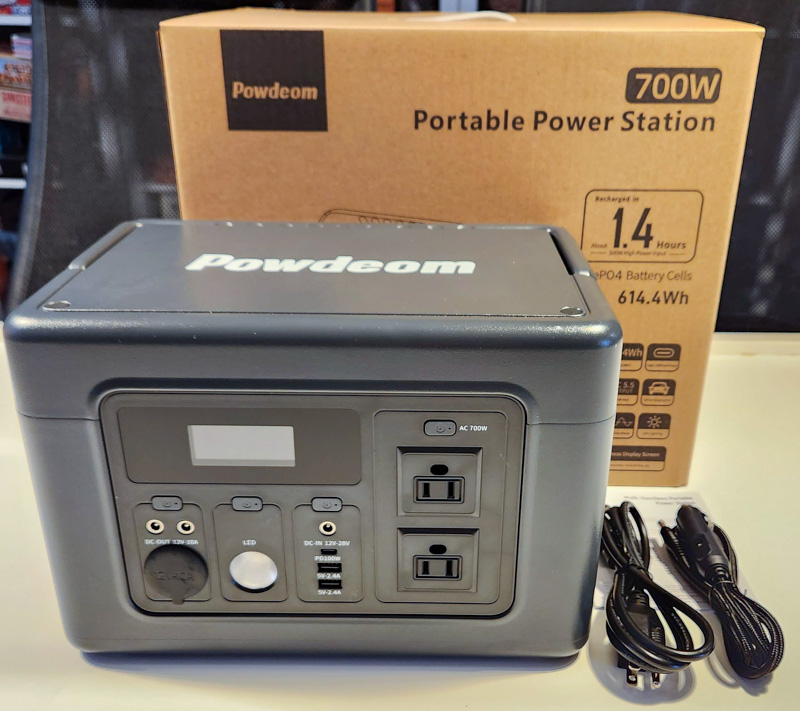 Powdeom 700 Watt Portable Power Station
AC charging cord
DC adaptor (lighter to barrel plug)
Hardware specs
Charge time from empty: 0-80% in 1 hour, full in 1.4 hours
Battery life cycle rating: 3000 cycles
Battery Management System (BMS)  protection
Battery capacity: 614WH/192000mAh
Dimensions: 12 x 8.27 x 7.87 inches
Operating Temperature: -20~45℃ (-4~113℉)
AC Output: 2*110V, 700W(1400W peak)
Input: 12V-28V⎓5A(Max 500W)
USB-C PD Output: 5V/2.4A, 9V/3A,12V3A,15V/3A,20V/3A,20V/5A,100W
USB-A Output: 2*5V, 2.4A, 12W
Solar (DC) input: 18-24V@5A, 120W
Design and features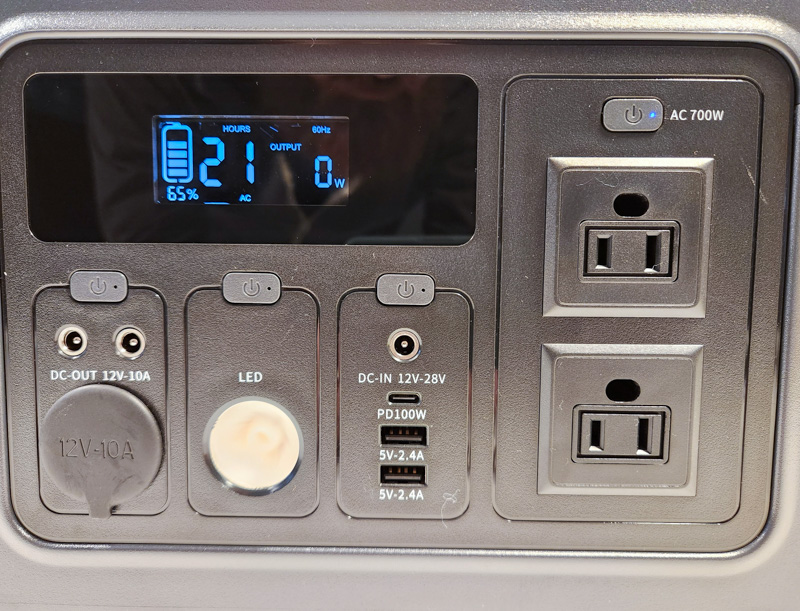 The front of the Powdeom 700 Watt Portable Power Station contains everything except the AC charging input. From left to right is a cluster of DC output ports (two barrel plug types and one car-outlet type), then the LED emergency light, then 3 USB outputs (one Power Delivery USB-C and two standard USB-A) and solar input, then finally the two AC outlets. Each section has its own on/off button to conserve power if not needed.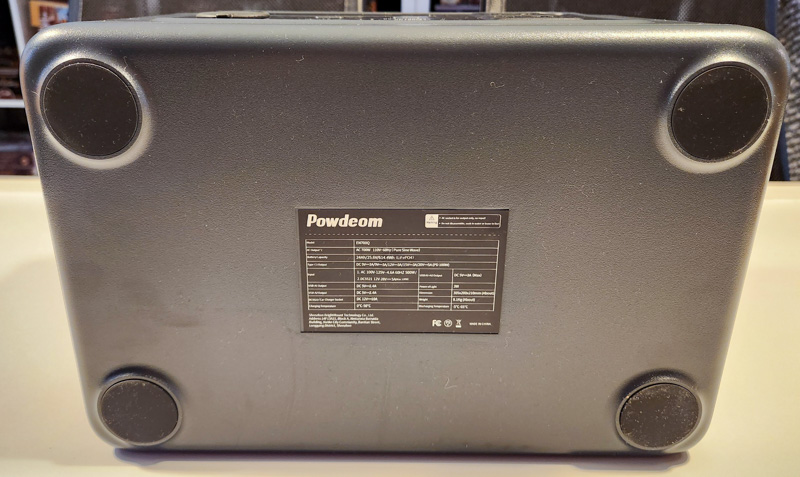 The bottom sports four rubber feet, and a label with specifications which can be handy if you need to know details on inputs/outputs on the go.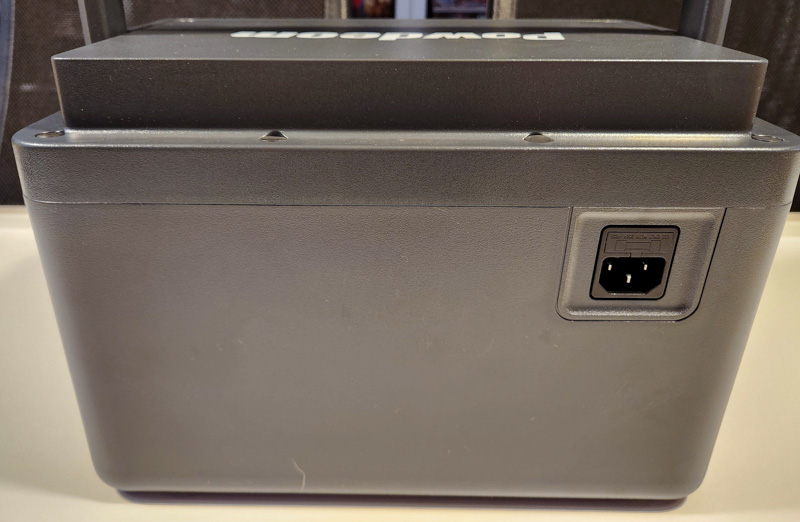 Around the back is the AC input, I love that this is a standard PC-style cable and that the power supply circuitry is internal (most of these power stations come with large charging bricks that add difficulty to transport. The drawback to this setup is that if anything fails on the input circuitry it's not easily replaceable like an external power brick.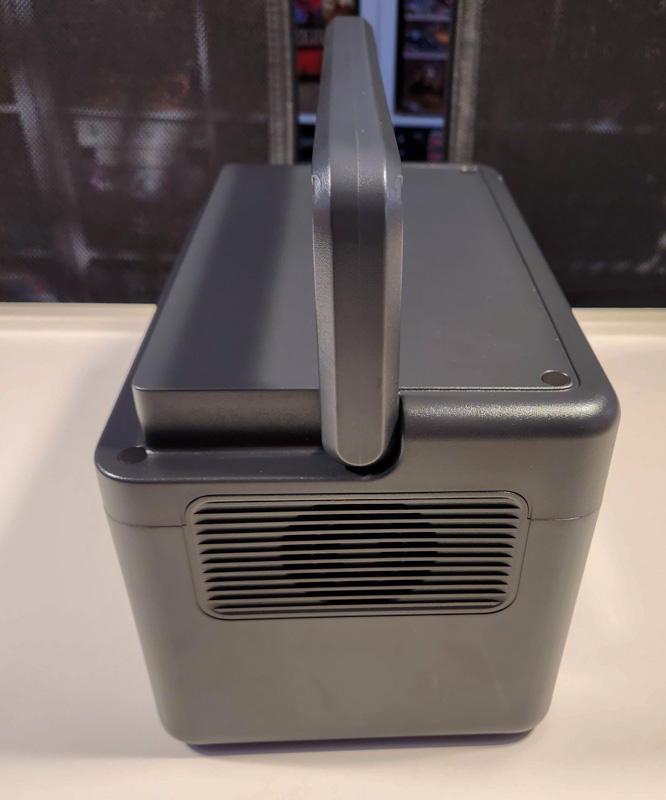 The sides have fan vents, and the carrying handle flips up for use and folds out of the way when not being used. It's solid with little to no flex, it feels like it'll hold securely even with rough transport.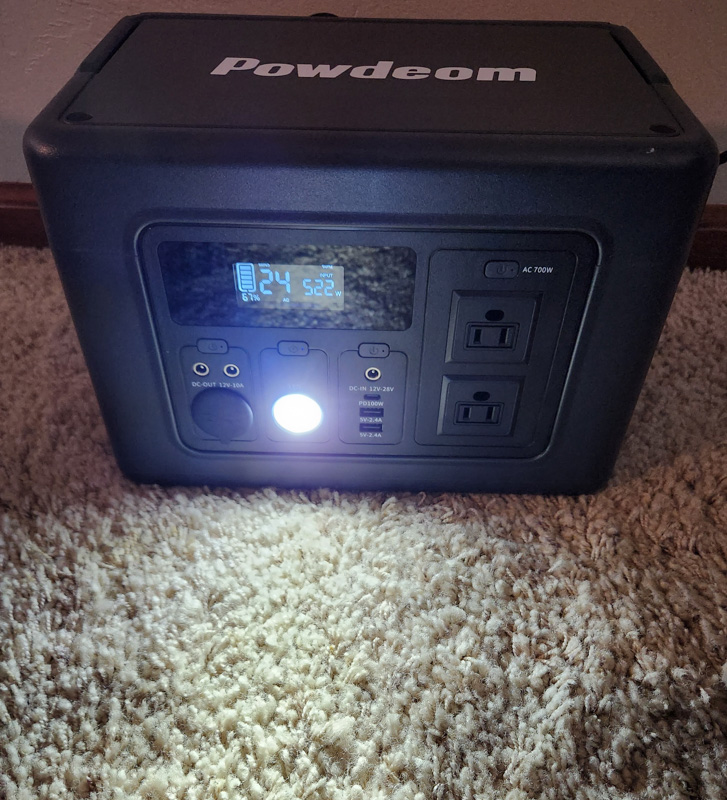 Finally, the built-in LED light is easy to use and has several modes including a morse code SOS mode that you can switch between by pressing the light button. The light uses 3 watts at maximum according to the manual, so this could provide weeks of light if fully charged. It's no floodlight, but in dark rooms, it will do the trick.
Setup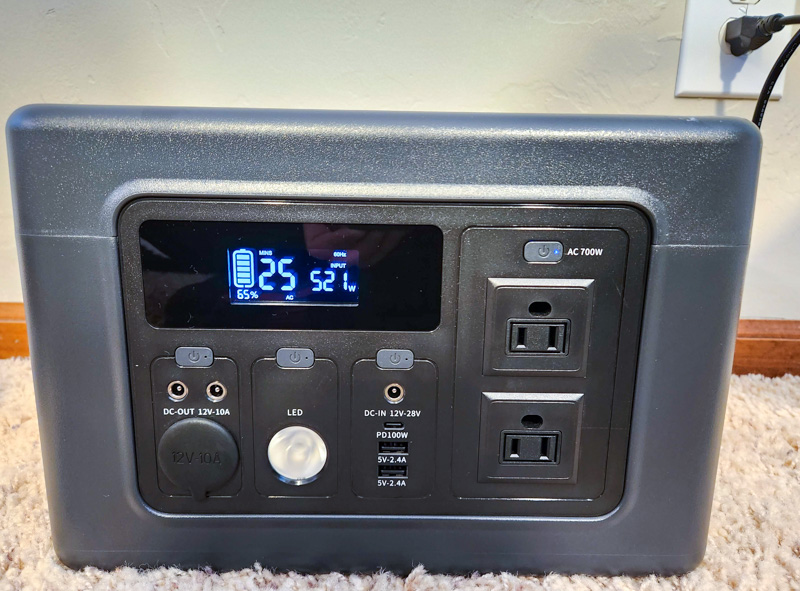 Setup is as simple as plugging the Powdeom 700 Watt Portable Power Station into the wall, and as you can see in the picture above, it charges at ~500 watts, which makes for one of the fastest charging power stations I've tested yet. Flat to 80% takes around an hour, which I confirmed, then another 30 minutes or so to get to 100%. One minor bummer is that the manual advises against using this as a backup battery with AC devices always connected (which is a great use case for some of these power stations, in case of blackout they can keep your stuff going for some time, depending on what you use them for).
Performance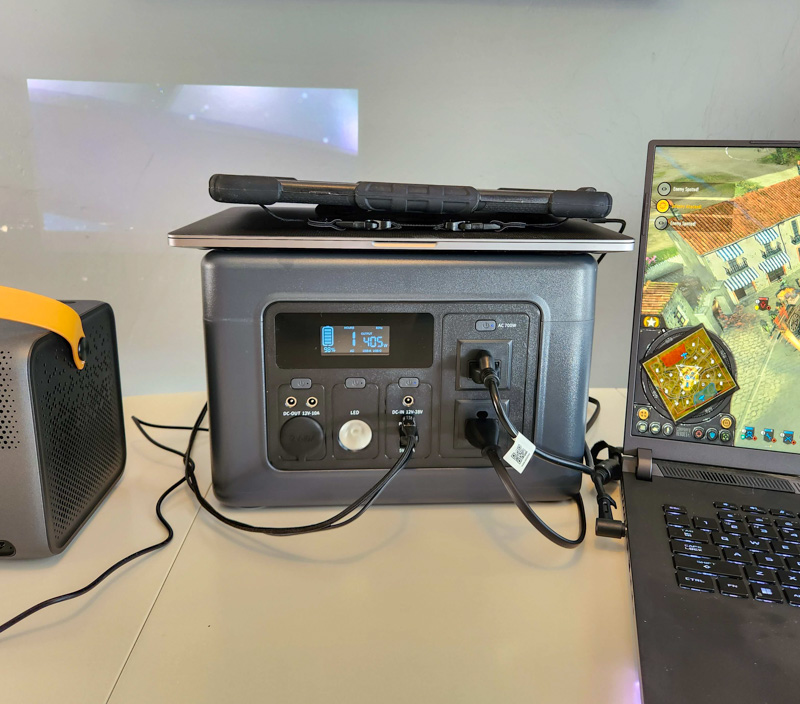 The picture above shows my stress test: Running a projector, charging my work Macbook Pro and Galaxy S8 Plus tablet, and gaming on my Asus Rog Strix G18 laptop (at times this pulled nearly 500 watts with everything going). The Powdeom 700 Watt Portable Power Station gave an hour estimated lifespan, but I pushed it to about 10% at the 70-minute mark and it still had some juice to go, probably due to varying levels of load. You could use this to power movie nights (depending on the projector's rated wattage), recharge laptops/phones/tablets many times over during blackouts or on trips, or as an on-the-go RV or cabin power source (especially combined with a solar panel to recharge during the day).
What I like
LiFePo4 battery chemistry: less battery level degradation over time and more safe/stable than standard lithium-ion based power stations
Clustered output/input setup with power switches for each
ETA to full/empty
What I'd change
Though I love the single cord charging option, that would be a minor area of concern – if the input charging components fail, they're internal and not easily replaced like other stations' external power bricks.
Support for remaining connected to electrical mains while also running connected devices as a backup battery for power outages (passthrough charging)
Final thoughts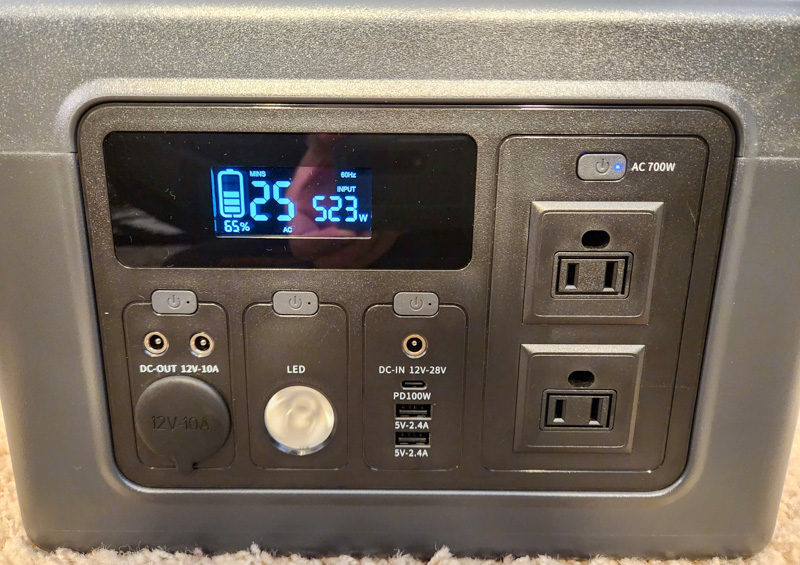 The Powdeom 700 Watt Portable Power Station really does tick nearly all my boxes, except for the lack of support for passthrough charging. It'll get put to good use in the future for camping trips, summer movie nights with the projector, and to run freezers during the occasional blackout here.
Price: $549.99
Where to buy: Amazon
Source: The sample of this product was provided by Powdeom