We use affiliate links. If you buy something through the links on this page, we may earn a commission at no cost to you. Learn more.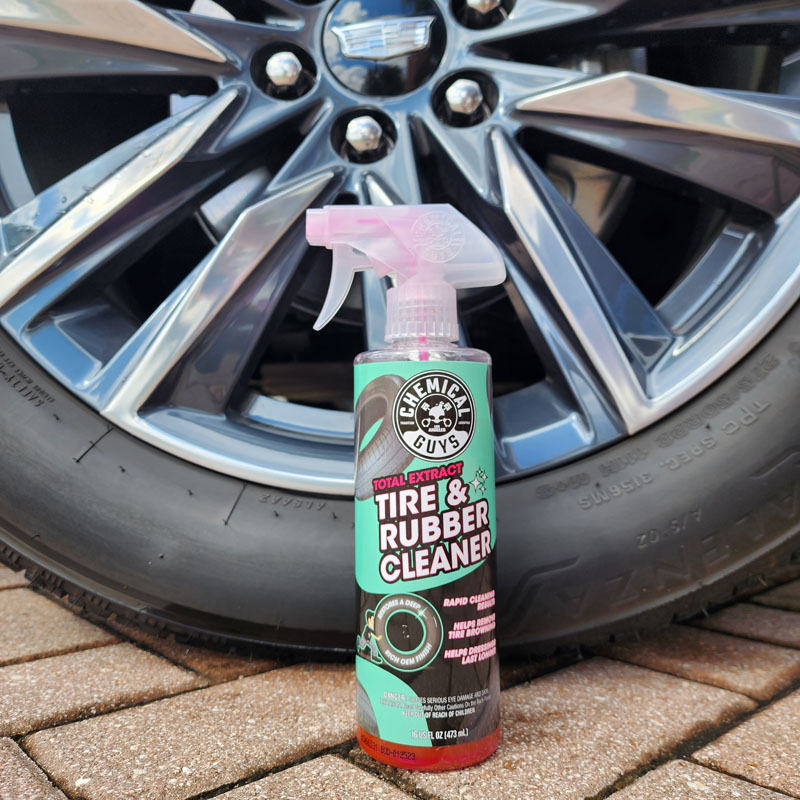 REVIEW – Tires.  They are your vehicle's contact to the road so they get exposed to tons of dirt and grim.  They are one of the most overlooked items when cleaning your ride, even though rich, black tires really enhance the look of whatever it is that you get around in.  Chemical Guys are purveyors of all things automotive cleaning.  Today, I'm testing their Total Extract Tire and Rubber Cleaner.  Let's see what it does.
What is it?
This is a tire cleaner.  It is designed to rid your tires of road grime and oxidation.  What it isn't is tire dressing.  To get that deep black, glossy look, you really need to apply some sort of tire dressing after a deep cleaning.  The deep cleaning part is what this product is designed for.  Using this not only clears the gunk from the tire but also makes sure the rubber is ready to accept your favorite dressing, helping it last longer.
What's in the box?
The cleaner comes in a spray bottle.  Since it is designed to spray right on the tire, there is no included applicator.
Specs
UPC: 842850108341
Weight: 1.1 lbs
Size: 16oz
Application method: direct spray via included trigger sprayer
Design and features
Here are the instructions for use from Chemical Guys.
Always test a small, inconspicuous area before first use.
Shake well.
Rinse the tire with a sharp stream of water to loosen debris and dust.
Make sure the surface is cool before use, then spray the product directly onto the tire surface.
Scrub the tire with a tire brush to remove dirt and debris.
Rinse the tire thoroughly with water.
Repeat the above steps if desired.
Let the tire dry completely. Once the tire is dry, apply desired tire dressing, tire shine, coating, or ceramic coating.
Well, they didn't send me any tire dressing, tire shine, coating, or ceramic coating, so we'll be skipping step #8.
This is a cleaning tool that claims to bring your tires back to the condition they were when new – clean and free of dirt, grime, and old tire dressing.  Let's get to cleaning and see what happens.
Performance
Here are the claims that Chemical Guys make about the Total Extract product.
Helps remove harsh oxidation and built-up grime from rubber
Helps restore tires to their dark, rich color
Ideal for use before applying your favorite dressing, tire shine, protectant, or ceramic coating
Watch dirt and grime dissolve quickly with this fast-acting and easy-to-use formula
Quickly removes tire browning (tire "blooming")
Formulated for use on tires and rubber trim
Let's do a real-world test and see what happens. Here is the front left tire on my SUV.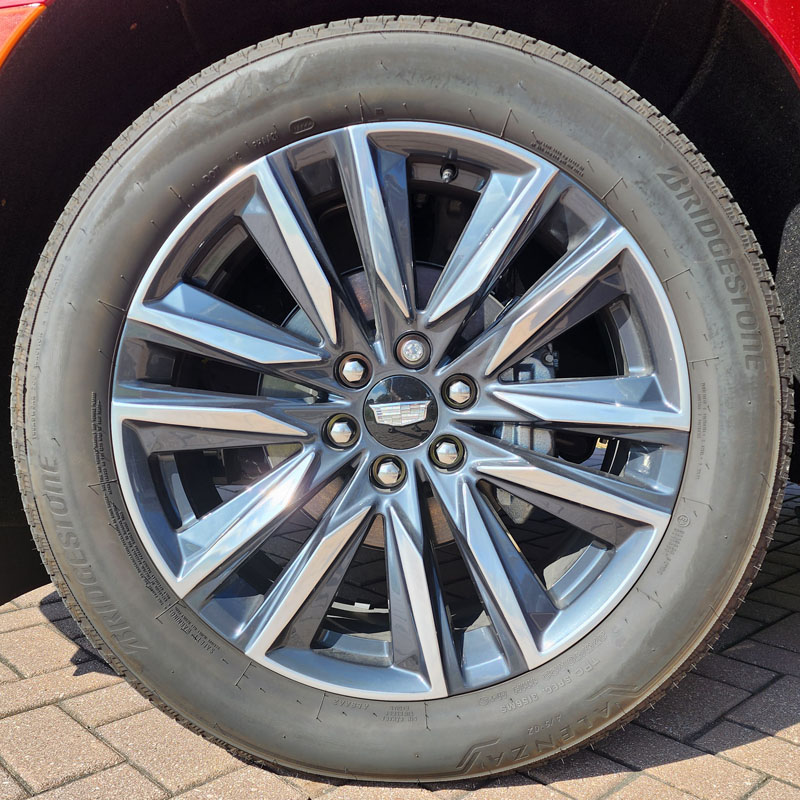 With about 6,000 miles on it, it has the standard brown look that tires get.
I taped up the tire into three zones.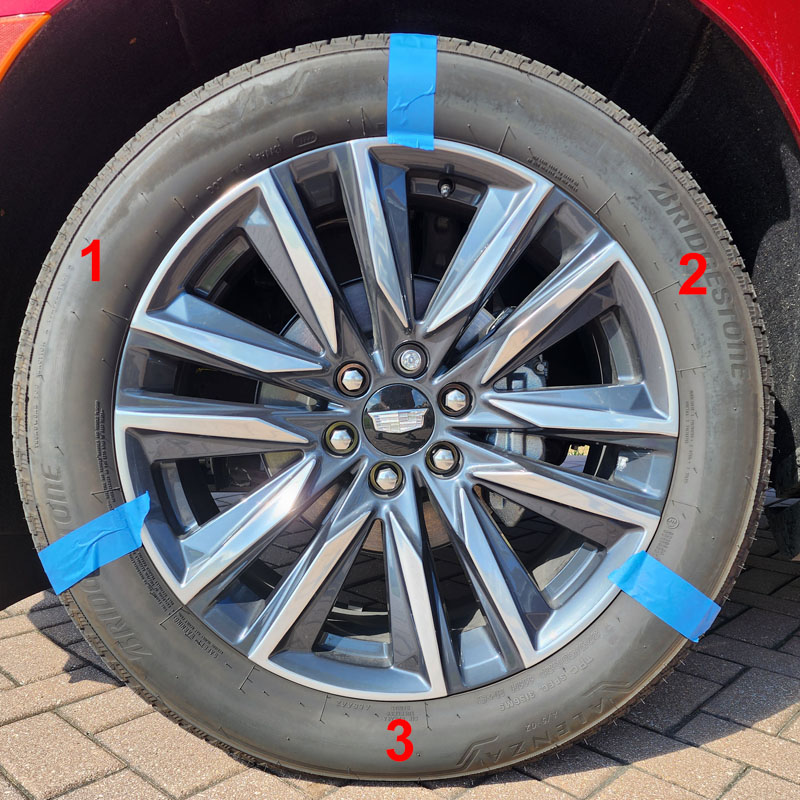 I sprayed the tire with water as directed and then attacked each zone as follows:
I scrubbed it with a wet brush
I poured Dawn dish soap on the brush and scrubbed it with the brush
I sprayed the zone with Total Extract and then scrubbed it with a brush
I then rinsed the tire and let it dry. The Total Extract spray has a pleasant aroma – kind of fruity. I expected something more industrial-smelling and was pleasantly surprised.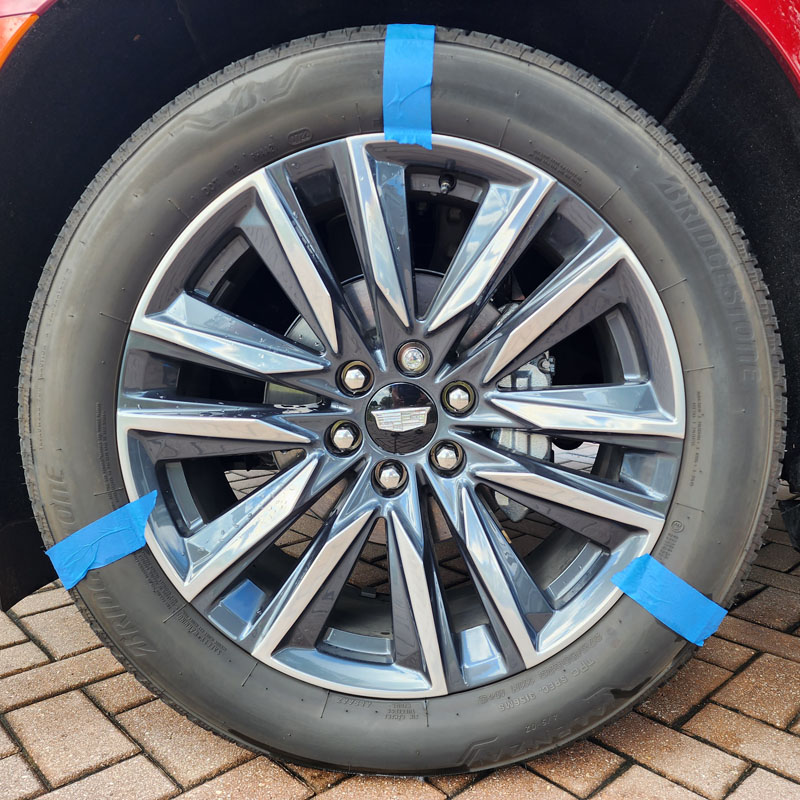 To my eye, zone 1 looked the same both before and after cleaning.  I couldn't tell that I did anything to it. Zone 2 looked a little better, mainly on the more raised area in the center.  I scrubbed as evenly as possible, but it looks like only the middle of the sidewall got clean.  Zone 3 on the bottom looks uniformly clean and darker black.  It doesn't shiny and black, but that's what tire dressing is used for.
Another thing that I noted was the condition of the brush. After just scrubbing the wet tire, the brush looked like, well, the brush.  After scrubbing with Dawn dish soap, the brush was dirty – hmm…that's different.  After scrubbing the Total Extract treated area, the brush was filthy.  So it seems that the Total Extract product was doing something the water and the dish soap were not.  It removed more dirt and grime from the tire.  Again, this would better prepare the rubber to receive a tire dressing.  It is a shame they didn't send some of that as well as it would have demonstrated how the cleaner would be critical in prepping the tire for dressing.
After running the vehicle through the car wash and driving a couple of hundred miles. let's take a look.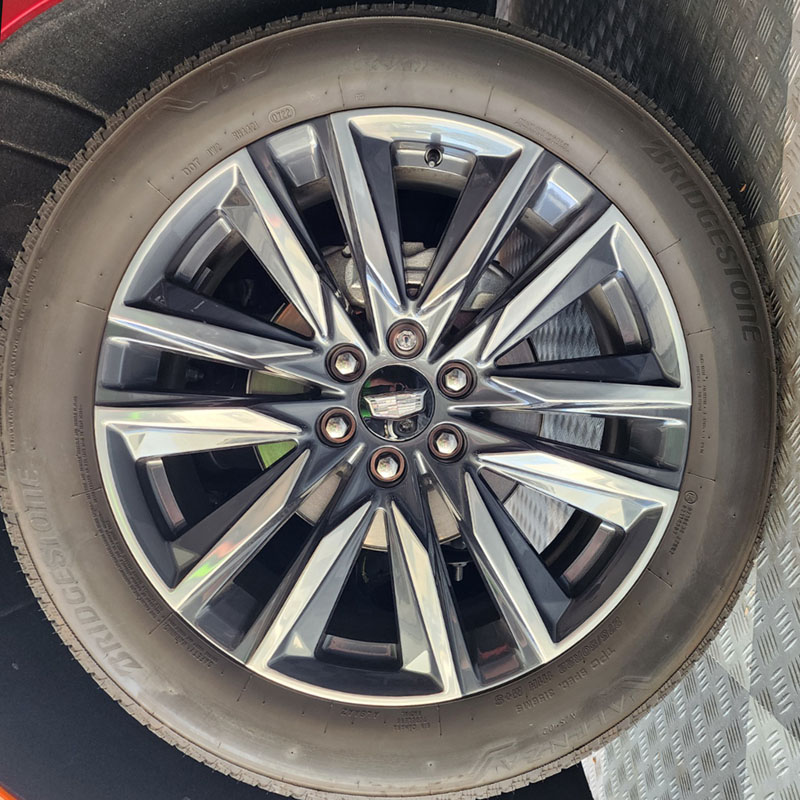 (I rotated the photo so the wheel was aligned the same as the photos above – I was too lazy to move the vehicle to get the wheel in the right position)
It is hard to tell much difference in the areas of the tire, but on close inspection, the bottom third does appear more uniform. It isn't deep black, but, without a tire dressing, it makes sense.  To review, the upper left third was cleaned with water, the upper right third was cleaned with dish soap, and the bottom third was cleaned with Total Extract.
When I did the initial cleaning, I also cleaned the other three tires with Total Extract. After the mileage and car wash, the other three tires looked uniformly clean as well.
Based on my usage, I expect that I could clean all four tires at least ten times, perhaps more.  That comes down to less than a buck per cleaning – not a bad deal.
What I like
It did seem to clean the tire
Smells pleasant
Easy to use
Reasonably priced
What I'd change
Nothing, but I would recommend using a tire dressing to get excellent visual results
Final thoughts
This tire cleaner seems to do just that – clean the tire.  After cleaning, the area cleaned with Total Extract did look better than the areas I cleaned with just water and Dawn dish soap.  If you are looking to make your ride look super-sharp and want to make sure that your tire dressing is as long-lasting as possible, Total Extract sure seems like it would help you make sure your tires and prepped and ready.
Price: $9.99
Where to buy: Chemical Guys and many of their products are also on Amazon
Source: The sample of this product was provided by Chemical Guys.