We use affiliate links. If you buy something through the links on this page, we may earn a commission at no cost to you. Learn more.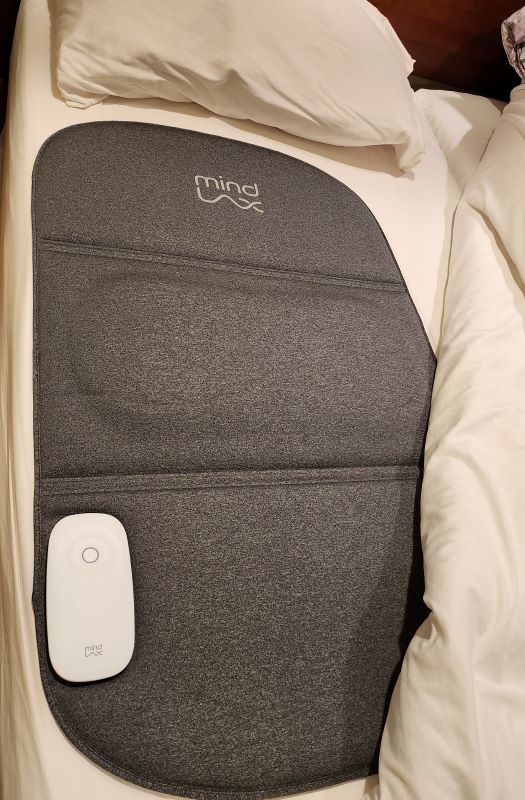 REVIEW – I've decided this is the year of wellness and balance. I'm really trying to pull it all together and carve out time for all the stuff I'm supposed to be doing besides raising a kid and making a living, like eating well and getting enough rest. Results have been mixed, but I did try out the Mindlax sleeping mat and I have to say, that thing makes it really easy to fall asleep! 
What is it?
The Mindlax sleeping mat is a mat that uses sound and vibration to lull you to sleep.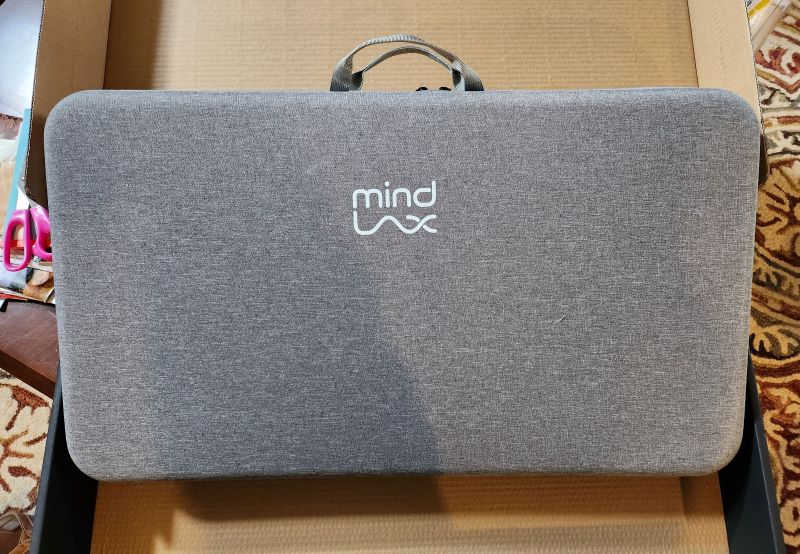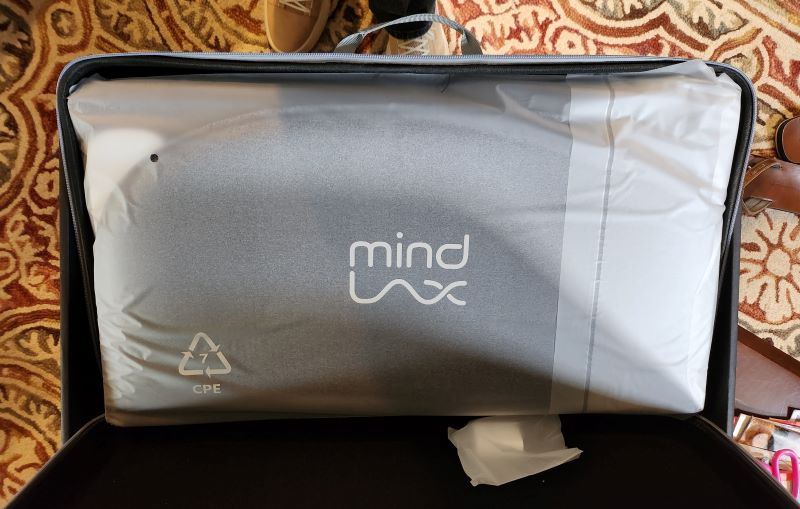 What's in the box?
Mindlax sleeping mat

USB-C cable

and plug

Directions

 

Carrying case

 
Setup and Features
The Mindlax sleeping mat uses a "Multi-frequency Waveguide System," something called "Neuro TIM" and "Neuro Arc" to soothe your body and mind so that you will fall asleep faster and deeper than you would otherwise. But before you can enjoy all those fancy features, you need to download and app and charge the mat.  
The mat itself is soft and cushy on the end panels, and one of those panels features an off/on button and charge port. The center panel is rigid and less cushy, so I think it houses the speakers for the Mindlax. The mat charges very quickly and I've used it quite a few times and it hasn't needed a recharge yet, so I'm thinking you can go weeks between charges, depending on how often you use it.  
 I downloaded the app onto my Samsung Z-flip phone and then I ran into trouble. The app kept crashing and I could never get it to open. The good news is that I had another more generic android phone lying around and I tried the app on that one and it worked fine. I registered my account and paired the Mindlax with the phone and we were off to the races. For anyone who is considering this purchase who isn't a gadgeteer with a million devices hanging around, I am cautiously optimistic that they'll work out whatever bug is keeping my Z-flip from working with the app because I was trying out a pre-launch item.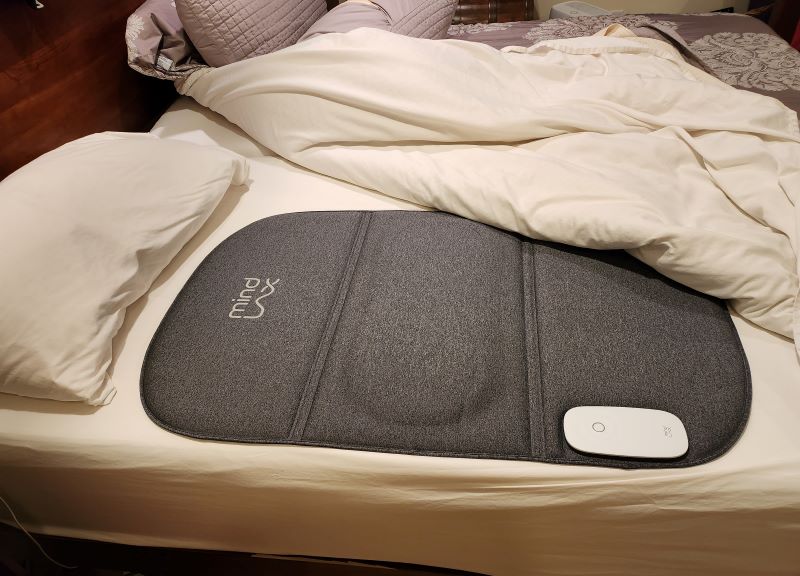 There are two settings on the Mindlax sleeping mat, one for resting before you go to sleep or when you want to just relax, and then there's a sleep setting. I find both settings very similar. They play the same kinds of sound, although I think they have mixed in some birds chirping and other nature sounds in relaxation mode. They also have you "work up" to the highest setting, and although I've used the mat quite a bit, I'm still not at the highest setting on relaxation, so maybe it would be more obvious if I was further along in the process. 
I don't want to brag, but I have my sleep game down. I fall asleep quickly but I usually use some kind of distraction to make my mind forget about the day and all the things on my to-do list. Sometimes that distraction is a podcast and sometimes it's guided meditation but with the Mindlax sleeping mat I didn't need those things.  One time I put the Mindlax on "relax" and read my Kindle like I often do before bed. I couldn't read it as long as usual because I was so sleepy. 
So what's it like? It's a lot like the meditation you might have after a yoga session. The noises and music are similar to singing bowls and there are occasional subtle vibrations. Together the sensations are meant to increase the alpha waves in your brain. Because you're lying on top of the speaker, it almost feels like the sounds are coming from within you. It's very cool. There's a bunch of science that backs up the experience, but if you are a person who likes meditation, you'll love this thing.   I should also note that it can be used for yoga.  Although it's not really a yoga mat, it does have a textured surface on the bottom so it is unlikely to move around.  I think if I was using it for yoga I'd put it on top of my mat because I like the spongier cushion of a yoga mat.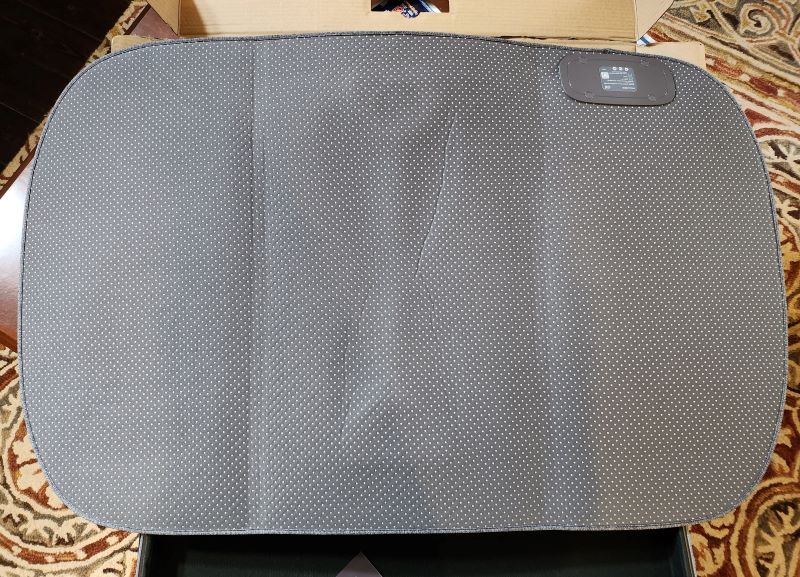 I do wonder if the Mindlax sleeping mat is something that would bother whoever might be in bed with you. I'm a solo sleeper right now, but my dog definitely took notice of the sounds and kept coming over to check on me. I think she thought there was something wrong. I wonder if in the future they might pair this with some earbuds or a sleeping mask with speakers in case you have a mate who is easily bugged by noises. In the meantime, the volume is adjustable through the app, so you might have to find a happy medium.  
The only negative thing I found with the Mindlax sleeping mat was the rigid part of the mat bothered me if it wasn't placed high enough on my torso. When I had it positioned so my hips were on the rigid part, it was uncomfortable. I don't think it's meant to be placed that low anyway, but it's worth noting because perhaps in the future they could figure out a way to build it without the rigidity.
What I like
Puts me to sleep
Very relaxing
What I'd change
Might disturb sleep partners
Is a bit rigid
App crashed on me
Final thoughts
The Mindlax sleeping mat is a high-tech item for a low-tech activity, but that doesn't mean it isn't fantastic for relaxing and falling asleep. I love it and will be using it whenever I need to lull myself to sleep!
Price:  Rewards start at $199.00
Where to buy:  Kickstarter
Source:  The sample for this review was provided by Mindlax.