We use affiliate links. If you buy something through the links on this page, we may earn a commission at no cost to you. Learn more.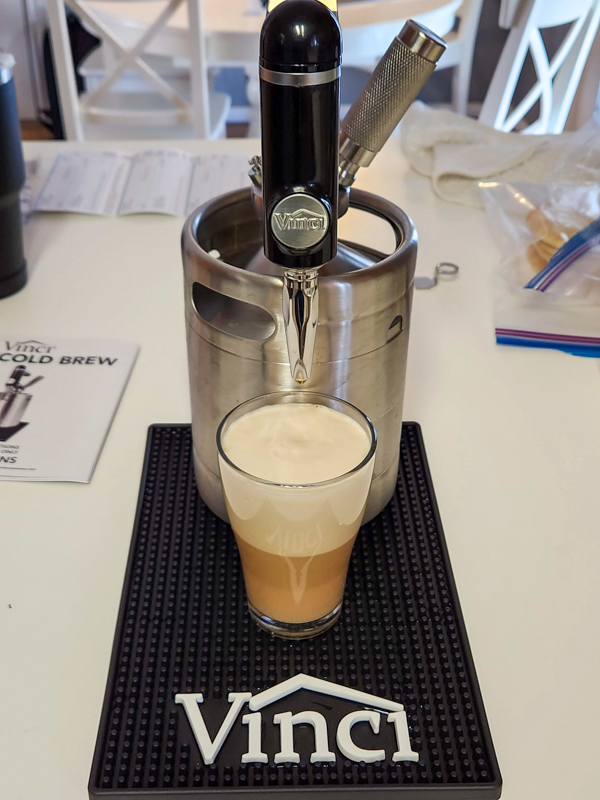 REVIEW – Coffee is life. Cold brew is an excellent form of coffee. Nitro adds a luxurious velvety texture to cold brew, but until now that's been a treat reserved for rare occasions in our household. I was elated when the review offer for this coffee brewer came in for the Vinci Nitro Cold Brew system, but would the end result be similar to my favorite coffee shop treat? You know the drill, read on to find out.
What is it?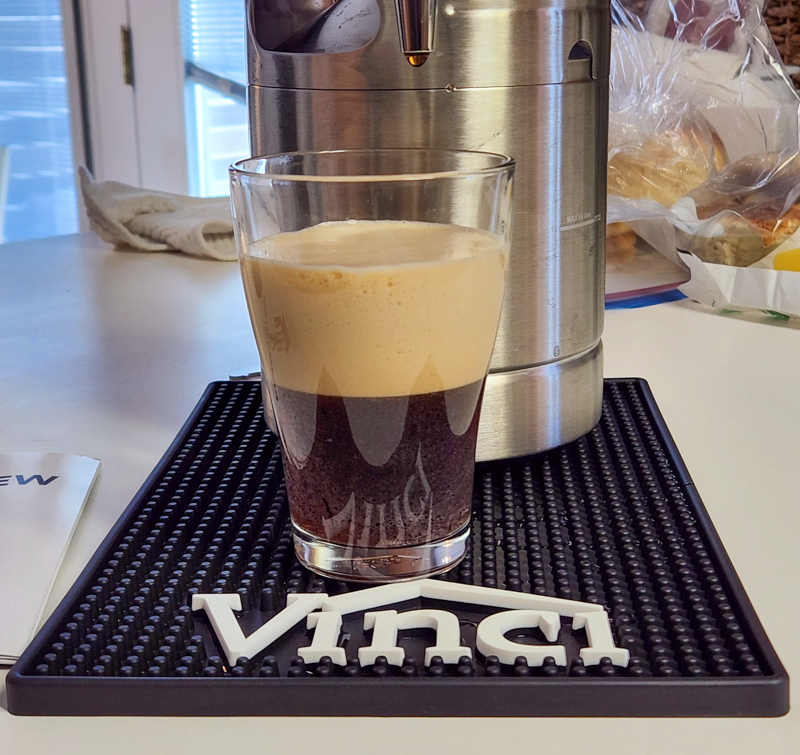 The Vinci Nitro Cold Brew system is a stainless steel keg that can nitrogenate liquids. It's marketed as a system to make nitro cold brew, but you could "nitro" other liquids as well.
What's in the box?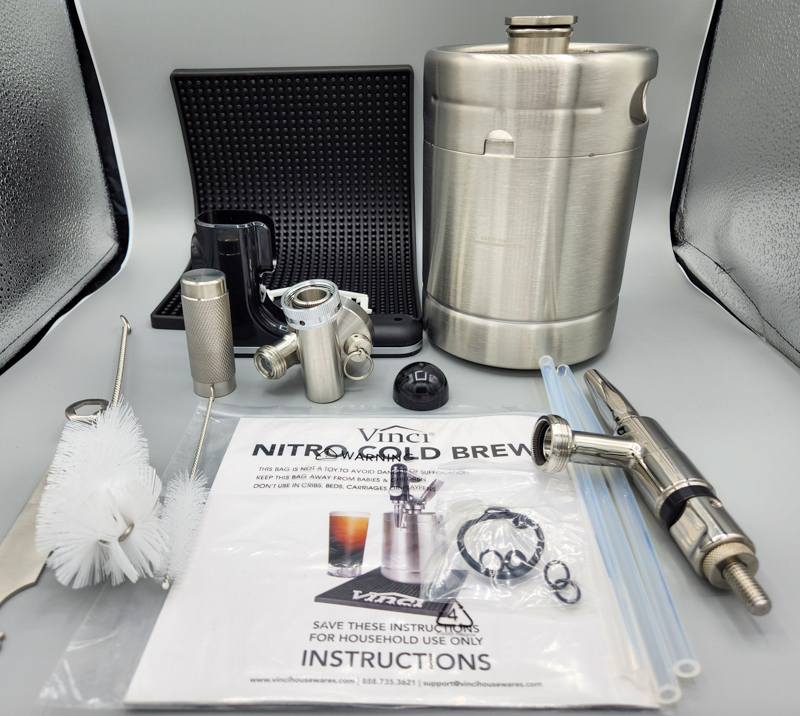 2.0L food-grade stainless steel Mini Keg
Tap Assembly
Bar Mat
Pressure Relief Valve
Spear with Pressure Relief Valve
Cartridge Holder
Stout Handle Cap
Easy Dispense Stout Handle
Stout Faucet
Pick Up Hose, Faucet Wrench
Large Keg Brush
Small Faucet Brush
Detailed Instruction Manual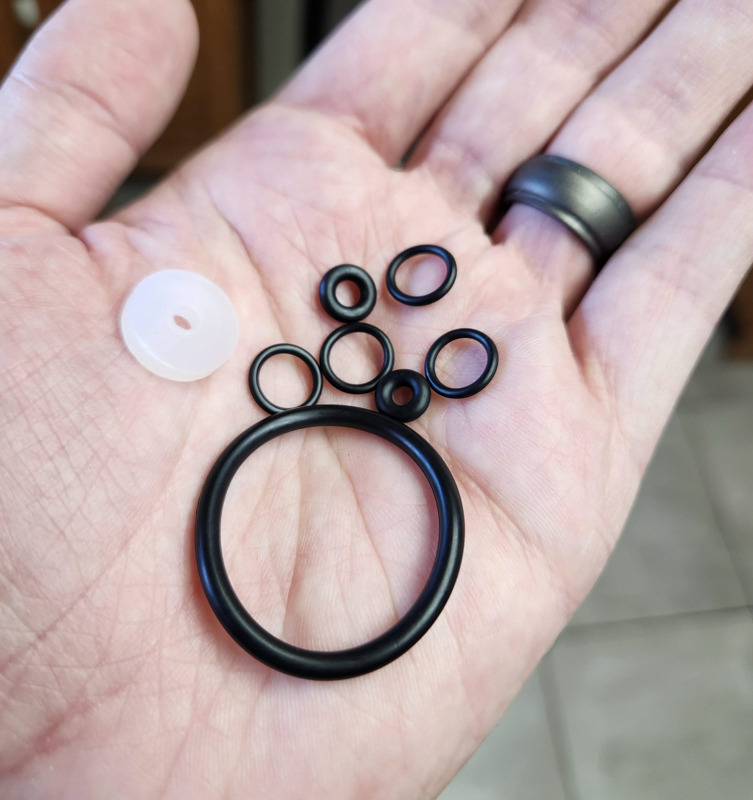 In addition to Vinci's quoted list, in my box there was also a complete set of extra seals and replacement pick up straws, which is a nice touch just in case anything wears out.
Design and features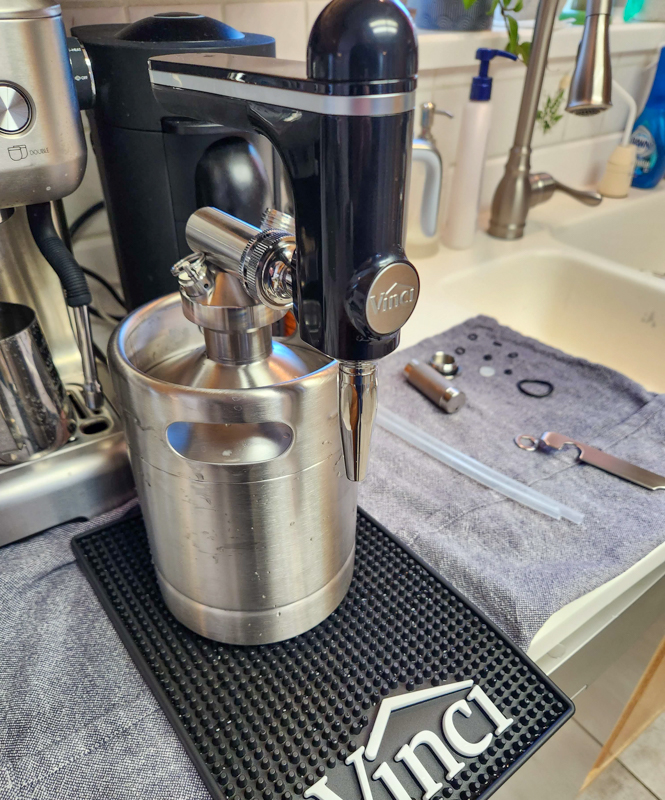 The Vinci Nitro Cold Brew system is mainly stainless steel, with silicone O-rings and a plastic handle. Small Nitro canisters are used to nitrogenate the liquids in the keg, then the nice large handle is pressed down to dispense the deliciousness. There are lingering drips after use, so I'm glad Vinci includes the rubbery drip mat as well.
Setup
According to the manual, the first step is to wash and dry everything. The included assortment of cleaning brushes were perfect for each part.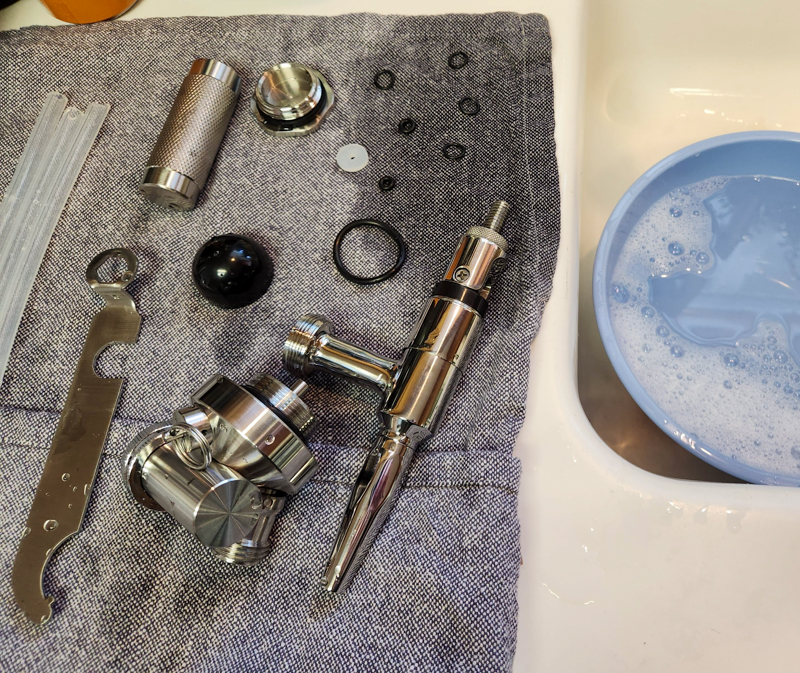 Next, you assemble the various parts following the easy to understand instruction manual. Below I'm inserting the pickup hose and spear onto the keg (into which you have put up to 1 liter of your desired liquid.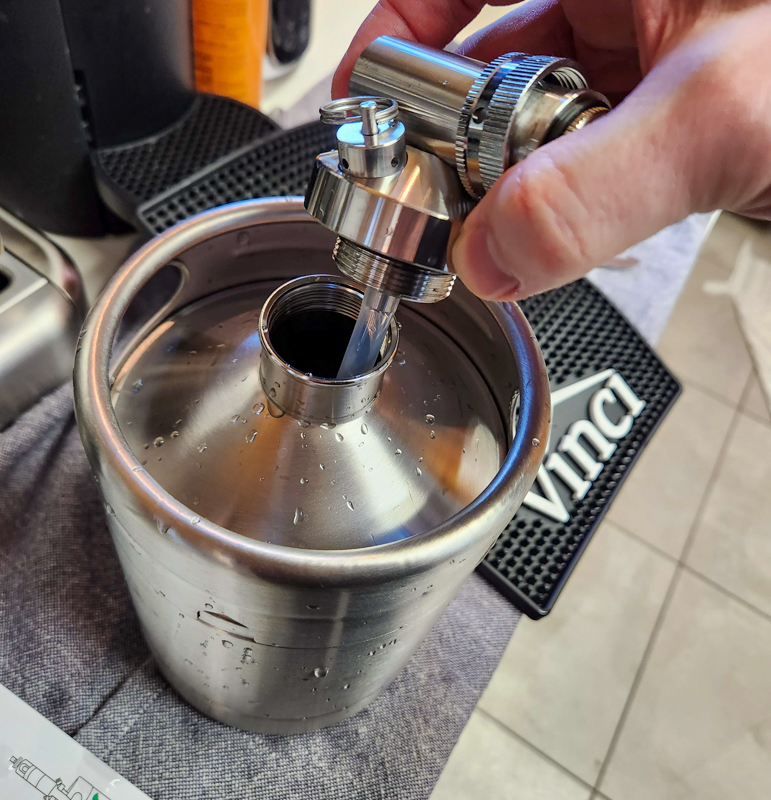 Then you screw the faucet tap and tighten using the included wrench. The stout handle and cap go on after this step.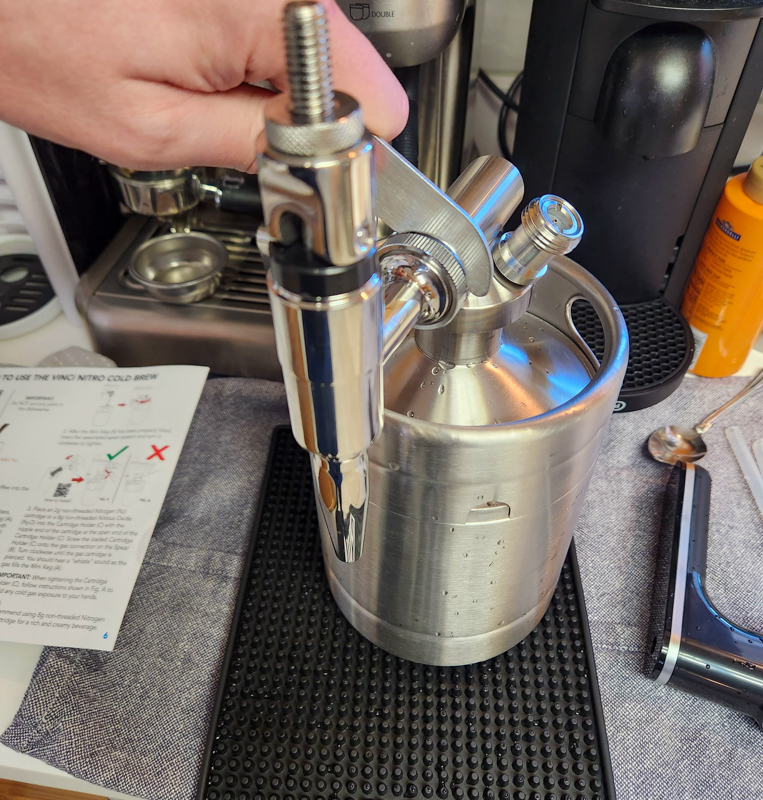 Finally, you're ready to add nitro! Vinci sent over some 8g nitro canisters that they sell on their website as well, though you can also get these in other places too. You simply place the cartridge inside the cartridge holder and screw it on. You'll hear gas flowing from the canister into the keg, then you're nearly done.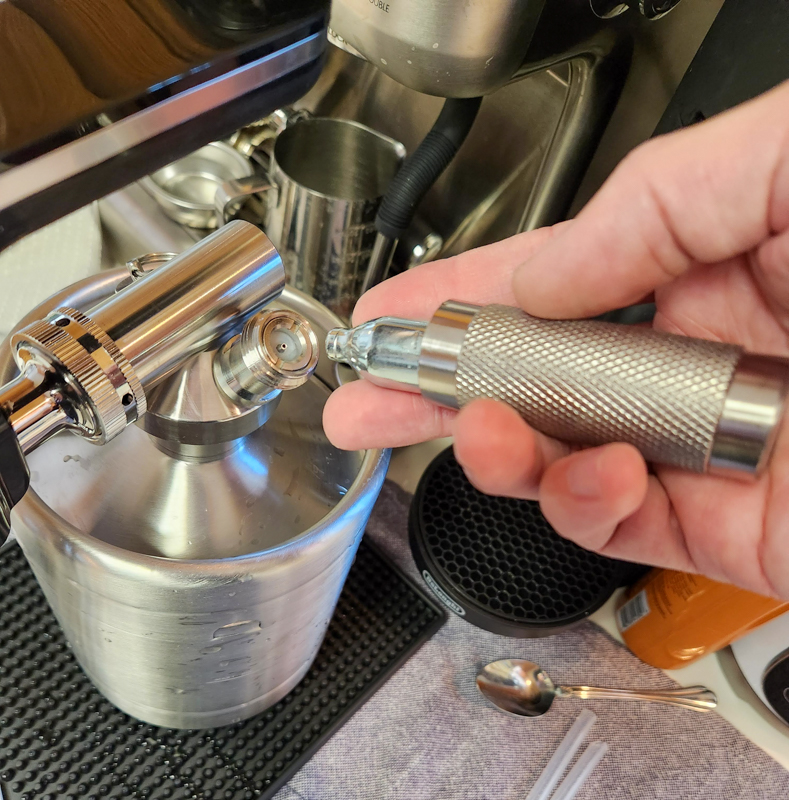 The last step is to grip the keg tightly by the handles and shake vigorously for at least 30 seconds. This step is crucial, and if you let it sit for more than a few hours you'll want to give it a shake again before dispensing (though after the first cup is dispensed beware of drips).
Performance
Below is a video of my first batch made with the Vinci Nitro Cold Brew coffee brewer while testing:
As you can see, the entire cup comes out as foam, which then cascades beautifully as it settles: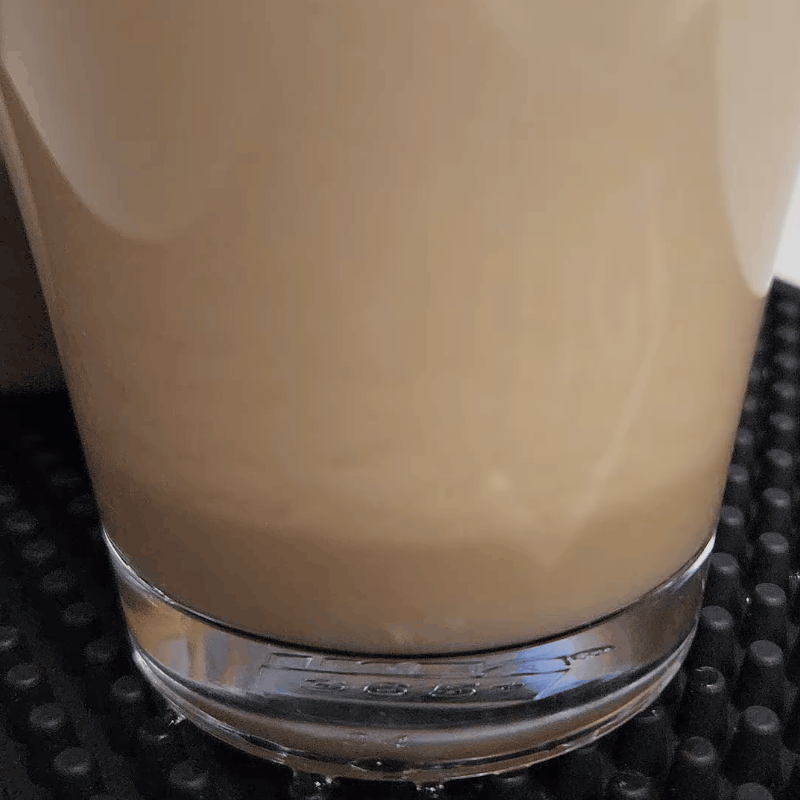 The resulting beverage is smooth and creamy, even with no milk or sugar added. This is just like the velvety smooth nitro cold brew you can get at coffee shops, made at home for a fraction of the cost per cup (not including the initial investment, though you could recoup that fairly fast with some heavy consumption).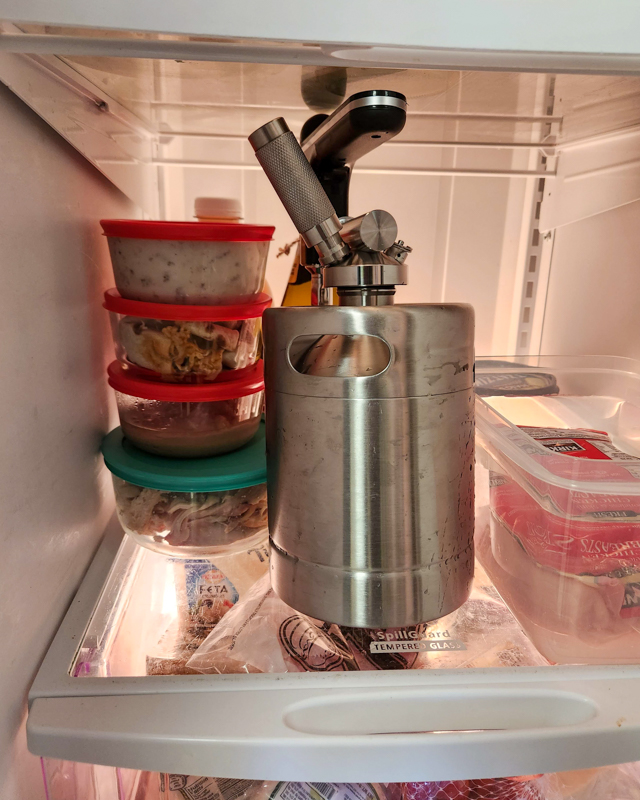 Once mixed, the entire Vinci Nitro Cold Brew coffee brewer can be stored for about a week in the refrigerator, if you can get it to fit (it's pretty tall, as you can see above it has to tilt to fit in our largest shelf space in our refrigerator).
What I like
Easy to use
Great tasting results
Materials feel like they're going to last
What I'd change
Make it just a bit shorter and wider to fit more easily into a refrigerator
Final thoughts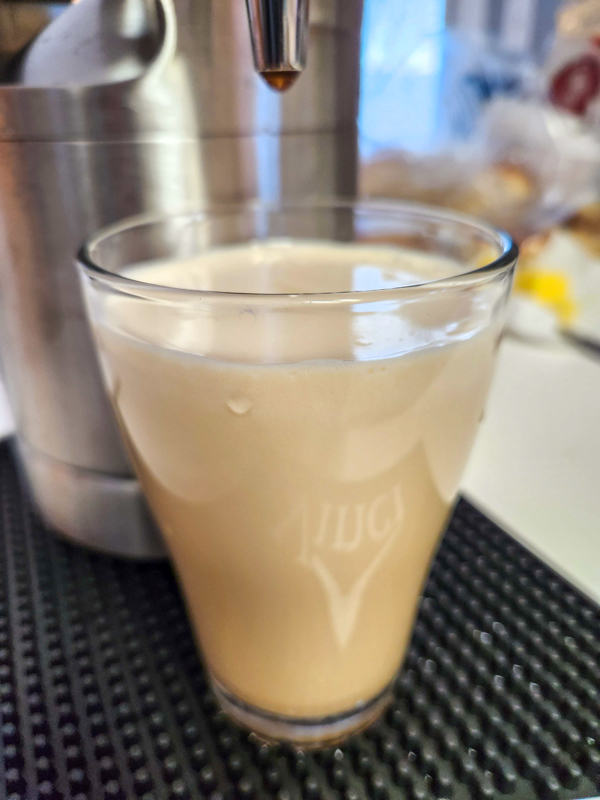 The Vinci Nitro Cold Brew coffee brewer is yet another one of those products I didn't know I couldn't live without. I'm excited for endless nitro cold brew all summer, and will definitely update the review if anything breaks. I was impressed with the quality throughout and especially happy with the resulting delightfulness it produced!
Price: $149.99
Where to buy: Vinci and Amazon
Source: The sample of this product was provided by Vinci